NITDA Creates 2,686 Jobs – Report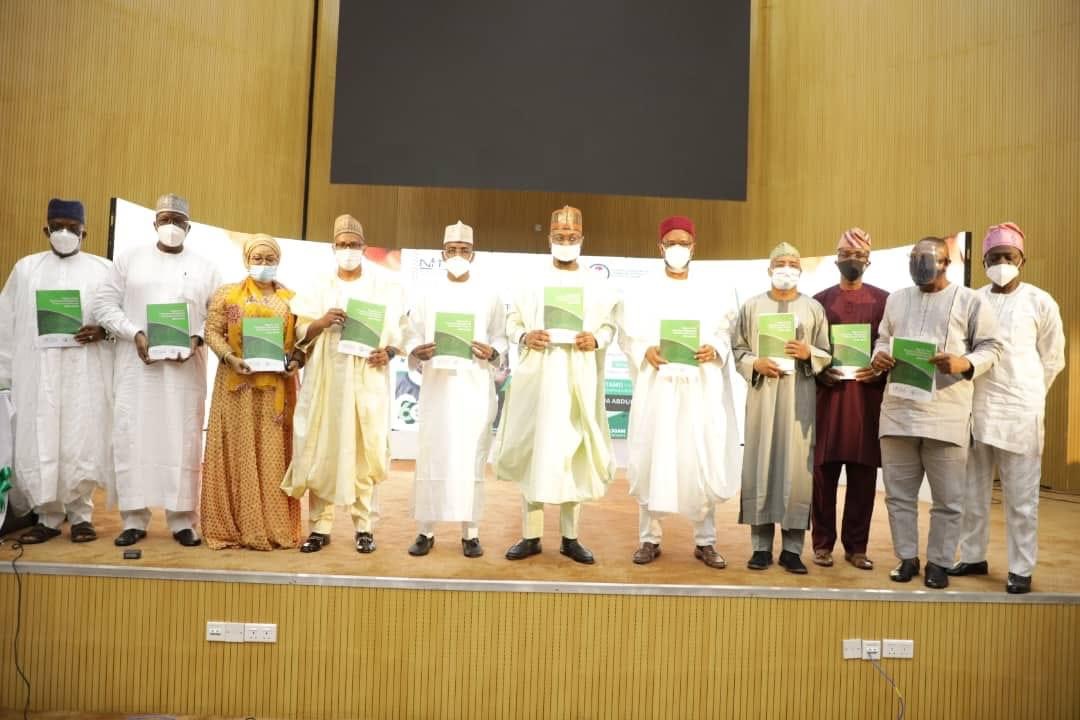 The National Information Technology Development Agency (NITDA) hascreated 2,686 new jobs, according to a new report.
The Agency's first Annual Nigeria Data Protection Regulation (NDPR) Performance Report 2019-2020 was unveiled recently by the Minister of Communications and Digital Economy, Dr Isa Ali Ibrahim Pantami.
According to the report obtained by Grassroots.ng, NDPR met the need of the Nigerian environment; indicating that 76% of Data Protection Compliance Organisations (DPCOs) has helped the country in their compliance with the regulation.
The Minister explained how NITDA provided requisite support for industry adoption of the NDPR.
"I have reviewed the report and I am proud to see that we have through the NDPR, 2,686 job roles, thereby creating massive opportunities for young Nigerians to be recruited as Data Protection Officers, Data Protection Compliance Organisations, Compliance officers among others.
"The DPCOs have also earned over N2 billion in the first year of implementation. This is the intent of our digital economy policy- empowering Nigerians in a way that ensures global competitiveness," the Minister said.

According to the Minister, NDPR is part of the implementation of National Digital Economy Policy and Strategy (NDEPS) which has eight pillars – Developmental Regulation; Digital Literacy & Skills; Solid Infrastructure; Service Infrastructure; Digital Services Development & Promotion; Soft Infrastructure; Digital Society & Emerging Technologies; and Indigenous Content Development & Adoption.
"The NDPR falls under the first pillar – Developmental Regulation. The objective of this pillar is to ensure an effective regulatory oversight and securing of the information, communication, technology and digital economy space to engender accelerated and inclusive development," he added.
While making a his remark, the Director General of NITDA, Mallam Kashifu Inuwa Abdullahi, CCIE, stated that the goal of the report is to give all stakeholders the opportunity to understand how the Agency has fared in the implementation of the NDPR, adding that understanding between industry players would generate further research and provide guidance to other regulators, partners, data controllers, data processors and other stakeholders.
He said NITDA made a compilation of all the organisations who filed their annual audit report for the year 2019.
"Submission of an audit report does not conclusively indicate compliance with all tenets of data protection, this list shows organisations who have complied with the audit filing requirement of the NDPR, which is a key milestone towards compliance. It is important to note that non-filing of the NDPR audit report is a breach of the Regulation," he said.
Mallam Kashifu added that, "the Report, being the first of its kind is aimed at highlighting key initiatives, successes and challenges of implementing the Regulation.
The NDPR being a flagship of the NDEPS, is expected to be used as a learning curve for Nigeria and Africa on how to effectively implement global laws with due consideration of local peculiarities and opportunities."
The NDPR was issued on 25th January, 2019 pursuant to Section 6(a,c) of the NITDA Act, 2007. The Regulation covers every person subject to the laws of Nigeria, whether resident in Nigeria or not.
It is aimed at safeguarding the rights of persons to privacy; fostering safe conduct for the transactions involving the exchange of personal data; preventing manipulation of personal data; and ensuring that Nigerian businesses remain competitive in international trade through the safeguards afforded by a just and equitable legal regulatory framework.
Since the issuance of the NDPR, Nigeria has turned a significant corner in her drive towards the maturation of the Digital Economy.
The level of compliance is growing as shown in a key compliance indicator which requires the filing of a data audit report by every data controller and processor. Article 4.1(5) of the Regulation requires the filing of an initial data audit report and a subsequent annual audit report by every data controller and processor.
This process has helped NITDA to have an overview of the state of data governance in the reporting entity while also helping government understand requisite intervention points to improve data governance, cyber-security and privacy protection.
In the year under review, NITDA served 51 enforcement notices on data controllers who are perceived to have breached the provisions of the NDPR. Also, 180 compliance notices were served on Ministries, Departments and Agencies of government, one of which is the Lagos Internal Revenue Service (LIRS) breach.

The LIRS was found to have exposed the personal data of some taxpayers in the process of harmonising historical tax data. NITDA initiated an investigation on LIRS and its major data processor. A fine of One Million naira (N1,000,000.00) (over $2,500) was imposed on the LIRS.
The decision on fine value was reached after considering the cooperation and prompt remedial actions taken by the LIRS in the course of the investigation.
On the other hand, NITDA has commenced investigation into the activities and operations of seven (7) data controllers as part of its enforcement drive.
The Agency is being mindful of the implications of negative publicity on business, hence refrained from making public statements on breach until the legal and procedural basis has been established.
Twentyten Daily celebrates its first anniversary as a data visualization platform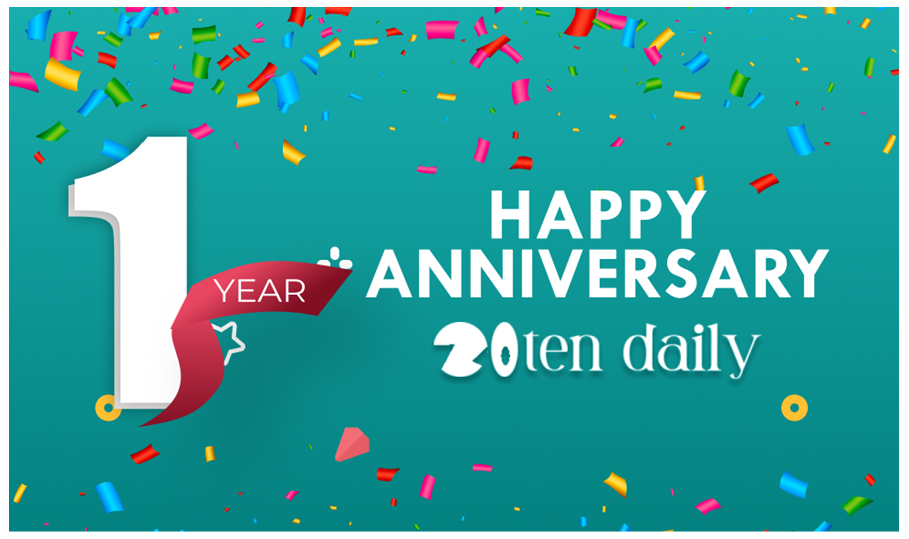 TwentyTen Daily is celebrating its first anniversary, a milestone marked by many exciting moments with its own fair share of highs and lows.
Over the past one year, with its team made up of journalists, data visualization experts and media innovators.
It has extensively published in-depth data driven stories and reports under a wide range of verticals including such as Featured Reports, Black box, Investigations, Health, Criminal Justice, Business, Economy, politics and more.
TwentyTen Daily is an independent news media organization and data platform improving access to data for actionable decisions through the promotion of African data journalism, augmented reporting, and the development of digital products powered by data, all with an end goal of spurring real world impact, setting the pace for media innovation in Africa.
'TwentyTen Daily' as the name signifies was founded after the EndSars protests of October 10, 2020 which was marred by gross misinformation and proliferation of fake news, to draw more attention to actuality and credibility.
The protests inspired the founders to research media innovations that can mitigate the detrimental effect of media manipulation around the #EndSARS protests and then Twenty Ten daily was born. TwentyTen Daily is not your regular news publication, it delves below headlines to explore hard numbers, using research, and statistical analysis to tell compelling and factual stories.
It also features outputs such as beautiful, interactive data visualizations that present key data points that embolden a hard-hitting story.
TwentyTen Daily produces special reports which feature hard hitting investigations, storytelling, fact checking and data visualisations. It also has a bias for investigative stories, a vertical created to support community driven journalism. In March 2021, the publication sponsored the Orodata Science Micro Grants for Data Driven Investigative Journalism to support community reporters to cover issues in underserved communities, issues that are important to them.
TwentyTen Daily committed funds in form of grants to support journalists to report solution stories on issues in their communities and is planning to double down on this effort in 2022.
Some of the stories supported by the grants are 'Living On The Fringe: Sad, Sorry world Of Sokoto's Almajirai', 'How Poor Funding For Research, Low Technology Contributed To Lack Of Local Covid-19 Vaccine Production', 'Levelling The Field: Improving Opportunities For Women Farmers In Nigeria', and more.'Black Box' is the interactive vertical of the website for multimedia storytelling, it covers explainer videos and reports highlighting under-reported issues such as 'Nigeria's Second Class Athletes' which features the continual challenges Nigerian Olympians face as a result of government's incompetence.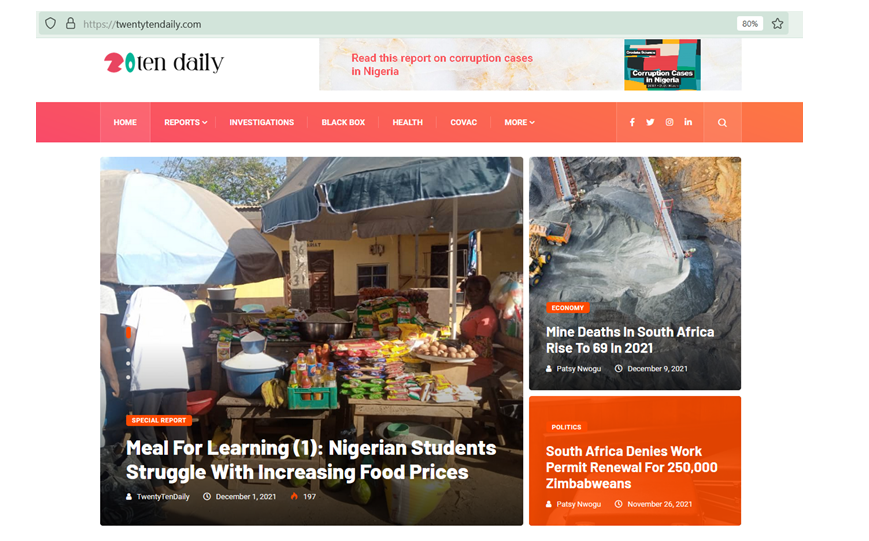 Under the Health and COVAC vertical, TwentyTen Daily covered the outbreak of the Covid19 pandemic without leaving any stone unturned, to mitigate misinformation against the coronavirus.
It focused on shoring up misinformation about the Covid19 Vaccine while providing updates on the vaccine administration efforts in Africa to ensure that resources are properly appropriated and accounted for.
It also tracked donations and contributions by international organisations towards the provision of vaccines to hold governments accountable.
To increase access to informed decisions through access to key information and data on Africa, TwentyTen Daily developed a Dashboard Repository where citizens, private corporations, third sector organizations, policymakers, media, education and research institutions can access data from across Africa via interactive data dashboards. The dashboards cover different sectors including business, economy, politics, education, gender and health amongst others. The dashboards also provide a special spotlight on gender and issues relating to income disparity, women empowerment and more.
Blaise Aboh, the founder of TwentyTen Daily reiterates that; "the platform is all about improving media innovation. It is driven towards transforming the data and news media landscape in Africa."
"I understand that building a long term value-driven relationship is key, and will do this through more innovation especially on frontier technologies and through beneficial partnerships. Over time, the plan is to create high impact innovative products with a user experience worth engaging and an end-to-end experience of easily accessible high-quality information," he adds.
TwentyTen Daily has created more ways of breaking down data stories for its audience and sparking conversations around policies, including "Here Is What You Don't Know This Week," a weekly newsletter that shares important figures from latest news and provides an incisive data angle to issues arising globally.
The newsletter features data visualisations and infographics that share crucial statistics with its readers.
Sophos introduces Sophos Switch Series to Strengthen, Simplify Connectivity at the Access Layer
Sophos Switch Connects, Powers and Controls Local Area Network (LAN) Device Access

Sophos, a global leader in next-generation cybersecurity, has introduced its flagship Sophos Switch Series, featuring a range of network access layer switches to connect, power and control device access within a Local Area Network (LAN).
The new offering adds another component to Sophos' secure access portfolio, which also includes Sophos Firewall and Sophos Wireless.
"Sophos Switch seamlessly integrates with the Sophos adaptive cybersecurity ecosystem to extend connectivity across office LANs," said Joe Levy, chief technology officer at Sophos. "We're removing the complexities of multi-vendor deployments by providing organizations and channel partners with a single source of management, monitoring and troubleshooting."
Switches are remotely managed in the cloud-based Sophos Central platform. This enables partners to oversee all customer installations, respond to alerts, and track licenses and upcoming renewal dates via a single, intuitive interface.
"Sophos Switch perfectly complements the existing Sophos portfolio – it was the missing piece in our IT security offering, and now gives our business even more clout. We were already very successful with Sophos Firewall, and thanks to Sophos Switch we are now able to unleash the full power of Sophos' products and services. Our experience from the early access program proved that Sophos Switch is a game changer for us, and we were very positively surprised at how well the product worked from day one," said Patrizio Perret, chief technology officer at Avanet. "While a switch is pretty much a commodity these days, Sophos is adding the necessary spice to the hardware with the software capabilities. Sophos' adaptive cybersecurity ecosystem is the magic ingredient that will make Sophos Switch something really special by enabling companies to integrate it with other Sophos security components in their network."
Availability
Switches with eight, 24 and 48 ports are available for immediate purchase exclusively through Sophos' global channel of partners and managed service providers (MSPs). These are ideally suited for small and medium-sized businesses, remote and home offices, retailers, branch offices, and more.
Afrikrea Secures US$6.2M in pre-Series A Round and Rebrands to "ANKA" to Export Africa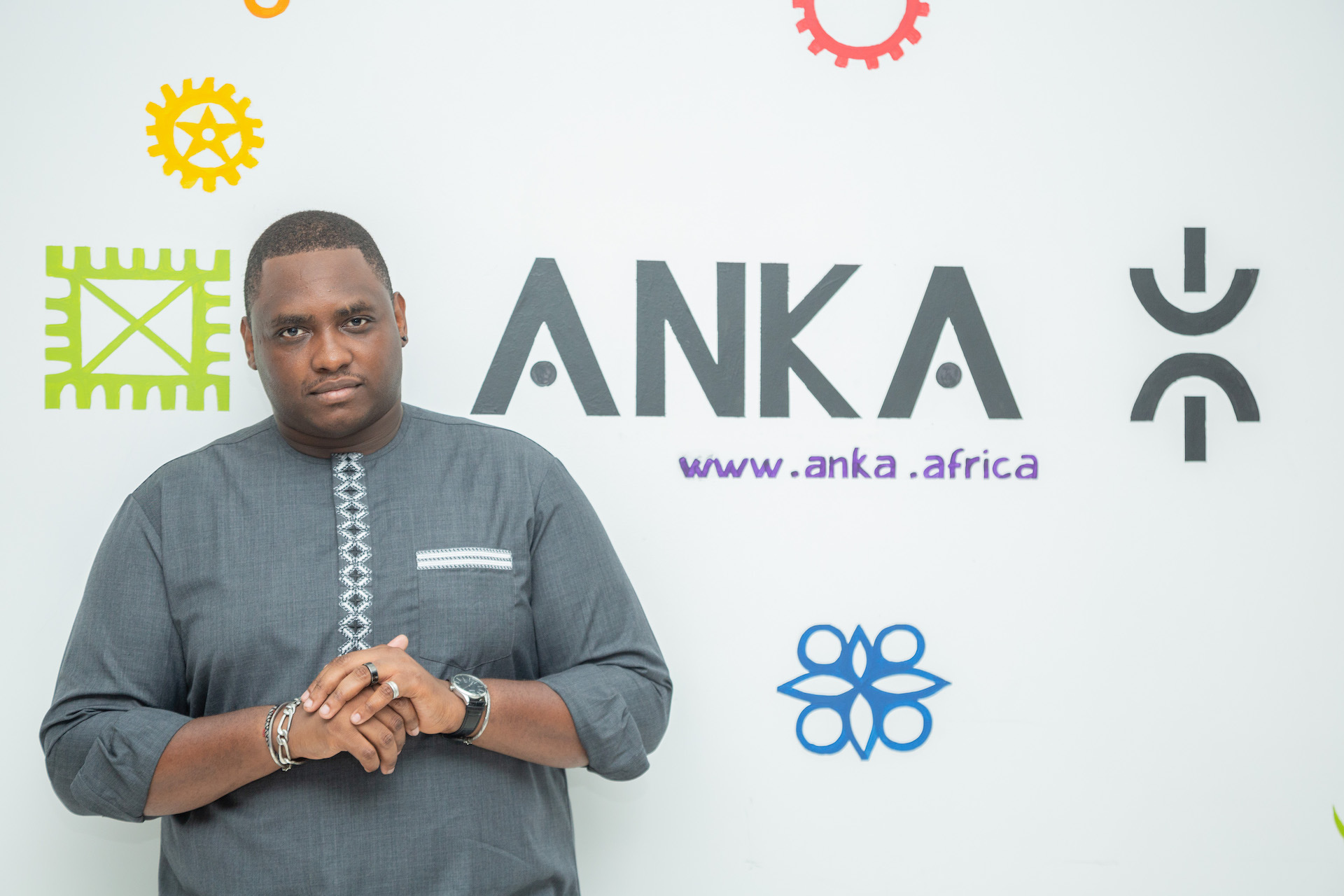 Afrikrea, the e-commerce platform for "all things made of Africa", has announced the successful completion of a US$6.2M pre-Series A round led by Investisseurs & Partenaires and the rebrand to "ANKA", its all-in-one solution for selling anywhere, shipping globally and receiving payments quickly. The new investment includes participation from Alibaba's Executive Vice Chairman Joe Tsai, BESTSELLER Foundation, VestedWorld, Enigmo, Groupe Prunay and Rising Tide Africa. They join existing investors SAVIU Ventures (who is also participating in the round), Lofty Inc, Kepple Africa, Consonance, id4 Ventures and Thierry Petit. The additional funding brings the company's total investment to date to US$8.1M since being founded in 2016.
The new capital raised will be deployed to build out the mobile infrastructure of ANKA's e-commerce SaaS, allowing effortless global access for its retailers, as well as investing in further product development. Funding will also be used to boost talent acquisition across its product, sales and finance teams, while looking to hire more remote developers.
ANKA has grown its retailer base to include sellers from 47 out of 54 African countries and completed over $35M in transactions in 174 countries worldwide. More than 80% are women who have grown their revenue by 50% on average since joining the ANKA community. The platform currently records over 700,000+ visits a month with the majority of customers located in Europe and North America. Now operating as one of several channels under the ANKA umbrella, Afrikrea.com retailers will still have access to the ANKA platform and its expanded services, content and support to drive business growth.
Originally founded as an online marketplace for selling and buying African-inspired clothing, accessories, arts and crafts, Afrikrea recorded 250% y-o-y growth since 2016. In order to better support its sellers and the rapid scaling of the business, ANKA was launched in 2021 as the first of its kind all-in-one SaaS solution to provide a seamless e-commerce service for African micro-retailers. ANKA, (meaning "Ours" in Bambara and Djoula), aims to build an infrastructure dedicated to powering e-commerce for its 13,000+ sellers exporting literally "all things made of Africa" to a global audience.
ANKA operates as an inclusive SaaS allowing sellers to:
Sell via a customised online storefront (like Shopify), linked to sellers' social media platforms and marketplace channels (such as Stripe, Gumroad or PayPal)
Ship globally with verified best rates via leading logistics partner DHL
Receive payments internationally in all currencies, including a free Buy Now Pay Later option, and the ability to withdraw funds through local African payment methods like mobile money
Manage the lifecycle of all transactions with a single omni-channel dashboard.
Sell on the Afrikrea.com marketplace : the world leading platform will now be one of the channels accessible when you use ANKA and continue helping sellers and buyers transact better.
With the company generating more revenue from the addition of these multiple services, the evolution of ANKA as a comprehensive e-commerce platform was imminent. As the company positions itself as an African leader of commerce, the all-inclusive nature of the new name reflects its pan-African reach and expanded scale of operations across the beauty, food, textiles, agricultural and industrial sectors, providing new routes to market and opportunities for thousands of sellers on the continent.
Speaking on the fundraise and rebrand, Moulaye Taboure, CEO and Co-Founder of ANKA said, "We have recorded unprecedented growth since the launch of ANKA last year; since then our subscribers tripled and volume on the newest services has multiplied by 8 just over the last 6 months. As our vision and clients' needs had outgrown the singular purpose of the Afrikrea marketplace, operating under ANKA provides a more holistic description of our mission as a pan-African company. Through the ANKA platform, which integrates every aspect of business, we now serve sellers, not just in fashion, but in what will be a variety of sectors in over 80% of the African countries."
He added, " Instead of trying to get Africans to buy more or spend faster, ANKA will be one the few companies that actually help them earn, own and create, at a global scale. Growth, velocity, volume and "financial inclusion" are all empty words without value creation, distribution and worldwide scale. Most of Africa's development problems will not be solved by just better efficiencies in moving cash, we need to produce, sell and build for the world to matter."
Sebastien Boye, Co-CEO of Investisseurs & Partenaires said, " We are delighted to have led ANKA's funding round. This company is at the heart of IPAE2's investment strategy : a talented and ambitious African founders team, a significant growth and value creation potential and a compelling impact thesis. Indeed, ANKA aims to give micro entrepreneurs in Africa all the tools to access the potentialities of the global ecommerce market. The company has the potential to create a full entrepreneurial ecosystem, around its comprehensive platform. We are very impressed with the growth of ANKA since it launched and are confident in their ability to drive digital and financial inclusion for African entrepreneurs."
ANKA is expanding its fully remote team of 30 on 4 continents and recruiting for a number of roles including product management, sales, finance and remote developers. Available opportunities can be found here: https://anka.breezy.hr/