LASG Acquires New Outboard Engines For Optimum Boat Performance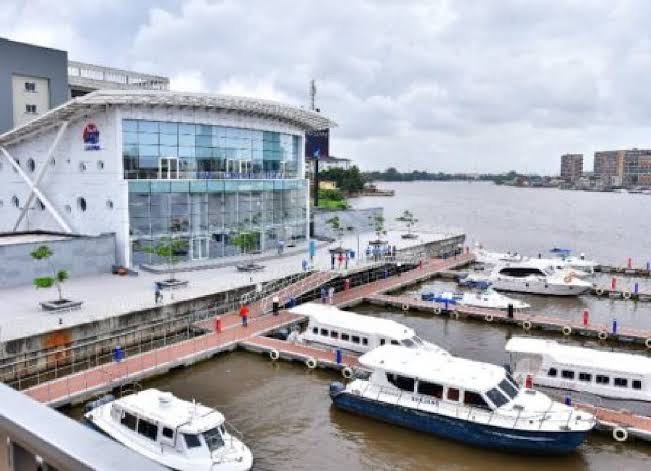 Lagos State Government has procured and installed new outboard engines on some of its boats to improve speed and ensure optimal service delivery.
The Managing Director, Lagos Ferry Services, (LAGFERRY), Mr. Abdoulbaq Ladi-Balogun, said it was in a bid to accommodate the increasing number of passengers on its waterways.
He also commended Governor Babajide Sanwo-Olu for his commitment to a robust intermodal transport system with a special focus on improving water transportation.
In his words: "We will like to commend the transformative leadership of Mr. Governor for approving the purchase and installation of the Six New Units of 300Hp 4-Stroke Yamaha Outboard Engines for MF Ejirin, MF Itesiwaju and MF Alausa (all 60 pax seating capacity)".
He stated that the newly procured engines will improve the speed of the 60 pax capacity boats, ensure optimum performance and comfort of passengers.
"The successful installation and commissioning of these engines will definitely help in reducing travel time on the waterways, move more passengers, improve the speed and durability of our boats, thereby allowing these bigger boats to complete journey within 60% of the time it used to", the General Manager said.
While informing that LAGFERRY will soon commence commercial operations to routes like Epe, Badagry and Ibeju-Lekki, Ladi-Balogun stated that the agency is exploring the endless possibilities on the Inland Waterways of Lagos State to ensure passenger comfort, timeliness, productivity and safety.
Nigeria's Railway Sector Generate N327m Monthly
The Managing Director of Nigeria Railway Corporation (NRC), Fidet Okhiria, on Thursday said has the rail transportation industry generates an average of N327 million monthly.
He said the Abuja-Kaduna route generated an average of N265 million; Lagos-Ibadan, N17 million; while Warri-Itakpe generated N45 million.
The standard gauge Lagos-Ibadan route was inaugurated for commercial activities on June 21, 2020, covering 157 kilometres.
The 326-kilometre Itakpe-Ajaokuta-Warri began operations on October 9, 2020; it runs from the southern oil hub of Warri near the Atlantic coast northwards into the major iron ore producing region in Kogi State.
The single-track project, built by the China Civil Engineering Construction Corporation (CCECC), was inaugurated by President Muhammadu Buhari alongside the ancillary facilities yard at the recently named Goodluck Jonathan Railway Complex at Agbor in Delta State.
The Lagos-Ibadan train service conveys passengers, while the Warri-Itakpe route is for freight haulage.
Okhiria told News Agency of Nigeria (NAN) that with the introduction of an additional Diesel Multiple Unit, the corporation had increased the number of train trips between Abuja and Kaduna from eight to 10 per day.
The NRC boss added that for Wednesdays, trips on that route had been increased from four to six.
He expressed confidence that this would go a long way to accommodate the increasing number of passengers.
TSS Motors Unveils Asiastar Luxury Bus Assembled In Nigeria
The multi franchise holder and Assembler of heavy, medium and light duty trucks and mini bus company in Nigeria, Transit Support Services Limited (TSS Motors), has officially introduced the Asiastar luxury bus models to its range of commercial vehicle productions.
The new product brand and models, Assembled in Nigeria, were unveiled at the Ikeja Sheraton Hotels in Lagos.
The 53 passenger seater, non-independent air-condition luxury coach, which is suitable for commercial passenger transport, football club and sports teams' transportation, government executive shuttle services, with an advanced concept in body design and architecture, is equipped with adjustable soft passenger seats with USB charger, LCD TV (front, middle), DVD, and a modern ambient lighting design on the roof.
The U-beam body structure of the Asiastar luxury bus has length, width and height of 12000, 2550 and 3860 (mm) respectively.
It is equipped with WP10.336N/WD615 engine models, Fast 6DS (Benz GO230-6 as optional) gearbox, a Pneumatic double circuit air brake system, and air suspension shock absorbers. It comes with a unique set of headlamps which are divided into two parts, with full LED lighting, making the front view elegant and very beautiful.
According to the General Manager, TSS Motors, Mr. Dave Chukwudulue, "TSS Motors is known for her state of the art, top of the line products which conform to the latest design trends in the automobile industry. With the Asiastar luxury coaches, the Operators and passengers of these coaches will not be disappointed on any point of our standard offerings before now.
"And as with our other products, our key selling points for the Asiastar luxury coaches are effective and efficient after sales service and parts support backup, cost effective, durable, robust, rugged, comfortable and smooth luxury ride, all through the distance and operational life of the vehicle.
"No matter the operational application: as commercial passenger luxury coach, government executives' group shuttle, football club and sports teams' logistics medium, the Asiastar is configured and built to deliver, and even surpass on all, expectations, without fail.
Furthermore, the vehicles are on ground for immediate delivery on receipt of payment. It's cash and carry. No delivery lead time, with attendant costs on capital outlay prior to operations," he added.
President Buhari Commissions 156KM Lagos-Ibadan Railway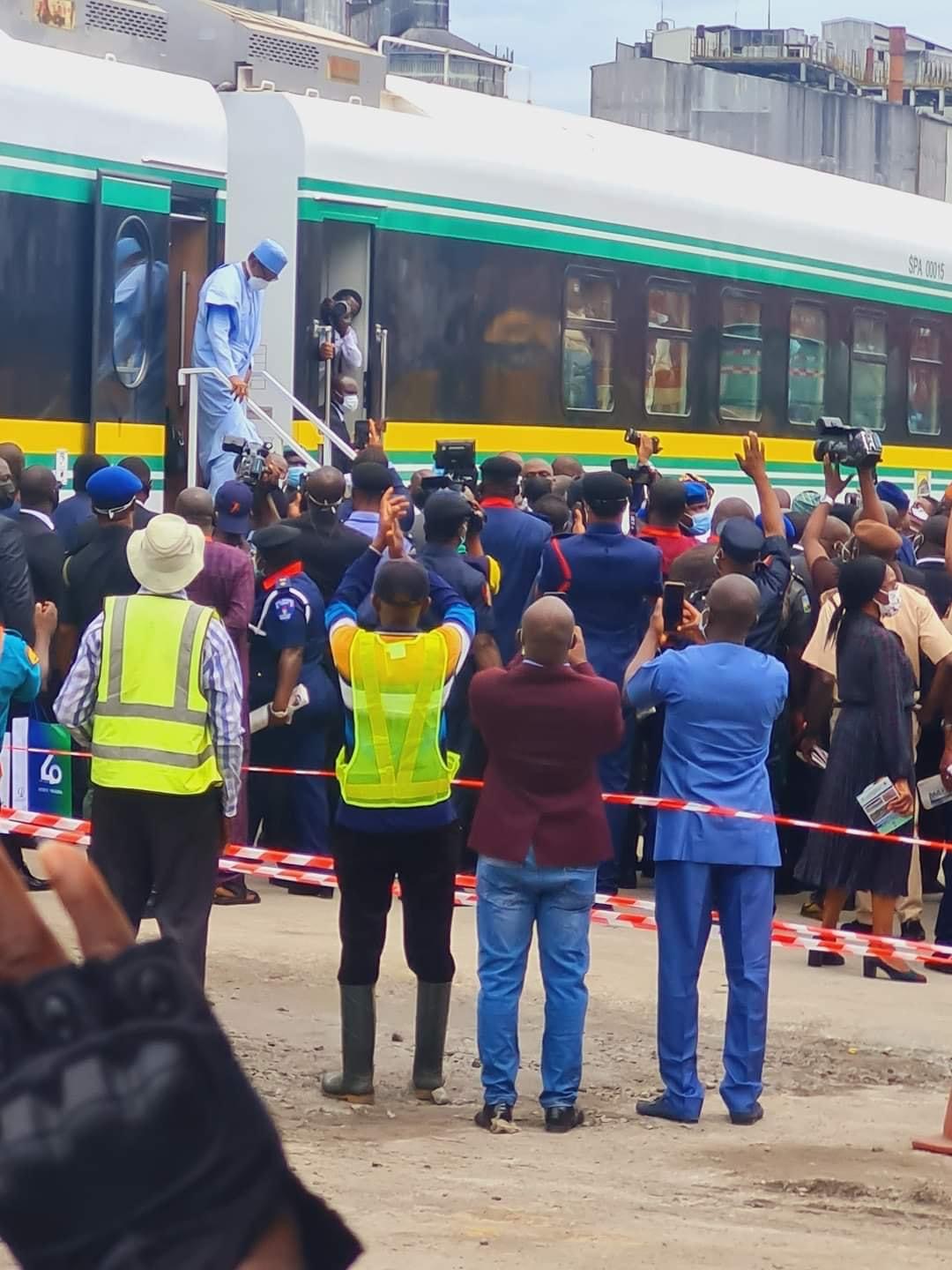 President Muhammadu Buhari today Thursday, 10th June 2021, commission the 156km Lagos—Ibadan standard gauge railway line in Lagos.
The railway line is the first double-track standard gauge rail in West Africa, and the first Nigerian railway line to be started and completed by the same administration, since 1960.
The construction started in March 2017, and test-running commenced in December 2020.
The Ebute Metta Station, known as the Mobolaji Johnson Station, is the largest railway station in West Africa with a holding capacity of 6000 passengers.