Lagos-Calabar Rail Construction : Nigerian Government Seeks $11B Loan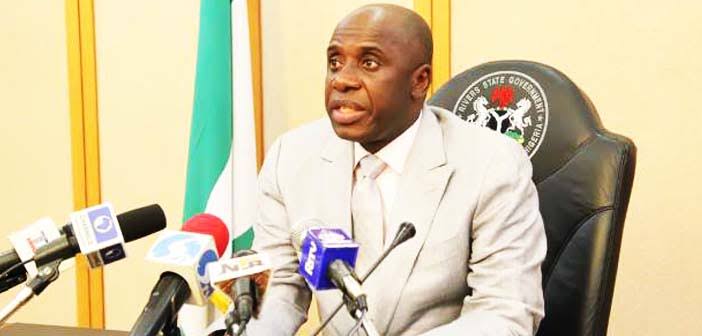 Federal Government is considering to apply for another loan believed to be around a whopping $11billion to construct Lagos to Calabar rail.
Minister of Transportation, Chibuike Amaechi, disclosed this during an interactive session with the South-East and South-South Professionals of Nigeria, SESSPN, in Lagos.
Grassroots.ng reported previously how Nigerians have been critical of President Muhammadu's ever readiness to apply for loans as these loans have landed the country into serious indebtedness.
The Minister was quizzed on why railway work was yet to commence in the South-East. He said, "I hate tribalism. I've said this before. For me, I'm a Nigerian, and what informs my decision of choosing which rail line to construct at any point in time, is the economics of rail; and currently, the economics shows that Lagos to Kano has the capacity to move 30 million tonnes of cargo per year.
"I did same analysis for Port Harcourt to Maiduguri rail line and it's 11 million tonnes. We are currently doing the analysis for Lagos to Calabar to know how many tonnes of cargo can be moved there per year. So, we started with the Lagos to Kano rail line. President Olusegun Obasanjo approved it, President Jonathan started construction on it by doing Abuja to Kaduna and President Buhari told us to complete all previous projects.
"Now, we are applying for $11billion loan to construct Lagos to Calabar rail. There was no design for Port Harcourt-Maiduguri. We knew that the first thing to do was to commence a feasibility study, after that, we'll do the design. It's now they'll start to do the site drawing. In the next three months, they will be doing that, you'll start shouting again: why are they not constructing? You forget that Ibadan to Kano, they are just finishing the design now, that's why they've not started construction.
"The President told us that all rail lines in Nigeria must be standard gauge. So, we did a standard gauge design for the Port Harcourt-Maiduguri rail line. We went to Bonny to do the study and we did that study up to Maiduguri. I did a feasibility study that brought it between $14 billion to $11 billion.
"When we finished, we got approval from the President, but I realised that we may not get the money in this government. I changed my course, and I said, while we are looking for money for the standard gauge for Port Harcourt-Maiduguri, let me ask for money to reconstruct the narrow-gauge at $3.1 billion. And the President after much argument, accepted. After sometime, he agreed, that we can proceed with the narrow-gauge, while seeking money to construct the standard gauge".
"At least, I'm sure that before we leave government, we would have done up to 80 per cent of that rail line. Also, there was no line to Owerri, I added Owerri to the Port Harcourt-Maiduguri rail design, because of the Industrial Park and the University of Transportation in Ubima," Amaechi added.
Lagos State Governor, Babajide Sanwo-Olu Unveils First Set of Electric Buses In Lagos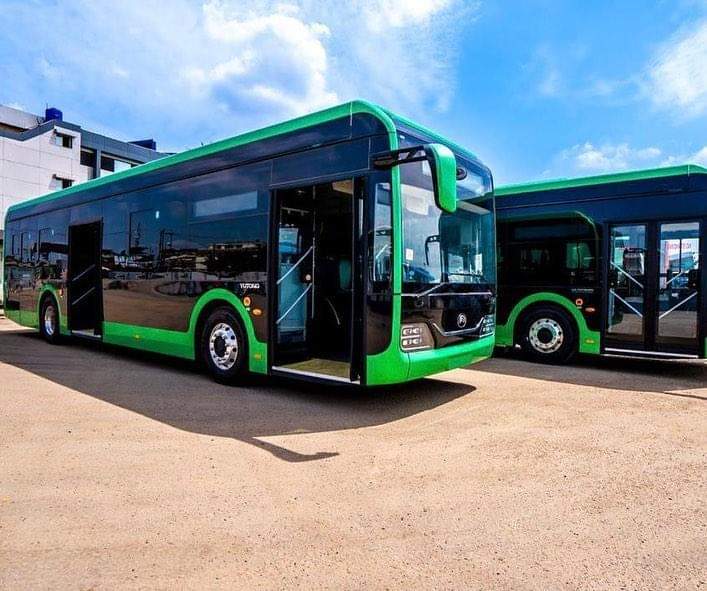 The Governor of Lagos State, Babajide Sanwo-Olu, has announced the first set of electric buses for the state's mass transit scheme.
Sanwo-Olu announced this on his Instagram page on Sunday, as he shared pictures of the buses.
He partly wrote, "I am excited to announce the first set of electric buses in the Lagos Mass transit master plan as part of our increased effort to modernise every sector of Lagos.
"Thanks to our partnership with #Oando_PLC, Lagosians can expect a cleaner and greener public transportation system.
"With the ability to travel 280 km at full charge, taking into account our unique travel times in Lagos, our electric buses are a game-changer."
Here are pictures of the electric bus.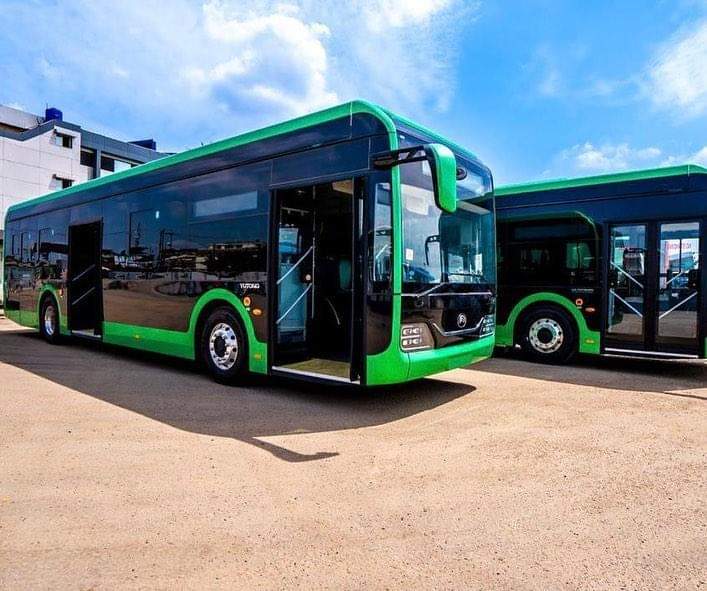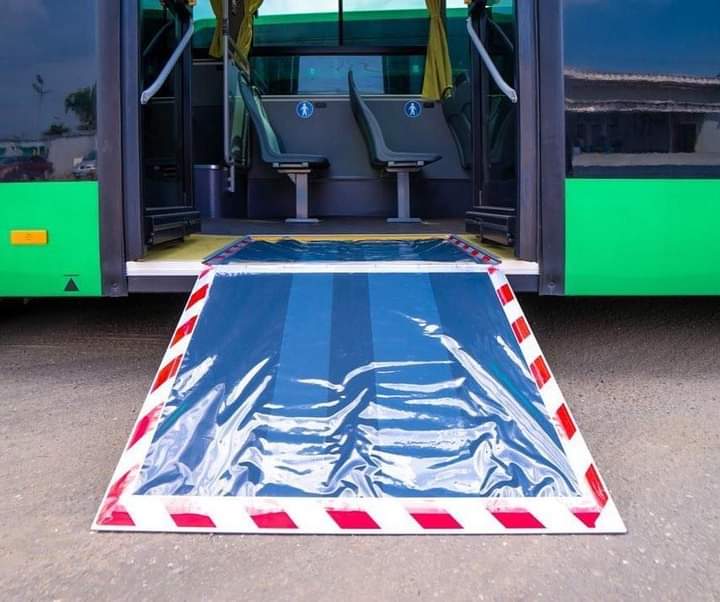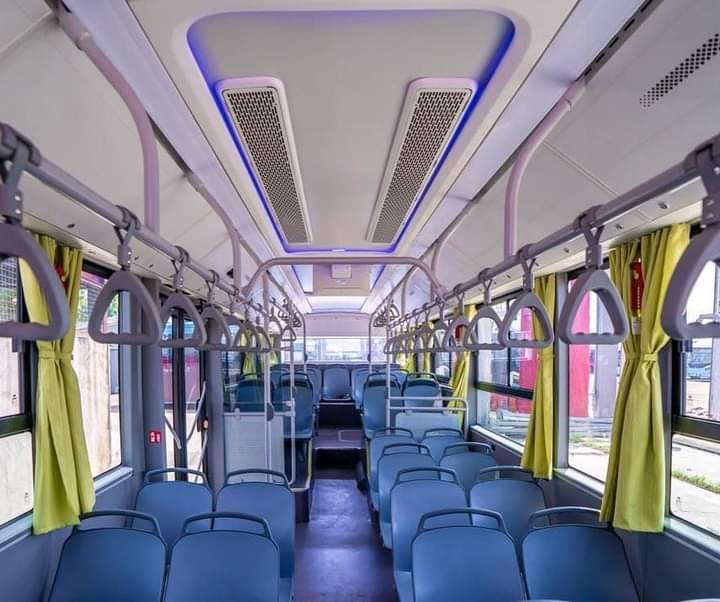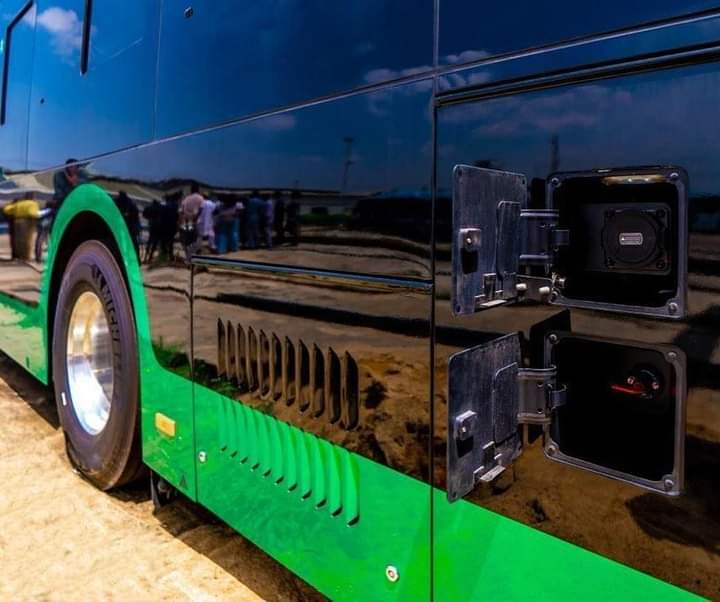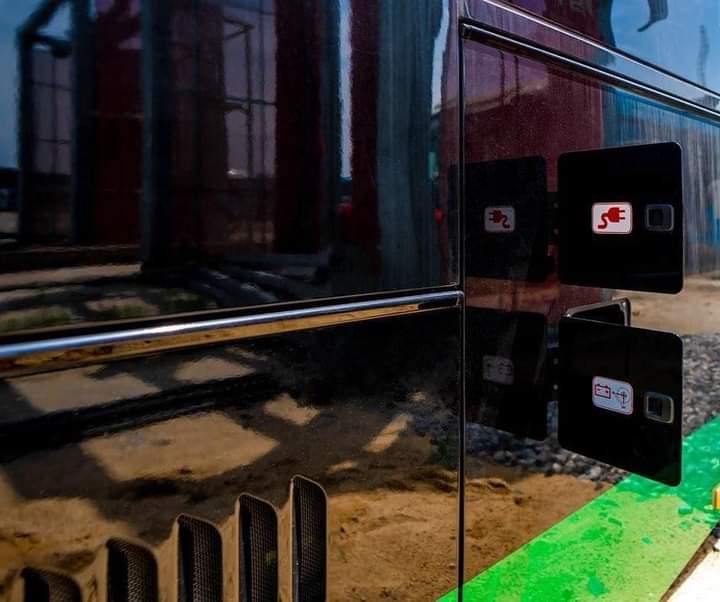 Federal Executive Council Approve the sum of N453.90bn for Kano Rail Line under construction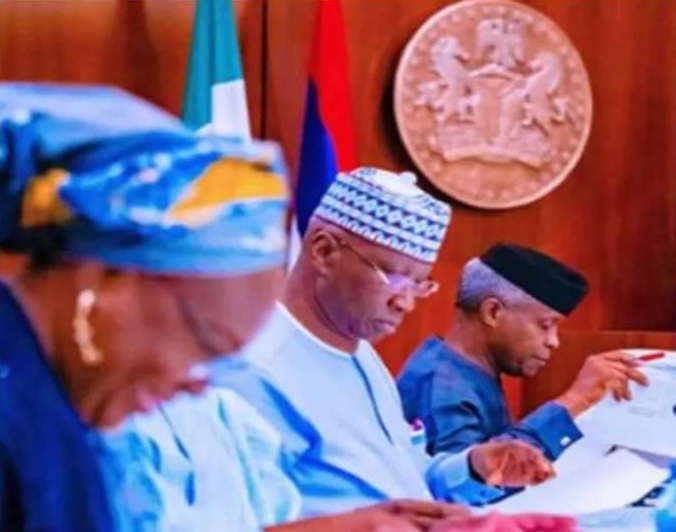 The Federal Executive Council has approved the sum of N453.90bn for the procurement of rolling stock, operation and maintenance equipment for the Kano-Maradi standard gauge rail line currently under construction.
The Minister of Transportation, Mu'azu Sambo, disclosed this to State House correspondents on Wednesday, March 22, after this week's Council meeting chaired by President Muhammadu Buhari at the Presidential Villa, Abuja.
The approved sum also includes N510.93m meant for procuring four customised fire service/search and rescue vans in seaports at Port Harcourt, Lagos Port Complex, Tincan Island port and the Marina headquarters of the Nigerian Ports Authority.
The 248km rail line will traverses Kano, other cities such as Kazaure in Bauchi State, Daura and Mashi in Katsina State; Dutse in Jigawa State, the border town of Jibia, before terminating in Niger Republic's trade and agricultural hub of Maradi.
According to a former Transport Minister, Rotimi Amaechi, the line has 15 stations along its path with a forecasted daily traffic of 9,364 passengers and approximately 3000 metric tons of cargo.
However, the project has been fraught with resistance, especially from lawmakers.
However, on Wednesday, Sambo said: "The memorandum sought council's consideration and approval for the award of contract for the procurement of rolling stock, operation or maintenance equipment for the Kano-Maradi standard gauge rail line that is currently under construction.
"The contract was awarded to MSSRs Mota-Engil Nigeria Limited, who are the contractors handling this particular project in the sum of $984,722,302.5 inclusive of seven and a half per cent VAT with a completion period of four years."
Sambo also revealed that the Transport ministry presented another memo on behalf of the Nigerian Ports Authority "for the award of contract for the construction and supply of four customised Fire Service search and rescue vans for extrication of accident victims for Rivers Ports in Port Harcourt, Lagos Port complex, Tincan Island Port and the Marina headquarters of the NPA, all in Lagos.
BUA Group – FG Flag off N116B Road Construction in Kano
BUA Group and Federal Government have flagged off N116bn construction of 132Kilometres Kano-Kazaure-Kongolam dual carriage road under the Presidential Executive Order 007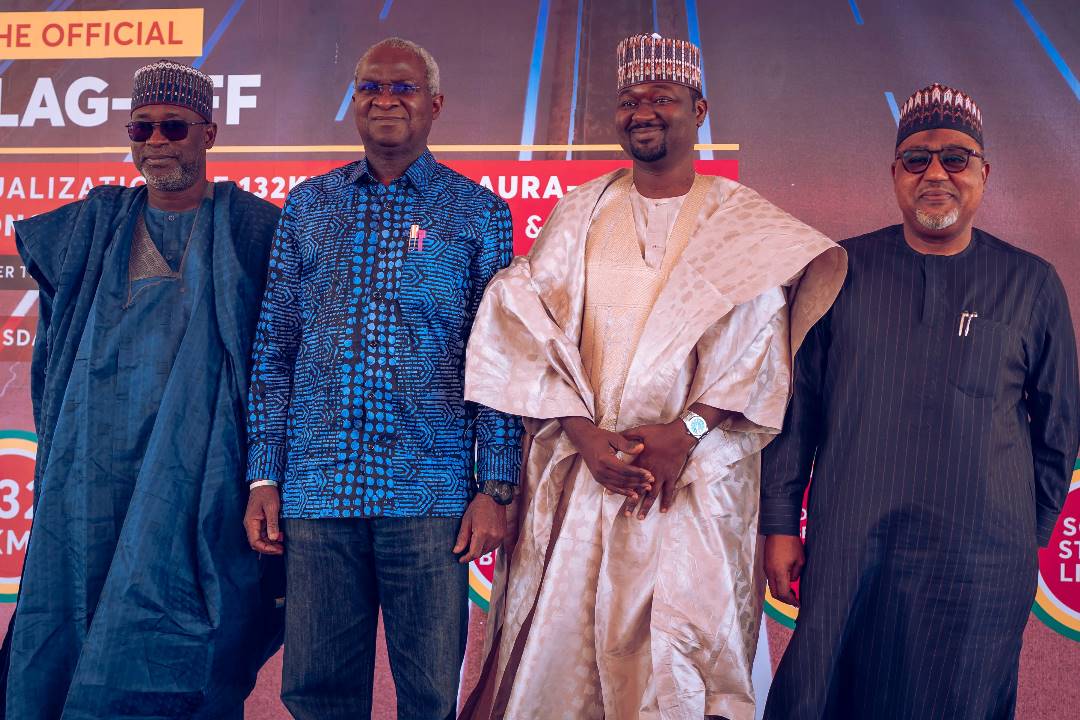 BUA Group, one of Africa's largest infrastructure conglomerates, has flagged off the expansion and dualization of the 132km Kano-Kazaure-Kongolam highway in collaboration with the Federal Ministry of Works and Housing in line with the Presidential Executive Order 007 Road Infrastructure Development and Refurbishment Investment Tax Credit Scheme.
The 116billion Naira project was flagged-off by the Minister for Works and Housing, Babatunde Raji Fashola, in a ceremony in Kazaure, Jigawa State, and will pass through Kano, Jigawa, and Katsina states from Dawanau Roundabout in Kano State to Kongolam in Katsina State.
According to the Minister, BUA Group will be the sole financier of the project to dualize the 132 km road as part of its ongoing commitment to infrastructure development. Also present were the Honourable Minister for Water resources, Engr Suleiman Adamu, and the minister of State for Works and Housing, Hon. Umar Ibrahim El-Yakub and various emirs.
Speaking at the official ceremony, Kabiru Rabiu, Group Executive Director of BUA Group, said that BUA remains committed to partnering with the Government on critical projects and initiatives that will fast-track human, social, and infrastructural development across the country. According to Rabiu, BUA Group which is solely financing the project, has already mobilized equipment to site and has the capacity, expertise, and resources to complete the road on schedule. He also thanked President Muhammadu Buhari and the Honourable Minister of Works and Housing for approving the project and restated the Group's commitment to delivering a dual carriage road that will rank amongst the best in Africa. According to Kabiru Rabiu, the dualization project which is being solely financed by BUA Group is a demonstration of BUA's commitment to infrastructural development within Nigeria. He also commended the major roles played by the Minister of Works and Housing, Minister of water resources as well as the Minister of Finance and budget planning in actualizing the project.
In his speech, the Minister of Works and Housing, H.E Babatunde Raji Fashola (SAN), reiterated the commitment of the President Muhammadu Buhari led administration towards infrastructural development.
According to Fashola, the 116billion Naira Kano-Kongolam highway which is being constructed by BUA Group with allied infrastructure, will complement the ongoing rail infrastructure projects of the federal government in the North West region of Nigeria, and also open up more economic opportunities for Nigeria and the greater West African region.
Fashola further stated that the best way to develop the country was through Public Community Private Partnership, (PCPP) given the ₦348trillion injection needed over a 10-year period to bridge the nation's infrastructure gap.
Fashola further applauded the management of BUA Group for its continuous effort in infrastructural development and emphasized the need for the State Governors of Jigawa, Kano and Katsina and traditional institutions to remove all encumbrances on the Right-of-Way of the project so as to allow the Contractor have full access to the width of the carriageway for the continued execution of the project for which implementation has already commenced.
On this part, the Honourable Minister for State (works and Housing), Hon. Umar Ibrahim El-Yakub said, "It's a very big project that traverses the 3 states of Kano, Jigawa and Katsina states. The project will further open up the country by enabling access to neighbouring countries i.e. Niger Republic via Katsina State. The road, when completed, will feature three bridges – Ungoggo Roundabout, Kazaure and Daura and also include pedestrian crossings at eight locations along the project corridor and solar street lights for safe driving during nighttime which will be critical to development in the three states. The Honourable Minister for Water Resources, Engr. Suleiman Adamu, during his speech, urged the contractor, BUA Group, to ensure the highest quality in the construction process and adhere to responsible ESG practices throughout the lifetime of the project. "I am proud to be associated with this project which will have massive developmental impact on the people of Jigawa, Kano and Katsina states. The government will continue to support initiatives and partnerships such as this and we are certain this project and others of a similar nature, will help improve the economic status and quality of life of Nigerians", he added.
The expanded Kano-Kongolam dual carriage highway upon completion, will connect three states namely; Kano, Jigawa, and Katsina and improve interstate travel, make it easier to trade goods and services between the three states, and serve as a major artery for intra-African trade.