Facebook Hits #1 Position In Mobile App Advertising Globally But Google Reigns in Africa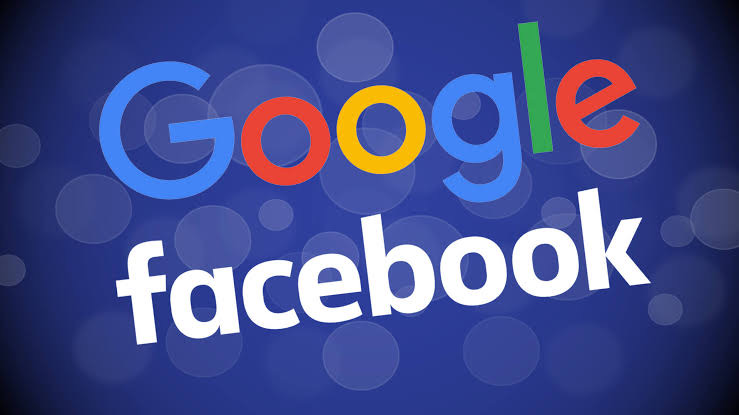 AppsFlyer, the global attribution leader, today released the 11th edition of its Performance Index. While Facebook took the #1 spot, both Google and Facebook continued to dominate mobile advertising with a significant majority of the non-organic install market. The search and social giants hold the #1 power ranking position in 79% of breakdowns, and 82% of volume rankings across all indices.
Since 2015, app marketers globally have turned to The AppsFlyer Performance Index to guide them in one of their most important decisions: which media sources to partner with. This new report provides a complete report card on the mobile media landscape across multiple marketing activities to help app marketers optimize their budgets.
Analyzing 27 billion app installs across 495 media networks and 14,000 apps, the report shows that Google is the best platform for driving performance for app marketers in Africa, while Facebook is the best platform for remarketing across Africa and the Middle East.
Facebook claims #1 cross-index position, Google still going strong
The social network's ability to drive performance at scale in both the Retention Index and the new IAP (in-app purchase) Index has propelled Facebook's ranking forward. It also dominates the new IAA (in-app advertising) Index as well as the Remarketing Index, making its overall cross-index position as the dominant force in mobile clear.
But quality comes at a cost. An analysis of the cost of media shows that Facebook charges more. This is especially true in Gaming, where cost is significantly higher in North America, Latin America, and Europe, while Google has a slightly higher cost in APAC. In Non-Gaming, Google is more costly, but not by a wide margin, with the exception of North America where Facebook is more expensive.
A platform breakdown shows Google is a clear winner in Android thanks to its leap in developing countries where the OS dominates, while Facebook controls much of iOS.
COVID-19 had a huge impact on mobile apps, but not on media source rankings
While the novel coronavirus has had a significant impact on apps, and our entire ecosystem, the impact of the pandemic on media source rankings was marginal. The only exception was Apple Search Ads. Organic growth in the App Store led marketers to start and/or increase their app store optimization efforts, bringing Apple Search Ads to the front, driving impressive growth and strong performance.
״Although retention is a central KPI for performance app marketers, monetization metrics in a freemium-driven ecosystem reign supreme," said Shani Rosenfelder, Head of Mobile Insights, AppsFlyer. "Since 2015, app marketers have turned to our Performance Index to guide them in deciding which media sources to partner with.
Thanks to the scale of marketers measuring purchase events with AppsFlyer, we were able, for the first time, to create the in-app purchase Index and the IAA Index with statistically significant results. We're thrilled to be able to offer such significant insight to marketers, especially considering that many apps today rely on in-app purchases and ad monetization to drive revenue."
Daniel Junowicz, MD Latam & Africa, AppsFlyer added: "Our Performance Index has been the go-to source of information for many marketers for a few years now and we are excited to include some insight from the burgeoning African apps market in this edition.
The African app market represents a significant opportunity for people on the continent and beyond to drive new growth opportunities, and we are also excited to play our part in underpinning this with data and informed analysis that will make it easier for every
Nigeria To Deploy 5G Network By January 2022 – Pantami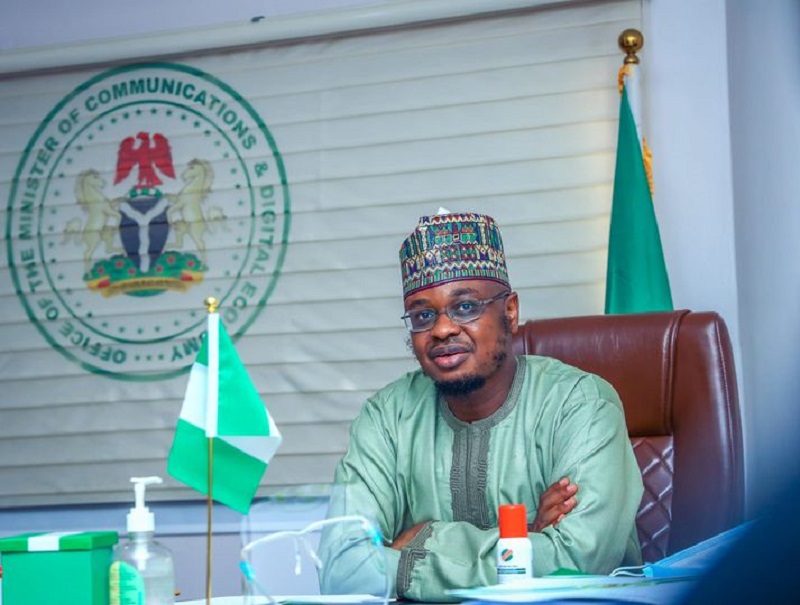 Nigeria is almost at the advanced stage to start deploying the fifth-generation (5G) cellular networks from January 2022, the Minister of Communication and Digital Eeconomy, Isa Pantami has said.
He revealed this during a town hall meeting in Maiduguri, Borno state, on Thursday through his representative, Ubale Maska, NCC commissioner for technical services.
He said the deployment became necessary as there are over 50,000 telecommunications sites across the country and about 16,000 outages recorded by mobile network operators (MTN, Glo, Airtel, 9mobile) between January 2021 and July 2021.
Pantami blamed the outages on fibre cuts, access denial and theft, leading to service disruption in the affected areas.
The Minister who condemned situations where telecoms installations were destroyed in terrorist attacks which had not been replaced as a result of the intense security issues and tensions in north-east states, urged the national assembly to speed up the passage of the Critical Infrastructure Protection Bill for onward submission to Muhammadu Buhari for assent.
Phishing Attacks: 66% Organizations In Nigeria Report Increase, says Sophos report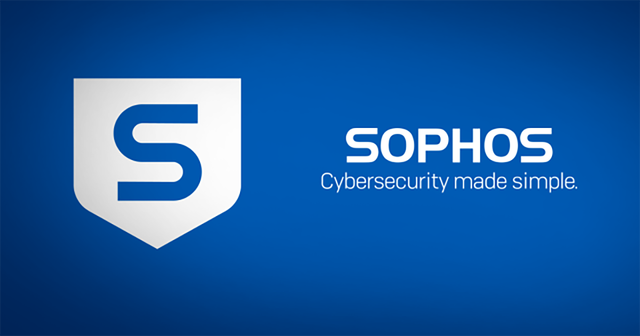 Sophos, a global leader in next-generation cybersecurity, today announced the findings of its global survey, "Phishing Insights 2021," which reveals that phishing attacks targeting organizations ramped up considerably during the pandemic, as millions of employees working from home became a prime target for cybercriminals.
The majority (66%) of IT teams in Nigeria said the number of phishing emails targeting their employees increased during 2020.
"Phishing has been around for over 25 years and remains an effective cyberattack technique. One of the reasons for its success is its ability to continuously evolve and diversify, tailoring attacks to topical issues or concerns, such as the pandemic, and playing on human emotions and trust," said Chester Wisniewski, principal research scientist at Sophos. "It can be tempting for organizations to see phishing attacks as a relatively low-level threat, but that underestimates their power. Phishing is often the first step in a complex, multi-stage attack. According to Sophos Rapid Response, attackers frequently use phishing emails to trick users into installing malware or sharing credentials that provide access to the corporate network."
The findings also reveal that there is a lack of common understanding about the definition of phishing. For instance, 55% of IT teams in Nigeria associate phishing with emails that falsely claim to be from a legitimate organization, and which are usually combined with a threat or request for information. Forty-five percent consider Business Email Compromise (BEC) attacks to be phishing, and more than one-third (34%) think threadjacking – when attackers insert themselves into a legitimate email thread as part of an attack – is phishing.
The good news is that most organizations in Nigeria (86%) have implemented cybersecurity awareness programs to combat phishing. Respondents said they use computer-based training programs (55%), human-led training programs (39%), and phishing simulations (36%).
"The ideal would be to prevent phishing emails from ever reaching their intended recipient," said Wisniewski. "Effective email security solutions can go a long way towards achieving this, but this should be complemented by alert and primed employees who are able to spot and report suspicious messages before they get any further."
About the survey
The Sophos Phishing Insights survey polled 5,400 IT decision makers in 30 countries across Europe, the Americas, Asia-Pacific and Central Asia, the Middle East, and Africa.
Nigerian, Dr. Oyedokun Oyewole, appointed as the Country CDO Ambassador for Nigeria
Story by Sandra Ani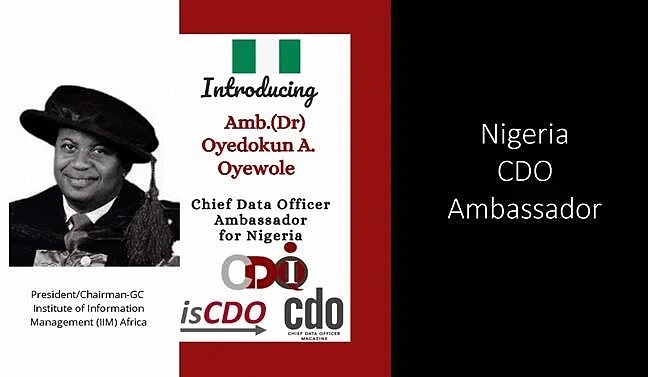 The Founding members of the Country Chief Data Officer (CDO) Ambassador program, the MITCDOIQ Symposium, the International Society of Chief Data Officers (www.isCDO.org) and the CDO Magazine recently announced the appointment of Amb. (Dr) Oyedokun A. Oyewole as the country chief data officer ambassador for Nigeria and the first-ever Country Chief Data Officer Ambassador in Africa.
Over the past few years trends and events across the globe has increasingly come to recognise data as an asset which represent highly strategic sources of insight and leverage for a wide array of business functions, including risk-management, regulatory compliance, sales and marketing, product development and operational performance among others.
However, to realise this embedded value, there is a need to proactively and effectively manage data and information assets at the enterprise level.
In response to these, the appointment of Chief Data Officers (CDOs) to provide required strategic guidance and execution support and also to assure access to the quality of critical data becomes inevitable.
As the Country's Chief Data Officer Ambassador for Nigeria, Dr. Oyedokun will facilitate a bi-directional communication between the Country CDO Ambassador(s) and their community; assisting the data management community by providing a vehicle for education, and mobilization. Being the focal point for the Country, he will be providing support, assistance and guidance to the data management community.
Speaking on Dr. Oyedokun's appointment, Robert Lutton, the vice president, Sandhill Consultants, welcomes Ambassador Dr. Oyedokun A. Oyewole as he joins the growing data community.
"We have been on the lookout for just the right person who has connections and passion for the industry. As we look to grow Country CDO Ambassadors, we feel that Dr. Oyedokun clearly meets all of the acceptance criteria. Now, he will advocate for strengthening the data industry in Africa", he said.
Dr. Oyedokun is the founder/president and chairman Governing Council of the Institute of Information Management (IIM), Africa. Founder of the International University of Information Management (IUIM) Denver, Colorado USA.
He is responsible for the management of the Record and Information Management Awareness (RIMA) Foundation (Nigeria & South Africa), and Wolexdok Micro-processor Ltd.
In the late 90s, Dr. Oyedokun worked as the Head of the Computer Department with technical support functions at Swenig System Nigeria, a Swedish company with expertise in information security, sales, and support of Dr. Solomon Anti-Virus Toolkit. In the course between 1998 and 2012, he worked for Chevron Nigeria Limited, a leading oil and gas company in Nigeria.
Dr. Oyedokun is also a member of the Network and System Professionals Association (NaSPA) USA, International Association of Business Communicators (IABC), and Association for Information and Image Management (AIIM).
He is a distinguished and respected international information management practitioner, founder of the Records and Information Management Awareness Foundation (RIMA Foundation), publisher of Information Management World Magazine (IM World Magazine), RIM Africa Journal, executive producer of Information Management World on Television (IM World TV) and a former columnist of Guardian Newspaper (Fridays) – Executive Brief Column (Infotech4dexecutives).
He has received numerous local and international awards, for his contributions to the development of the data and information management industry in Nigeria and Africa. A recipient of the "Great Minds of the 21st Century Award", an award presented to him by the American Biographical Institute.
Dr. Oyedokun was part of a thirteen-man committee inaugurated in March 2010 by the Lagos State Government for the formulation of Policy on Records and Archives Management in Lagos State.
In 2014, he was appointed as Ambassador for Peace by the Universal Peace Federation and in 2015, he became the first-ever African Fellow of the Information and Records Management Society (IRMS) in the United Kingdom. His specialties include ECM, BPM, DM, EDMS implementation, training, and consultancy services.
In June 2021, he was elected to the Board, Friends of Research4Life; a global organization that has worked to reduce the knowledge gap between high-income countries and low- and middle-income countries by providing affordable access to high-quality scientific research.
With more than 100,000 peer reviewed journals, books and databases – as well as toolkits, e-learning platforms, free courses and resource centers – Research4Life supports efforts to improve teaching, research, practice and policy-making in health, agriculture, the environment and other life, physical and social sciences.
Dr. Oyedokun was recently (July 2021) appointed as an Editorial Board Member of the Chief Data Officer (CDO) Magazine, USA.
Massachusetts Institute of Technology (MIT) Chief Data Officer & Information Quality Program (Country CDO Ambassador)
The AMBASSADOR PROGRAM aims to act as supporter, to mobilize, and provide education to the Data Industry Community, by seeking out fellow CDOs within the country to become part of the CDO Community. Mobilizing, assembling and made ready for action, to support the Data Industry. It also aims to Educate, by creating and sharing content for the benefit of the CDO Community.
MITCDOIQ Symposium
The MIT Chief Data Officer and Information Quality Symposium (MITCDOIQ), now in its 15th year, is one of the key events for sharing and exchanging of cutting edge ideas, content and discussions.
The purpose is to advance the knowledge and accelerate the adoption of the role of Chief Data Officer (CDO) in all industries and geographical countries.
As data is a critical aspect of every organization, the symposium is focusing on the management and leadership of this critical element for the 21st century that will benefit every organization.
International Society of Chief Data Officers
The International Society of Chief Data Officers (isCDO) is the premiere, vendor-neutral, professional society of individuals who serve the role of the Chief Data Officers for their organizations. The Society serves as a peer-advisory resource for all members, as a society of CDOs, by CDOs, for CDOs.