LASG Forms 7 Man-Panel, Raises N200M To Compensate SARS Victims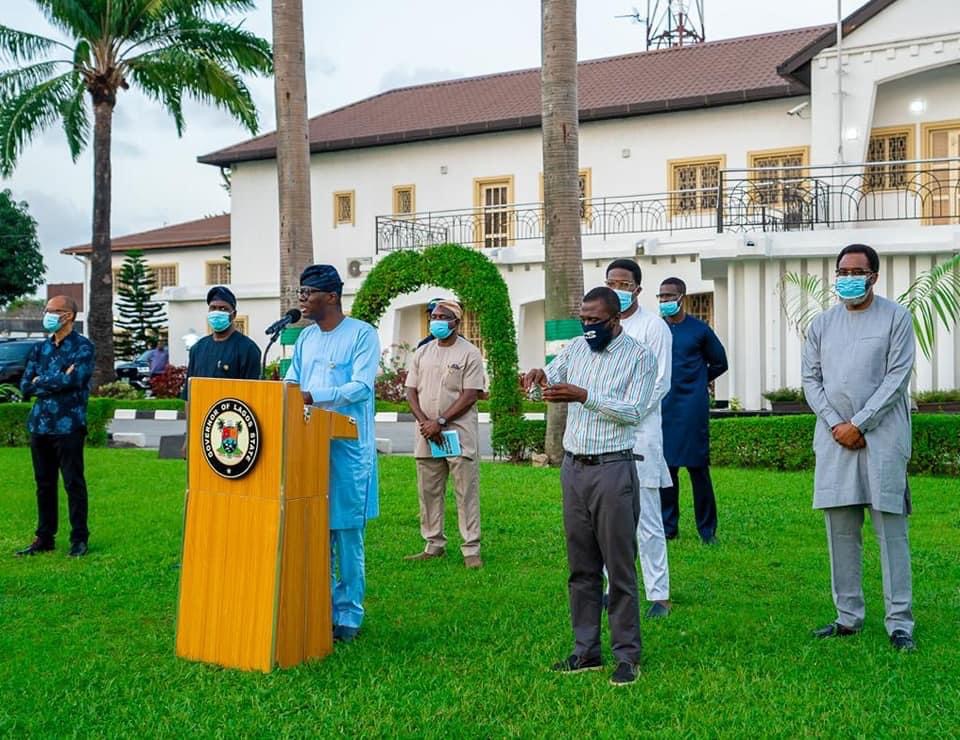 Lagos State Governor, Babajide Sanwo-Olu, on Thursday, raised a seven-man Judicial Panel of Enquiry and Restitution to investigate cases of brutality and human rights violations committed by operatives of the dissolved Special Anti-Robbery Squad (SARS) in the State.
The move is part of the steps being taken by Lagos Government to address the five-point demands of the youth demonstrating against SARS brutality.
Sanwo-Olu made the announcement during a live address held at the State House, Marina.
The panel, which is being headed by retired Justice Doris Okuwobi, will sit for six months and is mandated to thoroughly investigate all verifiable claims of abuses and fatalities arising from SARS engagement in the State, with the objective to bring erring officers to justice and get compensation for the victims.
The panel members has three individuals representing Civil Society, one person representing security agency and one person representing the Government. Human Rights Commission and protesters are also expected to nominate their representatives, before the panel commences sitting next week.
The Governor also set aside N200 million Trust Fund for the compensation of victims and families of those who died in the course of SARS' activities.
The developments, Sanwo-Olu said, were part of the agreements reached at the Thursday meeting of the National Economic Council (NEC) presided over by the Vice President, Prof. Yemi Osinbajo, and which had all Governors in attendance.
The Governor said: "I attended a National Economic Council Sub-Committee Meeting in which the major focus was the ongoing EndSARS protests and the necessary steps to take to assuage the feelings of the protesters. In line with the five-point demands of the protesters, we unanimously decided to inaugurate a panel of investigation into human rights abuses.
"A seven-member Judicial Panel of Enquiry and Restitution for victims of SARS-related abuses in Lagos State is now being constituted. This panel will ensure that all those with verifiable cases of SARS brutality or fatality get justice and receive compensation. The panel will be chaired by retired Justice Doris Okuwobi.
"Other panel members are Mr. Ebun Adegboruwa, SAN (representing the Civil Society), Taiwo Lakanu (a retired Deputy Inspector General of Police), Ms Patience Udoh (representing the Civil Society), Mr. Segun Awosanya (Human Rights Activist), Mrs. Olutoyin Odusanya (Director, Lagos Citizens Mediation Center), as well as a representative of the youth-led protest and a representative of the Human Rights Commission."
The State Government, Sanwo-Olu said, has set up a help desk for the public complaints and petitions to the panel. Lagos residents, who have petitions against SARS, can reach the help desk on the numbers: 0901 051 3203, 0901 051 3204 and 0901 051 3205.
The Governor said his Government frowned at police misconduct seriously and would continue to respect the rights of the citizens to demonstrate peacefully. He condemned the violence that marred the EndSARS protest in Surulere on Monday.
Sanwo-Olu disclosed all the four erring police officers who fired live ammunition at peaceful protesters in Area C Police Command in Surulere had been identified and currently facing an orderly room trial that is being monitored by the Government.
He gave the names of the erring officers to include: Inspector Bagou Michael, Inspector Ekpoudom Etop, Sergeant Nnamdi Majura and Sergeant Akinyemi Benson.
While making reference to the Thursday skirmish at the protest ground in Alausa, the Governor sent strong warning to hoodlums who may want to harass the protesters to desist from the act. He stressed that the full wrath of the law would be brought on anyone apprehended for such act.
Sanwo-Olu, however, appealed to the protesters to acknowledge the progress being made on their demands and respond in good faith. He said the State had started to record incidents of breakdown of law and order as a result of the unabated protest.
He bemoaned the collateral impacts of the protest on the wellbeing of businesses and residents, pointing out that Lagos had recorded fatal medical evacuations as a result of blockage of key roads and gridlock occasioned by the protests.
He said: "We have been getting complaints from Lagosians who are unable to go to their workplaces or earn a legitimate living because of the collateral impact of protest gatherings.
We cannot continue this way. What we need now, and ask for, is for the protesters to sheath their swords, and give us a chance, as Federal and State Governments, to consolidate on these actions being promptly taken to address their concerns.
"Even as we affirm the constitutional rights of all protesters to peacefully make their grievances known, it is also our duty as a government to ensure that the exercise of one set of rights by one group of people does not in any way constrain the rights of any other group of people.
We now have no choice but to take every necessary step to restore law and order and to minimise the disruptions being experienced by all law-abiding residents of Lagos State."
The Governor reminded the protesters that Lagos had started to witness an increase in daily caseload of Coronavirus (COVID-19) in the last couple of days, stressing that the public demonstration could aggravate the health crisis that had been efficiently managed by the State Government.
Girlfriend burns boyfriend alive at a Fuelling station in Texas.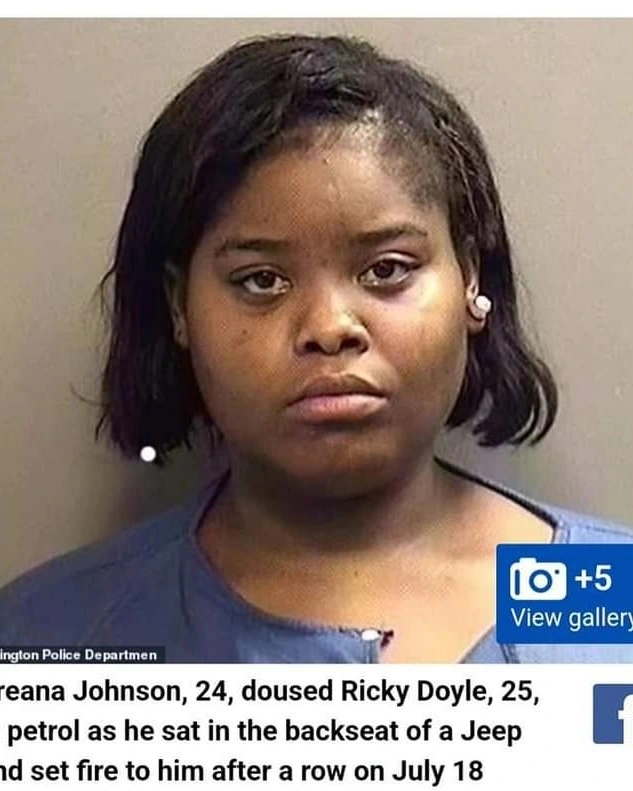 Boyfriend, 25, dies after his skin 'melted off' when his 'girlfriend, 24, sprayed him with 50 cents worth of gasoline and turned him into a human fireball' during row at Texas gas station
A woman has been charged with murder after 'melting the skin off' her boyfriend at a Texas gas station and driving away 'smiling'.Breana Johnson, 24, doused Ricky Doyle, 25, in petrol as he sat in the backseat of a Jeep and set fire to him after a row on July 18, according to the Arlington Police Department.
Doyle died on Tuesday in a Dallas-area hospital after a two weeks struggle for survival following the horrifying attack, prompting the Johnson's aggravated assault charge to be upgraded to murder.
Doyle's mother Lisa told NBCDFW how doctors said his foot 'was the only part of his body I could touch. That's all that was left.'
Johnson was heard to tell Doyle 'I'm going to kill you' at a Shell gas station during the argument, and went inside and paid for $0.50 worth of gas.
Witnesses saw her return and pour the gasoline over Doyle and walk around to the driver's seat and set it on fire in what had seemed like a premeditated and thought-through attack.Doyle escaped from the car engulfed in flames and was seen screaming through the parking lot unable to stop his body from burning.
A customer rushed to his aide with a fire extinguisher and put the flames out. A witness said Doyle was 'bleeding and had skin that appeared to have melted off his body,' said the police charging document.
Johnson told witnesses that she was smoking while pumping gas which was the accidental cause of the fire.
However, witnesses who had seen Johnson allegedly deliberately set Doyle on fire confronted her, with one trying to detain her until the police arrived.But Johnson pushed the person to the ground and drove away while smiling, the police report said.Doyle's family said he was first taken to Medical City Arlington before being transferred to a hospital in Plano, where he was being treated for burns covering more than 90% of his body.
They said the top of his head, groin and buttocks areas, along with the bottoms of his feet were spared.
Doyle's little sister, Mikayla, said the argument between Johnson and Doyle initially started outside the family home in Arlington.
'She [Johnson] just started beating on his chest. She took his phone. She threw his phone.
Then she came back and she picked his phone up, threw it at him, and then started beating his chest,' Mikayla recalled. We knew she was abusive to him, but we didn't know it would come to this.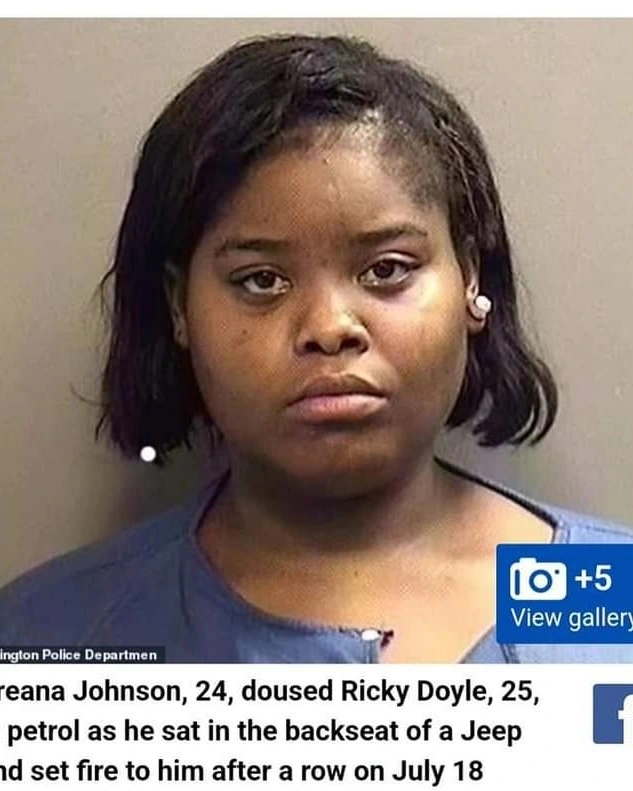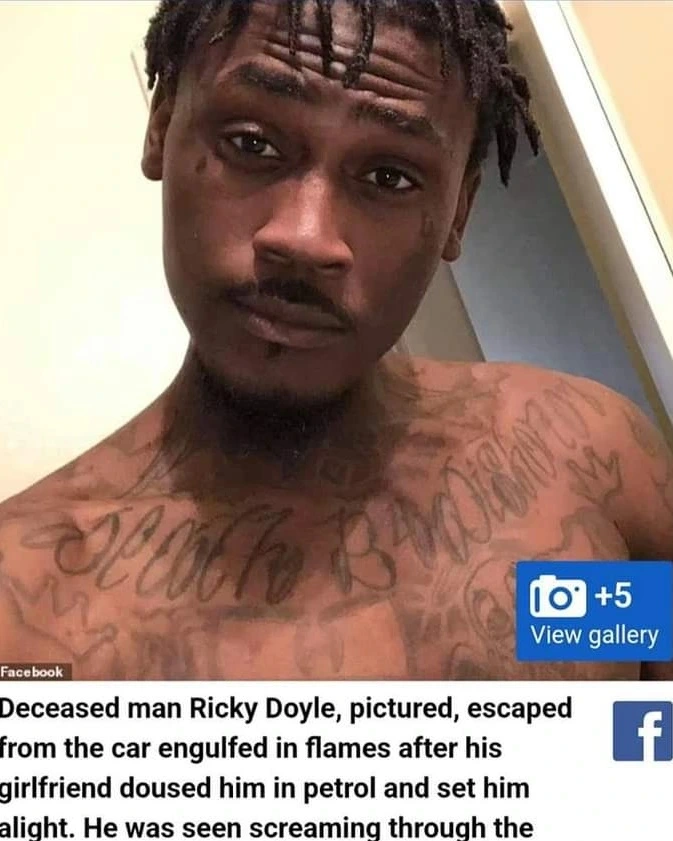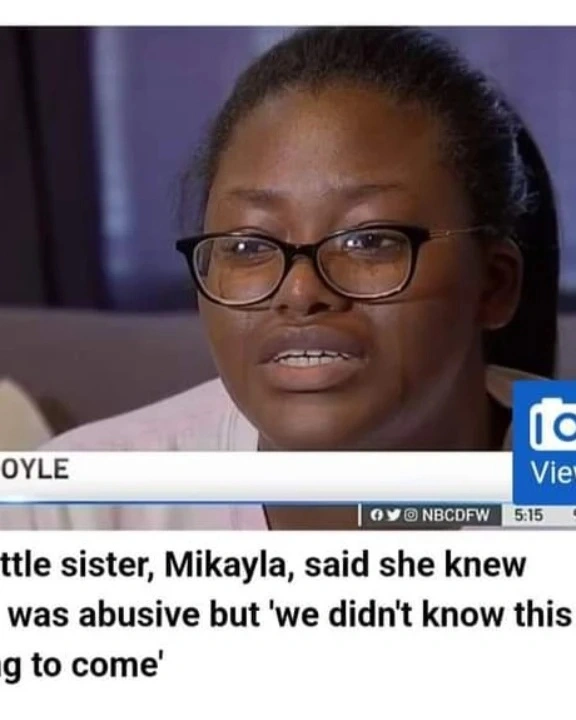 This is really a traumatic experience for the deceased family. We live in a crazy world, so be careful who you date.
Elon Musk builds Hotel in Mars, Sets to launch soon at $5million per night – Photos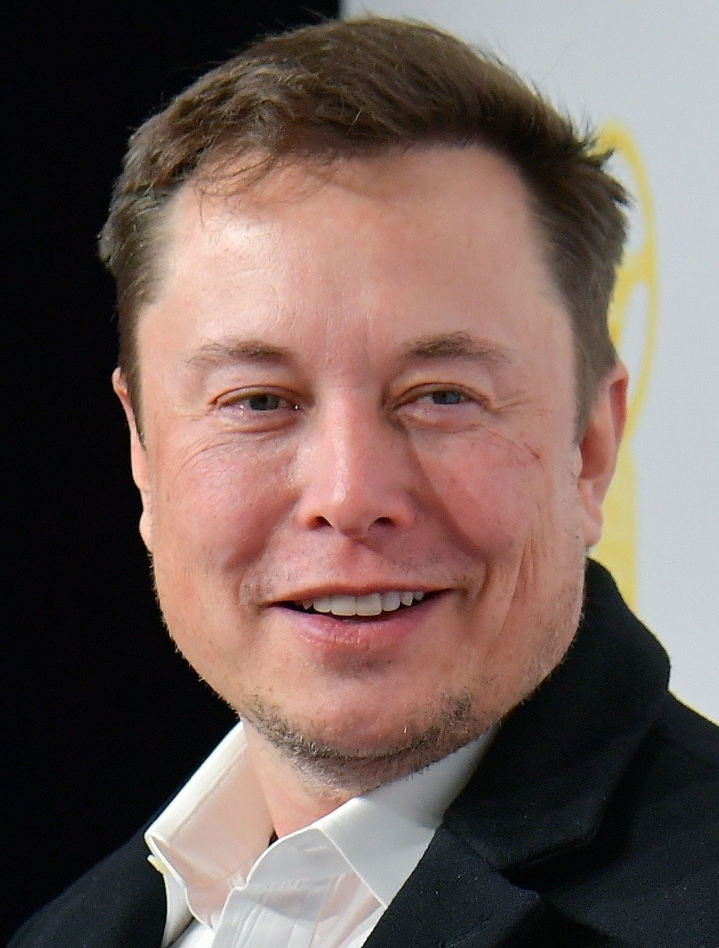 The richest men on Earth, Elon Musk is actually working towards making mars a planet to live in.
He already built a hotel in the Planet Mars!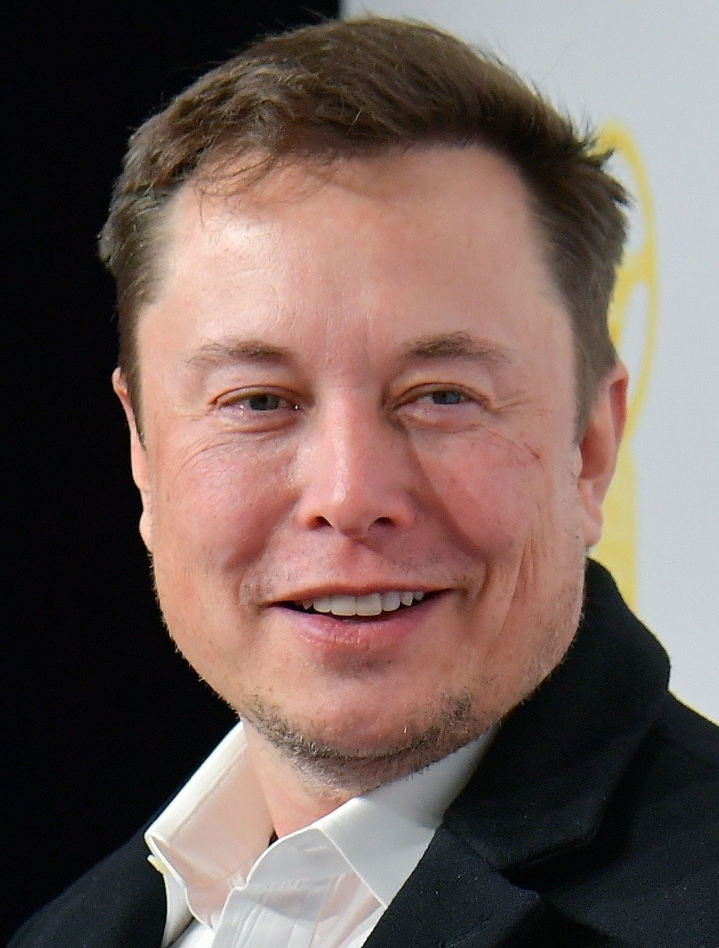 First Hotel in Mars by Elon Musk is set to open soon at $5 Million per night.
Just wow. This shows how far he's willing to go in making Mars another planet to live in.
Elon Musk who is a co-founder and leads Tesla, SpaceX, Neuralink and The Boring Company, is a very wealthy man.
And as the co-founder and CEO of Tesla, Elon leads all product design, engineering and global manufacturing of the company's electric vehicles, battery products and solar energy products Which is no surprise as to what he intends creating in Mars.
A little biography of him shows that he was born to a South African father and a Canadian mother. He displayed an early talent for computers and entrepreneurship. At age 12 he created a video game and sold it to a computer magazine. In 1988, after obtaining a Canadian passport, Musk left South Africa because he was unwilling to support apartheid through compulsory military service and because he sought the greater economic opportunities available in the United States. And over the years, his achievements have been quite mind blowing which has made him the most wealthiest and richest man in planet earth at the moment.
Here are the pictures of his hotel in Mars.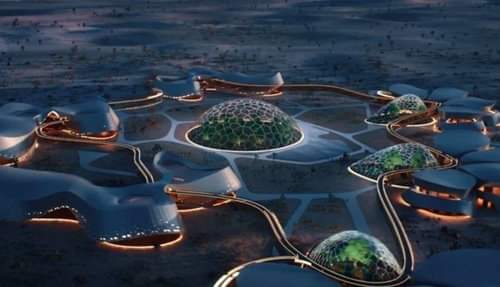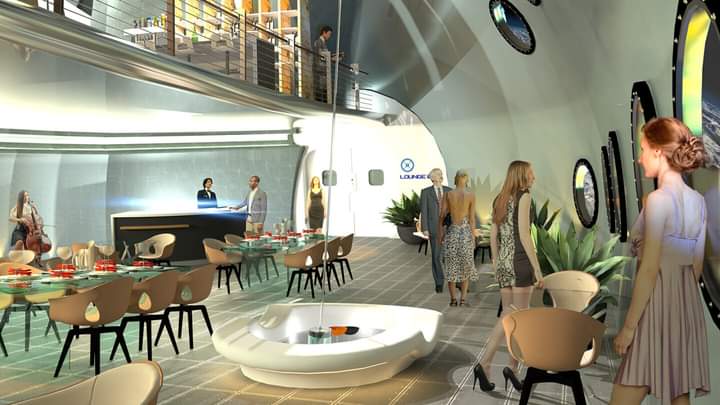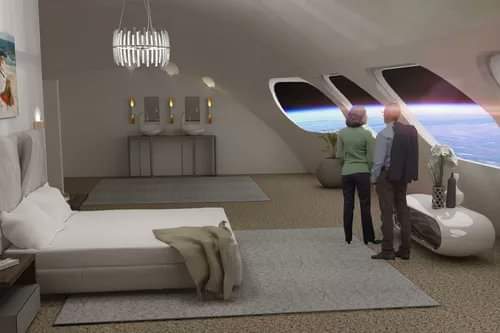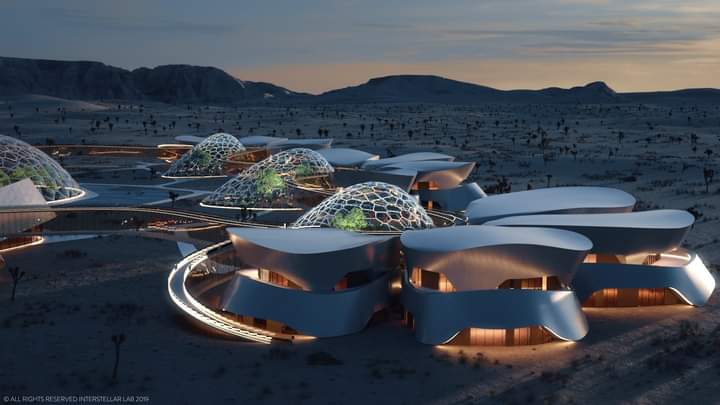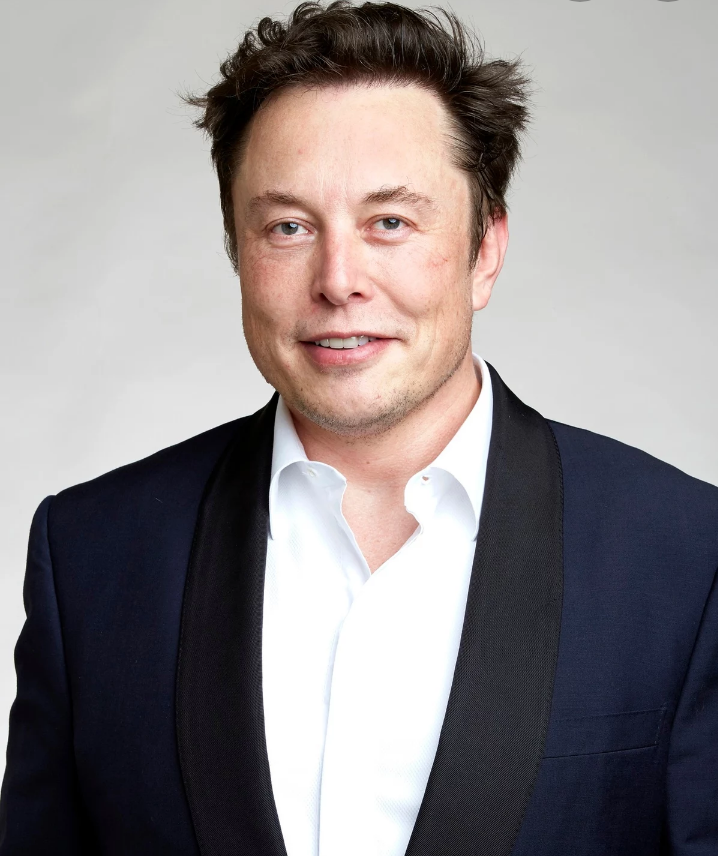 But how very convinced is the world about the success of Mr. Elon's project? Because this is quite a mind blowing achievement.
Apostle Johnson Suleman accused of rituals and sexual affairs with over 10 Nollywood actresses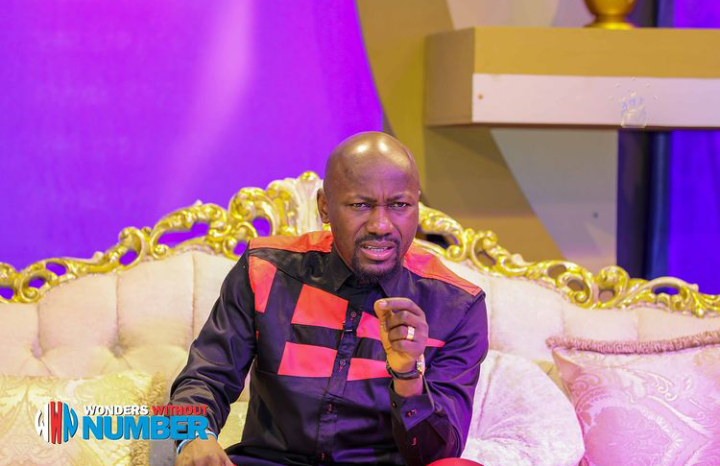 The pastor of Omega fire ministry, Apostle Johnson Suleiman has again been dragged by the popular blogger known as gistlover.
Over the years, rumors about him sleeping around with women and paying them big has been coming to and fro. It got to a point that a lady name Stephanie came out to disclose her alledged affairs with him which was denied.
But just some days ago, a Nollywood actress named Halima Abubakar came out to also to disclose her affair and ordeals with the man of God. She also stated through gist lover whom she conversed with, that she also got severely sick during her time with him.
Gistlover named a lot of other actresses in Nollywood who have been involved with him. Some were said to have fallen terribly ill whilst with him, and some had jujus strong enough to make them not get sick.
Some of the actresses name mentioned came as a huge shock to their fans. Actresses like Mercy Johnson, Ruth Kadiri, Ebube Nwagbo, Ngozi Ezeonu and even Omotola.
This seems like some kind of set up, but Gistlover has insisted that it is true as there are evidences to back this narrative. Well, we will be waiting to see the evidences but here are some photos showing the Actress Halima's claims and conversations with gistlover. And also photos of the names of the actresses released.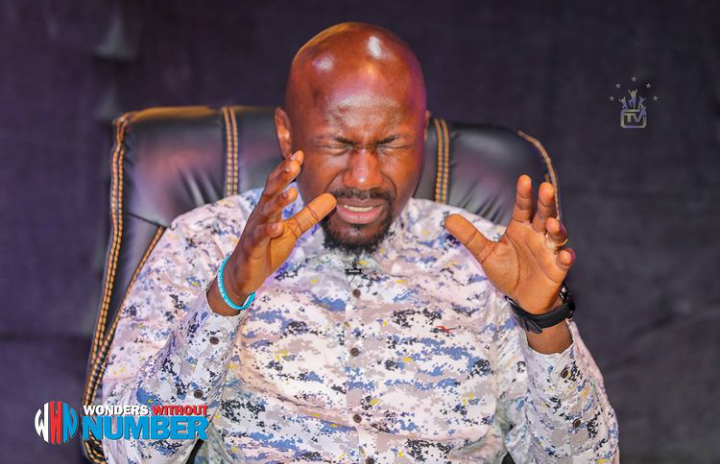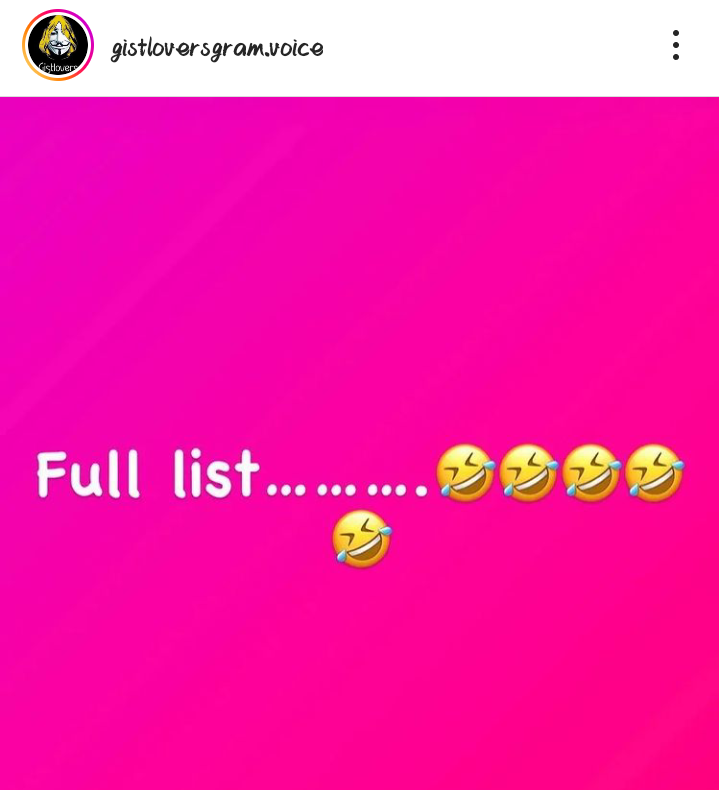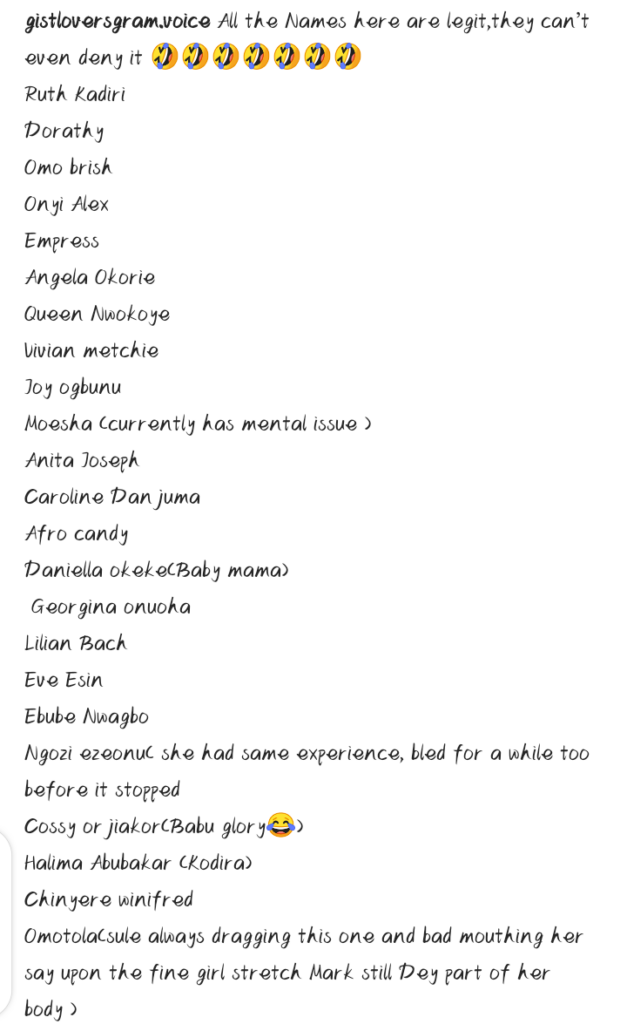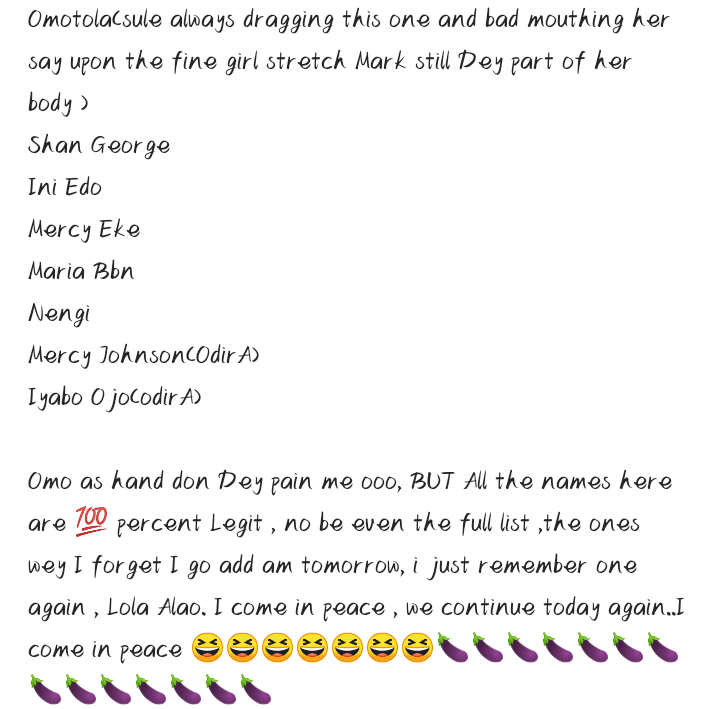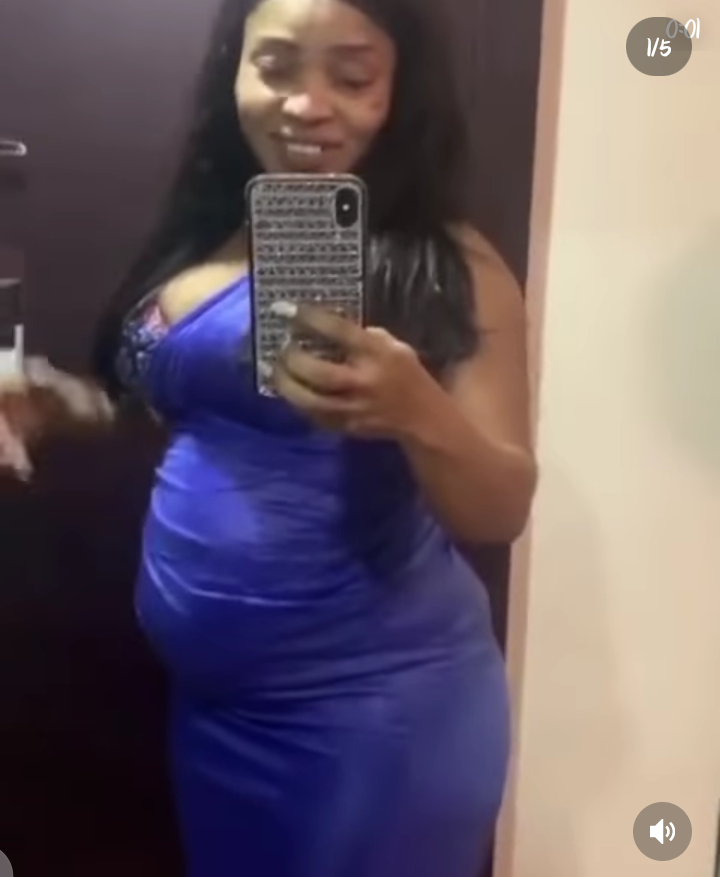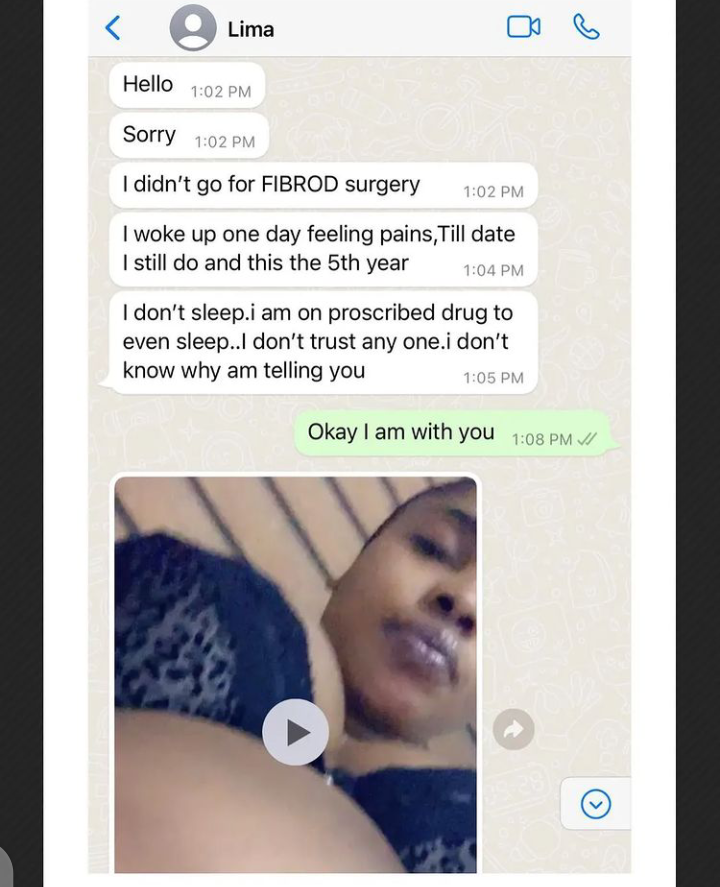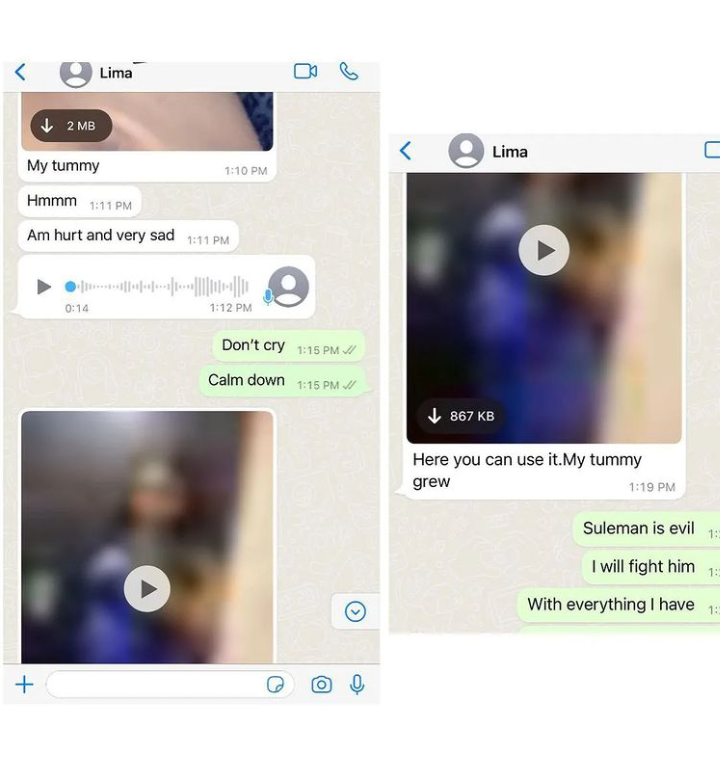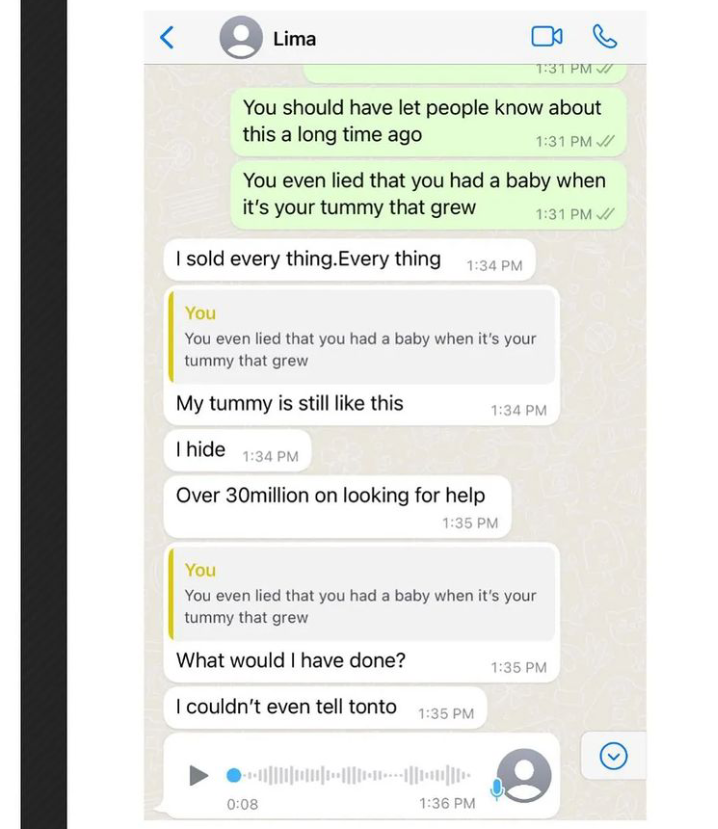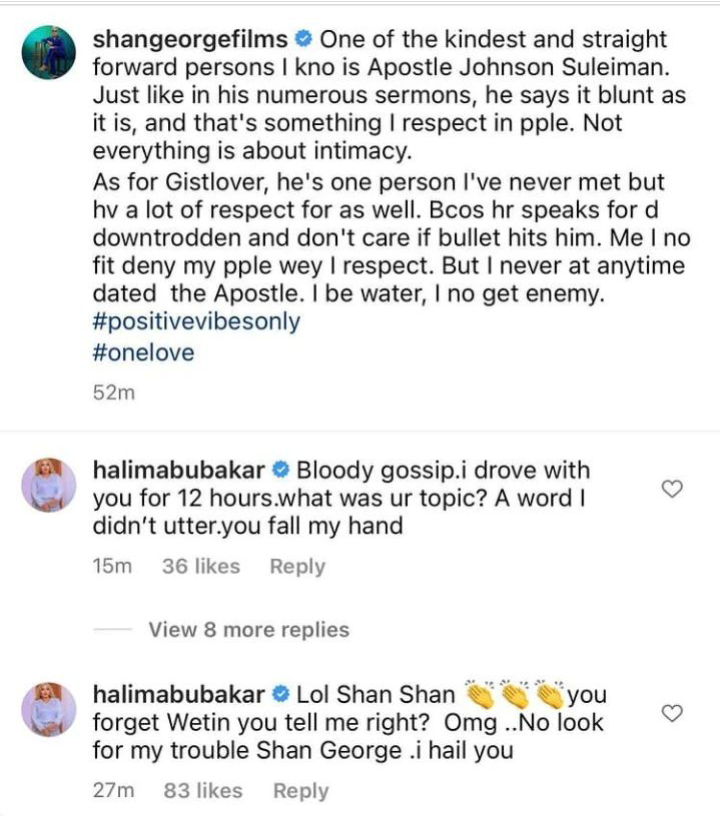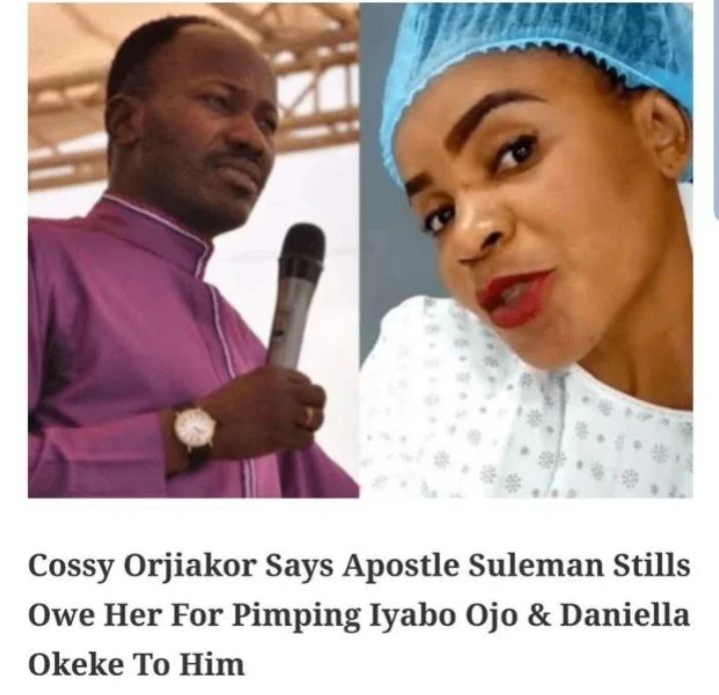 With all these allegations leveled on the man of God, he is yet to say anything about it. And we are sincerely hoping it's not true owing to the numerous evidences being showed and to be shown by gistlover.