[OPINION] Disband SARS And Reform The Police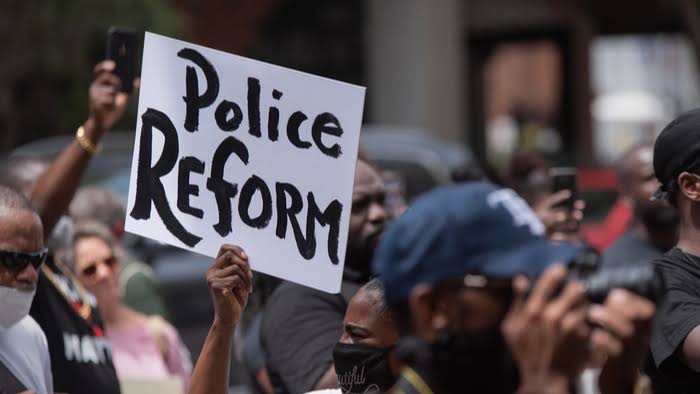 By Simon Kolawole
If you don't know Ndubuisi ("Dele") Udo, it is not your fault. The Nigerian police did not allow him to be great. As a teenage athlete in the 1970s, Udo was a collegiate champion at the University of Missouri in the United States. He was a three-time member of the National Collegiate Athletic Association (NCAA) All-American team.
He was a holder of numerous Missouri, Big Eight and NCAA records. Then he came to Nigeria in July 1981 in preparation for the 3rd IAAF World Cup scheduled for September 1981 in Rome, Italy. The quarter-miler would never return to the US again, neither would he fulfil his dreams and aspirations of conquering the world in athletics.
One evening, he left camp with some of his colleagues to buy suya at Ojuelegba, Lagos state. They were stopped at a police checkpoint. You know how it goes with the Nigerian police. One thing or the other, they got into an argument. Then a policeman pulled out his gun and shot Udo. He was dead in nanoseconds.
As young as I was then, I could not resist the tears when I watched his funeral on TV. He was just 24. He had been part of the Nigerian team to the 1980 Olympics in Moscow. Although he did not win any medals (Nigeria came back empty-handed), his future looked bright. He was just warming up. He made it to the semi-finals of 400 meters and was part of the 4x400m team.
The prodigious product of National High School, Aba, had been married to an American lady for just three weeks when the Nigerian police murdered him. Udo's wife was pregnant with their daughter, who would never see her father. They killed him. Police killed him. They murdered his hopes and dreams with a solitary, sickening bullet — over nothing. What happened next? You know the drill: the killer policeman was detained; the inspector-general of police, Mr Sunday Adewusi, who was new on the job then, promised a thorough investigation; President Shehu Shagari vowed that justice would be done; and a street was named after Udo in Ikenegbu Layout, Owerri, Imo state. The end.
Adewusi, now late, would go on to unleash the mobile police unit (MOPOL) on Nigerians in the 1983 general election. The notoriety of the anti-riot unit earned them the nickname: "Kill and Go." And here, 39 years after the gruesome murder of Dele Udo, we are still reeling under police brutality. Innocent souls are still being battered, this time by the Special Anti-Robbery Squad (SARS) which has displaced MOPOL on the cruelty league table. Murderous police officers are still being arrested and detained. The inspector-general is still promising to investigate the "remote and immediate" causes. The president is still promising justice and action. Does anything really change in Nigeria?
The latest public outrage over the impunity of SARS — triggered by the reported shooting of a young Nigerian in Ughelli, Delta state — offers President Muhammadu Buhari an opportunity of a lifetime to write his name in gold by carrying out a comprehensive reform of the police.
It is in our best interest. This is not the time to be taking photographs with the IGP and issuing press statements to the effect that he has been directed to do this and that. The police hierarchy are part and parcel of the problem.
They have always resisted attempts to make a fundamental change. They mouth one thing and do another. You and I know the reason. Why change a system that feathers your nest?
Before SARS, police had always engaged in vicious extrajudicial killings. There is nothing we are saying about SARS today that we have not said about other police units in the past, except that today we are in the internet age and officers have seized the opportunity to open new shops dedicated to yahoo boys and girls.
Task forces set up by various state governments to enforce traffic rules and environmental laws are notorious for human rights abuses. Police officers will first slap a bus driver before arresting him for stopping at an illegal bus stop. Police officers rent guns to armed robbers or even partake in robbery operations themselves. SARS is just a tip of the iceberg.
Why are police officers generally so brutal? Why are they so arbitrary? Why do they drive against traffic? Why do they drink and gamble? Why do they rape? Why do they make themselves available to be hired to settle personal scores in purely civil matters? Why do they openly extort money from motorists? Why do they steal exhibits? Why do they lack respect for human dignity? These questions go beyond SARS.
They hit at the heart of everything that is wrong with our police force. Disbanding SARS can only be a starting point. But if the factory that produces these cold-blooded police officers remains open and is not overhauled, we would only be scratching the surface.
Meanwhile, the truth is that police officers are also not completely useless. They are out there risking their lives to protect us. They are awake while we are sleeping and snoring. They are standing by the roadside while we are in our air-conditioned offices. They are always the first target when armed robbers want to strike. They are human beings like us. They are fathers and mothers. They are uncles and aunties. Ironically, these same police officers win medals when they are on duty outside the country, especially on UN and AU missions. How do we explain that? Is there something about the Nigerian water that destroys their humanity? Is it our culture of impunity?
In 2004, I did a mini-study on the police, with great help from my friend and foot soldier, Ibrahim Sule (who sadly passed away last year). I wanted to understand the problems and challenges. I focused the research on the recruitment process and the conditions of service. I then wrote a series of articles based on my findings. Here is a quick summary.
The recruitment was terribly flawed. Because of our poor record keeping, ex-convicts, including armed robbers, and unfit persons were being recruited into the force. The conditions of training could only produce beasts. The hostels were inhabitable, the food was appalling and even their allowances were not being paid.
Firearms training was grossly inadequate. Many recruits finished training without being properly taught arms handling. Recruits had to bribe to get official uniforms. What's more, at every level and stage in the recruitment process, there was fraud. Police belts and shoes were being hawked openly. For those already inside the force, the tales were sadder.
They saw their colleagues die on duty and their widows battle and struggle for years to collect the entitlements. One senior officer once lamented to me: "Is this what will happen to my family if I die serving this country?" Police officers were being given patrol vans without fuel. They had to fuel the vehicles from their own pockets.
"You think we don't know they extort motorists?" a very, very senior police officer told me. "We just look the other way because we don't give them money for fuel." Guess what happened to the fuel budget. Officers were being transferred without plans for accommodation and without getting their allowances.
I was at the Pen Cinema police station, Agege, Lagos, one morning and saw policemen sleeping inside a van. One officer told me: "They were transferred from Enugu last month. There was no plan for accommodation, so they sleep inside patrol van, wake up very early in the morning to have their bath, and they have to go on patrol without funds being provided for fuel."
I can't remember what officers were being paid as hazard allowance then but it was a pitiable pittance, while politicians were feasting on billions of naira. Have you ever gone to report a case at a police station and you are asked to "mobilise" officers to for investigation? This is the back story: there are hardly any funds made available for investigation.
An officer told me some years ago that he had to be transporting suspects to court from his own pocket. Many suspects rot in police cells for this reason. A police officer confided in me that he resorted to drinking dry gin and smoking marijuana anytime he was on night duty to gain "Dutch courage". He often felt vulnerable.
Fellow Nigerians, you can now imagine what would happen when you unleash these bitter, desperate, frustrated, ill-trained, cheated, demoralised, disoriented and dehumanised human beings on the society — and then give them guns, to boot. You ask them to police people who look successful, respected and well-nourished, people who treat them with disdain and suspicion.
For clarity, I am not making any excuses for their impunity. Poor training and operational conditions do not excuse the insanity. But my point is: in the end, we are getting the kind of police that we breed. The foundation is faulty. A police officer will always be a police officer, no matter the unit or station.
That is why the problem is deeper and wider than SARS: the mould that produces police officers needs to be reshaped. Since we cannot do away with them, we have to make them more effective and recondition them to see their job as that of protecting the people, not extorting, oppressing or killing them. There is no proper consequence management and accountability process in place.
When you give people power over others, give them guns, and empower them to literally make the difference between life and death, you should realise that there will be abuse and impunity and make an arrangement to address it. It is clear that no such strong mechanism currently exists.
If I were to advise President Buhari, though, the first thing is for him to seize the moment by disbanding SARS immediately. That would be the starting up. That would send a strong signal that this is not the usual presidential lip service. Also, he should order a thorough investigation of their atrocities, perhaps a truth commission that will lead to the prosecution of erring officers and commanders.
Above all, he has to overhaul the police force. We need to look intensely into the recruitment process, the orientation, the welfare, the budgeting, the accountability and the entire operations. There is something that makes them behave the way they do. Let's get to the root!
#FixPolitics seeks proper amendment to Electoral Act

#FixPolitics, a citizens-led research-based initiative, has called on the National Assembly to carefully consider a bill before it, seeking to repeal the Electoral Act 2010.
#FixPolitics made the call in a document addressed to the joint Senate and House of Representatives committee on Independent National Electoral Commission and Electoral Matters.
The joint committee had called for a public hearing on 'A Bill for an Act to Repeal the Electoral Act No. 6, 2010 (as amended) and Enact the Independent National Electoral Commission Act 2020, to regulate the conduct of Federal, State and Area Council elections for Related Matters'. 
In the document, '#FixPolitics' Electoral Bill Memorandum (Position and Recommendations)', addressed to the joint committee, #FixPolitics pointed out that some sections of the Act were weak, problematic and filled with irregularities, hence its position and recommendations.
In a statement issued by the group's Publicist and Spokesperson, Mr. Ozioma Ubabukoh, on Monday, #FixPolitics said, "Our position and recommendations is to engage the existing political order to produce sustained change that guarantees democratic progress and wellbeing of the people."
According to Ubabukoh, some of the grey areas identified in the Act on which #FixPolitics made its position and recommendations included Section 2 – Functions of the Commission; Section 6 – Establishment of Offices in Each State and FCT; Section 9 – Continuous Registration and Section 12 – Qualification for Registration.
Others were Section 44 – Format of Ballot Papers; Section 52 – Conduct of Poll by Open Secret Ballot; Section 87 – Nomination of Candidates by Party; Section 119-157 – Electoral Conduct and Section 127 – Voting by Unregistered Persons.
Concerning 'Section 2 – Functions of the Commission', #FixPolitics said, "We propose that the National Assembly should take on the role and responsibility of calling for a referendum on a new constitution. The National Assembly should facilitate the process through which the Nigerian people can exercise their constitutional sovereignty to give themselves a constitution. This role is not only consistent with principles of constitutional democracy, it is also a validation of the provisions of the Nigerian Constitution."
The group also proposed a reduction of the time provided in 'First schedule – Rules of Procedure for Election Petitions: Sections 12, 14, 16, 18 & 142'.
"Paragraph 12(1), which gives a respondent 21 days within which to respond to a petition, can be shortened to seven days. Paragraph 16(1) which provides a petitioner five days within which to respond to new facts by the respondent, can be shortened to 48 hours," it recommended.
#FixPolitics further urged the joint legislative committee to exude the spirit of statesmanship in the amendment to the sections to address the identified deficiencies in the Act.
"We expect that the proposed amendment will strengthen transparency and accountability in the nation's electoral system," #FixPolitics added.
Osinbajo and a likely date with destiny
Written by By Hashim Suleiman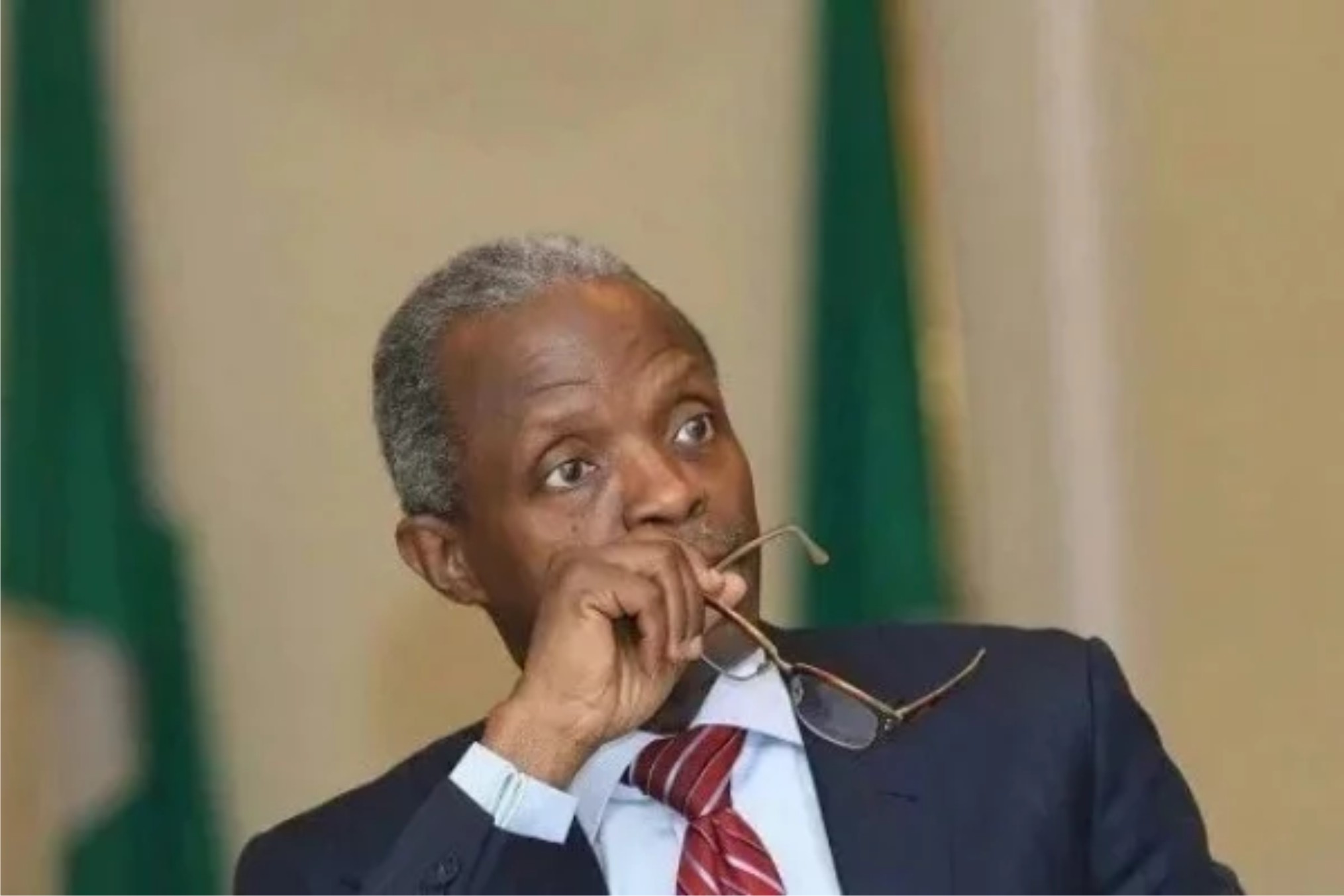 Let me use this yuletide season to shine my torch on Pastor Yemi Osibajo who at the moment is top most Christian official of the country and a person who has never lost sight of such a responsibility by behaving and acting appropriately. Such quality has silently endeared him to the people and due to his nature you can only know that when you personally ask peoples opinion about him or APC and 2023.
Due to his nature that I have described above and his not being the everyday politician, he may not be the favorite for political headlines by media and pundits but people like us who take extra mile to observe and analyze our everyday changing and growing democracy do see so many likely permutations of which Osinbajo appears the most likely for consensus sake all the way.
Let me make a reminder to my earlier article of November 4, 2019 titled 'Pantami as near perfect fit for 2023 permutations' https://opinion.premiumtimesng.com/2019/11/04/isa-ali-pantami-as-near-perfect-fit-for-the-2023-permutations-by-hashim-suleiman/ where I had identified Tinubu's clear interest in the game but could be stalled by a likely need for pairing with a Muslim like Pantami which is doable but with its attendant challenges and as such a pairing of Pantami with a Christian could be a more perfect fit. Such a Christian is gradually turning out for me to be Osinbajo.
Events have come and gone after the above article and in fact the race for the 2023 is becoming clearer with so much interests for the presidency in the APC and none of them is likely ready to shift grounds for the other, little wonder why Pastor Tunde Bakare had to attempt to shut some of those camps who are hell bent on truncating Asiwaju Tinubu's ambition for the 2023 presidency bid.
It is not likely that those camps are going to pull back their 'shakabula' guns as a result of Bakare's sermon and one thing Bakare also forgot is that in politics such guns may not kill but they may be spoilers in a supposed well planned operation.
Regardless of all these however, Tinubu has continued his reach out to all parts of the country from Sheikh Bin Usman's daughter's wedding in Kano to Maiduguri on a condolence for the incident at Jere local Government.
Furthermore, it is not longer news that Kayode Fayemi and his crew are nursing their own agenda with him being the presidential candidate or pairing with a northerner as vice. The Goodluck Jonathan card is also flying and a friend just recently whispered another card of Orji Uzor Kalu perhaps to placate the Igbos. The people who fly these cards are mostly those who are vehemently against Tinubu's candidature and I'm not sure they are ready to support it for whatever reason and I'm also not sure if Asiwaju himself is ready to go ahead with his agenda without all these erring groups in the APC or in other words the APC being intact.
Make no mistake to think the Asiwaju who is a benefactor of Osinbajo is not fully qualified or does not enjoy my personal support for the presidency owing to my belief in his progressive principle which I had also enumerated in the November 4, 2019 article I made reference to in the third paragraph above but the realistic fact is there are so many land mines which do not appear pleasant for both his party and himself should he insist to go ahead.
The first major challenge will be that of the religious pairing unless well insist to have a repeat of the muslim-muslim ticket of 1993 and whether such would fly could be left to the further strategy meetings that would be held and such meetings must be made with sincerity of purpose, lucky enough Osinbajo had informed us in one of the Colloquiums that Tinubu holds his meetings with such openness during his governorship days and could give in on superior progressive arguments.
The second major hurdle would be those other groups who would back out in the event of the emergence of an Asiwaju candidature. Such would leave the APC very weakened to go into the election and there would also be anti party activities.
Against the backdrop of all of the above, Osinbajo appears to be the most perfect candidate to mitigate all of the above challenges. He is a Christian of repute who could easily fit into pairing with another Muslim of repute. He fits into the class of the new breed politicians that the Nigerian youths clamor for on a daily.
Apart from being a graduate of the Asiwaju School of progressive politics, he is a very close friend and confidant of all the other groups who might be opposing an Asiwaju candidature. Osinbajo had worked as meticulously as bagging enough friends from the opposition PDP.
If all of these are not enough pointers for a likely date with destiny then what could ever be more. Time shall tell however, but it's instructive for the APC family to look inwards and make appropriate decisions against the 2023 elections which is fast approaching.
But Osinbajo does appear as the most suitable consensus candidate for the APC.
*Hashim Suleiman wrote from Abuja. He can be reached via @oneheartnaija
OPINION: As The Nigerian University System Dies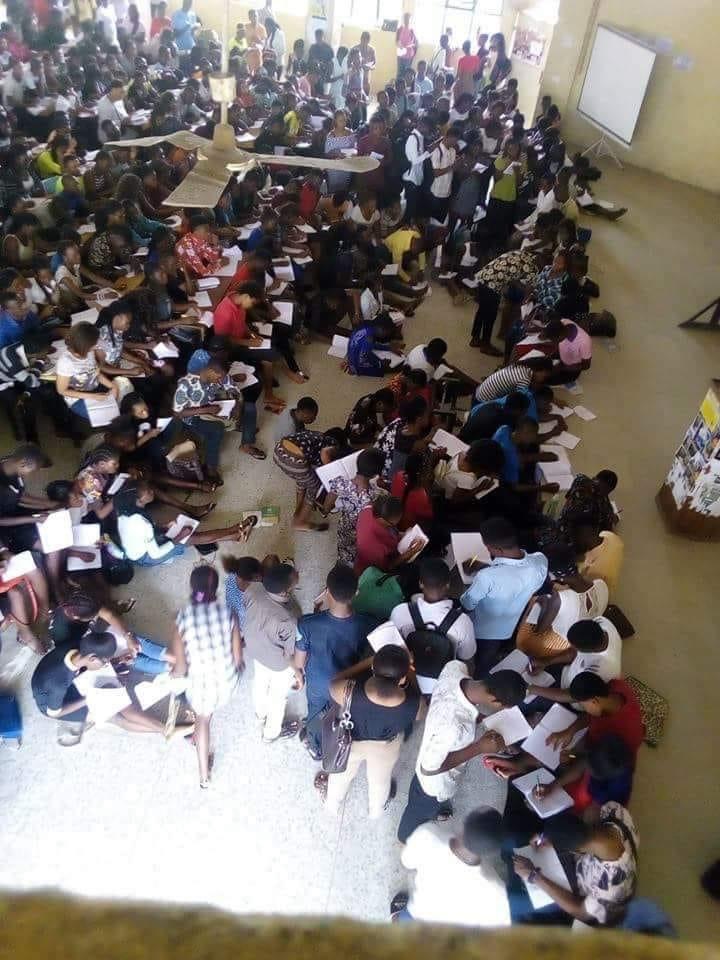 By Azuka Onwuka
If you have any reason to go back to the public primary school and secondary school you attended, you would notice that only the children of the lowest parts of the social classes attend such schools. They allow their children to still attend public schools because they find the school fees of private schools out-of-reach. The moment their earning power changes, they move their children out of the public schools.
This was not how it was in 1970s and 1980s when we attended primary and secondary schools. Children of all social classes attended the same public schools. Even the children of state governors, federal ministers, and top chief executive officers attended the same public schools with other children. Those who did not want to attend secondary schools within their neighbourhoods sought admission into some prestigious schools or federal government colleges. These schools usually had good boarding facilities. Old boys and old girls of such schools proudly talked about their alma mater.
There were few private schools then, but they were seen as not having the same high standard as the public schools. Government had taken over all schools built and run by missionaries.
In the 1970s, Nigerians who got admission into a Nigerian university and an American university would choose the Nigerian university over the American one. Students from other countries came to Nigerian universities to study. Lecturers from different countries came to Nigerian universities to lecture. Nigeria was seen as a hub of education and intellectualism in Africa.
By the time we went into university in early 1990s, private secondary schools were gaining currency. Public secondary schools had lost much of their quality. There were no private universities then. Government had not allowed private universities to operate. Public universities were degenerating but still of good enough quality to be accorded some respect.
In 1999 Igbinedion University, Okada, Edo State was established at Okada, Edo State as the first private university followed same year by Madonna University, Okija, Anambra State. Even though the existing public universities had lost so much of their glory and prestige, the new private universities were still viewed with suspicion. Many believed that in addition to having unnecessarily high tuition fees, they did not have high enough standard for students and would not provide students the needed well-rounded life.
As the new century progressed, the attitude towards private universities began to change. The first reason was the certainty that within every four years, there must be a long strike by the Academic Staff Union of Universities, which has lecturers of public universities as members. (This does not include the strike of the Non-Academic Staff Union of Universities). This would ensure that studies at all public universities are suspended for as many months as the strike lasts. Currently there is a strike by ASUU since March 23, 2020 (nine months). The global COVID-19 lockdown that occurred from March to July did not allow many people to notice the strike. But now that the lockdown has been lifted in all parts of Nigeria, most people have become aware of the strike. The regular strikes in public universities ensure that the graduation time of students is uncertain. People know when their children start their university education, but cannot predict when they will graduate.
Another issue was that changed the attitude to private universities was the dwindling quality of education in public universities. This became obvious as the ranking of Nigerian universities continued to drop. Just as government neglected the primary and secondary schools, it also neglected the universities. The hostels and classrooms became dilapidated. A hostel room that housed two students in the 1970s began to house four students in the 1990s, then six students, then eight students and then countless number of students, both those who were officially assigned the room and those who were not. The laboratories and libraries had only obsolete materials.
There was also the issue of university cults. Societies that were formed as university fraternities in the 1950s metamorphosed into dangerous gangs that intimidate, extort, attack, rape and sometimes even kill those who have issues with them. Sending a child to a public university became a risk: the child could be lured into one of the cults and become a monster or he could be maimed or killed for not being in the good books of cult members.
Then there was also the issue of sexual molestation, especially of girls, by lecturers. It is an underground problem that everybody knows but prefers not to talk about. Many female students have been the victims of lecturers who would demand sex for marks. Some would blackmail mediocre students because of their vulnerability, while some would do it to even bright students, including married students, denying them graduation unless they succumb to their sexual advances.
As Nigeria's public universities were losing their attraction, more and more parents began to embrace private university education for their children. Many parents with the wherewithal preferred foreign universities. Even universities in neighbouring African countries like Benin Republic, Togo, and Cameroon, which were not considered by many Nigerians as possible choices, became acceptable. Many parents just wanted their children and wards to have a reliable timetable for the completion of university education and also to complete it in safety and some measure of quality. The difference between the public universities and the private or foreign universities is the cost of tuition. Many parents have learnt to save for it.
The loser in all this is Nigeria. The money that should remain in Nigeria is sent out to other countries to pay for university education. The country is lucky that the money paid to private universities is still within the country. While students are going abroad to study, lecturers are also moving to other countries to teach. This is in addition to other professionals from all other fields who migrate to other countries every year to settle, because of the uncertain condition of things in Nigeria.
In university education, just like in almost everything, Nigerian government has proved that it is incapable of managing anything successfully. As opposed to Midas, whatever Nigerian government touches turns to dust. This has happened in railway, telecoms, broadcasting, newspapering, hospitals, roads, electricity, water, airports, seaports, museums, zoos, sports, manufacturing, security, economy, governance – everything. The only sector that gives a ray of hope whenever government fails is the private sector.
The only thing that can save Nigerian universities is if they are taken over by private organisations. As long as they are under the management of government, they will continue to degenerate. The only challenge is that once private organisations take over the universities, their fees will skyrocket, so they can be profitable. One wonders if there is a special arrangement that can be made between government and private organisations to take over the running of universities without increasing the fees beyond a certain level. But dictating to a private organisation how to run a business is a recipe for failure.
In the final analysis, the fate of Nigerian universities is bleak. Year after year, ASUU will go on strike to force the government to take some actions concerning the welfare of universities and lecturers, but whatever government eventually does will remain a drop in the ocean when compared to what the needs of the public universities are.