Official Dislodges Lawless Motorists, Street Traders In Lagos Island Business District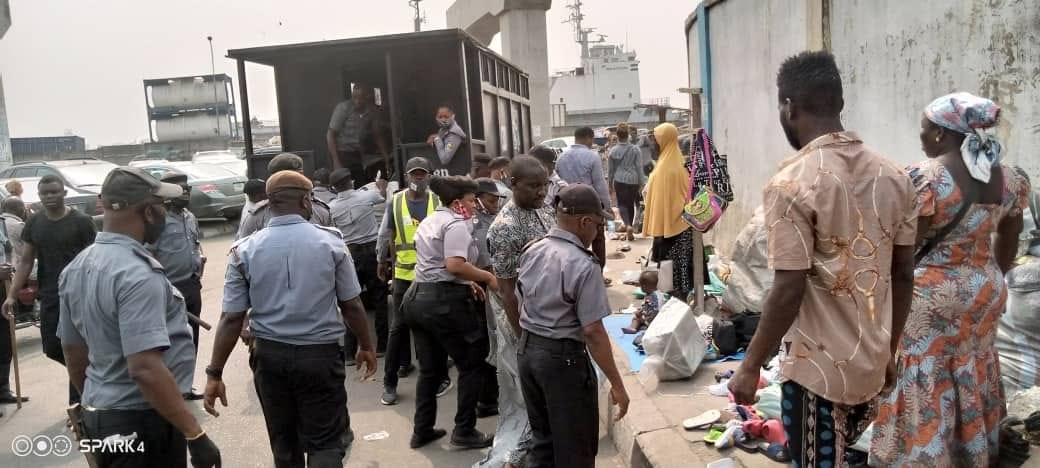 As part of efforts to ensure sanity within the Lagos Island Business District, the Senior Special Assistant to the Governor on Central Business Districts, Mr. Sola Giwa, on Thursday, led officials to dislodge vehicle owners and street traders obstructing the free flow of traffic in the district.
Giwa, speaking during the operation, said the State government has run out of patience with street traders and motorists parking illegally and disturbing the free flow of vehicular movement along the axis, especially on Nnamdi Azikiwe, Idumota outward and inward, Idumagbo/Dosumu, Ereko, Martins, Alli Balogun, Akanni and Broad Streets.
In his words, "The exercise, which is a continuous one, is to restore sanity and glory of the business district and allow for the free flow of human and vehicular movement within the Business District".
While warning vehicle owners parking illegally on the roads and streets traders to desist henceforth, the Senior Special Assistant, admonished shop owners extending their wares to walkways and drainage alignments to remove them immediately.
Businessman Gets Paid With Paper Notes For Goods Worth N500k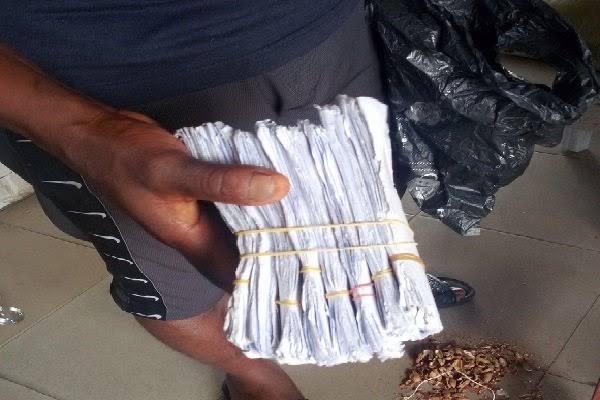 A businessman, David Maduka, who deals in the sales of doors, has narrated how three male fraudsters paid him with paper notes as money after purchasing goods worth N497, 000 in Agbarho, Ughelli North council area of Delta state.
Speaking with The Nation on Monday, Mr. Maduka said the incident occurred last Wednesday, 17 February, between the hours of 11am and 1pm at his shop located along the Agbarho axis of the East West Road.
According to him, the suspects, numbering three men who appeared to be in their 40s, came to his shop in a new white Toyota Sienna and spent quite a long time negotiating the price of the doors.
He disclosed that he was on his way to Onitsha, Anambra state, when they visited his shop and met his brother and a sales representative, a lady.
He said only one of them stepped into the shop to negotiate for the doors, while the other two remained outside.
"They were three matured men of about 40 years and above. They came in white Sienna and bought four doors. Two turkey doors (N165, 000 and N95, 000 each), one glass door (N200, 000) and one Watson door (N37, 000).
"I was on my way to Onitsha. My brother and sales rep were here, but I was the one who transacted the business on phone.
"They told them they were going to Agbarho, just inside the town. I didn't have the size of the glass door, so I told them I will have it the following day. So they took only the three doors available with a promise to come back for the other.
"They even refused to collect receipt after paying the money. My people counted the money, N1000 notes. They said they counted N500, 000.
"But it wasn't up to five minutes after the men left with the doors loaded in the Sienna, they decided to keep the cash properly, that was when they discovered the notes were blank sheets of paper. They showed me the bank money band that came with the money too," Maduka recounted.
Recall that a similar incident occurred within the state about two months ago, where the fraudsters bought bags of rice worth N450,000, paid cash but the money later turned to papers notes cut to the size of money.
Real Estate Company, Bambo, Accepts Payments In Bitcoin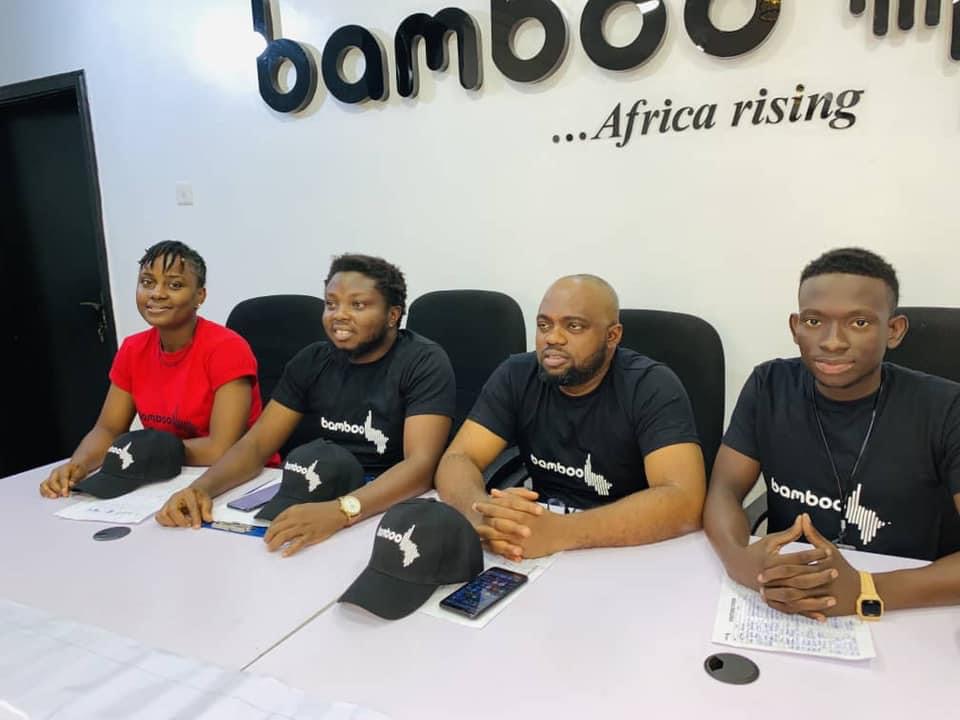 Bamboo Real estate and construction limited , a leading real estate firm with headquarters in Port Harcourt sets a new record as it officially begins receiving payments in cryptocurrency from clients for its services and products.
The company announced this during a press briefing in Port Harcourt, Rivers State, Nigeria. Bamboo has become the first to do so. It is even more fascinating that this is coming on the heels of the historic onward surge of bitcoin against the dollar which currently stands at $51,000 to a bitcoin.
This new payment system according to Oséyómón Ighódálóh the company's chief executive officer also applies to all their products and services, including Bamboo Capital, their investment subsidiary with over $20 million equity in real estate where clients invest money in buying lands and getting a return on investment along with initial capital after 12,18 or 24 months when you decide to return ownership of landed property.
Bamboo is arguably the biggest real estate firm in South-South, Nigeria. Some of their properties include David City, Kigali Heights, Lake Victoria,Southern Park Hills et al. All accros different locations and states in the Country.
FG Eyes Generating $150b From Non-Oil Exports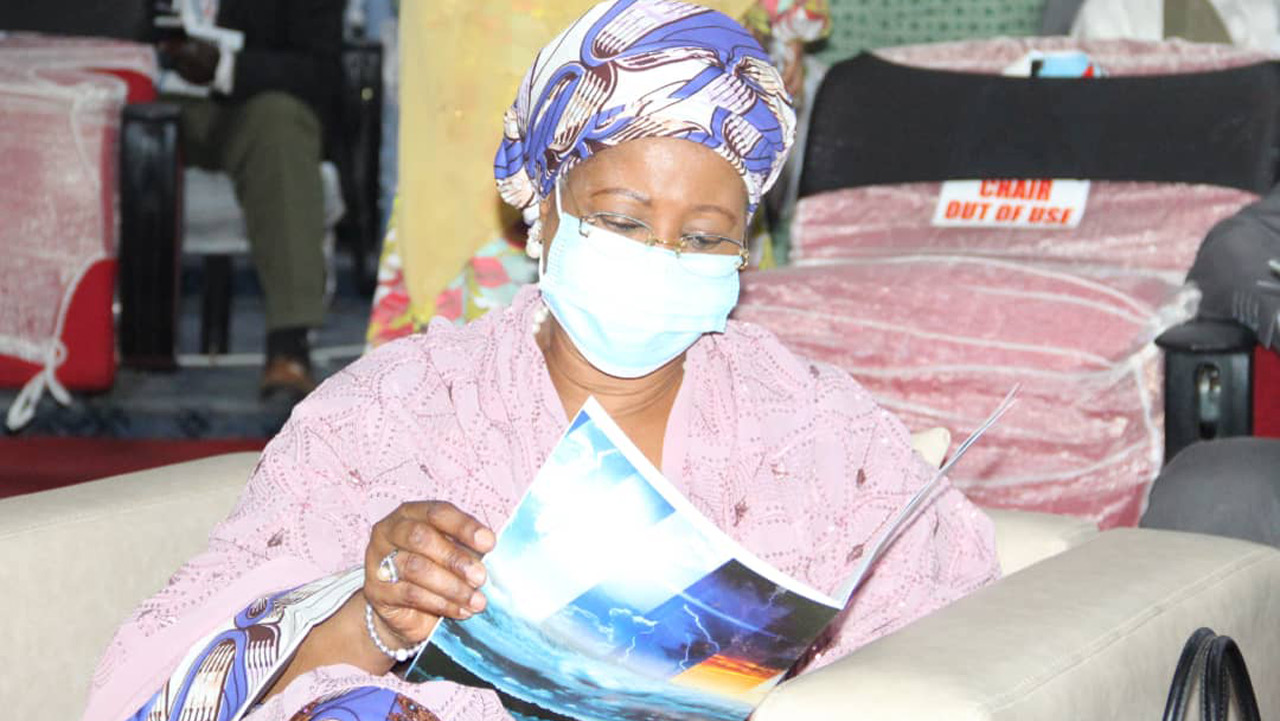 Federal Government is pursuing an aggressive strategy to increase foreign exchange earnings on non-oil export trade to $150 billion, a minister has said.
She explained that the strategy, which hinged on government's zero oil plan strategy, was being planned for 10 years.
The minister stated this at the opening of a two-day capacity building for members of Women Farmers and Traders Association (WFTA), organised by the ministry in collaboration with the association.
Katagum explained that the Federal Government was capitalising on non-oil sector to exploit abundant deposit resources, while discouraging over dependence on oil.
"The move will enhance the productive competitive advantage of states in Nigeria, through the "One State, One Product Initiative," driving local production of key commodities, especially edible oils, Shea butter, Sesame, starchy, sugar, textile, automobile assembly and agriculture," she said.
She added that the Ministry of Industry, Trade and Investment was committed to its mandate of accelerating diversification of the country's economy for growth and development, jobs creation and poverty alleviation with specific focus on women-owned business.
Katagum declared that the capacity building for women farmers and traders on trade facilitation was aimed at broadening knowledge on process and procedure of import and export trade.