Nnamdi Kanu Sacks Simon Ekpa As Radio Biafra Broadcaster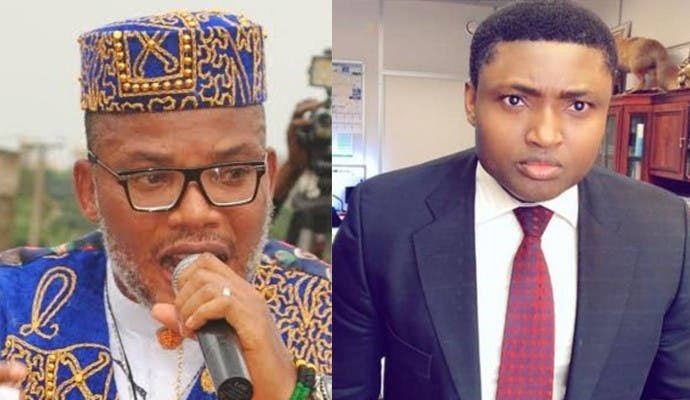 The leadership of Indigenous People of Biafra (IPOB) has disengaged Mazi Simon Ekpa of his appointment as Biafra radio broadcaster over failure to sign rules of operations.
In a statement by the Media and Publicity Secretary, Emma Powerful, the group said Ekpa has refused to sign the rules of engagement and code of conduct guiding those broadcasting on Radio Biafra.
It wondered why he would not like to follow the steps of other broadcasters on the platform who have since done the needful.
The group however noted the decision to disengage Ekpa was not to ridicule him but to prove to all that due process could not be compromised in IPOB as a well-structured movement.
The statement reads in part: "The global family of the Indigenous People of Biafra (IPOB) ably led by our great leader Mazi Nnamdi Kanu has observed with regrets, that Mazi Simon Ekpa whom our leader Mazi Nnamdi Kanu gave an appointment and duty to start broadcasting on Radio Biafra doesn't want to follow the laid down rules of operation in Radio Biafra.
"Our leader Mazi Nnamdi Kanu gave the directive while in detention but Mazi Simon Ekpa has refused to follow the principles.
"Mazi Simon Ekpa has refused to sign the rules of engagement and code of conduct guiding those broadcasting on Radio Biafra. We don't understand why Mazi Ekpa would not like to follow the steps of other broadcasters on the platform who have since done the needful.
"IPOB is a big movement, and cannot just change the rules because of one individual as this may set a bad precedence.
"Mazi Simon Ekpa is hardworking Biafran whose immense contributions towards the restoration of Biafra are highly appreciated, but for not signing the code of conduct as a broadcaster on Radio Biafra, he may not continue to have the opportunity of broadcasting via the platform.
"This decision was not intended to ridicule or undermine anyone but to prove to all that due process cannot be compromised in IPOB. IPOB is a well- structured movement where activities of members are regulated with well-thought out rules. No one should act in a way that suggests that the laws are meant for certain group of people.
"While Mazi Simon Ekpa has the right to make his broadcasts on Facebook and other platforms of his choice, he may no longer broadcast on Radio Biafra as one of the official broadcasters."
South African Church carries out virginity test on it's Female members yearly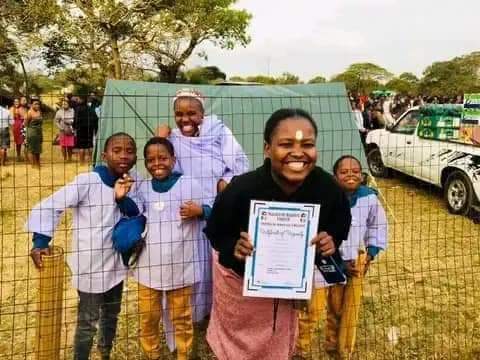 A church in South Africa has carried out virginity test on some of it's female members, After which they are awarded a certificate of virginity to each member who passed.
The test is said to be an effort to encourage chastity in the society. The church identified as Nazareth Baptist church is located and Ebuhleni, Northern part of Durban in South Africa.
The church is said to carry out virginity tests on it's female members who are 18 years and above and are unmarried. It is an annual event carried out by the church and at the end of the test, a certificate of virginity is awarded to the successful ones.
At the end of the award presentation, A white mark is placed on the forehead of the virgins. Now, The test is usually conducted in the middle of every year and the certificate issued becomes invalid the following year until a new test is conducted and a new one is issued.
Here are some pictures of the virgins are certificates issued.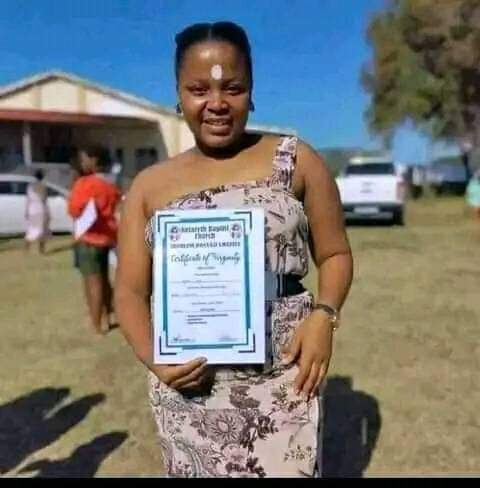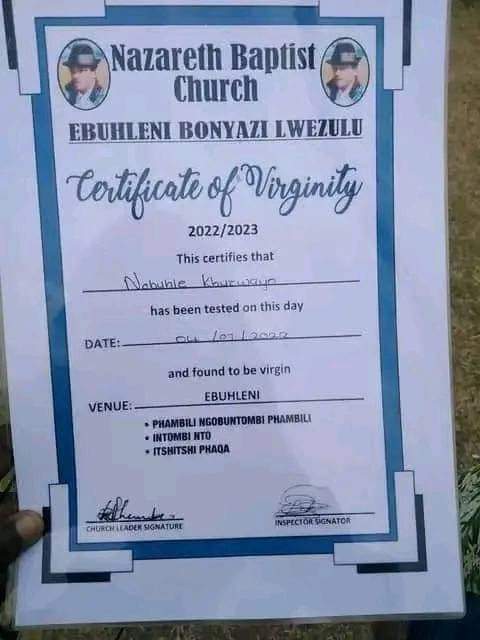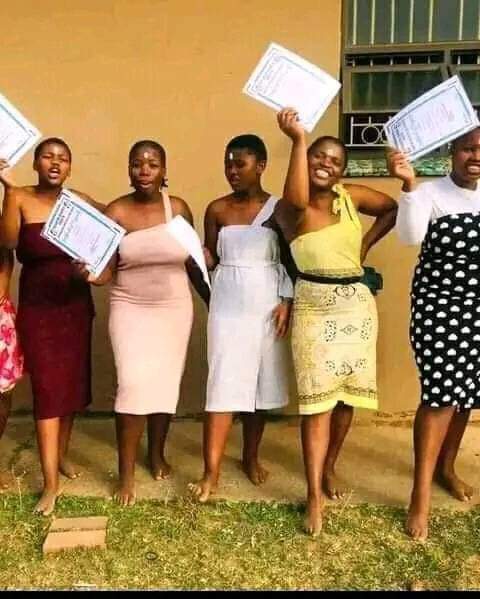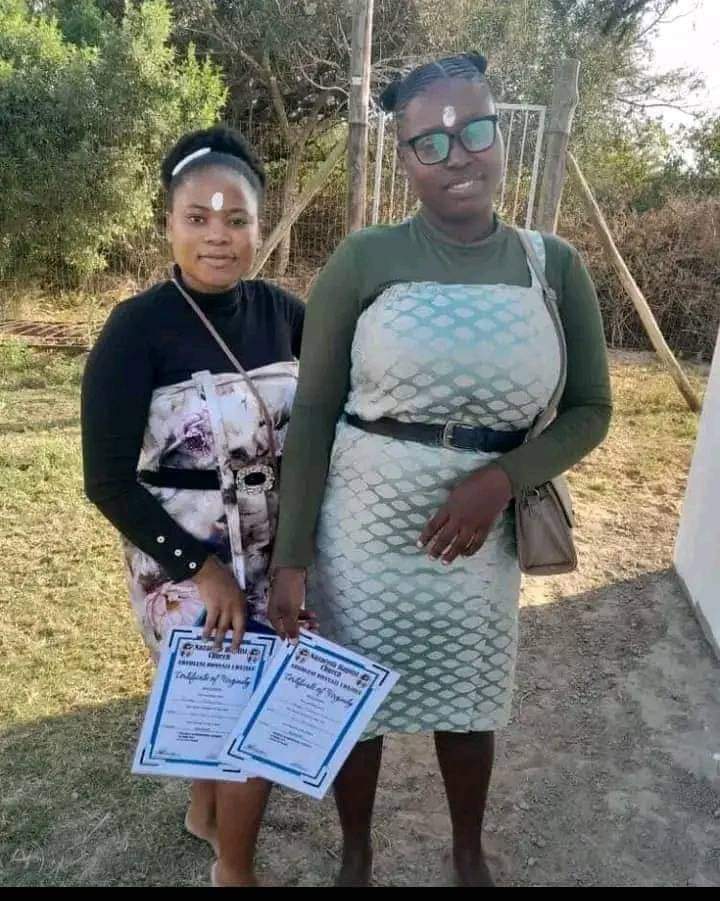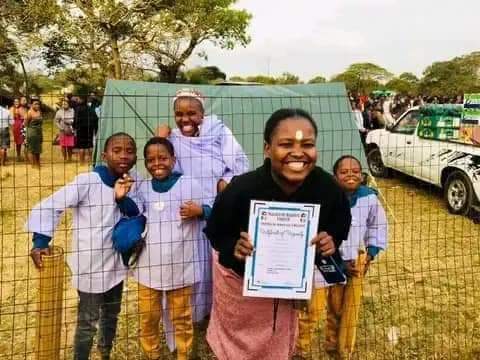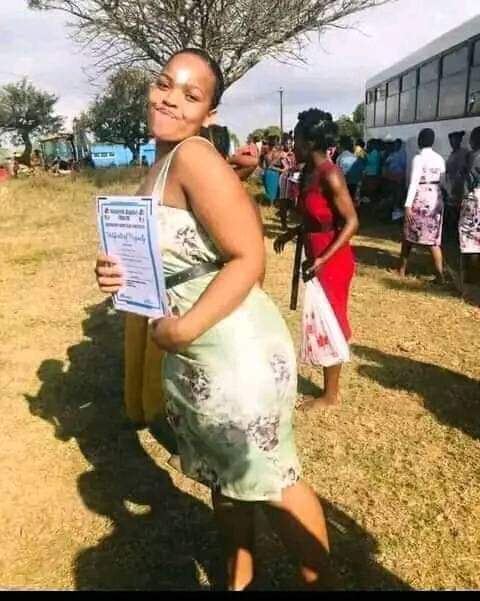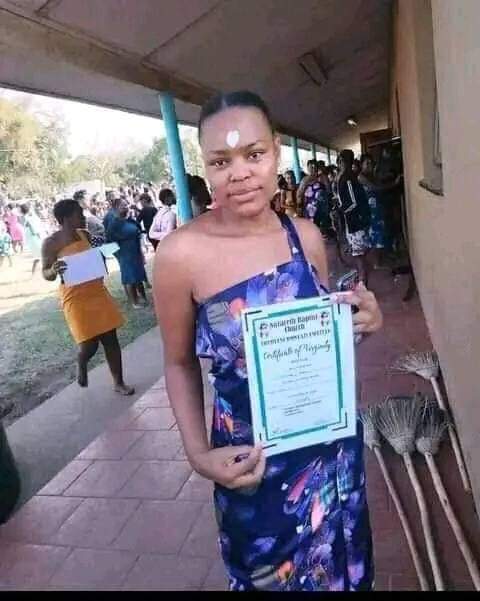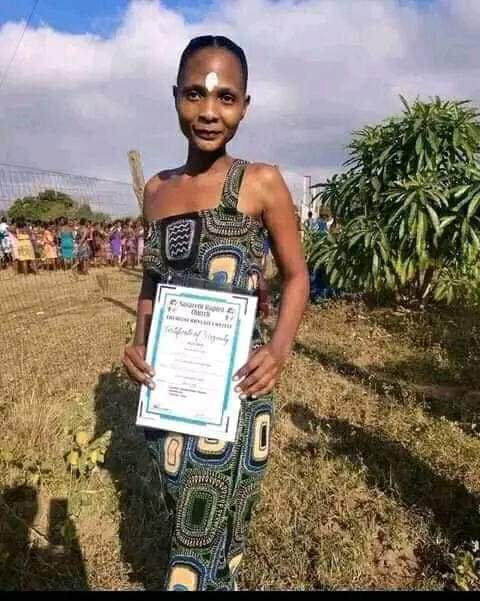 READ ALSO: The Ma'nene culture of Indonesia where they dig up the dead from their grave to celebrate them yearly
Sonia Ekweremadu's Public Appeal for Kidney Donor Melts Hearts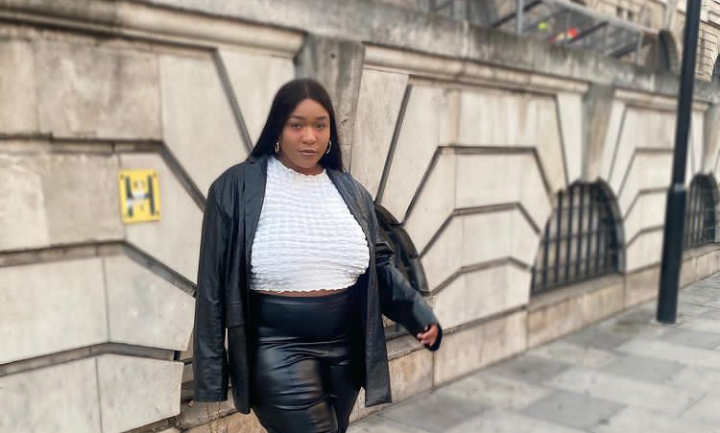 The daughter of the former Deputy President of the Nigerian senate, has cried for help for any possible kidney donation. News had it some months ago that Senator Ike Ekweremadu and his wife was arrested in the UK for getting a boy who was claimed to be underaged to donate his kidney to their daughter.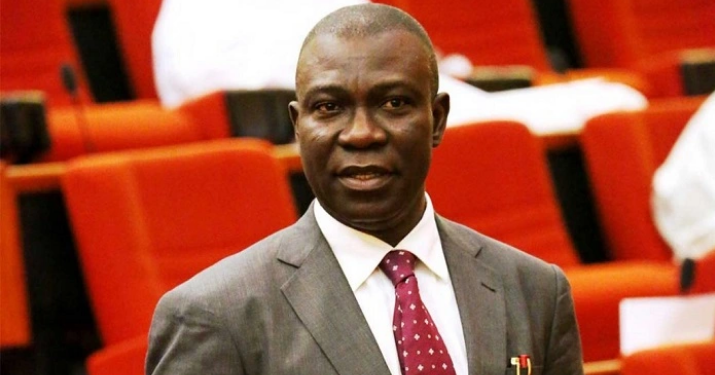 However, Since their original plan wasn't fruitful, their daughter Sonia took to her Instagram account to seek for help as she's been battling with a kidney rare disease since 2019 and has been moved to different hospitals outside the country just so that she can survive.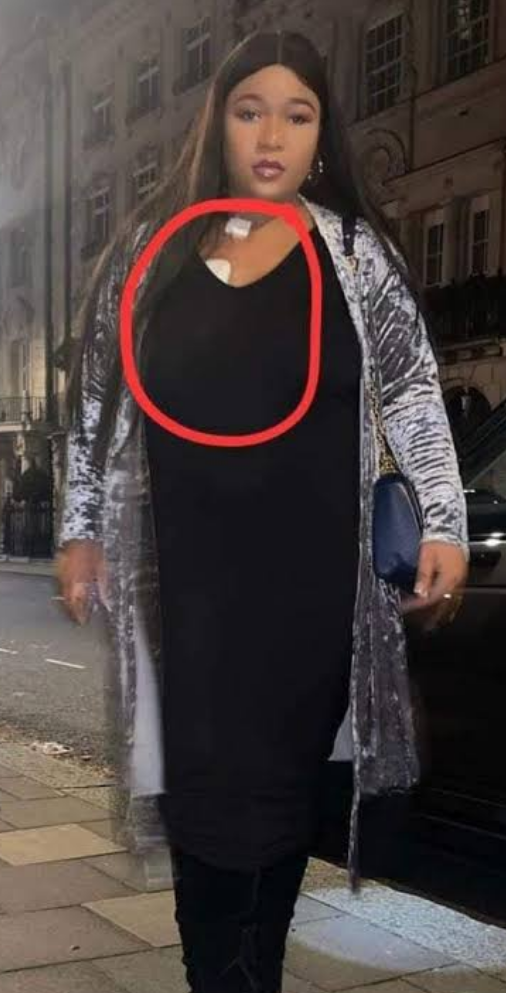 Here was what she wrote "I, Sonia Ekweremadu, hereby appeal to the general public to come to my aid and save my life.
I am 25 years old and a graduate of Media and Communications, University of Coventry. I dropped out of my post graduate studies at the University of Newcastle in 2019 when I was diagnosed with a rare kidney disease, FSGS Nephrotic Syndrome. My family has battled to save my life and has taken me to various hospitals, but the illness persisted and kept degenerating. I am alive today by the special grace of God. I am presently in London, UK, receiving 5 Hours of dialysis 3-4 times a week. This is at the expense of my family as I am not qualified for NHS due to my immigration status.
The last 3 years have been extremely challenging. The charges being faced by my parents in London presently, are directly connected to my illness and have complicated matter for me and my family. I do not intend to delve into details of this unfortunate development as the matter is still in Court. I am however optimistic that the truth will prevail and it will end in praise to God.
In the circumstance above, I am appealing to anybody whom it may please to assist me willingly with a kidney donation in the name of God.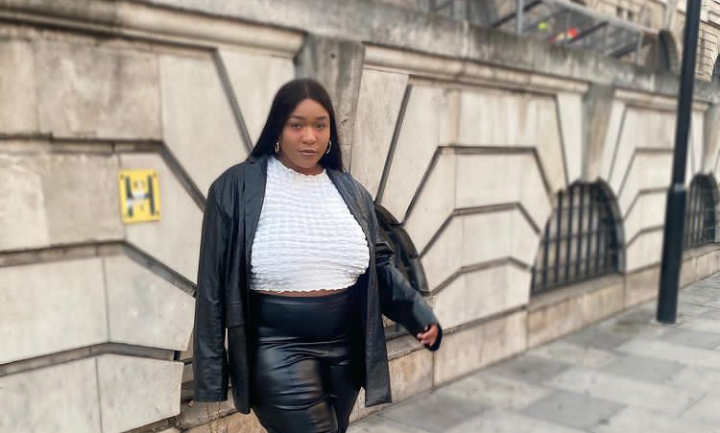 This appeal would have been utterly unnecessary as every member of my family is eager to donate their kidney to me, knowing that I would do the same for any of them. Regrettably, comprehensive medical examination showed that my case of nephrotic syndrome is a genetic illness and the doctors advised against donation from any of my family members, as it would likely reoccur. In the time that my father has been incarcerated, he has been diagnosed with acute kidney damage.
Anybody that is moved by this appeal and wishes to donate his or her kidney to me may send an email to [email protected] and include his or her name, phone number, email address and place of residence.
Please, note that under the laws of England and Wales, organ donation must be purely driven by compassion and therefore no reward is involved.
Finally, I have decided to commit and dedicate myself to helping people with the challenges of kidney disease, upon my full recovery.
Thank you and God bless you."
Copied from Sonia's Instagram handle @soniaekw
Her plea has since then attracted a lot of attention from Nigerians who are praying for her quick recovery, And some people are boldly speaking up on possibly donating their kidney.
READ ALSO: Gricd & HaulTrac Partner To Deliver Essential Healthcare Commodities across Nigeria for USAID
Nigerian Professor who wished the Queen an Excruciating painful death has once again given reasons to back up her claim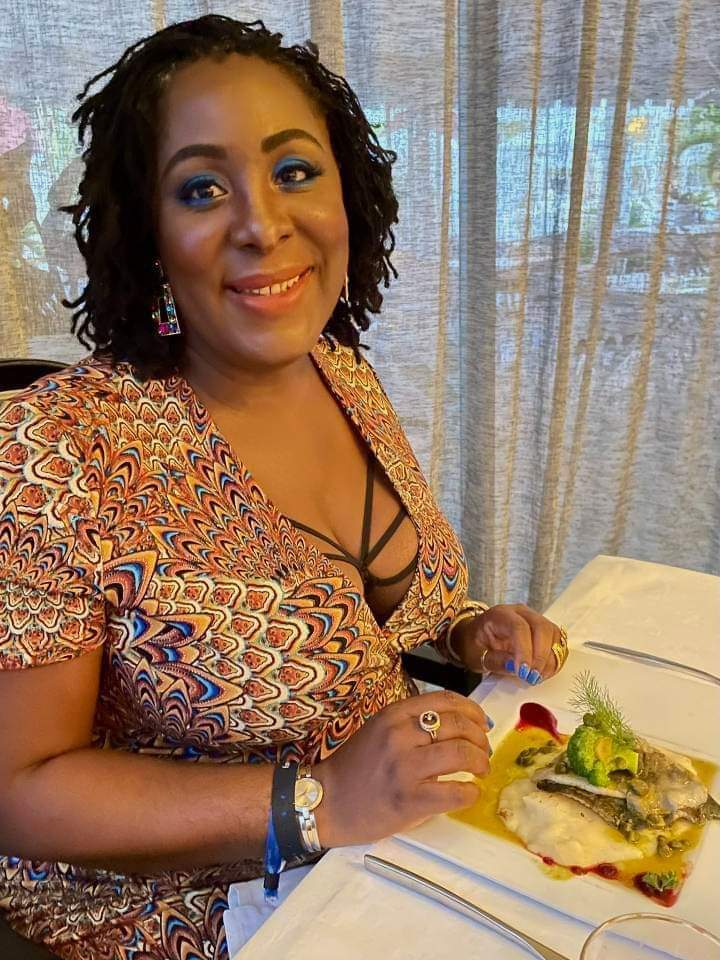 The Nigerian Professor who wished the Queen an Excruciating painful death, Prof Uju Anya has once again spoken up to support her claims.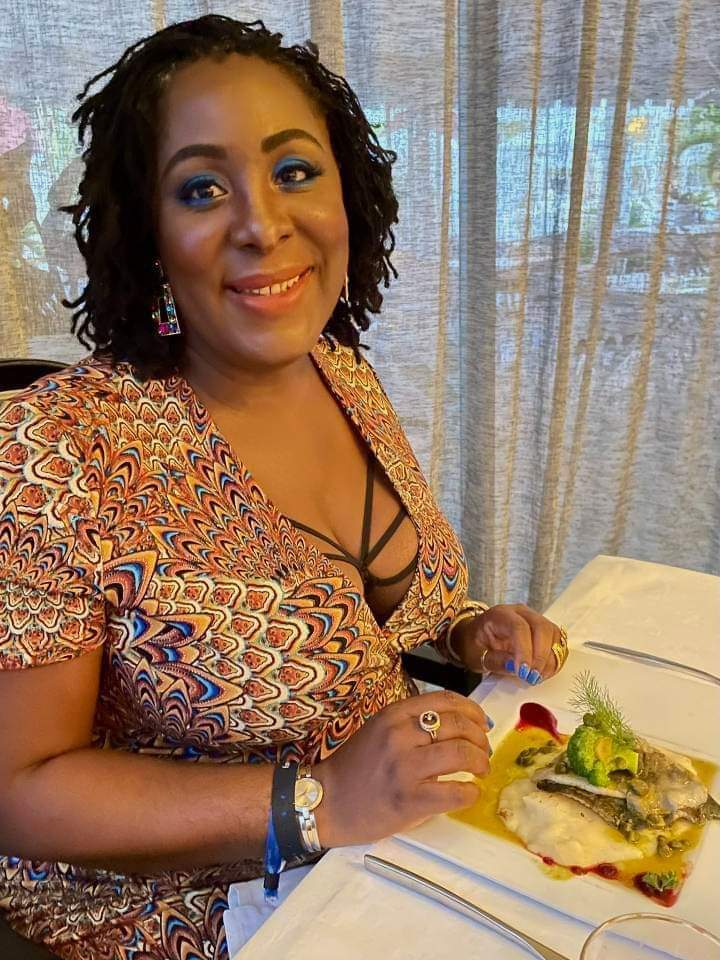 Before the death of the Queen was announced, her health challenge was also made public which attracted the prayers and sympathy of many people. However, one twitter post from a Nigerian Professor living in the US got the massive attention of people around the world as she Stated that she hoped the Queen would die a slow and painful excruciating death. The post Which has now been deleted by twitter, brought about different opinions and views from people who thought the professor was right or heartlessly wrong. Still the professor didn't go back on her words as she still had so much to say.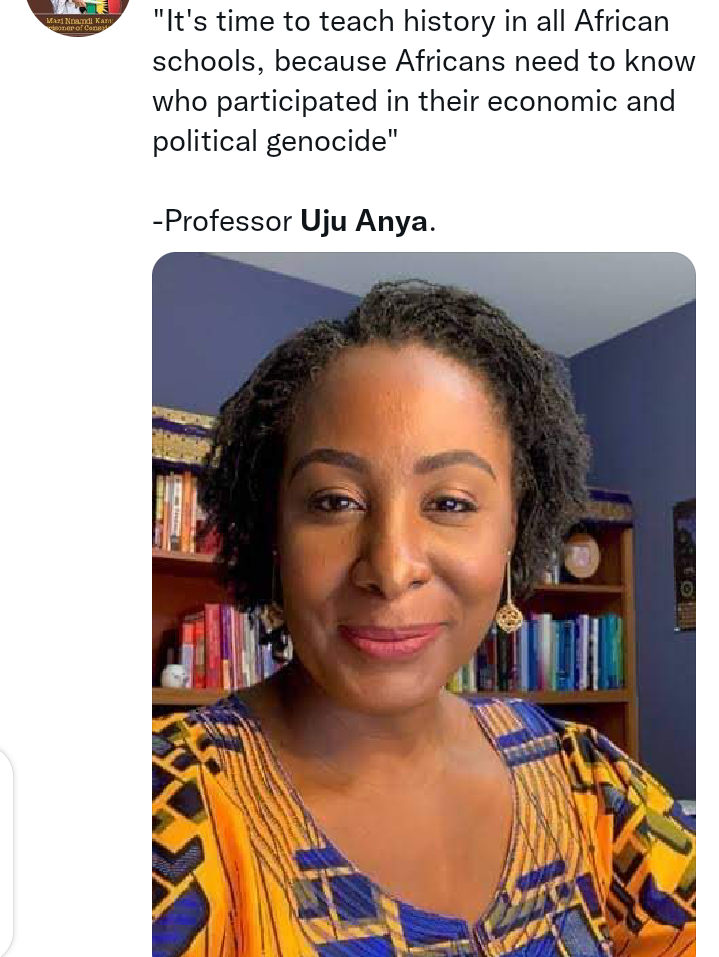 On another post she made, she still had this to say "I am very happy over the awareness I've created 48 hours ago. The likes of Jeff Bezos and many others have reacted. Questions are now been asked about the "British Empire".
"Factually, Ojukwu and Gowon had a meeting in Ghana, to avert this sad history. But because the British empire which is now under the leadership of King Charles lll were paranoia, they influenced Gowon to go ahead simply because they don't want another Japan in Africa."
" The history books are there. "There was a country" by Chinua Achebe is there for facts!. "The Biafra story" by Frederick Forsyth and many others."
" Let me also state it once again that my family was a victim. There is no family in Igbo land who did not had a share of this sad history. Till this day, there's no apology!!."
" Again, I only dropped a tweet. The Irish people celebrated it with fireworks. You can check #Irishtwitter hashtag on twitter for emphasis."
" We must speak up! The Igbo needs justice!. Africa needs justice!"
" The 56 commonwealth countries needs justice!
Although a lot of people are still reacting in different ways, Still it doesn't seem like she's about to back down.
READ ALSO: The Death of HM Queen Elizabeth the second, Stirs reactions amongst Nigerian citizens