[REGISTER] 𝐒𝐨𝐩𝐡𝐨𝐬 & 𝐓𝐞𝐜𝐡𝐄𝐜𝐨𝐧𝐨𝐦𝐲, 𝐀𝐧𝐧𝐨𝐮𝐧𝐜𝐞 𝐃𝐚𝐭𝐞 𝐅𝐨𝐫 𝐑𝐚𝐧𝐬𝐨𝐦𝐰𝐚𝐫𝐞 𝐖𝐞𝐛𝐢𝐧𝐚𝐫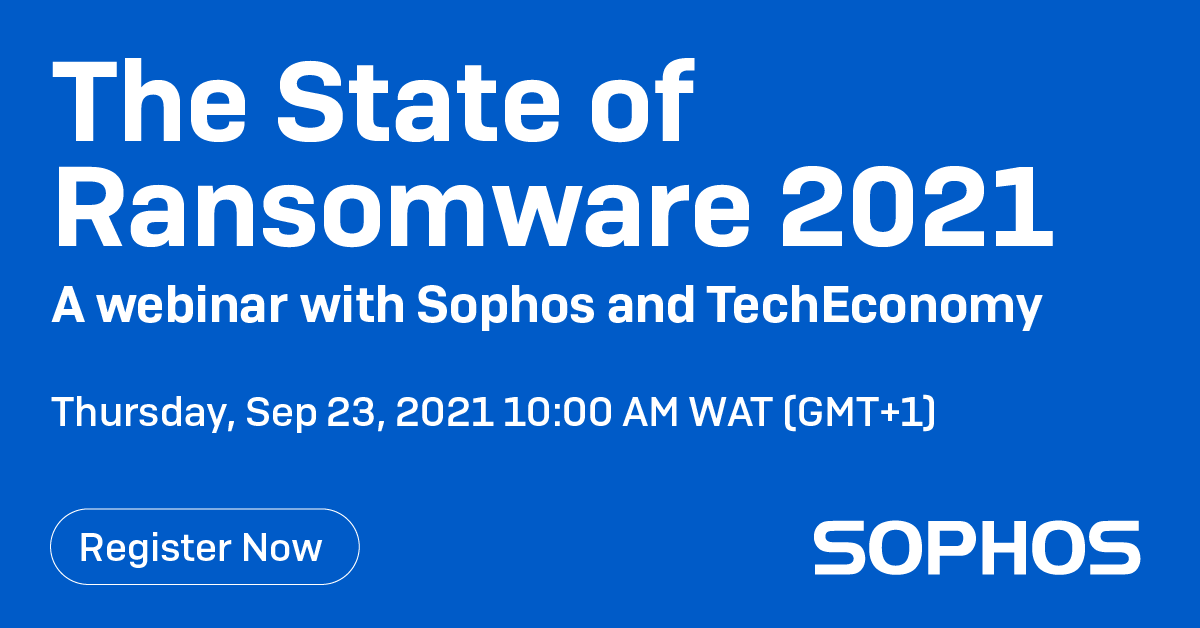 Sophos Group, a UK company primarily focused on providing security software in conjunction with TechEconomy.ng has announced September 23, 2023 (10.00 AM WAT) as the date for a Ransomware webinar.
Ransomware attacks have doubled since the first half of the year and are targeting over 50% of organizations globally.
According to the organizers, the webinar will explore: Which countries and industries are most affected by ransomware; how often attackers successfully encrypt their victims' data; the financial cost of ransomware, including the actual ransoms paid; the crucial information attackers omit when issuing ransom demands.
Speaking ahead of the webinar, Peter Oluka, Editor at TechEconomy said it was sacrosanct to keep IT professionals abreast with the current and ever-evolving sophisticated tactics deployed by cybercriminals.
He said participants will discover the strategies that enable some IT managers to feel confident they won't fall victim to ransomware in the future.
"Criminal activities in cyberspace are now rampant and the strategies deployed are becoming sophisticated. And to be able to combat these ransomware attacks, all IT professionals must be on their toes by paying close attention to cybersecurity."
Providing insight on how cybercriminals launch their attacks, Oluka said hackers send different types of cyberattacks and Ransomware is arguably the most common.
He mentioned that Ransomware involves malware. "It could be a mere link that is sent to your device, once you click on the link, the malware is downloaded to your device.
"Let's say, before the attack, you were the Chief Cybersecurity Officer in an organization that has strong IT infrastructure, what would you do? No, an IT professional wants to be in this mess because that is exactly where the real problem starts.
"The malware holds your company's data hostage, locking users out or rendering it indecipherable through encryption until your company pays a ransom to restore that information. "
𝐑𝐄𝐆𝐈𝐒𝐓𝐄𝐑: https://register.gotowebinar.com/register/4940706494175261963
𝐃𝐀𝐓𝐄: September 23, 2021
𝐓𝐈𝐌𝐄: 10.00 AM WAT
Autochek Officially Launches in Kenya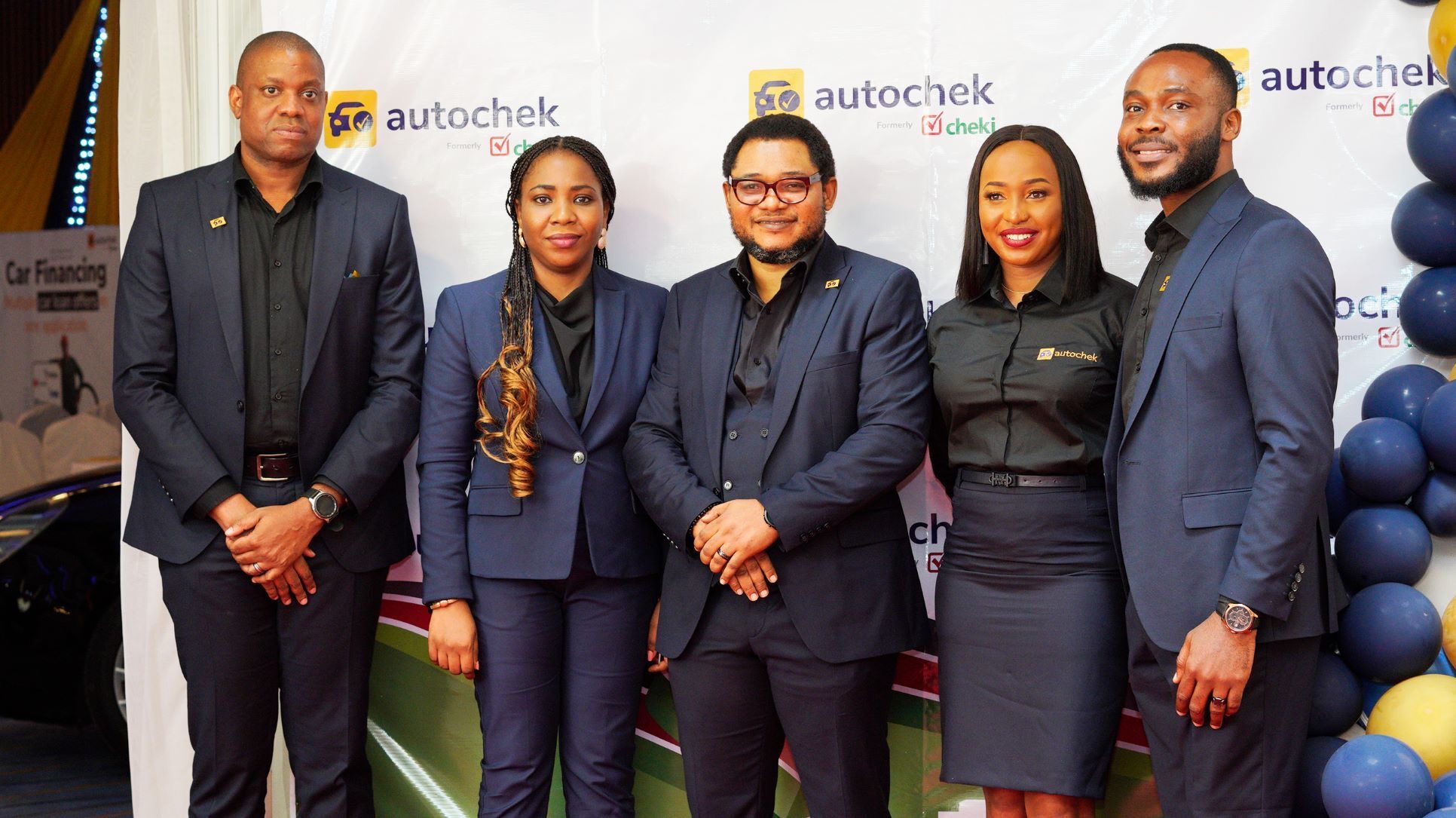 Autochek, the automotive technology company that aims to facilitate auto finance across Africa, has officially widened its operations to Kenya as part of its pan-African expansion. To lead its Kenya operations, Autochek has appointed Bilhah Muriithi as the Country Manager. Having recently acquired automotive marketplaces Cheki Kenya and Cheki Uganda from ROAM Africa (Ringier One Africa Media), the move into the Kenyan market signals Autochek's focus on building digital solutions that will increase market adoption for auto loan financing and drive partner prosperity for its core stakeholders, such as dealerships, garages and financial institutions.
With credit penetration in Kenya at 27.5% and over 400,000 car sales per annum, East Africa's growing market is positioned as a key auto financing hub.
Autochek will leverage its 360-degree automotive solutions to provide vehicle financing and after-sales services through its finance partners such as NCBA Group, Caritas MFB, KKVL, Musoni and Sidian.
With Cheki Kenya's operations fully integrated with Autochek's, the company now has over 12,000 unique vehicles listed on the Autochek app and have onboarded licensed brand new car manufactures (Inchcape, CFAO Group  & CMC Motors) as well as used car dealers (Al Rahim, Autobox, Newton, Mombasa Khushi & Canon Motors). To ensure vehicles are kept in good condition, customers in Kenya can access affordable and expert maintenance services from standardised workshops (AutoXpress, Motor Consult, Kei Cars & ) and insurance partners( PesaBazaar & MTEK) via Autochek's partner network.
Speaking at the official launch event in Nairobi, Etop Ikpe, Founder and CEO of Autochek stated "With a high credit penetration rate, Kenya is an exciting market for us to be expanding into. The Kenyan market presents an opportunity for us to build on what Cheki Kenya has done over the last decade and to build technology solutions that will drive growth in Africa's automotive industry.

"We've had great success in our pilots by adapting and tailoring our solutions for different consumers. As we expand our operations in Kenya, we are excited to welcome Bilhah on board, who we found to be a strong leader with a solid background in the finance and automotive sector, and is equipped to lead the team in Kenya as we continue to expand our footprint across East Africa and beyond."
Having started her career at Cheki Kenya, Bilhah joins Autochek from NCBA BANK PLC, Digital Business, where she was responsible for running the Carduka portal, an online motor vehicle platform, as the Business Manager. With over 9 years of experience, Bilhah has built her leadership acumen working with digital brands in Kenya. As Country Manager, Bilhah will be responsible for overall oversight of the business, growing the marketplace by ensuring that Autochek has all mainstream car dealers, all auto lenders, all car buyers, all insurance & tracking companies.
Commenting on her new role as Country Manager, Bilhah Muriithi said: "We foresee great opportunities in Kenya – not just for Autochek, but also for key stakeholders and consumers. By moving into Kenya, we are able to deliver great opportunities for innovation. I am excited to be joining this highly motivated team, who are passionate about making a real impact across the continent."
Joining Bilhah, Etop and the Autochek team at the launch event themed "Leveraging Financing to Facilitate Motorization Across Africa" were representatives from key stakeholders including Dr.(Eng) Joseph K.Njoroge, Principal Secretary, State Department of Transport, Major Kipchumba, Chair Kenya Car Bazaar, Hussein Ibrahim, MD, Inchcape, Andreata Muforo-TLCOM Capital & Tony Voorhout, MD, Nissan Kenya.
Launched in 2020 and backed by TLcom Capital and 4DX Ventures, Autochek combines technology underpinned by data analytics to deepen auto finance penetration across the continent. Powered by its residual value algorithm, Autochek is able to pre-qualify customers for financing and disburse auto loans within 48 hours through a single application process. Autochek's in-house digital solutions have enabled the platform to partner with over 68 financial institutions, build a 1,000 strong dealer network integrated with 1,000 workshop networks in Nigeria, Ghana and Kenya.
Telecom Operators To Pay $197.4m For 5G 3.5GHz Spectrum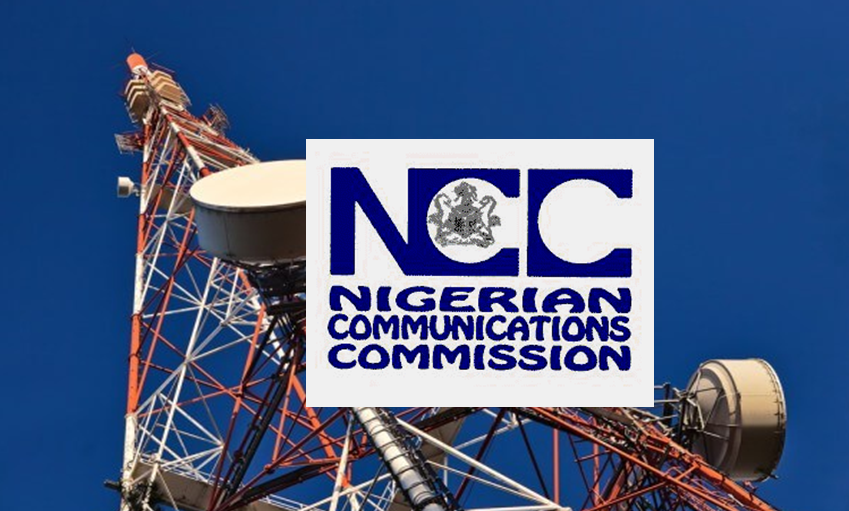 Telecom operators will pay a whopping $197.4 million to the Nigerian Communications Commission (NCC) for the Fifth Generation (5G) 3.5GHz spectrum.
The industry regulated in a draft hinted that it might offer two lots of 100MHz each in the 3.5 GHz band ranging from 3500 to 3600 MHz and 3700 to 3800 MHz for auction prelude to the 5G network deployment in the country.
In the 80-page document, the commission informed that the "Generic Reserve Price (GR) is the minimum price at which a lot shall be sold, adding: "This is the Reserve Price for one lot of 100 MHz and has a value of $197,400,000.00 ($197.4 million) or its equivalent in naira at the prevailing Central Bank of Nigeria (CBN) rates at the time of the auction."
It stressed that each lot of 1×100 MHz represents an eligibility point. The IM defines the process for the licensing of spectrum in the 3.5 GHz band by the NCC.
The commission explained that the assignment would comprise a sale to be held in Abuja from December 13, 2021 as an Ascending Clock Auction with exit bids. Mock auction is billed for December 6.
According to the regulator, the spectrum lot, won by every bidder, would be assigned on a nationwide basis, consisting of the 36 states and the Federal Capital Territory (FCT).
However, the NCC said the IM "is for information purposes only."
The organisation added: "It is not intended to form the sole basis of an investment decision and should not be considered as a recommendation by the commission to any stakeholder to participate in the auction."
TLcom Announces 3rd Africa Tech Female Founder Summit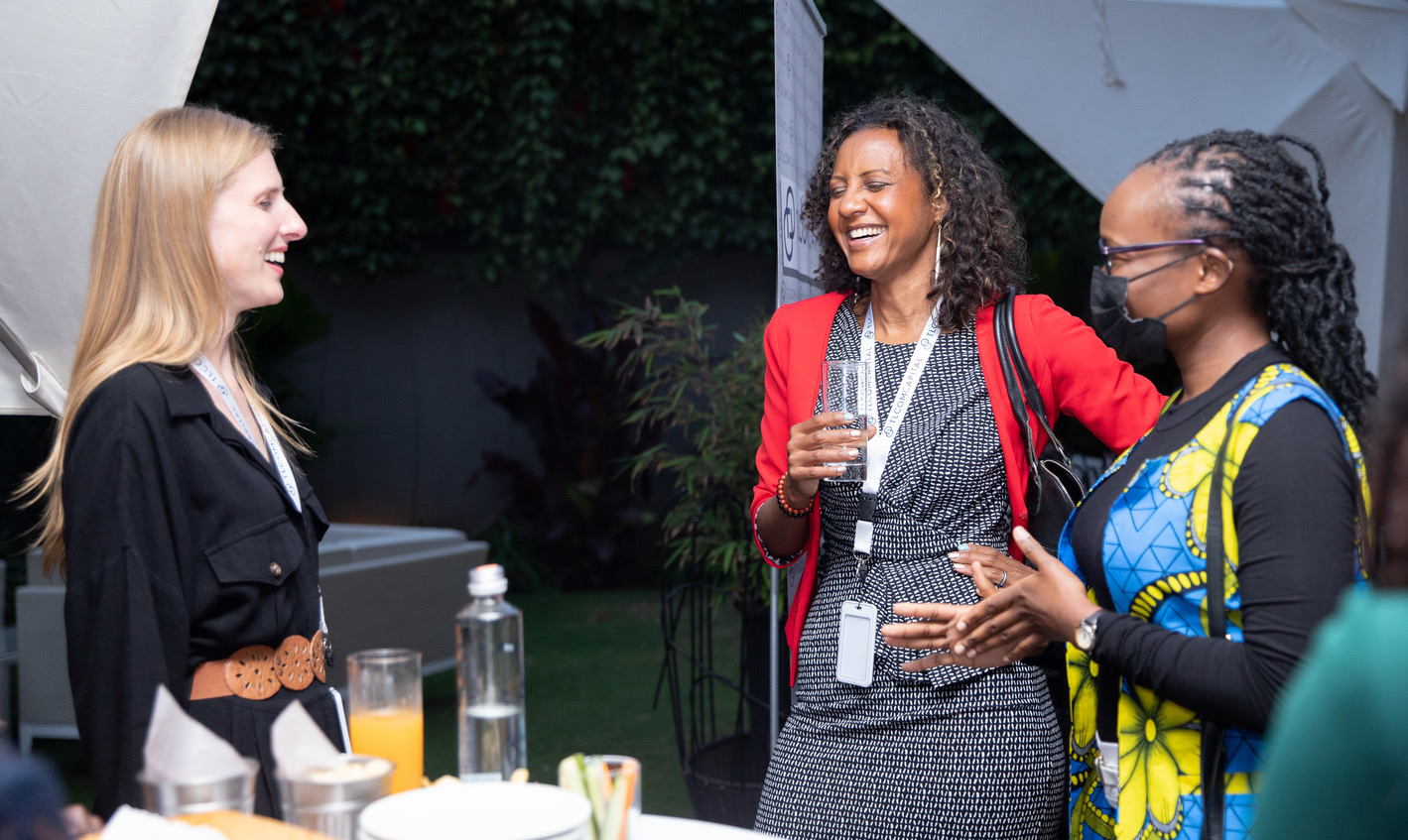 TLcom Capital, the Africa-focussed venture capital firm, has officially announced the launch of the 2021 Africa Tech Female Founder Summit, which will be held virtually on Wednesday 13th October 2021. The keynote session is headlined by Julia Gillard, former Prime Minister of Australia and Chair of Andela, who will discuss how founders should think about establishing and working with their boards from early stage growth to scale. With the event now being held for the third successive year, TLcom has opened applications for female tech founders across Africa and the Diaspora to attend this year's virtual summit, which also features female C-Suite executives from Africa's leading tech startups including Desiree Craig of uLesson, Mayokun Fadeyibi of Autochek, Kristen Kelly of Terragon, and Susan Kiama of Twiga Foods.
Themed "Board and C-Suite Matters – Counsel, Coach and Collaborate", the third Female Founder Summit will deliver expert insights on how to build and leverage a senior team and board to drive strong execution and growth. The goal of the summit is to build an even larger community of female tech founders in Africa that can be a support for one another as they scale their businesses. Julia Gillard's keynote will be followed by an open Q&A session with attendees as well as a panel discussion on how to attract, motivate and retain high-quality senior talent,moderated by Eloho Omame, co-founder of FirstCheck Africa. .
Speaking on the event, Omobola Johnson, Senior Partner at TLcom Capital, says, "Over the last 18 months, African tech has broken into a completely new threshold of investment activity and as the ecosystem continues to mature, founders are being exposed to an entirely new set of challenges. From our conversations with entrepreneurs in our network, the most pressing of these issues lie in building a core team both above and below a founder and ensuring they all work in the interests of the organisation. If we want our sector to continue on its current trajectory, it's vital we equip founders to successfully execute these processes both in terms of establishing a more deliberate C-Level hiring strategy and effectively partnering with their boards to amplify the value generation process for their businesses."
Due to the global pandemic, TLcom's 2020 Female Founder Summit was also held as a virtual event with over 100 tech female entrepreneurs and executives from across the continent gathering to experience the power of connecting, learning and being a resource to each other. The 2021 virtual conference has been complemented by local networking cocktail events in Nairobi and Lagos.
Andreata Muforo, Partner at TLcom Capital, adds "Whilst the evolution of a board may present a new journey for founders across African tech, we cannot deny that there are fundamental differences in how female entrepreneurs are viewed in these settings. Women in leadership still have to deal with harmful stereotypes and biases irrespective of their position but a strong and supportive network can make a huge difference in this journey. This is why the Female Founder Summit is so important as nobody understands our experiences like other women and in Julia, and our incredible panellists, we're delighted to have people who can not only identify with our attendees, but can also share expert strategies on how to navigate these spaces."
TLcom's TIDE Africa Fund, which is one of the most active funds across Sub-Saharan Africa, boasts a leadership team which is 50% female and has actively supported female founders not only through its annual summit, but notably through its recent investments in female-led startups over the last 18 months such as Okra and Pula. The fund also recently welcomed the first unicorn into its portfolio after Andela's $200mn Series E round valued the company at $1.5bn.
Currently, TLcom manages total commitments of approximately 200mn USD and holds eleven African startups in its portfolio including Andela, Ajua, Autochek, Ilara Health, Kobo360, Okra, Pula, Shara, Terragon Group, Twiga Foods and uLesson. With an on-the-ground presence in Kenya and Nigeria as well as offices in the UK, the firm invests across all stages of the venture capital cycle and a wide range of industries including agriculture, education, data analytics and logistics.