Ondo University To Rusticate Indecently Dressed Students With Nose Rings, Braids Others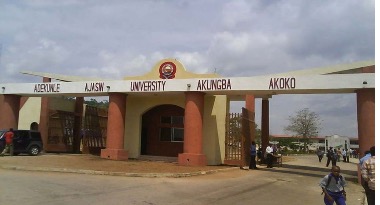 Adekunle Ajasin University, Akungba-Akoko, Ondo State on Thursday said students who dressed indecently or with nose rings or braided hair will be rusticated.
.
The authority of the institution, which gave the stern warning in a circular, disclosed that failure to comply with the directive would attract rustication from the school for a semester.
The circular with with reference number AD/ REG//CIR/58/VOL. VI/309 was signed by the registrar of the school, Olugbenga Arajulu .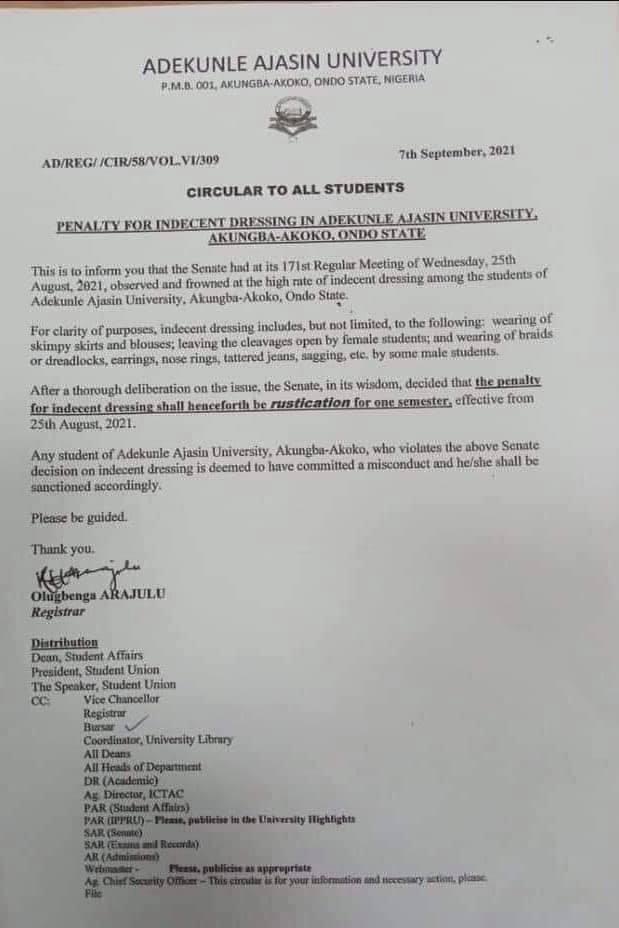 According to the circular, indecent dressing that would no longer be allowed on campus include, "wearing of skimpy skirts and blouses; leaving cleavages open by female students; and wearing of braids or dreadlocks, earrings, nose rings, tattered jeans, sagging etc by some male students.
"Any student of Adekunle Ajasin University, Akungba Akoko, who violates the above Senate decision on indecent dressing is deemed to have committed a misconduct and he/she shall be sanctioned accordingly. Please be guided."
Ban Govt Officials From Sending Their Kids To School Abroad – ASUU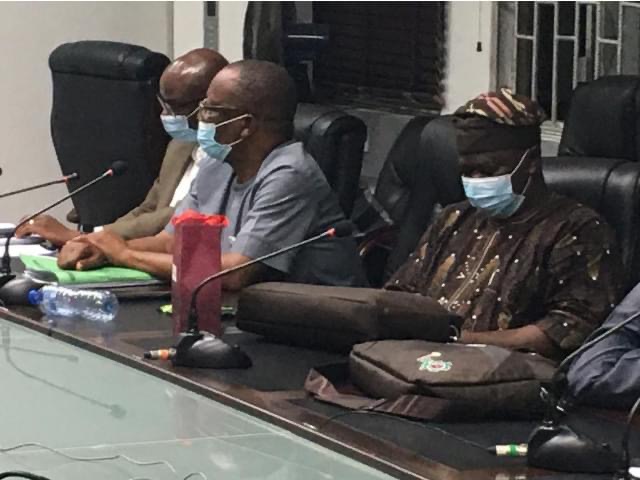 The Academic Staff Union of Universities (ASUU) has called on the National Assembly to create laws that prohibit government officials from sending their children to school abroad.
The president of the union, Prof. Emmanuel Osodeke, gave the charge in Abuja at a meeting with the Minister of Labour and Employment and other representatives of the Federal Government.
According to ASSU, the decay currently allowed and experienced in public universities is because the children of government officials are sent to study abroad, hence, making the officials act apathetic towards the many issues experienced in Nigerian public schools.
Osodeke added that government officials in the President Muhammadu Buhari's administration should be made to withdraw their children from foreign universities and enrolled in Nigeria public universities, while the government also makes it mandatory for all appointees to have their children attend universities in the country, and those whose children cannot school in Nigeria should not be appointed
Buhari Approves N75,000 As Stipend For B.Ed Undergraduates, N50,000 For NCE Students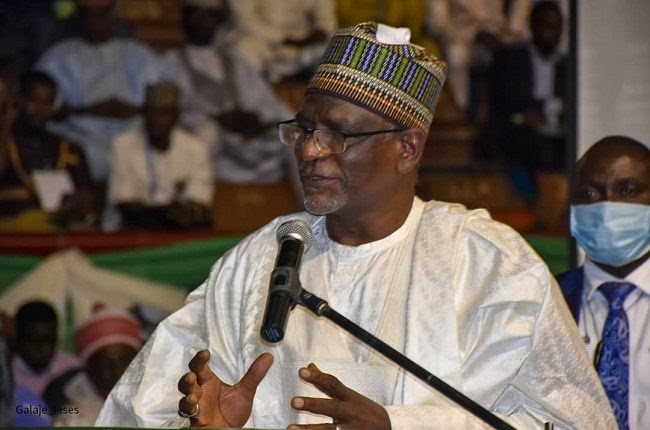 As part of the efforts to attract the best brains into the teaching profession, President Muhammadu Buhari has approved the sum of N75,000 as a stipend per semester for undergraduates undergoing degree programs in Education.
He also approved N50,000 for Nigeria Certificate in Education (NCE) students.
The Minister of Education, Malam Adamu announced this, on Tuesday, at the World Teachers' Day celebration held at Eagle Square, Abuja.
Adamu whose speech was read by the Permanent Secretary, Federal Ministry of Education, Arc. Sonny Echono said his ministry would collaborate with the states' government to ensure automatic employment for the students on graduation.
He said: "Undergraduate students of B.Ed / B.A. Ed/ BSc. Ed in Public institutions are to receive stipends of N75,000.00 per semester while NCE students will get N50,000.00 as stipends per semester.
"Federal Government should find the modality through which respective states' governments could provide automatic employment for NCE graduates at Basic Education level."
"SSS1, SSS2 Students Won't Be Allowed To Take WASSCE, NECO, NABTEB" – FG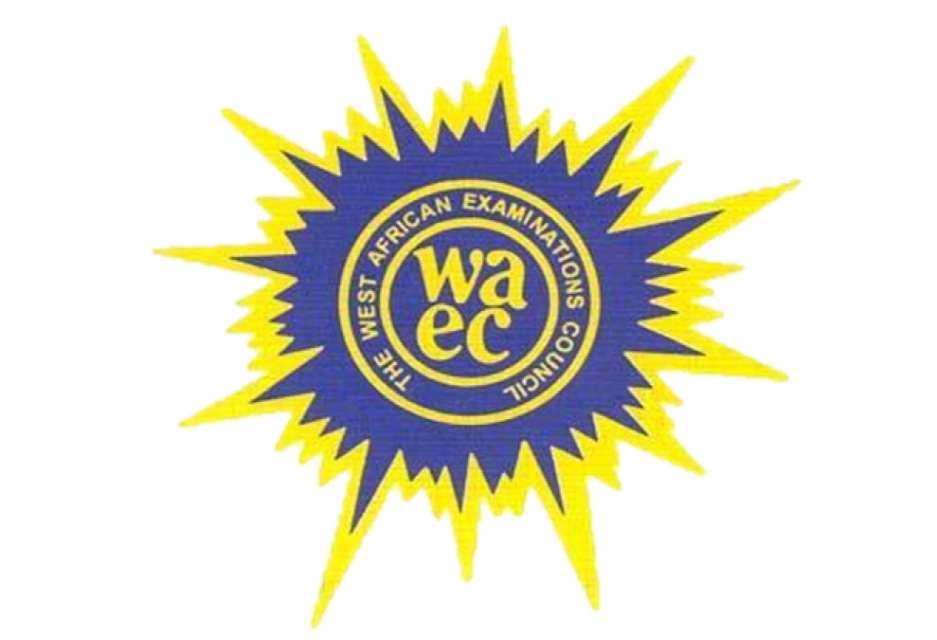 The students in Senior Secondary School one and two will not be allowed to take West African Senior School Certificate Examination, the National Examination Council, and National Business and Technical Examinations Board, the Federal Government has said.
This was contained in a circular issued by the Federal Ministry of Education to pricipals of federal unity schools.
It was titled In the circular with no: FME/DBSE/US/DOC/III/16 and signed by the ministry's Director Senior Secondary Education, Hajia Binta Abdulkadir.
The circular was confirmed by the Director of Press and Public Relations, Ben Bem Goong, on Friday.
In the circular, the government threatened to expel any SSS One and Two students who take the exams.
This, the education ministry, said would help to maintain decorum and boost standards of education in schools.
The circular read, "The ministry's attention has been drawn to the flagrant disregard to its directive on (the) writing of external examinations such as NABTEB (NTC and NBC), WASSCE, NECO (SSCE) by SS1 and SS2 students.
"Students who are involved in the practice find it difficult to settle down on serious studies. They become unruly and distract other students from achieving their goals.
"Any student caught to have written any of the above examinations in SS1 or SS2 classes will be expelled from the college. All students must write these examinations after they have been duly registered for the examination by the college.
"All students of Federal Unity College should adhere strictly to the content of this circular. And Principals are advised to bring the content of this circular to the knowledge of all parents of the college".