Student Who Had F9 In NECO Celebrates Emerged Best Graduating Student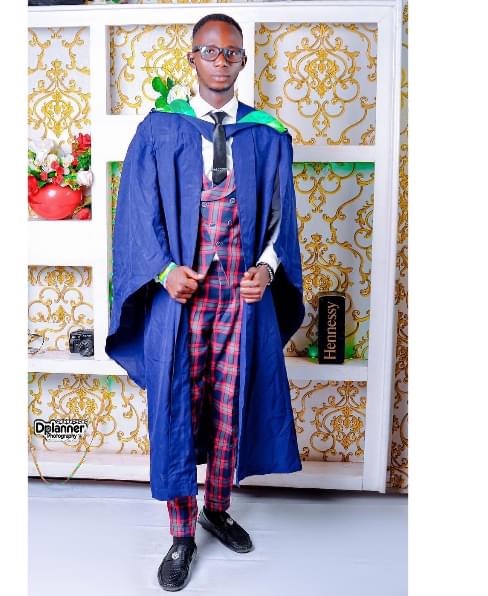 A first-class graduate of the University of Ibadan (UI) took to Facebook to share his grass-to-grace story, following his graduation from the school.
The student named Mayowa Joshua Amusan said he had parallel F9 in the first NECO examination he sat for and proceeded to write WAEC three other times before he finally succeeded and gained admission to study Agricultural Technology in the polytechnic, Ibadan.
Amusan went on to reveal that though he graduated with distinction from the polytechnic, he was reluctant to purchase the post-UTME form for UI to further his education because he was scared he wouldn't pass the exams.
However, with the support of his family, he was able to get the form and got admission into UI to study Agricultural Economics, where he did not only graduate with a first-class but also emerged as the best graduating student from the department.
"Wrote JAMB & WAEC Exams 4 Times" – Lady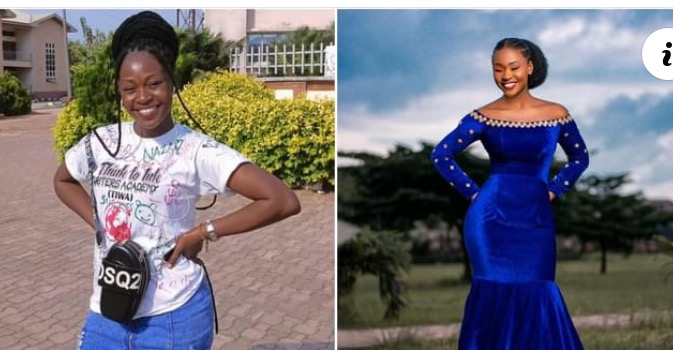 A Nigerian lady has celebrated becoming the latest graduate in town after sponsoring herself in school for 4 years.
In a post in Facebook group Life, the lady identified as Esther Charles revealed that her academic feat brought her to tears owing to how difficult the journey was. She hustled to sponsor herself in school.
Her dad's demise made things tough for the family Sharing a photo in her signing out outfit, Esther said she thought going to school wouldn't be achievable as her father's death made things difficult for them – a family of 9.
Taking on the challenge of fending for herself, Esther said she worked tirelessly to cater for her school needs. In her words: "I hustled like a goat in Lagos state selling shoes, coaching people in my writing school; Think to Ink Writers Academy (TIWA), and using my skills and talents; singing, writing, acting to survive.
"The responsibility was too much on my tender shoulder, thankfully Meadow came and eased some burdens." Esther revealed that before she gained admission, she took JAMB and WAEC exams 4 times.
Accra Institute of Technology (AIT) records more successes, graduates ninth batch of PhDs
SANDRA ANI re[ports that this batch's graduation class comprised of 5 PhDs, 17 PhD Candidates, 13 Masters, and 116 Bachelor's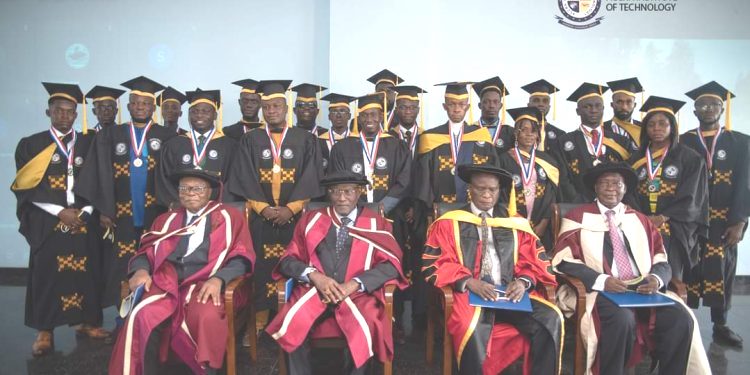 The Accra Institute of Technology (AIT), a leading technology-focused private university held its 17th Graduation Ceremony on the 18th of December 2021 at the Knowledge City Campus (KCC), Kokomlemle, Accra.
This event was witnessed by the deployment of current technology in facilitating a blended graduation experience wherein a majority of the undergraduate students joined in virtually via the Google Meet platform.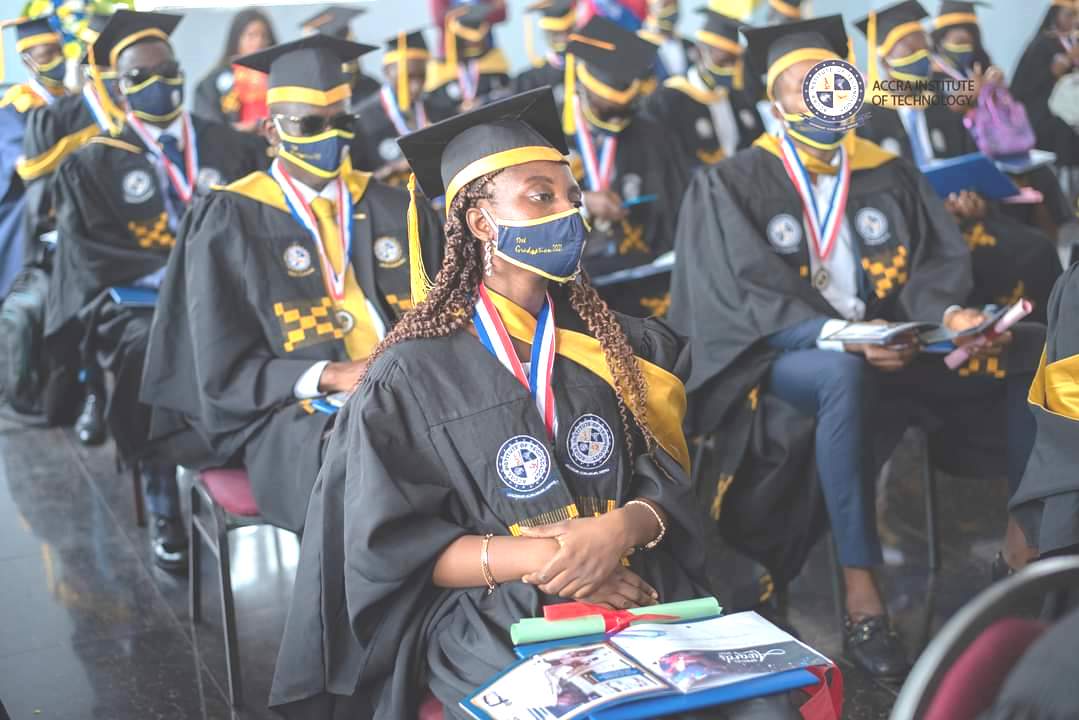 This batch's graduation class comprised of 5 PhDs, 17 PhD Candidates, 13 Masters, and 116 Bachelor's.
The total number of PhDs graduated at AIT continues to grow exponentially. To date, AIT has graduated nine batches of PhDs since 2016 bringing the total number to Fifty-four (54) in the fields of Engineering, Business Administration, Education, and Information Technology.
In a statement released by the University, this achievement spotlights a tremendous success not only in the history of the University but also in the annals of private university education in Ghana.
Professor Edward Ayensu, the Chairman of the AIT Board of Trustees in his address to the congregation, reported that efforts in all the directions towards the mission to deliver quality university education and facilitate cutting-edge research work at this University are proceeding according to plan.
He thus assured the Congregation, and all stakeholders, that AIT shall not relent in its efforts to ensure the full fulfillment of that vision.
The initial remarks by the Chairman of the Board of Trustees was followed by the Address of the President of AIT to the Board of Trustees and this Congregation. In a comprehensive account of his stewardship for the past year to the Board of Trustees and to the Congregation, Professor Clement Dzidonu, the President of AIT outlined among other things, great strides by the university in improving its academic program offerings as well as its enrollment on these programs considerably.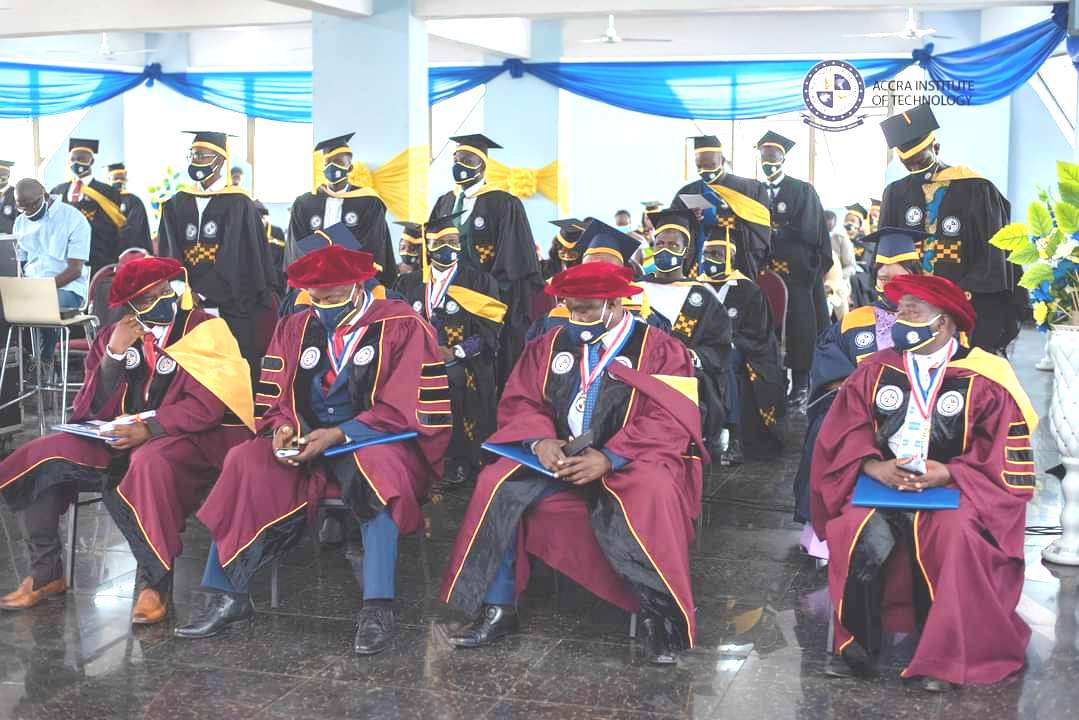 He highlighted that AIT is currently doing Ph.D. research work in Engineering, Information Technology, Education, and Business Administration with an enrollment of a number of the academic and senior administrative staff of almost all the public and private universities in Ghana.
He underscored how achieving such a feat within the span of ten years is nothing short of an academic marvel given the fact that AIT has successfully offered, run, and graduated students on an internationally benchmarked Doctor of Philosophy (Ph.D.) degree program within a context where the Ph.D. per capita of Ghana is extremely low.
He concluded his speech by encouraging the graduating class to avail themselves and make the best of all opportunities that may come their way after their graduation.
He assured those planning to pursue graduate studies at either the Master's or the Ph.D. level of an enriched academic life and experience at AIT, should they choose to enroll with their Alma Mater.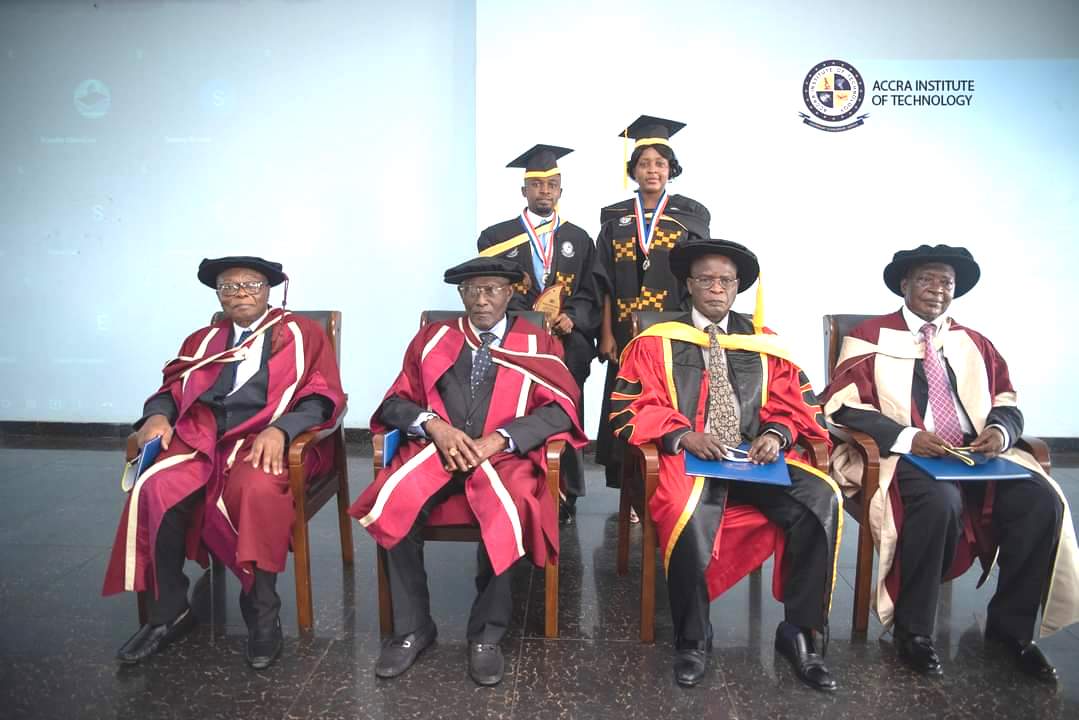 About the Accra Institute of Technology (AIT)
AIT is ranked the top private university in Ghana by the Ghana Tertiary Awards, is an independent technology-focused university committed to academic excellence and cutting-edge scientific and industrial research and R&D work.
The University for the 4th Year running won the 2-18 Best Technology University in Ghana Award, instituted and awarded by the Ghana Tertiary Awards.
This came at the heels of the Best in Technology-Focused University 2018-Ghana Award by Global Business Insight of the United Kingdom.
AIT is accredited by the Ghana Higher Education Commission (GTEC), to offer both campus-based and Open University undergraduate and postgraduate programs. AIT is affiliated to the Kwame Nkrumah University of Science and Technology (KNUST) for the campus-based undergraduate programs in engineering, computer science/IT, and business administration and the Open University, Malaysia (OUM)  for the Open University undergraduate and postgraduate programs at the Masters and the Ph.D. level.
JAMB Blows Hots, Says No Staff Would Be Allowed Entry Without Covid-19 Vaccination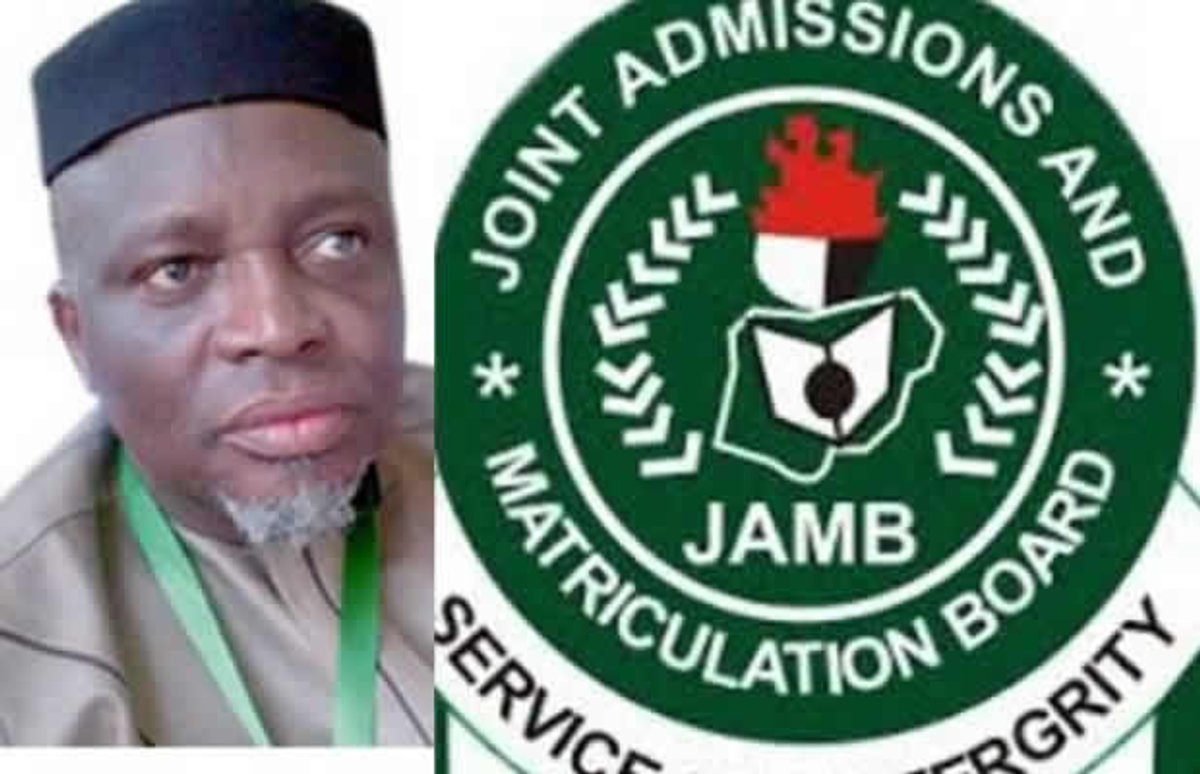 No staff and visitors would be allowed into offices nationwide without evidence of full vaccination, the Joint Admissions and Matriculation Board (JAMB) has resolved said.
In line with this entry protocol, staff and visitors or clients are to present acceptable evidence which is: COVID-19 Vaccination Card, any identification card connecting the holder to the vaccination card, preferably the National Identity Card; Driver's Licence or International Passport.
This stipulation is to ensure, among others, that staff or visitors do not present vaccination cards that belong to other individuals.
JAMB in its bulletin said from available statistics from relevant agencies, the virus is spreading like wildfire, hence the clarion call for all to be vigilant, observe all protocols, and for institutions, be it public or private, to adopt relevant protocols to nip the spread of the virus in the bud.
"As a proactive agency, the Board is adopting this protocol in the light of its heightened preparations for the commencement of the 2022 UTME/DE Registration exercise.
"We implore all not to be lulled into a false sense of security as pertains to the COVID-19 pandemic as the increasingly dangerous dimension the virus is assuming should be a source of concern to all, especially with the emergence of a more-virulent Omicron variant."