2022 Commonwealth Games: British High Commissioner Receives Nigerian Athletes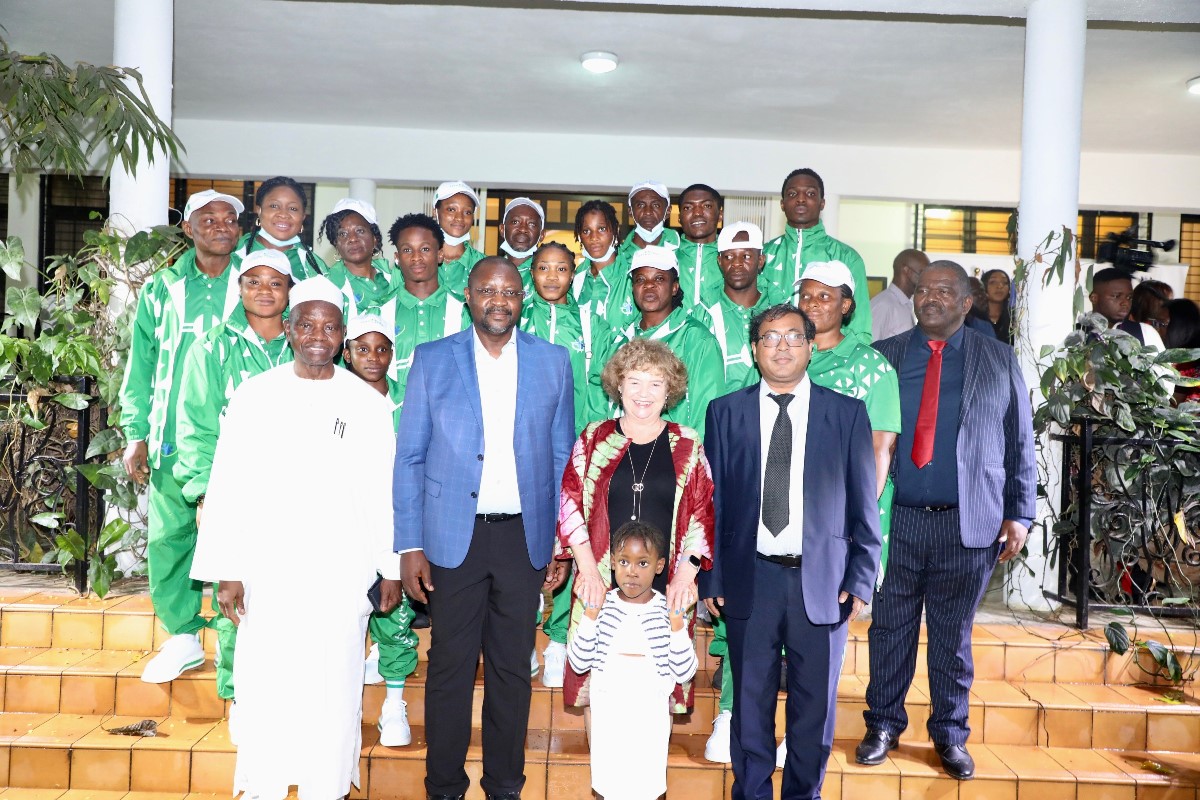 Ahead of the Birmingham 2022 Commonwealth Games which start next week, the British High Commissioner, Catriona Laing, hosted a farewell reception for Nigerian athletes, alongside the Minister of Sports and the President of the Nigerian Olympic Committee.
The Games are to be held from 28 July to 8 August 2022 in Birmingham, United Kingdom.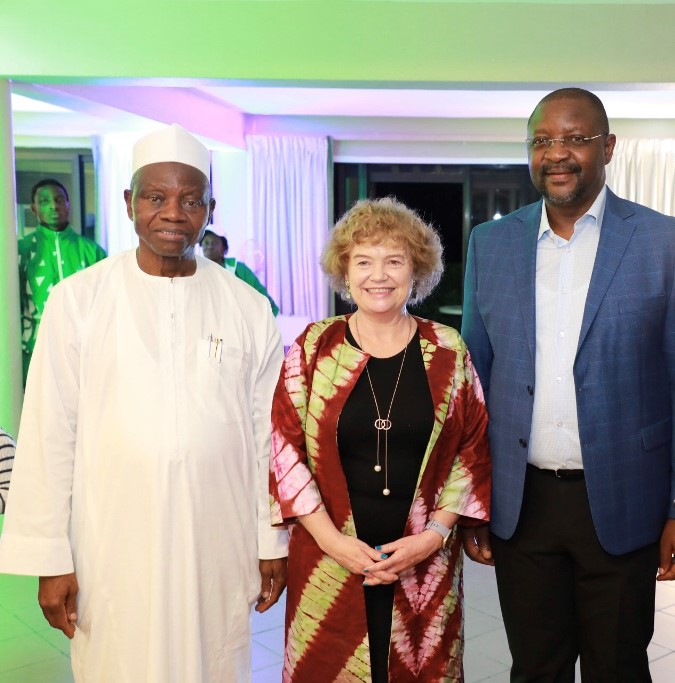 During the reception, High Commissioner Catriona Laing offered her best wishes to the local delegation of athletes and officials.
This year's Commonwealth Games will feature many firsts, including by having more women's medals than men's for the first time at a major multi-sport event.
Nigeria will participate in a number of sports, including track and field, weightlifting, table tennis, boxing and judo.
British High Commissioner, Catriona Laing said to members of the Nigerian team:
"Athletes, I know you will do Nigeria proud. I know you've all worked extremely hard, put in so many hours of training and competing to represent Nigeria. I can only imagine the sacrifices you have had to make to reach this level. The entire nation will be cheering you on all the way."
The Minister of Sports, Sunday Dare said:
"The Nigerian athletes have put in a lot of effort and time into their training. I am sure they will go out there and make Nigeria proud."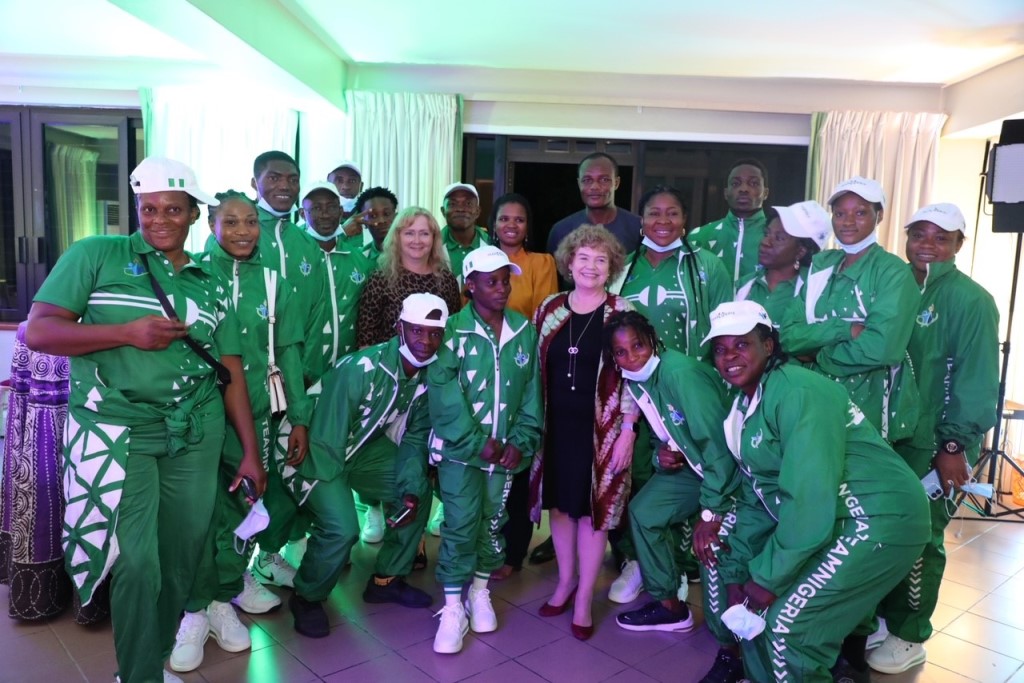 President of the Nigerian Olympic Committee, Habu Gumel, said:
"We are grateful to President Muhammadu Buhari, the Minister of Sports and the British High Commission for all the support we have received for all athletes. To all athletes, go and make us proud. We will be there to support and serve you".
Female weightlifter in the 55kg category, Adijat Olarinoye, said:
"We are honoured to be hosted by the British High Commissioner and we are honoured to be athletes representing the country at the Commonwealth games. We will do our best and come back home with the best medals."
WAFCON 2022: Super Falcons Battle Morocco in S/Final, as Exclusive Women Sports Channel Launches on StarTimes
Rasheedat Ajibade's perfect-placed header which sailed into the goalposts ensured a semifinal spot at the WAFCON and a World Cup berth for Nigeria.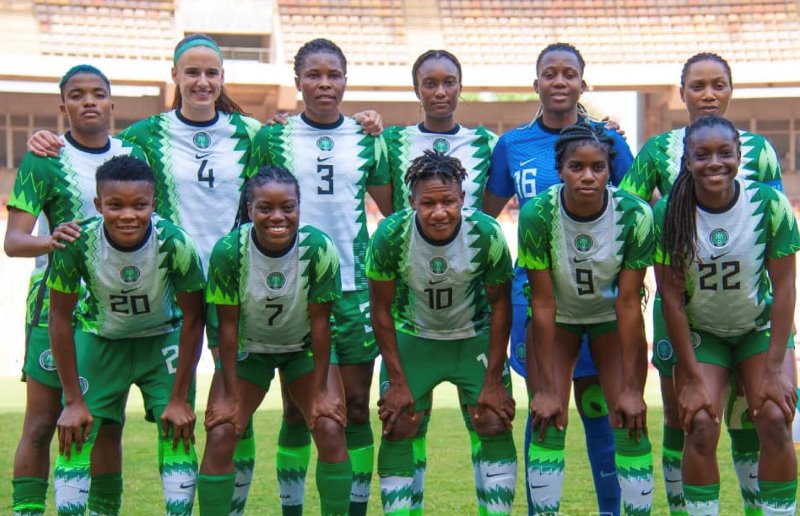 The Super Falcons will battle host country Morocco in the semi-finals of the Women Africa Cup of Nations on Monday at 9pm live and in HD on StarTimes' World Football channel.
Before then, Zambia will meet South Africa at 6 pm.
This is even as StarTimes recently added, W-Sport channel dedicated to Women's Sport. W-Sport offers up to 7 live football games a week from the best leagues in the world.
This July, W-Sport channel is airing live matches of Women's Euro 2022 and Women's Copa America. Other women's sports on the channel include motorsports, basketball, volleyball and cycling, among others. The channel is currently available to dish users (DTH) on StarTimes.
Meanwhile, the Super Falcons coach Randy Waldrum has revealed that his target is to win the 2022 Women's Africa Cup of Nations.
Nigeria continued their push for another continental title with a hard-fought 1-0 victory against Cameroon. The Super Falcons started the tournament on the wrong foot, losing their opening match to South Africa.
However, they have picked themselves up since that defeat, securing emphatic wins against Botswana and Burundi.
The Super Falcons continued with their brilliance in the quarterfinals, beating one of the tournament favorites Cameroon.
Rasheedat Ajibade's perfect-placed header which sailed into the goalposts ensured a semifinal spot at the WAFCON and a World Cup berth for Nigeria.
Nigeria Info's Femi and The Gang Launches Sports Competition for Nigerians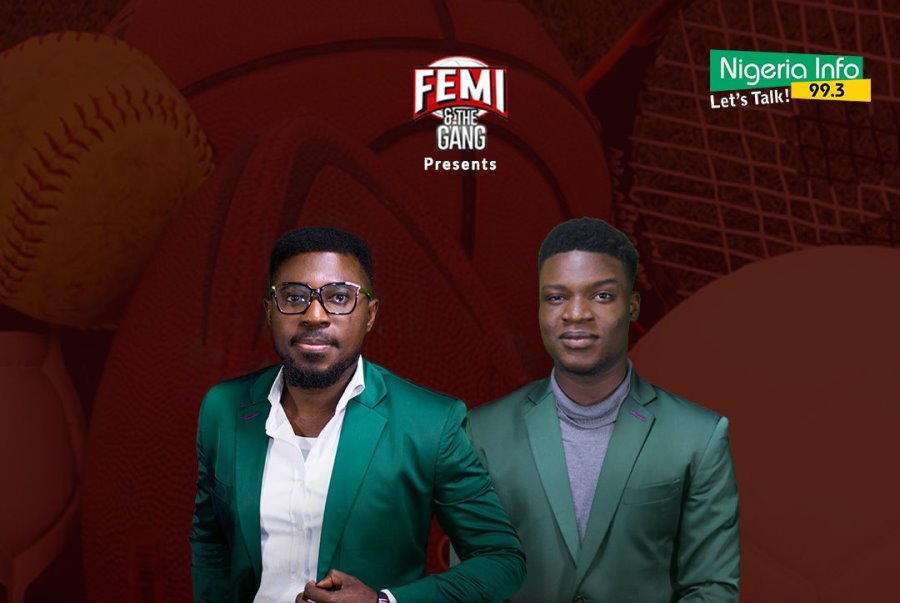 Nigeria's leading radio station, 99.3 Nigeria Info, has unveiled its plans to build a formidable sports-broadcast army through the launch of the third edition of the "Femi and The Gang Fan Battle."
This is in a bid to create a platform that provides sports-loving Nigerians with an avenue to showcase their in-depth knowledge on football-related topics.
The "Femi and The Gang Fan Battle" is a competition that seeks to strengthen the friendly sports ecosystem across the country by providing Nigerian youths with the opportunity to engage with one another through intelligent debates on the exciting game of football while the winner clinches the grand prize of a million naira. The competition further aims to serve as a launchpad for a new generation of sports broadcasters who will raise the bar of sports journalism nationwide.
Commenting on the launch of the competition, Femi Obong-Daniels, the General Manager and Group Head of Sports for Cool FM, Wazobia FM, and Nigeria Info, noted that the "Femi and The Gang Fan Battle" provides football lovers with an opportunity to demonstrate their passion for the sports.
"Nigeria Info's "Femi and The Gang Fan Battle" is a sports-driven initiative that is primarily designed to promote the game of football in both entertaining and educating ways across the country. The competition also serves as a unique platform that provides Nigerian youths with the chance to become renowned sportscasters which invariably could position them as giants within the sports industry over time. It is against this backdrop that we at Nigeria Info are embarking on this journey to provide sports-loving youths with the golden opportunity to make an impact by developing their passion points," he said.
The "Femi and The Gang Fan Battle" is a youth-led initiative of Nigeria Info that seeks to contribute to the overall development of Nigerian youths on a national scale.
To catch every moment of the competition, tune into 99.3 Nigeria Info between Monday to Friday from 7 pm – 9 pm to be a part of the sporting experience.
Okocha Speaks on Meeting Oliver Kahn Years After Famous Goal
…Eyes Discovery of New Okocha … As StarTimes Supports Community Project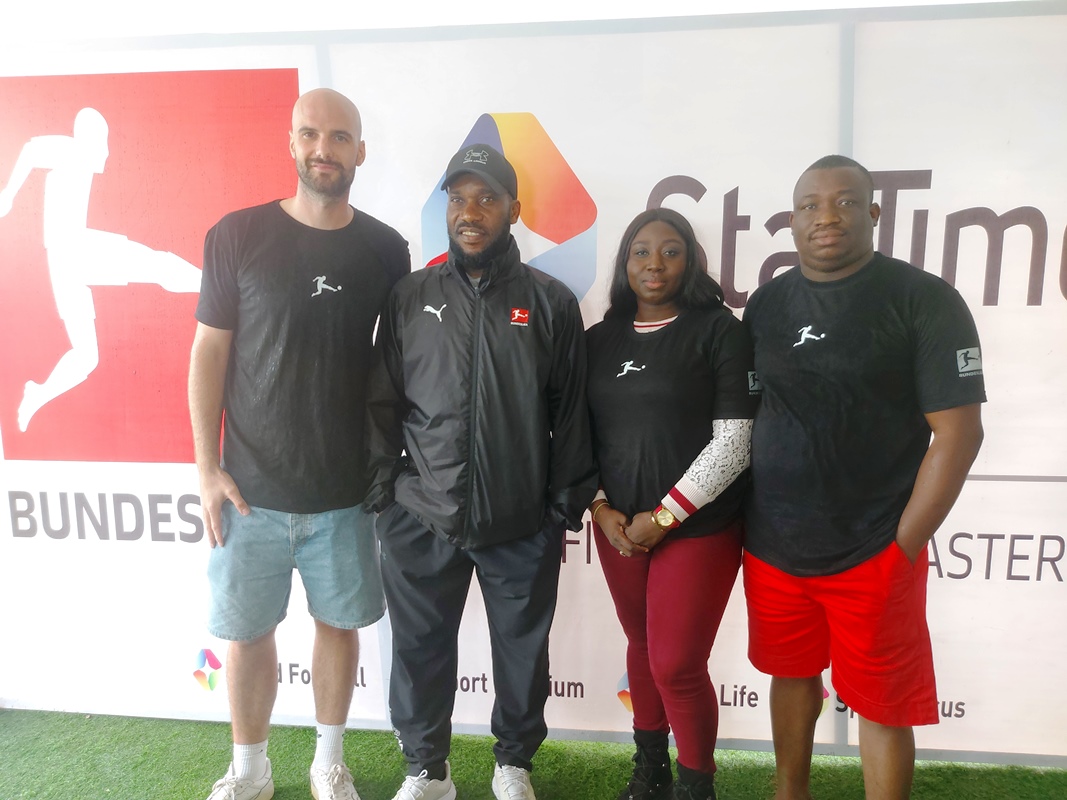 Football Legend, Austin Jay Jay Okocha has joined forces with Bundesliga to discover a budding talent capable of stepping into his shoes.
Okocha said this on Saturday at the opening ceremony of a new 5-aside football pitch in Lagos built by Bundesliga, the topmost German Football league that airs exclusively on StarTimes.
Jay Jay Okocha became an instant household name in Germany when he scored one of the most iconic goals in football after a sensational dribble of Oliver Kahn and five defenders before he found the back of the net.
In a media chat at the pitch, Okocha stated that he met with the goalkeeper after that game, and emphasised that they remain as friends.
"Well, I've seen him after that. We are not enemies; we are all just doing our jobs and I'm delighted I scored that goal. It was a goal that introduced me to Europe and it's still a special goal."
The new pitch built at LSDPC Estate, Meran Lagos is part of Bundesliga's programme for global pitch refurbishment activation in support of football, with the novel event tagged "Common Ground".
The Bundesliga legend noted the facility will "keep the youth away from trouble."
He promised to visit the pitch "from time to time. The community also noted the structure will help curb menace while promising to maintain it.
"Bundesliga didn't just put this here. They are exposing us to the world," a representative of the youth said.
According to Public Relations Manager of StarTimes, Lazarus Ibeabuchi, the pitch is one of many developmental projects that StarTimes is in partnership with.
"StarTimes realises the huge potential Nigeria has to offer the world. Thus, as media partners and exclusive broadcaster of Bundesliga in Nigeria, we are committed to see the next Okocha emerge. We are also passionate to see that all Nigerians can afford to enjoy their favourite sports at home. Thus, we have made our football offerings very affordable for all," Lazarus Ibeabuchi, PR Manager, StarTimes said.
Meanwhile, Bundesliga will take a sensational turn in the new season starting in August as Sadio Mane and other top stars join the league. All Bundesliga matches air live and in HD exclusively on StarTimes