Nigerian Actor and Politician Kenneth Okonkwo lashes out on the PDP and APC presidential candidates for not adhering to rules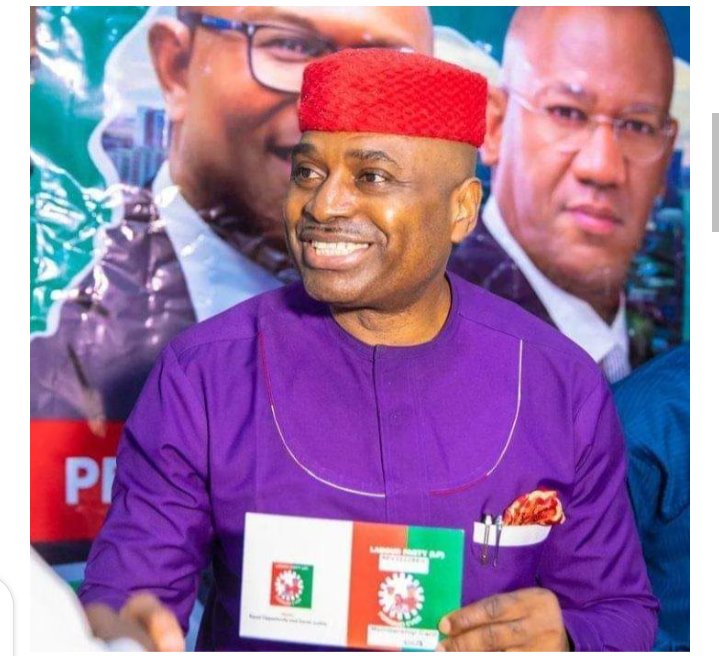 The Nigerian Actor and Politician, Kenneth Okonkwo has slammed the APC's and PDP's Presidential candidates for not implementing the major rule involved in running for presidency, which is being very physically very active in the activities involved to show that they are sound in their mind and body. For example, He stated that none of the mentioned party's candidate have gone for interviews which means the citizens don't even know what they have in mind and plans for them.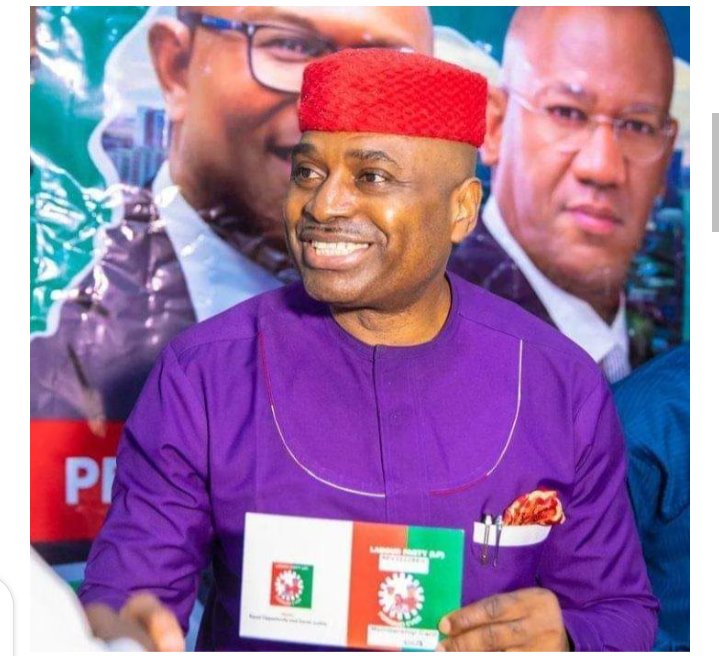 The Actor who had been a member of the All Progressive Congress party all the while, just recently resigned from it to join the Labour Party. In his interview, he stated that he can not be in a party where it's candidates are unaware of their responsibilities based on the written manifestos that's usually laid down for them. He further made it clear that they lacked structure so he had to move to a party that knows and stands with and for their structure.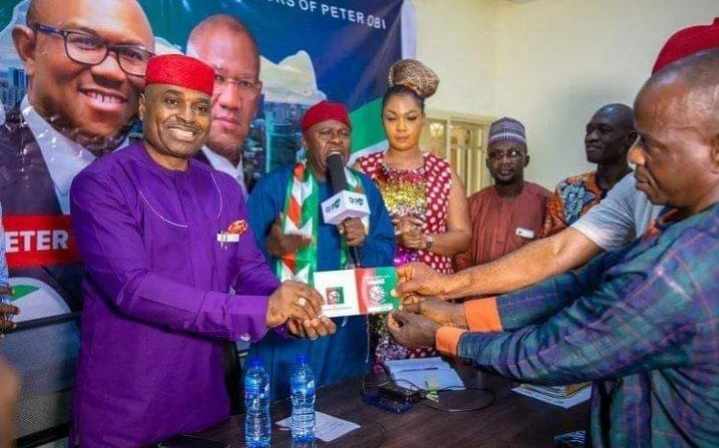 He calls Peter Obi the only greatest marketer of his brand.
Watch the video of all he had to say below and tell us what you think about his opinion.
Read also: We Will Declare Northern Independent If PDP or APC give Igbo man Tickets – Arewa
SUMAS' host communities Applaud Governor Ugwuanyi
…Say generations will remember him for the medical university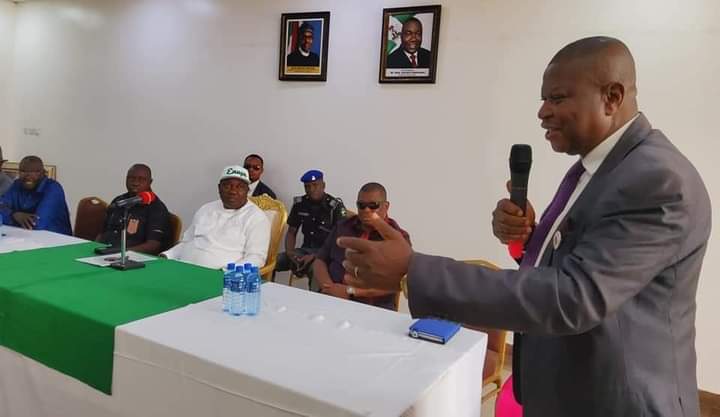 Indigenes of the four communities in #Enugu State that make up Igbo-Eno where the newly established State University of Medical and Applied Sciences (SUMAS) is sited, namely Orba, Imilike, Ovoko and Iheaka, on Tuesday, showered encomiums on #Governor Ifeanyi #Ugwuanyi for his sterling vision in siting the medical university on their land, describing the governor as a great achiever.
The people expressed gratitude to Gov. Ugwuanyi for bringing socio-economic development to the communities through the establishment of the SUMAS, Igbo-Eno, disclosing that they are happy and fulfilled that they donated their land for the massive project.
The SUMAS' host communities made the commendation when representatives of their indigenes jointly paid a thank you visit to the governor at the Government House, Enugu.
Led by the traditional rulers of the four communities of Igbo-Eno, namely HRH Igwe Melitus Agbo, HRH Igwe Dr. Emmanuel Ukwueze, HRH Igwe Greg Ugwu and HRH Igwe S.J.C Onah, the Presidents General of the town unions, representatives of the land owners and stakeholders of the communities, including the Deputy Chief of Staff, Government House, Enugu, Prof. Malachy Okwueze, and Chairmen of Udenu and Igbo-Eze South local government areas, Hon. Solomon Onah and Hon. Vitus Okechi respectively, the people said that they are highly delighted that Gov. Ugwuanyi's administration utilised the land they donated for the medical university effectively and timeously in spite of the state's lean resources and the nation's economic challenges.
They added that Gov. Ugwuanyi through the establishment of the SUMAS, has not only brought massive development to the host communities but has also built human beings who will benefit from employment opportunities and flourishing business activities within and outside the school environment.
The host communities stated that Gov. Ugwuanyi has written his name in gold through the establishment of the medical university and will be remembered from generation to generation for the legacy which is second to the one bequeathed to the people of Nsukka zone and beyond by the late Dr. Nnamdi Azikiwe, who attracted the famous University of Nigeria Nsukka (UNN) to the area.
They, therefore, assured Gov. Ugwuanyi of their maximum support and votes to represent Enugu North Senatorial District in the National Assembly in 2023 on the platform of the Peoples Democratic Party (PDP), expressing confidence that the governor will do more for the district and the state in the Senate.
Speaking, the traditional ruler of Ulunya Ovoko Autonomous Community, HRH Igwe Dr. Emmanuel Ukwueze, told Gov. Ugwuanyi that "the people of Igbo-Eno, Nsukka zone and Enugu State will continue to remember you even when our zone will produce another governor, for building schools, young persons and us the elders and Igwes."
Igwe Ukwueze, who listed the inherent benefits of the medical university to the host communities, prayed God to continue to bless and uplift the governor to greater heights, saying: "Anytime we come across the site (SUMAS), we will always remember that the project was built by Rt. Hon. Ifeanyi Ugwuanyi. God will always remember your good works and bless you."
Speaking on behalf of the land owners, Ichie Matthew Agbo applauded Gov. Ugwuanyi for the landmark project, stating that the medical university is a dream come true.
He pointed out that "we, the land owners of Igbo-Eno never knew that a day will come when a school and a hospital of this kind will be built on our land", adding: "Your Excellency, the people of Nsukka zone and Igbo-Eno, in generations to come, will never forget this because nothing develops a community like school and hospital. We are grateful, we can't thank you enough."
Revealing that some of the community leaders earlier resisted the donation of land for the establishment of the medical university and hospital, the President General (PG) of Imilike Enu Town Union, Sir Patrick Ozioko, said that "we refused and wanted to fight it not knowing that it was a good thing that was coming our way."
According to him, "Now, there is nobody from Igbo-Eno who will go there (site) without saying thank God and asking for His blessing on you (Ugwuanyi).
"Anybody from Igbo-Eno now knows that your name will never die in our zone. For the Senate position we are talking about, you are already there. We are all going to vote for you."
Other prominent indigenes of Igbo-Eno who spoke at the event, namely the Deputy Chief of Staff, Government House, Enugu, Prof. Okwueze; the Commissioner for Finance and Economic Development, Hon. Mrs. Adaonah Kene-Uyanwune; Special Adviser to the Governor/Focal Person, World Bank, Uche Nnadi; Chairman, Igbo-Eze South LGA, Hon. Vitus Okechi; State Deputy Chairman of the PDP, Hon. Innocent Ezeoha; PDP Zonal Secretary, South East Zone, Chief James Ugwu; former Chairman, Udenu LGA, Hon. Frank Ugwu; and the Permanent Secretary, Local Government Service Commission, Hon. Charles Mbah, all expressed profound gratitude to Gov. Ugwuanyi for the establishment of the SUMAS in Igbo-Eno and the massive development projects at the site, as well as his visionary leadership and other legacy projects across the state, reassuring the governor of the unalloyed solidarity and support of the people of the host communities and beyond to represent Enugu North Senatorial District in the National Assembly come 2023.
Ten Things Peter Mbah Told Enugu Business Community during Town Hall Meeting
By Dan Nwomeh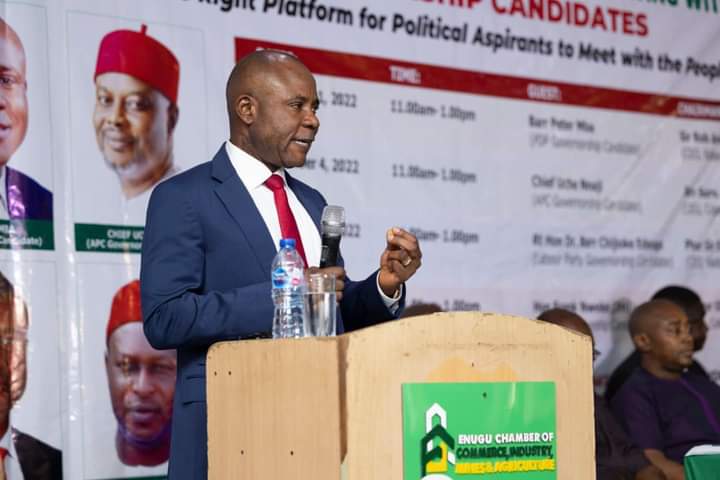 We all agree that Enugu urgently needs the exponential growth of her GDP, influx of private investments, enabling the ease of doing business and job creation which will simultaneously address crime and insecurity.
We'd rather trust a proven entrepreneurial genius and business innovator than career politicians who have spent all their lives moving from one government office to another and demanding for bribes from investors.
Even candidates that have never ran small shop now claim they will attract investments and create jobs. Are they magicians?
On Tuesday November 1, 2022, Dr Peter Mbah met with Enugu Business Community at their Town Hall. Here are ten things the People's Democratic Party (PDP) candidate told the business community:
1. T​​hings must be done radically differently. I understand that the private sector drives the economy. As a businessman and investor who understands the value and dividends that accrue from operating in a conducive business environment, I addressed members of Enugu Chamber of Commerce as my family.
2. My administration is desirous of growing #EnuguState economy in a proportion that will shock bookmakers and economic pundits. From the current $4.4B GDP, we shall skyrocket it to $30B and at the same time, achieve a 0% rate in our poverty headcount index.
3. We will create a synergy between govt and private sector. To achieve exponential growth, our focus in the commerce and industry sector is to de-risk investment flow. We will upscale the Ease of Doing Business, making #EnuguState the top state for business, tourism and living.
4. Technology is a tool which bears bundles of possibilities. We shall employ technology in our growth plan. Civil and public servants shall be trained and retrained to become attuned to technology.
5. In order to make the judiciary open to individual business persons and investors, we will create special courts such as Commercial Court, Family Court, Real Estate Court and others.
6. This will cut delays on the issues of enforcement of contracts in the private sector. We will establish a Citizen Charter that will help the citizens track my administration's performance periodically to ensure more effective service delivery.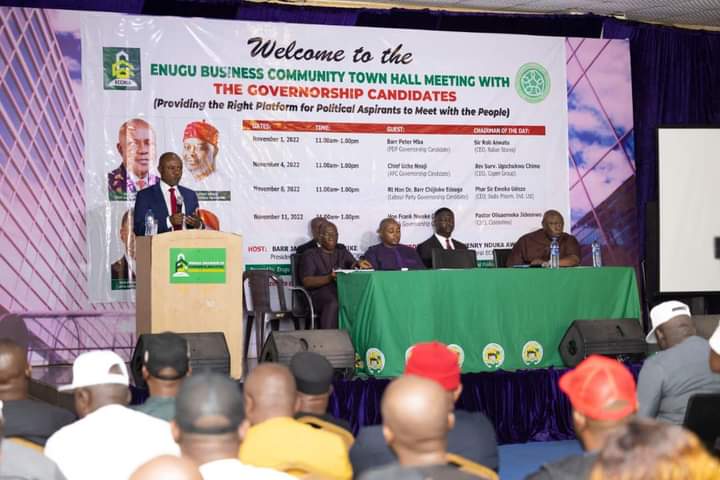 7. We will build Special Agro-Industrial Processing Zones in the 3 Senatorial Zones to ensure our agriculture is tech-driven and we have enough processed agro products for export. Aside this, we want to achieve total food security for #NdiEnugu and become food basket of the nation.
8. I reminded #NdiEnugu that our mineral resources will no longer be left dormant. We shall explore oil and gas deposits and other solid minerals. We shall engage investors of OPL 914, 905 and 907 to begin oil production. Within one year in office, I will make Enugu an oil producer.
9. I remain strong on my decision to fix the water problem in Enugu from the midstream to the downstream. We will collaborate with experts to tackle once and for all the water issues in our state
10. I also believe that Government is a continuum. I will complete the International Conference Centre, and there shall be no abandoned project under my administration.
​A Mistake in 2023 Will Ruin Any Hope Left of Nigeria as a Nation
Article by Hashim Suleiman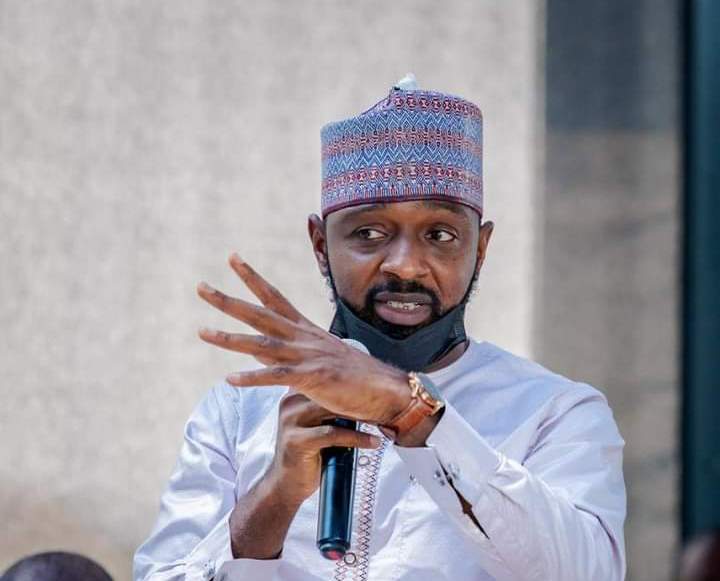 At 39 years of age, I have been privileged to have obtained 16 years working experience non-stop and these years are spread around all the geopolitical zones of the country and those who know​​ me know I'm open minded enough to mingle deep into people I come across with a view of integrating and enriching my life living strategies and skills.
This makes me loaded enough to understand the demography of Nigeria as well as a fair understanding of the likely outcomes of events related to national development. In these years, I equally made mistakes owing to certain misconceptions and the outcomes of it have added to my experiences.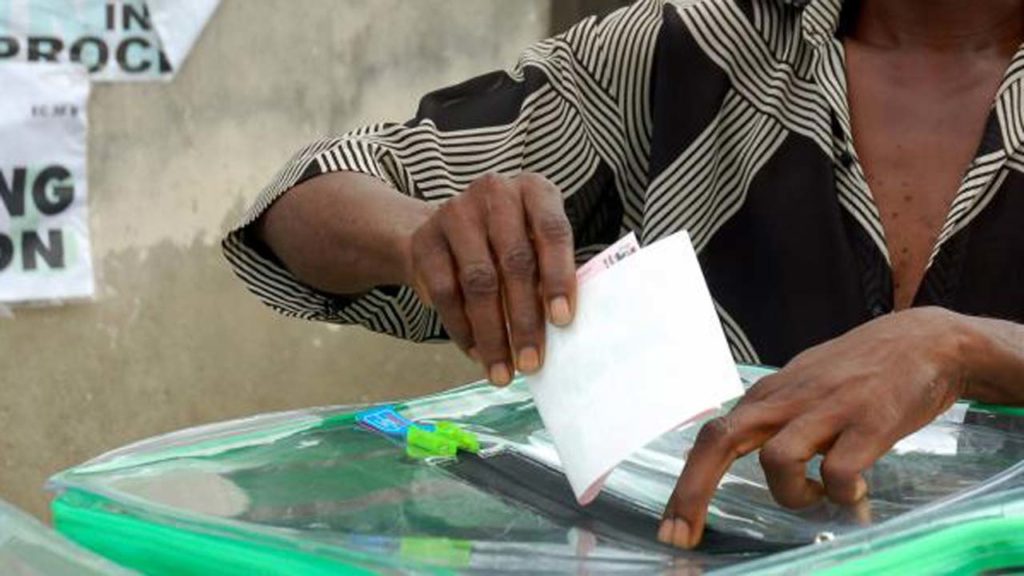 The key tool to ensure such development of a country in a democracy is politics and the understanding and/or lack of it determines the stability that would create a room to develop or not. However, the participation in politics has over the years been tainted by economic insecurities and greed to the point where people appear to have not learnt any mistakes regarding the choices they've made but I also understand that the opinion of the majority of voters are decided by the elites who control them by way of economy, belief and tribe and the question will now be whether these elites have seen the writing on the wall regarding the likely outcomes of 2023 or not?
The key among the problems of the nation at this period is disunity but those who are comfortable in their corners are blinded to see any problems with this and we should remind them.
The insecurities happening all over the country are a result of decayed morals and disunity and nothing more. When so much hatred has been disseminated into people to the extent that it has become a habit, what do you expect the offspring of such individuals to be, also full of hate and such hate has led to mutual suspicion over the time and finally to killings and unrest.
No part of the country is isolated from this problem and has the potential of graduating from inter communal to inter country if not managed well because at the moment, no one is talking about it except some of the candidates and it resonates with me. 
Some people mistake infrastructural development as the real development but it is too much love for luxury and enjoyment that makes them see it like that. A country like Gambia does not have as much infrastructure as Nigeria but the Europeans consider it as their best destination for vacation as against Lagos or Calabar that have the same beaches but lack security, sanity and serenity.
So they get enough FOREX to carry out their economic activities while we're here and break off it. This should amplify the need for peace and unity. 
We are now faced with elections around the corner and the arguments appear as some have forgotten or don't know about these very serious issues and are about making same mistakes, now let me break down what a mistake would do to eroding any hope left of a country called Nigeria, I would have added United country but the reality is Nigeria is not United as this moment, the cracks and red flags are too glaring for anyone to see. 
Anyone who votes you based on some creed or personal expectations will naturally develop a sense of entitlement and once such expectation do not start to come in the first three months of administration, agitations start and ego will not let the president who was insincere enough to use divisions to win to agree to correct those perceived injustices and trouble starts, this is in addition to the so many that are currently on the ground and then your guess about the state of the nation will be as good as mine- CHAOS. 
Therefore, more than ever before, Nigeria only needs competence, experience and a nationalist who genuinely believes in the oneness and indivisibility of Nigeria and such person who comes with this has to also come with clean hands from day one and not any form of skewed tendencies and whether the voters understand this or not remains to be seeing in the coming days but the word of caution must be sounded!!! 
May God bless our dear and beloved country Nigeria, some of us have a passion for her wellbeing!! 
Hashim Suleiman writes from Abuja. He can be reached via [email protected]