Key Highlights from Grand Africa Initiative's GAIN Youth Summit 2022
The summit attracted over 3000 participants from 62 countries across the world.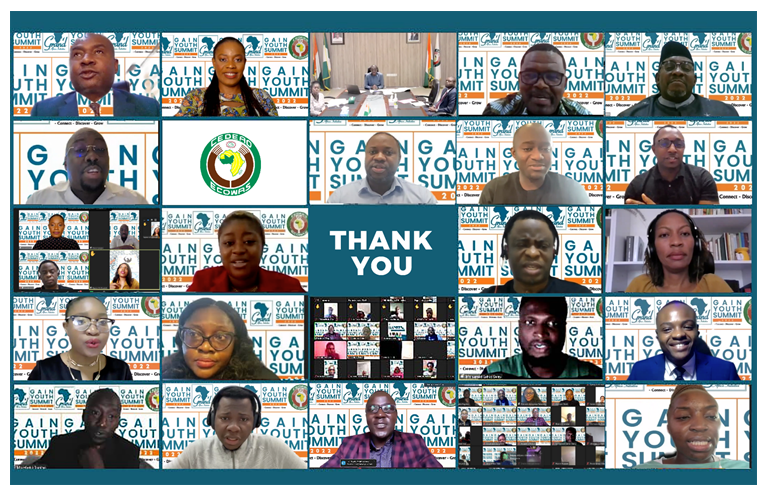 Grand Africa Initiative (GAIN) on the 28th and 29th October, 2022held the third edition of her annual youth summit tagged GAIN Youth Summit 2022.
This pan-African summit had Prof Benedict O. Oramah, The President and Chairman, Board of Directors, African Export-Import Bank, Egypt as the keynote Speaker who was ably represented by The Afreximbank's Regional Chief Operating Officer-Anglophone West Africa, Mr. Eric Monchu Intong. Guest Speakers at the summit include the High Commissioner of Namibia to Nigeria, H.E Mr Humphrey Geiseb; Ambassador of Cote D'ivoire to Nigeria Mr Kalilou TRAORE; Dr Tony Elumelu, Ag. Director of Private Sector Development at the ECOWAS Commission, Nigeria; Caroline Njuki, Officer in Charge and Chief Technical Advisor Inclusive Jobs and Education, International Labour Organisation, Kenya; Mr Eric Nges, Vice President, J.P Morgan, Germany; Mr Obinna Iyiegbu (Obi Cubana), the Chairman and CEO, Cubana Group; Mr Sam Itodo, Executive Director, YIAGA Africa, Nigeria; Mr Ehia Erhaboh, Executive Vice President, Operations and Technology, Interswitch Group, Nigeria; Mr Emmanuel Asika; Country Manager- HP Nigeria; Omni Channel Manager-HP ACE, Princess Adeyinka, Founder Happy Coffee, Nigeria; Rapitso Motsebesi, CEO Iconics Pty, Lesotho. Key partners for this year's summit include the ECOWAS Commission and Embassy of the Republic of Guinea in Nigeria.
The summit attracted over 3000 participants from 62 countries across the world.
The theme of the summit was "The Africa We Want: Nexus Between the Youth, Peace and Entrepreneurship II"
In his Keynote Address, Prof Benedict Oramah, the President and Chairman, Board of Directors, African Export-Import Bank, Egypt congratulates GAIN on the excellent work it is doing, especially with regards to entrepreneurship development and youth employment in Africa.
The Afreximbank Boss called for the prioritization of developmental programmes that facilitates youth integration into trade value chains by both public and private sector players as the solution to the problem of youth unemployment on the continent. He made this call while delivering the keynote speech at the summit. Prof. Oramah emphasized that youth entrepreneurship and innovation are pivotal to the continent's economic transformation and so young people should be fully empowered and equipped with the tools to provide solutions to the challenges on the continent.
Oramah stated that "To maximize the AfCFTA's benefits, and to exploit other opportunities in global value chains, Africa's youth must be fully empowered to participate in cross border trade. It is especially important that young people are given the tools they need to express themselves as entrepreneurs and equipped to innovate solutions to the continent's raft of socio-economic issues. We must also ensure that youth perspectives are represented at all levels of the policy formulation process"
"It is therefore necessary for both public and private sector players to prioritize the development of targeted programmes that facilitate youth integration into trade value chains. Afreximbank, in playing its part, is committed to addressing the financing, technical capacity and market access limitations that currently impede the expansion of youth-led trade in Africa"
"Harnessing African youth and positioning this demographic as an engine for economic growth is the collective effort of all, therefore, we must rise to the challenge and ensure that Africa actualizes the potential that this constituency holds with regards to the development of our beloved continent".
In her opening speech, Chinwe Okoli, the Executive Director of GAIN, stated that there is a need to understand the current situation of Africa as it provides the baseline for creating the Africa we truly want. Speaking on the impact of the summit so far, she stated that "over the past three years, the GAIN Youth Summit has deepened the discourse and contributed to shaping policies around strategies to unleash the economic potentials of young Africans to build sustainable prosperity on the continent.
"Learning from the previous summit resulted in the launch of GAIN Entrepreneurship Masterclass in 2021".
She emphasized that GAIN believes strongly that the pace of development of Africa depends on the rate of youth development and how GAIN in strong partnership with her partners have trained and empowered young African Entrepreneurs and continues to do so.
"In partnership with the Development Bank of Nigeria for instance, we have trained young women entrepreneurs selected from the six geographical regions of Nigeria. And in partnership with Afreximbank, we have also trained young Africans from 29 African countries within 2022 alone and GAIN will continue to design and implement interventions in response to critical issues that impact the youth in Africa".
Delivering His goodwill message, the High Commissioner of Namibia to Nigeria, His Excellency Mr Humphrey Geiseb, commended Grand Africa Initiative(GAIN) for its work in bringing opportunities for business to African Youth.
In his words "Youth represent a rapidly growing segment of our population. It is important to provide an enabling environment particularly peace and political stability to position the youth to
play a meaningful role. Africa needs to mainstream the presence of young peoples' voices and recognize their engagement and contributions".
"Adequate development that involves the youth is needed to ensure that young people utilize their knowledge, youthful energy and resourcefulness to transform Africa's raw material into
value added products. Youth innovation through entrepreneurship can indeed play a vital role to develop our continent".
He highlighted the need for African youths to continue to deepen unity and cooperation across the continent on youth matters and that GAIN Youth Summit is an important platform to emphasize the potentials of youths as partners in economic development and as key players in finding solutions to enable the youth to overcome the devastating impact of the pandemic"
His Excellency Ambassador Kalilou TRAORE, Ambassador of Cote d'Ivoire to Nigeria and ECOWAS while responding to the question on how leadership can steer the continent and countries therein in the right direction as a panelist on the day 1 of the summit said "Governance and leadership in Africa is about a clear vision and challenges we have to overcome to achieve our aspirations, So, we need leaders with transformational capacities to make it happen".
Mr Eric Nges in his response to a question on the kinds of leadership needed to propel Africa's development, said "Africa is rich in natural resources and a resilient population. He identified three(3) types of leaders which includes: Visionary/Imaginative leaders, Inspirational leaders and Aspirational leaders" emphasizing the need for good leadership in Africa to drive the transformation on the continent.
Speaking on the panel topic Unlocking the potentials in Africa: The Leadership Question, the Executive Director, YIAGA Africa, Nigeria, Sam Itodo says leadership questions cannot be overlooked if Africa is going to achieve the 2063 goals; leadership is about taking responsibility and Africa needs leaders who will be proactive in taking responsibilities, leaders that care about generational equity, care about the future, care about the youths and also leaders who know when to leave the stage".
He emphasized that young people are not asking the right questions and are not prepared enough to take over leadership roles in the continent. He enjoined Africa youths to widen their horizon and build alliances across nations and ages.
Dr Tony Elumelu, Ag. Director of Private Sector Development at the ECOWAS Commission, speaking on migration and peace said In Africa , migration is our way of life and it is not necessarily a bad thing but rather it depends on how it is handled and the purpose. He implored African governments to create a good environment for people to stay and also strong institutions to regulate mobility to ensure safety thereby giving Africans a ray of hope and reasons to stay rather than leave the continent.
Caroline Njuki, Officer in Charge and Chief Technical Advisor Inclusive Jobs and Education, International Labour Organisation, Kenya, speaking on the same topic stated that "research has shown that people will migrate to where they find resources to sustain their livelihood. Africa is blessed with talents and supporting people with brilliant ideas to birth those ideas will undoubtedly transform the continent for the better". It is high time African governments tackled the challenges in retaining talent in Africa as she identified access to capital for MSMEs as the biggest challenge.
Ehia Erhaboh, Executive Vice President, Operations and Technology, Interswitch Group, Nigeria speaking on the topic: The Imperative of Youth Entrepreneurship in Building Africa, said that "A lot is dependent on African youths to make sure to leave a better version of this present Africa. Youths should be problem solvers: constantly looking for opportunities to solve problems in their environment, Africa Youths should not wait to see things happen but they should make things happen. The Africa we want is in the hands of the youth especially youth entrepreneurs and as such youth entrepreneurship should be highly promoted by government and leaders in the continent".
In his contribution, the Chairman, Cubana Group, Obinna Tochukwu Iyiegbu stated that nobody can develop Africa apart from Africans and Entrepreneurship needs to be at the core of the efforts to transform Africa at various levels. He admonished Africa youths to focus less on the negatives rather focus more on what can be done right.
"Building the Africa we want involves leveraging technology and innovation. African Government and leaders need to factor in youth participation and promote their involvement in the technology sector". These were the words of Emmanuel Asika; Country Manager- HP Nigeria; Omni Channel Manager-HP ACE while speaking at the panel session on day 2 of the summit. He emphasized that successful entrepreneurs need to understand the importance of technology and innovation. He proposed that youth entrepreneurs should be educated on digital literacy and its importance to establishing a successful business and government and leaders should develop schemes and also promote digital inclusion in the continent.
Sharing their inspiring bold action as young African Entrepreneurs, Princess Adeyinka Tenekah, founder of one of Nigeria's premier indigenous coffee franchises, Happy Coffee, shared her drive for building her business and creating a niche for herself in the agricultural sector.
Rapitso Mosebetsi, a Lesotho born entrepreneur and social business innovator, Co-Founder & CEO Iconics Pty Ltd, also shared his experience in building a business in the fashion sector. His business was hailed 'Most Innovative & Versatile Exporter in 2022' by the Lesotho National Development Corporation, USAID Trade Hub Southern Africa, and Lesotho Post Bank.
They both enjoined Africa youths to back up their dreams with actions and to see every problem as an opportunity to contribute to the development of Africa.Grand Africa Initiative (GAIN) is a youth-focused pan-African non-governmental organization championing youth empowerment for development across Africa. GAIN is set up to help young Africans between 15 and 35 years old drawn from within and outside the continent, who are passionate about promoting entrepreneurship as a means to reduce conflict, promote peace and economic revival of the continent. GAIN programs include training, advocacy, mentorship, and youth events, designed to help achieve sustainable development by igniting the positive energy of the greater segment of Africa's population – the youth.
Only 26% of Surveyed Organizations Stopped Data Encryption by Cybercriminals – Sophos
Retail organizations attacked by ransomware increasingly unable to halt an attack in progress, Sophos Survey Finds, writes SANDRA ANI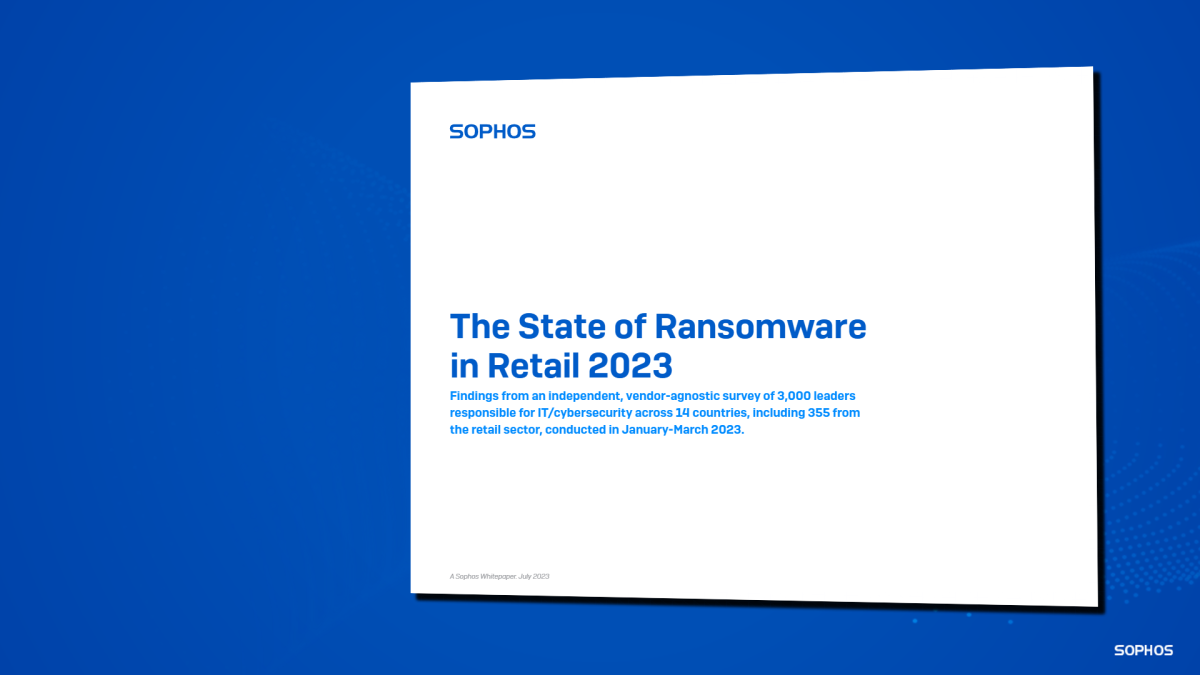 This Is the Lowest Rate of Disruption in 3 Years  
Sophos, a global leader in innovating and delivering cybersecurity as a service, today shared findings from its sector survey report, "The State of Ransomware in Retail 2023," which found that only 26% of retail organizations this past year were able to disrupt a ransomware attack before their data was encrypted.
Sophos, a global leader in innovating and delivering cybersecurity as a service, today shared findings from its sector survey report, "The State of Ransomware in Retail 2023," which found that only 26% of retail organizations this past year were able to disrupt a ransomware attack before their data was encrypted.
This is a three-year low for the sector—a decline from 34% in 2021 and 28% in 2022—suggesting the sector is increasingly unable to halt ransomware attacks already in progress.
"Retailers are losing ground in the battle against ransomware. Ransomware criminals have been encrypting increasingly greater percentages of their retail victims in the last three years, as evidenced by the steadily declining rate of retailers stopping cybercriminal attacks in progress. Retailers must up their defensive game by setting up security that detects and responds to intrusions earlier in the attack chain," said Chester Wisniewski, director, global field CTO, Sophos.
In addition, the report found that, for those retail organizations that paid the ransom, their median recovery costs (not including the ransom payment) were four times the recovery costs of those that used backups to recover their data ($3,000,000 versus $750,000).
"Forty-three percent of retail victims paid the ransom according to our survey respondents, yet the median recovery cost to victims who paid the ransom was four times the cost to those who used backups and other recovery methods. There are no shortcuts in these situations and rebuilding systems is almost always required. It's better to deprive the criminals of their spoils and build back better," said Wisniewski.
Additional key findings from the report include:
In line with a broader, cross-sector trend, the retail sector experienced its highest rate of encryption over the past three years, with 71% of those organizations targeted by ransomware stating that attackers successfully encrypted their data
The percentage of retail organizations attacked by ransomware declined from 77% last year to 69% this year
The percentage of retail organizations that recovered in less than a day decreased from 15% to 9% this year, while the percentage of retail organizations that took more than a month to recover increased from 17% to 21%
Sophos recommends the following best practices to help defend against ransomware and other cyberattacks:
Strengthen defensive shields with:
Optimize attack preparation, including regularly backing up, practicing recovering data from backups and maintaining an up-to-date incident response plan
Maintain security hygiene, including timely patching and regularly reviewing security tool configurations
To learn more about the State of Ransomware in Retail 2023, download the full report from Sophos.com.
The State of Ransomware 2023 survey polled 3,000 IT/cybersecurity leaders in organizations with between 100 and 5,000 employees, including 355 from the retail sector, across 14 countries in the Americas, EMEA and Asia Pacific.
IASP Luxembourg: Chinwe Okoli Speaks on Soludo's Innovation Agenda
By SANDRA ANI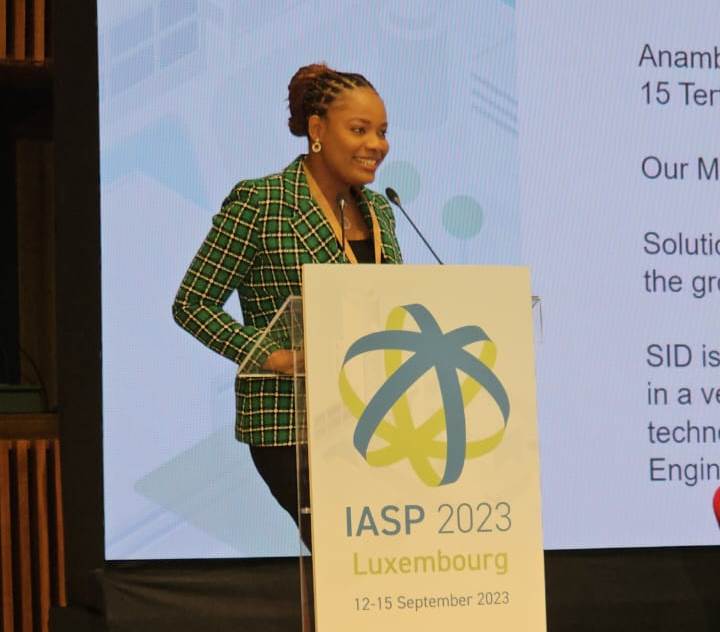 "We want Anambra to be known as a destination for innovation, the next Startup State, home for digital Talents, the home of the smart digital tribe"
Ms Chinwe Okoli, the Special Adviser to the Governor of Anambra State on Innovation and Business Incubation addressed the global innovation ecosystem leaders at the 40th IASP World Conference on Science Parks and Areas of Innovation took place at the European Convention Centre, Luxembourg.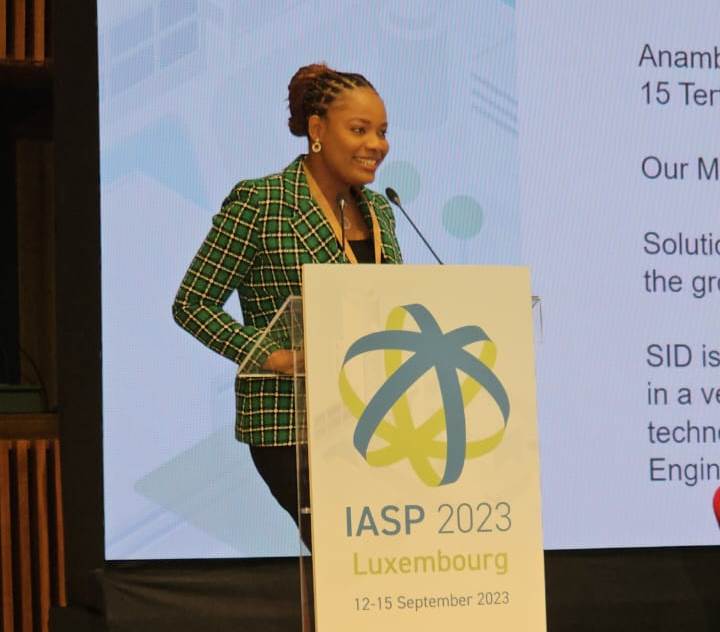 The conference with the theme, "𝐌𝐞𝐠𝐚𝐭𝐫𝐞𝐧𝐝𝐬 𝐢𝐧 𝐈𝐧𝐧𝐨𝐯𝐚𝐭𝐢𝐨𝐧 𝐄𝐜𝐨𝐬𝐲𝐬𝐭𝐞𝐦𝐬: 𝐖𝐡𝐚𝐭 𝐚𝐫𝐞 𝐭𝐡𝐞 𝐢𝐦𝐩𝐚𝐜𝐭𝐬 𝐟𝐨𝐫 𝐒𝐓𝐏𝐬 & 𝐀𝐎𝐈𝐬?" was an exceptional gathering of global innovation stakeholders from over 55 countries. The three-day conference presented an opportunity for the best innovation districts, science parks and areas of innovation in the world to connect and exchange best practices.
Solution Innovation District, Anambra State was prominent in the conference as Ms Okoli addressed the conference on the topic: "𝐇𝐚𝐫𝐧𝐞𝐬𝐬𝐢𝐧𝐠 𝐭𝐡𝐞 𝐔𝐧𝐭𝐚𝐩𝐩𝐞𝐝 𝐏𝐨𝐭𝐞𝐧𝐭𝐢𝐚𝐥 𝐨𝐟 𝐀𝐧𝐚𝐦𝐛𝐫𝐚 𝐃𝐢𝐠𝐢𝐭𝐚𝐥 𝐓𝐫𝐢𝐛𝐞: 𝐀 𝐂𝐚𝐬𝐞 𝐟𝐨𝐫 𝐃𝐞𝐯𝐞𝐥𝐨𝐩𝐢𝐧𝐠 𝐂𝐨𝐮𝐧𝐭𝐫𝐢𝐞𝐬."
She shared the transformative power of the Anambra State Government's innovation program and highlighted the aspirations of Professor Charles Chukwuma Soludo, the Governor, and efforts in nurturing a robust innovation ecosystem in the State to unlock new opportunities and drive technological progress towards making Anambra the digital and creative capital of Nigeria.
Solution Innovation District (SID) is driven by the Anambra State Government, dedicated to fostering the growth of technology, innovation and entrepreneurship ecosystem.
Ms Okoli restated the commitment of the administration of Governor Soludo towards building the one -of -a kind district in Anambra State, stated the key and ambitious goals of grooming one million Anambra Digital Tribe, startups and digital entrepreneurs and in the end, she called for global partnership.
"Our Mantra in Anambra State is Everything Technology and Technology Everywhere
"At SID, we are activating and developing a dynamic and inclusive ecosystem of the future, Our focus is that in a very short time, Anambra becomes the go-to place for the supply of skills/talents on deep technology -Artificial Intelligence, cybersecurity, robotics, blockchain, Data science, Software Engineering, IoT, Cloud Computing etc.
"Let's impact the world from the light of the nation, in the biggest country in Africa, let's do digital magic with the Anambra Digital Tribe".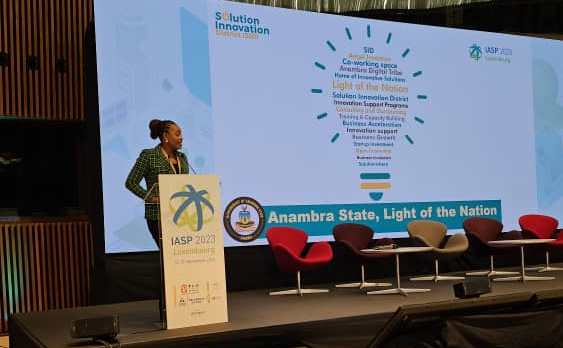 IASP, the International Association of Science Parks and Areas of Innovation, is the leading association of innovation ecosystems worldwide.
This organization actively unites and empowers a network of managers overseeing areas of innovation, science parks, research parks, innovation districts, knowledge cities, and various other innovation spaces. It's the driving force behind the exchange of cutting-edge knowledge and best practices, propelling innovation on a global scale.
Sophos Launches Wi-Fi 6 Access Points
Sophos supports shift to hybrid environments with new generation of remotely managed, reports SANDRA ANI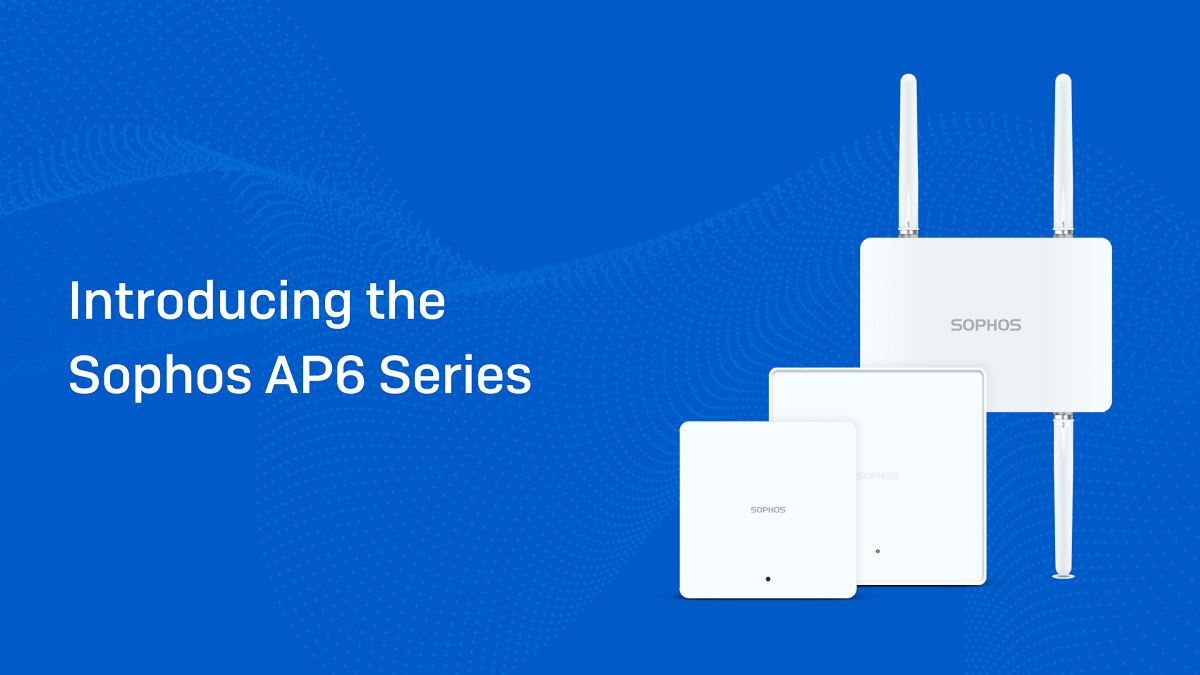 Sophos, a global leader in innovating and delivering cybersecurity as a service, today announced the Sophos AP6 Series to support the shift to hybrid environments with a new generation of remotely managed Wi-Fi 6 access points.
The new offering adds another component to Sophos' secure access portfolio, which includes Sophos Firewall and Sophos Switch.
"With cloud-managed Wi-Fi, Sophos is addressing the need for more scalable, remote-managed Wi-Fi solutions that support the increasing number of connected devices and the proliferation of IoT systems," said Daniel Cole, vice president of product management at Sophos. "This combination of our Sophos AP6 Series and Sophos Switches provides channel partners with a consolidated single vendor access solution strategy, easing the burden and overhead cost of managing multiple disparate systems from different vendors. Many access layer networks are still operating at 1 Gigabit speeds. With the significant performance enhancements in Wi-Fi 6, the industry has a great opportunity to review and modernize the network ecosystem that wireless is deployed into. Sophos' solution dissolves a common bottleneck at the physical layer and can boost the total network performance of a company's Wi-Fi infrastructure."
Sophos AP6 models – including 420E, AP6 840, AP6 840E and the outdoor AP6 420X – have at least one built-in 2.5 Gigabit interface for faster LAN connectivity.
When combined with the Sophos multi-Gigabit switches, which also support 2.5 Gigabit Ethernet, companies can unlock faster speeds across the entire network. With the AP6 420E and 840E devices, which support Wi-Fi 6E, companies can additionally use the 6 GHz band, which is a newer, less congested space, offering high performance for the latest devices.
Sophos access points can be remotely managed in the cloud-based Sophos Central platform alongside a broader range of solutions than any other vendor.
This enables partners to oversee all customer installations, respond to alerts, and track licenses and upcoming renewal dates via a single, intuitive interface. Additionally, there is an on-premises interface administrators can take advantage of for on-AP settings.
Availability
The Sophos AP6 Series is available for immediate purchase exclusively through Sophos' global channel of partners and managed service providers (MSPs).