ChatGPT's Impacts will be Social, not Technical
By Chester Wisniewski, field CTO applied research Sophos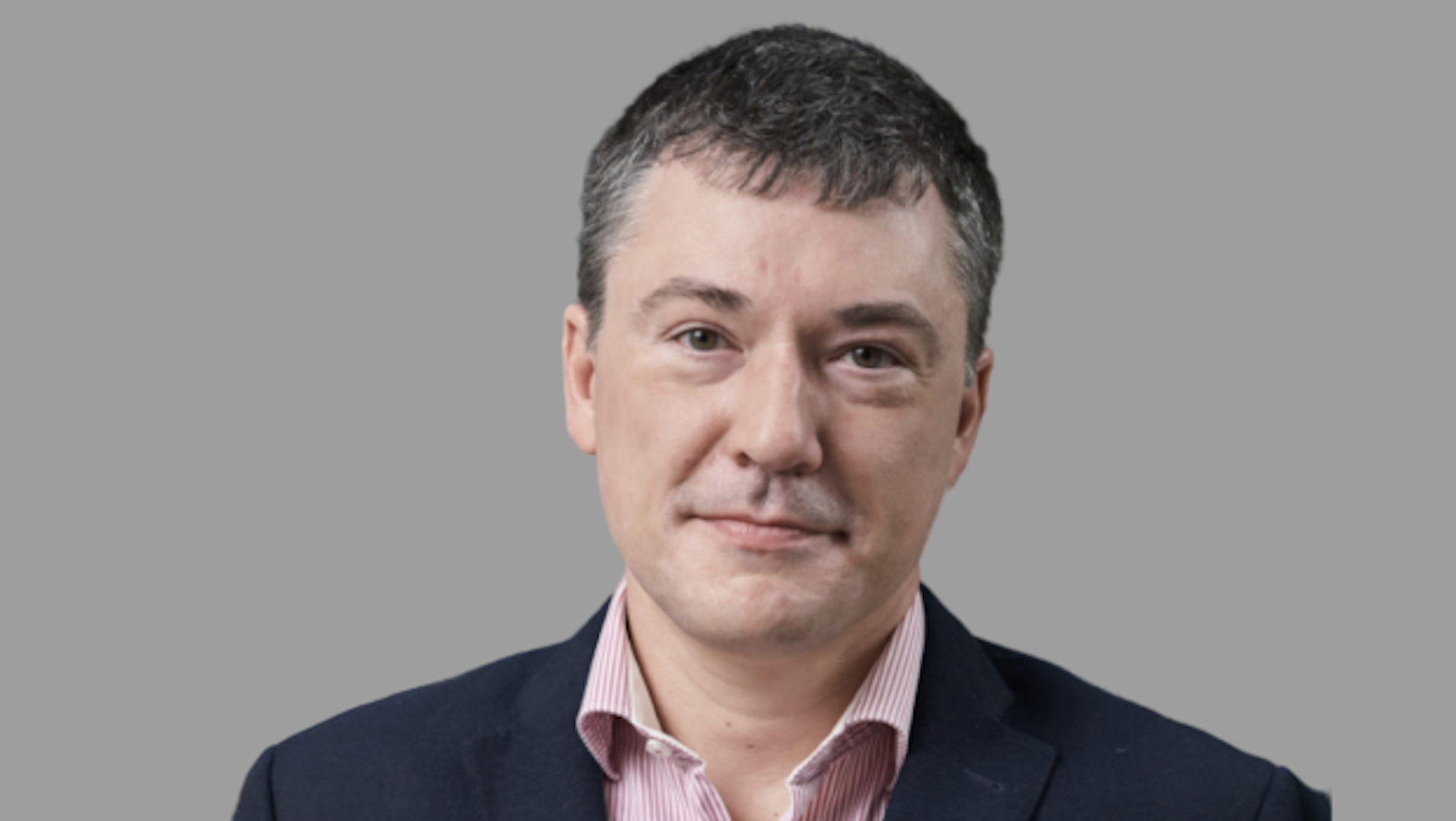 The technology world was on fire about the latest artificial intelligence demonstration by OpenAI in the waning months of 2022, ChatGPT.
It is truly a remarkable achievement, an artificial intelligence (AI) that you can have a conversation with and ask it to do everything from write essays to code computer programs.
As a computer security expert I immediately did what comes natural to people like me, I tried to hack it. Could I get it to do something bad, something malicious? Could this be abused by criminals or spies to enable new types of cybercrime?
The answer of course, like most tools, is yes. Someone with ill intent can abuse these miraculous scientific achievements into doing things that could likely cause harm. The surprising part however is that the danger lies in the social arena, not the technical one.
While ChatGPT can be tricked into writing malicious computer code, that isn't really all that scary. Computer code can be analyzed by computer security products in milliseconds and deemed to be malicious or safe with a high degree of certainty.
Technology can always counteract technology. The problems surface when what we are trying to detect isn't computer code, but rather words and meaning that will be interpreted by humans, not machines.
There are two factors that make this dangerous. The first is that up until now it was not practical to have a computer create tempting lures for victims to be tricked into interacting with. The technology is now not only available, but so easily accessible as to be cheap or even free. The second is that the primary way users keep themselves safe today is by noticing mistakes made by attackers in their grammar and spelling to detect that an email or communication may be from an intruder.
If we take away the last remaining sign that a malicious email or chat message was crafted carelessly by someone without a strong command of the language, how will we defend ourselves?
Here is an example of an existing spam lure. It is relatively unsophisticated and has few words of explanation. I asked ChatGPT to write a more informative letter of the same type and you can see its output in the second example.

Now I didn't format this to add an appropriate mail services logo or make the button as pretty in my example, but it is trivial to add these small improvements compared with mastering the English language. In fact, you could ask ChatGPT to generate the HTML code necessary to do so without any knowledge of email formatting or programming skills whatsoever.
In my eyes, this signals the end of most computer users' ability to discern real mail from fake. Today these tools only work well for English language text, but that is a simple training issue. The ability to write fluently in any language in the world (including computer programming languages) is now here. We must rethink our approaches to user education and implement technical measures to prevent these messages from ever making it into their inboxes.
The good news here is that computers are quite good at detecting and potentially blocking most of this content. Ultimately a spam campaign always has some sort of call to action, they may want you to phone them, reply, click a link or open an attachment. These are impossible to remove and can aid in detection. We can also train AI models to detect when text has been generated by ChatGPT and add a warning banner or perhaps block the message.
The problematic situations are when we fail to block them and they end up in someone's inbox. It's a reasonably small percentage, but it is not zero and therefore we must prepare a defence. Having defensive layers is essential and with humans having reduced ability to spot a scam it is even more important that users are connecting through firewalls and web protection that can detect and block threats.
User training will need to shift away from the "watch for spelling mistakes" type of messaging and more into risk-based approaches to verification of whom you're talking to. Being asked to do something financial, with a password, or with sensitive data? Pick up the phone and confirm before proceeding.
As machine intelligence continues to advance, the work of separating fact from fiction will continue to get more and more difficult. We will need to be sure we build systems that are flexible enough to combat these messages, but also educate our staff on their need to take additional steps when receiving sensitive requests over email.
Samsung unwraps Galaxy Fold, Galaxy S10, Galaxy S10+, and the Galaxy S10e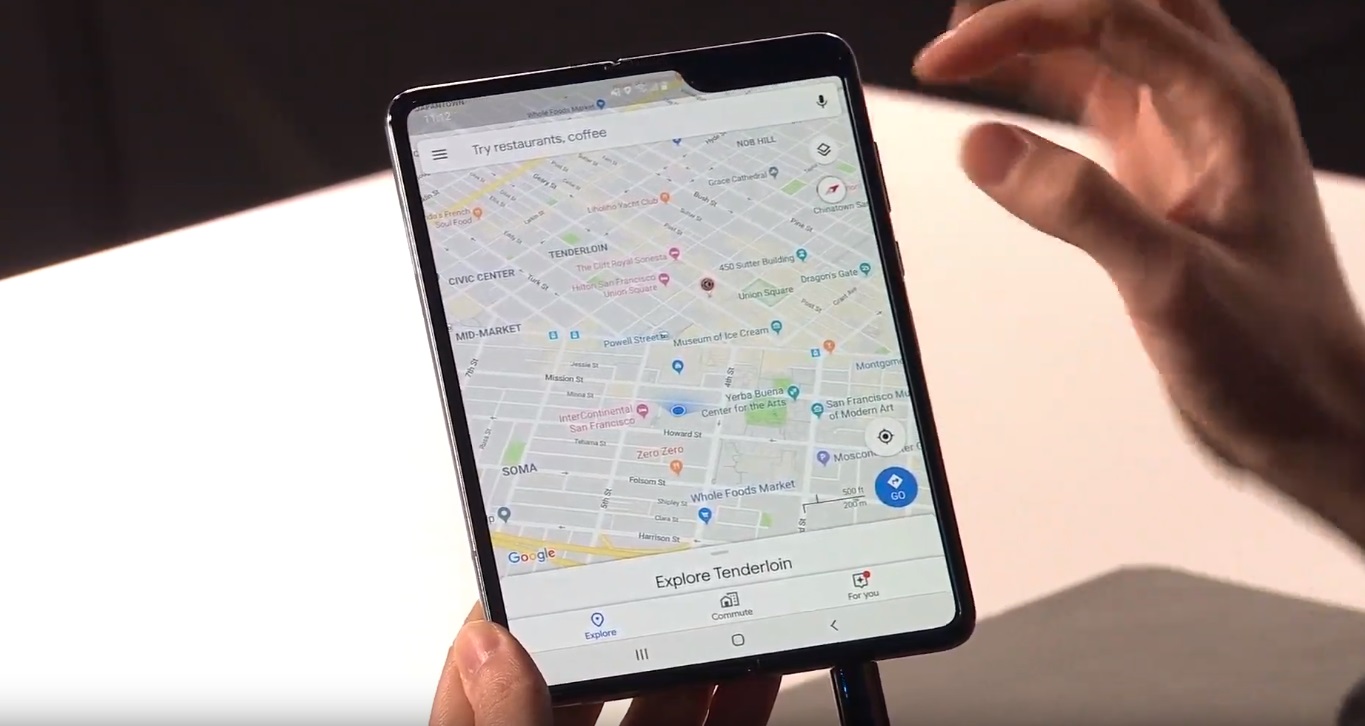 By: Sandra Ani
Pre-order begins in Nigeria tomorrow
Samsung Nigeria, Wednesday joined the global Galaxy Unpacked 2019 event as Samsung Galaxy Fold, Galaxy S10, Galaxy S10+, and the Galaxy S10e were launched.
The global consumer electronics giant also announced that the company has sold 2 billion Galaxy phones.
Samsung also showed off the Galaxy S10 5G, a variant of the company's flagship smartphone that supports 5G, which will launch later this year.
The Company also launched three wearables during this event. These are the Samsung Galaxy Watch Active, Galaxy Fit, and Galaxy Buds.
Samsung Galaxy Fold [specifications]
The Galaxy Fold is Samsung's phone with a folding display that has two displays; an exterior 4.6-inch display and an interior 7.3-inch display.
The Galaxy Fold supports three-app multitasking. The company claims that WhatsApp, Microsoft Office, and Facebook are among the apps that are optimised for the folding display.
The Galaxy Fold has a 7nm processor and 12GB RAM. It has 512GB onboard storage and support for universal flash storage 3.0, Samsung claimed.
The smartphone has numerous software tweaks to make the folding display work with Android 9 Pie, with Samsung's OneUI on top.
Samsung Galaxy S10 [specifications]
The Samsung Galaxy S10 comes with a 6.1-inch QHD+ Infinity-O Display with a 19:9 aspect ratio.
The display supports HDR10+ and reduces blue light too. The smartphone is powered by a 7nm Qualcomm Snapdragon 855 processor in some regions or the Exynos 9820 processor in others.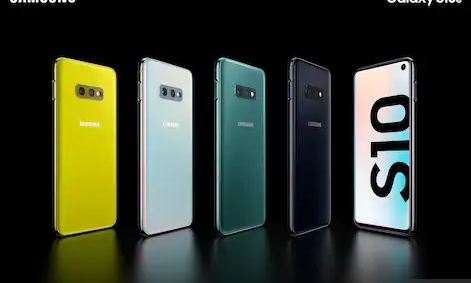 The dual-SIM smartphone has 8GB RAM and two storage variants – 128GB and 512GB, apart from support for expandable storage.
The smartphone has a triple rear camera setup — featuring a 12-megapixel wide-angle lens, a 12-megapixel telephoto lens, and a 16-megapixel ultra-wide lens camera.
The Samsung Galaxy S10 has a 10-megapixel selfie camera too. The Galaxy S10 has a 3.5mm headphone jack, a USB Type-C port, and a 3,400mAh battery.
The device has an ultrasonic in-display fingerprint scanner. This smartphone has Android 9 Pie with Samsung's One UI on top. The smartphone supports reverse wireless charging.
Samsung Galaxy S10+ [specifications]
This is a device that has a larger 6.4-inch display, a 19:9 aspect ratio. It has the same processor as the S10.
The Samsung Galaxy S10+ is powered by a Qualcomm Snapdragon 855 processor in some regions or the Exynos 9820 in others.
The display supports HDR10+ and reduces blue light too. The Galaxy S10+ has an ultrasonic in-display fingerprint scanner. The smartphone has an 8GB RAM variant along with a 12GB RAM variant.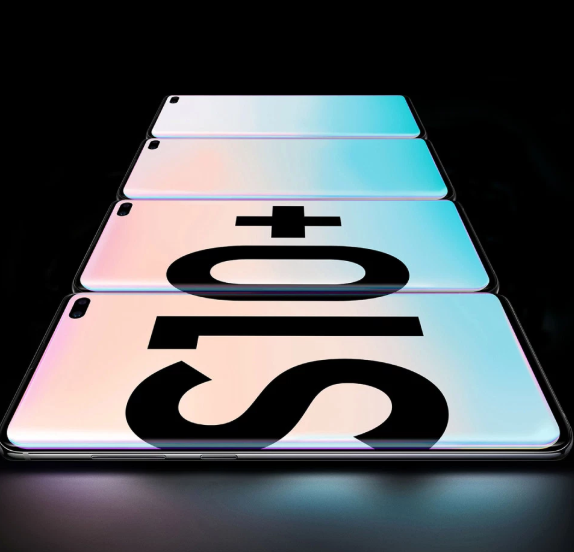 Samsung Galaxy S10+ has three storage variants — 128GB, 512GB, and 1TB — with expandable storage support. The S10+ has a triple rear camera which are the same as the S10.
The front camera setup on the S10+ is different. It has two front cameras and is powered by a 4,100mAh battery. The smartphone supports reverse wireless charging.
Samsung Galaxy S10e [specifications]
The Samsung Galaxy S10e has a 5.8-inch Infinity-O Display and will be available with 6GB or 8GB of RAM. The smartphone will sport either a Snapdragon 855 or an Exynos 9820 SoC.
The Galaxy S10e features a 12-megapixel wide-angle sensor and a 16-megapixel fixed focus sensor on the back.
On the front, the Galaxy S10e has a single front camera, which is the same as that on the Galaxy S10. This Galaxy S10e will feature two storage variants — 128GB and 512GB — along with microSD card support for expandable storage.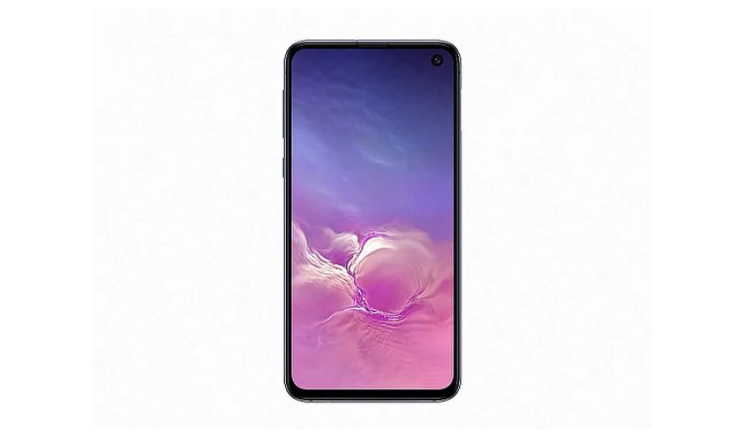 This smartphone has a capacitive fingerprint sensor at the back and not the in-display fingerprint sensor seen on the other two S10 smartphones. The Galaxy S10e has a 3,100mAh battery.
Samsung Galaxy Fold, Galaxy S10, Galaxy S10+, Galaxy S10e price in Nigeria
Samsung announced the price of these phones during the event held at Hard Rock Café, Lekki, Lagos.
Samsung Galaxy S10 price starts at $899.99 (roughly N324,000); Galaxy S10+ price starts at $999.99 (roughly N360,000), and Galaxy S10e price starts at $749.99 (N270,000).
The Samsung Galaxy Fold is priced at $1,980 (N712,800) and it's going to be available from April 26.
Samsung Galaxy Watch Active, Galaxy Fit, Galaxy Fit e, and Galaxy Buds
Samsung has also launched a few wearables along with its smartphones.
The Samsung Galaxy Watch Active is a smartwatch that can track blood pressure, activity, heart rate, sleep, and also your stress level.
It has automatic workout detection, supports 39 activities, and is compatible with Android and iOS.
The Galaxy Watch Active price is $199 (N72,000).
The Galaxy Fit and Galaxy Fit e are activity trackers that support notifications too.
The two wearables are water resistant up to 5ATM. These two wearables also support automatic workout detection and are geared towards those who don't want to wear a big smartwatch and prefer a sleek form factor.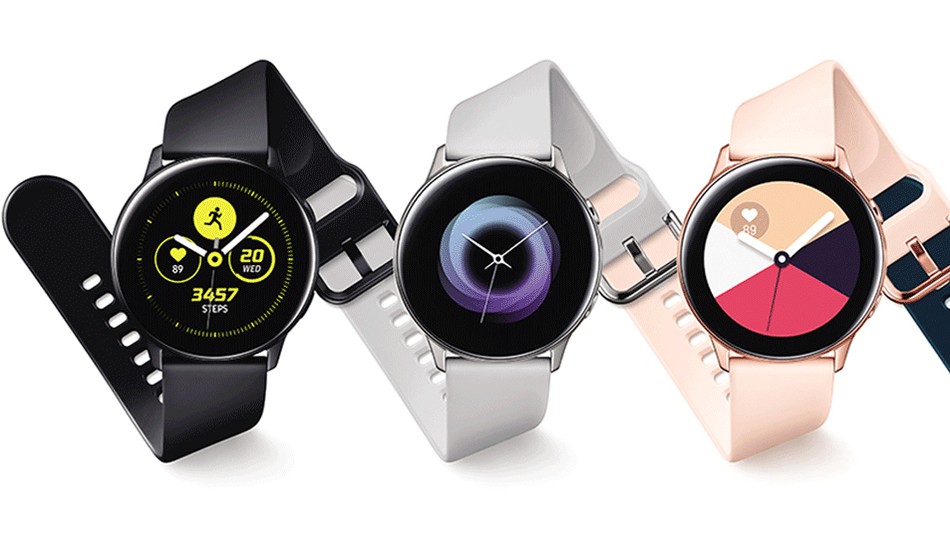 The Galaxy Fit's price starts at $99 (N35,640).
The Samsung Galaxy Buds are a pair of truly wireless in-ear headphones with a battery life of up to six hours.
This pair of headphones come with their own charging case and it can be charged via the USB Type-C port or wirelessly.
The Galaxy Buds are priced at $130 (N46,800).
Source: Techeconomy.ng
REVIEW: Recipe for courier and logistics reform in Nigeria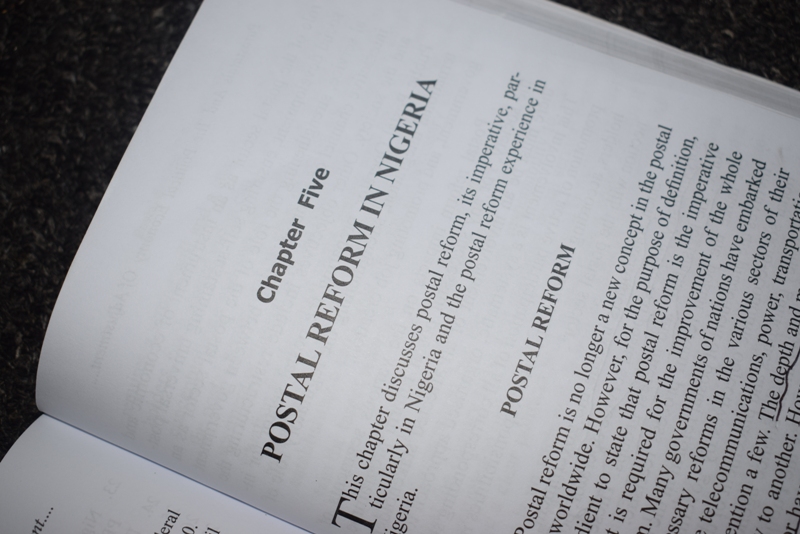 Title: Parastatals and The Political Economy of Adjustment In The Nigerian Postal Sector And Regulation (Recipe for Postal Transformation, Courier and Logistics Entrepreneurship)
Author: Simon Emeje, PhD
Publisher: Million Values Concept
Year: 2018
Edition: First
Pages: 312
Price: N5,000
ISBN: 978-978-53757-4-9
Ebook: in view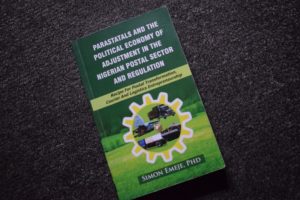 Parastatals and The Political Economy of Adjustment In The Nigerian Postal Sector And Regulation (Recipe for Postal Transformation, Courier and Logistics Entrepreneurship) delivers an informative account and perspective on Postal history in Nigeria and beyond. This book is an excellent resource to students, educators, and postal/logistics enthusiasts.
In reviewing this book, the principal criteria included content, organization, and reference sources especially with emphasis on the relevance to startups venturing into logistics in Nigeria.
There are no many noticeable shortcomings of this first edition, except the perspective on how Postal Reform Bill suffered a setback at the House of Representative under the leadership of Hon. Dimeji Bankole as Speaker.
The book is borne out of the wealth of experience garnered by Dr. Emeje over the years as a seasoned Administrator and the incumbent Director, Nigerian Postal Institute; Chairman, Courier and Logistics Management Institute (CLMI) and the pioneer Head, Courier Regulatory Department (CRD) of the Nigerian Postal Service (NIPOST).
The Author brought his professional and academic prowess to bear in putting up the book; showcasing his experiential and practical competencies, providing a critical public policy work that, if implemented, will turn around the Nigeria's postal business.
The Book is composed of eight (8) chapters. Chapter one discusses the theoretical framework of analysis, which is based on the overview of the relevant background theories to Structural Adjustment Programme (SAP).
Chapter two looks at the background to Structural Adjustment Programme in Nigeria with specific reference to the general economic situation in the Third World as a basis to understand Nigeria and the postal sector situations.
In Chapter three, the Author presents the overview of parastatals under SAP in Nigeria, the reform policy on commercialisation of parastatals, reform framework, implementation and performance of reform policy of commercialisation.
The Author delved deeper in to the postal sector in Chapter four. In this chapter, the outlook of the Postal Sector under SAP was discussed extensively.
Chapter five focuses on several attempts to reform the Nigerian post industry while Chapter Six, on the other hand, discusses the Postal Regulation in Nigeria, indicating the regulatory experience.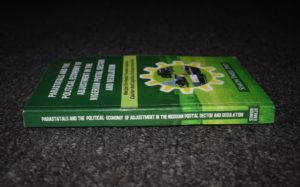 Chapter seven is concerned with the imperatives of postal transformation in Nigeria. The Author extended the discussion to critical considerations for National Postal Policy and Postal Act, and reflections on globalization strategy and international assistance as critical options for postal development in Nigeria.
We view Chapter eight as most crucial chapter onboarding entrepreneurs into the courier and logistics industry. What are you chances? What are the critical considerations? What are elements to consider before venturing into the field?
The findings and recommendations presented in this book could serve as a blueprint for the transformation of other parastatals and agencies in Nigeria, starting with the courier and postal industry. Source: TechEconomy.ng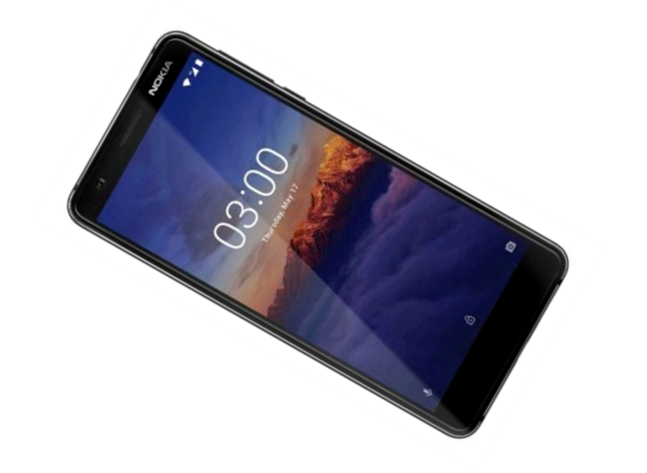 HMD Global, the home of Nokia phones, has  announced that the new Nokia 3.1 is now available to buy from accredited dealers for N50, 000 from July 3, 2018.
Delivering premium experiences and a sophisticated aluminium design, the Nokia 3.1 exudes the quality and craftsmanship you expect from a Nokia smartphone. By joining the Android One family, Nokia 3.1 is endorsed by Google as a best-in-class experience across hardware and software for its price point.
According to Joseph Umunakwe, General Manager, HMD Global West, East and Central Africa, "Nokia 3 has been an extremely successful part of the Nokia smartphone line-up in Nigeria. With so many people enjoying it every day, we've had a tremendous amount of positive feedback and a real motivation to refine our fans' experience even further. We've made sure Nokia 3.1 delivers the perfect balance between power and design so our customers do not need to compromise."
Like the original, the new Nokia 3.1 blends a careful selection of materials into a perfect harmony with a stunning design. Its anodised machined metal frame and sculpted glass display deliver the perfect combination for both stand-out looks and comfortable feel in the hand. Subtle but striking metal accents are matched with dual diamond cuts for a premium finish.
Nokia 3.1 is our most affordable 18:9 smartphone, delivering the same screen ratio you get on modern flagships to give you more content with a single glance in a slim device frame. Just the right size for single handed use, it now packs a larger 5.2-inch HD+ display which is protected by damage resistant 2.5D curved Corning® Gorilla® Glass 3 to keep it beautiful for longer.
The Nokia 3.1 runs MediaTek 6750, an octa-core chipset, giving you twice the processor cores and a 50% performance boost on the previous generation so your phone can keep up with you. Featuring an upgraded 13MP auto-focus rear camera, Nokia 3.1 captures the memories that you'll want to relive over and over while the wide-angle front camera fits more into every selfie.
Thanks to its full set of sensors – usually only found on premium phones – the Nokia 3.1 runs the latest apps and features effortlessly. Make the most out of popular AR apps like Pokémon Go, pay securely and easily with Google Pay and capture the whole scene with panoramic imaging.
Nokia 3.1 is entering the Android One family where it joins the comprehensive range of Nokia smartphones already delivering an experience designed by Google that is smart, secure and simply amazing. Nokia smartphones with Android One offer more storage and battery life out of the box, as well as the latest AI-powered innovations from Google to help you stay ahead of the game every day. Nokia 3.1 will receive three years of monthly security patches and two years of OS updates, as guaranteed in the Android One programme. This puts the new Nokia 3.1 among the most secure phones out there, always up to date with the latest Google services like the Google Assistant and Google Photos with free unlimited high-quality photo storage.
By shipping with Android Oreo™ out of the box, you'll be able to enjoy the latest features, including Google Assistant, Google Lens, Picture-in-Picture for multitasking, Android Instant Apps to discover and run apps with minimal friction, 60 fantastic new emojis and battery-maximising features like limiting background app use. The Nokia 3.1 comes ready for Android P.
Coming in three colours: Blue/Copper, Black/Chrome and White/Iron; with RAM / storage of 2GB/16GB, the Nokia 3.1 is available on 3rd July, 2018 from N50, 000.