Bianca Ojukwu throws shade at the former first lady of Anambra State, Ebele Obiano for loosing Senatorial election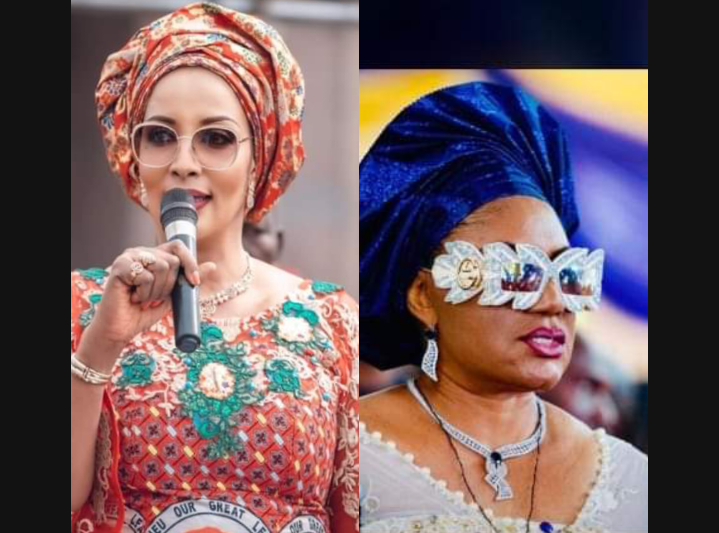 Bianca Ojukwu, Wife to the late Odumegwu Ojukwu has thrown some Shades at the former first lady of Anambra State who lost in her Anambra North Senatorial race to Labour Party candidate, Mr Tony Nwoye.
Recall that some time last year, Bianca and Ebele both had a rift that led to Bianca slapping Ebele. Lots of Netizens applauded Bianca's actions as they all thought Ebele Obiano was very disrespectful and had no regard for such a person of high status and value as Bianca Ojukwu.
Ebele Obiano who later declared her intension towards contesting for house of Representatives from the Anambra North Senatorial district under All Progressive Grand Alliance APGA, However lost to the candidate of the labour Party, Mr Tony Nwoye.
Mrs Bianca Ojukwu reacted to the situation by writing this on her Facebook page.
"KARMA IS ALWAYS SERVED PIPING HOT AND RIGHT ON TIME….
Anambra North…. Anyi aga Ejezikwa Abuja ooo???
Never seek to acquire those things which you actively work devilishly hard to deny others…..maka na agbasia oso, Aguo mile.
Just cooking my jollof rice with special tomato stew with my custom branded tomato paste with extra hot pepper mix (Distributors needed Nationwide 😅) which I will settle down to enjoy with a chilled bottle of four cousins….Come and eat…
Nansense🍷🍷🍹🍾!!!! ife di njo adiro mma…"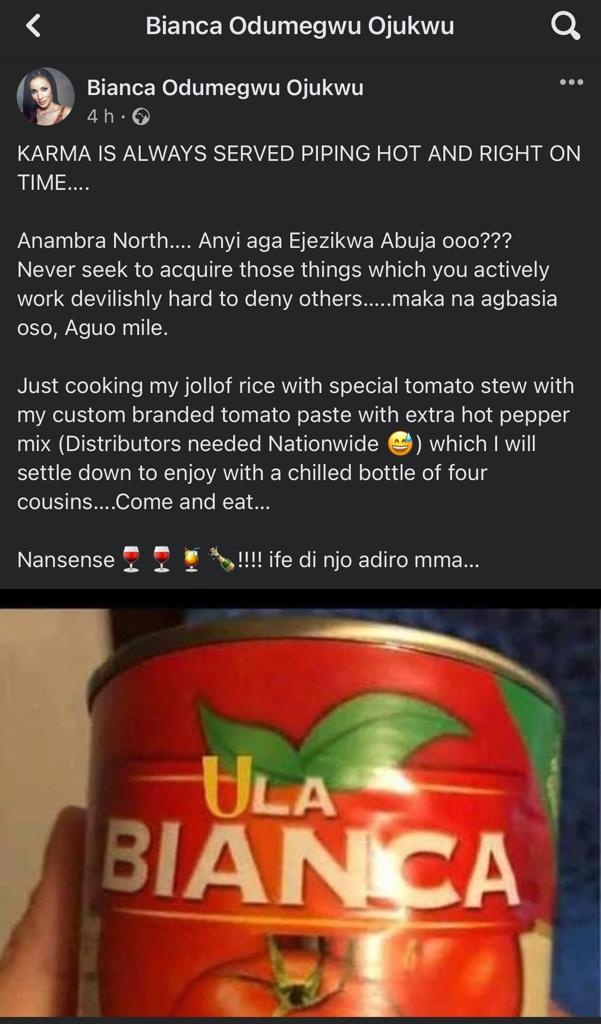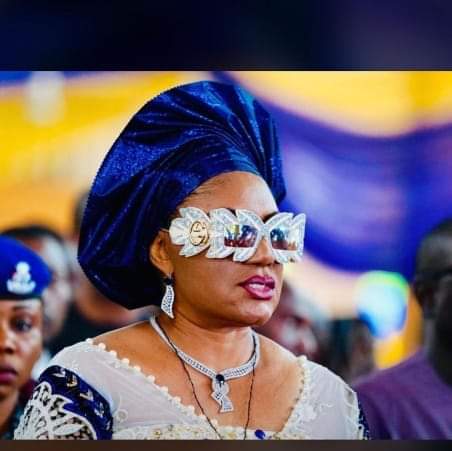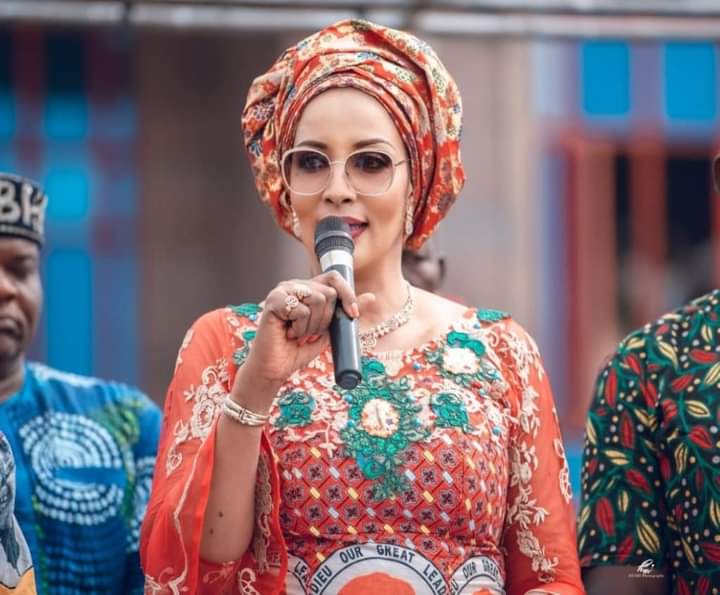 READ ALSO :PHOTOS: Jandor Visits Woman Attacked During Election
Two Women Caught On The Quest To Sell A 2 Months Old Baby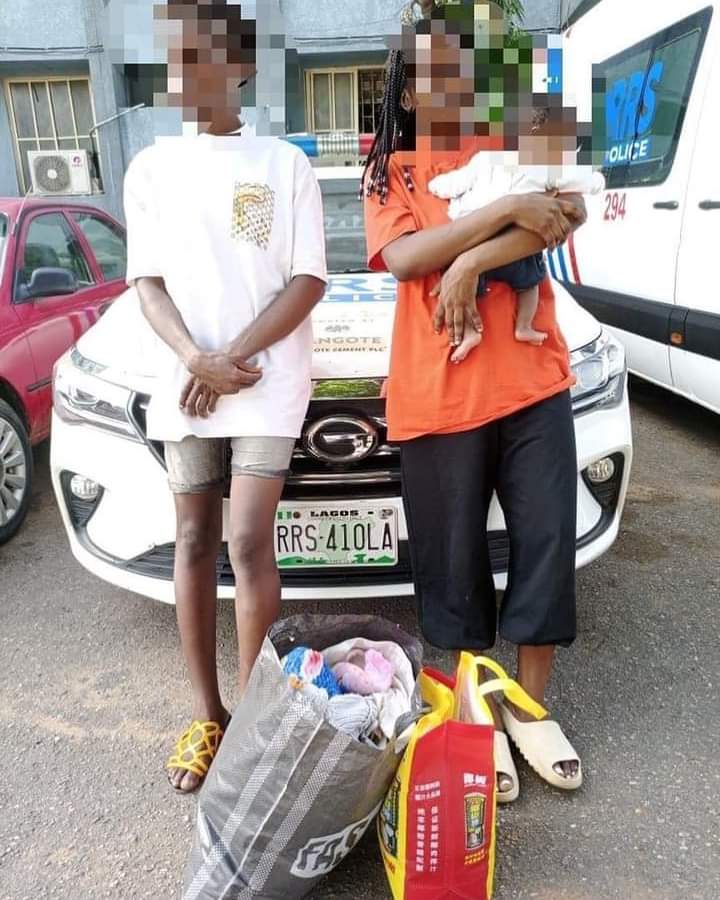 Operatives of the Rapid Response Squad (RRS) on Friday, May 26, 2023, successfully foiled an attempt by two women to allegedly sell a two-month-old baby.
A statement from the spokesperson of the Lagos state police command, SP Benjamin Hundeyin, says the deal was uncovered in Oshodi when one Oge Okolie, aged 25, the intermediary between the mother of the baby and prospective buyer was suspected of stealing the baby.
Passengers on a public bus noticed ceaseless crying from the baby with Okolie and asked why she could not breastfeed the child if she was the biological mother.
Benjamin said the suspect was about to be lynched when RRS operatives quickly stepped in to rescue her as well as the baby. Preliminary investigations led to the arrest of the mother of the baby, one Maria Ahmadu 'f' aged 26.
He added that the commander of the Rapid Response Squad (RRS), CSP Olayinka Egbeyemi, has since transferred the suspects and baby to the Gender Unit of the Command for further investigation and prosecution.
UK MP Kicks Against Barring Students From Bringing Family Over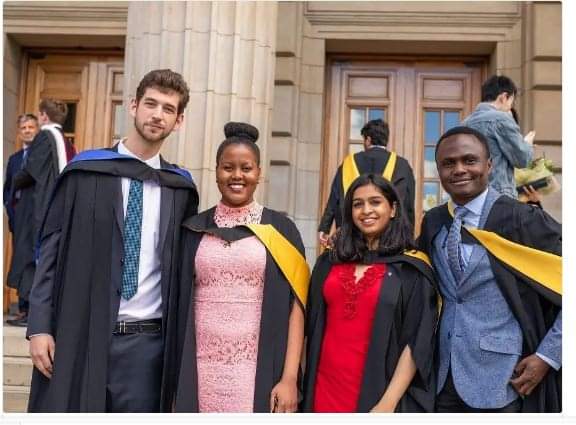 Sky News reported that A member of the United Kingdom Parliament, Carol Monaghan, has kicked against the United Kingdom's new visa policy preventing Nigerian students, and others studying in the UK, from bringing family as dependents except under specific circumstances.
While speaking at parliament on Wednesday, Monaghan stated that students made valuable contributions to the UK's economy.
According to her, International students enriched the UK's society in all sectors, including healthcare.
"International students make an invaluable contribution to the economy," she said In the video that went viral on Thursday, the lawmaker added, "The reality is that many students who come into the UK look beyond their studies and want their families to be part of their experience.
"Withholding overseas students from bringing their families, many will opt to go elsewhere and any drop in international students numbers will cause further harm to universities that are already facing financial difficulties."
Man Arrested For Allegedly Defiling His 5-year-old Daughter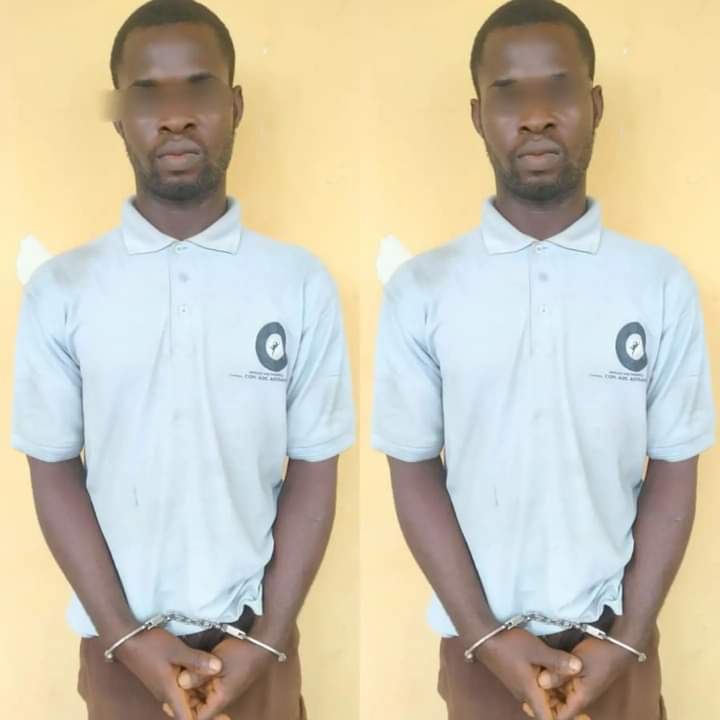 Operatives of Ogun state Police Command on May 22 arrested a 28 years old man, Adeyemi Babatunde, for allegedly having unlawful carnal knowledge of his 5 years old biological daughter(name withheld).
According to reports from LIB, The suspect was arrested following a complaint lodged at Ijebu Mushin divisional headquarters by the mother of the victim, Who reported that she noticed her daughter has been complaining of pain whenever she wants to urinate as well as whenever she is bathing her and she touch her private part.
Having noticed this, she pressurized the little girl to tell her what happened to her private part. It was then the victim informed her that her father laid her on the bed and inserted his manhood into her private part when the mother was not at home.
Upon the report, the DPO Ijebu Mushin division, CSP Simire Hillary, quickly detailed his detectives to go after the suspect and he was eventually arrested.
On interrogation, the suspect confessed to the commission of the crime but claimed not to know what comes over him as at that time.
Confirming the incident, the spokesperson of the state police command, SP Abimbola Oyeyemi, said the state Commissioner of Police, CP Olanrewaju Oladimeji, has ordered that the suspect be transferred to Anti Human Trafficking and Child Labour section of the State Criminal Investigation Department for further investigation and prosecution.