GROpinion
[Opinion] Sad Reality: RevolutionNow Is Dead On Arrival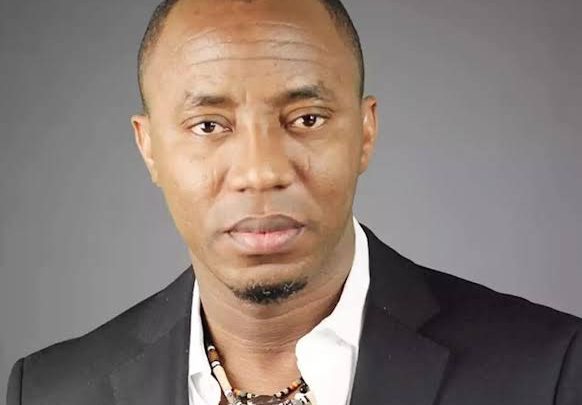 Let's even assume that the protest (RevolutionNow) orchestrated by Omoyele Sowore was peaceful and without any interruption by security agencies yesterday. So what happens afterward? The prices of goods in the markets plunge, or all Nigerians will start having at least 12 hours of steady electricity every day? I didn't say 24 hours of power supply, I said 12 hours. Sometimes, it's just better to calm down and off the mic.
Even before the COVID-19 pandemic, the cost of transportation in Lagos was exorbitant. Now, it's even more excruciating. These are the little changes that need to be made. We aren't talking even about the "Billion Billion" financial recklessness which is very common. So, which of these problems will the RevolutionNow movement solve?
A few Nigerians admire Omoyole Sowere, the Founder of Sahara Reporters, including myself. His grit and vocal criticism of Nigerian politicians ring a bell. Yes, he could have easily stayed back in New York and enjoy a good livelihood. Instead, he chose to come back to Nigeria to be part of the movement that will affect the change that Nigerians have been longing for. If you like, come back from the Vatican City, "Nigerian government no send anybody." They do what they want to do.
When BIAFRA agitators became too loud in Umuahia, Abia State Capital, the Nigerian Soldiers launched a Python Dance Operation. It was just the tip of the iceberg of what the military could do. What happened when they invaded the IPOB leader's residence? Mazi Nnamdi Kanu is currently in exile. While some of our brothers are dead. They didn't plan to die.
So, If by accident, a stray bullet hits anyone who joined that protest yesterday on the head. The person just wasted his/her life for nothing. Here is the point – any form of protest by Sowore is fruitless. Perhaps, you might disagree but that's the sad truth. The forty-nine-year-old man is on the federal government's watchlist.
As a matter of fact, there is strong divisiveness, divergent interests, and different political perspectives in the country. Some people under different political platforms are thinking and strategizing on how to win the 2023 Presidential Election. Another group of persons wants Biafra. There is another similar sect clamoring for the Oduduwa Republic. Many desire true federalism otherwise known as restructuring.
I would have loved to join the group that wants Biafra but I am not an optimist. I am a realist. For now, let the restructuring begin. The Nigerian government under President Goodluck Ebele Jonathan (GCFR) spent time and resources organizing a national conference in 2014. They came up with a Confab Report, which is yet to be implemented. Restructuring is more feasible than revolution or any form of breakout – be it Biafra or the Oduduwa Republic.
No doubt, there is a need for drastic political change in the country. Maybe, they should call it another name. When you mention revolution, it's like you have already committed a crime. Nigeria's constant backwardness as a result of bad leadership has reached the crescendo. Even the old woman in the village knows that. However, that doesn't mean we shouldn't think and figure out what works and what will not work.
How do we intend to revolt against the present APC led government? How is that possible? You are only putting people's lives in danger. Before you say Nigerians are too scared to confront theI leaders. Just remember that the Igbos lost over 3 million lives during the Nigerian Civil War for nothing. They all died, yet, Igbos are part of Nigeria. And it's even more ludicrous to start making references to the French Revolution, Cuban Revolution, American Revolution. I have heard Sowore make these references. Bossman, this is Nigeria.
Should we start talking about what the government is focusing on right now? The list is endless. Edo State Gubernatorial Election is at the corner, a lot has happened and still happening. After that, a similar election will come up shortly in Ondo State. What about the incessant killings? The security meeting is still on. What about the power tussle – the back and forth press releases from APC and PDP? They are still writing. RevolutionNow is not just on that list.
You can imagine when a lawmaker at the National Assembly makes comments like – "The government needs to do this, the government needs to do that. "If they want to jail me, let them jail me." "I cannot die twice, it's only once." I wonder who is actually the government. These people are the ones that are supposed to speak on behalf of the suffering Nigerians but their lips seem glued to their tongues. Any matter that is not debated and agreed on at the National Assembly holds no waters.
That said, putting side by side different scenarios, it's easy to say – protests or any form of demonstration seem old-fashioned. I don't think it has ever worked. At this point, Nigerians must learn how to beg their leaders and be more persuasive. It sounds crazy but that's what it is. "We don enter one chance."
We just need to be united and fight for one course in a persuasive approach. Sowore and his guys should know that our leaders do not take protesters seriously. It doesn't matter if the demonstration is peaceful or not. NIGERIAN GOVERNMENT no like noise!. In all, this article is not aimed at downplaying the efforts of this young man.