GROpinion
I stand With Fani-Kayode, How Can That Journalist Ask Him That Nonsense Question?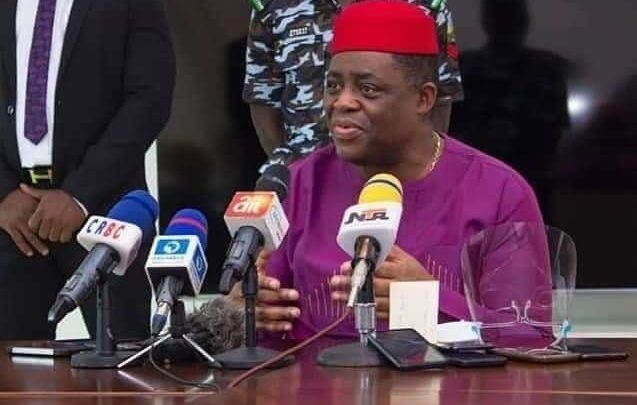 By Aanu Adegun
I was sleeping and dreaming of how to woo one beautiful girl near my house when my phone rang and a friend said to me: "Aanu, come online. Your friend, Femi Fani-Kayode has messed up." I quickly turned on my laptop and modem.
I was praying that the great FFK has not involved himself in a scandal that will tarnish his robust, clean, and hard-earned image.
To my surprise, on getting online, I saw that it was just one mere man who calls himself a journalist that annoyed the impeccable FFK. I was relieved. My hero has not done anything bad. Even to me, a fan of FFK, the question is annoying.
Imagine the so-called journalist asking our great thinker this: "Sir, you said you have gone round six or seven states to inspect projects undertaken by those governors, and now you are here in Cross River state, rounding off your one-week visit to Governor Ayade. Who is bankrolling you?" President Buhari nominates Okonjo-Iweala for top position This is really annoying.
In fact, it is an insult. Does h really know who Fani-Kayode is? Imagine that journalist asking a man who came from a rich and renowned family like that of FFK – who is bankrolling you? Does he think FFK is poor? Does he not know that FFK needs no money at all? – Does he know if FFK father left over N100billion in cash for him when he died? What of hundreds of property? FFK only spends. He spends and spends. He does not take.
Never! Apart from this, will the journalist claim that he does not know how well placed Fani-Kayode is in Nigeria. A hero who has fought many battles for the masses. Can any of the governors he visited pay his bills? How much do the governors have that will make the great FFK start gallivanting about in their domains or how much do their states even have that can measure up to the wealth of Fani-Kayode?
Imagine the insult! FFK is never poor and he can never be poor. Even when FFK grows old and goes to the lord, his riches will still continue to grow here on earth. Burna Boy Coachella drama causes Twitter users to troll him Now, if he claims he does not know the things I mentioned above, will he say he did not know that FFK was once a minister in Nigeria.
How can any respected journalist forget this simple fact given that FFK revolutionalised the aviation sector – repositioned it to rival those of the developed nations? This is really annoying, irritating, infuriating, maddening, vexatious. Seriously, FFK must really demand the sack of that disrespective and substandard journalist.
This insult must not be allowed to go unpunished. Just mention the first 100 people who is who in the world, FFK is there. I stand with him on this. That was a nonsense question. And people should not expect any apology from FFK. Great men don't apologise to substandard people.