GRPolitics
Ondo Governor Meets Buhari; Wants His Deputy To Resign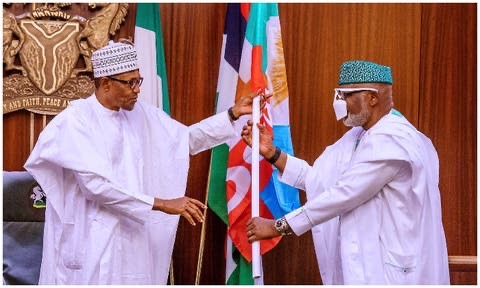 The Governor of Ondo State, Rotimi Akeredolu, has met with President Muhammadu Buhari at the Presidential Villa, Abuja after his victory in the last gubernatorial election in the state.
Akeredolu, presenter his certificate of return to Buhari and made it clear that he wants his deputy, Agboola Ajayi to resign he still has any honour in him.
Akeredolu also said his earlier statement declaring some indigenes of the state as his enemies for life was a mere political statement, saying that having won the election, he has no reason to keep enemies.
He said, "God has given us victory, who am I to harbour enmity against anybody? it is not necessary. So, if he (Ajayi) comes back, if he has honour anyway, he should resign and leave as Deputy Governor if he has honour.
Recall that Ajayi defected from the All Progressives Congress to the Peoples Democratic Party and later to the Zenith Labour Party.
He contested the election against Akeredolu on the platform of the ZLP and came third after Eyitayo Jegede of the PDP.