SHOCKER! Doyin Okupe Provides Disturbing Revelations on Fulani Herdsmen.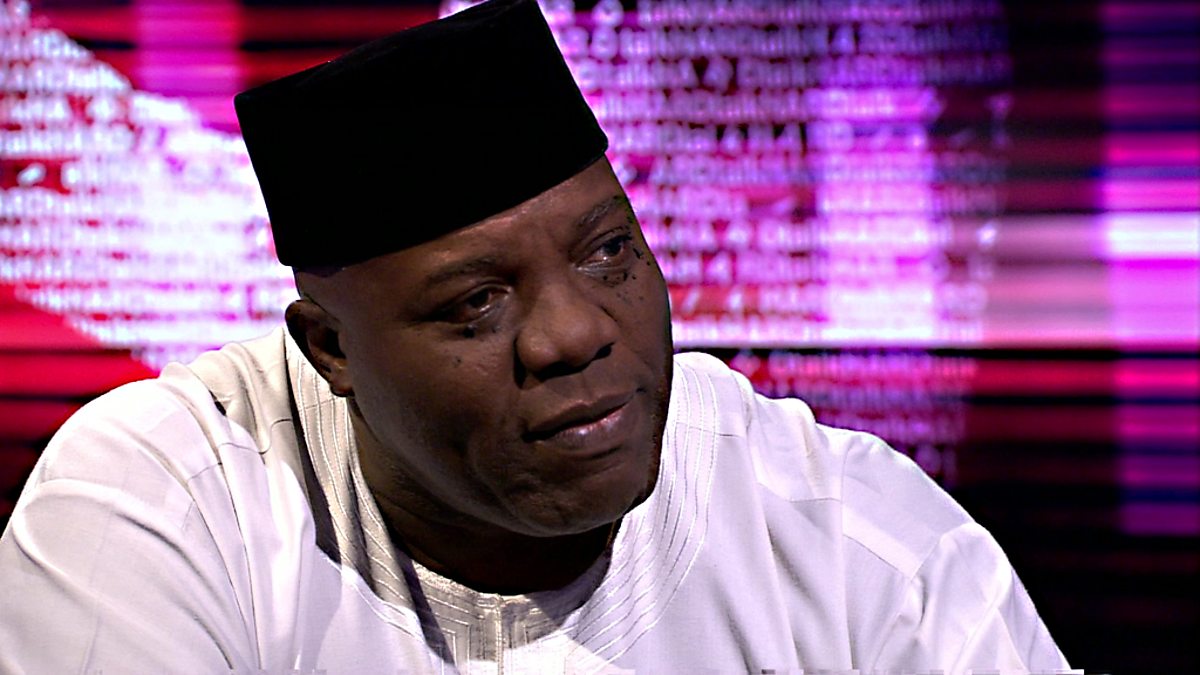 You may think you have heard the most shocking news about the Fulani Herdsmen who recently invaded and killed over 70 people, but this piece by a renowned politician Doyen Okupe, will even make you shiver.
The article (excerpt) reads:
"The failure to protect the citizens is the liability of the Federal Government of Nigeria and its armed forces. Most Nigerians and international bodies do not understand the Fulani herdsmen problem and we at CACLD did not initially. We therefore dispatched a fact finding team to the Southeastern part of the country to unravel the intricacies and complexities of the Fulani terrorist group; a group rated as the fourth most dangerous by respected international conflict organizations (According to the Global Terrorism Index 2015 report).
"Our fact finding team visited interviewed neighbors from the local communities living within and around the Hausa communities. Both the Northerners and the local community were very open and volunteered valuable information to our team. There seems to be a willingness and eagerness for the violence to end. Below are our findings:
"The Fulani Herdsmen terrorists do not own cattle: This is another revelation that may come as a surprise to many. Fulani herdsmen killers' major job description is just to kill. They do not own any cattle. Most of them are employed by the cattle owners as "security men" whose job is strictly to protect the cattle. They do not however follow the cattle around, but move in separate vehicles along a defined route within the states where cattle are being reared.
"The cattle are owned by more prominent Fulani leaders in the country. Most Nigerian Fulanis are no longer migratory herdsmen, but are either Emirs, Sultans, heads of parastatals, oil barons, Imams, Governors, Federal Reps, and Senators. However, they still maintain their cultural ownership of cattle.
"These wealthy Nigerians increase their wealth astronomically through cattle rearing by using their not-well-off brothers from outside Nigeria to rear these cattle. Instead of investing in ranches and buying of grasses from the South, they chose the cheaper alternative of having their kinsmen, imported from outside the country, take these cattle from the north to south seasonally; using the entire Nigerian space as their 'grass kingdom'. These cattle, in turn, destroy farms in their path, rendering farmers economically bankrupt to further enrich the wealthy Fulani "remote herders.
"For clarity sake, let us present the breakdown of Fulani people in Nigeria as we deduced from our investigation.
"There are about 5 million Fulani people in Nigeria making them one of the smallest ethnic groups in the country.
"Out of the 5 million Fulani people, only about 3 million of them are Nigerians. The remaining 2 million come from outside the country and are first generation immigrants.
"About 60 percent of the Fulanis in Nigeria are governors, Imams, Emirs, Sultan, House of Rep members, Importers, Exporters, Ministers, Oil well owners, lecturers, Vice Chancellors, Ministers, and Senators etc. In a nutshell, the Fulani control all sectors of the northern economy. These rich Fulani's own all the cattle being reared in Nigeria.
"The remaining 40 percent of Fulanis come from outside the country. These are the poor and peasant Fulanis. These immigrant Fulani's are mostly in charge of the cattle owned by the Bourgeois Fulani. Because the Fulanis have the highest income per capita in the Nigerian state (Fulani's who are Nigerians), they constantly need to import their poor brothers and sisters from outside the country to increase their population and to help with menial jobs. The Fulanis always either marry into rich families or they would marry only Fulani to maintain their pure race.
"Lastly, there is a group of Fulani herdsmen who rear the cattle from the north to the south. These are at the bottom of the Fulani Herdsmen ladder. Some of them do not even know how to speak English and are so poor that they are paid just a little amount of money for their job. These herdsmen do not carry guns. They only carry arrows and machetes to help them navigate the bushes on their way down to the South.
"We learned from the surrounding communities and from some of the Hausa elders about what constitutes a Fulani herdsmen attack. According to information we received, when there is a disagreement between host communities, or between herdsmen and farmers, the Fulani herdsmen who accompany the cattle will locate the nearest Fulani settlement. When they arrive, they will narrate their story.
"The Fulani (Nigerian middlemen) cattle managers will notify their top Fulani Herdsmen which in this case, include governors (like El Rufai) and other top Fulani Bourgeois who own the cattle. A decision will be made about whether there should be an attack or not on the said village or host community. If an attack is sanctioned, then modalities will be mapped out and a date will be chosen for the attack. Most times, Fulani herdsmen in the military and police are notified and everyone sends a representative. Neighboring settlements sends out representatives and arms cache are opened and arms are distributed to the participants. The major participants are the 20 to 40 Fulani herdsmen whose job is to kill.
"During an attack, every Fulani person in the area knows there will be an attack and all will contribute to make sure it goes on successfully. Fulanis in the higher levels of the military will ensure all commands under them stand down, and the top Fulani police officers will do the same. The road is then clear for the Fulani herdsmen to carry their attacks.
"Next time when we talk about a herdsmen attack, we must understand that the attack was not carried out by the herdsmen you see escorting cattle on the roads and bushes. These attacks are well coordinated and sometimes involves the approval of senators and influential men in Abuja. Even our president Mohammed Buhari has a herd of cattle and hence is a Fulani herdsman, corroborating the information we received from respondents on ground. Fulani herdsmen attacks involves all Fulani ethnic members in Nigeria. Most times, these attacks happen only because "respectable men" sanction them."
Source: dailypost.ng
"One-Chance" Victim Dies After Abuja Hospital Allegedly Denied Her Treatment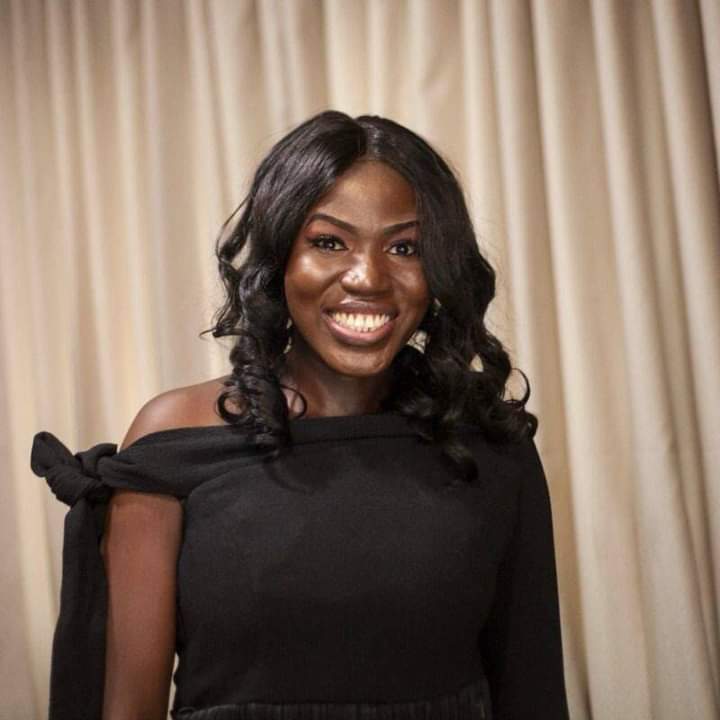 A young lady, Greatness Olorunfemi, a victim of 'one-chance' operators in Abuja, has died after an Abuja hospital allegedly refused to attend to her.
An X user, #Gbemilekhe, who shared the story on Friday, alleged that the hospital in the Maitama area of Abuja asked for a police report before treatment could commence. Olorunfemi sadly passed moments later.
"Greatness was pushed out of a moving vehicle by one-chance criminals in Abuja.
"She was rushed to Maitama General Hospital, and they refused to attend to her, demanding a police report. She died afterwards," the tweet read.
One #Nwaadaz on X, who claimed to be a friend of Olorufemi, shared more details of the sad incident, saying the assailants stabbed Olorunfemi, who bled to death after the hospital rejected her.
"Maitama General Hospital refused to attend to my friend who was stabbed by a one-chance driver in Abuja. They allowed her to bleed to death and locked the emergency ward against her because she didn't have a police report!! Nigeria has failed Greatness!," the user tweeted.
Here's the video report.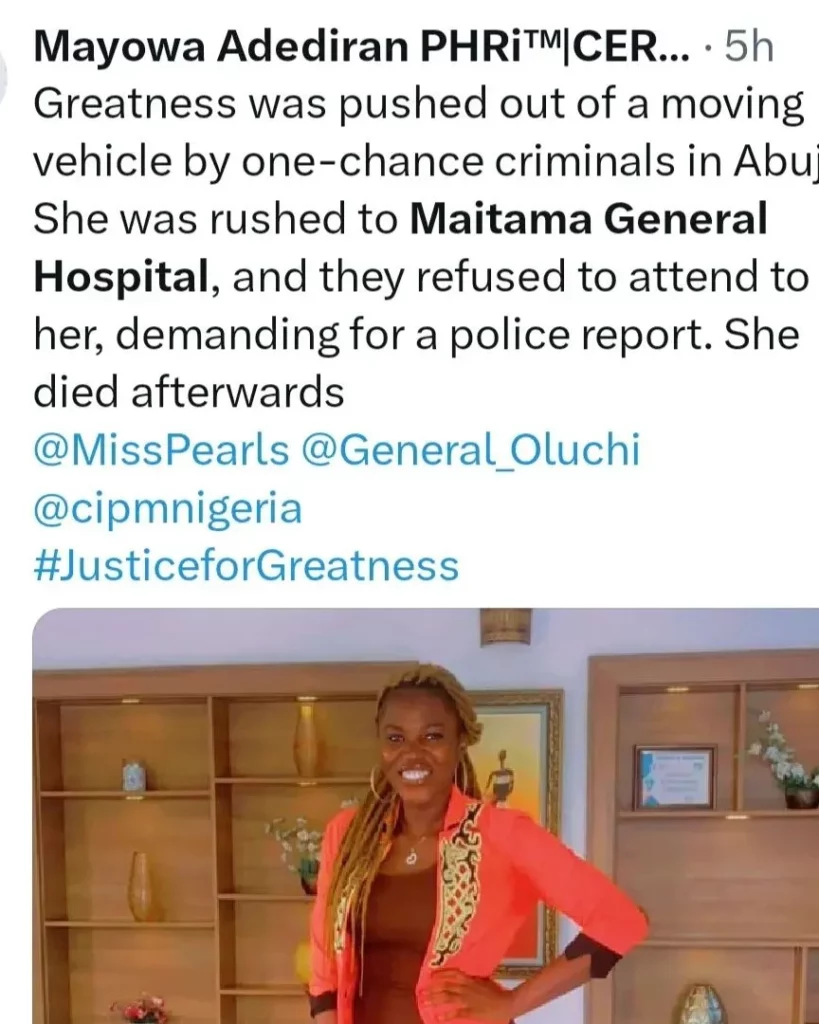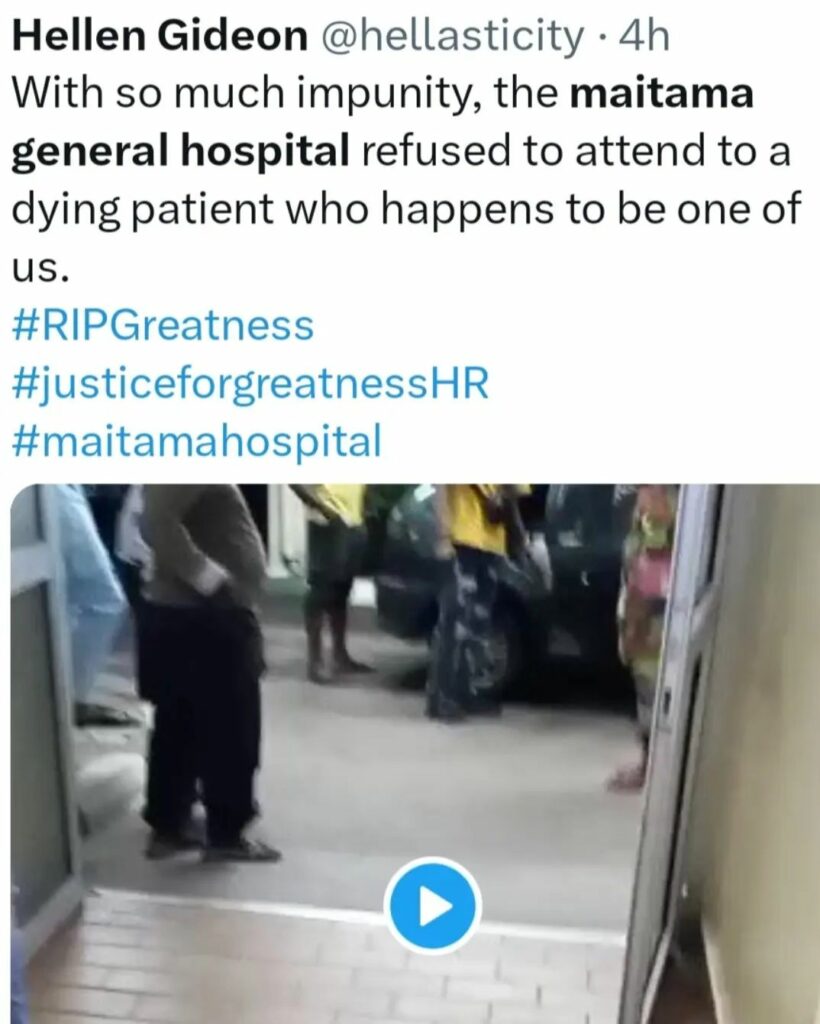 Nelson Mandela's Granddaughter, Zoleka Dead; She Wrote A List Of People Not Allowed At Her Funeral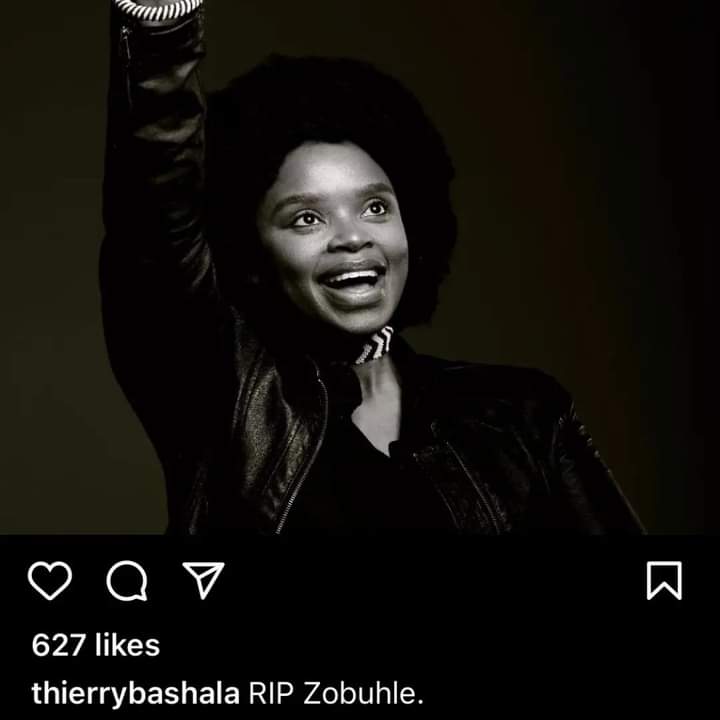 The list revealed includes her ex-husband and father of two of her kids, Thierry Bashala.
Although Bashala had mourned her on Instagram after her death.
Zoleka also listed some relatives who sexually abused her. She said those on the list with a dot (.) against their names abused her sexually and are not allowed near her dead body.
She added on the list that she is close to including her sisters, dad, and step mom to the list.
Zoleka died on Sept. 25, 2023, after a long battle with cancer.
The author had survived cancer twice, before it came back a third time and she passed at the age of 43.
She was treated for breast cancer in 2011. It returned in 2016 and she beat it again. Sadly, she announced in August 2022 that she had been diagnosed with bone metastasis.
Via her instagram account where she documents her journey, she disclosed that the cancer had mestastasized to her bones and liver.
Sadly, she died earlier this week, leaving behind 4 of her 6 children.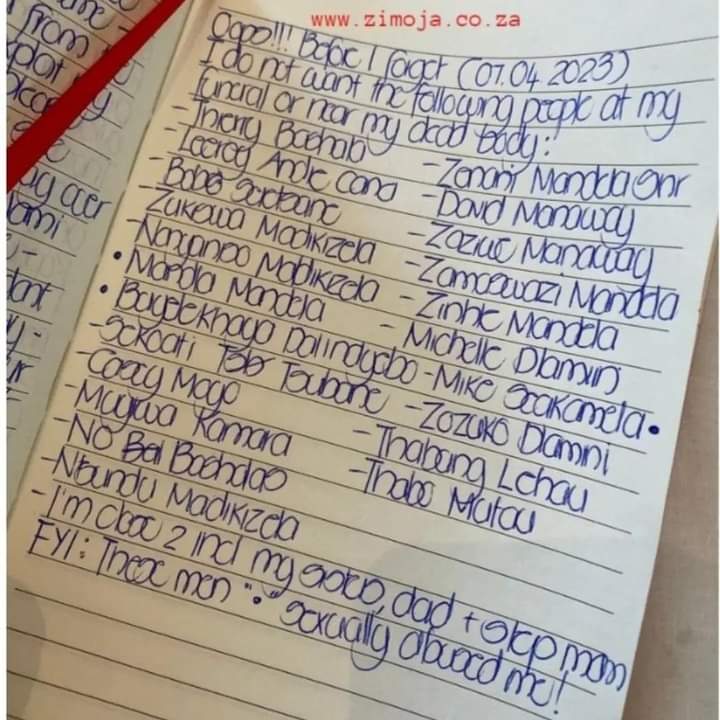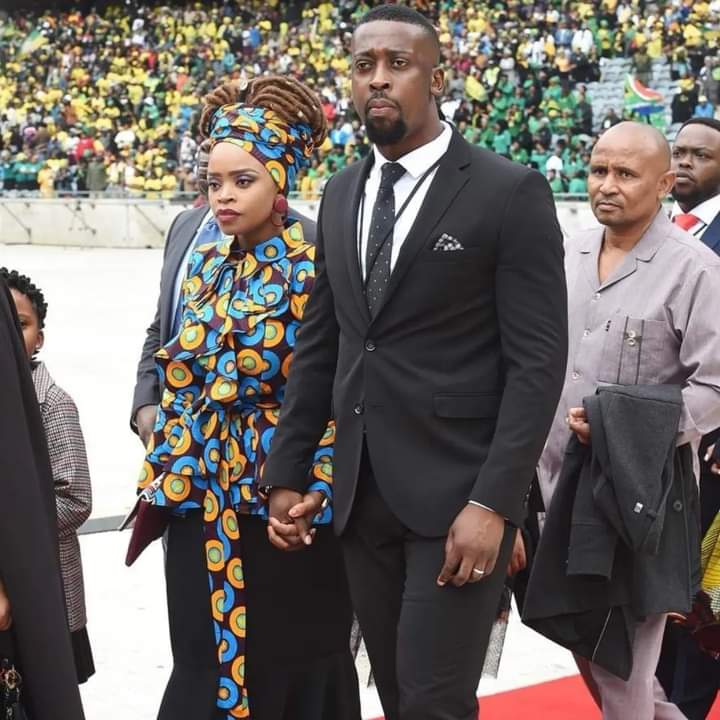 May her soul rest in peace.
Protest As New Minister For Works, Dave Umahi Locks Out Late Comers From Work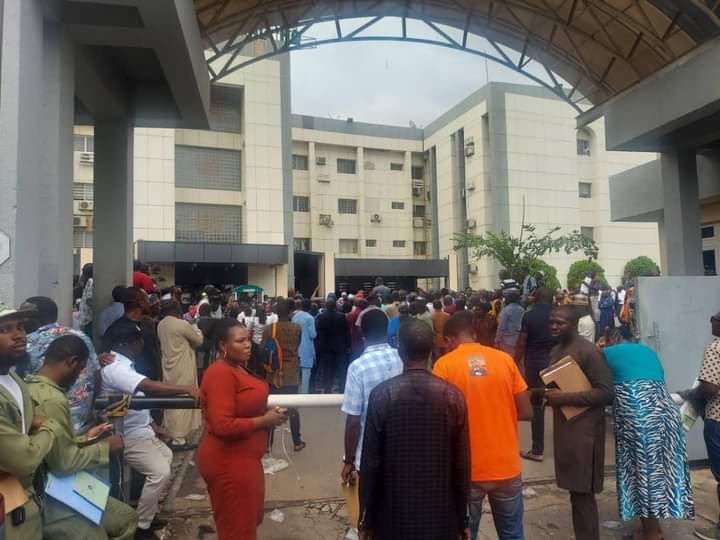 There was apprehension at the Works ministry on Thursday as protesting civil servants asked for the Removal of the new minister, Dave Umahi, After he locked out over 300 staff and directors who resumed work late.
The public servants expressing their displeasure also demanded an apology from the minister.
Earlier, the minister upon resumption at 9.30 am was said to have prevented workers who came to work late from gaining access to the ministry for over four hours.
However, after the gate was opened, the workers, comprising both Housing and Works Ministry, refused to enter the ministry and resorted to an impromptu protest barricaded the entrance gates.