14 Nigeria to Die by Hanging in Saudi Arabia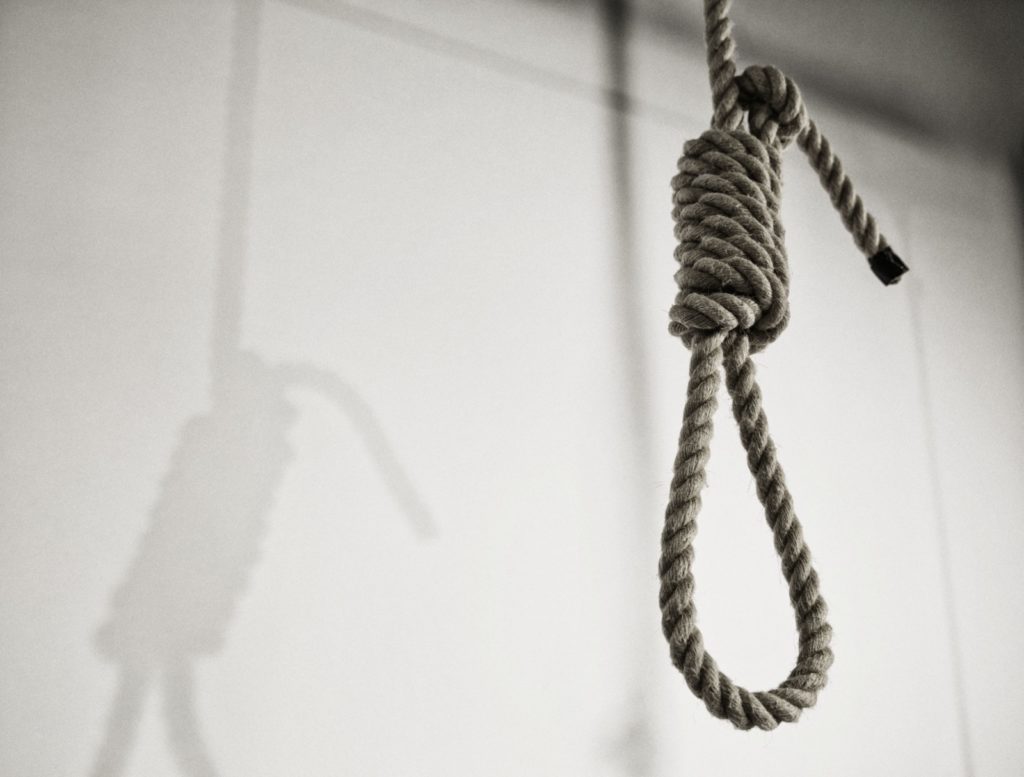 Fourteen Nigerians have already been moved to a jail in Medina apparently in preparation for the hangman's noose. That has sent shivers down their spines, forcing them to dispatch a Save-Our-Souls message to President Muhammadu Buhari to do all within his powers to save them from being slaughtered like cows.
They were 15 in number but one of them was executed last year as a common criminal.
The manner in which Yusuf Yakubu Ajiboye from Kwara State was arrested, hurriedly tried and subsequently killed, made them to entertain fear for their lives and came to the conclusion that the long knife was indeed awaiting them.
"We know they are preparing to kill us but before we die, we are pleading with the President of the Federal Republic of Nigeria to look into the charges preferred against us and see if indeed, we have been given fair hearing for the offences they claim we committed, and whether the Saudi authorities have treated us well under the law," one of the suspects said in a leaked document made available to Saturday Vanguard from Riyadh.
"They claim that we peddled drugs and committed other drug-related offences, which according to them carry death penalty but we want Nigeria to intervene and give us another chance to live," the suspect pleaded on behalf of the rest being detained in preparation for their execution in the Middle East country.
Among the Nigerians in the Medina Prison awaiting execution are: Lolo Babatunde, Biola Lawal, Hafis Amosu, Jimoh Ishola, Tunde Ibrahim, Abdurimi Aweda, Adam Abubakar, Amode Tunde, Adewumi Adepoju, Saka Riyau, Aliu Muhammed, Abdul Raman, Yekini Yahaya and two other women.
Many other Nigerians arrested for drug-related offences have also been detained at Jedda, Mecca and Riyadh prisons in Saudi Arabia, awaiting execution.
Sources close to the suspects said that there are no fewer than 25 Nigerian drug suspects being detained in several prisons in Saudi Arabia with the ultimate aim of executing them since the offence carried the maximum death penalty in that country. But their fear has heightened since they claimed that they contacted the Nigerian Embassy in Riyadh and pleaded with them to take action to at least free them from that country's jail and repatriate them to Abuja to either live or die and be buried on their father land, but regretted that the appeal fell on deaf ears.
"Our government should act fast to save our lives from the hangman's noose because delay is dangerous in this case," one of the suspects said.
FG reacts
The Nigerian Government confirmed yesterday, that it was aware of the detained Nigerians in Saudi Arabia in connection with drug-related offences and had already waded into the matter. The Minister of Foreign Affairs, Geoffrey Onyeama, said necessary steps were being taken to engage with the Saudi authorities on the fate of the detained Nigerian drug suspects.
"The Minister of Foreign Affairs has directed the Nigerian Mission in Riyadh to look into the detained suspects' case urgently," the Spokesman for the Ministry, Dr. Tope Adeleye Elias-Fatile, said in response to enquiry on the matter. "The Nigerian Government will continue to engage the Saudi authorities in negotiations so that they will not be executed," the Foreign Ministry assured.
Source: Vanguard
"One-Chance" Victim Dies After Abuja Hospital Allegedly Denied Her Treatment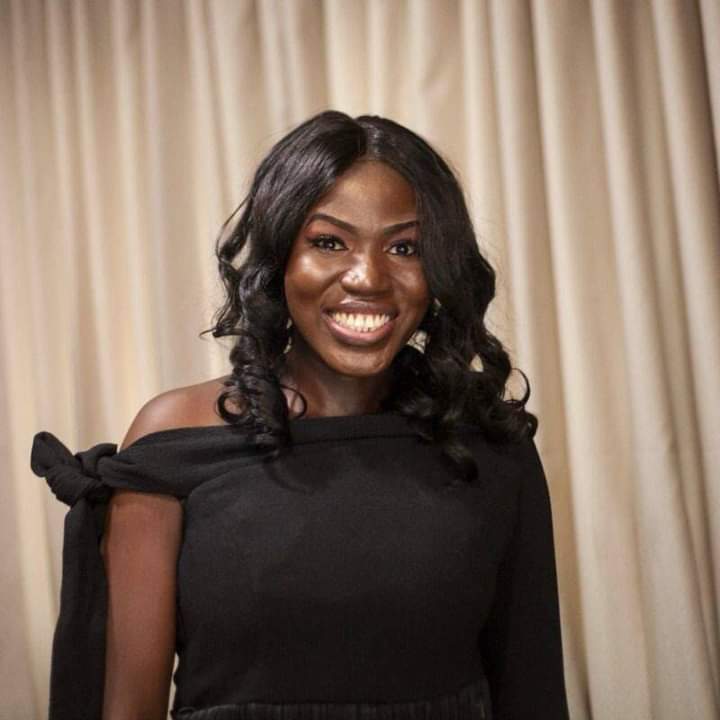 A young lady, Greatness Olorunfemi, a victim of 'one-chance' operators in Abuja, has died after an Abuja hospital allegedly refused to attend to her.
An X user, #Gbemilekhe, who shared the story on Friday, alleged that the hospital in the Maitama area of Abuja asked for a police report before treatment could commence. Olorunfemi sadly passed moments later.
"Greatness was pushed out of a moving vehicle by one-chance criminals in Abuja.
"She was rushed to Maitama General Hospital, and they refused to attend to her, demanding a police report. She died afterwards," the tweet read.
One #Nwaadaz on X, who claimed to be a friend of Olorufemi, shared more details of the sad incident, saying the assailants stabbed Olorunfemi, who bled to death after the hospital rejected her.
"Maitama General Hospital refused to attend to my friend who was stabbed by a one-chance driver in Abuja. They allowed her to bleed to death and locked the emergency ward against her because she didn't have a police report!! Nigeria has failed Greatness!," the user tweeted.
Here's the video report.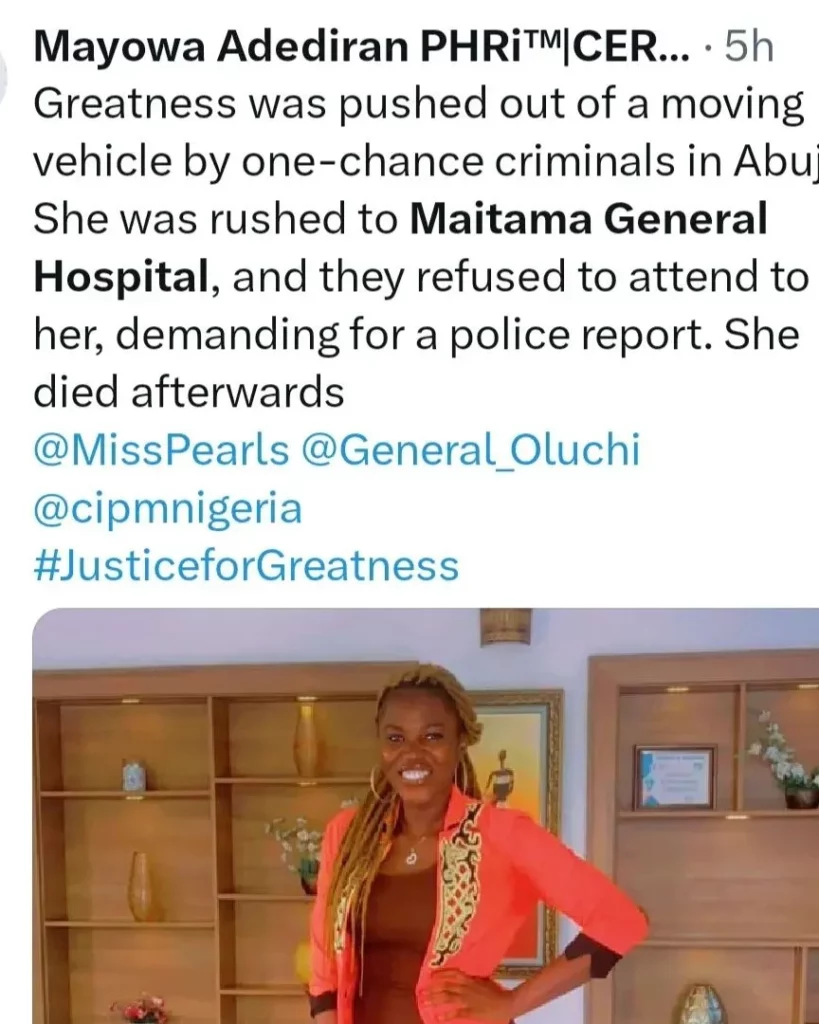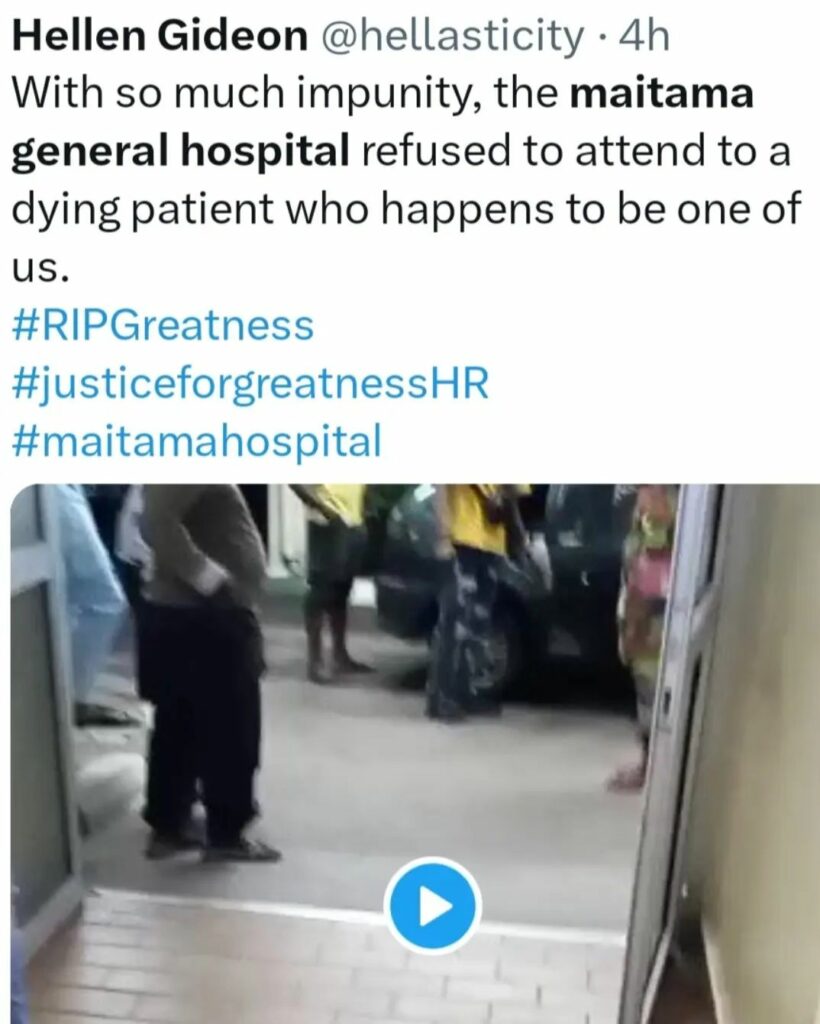 Nelson Mandela's Granddaughter, Zoleka Dead; She Wrote A List Of People Not Allowed At Her Funeral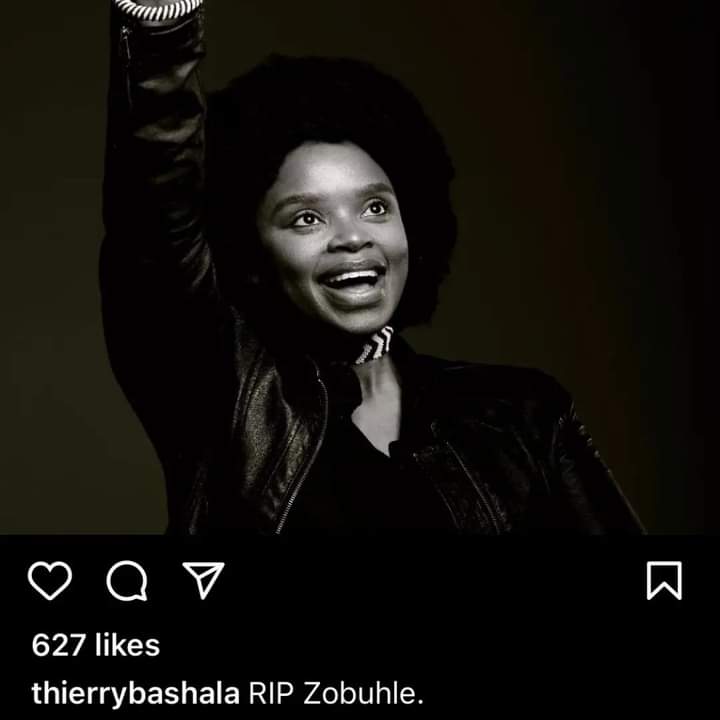 The list revealed includes her ex-husband and father of two of her kids, Thierry Bashala.
Although Bashala had mourned her on Instagram after her death.
Zoleka also listed some relatives who sexually abused her. She said those on the list with a dot (.) against their names abused her sexually and are not allowed near her dead body.
She added on the list that she is close to including her sisters, dad, and step mom to the list.
Zoleka died on Sept. 25, 2023, after a long battle with cancer.
The author had survived cancer twice, before it came back a third time and she passed at the age of 43.
She was treated for breast cancer in 2011. It returned in 2016 and she beat it again. Sadly, she announced in August 2022 that she had been diagnosed with bone metastasis.
Via her instagram account where she documents her journey, she disclosed that the cancer had mestastasized to her bones and liver.
Sadly, she died earlier this week, leaving behind 4 of her 6 children.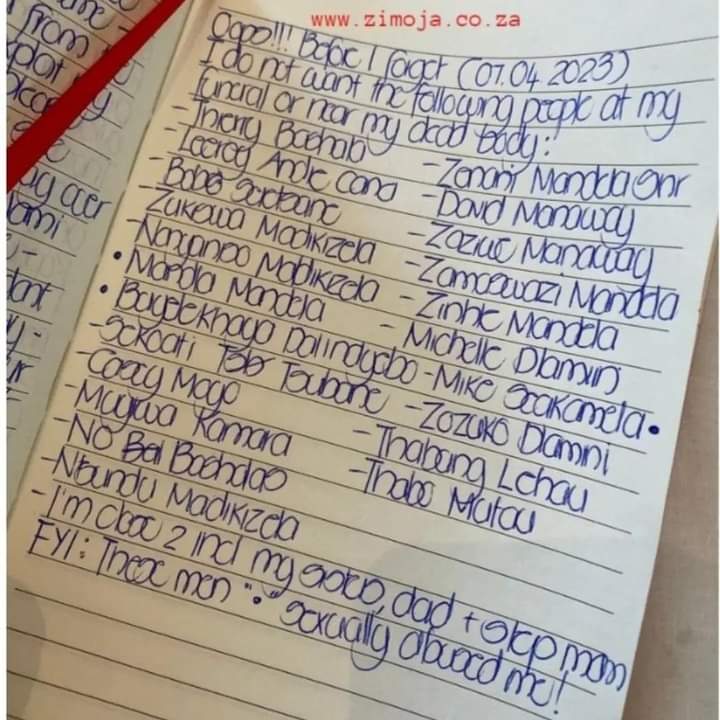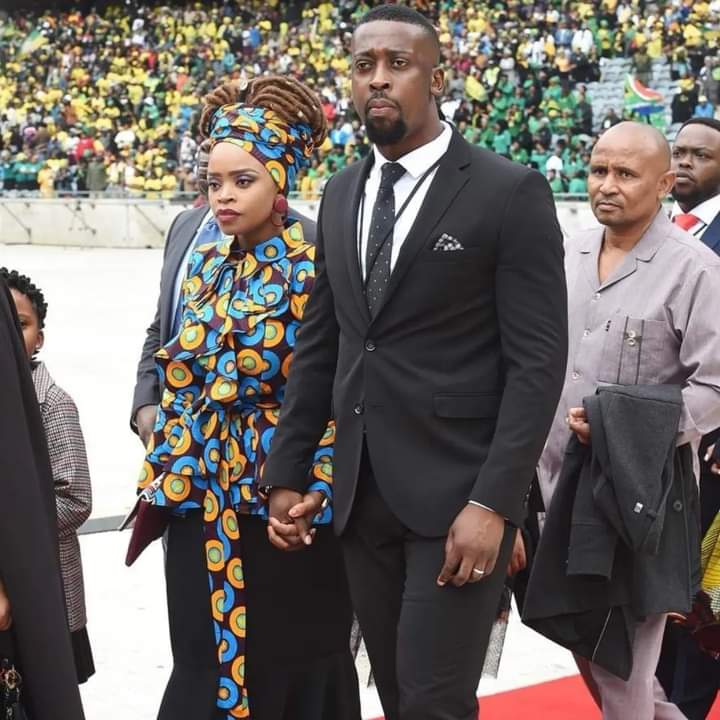 May her soul rest in peace.
Protest As New Minister For Works, Dave Umahi Locks Out Late Comers From Work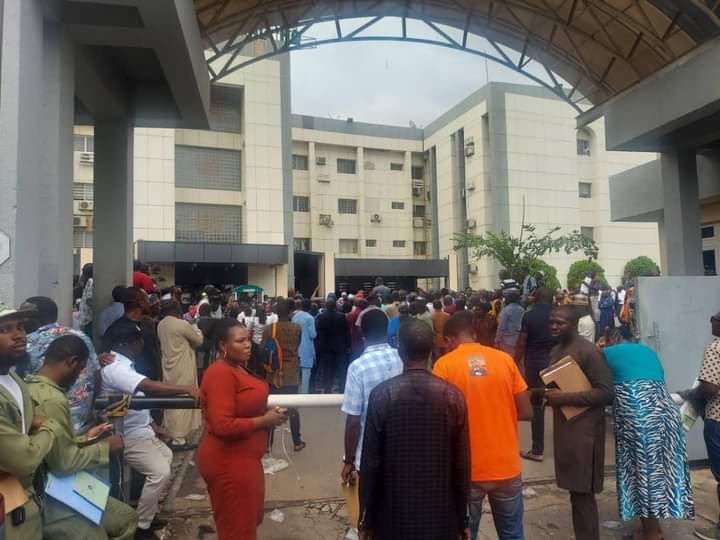 There was apprehension at the Works ministry on Thursday as protesting civil servants asked for the Removal of the new minister, Dave Umahi, After he locked out over 300 staff and directors who resumed work late.
The public servants expressing their displeasure also demanded an apology from the minister.
Earlier, the minister upon resumption at 9.30 am was said to have prevented workers who came to work late from gaining access to the ministry for over four hours.
However, after the gate was opened, the workers, comprising both Housing and Works Ministry, refused to enter the ministry and resorted to an impromptu protest barricaded the entrance gates.