IPOB Drags 16 Nigerian Officials To US Court over Biafra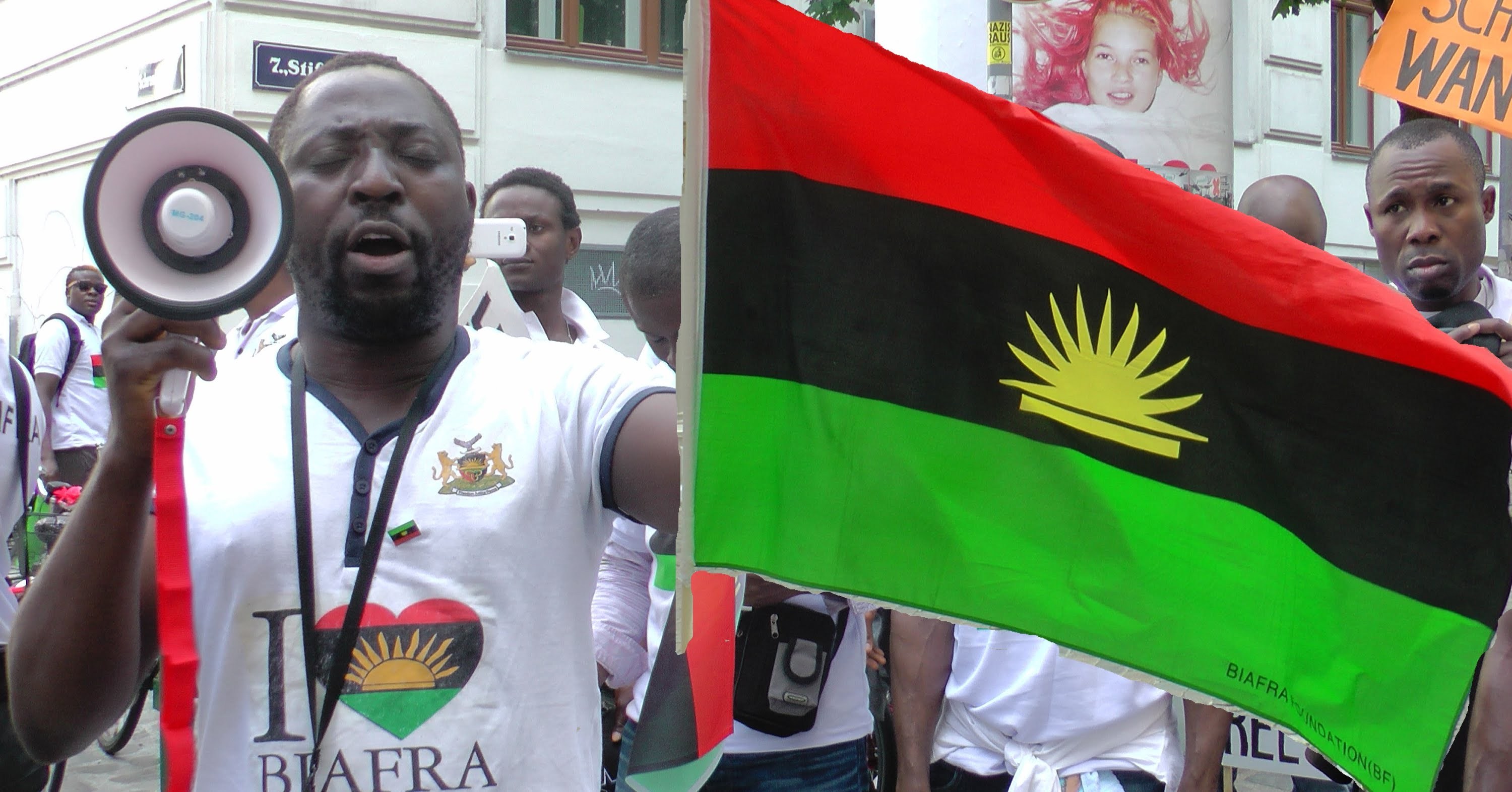 The Indigenous People of Biafra (IPOB) has dragged 16 Nigerian officials to a United States District Court for the District of Columbia for their alleged direct or indirect complicity in the alleged extrajudicial killings of its members/Biafrans who had launched peaceful protests in the wake of arrest and detention of its leader Mazi Nnamdi Kanu.
The officials are: Tukur Yusuf Buratai; Lawal Musa Daura; Ibrahim Attahiru; M.I. Ibrahim; Kasim Umar Sidi; Issah Maigari Abdullahi; Solomon Arase; Ibrahim Kpotun Idris; Okezie Ikpeazu; Willie Obiano; Habila Hosea; Peter Nwagbara; James Oshim Nwafor; Hosea Karma; Bassey Abang; and Johnson Babatunde Kokomo.
The suit is grounded on two muscular United States' statutes; the Alien Tort Claims Act (ATCA or ATS – the Alien Tort Statute); and the Torture Victims Protection Act (TVPA).
Both laws have extra-territorial reach, meaning that they allow US federal courts to assert long-arm jurisdiction that extends beyond the borders of United States.
Alien Tort Claims Act (ATCA) provides that 'the district courts shall have original jurisdiction on any civil action by an alien (foreigner) for a civil wrong committed in violation of the law of nations or a treaty of the United States'. Since 1980, courts have interpreted this statute to allow foreign citizens to seek remedies in US courts for human rights violations for conduct committed outside the United States.
Torture Victim Protection Act of 1991 is a statute that permits civil suits in the United States against foreign individuals who – acting in an official capacity for any foreign nation – committed torture and/or extrajudicial killings.
According to IPOB Media and Publicity Secretary, Emma Powerful, in the suit, IPOB lawyers argued that 'The factual case against the Defendants is convincing. The world already knows of the widespread beatings and slaughter of protesting IPOB family members by elements of Nigerian security forces at various locations after the arrest of our leader. Amnesty International and other credible foreign sources have confirmed these killings and torture'. Those reports were filed in Court".
"Beyond the latest processes, and at the ensuing trial, Buratai, Ikpeazu, Obiano and others will be required to personally appear before the US court to testify under oath and probing cross-examination that will dwell on the details of the IPOB killings and the complicity of other unnamed Nigerian officials".
"In a counter Motion filed on February 6, 2018, the US-based lawyers for the Biafran plaintiffs (IPOB) who brought suit against some Nigerian officials have strongly urged a United States federal court to proceed to trial on the merits, stressing the damning fact the the US State Department has rejected a request from the Buhari-led Nigerian government for the State Department to intervene and stop the suit based on the sovereign immunity defense".
"At Page 4 of the 35-page Motion obtained by IPOB, our lawyers stated that "Despite an overture by the Government of Nigeria, the United States Department of State has refrained from suggesting any Defendant is immune from Plaintiffs' TVPA claims under federal common law or otherwise. Neither has the State Department suggested that any Defendant is a head of state in Nigeria".
"The counter Motion was necessitated by a motion filed by defence lawyers to dismiss the suit based on grounds that included the act of state doctrine, lack of jurisdiction and sovereign immunity. Dr Bruce Fein and associates, lawyers to IPOB argued in-opposite that such defenses are not allowed under the Statutes upon which the suit was brought".
"IPOB's counsel also argued that defence Motions are questionable because the defense lawyers are, before the court, fighting amongst themselves as to who should be recognized to represent the defendants. Abia State governor Okezie Ikpeazu and Willie Obiano of Anambra State hired two law firms each and both sets of lawyers were fighting as to who will represent them in court"
"We are not relenting in our pursuit of those responsible for the death of hundreds of innocent Biafrans," Powerful stated. (Daily Sun)
"One-Chance" Victim Dies After Abuja Hospital Allegedly Denied Her Treatment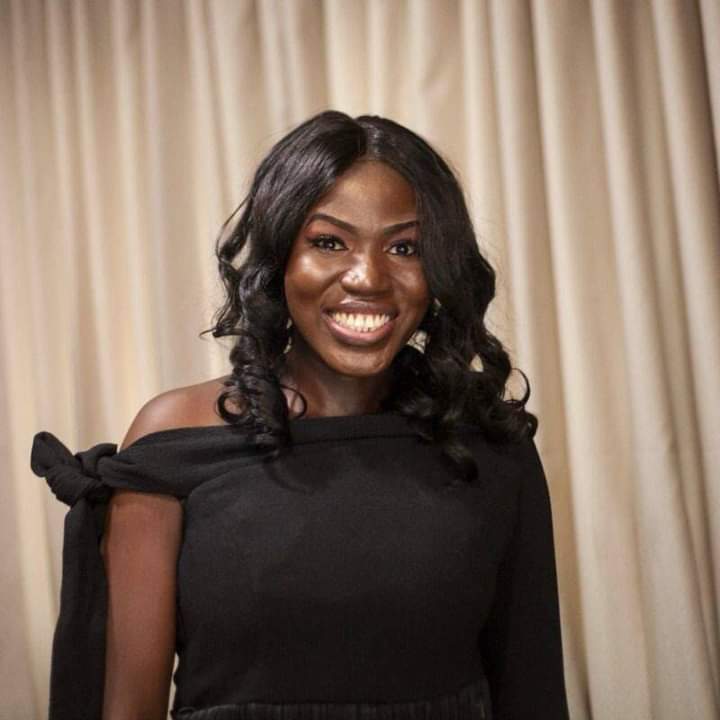 A young lady, Greatness Olorunfemi, a victim of 'one-chance' operators in Abuja, has died after an Abuja hospital allegedly refused to attend to her.
An X user, #Gbemilekhe, who shared the story on Friday, alleged that the hospital in the Maitama area of Abuja asked for a police report before treatment could commence. Olorunfemi sadly passed moments later.
"Greatness was pushed out of a moving vehicle by one-chance criminals in Abuja.
"She was rushed to Maitama General Hospital, and they refused to attend to her, demanding a police report. She died afterwards," the tweet read.
One #Nwaadaz on X, who claimed to be a friend of Olorufemi, shared more details of the sad incident, saying the assailants stabbed Olorunfemi, who bled to death after the hospital rejected her.
"Maitama General Hospital refused to attend to my friend who was stabbed by a one-chance driver in Abuja. They allowed her to bleed to death and locked the emergency ward against her because she didn't have a police report!! Nigeria has failed Greatness!," the user tweeted.
Here's the video report.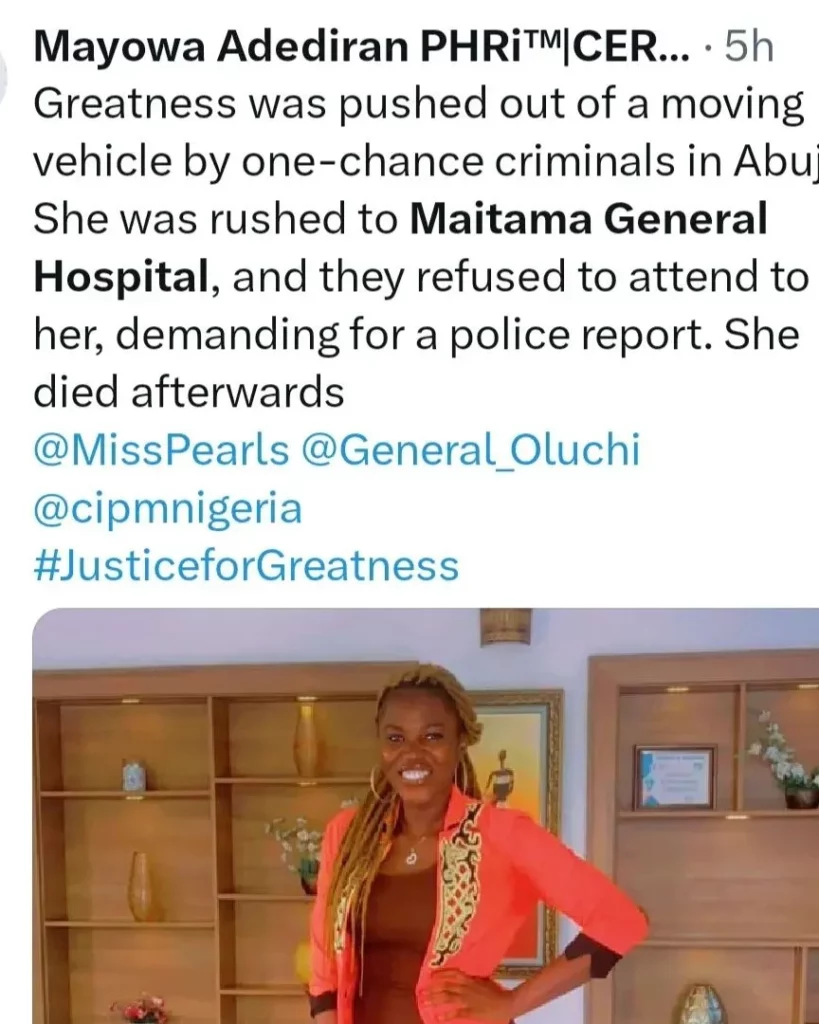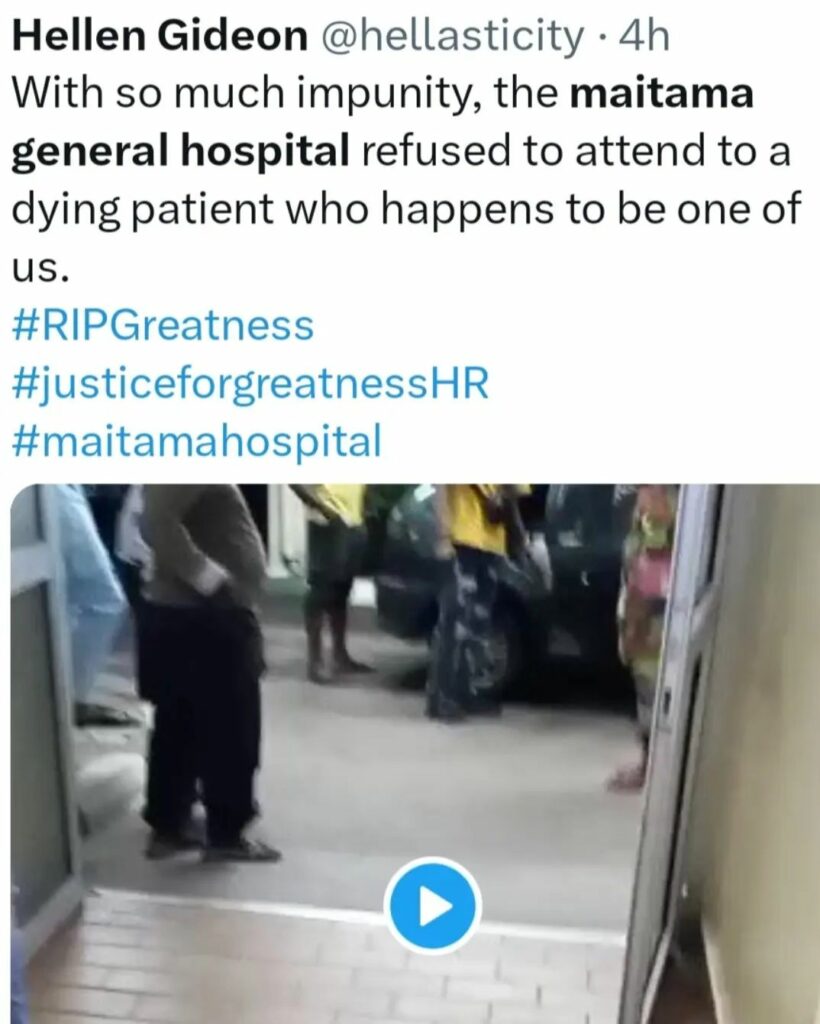 Nelson Mandela's Granddaughter, Zoleka Dead; She Wrote A List Of People Not Allowed At Her Funeral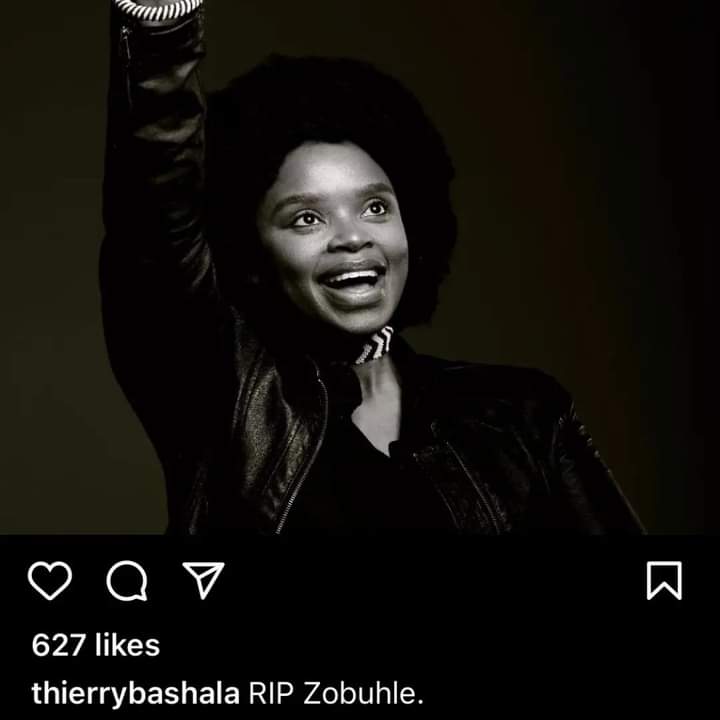 The list revealed includes her ex-husband and father of two of her kids, Thierry Bashala.
Although Bashala had mourned her on Instagram after her death.
Zoleka also listed some relatives who sexually abused her. She said those on the list with a dot (.) against their names abused her sexually and are not allowed near her dead body.
She added on the list that she is close to including her sisters, dad, and step mom to the list.
Zoleka died on Sept. 25, 2023, after a long battle with cancer.
The author had survived cancer twice, before it came back a third time and she passed at the age of 43.
She was treated for breast cancer in 2011. It returned in 2016 and she beat it again. Sadly, she announced in August 2022 that she had been diagnosed with bone metastasis.
Via her instagram account where she documents her journey, she disclosed that the cancer had mestastasized to her bones and liver.
Sadly, she died earlier this week, leaving behind 4 of her 6 children.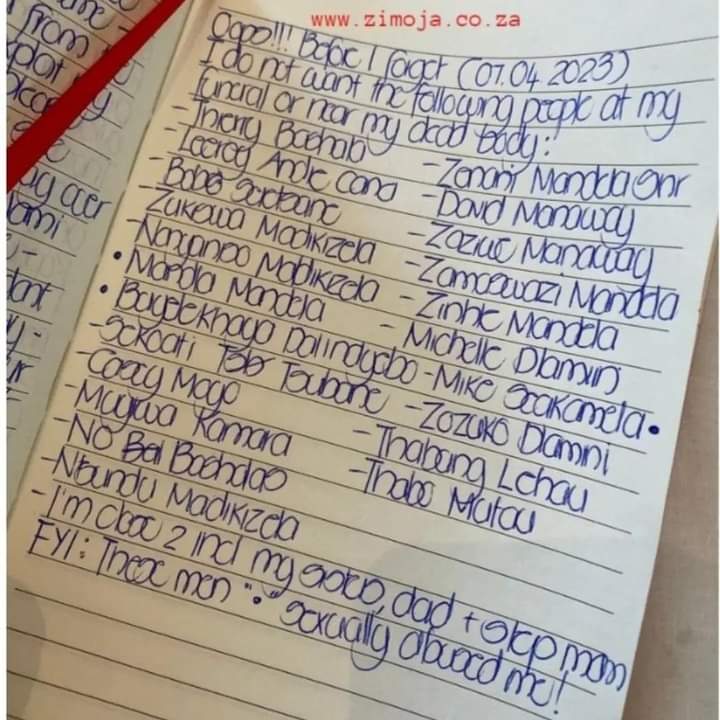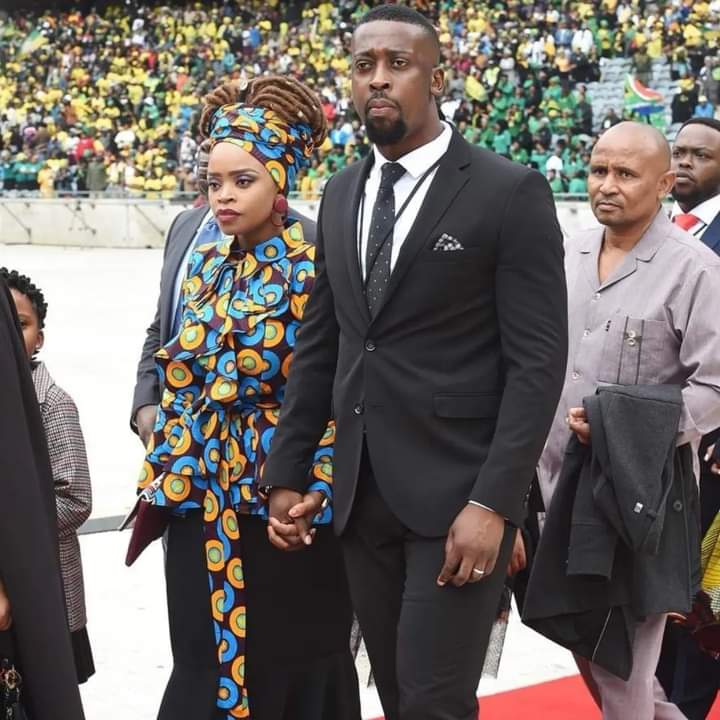 May her soul rest in peace.
Protest As New Minister For Works, Dave Umahi Locks Out Late Comers From Work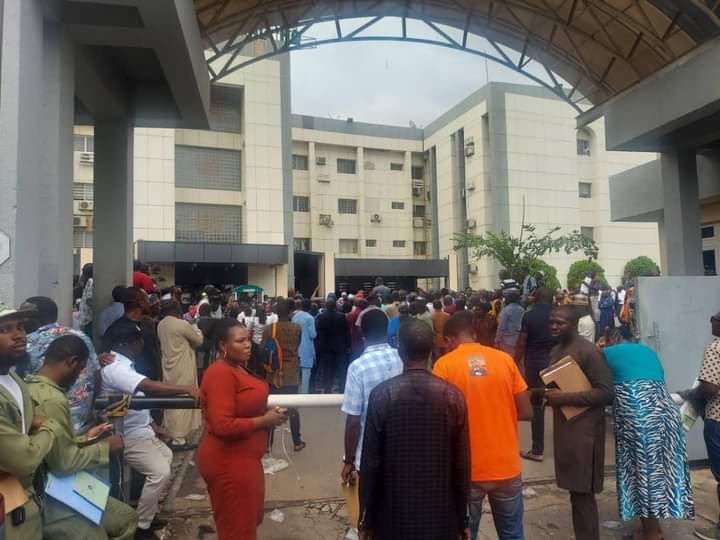 There was apprehension at the Works ministry on Thursday as protesting civil servants asked for the Removal of the new minister, Dave Umahi, After he locked out over 300 staff and directors who resumed work late.
The public servants expressing their displeasure also demanded an apology from the minister.
Earlier, the minister upon resumption at 9.30 am was said to have prevented workers who came to work late from gaining access to the ministry for over four hours.
However, after the gate was opened, the workers, comprising both Housing and Works Ministry, refused to enter the ministry and resorted to an impromptu protest barricaded the entrance gates.