MTN Nigeria rejects CBN, AGF CCIs and taxes claims, heads to court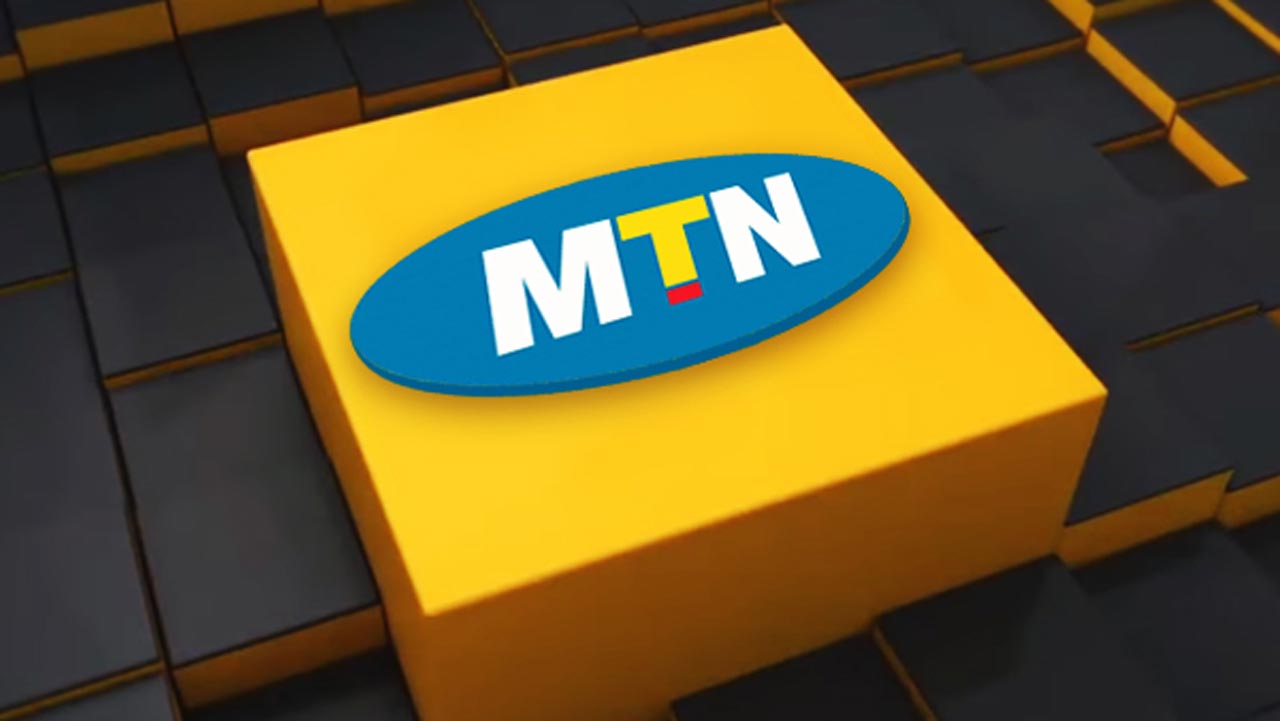 MTN Nigeria Communications Limited (MTN Nigeria) continues to categorically and unequivocally deny all charges related to the Central Bank of Nigeria (CBN) and Attorney General of the Federation (AGF) investigations into the company's CCIs and unpaid taxes respectively.
As previously disclosed the CBN has alleged improper dividend repatriations by MTN Nigeria and requested that $8.1 billion be returned "to the coffers of the CBN" whilst the AGF has alleged unpaid taxes on foreign payments and imports and that approximately $2.0 billion in relation to these taxes be paid to the Federal Government of Nigeria (and now directed that the payment of the $8.1 billion is dealt with through his office rather than as directed by the CBN).
MTN Nigeria has denied these allegations and claims. Furthermore four commercial banks were issued fines in respect of the administration of the CCI and irregular dividend repatriation and requested to return, in aggregate, the same $8.1 billion.
The telco said that in order to protect her Nigeria's assets and shareholder rights within the confines of the law, they have applied today in the Federal High Court of Nigeria for injunctive relief restraining the CBN and the AGF from taking further action in respect of their orders, while they continue to engage with the relevant authorities on these matters.
Commenting on the developments, MTN Nigeria Corporate Relations Executive Tobe Okigbo said:
"The allegations being made involve issues that appear to be complex and so are easily misunderstood and misinterpreted. They are made even more confusing when the relevant authorities send conflicting messages and instructions and act in a way that appears un-coordinated and at cross purposes.
The simple reality is that MTN Nigeria has never repatriated dividends on the CCIs referenced by the CBN and that MTN is fully compliant with Nigerian tax law.
With situations like this, it is vital for both the government, regulators and the company to have absolute clarity on the nature of both the allegations being made and the processes that are being followed. In the absence of this clarity, our only option is to seek judicial intervention and to ask the courts to act as adjudicator. This has been done today."
Okigbo said that MTN remains fully committed to Nigeria and remains resolute that the company has not committed any offences and will continue to defend its position vigorously.
"The company will continue engaging with the relevant authorities, and further information will be provided as and when available", he said.
"One-Chance" Victim Dies After Abuja Hospital Allegedly Denied Her Treatment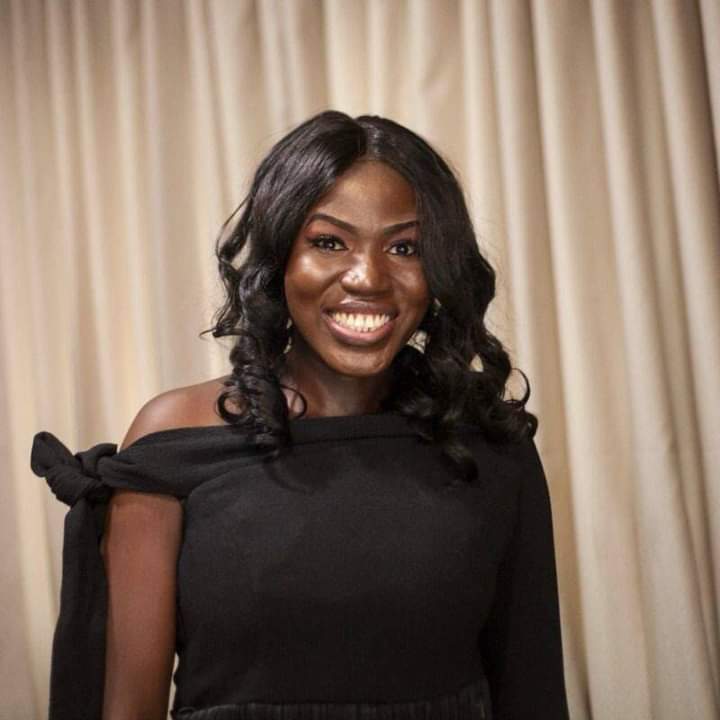 A young lady, Greatness Olorunfemi, a victim of 'one-chance' operators in Abuja, has died after an Abuja hospital allegedly refused to attend to her.
An X user, #Gbemilekhe, who shared the story on Friday, alleged that the hospital in the Maitama area of Abuja asked for a police report before treatment could commence. Olorunfemi sadly passed moments later.
"Greatness was pushed out of a moving vehicle by one-chance criminals in Abuja.
"She was rushed to Maitama General Hospital, and they refused to attend to her, demanding a police report. She died afterwards," the tweet read.
One #Nwaadaz on X, who claimed to be a friend of Olorufemi, shared more details of the sad incident, saying the assailants stabbed Olorunfemi, who bled to death after the hospital rejected her.
"Maitama General Hospital refused to attend to my friend who was stabbed by a one-chance driver in Abuja. They allowed her to bleed to death and locked the emergency ward against her because she didn't have a police report!! Nigeria has failed Greatness!," the user tweeted.
Here's the video report.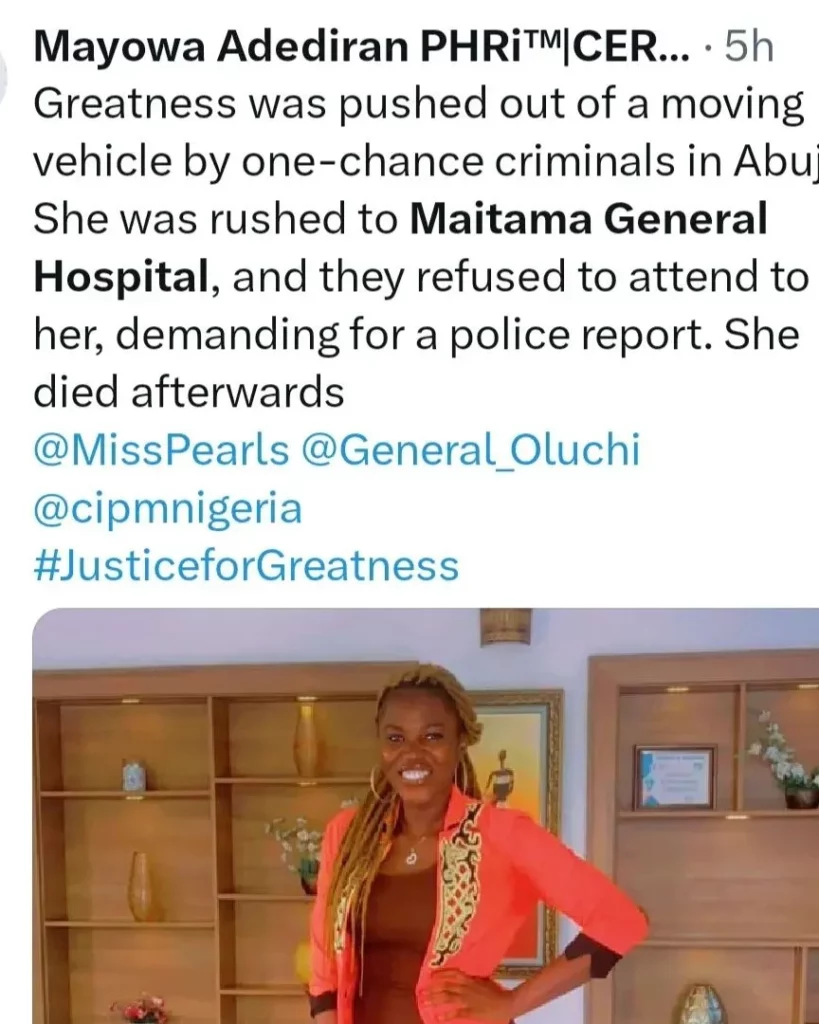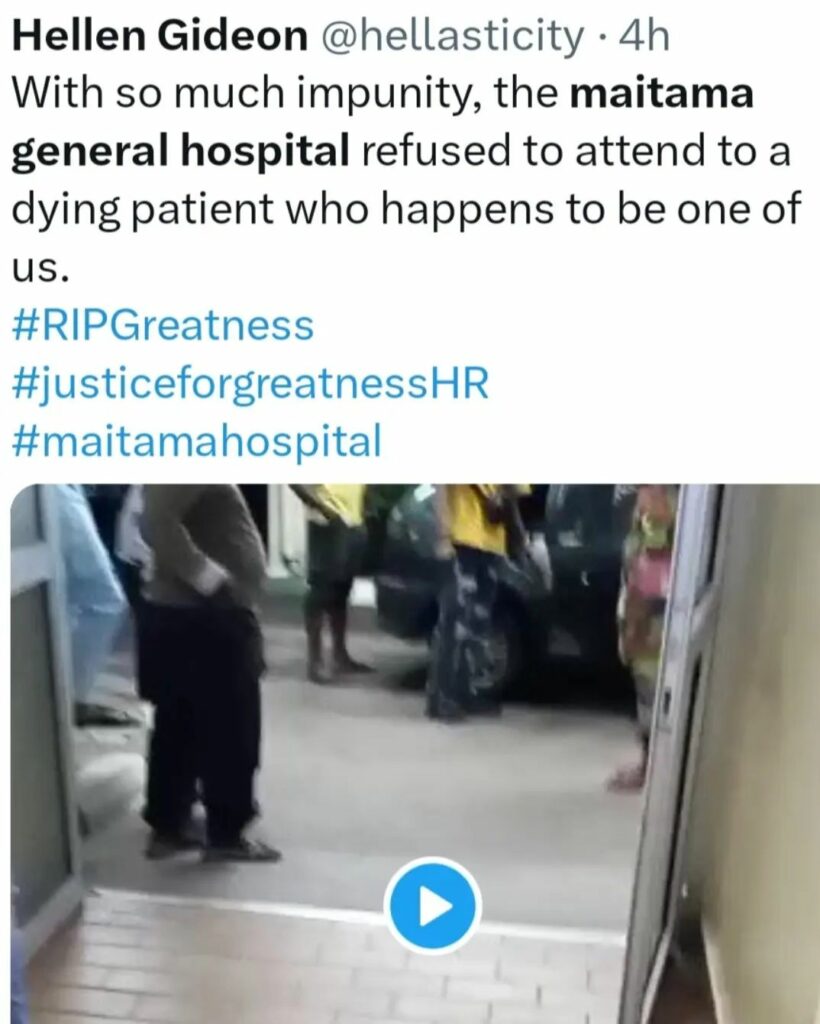 Nelson Mandela's Granddaughter, Zoleka Dead; She Wrote A List Of People Not Allowed At Her Funeral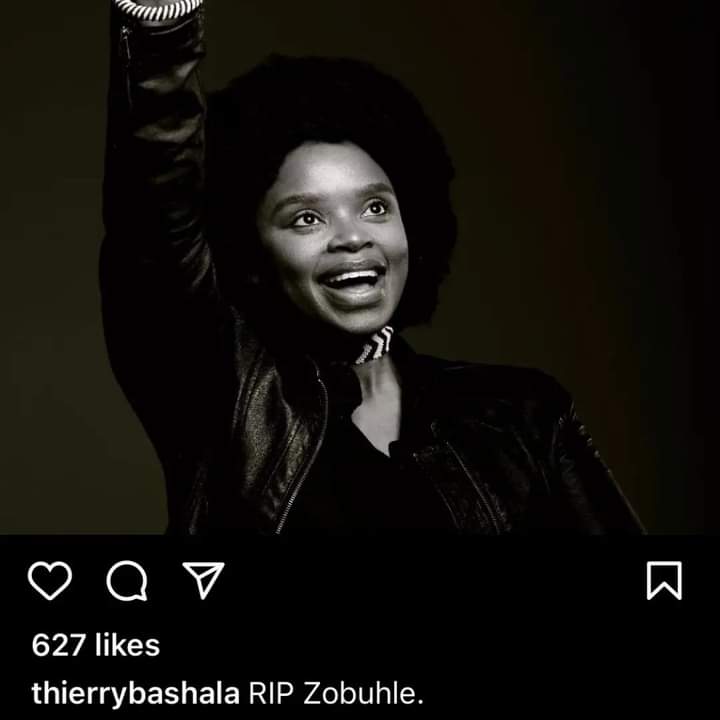 The list revealed includes her ex-husband and father of two of her kids, Thierry Bashala.
Although Bashala had mourned her on Instagram after her death.
Zoleka also listed some relatives who sexually abused her. She said those on the list with a dot (.) against their names abused her sexually and are not allowed near her dead body.
She added on the list that she is close to including her sisters, dad, and step mom to the list.
Zoleka died on Sept. 25, 2023, after a long battle with cancer.
The author had survived cancer twice, before it came back a third time and she passed at the age of 43.
She was treated for breast cancer in 2011. It returned in 2016 and she beat it again. Sadly, she announced in August 2022 that she had been diagnosed with bone metastasis.
Via her instagram account where she documents her journey, she disclosed that the cancer had mestastasized to her bones and liver.
Sadly, she died earlier this week, leaving behind 4 of her 6 children.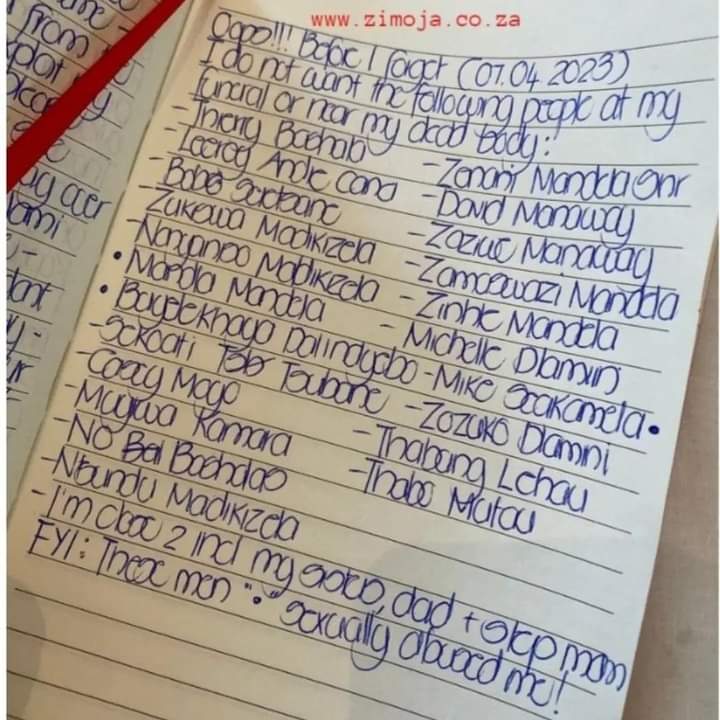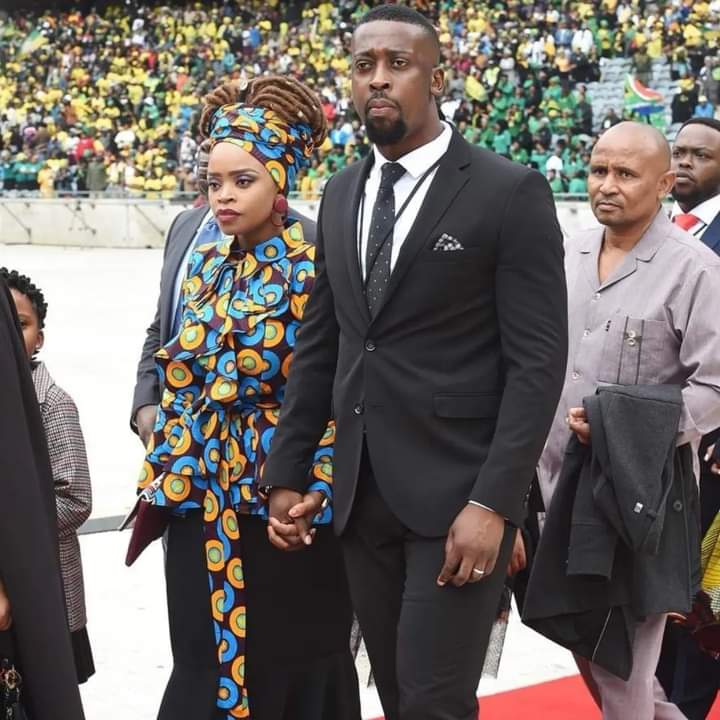 May her soul rest in peace.
Protest As New Minister For Works, Dave Umahi Locks Out Late Comers From Work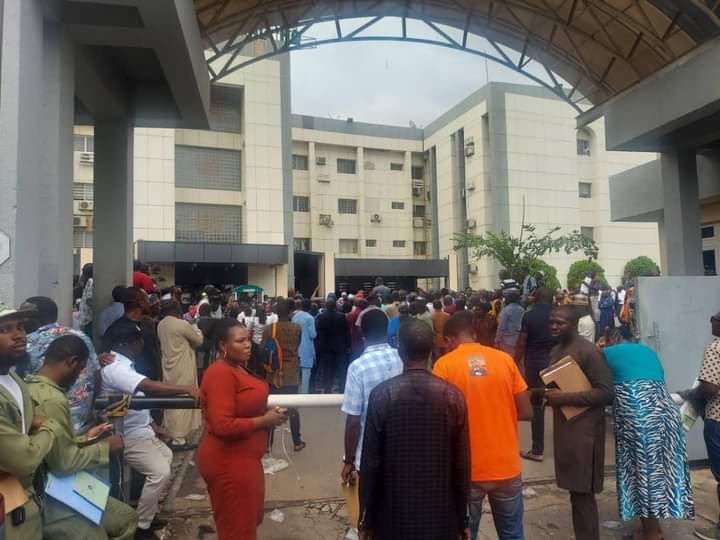 There was apprehension at the Works ministry on Thursday as protesting civil servants asked for the Removal of the new minister, Dave Umahi, After he locked out over 300 staff and directors who resumed work late.
The public servants expressing their displeasure also demanded an apology from the minister.
Earlier, the minister upon resumption at 9.30 am was said to have prevented workers who came to work late from gaining access to the ministry for over four hours.
However, after the gate was opened, the workers, comprising both Housing and Works Ministry, refused to enter the ministry and resorted to an impromptu protest barricaded the entrance gates.