Chimamanda Adichie  gives reasons more men die by suicide
Award-winning Nigerian author, Chimamanda Ngozi Adichie, has revealed why men have a higher rate of dying by suicide.
Giving a speech on Wednesday at Hubspot's 2018 Inbound Conference taking place in Boston USA, Adichie revealed that men have a higher rate of dying by suicide as opposed to women.
She attributed the situation to patriarchy, which the author says is both a blessing and a curse to men, adding that men are trained to suppress emotions, not to show vulnerability or ask for help.
She said: "Both men and women suffer from the illnesses that lead to suicide but it is men that have a much higher rate of dying by suicide.
"Why? Because men are socialized to suppress so many human parts of themselves, men are socialized not to ask for help, men are socialized to be afraid of fear, men are socialized not to show vulnerability.
"From the moment we tell a little boy that 'boys don't cry' or we tell a hurting teenager to 'man up' we are creating an adult man who will be cheated of the full range of his emotions. So, while men benefit from patriarchy, they also suffer from it."
The 'Americanah' author also spoke on gender equality, saying there is no difference between men and women, adding that women should not be viewed differently or given special treatment.
She said: "There is nothing a woman should be because she is a woman, and there is nothing a man should be because he is a man.
"Women are not special, women are human, women are flawed just like men… If we keep saying women are special, then we judge them at a higher and unfair standard."
AMAA -StarTimes Short Film Festival encourages and empowers local filmmakers
Edmond Tawale from Uganda emerged winner of the special prize for a documentary with the movie titled Ateker. Edmond got prize money of $1000.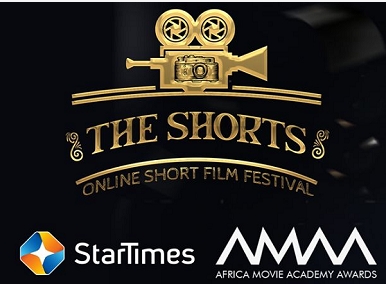 This year the African Movie Academy Awards (AMAA) has partnered with StarTimes, the biggest pay-tv company in Nigeria, hosted the AMAA-StarTimes Short Film Festival (The Shorts).
The Event is organized to motivate young and promising filmmakers on the African continent by providing a bigger platform for talented young people to succeed.
The festival has shortlisted over 200 short films. Selected from over 500 entries across Africa, the short films were aired daily on the ST Nollywood Plus channel on StarTimes at 8 pm. The pay-tv company has also added the films on the StarTimes-ON mobile app to run throughout the festival period.
Recently in June, StarTimes, in partnership with The Africa Movie Academy Awards (AMAA), rewarded outstanding short filmmakers across Africa. Held in Lagos, the award ceremony had industry experts in attendance, including Femi Odugbemi, Tunde Kelani, Peace Anyiam-Osigwe of AMAA, Femi Adebayo, alongside StarTimes team led by CEO, Alex Jian, and content Director, Viki Liu.
Edmond Tawale from Uganda emerged winner of the special prize for a documentary with the movie titled Ateker. Edmond got prize money of $1000.
The outstanding short film winners are Frank Abasiekong from Nigeria as 2nd runner-up for his short film titled Room 10; Frank Dzikonu from Ghana as 1st runner-up for his animation movie titled Sad Story of Kojo; while Enobong Nkanta from Nigeria emerged as the winner for his short film titled Mama's Song.
The 2nd runner-up got $1000, the 1st runner-up got $2000 and a mobile phone; while the winner got $3000 and a laptop.
Speaking at the Award ceremony, Peace Anyiam-Osigwe, Founder of AMAA said, "I'm delighted with this initiative to reward our young filmmaker and happy with the synergy StarTimes is having with the movie industry. Filmmakers need to understand the process of filmmaking. We approached StarTimes for partnership and StarTimes is willing to help us nurture these resourceful people. We have to clear the stage for young and upcoming filmmakers. If we catch them young and structure them properly, it will help the growth of having better films being made along the way."
Also speaking, the CEO of StarTimes, Alex Jian said, "We are here to award excellence, creativity, hard work, and originality. It's our goal to provide a bigger platform for talented young people to succeed on their dream roads. StarTimes has been deeply engaged with Nollywood since last year, starting with the production of Ile Alayo Season 1, a great work directed by our friend and ambassador Femi Adebayo.
During the process, we noticed the great potential of the whole industry, and we are surprised by many young content creators. They are passionate, hardworking, and full of inspiration. As a Pay-TV platform rooted in Africa, StarTimes aims at providing the best content to its audience. And we are very willing to support content creators in all kinds of ways because when they grow, the industry grows; if they succeed, we succeed."
Desperados Brings the #DespeIgnite Party to Port Harcourt
The tequila-flavoured beer brand has announced its next Ignite Party. Slated for Sunday, June 26, 2022, the Festival will be held at Higi Haga, Port Harcourt.
Following the highly successful outing of the Desperados Ignite party at Shalom Gardens in Asaba, Desperados beer is set to delight party lovers in Port Harcourt.
The tequila-flavoured beer brand has announced its next Ignite Party. Slated for Sunday, June 26, 2022, the Festival will be held at Higi Haga, Port Harcourt.
Mirroring elements of its last trek, the youth-centric party rave will glean from the brand's ethos of 'experimental fun' to deliver popular music and fun experiences in the grand space of the Higi Haga.
Asides from DJ Big N and DJ Tohbad who are billed to mount the stage and supply nonstop music for the evening, Radio Nana and Hypeman Faceless will bring energy to the grounds as hosts and there will be plenty to munch on as well as chilled Desperados to heighten the excitement. Another feature the Port Harcourt version will replicate includes fun games and activities with incentives for guests to win multiple gift prizes.
As expected for an event of this magnitude; it will accommodate guests in their hundreds, thus making it the perfect setting for a hangout with friends, celebrities and influencers, as well as providing a space for guests to network with one another.
The Brand Manager, Desperados, NB Plc, Aboyowa Ikpobe, noted the importance of bringing the music festival to Port Harcourt. She said:
"Port Harcourt has a vibrant youth culture, one that is reflected in the Desperados beer brand. We understand our place in all of this and that is why we identify with them through the Ignite Party.
"The Ignite Parties is our way of saying 'we note the resilience of young people regardless of social status.' With Desperados, there are no bounds or limitations as to what can be done or achieved, and we are proud to replicate that authenticity through the Desperados Ignite parties as it moves across the country," Ikpobe concluded.
Spotify, COLORSxSTUDIOS collaborate to share Nigerian musical talent with the world
COLORSxSTUDIOS, Spotify partner to bring Ayra Starr's electrifying performance to the masses
Reflecting their mutual commitment to spotlighting hot new talent across the globe, COLORSxSTUDIOS and Spotify have announced an exciting new partnership that will showcase selected African artists.
The artists will also be featured on the COLORSxSTUDIOS website for fans to learn about their stories and the inspiration that guides their music.
Known for its videos of rising stars performing their breakout tracks against a striking, monochromatic backdrop, COLORSxSTUDIOS is teaming up with Spotify to amplify selected up-and-coming Nigerian artists from their RADAR Africa playlist.
Spotify's RADAR Africa programme aims to support emerging artists and put them on the map by presenting them to new audiences. A product of the programme, the RADAR Africa playlist is the number one spot for Spotify listeners to discover their new favourite tracks from the continent.
Recently, Nigeria's musical talent has been receiving worldwide recognition and the first performer featured for the Spotify COLORS collaboration, Ayra Starr, is no exception. The Lagosian artist has quickly become one of the most exciting voices to come out of Africa's most populous city. After sharing her eponymous debut EP in 2021 featuring standout singles such as 'Away' and 'Sare', she went on to cement her promising status by releasing her debut full-length album '19 & Dangerous' later that year. Over the course of the eleven-track project, which includes contributions from the likes of Foushée and CKay, Ayra Starr showcases her musical prowess with punchy, vivid tracks like 'Fashion Killer' and 'Bloody Samaritan'.
"It's such an honor to be heard on COLORS and to be a Spotify RADAR artist all at once. I have watched so many COLORS videos over the years and always imagined what mine would look like, and I can certainly say I am proud of it!" says Ayra Starr.
"The song 'Ase' is very dear to my heart and I am so excited to share it with the world. I hope it empowers people the way it empowers me," she adds.
With more than 1.4 million monthly listeners on Spotify, Ayra Starr is a force to be reckoned with. For her COLORS debut, she sets the stage alight with her brand new single 'ASE'. Serving as another slice of the artist's signature Afrosoul sound, the track showcases her infectious vocals and confident, empowering lyrics against a bouncy soundscape.
"The marriage between COLORS and Spotify is the perfect way to showcase the talent of artists featured on RADAR Africa," says Lead Music Strategy and Operations for Spotify Africa, Melanie Triegaardt.
"This partnership represents our commitment to driving artist discoverability on the Spotify platform and helping them reach audiences beyond their home markets," she adds, highlighting the importance of the collaboration for encouraging the growth of African artists.
"We are excited to get behind Ayra Starr as one of Africa's fastest rising exports and we can't wait to see what more this partnership will bring."
Through collaborations with key music platforms like COLORS, that are dedicated to providing stages for non-ordinary expression, and through proprietary platforming efforts like RADAR Africa, Spotify remains committed to deepening the connection between fans and artists while providing support to African musicians destined for worldwide fame.
Fans should be sure to watch this space, as the collaboration still has much more to come. To check out Ayra Starr's COLORS performance and discover more, music lovers can visit here.