NCC Debunks Reports On Telecom Operators Laying 5G Cables In Lagos
Telecom industry regulator, Nigerian Communications Commission (NCC) has denied reports that Mobile Network Operators (MNOs) were involved in laying 5G fibre cables in Lagos State and other parts of the country. 
In a statement by the NCC Director, Public Affairs, Dr. Henry Nkemadu, on behalf of the Executive Vice Chairman (EVC), Prof. Umar Garba Danbatta, the agency said mobile network operators (MNOs) companies were only laying fibre optic cables and deploying other equipment.
According to the NCC boss, the development is meant to "expand their networks infrastructure across the country to provide more efficient services to the consumers."
READ ALSO: Kaduna Quarantine Law Violators To Spend 14 Days In Isolation Facility
Prof. Danbatta made this clarification following messages on social media making the rounds that the laying of fibre optic cables by the MNOs was in connection with 5G equipment deployments.
"As we speak, any information suggesting or claiming that the equipment being deployed by the network operators are 5G equipment is purely misinformation deliberately orchestrated by individuals bent on creating ill-feelings in the industry," Prof.Danbatta said.
He said: "As the telecoms regulator, we enjoin Nigerians to get accurate information from us rather than relying on information emanating on social media by some individuals out of ignorance to misinform our people."
The NCC boss explained that theongoing digging and fibre optic cable laying by some operators are in line with agreements reached during meetings by the Honourable Minister of Communications and Digital Economy, Dr. Isa Ali Ibrahim Pantami and Management of the NCC with the Nigerian Governors' Forum (NGF) in January 2020.
"The Governors' Forum agreed to allow the telecoms operators to expand their networks by granting the telecoms operators necessary permits, which they had been having difficulties in getting before now," he explained.
According to him, the Commission has not started any licensing process for 5G, adding that it had carried out a 5G trial for three months.
"In line with our regulatory process with respect to technology-neutrality, type-approval and other regulations aimed at protecting the citizens and ensuring standards are complied with in the Nigerian telecoms industry, NCC ensures that adequate trial is conducted before a new technology is introduced," the statement added.
"This is essentially to ensure public safety. This is a priority for us at NCC. Similar trials were carried out by NCC on earlier technologies that we use today, ranging from 2G, 3G and 4G."
3 shocking discoveries about the Bishops who went for the APC's unveiling rally of Kashim Shettima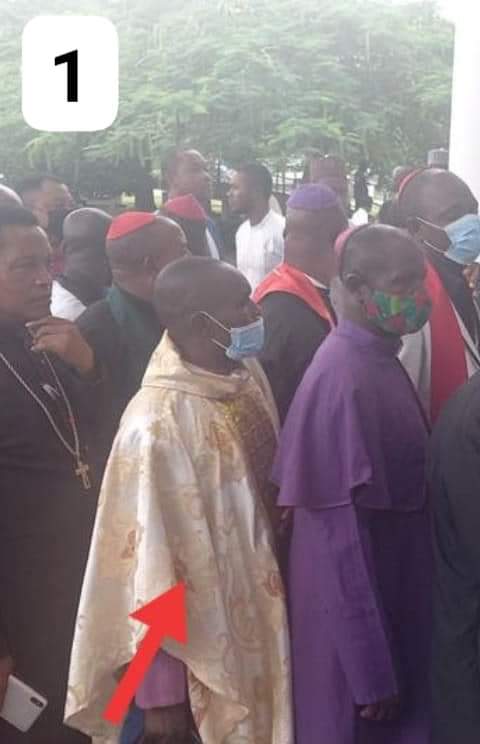 About the APC rally in Abuja where the vice-presidential candidate was unveiled, three things where discovered by citizens who were really paying attention to the incident of Bishops attending the ceremony. Now recall that when the APC presidential candidate, Bola Ahmed Tinubu introduced his vice and running mate as Kashim Shettima, a lot of citizens especially the christians where not in support because it is a Muslim-Muslim ticket. So many people felt insecure religiously knowing the situations in Nigeria. So having pictures and videos of the said Bishops in attendance to the unveiling of the Muslim-Muslim ticket party, seemed quite off and hence aroused the interest of some citizens into making some discoveries. The discoveries are as followed. But let me upload image proof first.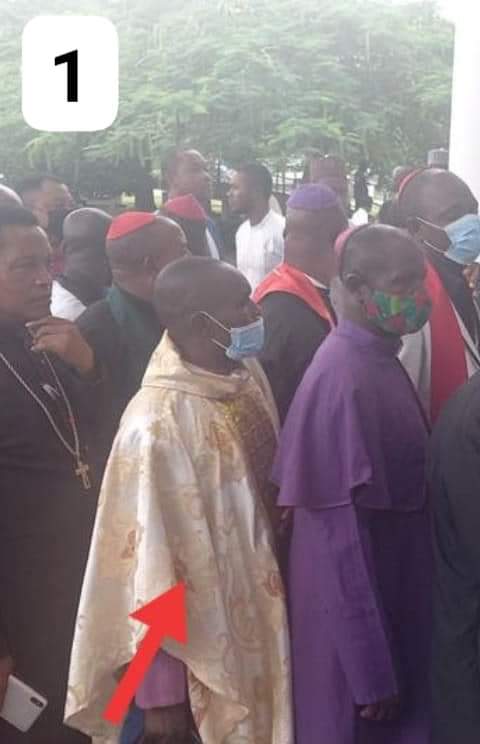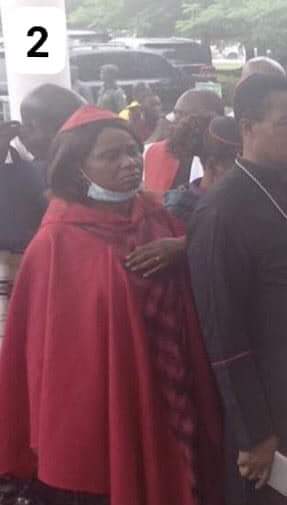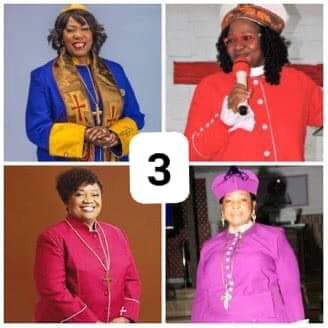 IMAGE 1 (The Chasuble)
The Chasubles are always plain, No priest ever wears a purple cassock only a sacristan does and gold chasuble are only for special masses in the liturgical calendar of the Catholic church.
The cassock is the inner vestment worn before the chasuble is worn. The Catholic priest cassock is either white or black but this guy is wearing purple. That means he didn't do his homework before attempting mimic.
IMAGE 2 (Female Bishop)
According to the existing records, we have four female bishops in Nigeria and their names are:
Bishop Oluremi Ayotunde Obembe
Bishop Bola Odeleke
Bishop Peace Okonkwo
Archbishop Margaret Idahosa. Their images are in image 3 below. Again they didn't do their homework before attempting the mimic. We need to know the name of the female bishop that graced the APC meeting.
VIDEO (Refusal to meet the press) I will post it under this post.
After the occasion they refused to grant interview to the press and refused to reveal their identities to the press which seems weird as to their reason why. So what is really going on? Because it would be nice if APC clears the citizens on what is really happening.
5G Can Never Pose Hazards to Human Health – NIEEE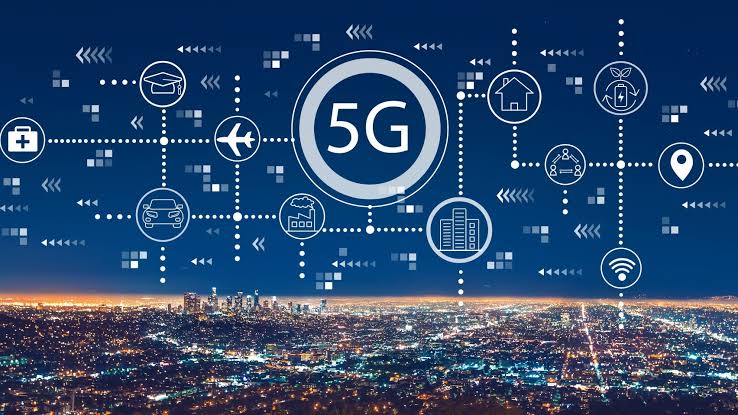 Nigerian Institute of Electrical and Electronics Engineers (NIEEE) has weighed in on the controversy that next-generation telephone networks, popularly known as 5G technology may be harmful to human beings.
Mr Kings Adeyemi, national chairman of the institute, in a statement, said that the frequency that drives speed in technology, as well as the technicalities behind 5G operations, can never pose hazards to human health.
He said that the institute would continue to support the government and other stakeholders to ensure that the right decision was adopted to ensure smooth 5G mobile technology deployment.
Adeyemi said that Nigeria was lagging behind in its transition to 5G mobile network which, according to him, drives both telecommunication and internet connectivity speeds.
He called for increased investments in 5G network, which according to him is expected to be launched by 2030.
"The rollout of 5G networks is still at infancy stage globally. There is no 5G deployment in Nigeria as at this time.
"According to the GSM Association (GSMA), 4G network coverage in Nigeria is still below the average line, while the 3G network is far below full nationwide coverage.
"To enjoy 4G services, you need 4G network coverage, 4G compatible phone and 4G SIM for SIM-enabled devices, including your mobile phones.
"NIEEE will continue to advise government and organisations and educate the public on matters within the jurisdiction of the electrical and electronic engineering profession. 5G will co-exist with predecessor generation networks.
"Kindly note that this publication is not intended to contend against existing procedures and regulatory instruments (local or international) but as insights to the concerned stakeholders," he said.
Adeyemi identified concerns around the evolution of 5G network, noting that by NIEEE's professional training, safety was of the highest priority to all electrical engineers.
"Mobile telecommunication is based on radio wave propagation, which is similar to other commonly known forms of radio communication such as broadcast radio and television."
He explained that the systems operate in designated frequency bands within the electromagnetic spectrum and that every new generation mobile networks (G) had its delights and scepticisms.
The chairman said that evolution of every stage, spanned 10 and that 5G was a product of 10 years of research, planning, testing and fine-tuning.
"It is obvious that 5G is not just about human communication only but machine/devices communications and interactions with applications.
"It, therefore, means that 5G will usher in the interconnection of people, things and applications with little or no human intervention.
"In as much as the set goals are laudable and novel, the first concern is for researchers to identify the technologies that can bring these goals into reality.
"The six fundamental technologies that we can address are millimetre wave; small cell or mini base station and plenty or massive Multiple-Input and Multiple-Output (MIMO).
"Others are advanced beamforming; Non-Orthogonal Multiple Access (NOMA) and Mobile Edge Computing. These technologies are not new,'' he said.
MIMO is a method of multiplying the capacity of radio links using multiple transmissions and receiving antennas to achieve multipath broadcast.
NOMA, on the other hand, is a design technique used for radio wave access for 5G wireless networks and beyond usually designed to serve multiple users and computer applications.
Adeyemi explained further that wireless communications operated within certain calibrated frequencies with 5G services falling into three sub-bands affected by low power and short coverage should not generate fears.
"Natural behaviour of radio waves obeys Newton's inverse-square law of electromagnetic propagation, meaning that each time the distance from the transmitter is doubled, the received power at that point is reduced to one-fourth of the power at the transmitter.
"Some say high speed kills, this does not apply to high data speed. World Health Organization defines health as a state of complete physical, mental and social wellbeing and not merely the absence of disease or infirmity.
"Staying alive and in good health have become major concerns of all. Electromotive Force (EMF) from the 5G network cannot transmit the virus.
"International Commission on Non-Ionizing Radiation Protection (ICNIRP) made it clear that exposure to EMF generated by 5G network can neither cause virus nor its severity.
"It also made it clear that the anti-5G claims on the basis of EMF lacked evidence. After all, there are many countries without live 5G network yet recorded high death rate as a result of COVID-19.''
Adeyemi noted that there was no significant difference in the frequencies used for 2G, 3G, 4G and 5G because the 5G could operate on all earlier network frequencies.
According to him, the focus should be on the frequency and the power, rather than the technology as international standards are the main pillars of mobile telecommunications.
NIEEE has 28 national chapters with three sub-divisions of electrical engineering fields in Power Engineering, Telecoms and ICT as well as Instrumentation and Control Sections.
Suri Steps Down As Nokia CEO After 25 Years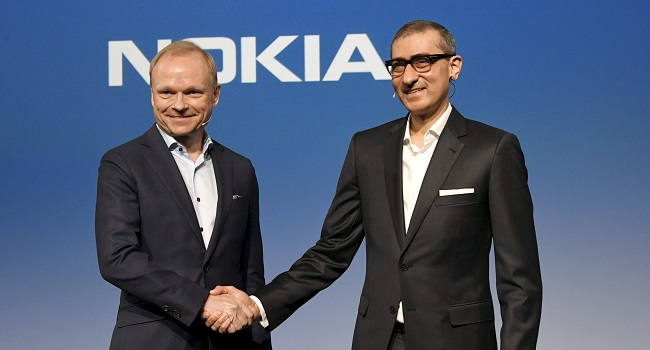 Nokia's chief executive officer Rajeev Suri will leave the telecom equipment provider in September and be replaced by the current head of Finnish energy group Fortum, Nokia announced on Monday.
Pekka Lundmark will take over on September 1, Nokia said.
Suri, who has been Nokia's president and CEO since April 2014, had "indicated earlier to the board that he was considering stepping down from his role at some point in the future, provided a solid succession plan was in place," the company said.
"After 25 years at Nokia, I have wanted to do something different," Suri said.
Lundmark has also served as CEO of Konecranes, a global material-handling technology leader. Prior to that, from 1990-2000, he held various executive positions at Nokia, including vice president of strategy and business development at Nokia Networks.
Lundmark also has "extensive experience in China," he told a press conference on Monday — a market which Nokia last year announced it was backing away from in the light of growing support there for local vendors.
Nokia's share price rose by four percent on the Helsinki stock exchange to 3.6 euros shortly after opening at 0800 GMT, before falling back somewhat.
The group has remade itself as a 5G network systems company since its mobile phone business was wiped out by Apple and Samsung.
Suri is behind Nokia's recent transformation, including its acquisition of Alcatel-Lucent and the creation of a standalone software business, and the return of the Nokia brand to mobile phones.
He also oversaw the launch of 'internet of things' products designed to revolutionise specific sectors, such as soil sensors for agriculture or tracking systems for logistics firms.
However, Nokia's attempts to break into the 5G equipment market have faltered in the face of fierce competition from Huawei and Ericsson.
Last year Nokia downgraded its 2020 earnings forecast, while chief executive Suri played down the firm's delays in delivering some equipment orders.
Nokia went on to beat expectations in a "challenging" 2019 and last month posted its first full-year net profit since 2015 of 7.0 million euros, and an operating profit of 2.0 billion euros.
At Monday's press conference, Suri defended his record, saying that when he took over as CEO of Nokia Siemens Networks in 2009, the year's operating profit was 28 million euros.
"I'm not entirely satisfied with last year but we still had 2 billion compared to that 28 million," he said.
AFP