BREAKING: Lagos State Government To Establish N10bn Aquaculture Centre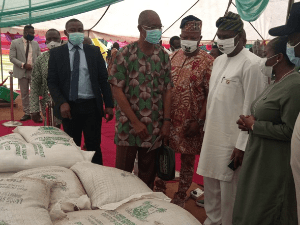 The Lagos State Governor said Tuesday, that plans are on the top gear to to establish N10 billion Lagos Aquaculture Centre of Excellence (LACE) in Igbonla, Epe, under a Public\Private Partnership (PPP) arrangement.
He gave this assurance at the distribution of agricultural inputs and productive assets to 2,743 farmers under the 2020 Agricultural Value Chains Empowerment Programme.
The governor, who was represented by his deputy, Dr Obafemi Hamzat, said that the centre would be located on a 35-hectare land.
According to him, the project is designed to boost the growth and development of aquaculture industry in the state through direct production of 2,000 tonnes of fish annually.
He said it would also ensure provision of inputs to fish farmers under the Lagos Nucleus Farms scheme, and serve as off-taker for fish farm clusters in the state.
Sanwo-Olu said the state government would also establish two food production centres in Epe and Badagry to be known as Lagos Food Production Centres, in order to sustain food production and supply.
The governor said the two centres would ensure resuscitation, expansion and stocking of agricultural production facilities in various value chains.
He added that the two centres would develop agro-tourism centres in the Lagos State Songhai Project in Badagry and the Agricultural Training Institute, Araga, Epe.
"The experience of the past few months during the lockdown occasioned by the COVID-19 pandemic has further reinforced the urgent need to expand the state's food production base to meet such a spontaneous increase in demand for food in the future.
"In line with this realisation, and to ensure sustained food production and supply in the state, we are establishing Lagos Food Production Centres in Badagry and Epe.
"In addition, we are establishing the Lagos Aquaculture Centre of Excellence (LACE) N10 Billion project to be located on 35 hectares of land in Igbonla in Epe under a public\private partnership arrangement," he said.
According to the governor, LACE is designed to boost the growth and development of aquaculture industry in the state through direct production of 2,000 tonnes of fish annually.
"Also, it will ensure provision of inputs to fish farmers under the Lagos Nucleus Farms scheme and serve as off-taker for fish farm clusters in the State."
Sanwo-Olu said that the agriculture sector remained a key component through which the state government would realise its dream of making Lagos a 21st Century economy, adding that it was a pillar of the government's T.H.EM.E.S agenda.
He said that the annual agricultural value chain empowerment programme was one of the strategies designed to boost food production and supply through the provision of agricultural inputs and productive assets to farmers and other players in the value chain.
"This year's edition is quite auspicious coming at a time we need to do a lot to cushion the effects of the COVID-19 pandemic on the productive capacity of our farmers and other actors within the agricultural value chain.
"Currently, our level of food self-sufficiency stands at about 20 per cent, leaving a deficit of about 80 per cent, which is mostly accounted for by supplies from other states.
"Our goal is to achieve 100 per cent increase in food self-sufficiency by 2023.
"We are committed to meeting this target with you as our key partner and through the implementation of our programmes, policies and projects which are aimed at maximising our comparative and competitive advantage in the agricultural space," Sanwo-Olu said.
According to him, some of the policies, programmes and projects are designed to improve the capacities of agricultural value chain actors, and revolutionise agricultural productivity with the introduction of modern technology and best practices.
"The short, medium and long-term goals of these efforts include making the agricultural space attractive for private investment, improve the welfare and well-being of our farmers and sustainably ramp up food production and supply in the state.
"I am happy with the progress we are making in the implementation of the various projects and initiatives toward achieving our goal of 40 per cent food self sufficiency in the state.
"Some of the flagship projects include the 32-tonnes-per-hour rice mill in Imota which we hope to commission by December this year, the Lagos Agripreneurship Programme, the Agro-Processing, Productivity Enhancement and Livelihood Improvement Support Project (APPEALS), the Coconut Value Chain Development project, the Red Meat Value Chain project and the Fish Cage Culture Project among others."
Bolt Launches Bolt Food Delivery Service In Nigeria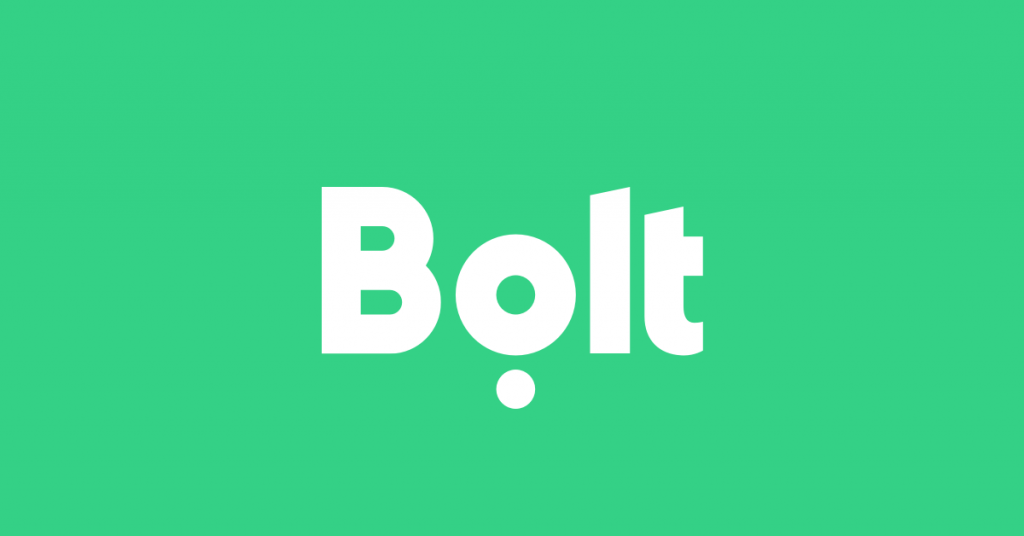 A leading ride-hailing platform in Africa, Bolt has launched its food delivery service in Nigeria.
Bolt Food is the latest category set to offer customers competitively affordable and efficient food delivery service to customers while offering good working conditions to food couriers and profit to restaurant partners.
With over 30 million customers worldwide, Bolt has built its ride-hailing platform efficiently to offer the best service in the sector to drivers and riders, positioning the company as a leader in Nigeria's mobility sector. The company will now extend its expertise to food delivery to advance the sector with innovation and technology.
Speaking on the launch, Bolt Nigeria's Country Manager, Femi Akin-Laguda, said, "We are excited to launch Bolt Food, which will allow Nigerians to order food from their favourite restaurants and receive it quickly and safely at their home or office."
"Our ride-hailing business is built on efficiency and easing mobility for riders while offering drivers a flexible opportunity to earn more income. Bolt is eager to bring this approach to food delivery and ensure that our partner restaurants benefit from our loyal customer base.
This is also a way for us to augment the earning opportunities for Nigerians by contributing to the gig economy. We will ensure that it is worthwhile for couriers on the platform like drivers have benefited from our ride-hailing platform," Femi concluded.
The entrance of Bolt Food to Nigeria will help restaurants have a broader reach to customers, with Bolt acting as a reliable platform for affordable delivery and efficient service. At the initial stage of the launch, customers can only place food orders from more than 100 restaurants in Lagos Island. Bolt is looking to add new restaurants to the app daily while also expanding to other parts of Lagos soon.
To place an order, users can download the Bolt Food application on their smartphone, with an array of different restaurants and available menu options to choose from. The application also provides customers with various price ranges and an estimated delivery time. Initially payments will be paid by cash, and customers can specify the location for contactless delivery drop-offs upon order arrival.
Bolt Food was first launched in Estonia in August 2019. The service is also available in South Africa, Ghana and Kenya. Restaurants and couriers can sign up on the website food.bolt.eu.
We Need ₦140bn For Ranching In Kaduna State – El-Rufai
Kaduna State will need at least ₦140 billion for 14 ranches to fully settle herders and their families in the state, Governor Nasir El-Rufai has said.
He revealed this recently during an interactive session with journalists in Abuja when asked the measure needed for sustainable boost to livestock productions.
"It is not a matter of populist legislation or saying that tomorrow this or that; it is not the solution. We have taken a position as northern states governors and we are implementing that," he said.
"We cannot do it overnight. We need billions of naira. This is just one ranch that is costing N10 billion. I have 14 grazing reserves in Kaduna State and I would like to convince them into ranching. Do I have 14 times N10 billion? I don't have."
"In my state for instance, we are developing a huge ranch at Damao to centralise the herders and that is the solution (on the) long term. But can it be done overnight? No. This project that we are doing will cost us about ₦10 billion. The CBN is supporting us with about ₦7.5 billion and [it] will take about two years to do."
While El-Rufai maintained that ranching remains the recipe for the recurring farmer-herder conflict in the country, he described the anti-grazing law enacted by some of his colleagues as unrealistic.
According to him, although ranching is the ideal solution to the problem, it cannot be done overnight. He urged those pushing for the immediate ban on open grazing to exercise patience as time and resources are required to have ranches across the country.
"We will be settling about 1,500 Fulani herders' families and [I] hope they will see that there are alternative ways of producing livestock instead of running up and down with cattle and going to people's farms and causing all kinds of problems," Governor El-Rufai added.
Releaf Secures $4.2M Seed Funding To Drive Food Industrialisation In Africa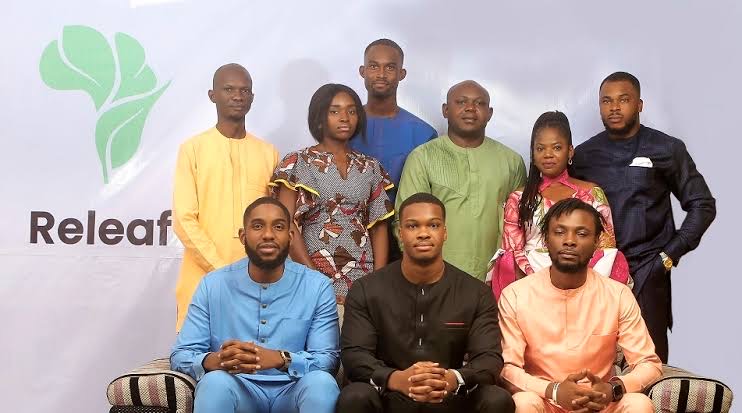 Releaf, an agtech start-up that develops proprietary hardware and software solutions that makes African farmers and food factories more efficient and profitable, has raised $2.7 million seed funding in a round led by Samurai Incubate Africa, Future Africa and Consonance Investment Managers with participation from Stephen Pagliuca, Chairman of Bain Capital and Justin Kan (Twitch).
Releaf also secured $1.5 million in grants from The Challenge Fund for Youth Employment (CFYE) and USAID.
The seed funding will enable the development of industrial food processing technology in Nigeria's smallholder-driven Oil Palm sector while the grant will enable Releaf to provide working capital and other value-added services for smallholders and small-scale processors.
Grant funding will support the training, recruitment and retention of more women and youth in Nigeria Oil Palm sector through the creation of both digital and technical jobs.
Nigeria's oil palm industry is dominated by smallholder farmers, with 80 percent of local market share. However, production rates are low because many still rely on ineffective processes for de-shelling, including the use of rocks and inappropriate hardware.
These ineffective processes also lead to low quality palm kernels which are largely unfit as input for high quality vegetable oil manufacturing. As a result, food factories are unable to purchase these raw materials and operate significantly under capacity.
On average, food factories have 3X more installed capacity than utilization, which impacts the cost of food and hampers further investment into processing capacity.
Releaf acts as a bridge between smallholder farmers and food manufacturing companies with its proprietary patent-pending machinery, Kraken.
Kraken can process any quality of palm nut into premium quality (95 percent purity) inputs for food factories. Releaf's software connects the start-up to more than 2,000 smallholder farmers, ensuring consistent, large-scale supply. While palm kernel oil production is not foreign to Nigeria, Releaf's technology and scale means it can process 500 tonnes of palm nuts per week.
The software offerings also allow the start-up to receive inbound supply requests from farmers via USSD, provide working capital financing as well as collect proprietary data on supply availability.
Speaking about the new funding, Ikenna Nzewi, CEO and co-founder of Releaf, said, "our mandate is to industrialize Africa's food processing industry. This round of funding enables us to develop and prove our technology with smallholder farmers in the oil palm sector. Given Nigerians spend ~60 percent of their income on food and Africa's population is set to increase by 100,000 people per day over the next three decades, we're presented with an incredible opportunity to feed more people, reduce consumer costs, and supply the fastest-growing food market in the world.
Releaf is committed to harnessing technology to accelerate the economic wealth of rural, agrarian societies throughout the Continent. We firmly believe that a robust real economy is the foundation for long-lasting and shared prosperity for Africans and are excited to deepen partnerships with like-minded organizations, governments, and firms."
This new funding will enable better productivity and accelerate the eradication of the menial and archaic processes that are prevalent across Nigeria's oil palm sector and the agriculture sector as a whole. It will also enable Releaf to drive more value and profitability across the oil palm value chain, as well as support direct and ancillary job creation in the farming communities of South and Eastern Nigeria.
Rena Yoneyama, Managing Partner at Samurai Incubate Africa who led the round commented, "Releaf's novel approach to operating within the value chain with proprietary technology set it aside from many agtech startups we have spoken to. We believe the firm's thesis on decentralizing food processing would have a strong match with Africa's economic development landscape for the next few decades.
Ikenna and Uzo are the perfect founders to disrupt this market in Nigeria and beyond. We are thrilled to back them as they innovate in providing both agro-processing and financial services to rural communities and farmers."
Iyin Aboyeji, General Partner at Future.Africa noted, "more than 50% of the goods in supermarkets globally contain glycerine – an extract made from palm oil – a cash crop that is passed down from generation to generation.
The team at Releaf is building the agro-allied industry of the future from the ground up starting with palm oil which they have developed novel technology to aggregate, deshell and process into critical ingredients like vegetable oil and glycerine. Future Africa is delighted to back Releaf to build the future of modern agriculture"
Dr. Nneka Enwonwu, Country Relationship Manager, from The Challenge Fund for Youth Employment (CFYE) said, "We are thrilled to partner with Releaf on their mission to improve efficiency and profitability for farmers and food factories in Africa.
The founders' vision and the team's enthusiasm gave us confidence that Releaf will deliver real value for rural communities and create digital/technical jobs for women and youth. We are looking forward to their results and success over the coming years and continuing to support their work."