FinTech Marketers Invested $3B Globally on User Acquisition in 2020 According to AppsFlyer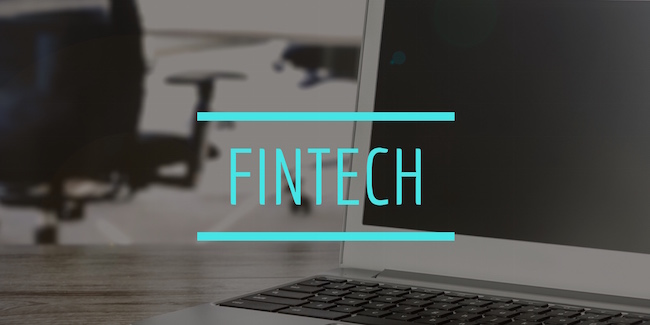 AppsFlyer, the global marketing measurement leader, today released its 2021 edition of The State of Finance App Marketing report. The COVID-19 pandemic directly impacted how consumers interact with financial institutions and how the institutions themselves operate.
According to the report, Financial Technology (FinTech) apps are in high demand, experiencing a 132% leap globally in downloads in the last two years. Sub-Saharan Africa saw impressive growth, with installs in Nigeria climbing 160%, up 100% in Kenya and rising by 52% in South Africa. 
Commenting on the growth of finance apps across Africa, Daniel Junowicz, RVP EMEA & Strategic Projects, AppsFlyer said: "The COVID-19 pandemic rapidly accelerated the adoption of financial technology globally and in emerging markets especially, finance apps helped millions of consumers and businesses remain connected.
This trend is likely to continue and understanding how to best market their apps will be key to African businesses standing out from the crowd and growing their customer base."
"With this year heading for a record with total spend globally, reaching no less than $1.2 billion in Q1 alone, we believe that combining different types of marketing activities in addition to improving the registration funnel by optimizing and shortening the time from install to registration will give marketers the edge to utilize their 2021 budget to the fullest."
Key African Insights
Demand for Finance apps is at an all time high
Downloads of finance apps have shot up over the last year. With 56% of the population in Nigeria 'unbanked', many are turning to apps to access key financial solutions including:
Loans: 43.3%
Financial Services: 35.6%
Investments: 20.3%
Nigeria's Cost Per Install* is up 70% since Q2, leading to a spike in spend, especially in Q1 2021 when budgets almost tripled.
While each of the three key regions have experienced growth in marketing activity in the last year, Kenya's overall growth in the last two years has fallen.
Key Global Insights
Digital banking installs up 45%, while traditional banks gain 22% in 2021. Finance app installs increased 20% overall, but financial services and traditional banking app installs saw only a 15% increase between Q1 2020 and Q1 2021. However, only in the first quarter of 2021, traditional banks picked up speed with a 22% rise in installs.
3.3x growth in the number of remarketing conversions between Q1 2020 and Q1 2021. Following a 32% drop in spend in Q2 of 2020, efforts rebounded in Q3 and with rising user acquisition costs, marketers increased activity in remarketing, which soared 3x by Q1 2021. Overall, the growth path of non-organic installs continued upward, hitting 172% growth between 2019 and now.
Demand for Finance apps is rising across the globe. 29 of the top 40 finance markets (by app installs) enjoyed a growth of at least 20% YoY, however it was the developing markets that dominated the number of installs. The average number of downloads in developing markets was 70% higher than the average in developed markets, with India, Brazil and Indonesia making up almost half of the global number of downloads.
"FinTech experienced rapid digital transformation over the last year, with the pandemic leading to a shift in mindset even for those that have been slow to adapt," said Shani Rosenfelder, Head of Content & Mobile Insight, AppsFlyer. "Marketers should strive for efficiency with their spend by following the rising Cost Per Install trend and focusing on user acquisition to meet new demand. Marketers should also explore more affordable remarketing campaigns to keep their brand top of mind amid rising market competition."
Methodology
The State of Finance App Marketing from AppsFlyer is an anonymous aggregate of proprietary global data collected from 4.7 billion finance app installs.
The State of Finance App Marketing is available at: https://www.appsflyer.com/resources/others/finance-app-marketing-global/.
World Bank Urges Nigeria To Revive Economy Through Power Sector Reforms
The World Bank daid Nigeria can begin to revive its economic growth by reforming the power sector.
It said the present power policies of the Nigerian Government need to be deepened through a combination of upstream and downstream interventions.
The World Bank made this remark in its bi-annual Nigerian Development Update, titled: "Resilience through reforms", a report published twice yearly.
The Bank disclosed that Nigeria's revenue-side challenges may be diffused, but on the spending side, the electricity sector is a clear priority for reforms due to an estimated 43% of Nigeria's population (85 million people) lacking access to an electricity grid – the largest energy-access deficit in the world.
"Privatization efforts have not delivered their intended outcomes, and the power sector is now under severe stress.
"Distribution companies report aggregate technical, commercial, and collection losses of about 50%, far above the 15% benchmark for international good practice," the Bank warned.
The report stated that the power inefficiencies, combined with uneven reforms of tariffs, have led to a breakdown in the sector's payment chain.
It praised the FG's efforts in recognizing power sector underperformance threat to Nigeria's post-pandemic recovery, through the implementation of the Power Sector Recovery Programme (PSRP) and the National Electrification Project (NEP) to improve sector performance and increase access to reliable electricity throughout the country.
"For example, in November 2020, the government raised electricity tariffs from 56 to 80 percent of the cost while moving to a regime of service-based tariffs and ensuring that the increases in average tariffs do not adversely impact those poor and low-income households that do have access to grid electricity.
"To complement the tariff reforms, the government issued regulations to stop arbitrary estimated billing, accelerate mass metering, and enforce payment discipline for the distribution companies—all actions to improve the financial sustainability of the sector," the Bank stated.
The World Bank added that there is a need to deepen the efforts made by the FG through a combination of financial and policy interventions upstream and technical, operational, and investment interventions downstream.
President Buhari Commissions 156KM Lagos-Ibadan Railway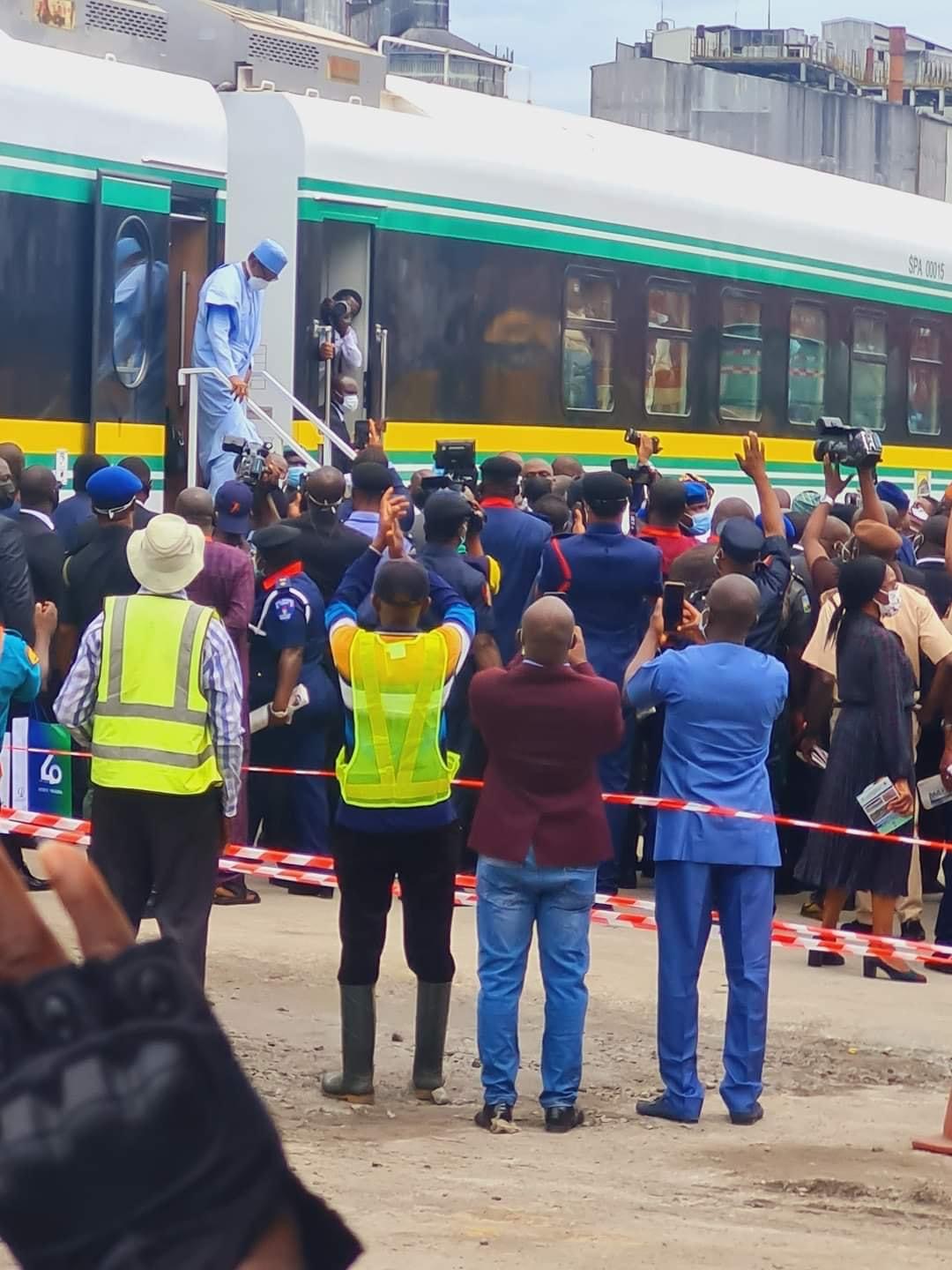 President Muhammadu Buhari today Thursday, 10th June 2021, commission the 156km Lagos—Ibadan standard gauge railway line in Lagos.
The railway line is the first double-track standard gauge rail in West Africa, and the first Nigerian railway line to be started and completed by the same administration, since 1960.
The construction started in March 2017, and test-running commenced in December 2020.
The Ebute Metta Station, known as the Mobolaji Johnson Station, is the largest railway station in West Africa with a holding capacity of 6000 passengers.
EFCC Probes Nigerian Billionaire, Ernest Azudialu, Seals His Lagos Residence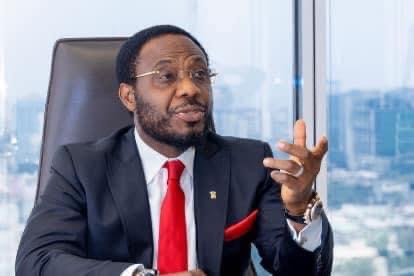 The Economic and Financial Crimes Commission, EFCC, has sealed the residence of Ernest Azudialu Obiejesi, Chairman, Nestoil Group and NECONDE Energy Limited.
The anti-graft agency's red ink, embarrassingly proclaiming that the property was under investigation, is clearly printed on the building, according to our correspondent who was there.
Grassroots.ng gathered that high-profile residents of Ikoyi have been left stunned, as he was thought to be a decent businessman despite his loud lifestyle.
Although the reasons for the EFCC's move are unclear, it is possible that he is being investigated for financial offences.
Azudialu had a rocky relationship with the Guaranty Trust Bank Plc (GTBank), which alone financed his Nestoil Towers on Victoria Island's Akin Adesola and Saka Tinubu Streets. The charge at the time was that he failed to service the facility he used to construct the towers.