54gene Launches Diagnostic Arm 7RiverLabs to Boost Patient Health Outcomes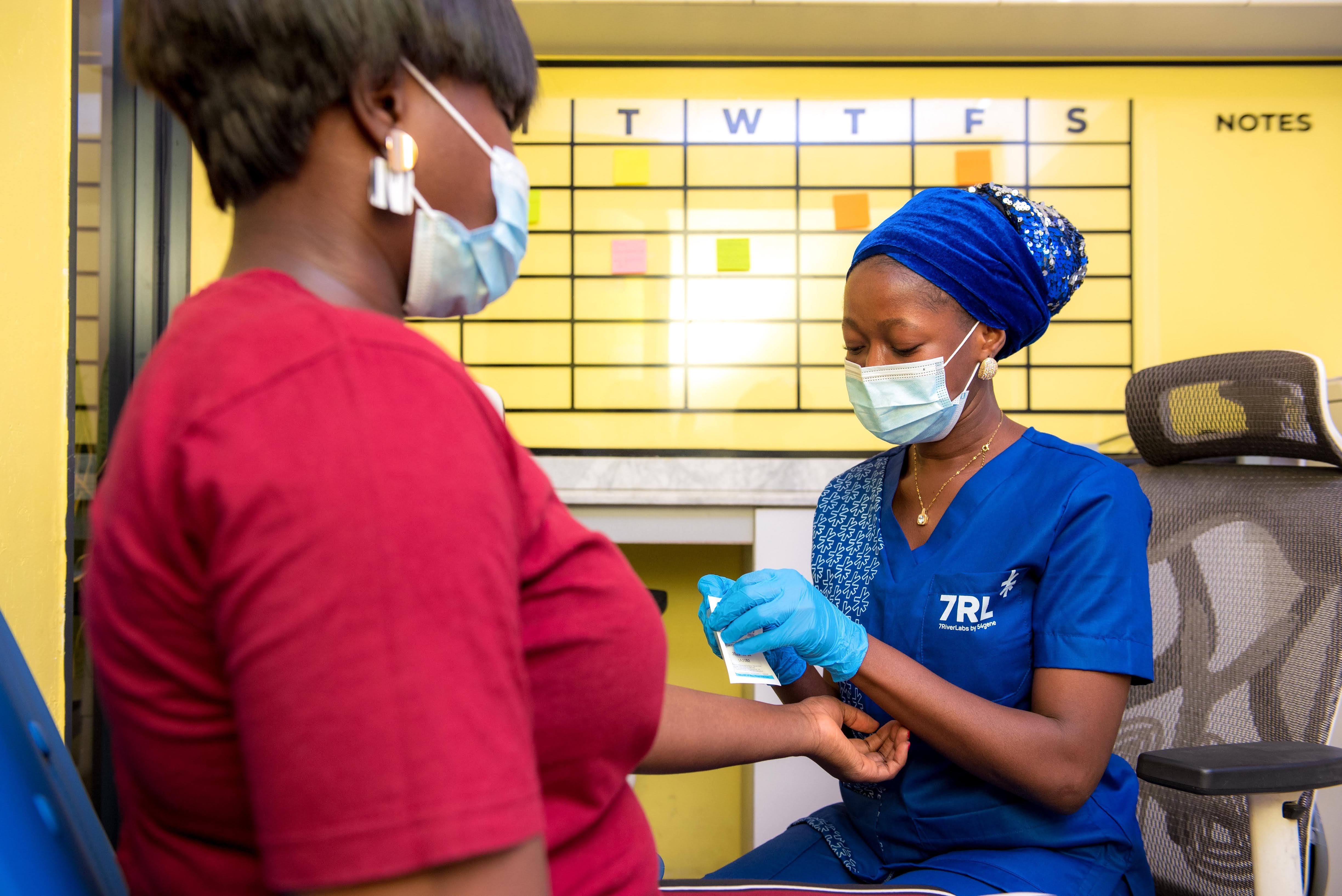 54gene, the health technology company advancing African genomics research for improved global health outcomes, has announced the launch of its diagnostic arm; 7RiverLabs. The diagnostic hubs fitted with state-of-the-art technology will offer healthcare providers and patients access to world-class, cost-effective, speedy, reliable and advanced molecular diagnostics. Sample collection centres with over 100 employees are already open in Lagos, Abuja, Kano and Port Harcourt, with more centres due to launch in 10 major Nigerian cities in the coming months. Pan-African expansion for 7RiverLabs is also planned over the course of 2022.
Since its launch in 2019, 54gene has driven genomics and molecular medicine throughout Africa. Formerly known as DiagnoseMe Africa, 7RiverLabs (named after the 7 major rivers on the continent), is designed to equalise precision medicine for African populations. Building on that vision, 54gene has domesticated diagnostic technology; eliminating the need for samples to be sent abroad for analysis, at a considerable cost to the patient. Physicians will now be able to detect and prevent diseases earlier, thereby helping to improve patients' treatment outcomes and quality of health.
As part of its mission to establish itself as a principal provider of diagnostic care driven by ultra-modern technology, 54gene has appointed its Chief Business Officer, Jude Uzonwanne as the diagnostic arm's interim-CEO.
Through the use of state-of-the-art laboratories and marked workflow improvements, over 300 critical molecular tests can now be performed safely and securely – covering oncology, infectious diseases, genetic testing and sequencing, anatomic pathology, clinical chemistry, microbiology, haematology as well as communicable and non-communicable diseases.
With some tests costing as little as a few thousand Naira – generally more affordable than the prevailing market rates – results, depending on the complexity, are provided in as little time as a few hours to a few days and are sent digitally to patients' physicians for follow-up.
On the launch of 7RiverLabs, 54gene Founder and CEO Dr. Abasi Ene-Obong commented, "Launching 7RiverLabs is a manifestation of one of the goals 54gene set out to achieve two years ago – to improve diagnostic and treatment outcomes on the continent. With the range of tests 7RiverLabs offers, millions of Africans can begin to take greater control of their health. Our goal with this new diagnostics arm is to ensure that every African has access to our hubs offering advanced laboratory tests without having to pay an exorbitant out-of-pocket fee. Patients will receive speedy results that will guide their physicians in reducing late diagnoses leading to poor chances of survival, improve their treatment options and ultimately their quality of life."
Jude Uzonwanne commented, "7RiverLabs is complementing Government and industry efforts to attain the Nigerian Ministry of Health's mandate towards improved care for the general population. Hundreds of molecular tests will be made available for millions of people at a fraction of the cost of transporting samples overseas thereby helping to increase early disease-detection and screening rates and save lives. This is groundbreaking news for Nigeria; and as we forge trusted partnerships with leading health insurers, hospitals and healthcare professionals, we anticipate that hundreds more jobs will be created in our expansion of services across Africa".
As of 2021, the addressable market for medical tests in Sub-Saharan Africa is currently worth US$10 billion. At present, the majority of molecular tests are sent outside of the continent; investment in this sector will see the market witness an expected average rate of more than 4% growth per annum. This will be directly linked to affordability, accurate diagnoses and lighting quick turnaround times – all of which 7RiverLabs is positioned to deliver not only in Nigeria, but across the continent.
Heifer Announces Three AgriTech Innovators as AYuTe Africa Challenge (Nigeria) Winners
As a result, the competition will increase visibility for growth and improve smallholder farmers' productivity.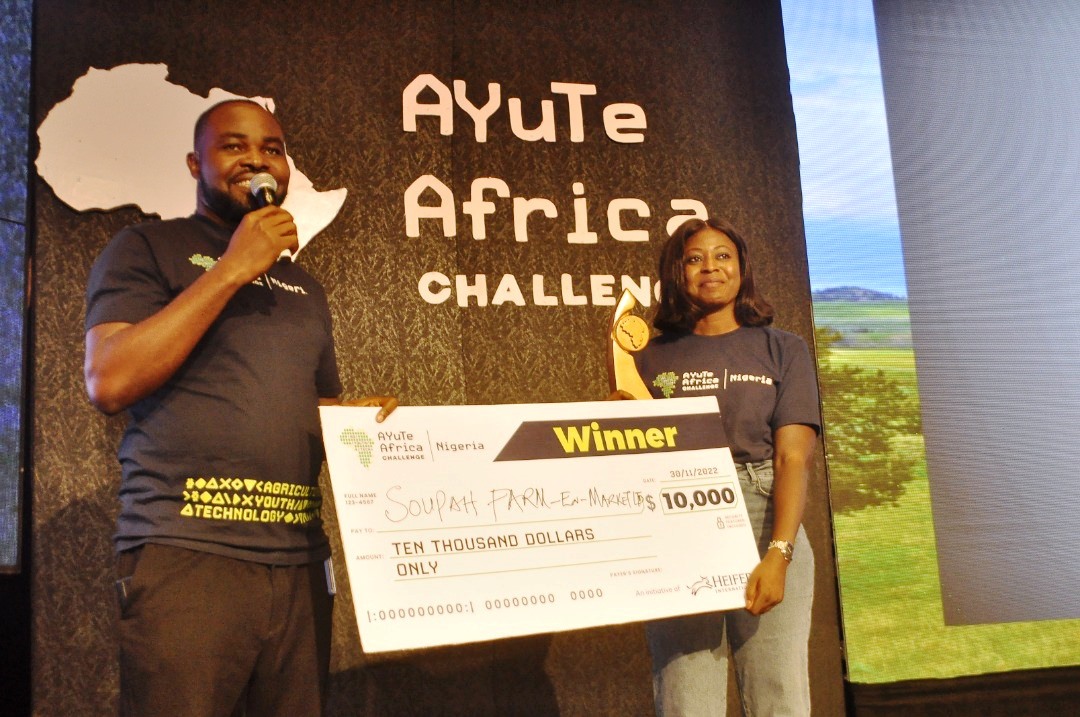 Three young agric-tech innovators in Nigeria have emerged final winners of this year's Agriculture, Youth and Technology (AYuTe) Africa Challenge Nigeria, an enterprise development program initiated by Heifer International to identify, nurture, and support innovative, relevant, and technology-driven agric-centric enterprises that grow, scale and help smallholder farmers to thrive in Africa.
Announcing the winners in Lagos on Wednesday, November 30 at the Grand Finale of the keenly contested Challenge that saw well over 600 entries, the Country Director, Rufus Idris said the newly introduced annual challenge in Nigeria serves as a springboard for identifying outstanding young agritech innovators, as well as assisting in the formation of strong partnerships.
As a result, the competition will increase visibility for growth and improve smallholder farmers' productivity.
Ifeoluwa Olatayo, the Managing Director, Soupah Farm-en-Market Limited emerged the grand prize winner for the maiden edition of AYuTe 's competition in Nigeria having met all requirements to get the topmost position. She got $10,000 grants as the overall best at the conclusion of Heifer Africa AYuTe's Challenge to expand her business initiatives in the agriculture value chain.
The second runner's -up, Rejoice Usim, the Chief Executive of Simkay Foods Limited got $6,000, while Stephen Obe, the CEO of Evet Technology got $4,000 grants to emerge the third place winner.
The winner, Olatayo described the impact of her innovation at Soupah Farm-en-Market Limited thus: "Basically, we connect rural smallholder farmers to urban markets by using short code as a procurement interface. So, rural smallholder farmers will no longer market agriculture produce through middlemen – they will communicate with us directly to collect their produce while we sell to large off takers. Majorly, we are improving the livelihood of the smaller farmers because we buy their farm produce at better prices of about 50% higher than the typical traditional markets".
She urged youths to engage and think of how to use technology to better the lots of young farmers and boost food production and supply. "I encourage other youth techies to look for those problems within the agriculture industry and solve them with the use of technology to scale faster and grow bigger",
"The grant will majorly be a benefit to our local farmers. It will also create a supply chain system for them in terms of purchase, storage and selling in a way that it makes them make higher profits than they are making at the moment" she said.
The national competition represents a new phase of Heifer International's AYuTe Africa Challenge, established in 2021 to award cash grants annually to the most promising young agritech innovators from across Africa. Like the Regional Champions competition, the AYuTe National Champions competition offers prize money and mentorship, helping translate the energy and ideas of young Nigerian agritech innovators into meaningful impact for smallholder farmers across the country, and supporting winners to grow their businesses and profile.
"More than half of our population consists of young people and with inflation skyrocketing, fueled mainly by food inflation, we'll need the youths with energy, tech-savvy, and entrepreneurial skills that can be channeled to transform the agricultural sector," said Rufus Idris, Country Director, Heifer Nigeria.
Presenting the awards and the grant to the finalists, Heifer Nigeria's Country Director, Rufus Idris, said that "We are excited to announce a starting cash grant of $20,000 to the most promising young agritech innovator in Nigeria. This is in line with Heifer's strategic goal of unleashing the hidden agricultural treasures among African youths.
"We strongly believe that the new ideas and technologies by this Africa's tech-savvy youths discovered in this competition will help to convert the huge potential in agriculture to economic growth and employment across Africa while transforming the sector.
"Through this challenge, we hope to further inspire the Nigerian youth population to continue to embrace agriculture as a career option of choice, while promoting creative professionals that are using technology to re-imagine farming and food production across the country", said Idris at the close of the competition.
Since 1944, Heifer International has worked with more than 39 million people around the world to end hunger and poverty in a sustainable way. Working with rural communities in 21 countries in Africa, Asia, and the Americas, Heifer International supports farmers and local food producers to strengthen local economies and build secure livelihoods that provide a living income.
The event brought together stakeholders within the ecosystem including government representatives, tech hubs and agripreneurs, who are relevant to supporting the development and scale-up of innovative, commercially viable and sustainable agricultural technologies, capable of transforming Nigeria's agricultural sector and her food security.
The keynote speaker and Lagos State Commissioner for Agriculture, Ms.Abiola Olusanya who was represented by the Director of Agriculture Training Institute, Mr Emmanuel Fatai Audu, said that "At every point in time, there is always a demand for food in Lagos State. Food worth N9 billion is consumed every day. If we can expand that across Nigeria and Africa, that tells you the immense potential that the food value chain brings to the table in terms of economic gains to value chain outburst, especially our youths here today. He encouraged the youths to go into Agriculture as it is the next oil.
OnePort 365 Secures $5 million Seed Funding To Digitize Freight Management In Africa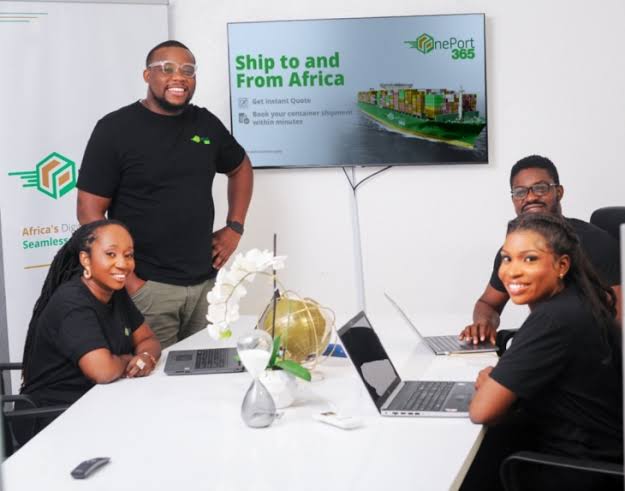 OnePort 365, a digital freight forwarding company that makes it easier to move cargo to, from and within Africa, has raised $5 million in seed funding to drive the end-to-end digitisation of freight management in Africa and support its expansion into new markets across the continent.
The seed funding round was led by Mobility 54 (the Venture Capital arm of Toyota Tsusho and CFAO Group), with participation from SBI Investment, Flexport, ODX, a Singaporean syndicate fund and other strategic angel investors. Samurai Incubate also re-invested after participating in the previous round.
With active operations in Nigeria and Ghana, and ongoing explorations in other markets, OnePort 365 is building an operating system for cross-border trade in Africa, helping traders to manage their freight processes through a digital platform that enables seamless freight forwarding and other value-added services.
With this new funding, OnePort 365 is positioned to further improve efficiency and lower overheads in cross-border trading across the continent, as well as deliver a wide range of new services that will increase profitability across the board.
Africa contributes an increasingly significant amount to global maritime trade, with a reported 12 percent of the 811 million containers handled at ports worldwide. Africa's clearing and forwarding market is also growing, with latest figures suggesting a market size of $4.2 billion and a projected 12.5 percent growth with new services emerging.
However, a wide range of challenges including congestion at ports, difficulty with accessing effective service providers and complex payment systems have resulted in increased costs, inefficiencies and many missed opportunities for traders.
With OnePort 365, traders no longer have to wait up to two weeks to compare the best rates from different service providers. With pre-negotiated rates, they can explore competitive offers on the platform and book freights in 30 seconds or less.
Traders can also connect with shipping and inland transportation vendors and manage the entire process (from booking to payment) on one single platform. Traders get GPS-enabled, real-time visibility of their shipments and they can view all documents relating to the shipment via the platform, eliminating the laborious process of physically retrieving these documents from offices or shipping line centres.
The platform also leverages advancements in payment technology and the Pan-African Payment and Settlement System (PAPSS) to power instant payments.
The platform covers air freight, ocean freight, inland haulage (trucking, barge, and rail), as well as Pay-As-You-Go warehousing, marine insurance, customs brokerage and more. Since OnePort 365 started operations in 2019, it has increased the number of twenty-foot equivalent unit containers (TEUs) by 140 percent and grown its revenue by more than 420 percent.
Commenting on the new funding Hio Sola-Usidame, CEO and founder of OnePort 365 said "we are super excited to have these investors onboard to support our mission to optimize cross-border trading across the continent. With new regulations like the Africa Continental Free Trade Agreement creating the potential for a new era of trade on the continent, we want to make it easier for traders to maximise the opportunity. We believe managing freights should be as easy as booking a flight or ordering a ride-hailing service and we are building the operating system to make this possible."
Takeshi Watanabe, CEO of Mobility 54 Investment SAS said "we are delighted to support Hio and the OnePort 365 team as they embark on the journey of digitizing the end-to-end freight management process in Africa. There is great potential to unlock significant commercial opportunities across the continent by addressing the longstanding challenges that have made it difficult to move freights into and around the continent, and we are confident that OnePort 365 has what it takes to succeed."
Rena Yoneyama, Managing Partner at Samurai Incubate Africa said, "since the first day we joined the company as an investor in 2020, we've believed that this team is the one that could build a cross-border trading platform tailored for the African continent. We're very happy to back OnePort 365 again".
Curacel Unveils Grow, Enabling Any Technology Company To Seamlessly Offer Insurance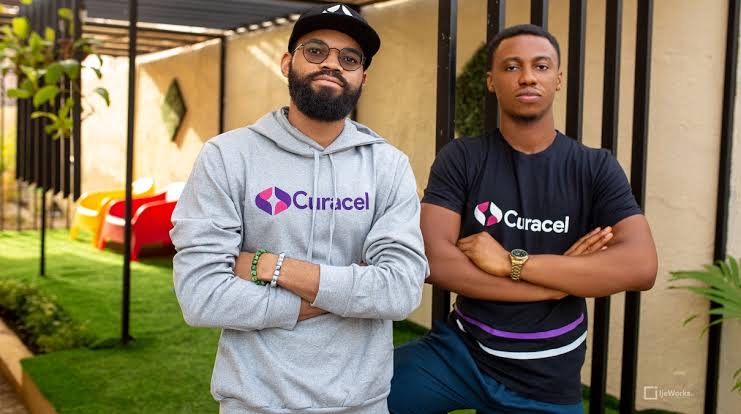 Curacel, the leading African insurance infrastructure startup, has launched Curacel Grow, an embedded insurance product that empowers technology companies to seamlessly offer insurance as part of their existing products and services.
The startup is also part of the Winter 2022 cohort of Silicon Valley's prestigious Y Combinator accelerator, joining the growing list of successful African startups that have participated in and benefitted from the program.
Curacel is launching Grow to support more effective distribution of insurance to millions of Africans through partners like Barter by Flutterwave, Float, Payhippo and other leading technology companies. The startup will also enable seamless embedding of insurance in customer user journeys.
With Curacel Grow, airlines will be able to offer travel insurance to their customers through simple APIs. Automotive dealers will also be able to seamlessly sell insurance to customers as a value-added service. Curacel has built its market leading infrastructure that powers claims and fraud protection for forward thinking insurers like AXA Mansard and Old Mutual, and this expansive network of underwriters enables the distribution of insurance at scale.
Insurance penetration in Africa currently stands at less than 3 percent, with most policies sold offline and manually via brokers and agents.
This cumbersome process makes insurance products expensive and out of reach for many price-sensitive Africans. As a result, market penetration of insurance products in Africa is half of the global average and premiums per capita are 11 times lower than the global average.
The insurance industry in Africa also represents less than one percent of insured catastrophe losses worldwide, although it's home to almost 17 percent of the global population. This suggests that there is significant scope for growth.
With Grow, insurers can accelerate the distribution of their products by taking advantage of Curacel's technology to easily embed insurance within other digital experiences in a more accessible way.
Technology companies can also increase their recurring revenue by offering the protection their consumers need without the hassle of finding integration and negotiating terms with insurers and brokers.
The solution is designed to integrate seamlessly with any technology platform and Curacel's AI-powered infrastructure means claims can be submitted and processed in real time.
Commenting on the new product, Henry Mascot, CEO and co-founder of Curacel, said, "risk protection is a major consideration for Africa's growing middle class. As it becomes easier to access credit and other financial services to enable new experiences, we want to make it easier to protect these experiences and enjoy them with full confidence.
The success of various technology companies over the years has opened the door to many previously underserved people and we want to take advantage of this to accelerate the penetration of much needed insurance products across the continent."
Curacel has a presence in 8 countries across Africa, enabling insurers to connect with digital distribution channels and administer their claims cost-effectively.