10-Man Rangers Stopped in Job by Nasarawa United
Despite the loss, Rangers still occupy the 3rd spot on the log with 51 points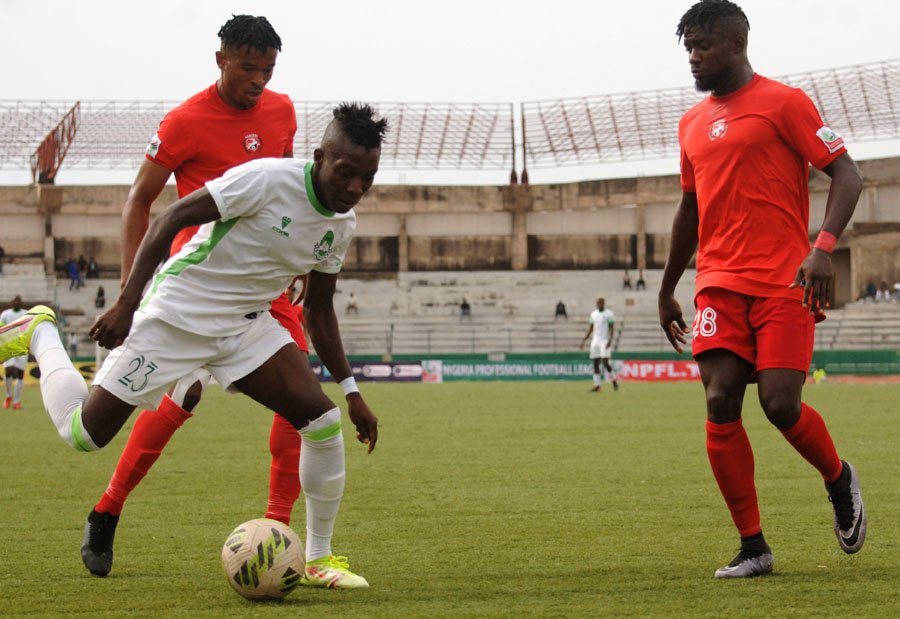 A 60th minute penalty goal converted by Tochukwu Michael for host, Nasarawa United, condemned the 'Flying Antelopes', Rangers International F.C to another defeat on the road in a match day 33, NPFL 2021/2022 season played inside the New Jos Stadium, Sunday, June 12, 2022.
The referee had adjudged that player, Aliyu Abdullahi of the 'Solid Miners' was fouled inside the box and awarded what looked like a soft call and in the aftermath of the call, Rangers' defender, David Chimezie was shown the red card to reduce the strength of the visiting side.
Despite going down by a goal and a man, the coach Abdul Maikaba tutored side took the fight to the host with the attacking duo of Israel Abia and Ossy Martins probing for openings that were easily snuffed out by the duo of Victor Collins and Manga Mohammed while goalkeeper, Ameh Godwin was alert to his duties to punch out an Eso Achibong' free kick on 78 minutes.
The host were the quicker off the block in this encounter with Chinedu Ohanachom, Sunday Okereke and Tochukwu Michael leading the assault but met stiff resistance from David Chimezie and Olawale Doyeni in the heart the the visitors' defense as the trio of Shedrack Asiegbu, Eso Achibong and Tofik Omar were at their best in the middle of the pack.
Opportunities were very scarce for either side but Asiegbu could have shot the visitors in front on the stroke of half time but his well taken shot from the edge of the box was well read by Ameh Godwin while Ohanachom Chinedu drilled his effort wide at the other end after he was left with much space.
Coach Abdul Maikaba said after the encounter, "My boys played very well today but for some calls made by the referee, we should have earned a better result. The referee made it look like we had two separate rules for the two sides in the encounter. Sure, it is a setback but we hope to keep fighting till the end of the season as we believe that our target will be achieved."
Despite the loss, Rangers still occupy the 3rd spot on the log with 51 points while Enyimba is in hot pursuit on 4th position with the same number of points after they demolished kwara United 3-0 in an earlier fixture today.
Rangers will next play Rivers United in a matchday 34 fixture at their adopted, Awka City Stadium later this weekend.
RANGERS TEAM: Bamidele Adeniyi, Tope Olusesi, Bala Akintunde, Tofic Omar (Charles Tiesso -87th Min.), David Chimezie, Olawale Doyeni, Chidiebere Nwobodo (Moses Effiong -78th Min.), Eso Achibong, Christian Nnaji (Ossy Martins -78th Min.), Israel Abia, Shedrack Asiegbu (Ernest Governor -61st Min.). UNUSED SUBS: Nana Bonsu, Philip Clement, Samuel Pam.
Nigeria Has No Business Not being at the World Cup – Coach Anthony Adedeji
The UEFA licensed coach said this during a recent interview with Brandfit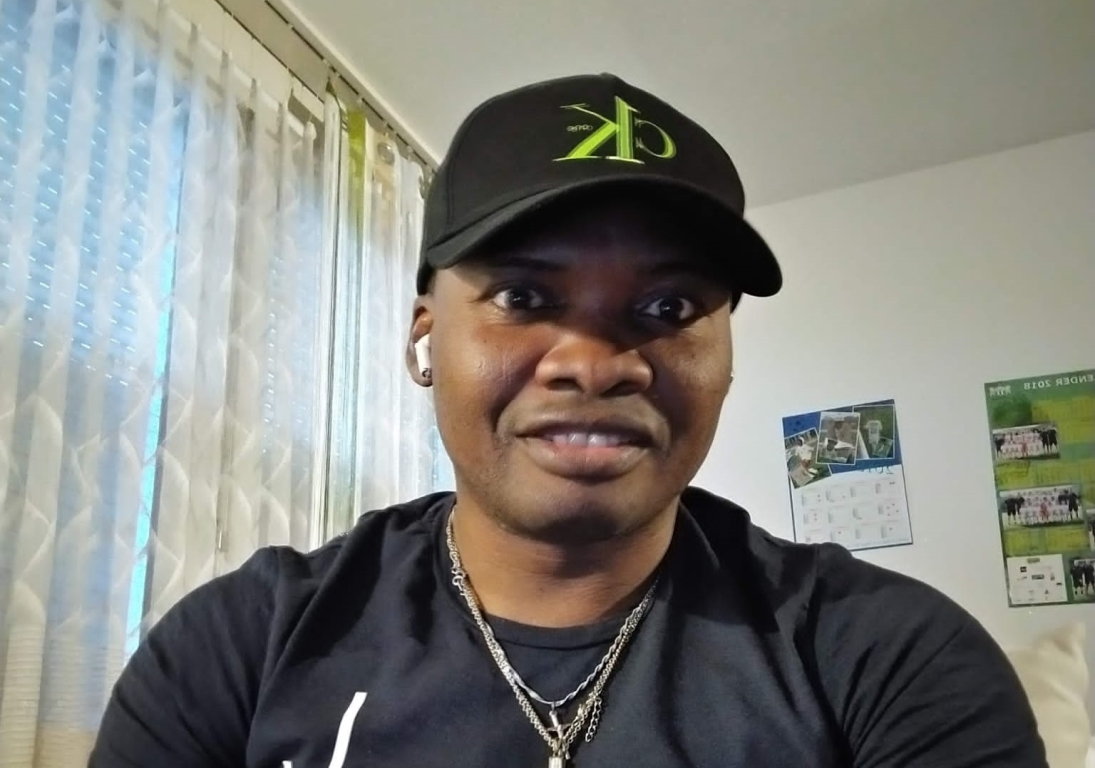 Switzerland-based Nigerian coach, and former national team player, Anthony Adeyemi Adedeji, has said that the Super Eagles of Nigeria have no business not being at the FIFA World Cup and should have won the African Cup of Nations if they had technical guidance.
The UEFA licensed coach said this during a recent interview with Brandfit.ng.
He said, "When I speak about tactics and what I see some people think I just want to criticize but I am not an armchair critique because in my league here in Europe I have been winning my league for years so I know what I am saying. Nigeria did not qualify because our coach played direct football which is easily readable and predictable. He showed his hands by consistently focusing on Moses Simon."
It would be remembered before and during the African Cup of Nations in Cameroun, who manages FC Gossua said severally that Nigeria needed a technically active coach if the Super Eagles are to win the continental football festival and qualify for the world.
In a live sports programme called Sports Ville aired on Channels TV, the multiple trophy-winning cups said Nigeria will not make it to the quarter-finals at the African Cup of Nations because the technical bench is not well-equipped to manage Europe trained players.
According to him, "I respect Coach Austin as a great coach but he has not been on the pitch for some time and it was too sudden to get him involved without an upgrade in his technical knowledge. I said at the programme that if we don't get a tactically sound coach for the Super Eagles, we would not get to the quarter-finals of the Cup of Nations. My co-guest disagreed with me and I promised to get him anything he mentions if Nigeria gets to the quarter-final and to some it sounded like I wasn't patriotic but I knew what I was saying."
He continued, "You saw how a low performing Tunisia tactically defeated a better-skilled Super Eagles. The Ghanaians got an English Premier League coach, Hudson, a tactical gift and tested coach and they defeated us. They are going to the World Cup while we will watch from Nigeria. I am not happy we are not going to be at the World. We can have Nigerian coaches manage the senior and youth teams but they have to be the best and must acquire the requisite modern qualification and knowledge in coaching because football knowledge is moving fast and you can't afford to use the knowledge you acquired two years ago today."
The coach has managed several European clubs in the past 13 years winning trophies. He has coached the Under 14, Under 16, Under 17, Under 21, Under 23, and currently coaching the senior team of FC Gossua since 2020 till date.
The former Flaming Flamingo Stationery Stores player won the 1998 Oba Cup with Flaming Flamingoes, and captained India National FC, New  Delhi, in the 1999/2000 season to emerge as League Champions for the first time after 48 years, the same year Tony joined the team.
"Nigerian coaches have performed far better than foreign coaches with the Super Eagles, coaches like Stephen Keshi, Shuabu Ahmodu. We don't have the best indigenous coach in Nigeria aside from the technical sound coach Emmanuel Amuneke but he wasn't given the chance to lead the team? Nigerian Super Eagles is a very big brand and we should never experiment with it. We should not get a coach just because of the colour of his skin but the value he can bring to the team," he said.
AFCON Qualifiers: Super Eagles vs Sao Tome LIVE on Startimes
The AFCON Qualifier match can also be viewed on the StarTimes-ON mobile app.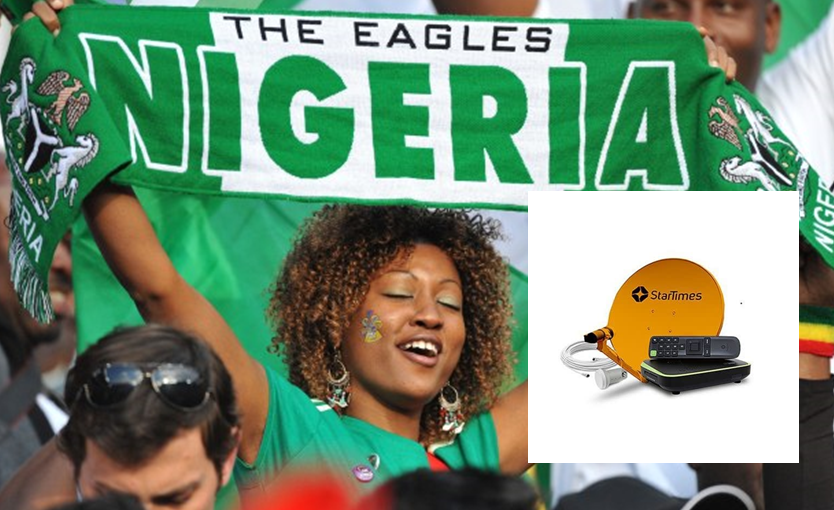 Affordable pay-TV platform, StarTimes will air the AFCON Qualifiers' game between the Super Eagles of Nigeria and São Tomé & Príncipe on Monday at 2pm live and in HD on its World Football channel.
Nigeria kicked off their AFCON qualifying campaign on a winning note after coming from behind to defeat the Leone Stars of Sierra Leone 2-1 at the MKO Abiola Stadium on Thursday evening.
However, São Tomé and Príncipe began their qualification campaign on an unimpressive manner, as they lost 5-1 to Guinea-Bissau.
Even though it was a victory against Sierra Leone, Super Eagles team displayed a lacklustre performance.
After the match, Super Eagles' head coach, Jose Peseiro, said he would be happy to see his team not just winning matches but also playing well to secure more victories.
Ex-Nigeria midfielder Henry Nwosu has warned the Super Eagles against underrating Sao Tome & Principe in their next Group A 2023 Africa Cup of Nations qualifier scheduled for Monday.
Meanwhile, Rangers midfielder Joe Aribo believes he and his teammates will improve after their 2-1 victory against Sierra Leone.
"It's our first game with our coach, with all of us together, we are going to improve, and we are going to get better in the games to come. We can always improve, we are definitely going to get better and stronger in the games to come."
Football lovers in Nigeria can look forward to this exciting showpiece on StarTimes.
The AFCON Qualifier match can also be viewed on the StarTimes-ON mobile app.
PSG President to CNN: 'A lot of changes are going to happen'
Paris Saint-Germain chief promises 'a lot of changes' to create 'new era' at the club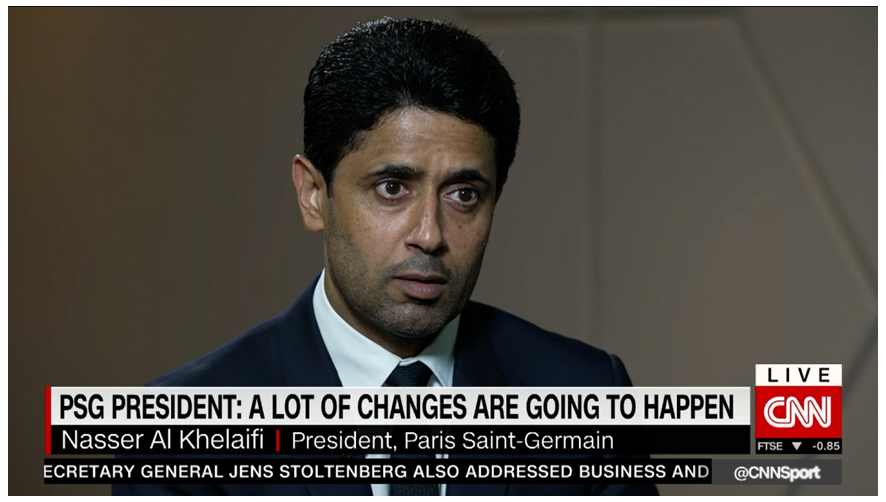 In an interview with CNN's Amanda Davies, Paris Saint-Germain (PSG) President Nasser Al-Khelaifi has promised "a lot of changes" in order to "create a new era" at the club.
"For sure there are a lot of changes that are going to happen," Al-Khelaifi told CNN in Paris. "We're going to announce it probably [at the] end of the week."
Al-Khelaifi's comments come on the heels of striker Kylian Mbappé signing a three-year contract extension with PSG following a months-long transfer saga in which he had been linked to Real Madrid.
When pressed on whether there will be a new manager in charge in the dugout, Al-Khelaifi replied: "We want to create a new era of Paris Saint-Germain; a new project, fresh air. I think it's really important that everybody gets motivated again.
"The loss in the Champions League was not easy, which I take responsibility [for]," added Al-Khelaifi, referring to the quarterfinal defeat by Real Madrid, despite PSG dominating both legs of the tie.
"I'm the president and I'm responsible, but anything can happen and anything will happen in the future. I'm not blaming anyone, whoever will stay or will leave, I'm one of the first one responsible with anything, the results.
"So I'm not blaming anyone and this is really important for me, but in the end, you know, we have choices to do. We have decisions to take.
"We [will] take some of them, some of them are coming soon and I think that really what we want to achieve basically [is] to be stronger than last season — and that's the only objective I want, to be bigger than last season."