A Quick look at Professor Wole Soyinka and his artistic forest home.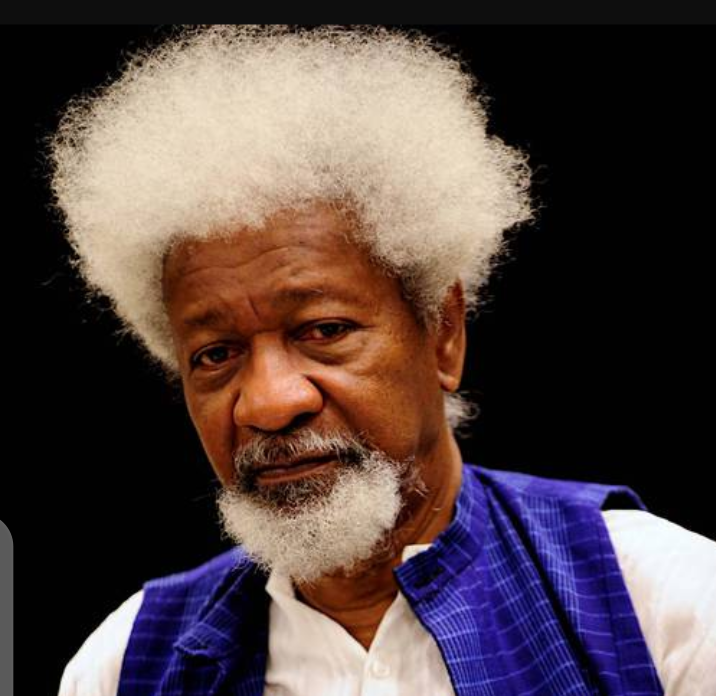 Professor Wole Soyinka is a man known far and wide as he has had, and still having a huge impact on the world's literature society. He is known to be a playwright, a poet, a novelist, an essayist and infact, a man who loves literature purely.
Year 2020, The Worst In The History Of Nigeria – Wole Soyinka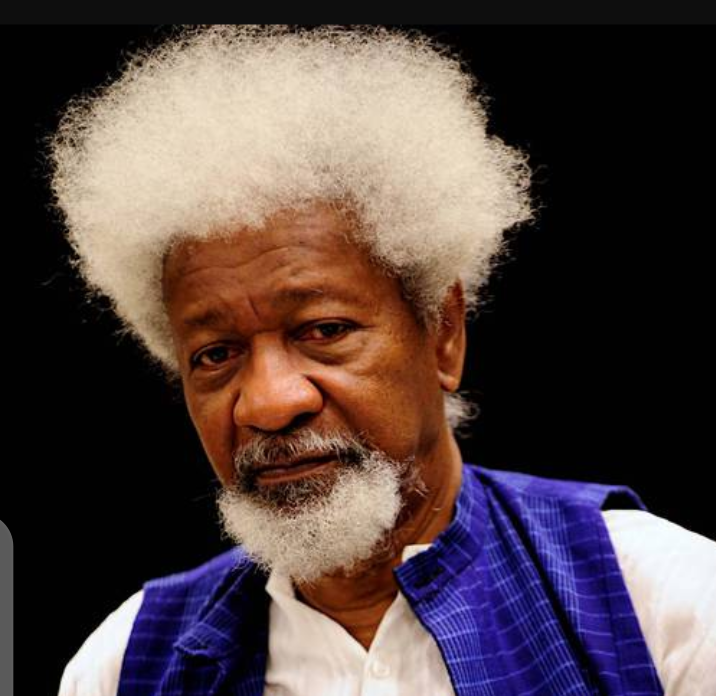 His books and literature works have earned him so many awards especially the biggest of all which is the Nobel awards. So far, he is the only Nigerian and only sub-saharan African to win such an award.
The Nobel laureate was born in Abeokuta Nigeria, which he currently lives there in his forest house. It is said that his home is surrounded by forest and it has an artistic feel due to the way it was designed. Apart from literature, his love for arts made him have a collection of old art works which he keeps in his home. Here are a few pictures.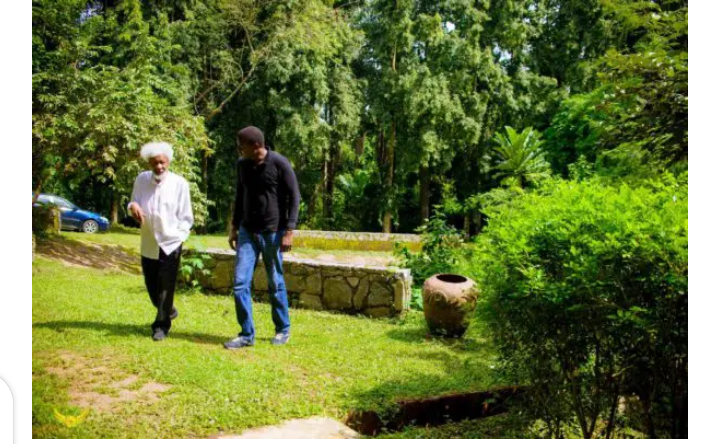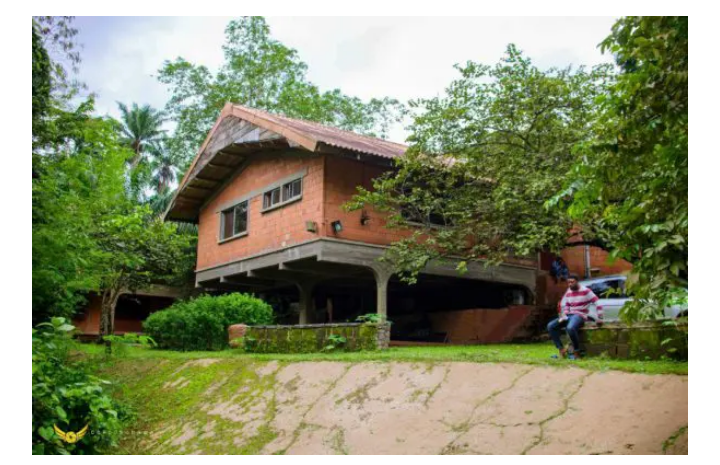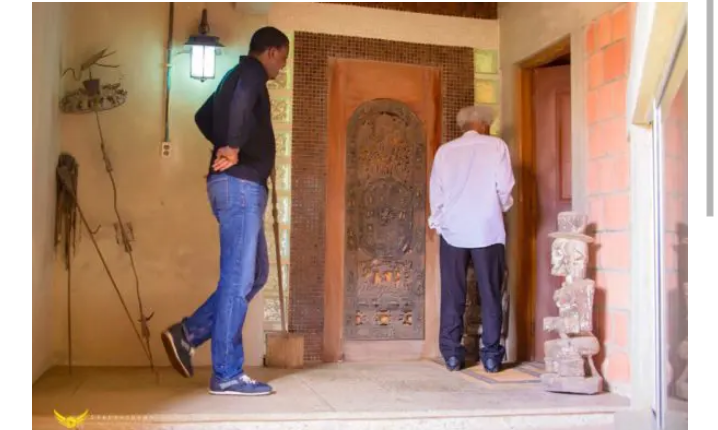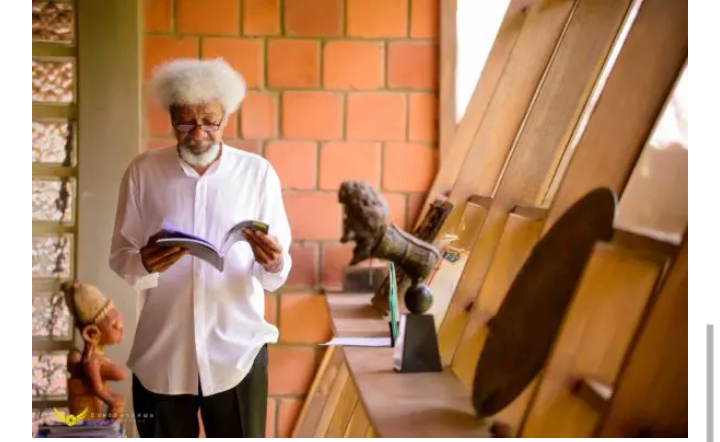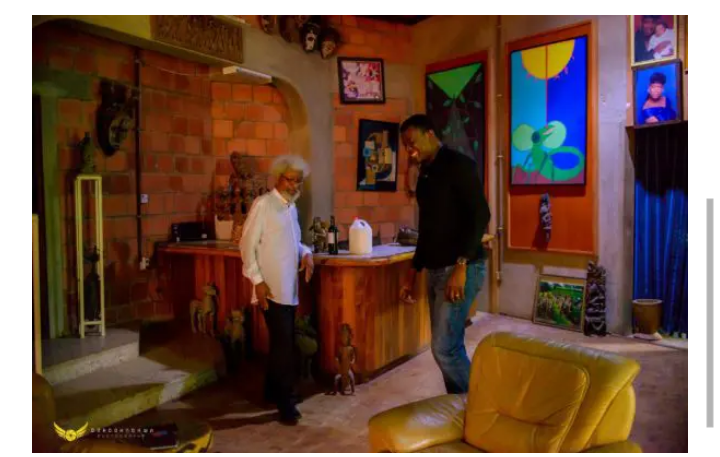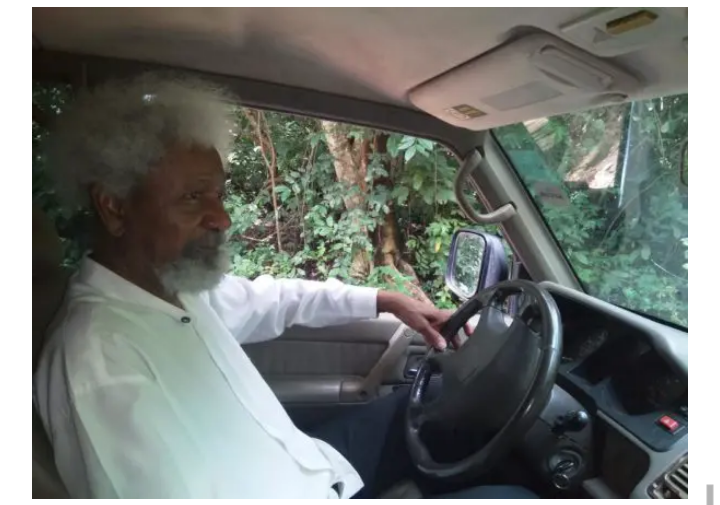 Professor Wole Soyinka has proven beyond doubts that he is indeed an art king and a legendary in that field who keeps inspiring the world with his talent and intelligence.
Yesterday, the 13th day of July was his 88th birthday. And we pray he keeps living and waxing stronger and stronger with more achievements to come.
About Nadia Nadim – Refugee turned Footballer and Doctor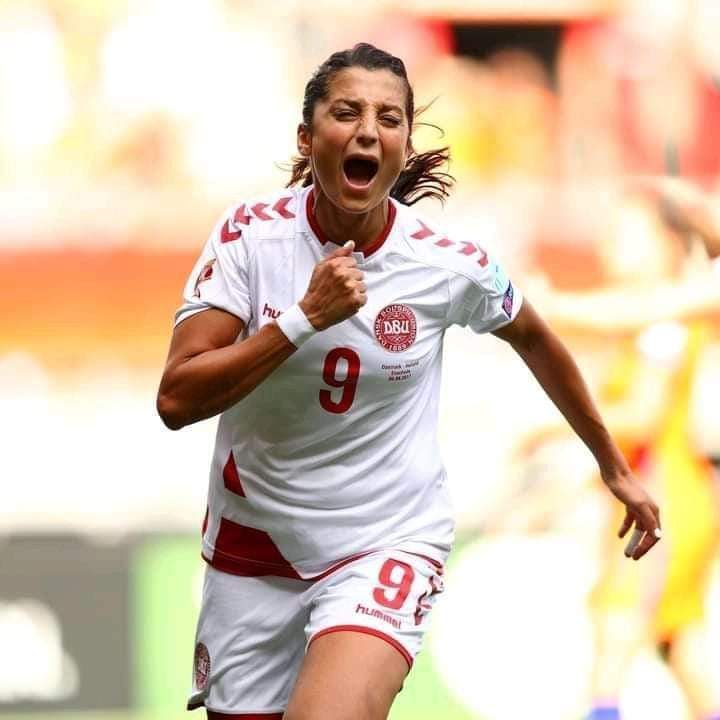 Have you heard of Nadia Nadim? Offcourse if you watch football or you are a lover of football, then there's a high chance you might know her.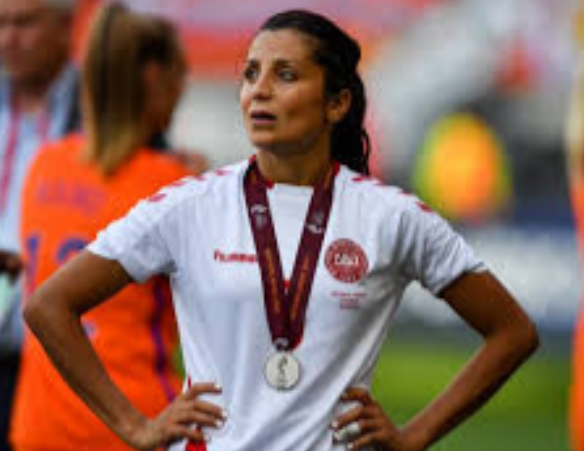 This is refugee Nadia Nadim, She was born in Afghanistan. Her father was murdered by the Taliban when she was 11 years old, so her family fled to Denmark on the back of a truck.
Nadia and her family went through the rough patches of life just like many people today. But she never allowed that kick her out of fighting for a better life. Infact, you can say she embraced it and it became her driving force to achieving so much. Through the hurdles, she became a Footballer and a Doctor.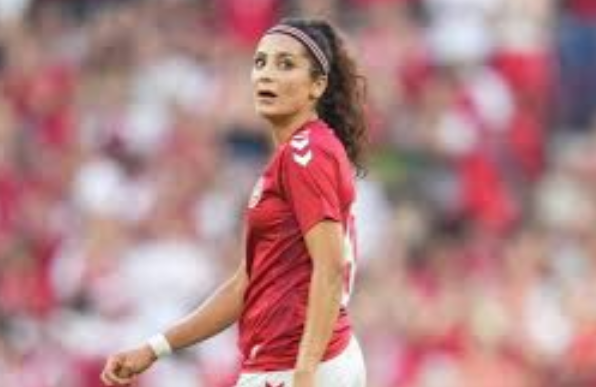 Nadia has scored almost 200 goals in professional football and represented the Danish national team 98 times.
She's completed medical school and is studying to become a reconstructive surgeon when her playing days are over.
She speaks 11 languages fluently and is on the Forbes list of Most Powerful Women in International Sports.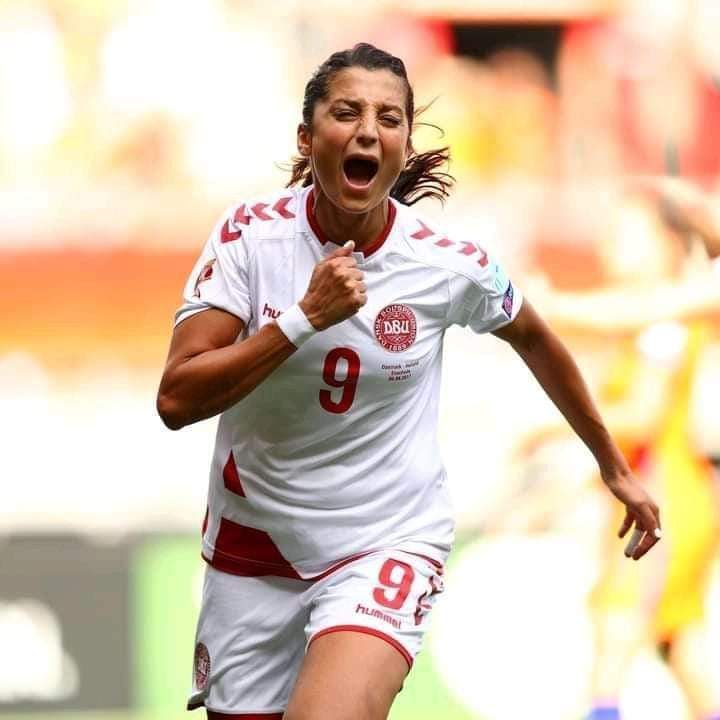 She has proven to be a role model to that female child out there and to everyone going through the tough part of life! All you have to do is keep pushing and aiming for the best! God bless Nadia Nadim for her passion!
Photos gotten from Google.
Read also: 18-Year-Old Nigerian Youngster Who Looks Over 30, Joins A Swedish Football Club
SIFAX Chairman Taiwo Afolabi Donates Church, Vicarage to Ijebu Anglican Diocese
The church, Samson Afolabi Anglican Church, Ijebu-Ode, Ogun State, would seek to meet the spiritual needs of the town's GRA residents.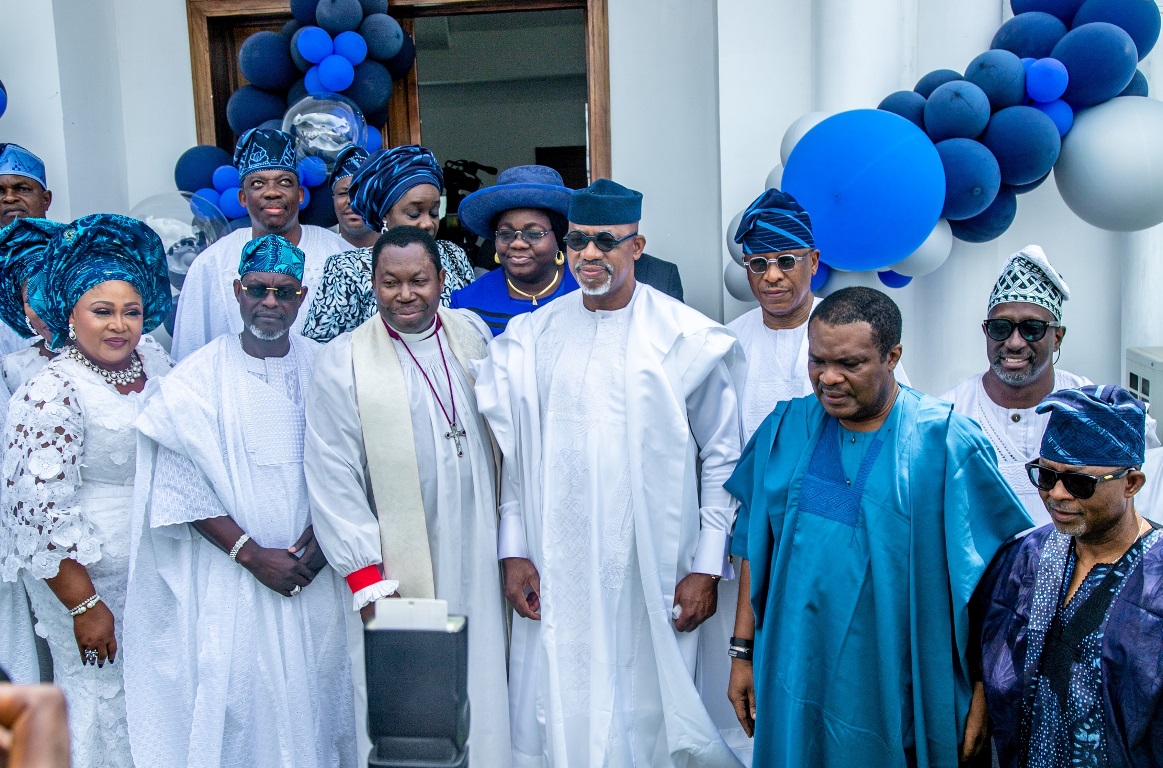 Dr. Taiwo Afolabi, Chairman, SIFAX Group has donated a church, vicarage, children hall and a bus to the Ijebu Anglican Diocese in commemoration of his 60th birthday.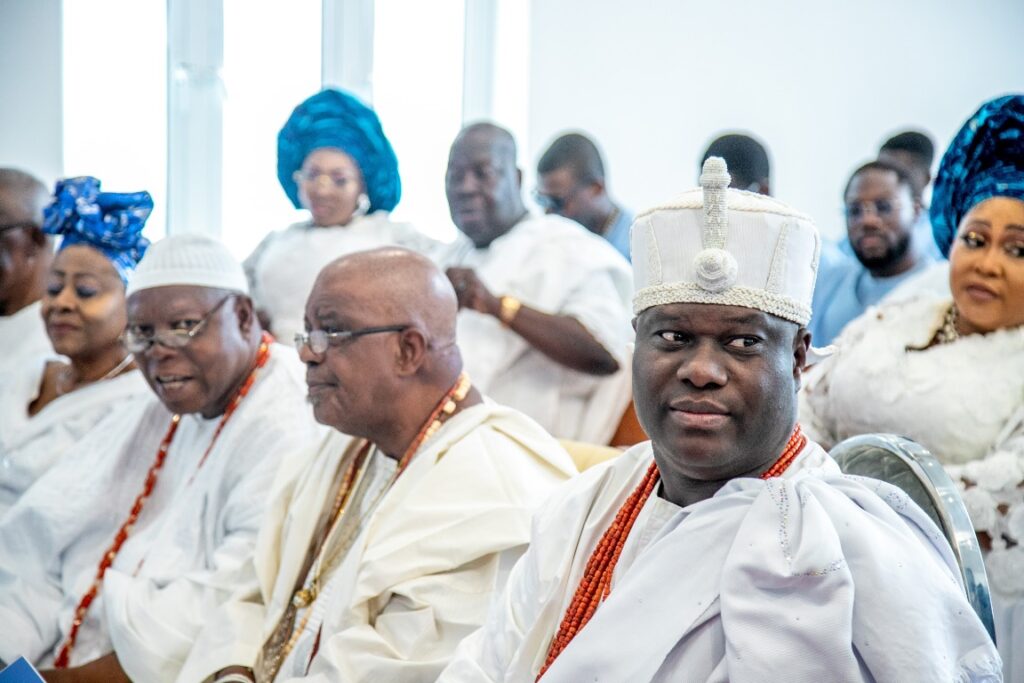 The church, Samson Afolabi Anglican Church, Ijebu-Ode, Ogun State, would seek to meet the spiritual needs of the town's GRA residents.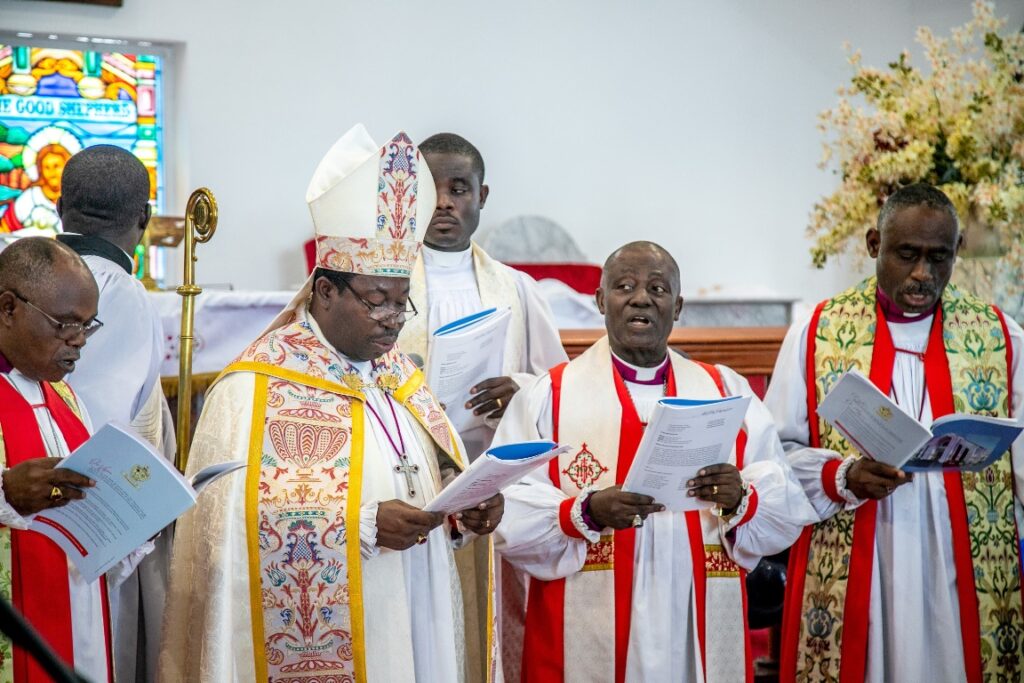 At the church's dedication service, Afolabi, in company of his family, friends and well-wishers, appreciated God for His mercy and favour in the last 60 years. He said the donation was his way of showing gratitude to God for the journey of six decades filled with abundant grace and multiple blessings.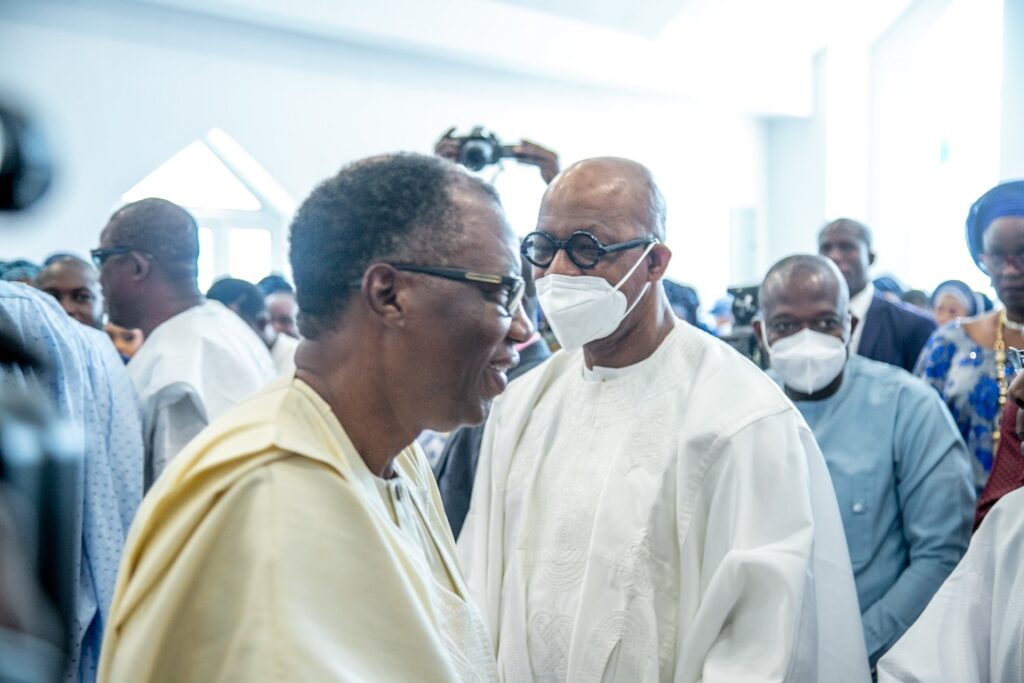 He said: "Let me start by expressing my appreciation to God Almighty who has remained my source and inspiration over the years. He has not only kept me alive but has also granted me grace, gave me a beautiful family, loyal friends and associates. I don't know how else to say Thank You God than to build a befitting place where His people can come and worship".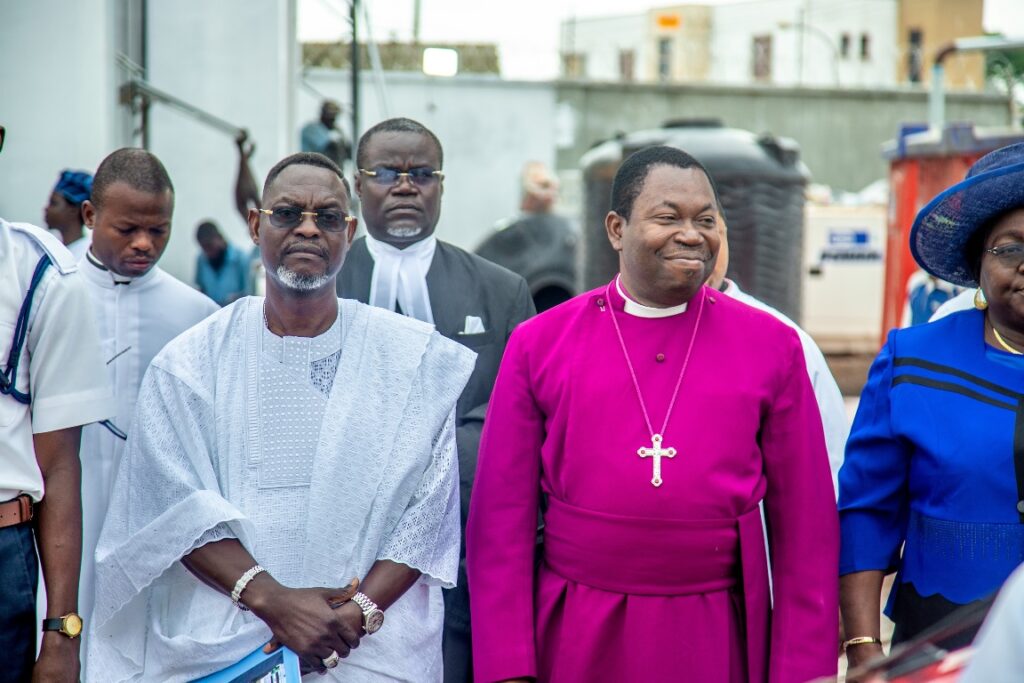 In his sermon, Rt. Rev. Dr. Peter Rotimi Oludipe, the Bishop of Ijebu Anglican Diocese, showered encomiums on the SIFAX Group boss, describing him as a shining light to this generation and a great philanthropist.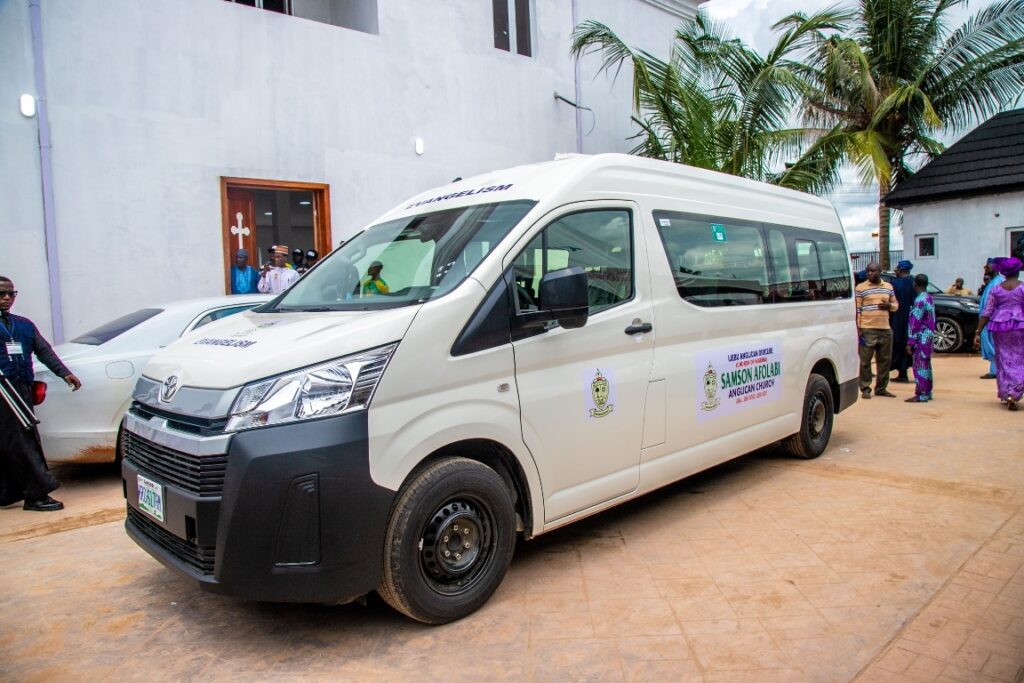 He congratulated him on the milestone birthday and further urged him to continue affecting the society positively.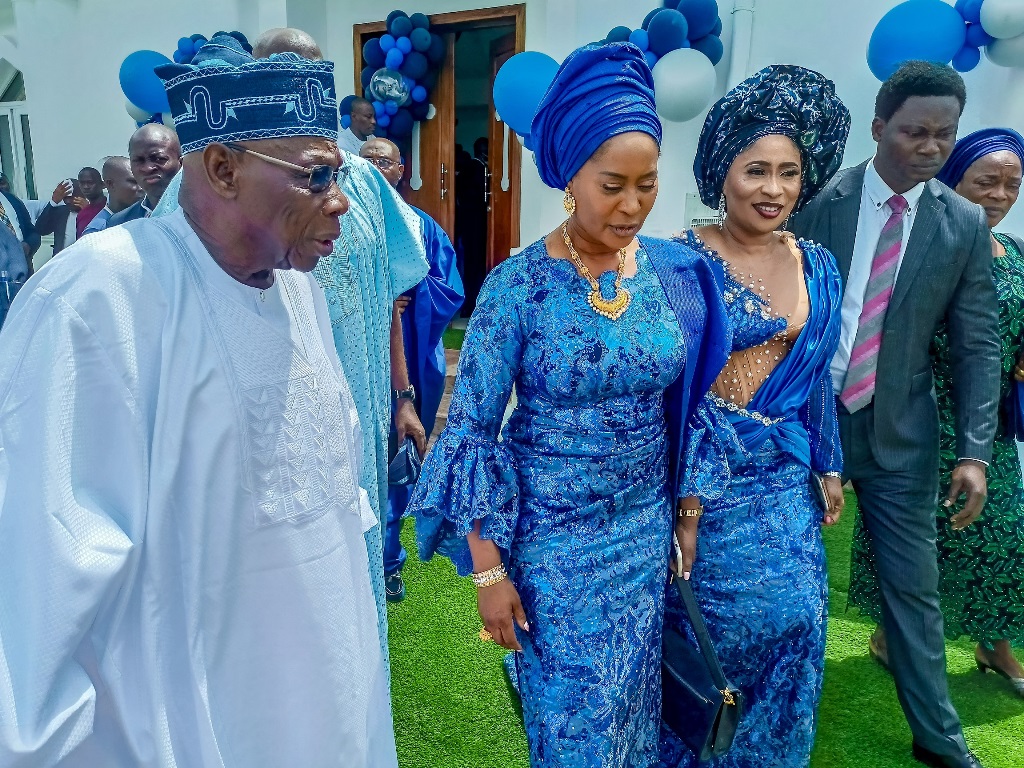 Dignitaries at the event included Prince Dapo Abiodun, Ogun State Governor; Former President, Chief Olusegun Obasanjo; Former Ogun State Governor, Otunba Gbenga Daniel; Ooni of Ife, Oba Adeyeye Enitan Ogunwusi, Oba Saheed Elegushi, Senator Iyiola Omisore, Kemi Adeosun, former Minister of Finance amongst others.
Peacefulness Declines to Lowest Level in 15 Years – Report
Peacefulness Declines to Lowest Level in 15 Years Fuelled by Post-Covid economic uncertainty and Ukraine conflict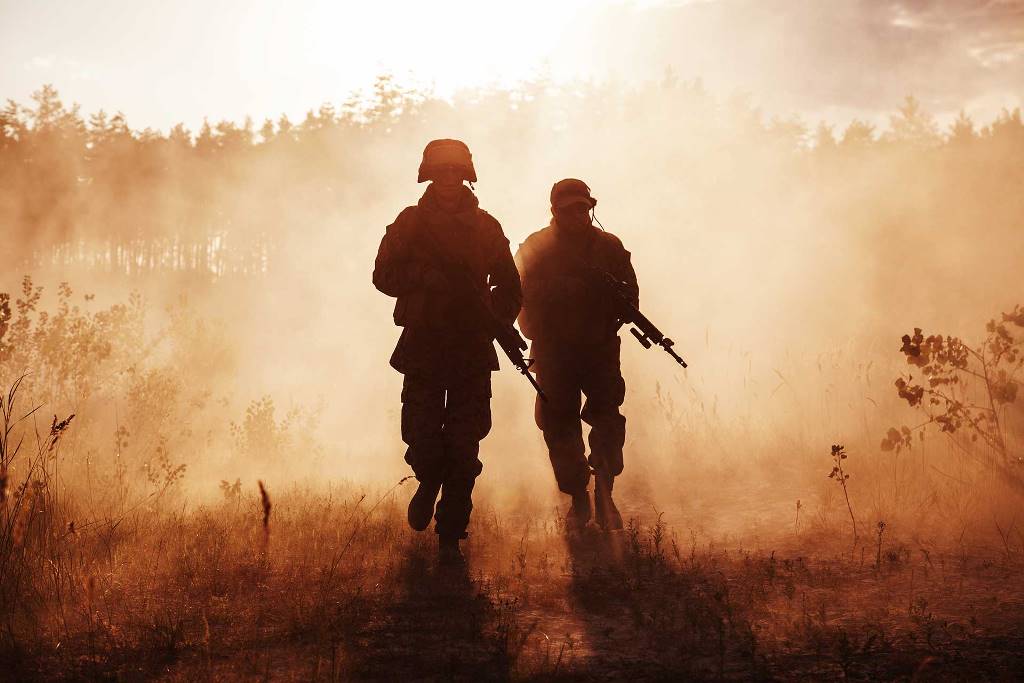 Today marks the launch of the 16th edition of the Global Peace Index from the international think-tank the Institute for Economics & Peace (IEP).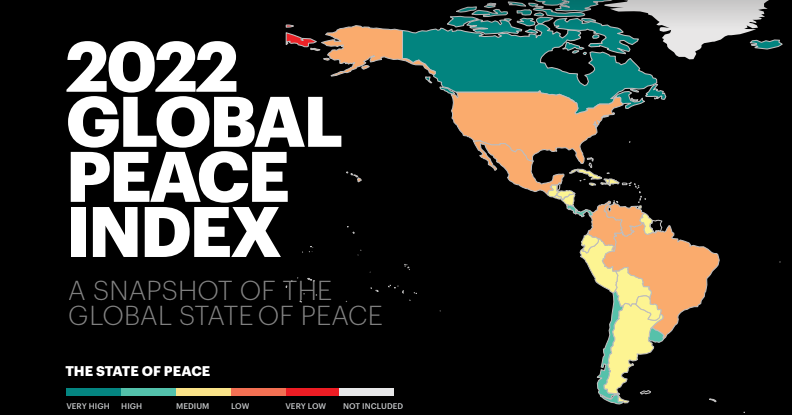 Key results
Deaths from external conflict recorded a sharp deterioration driven by the Russian invasion of Ukraine.
Despite recent commitments, militarisation has improved in 113 countries since 2008.
Terrorism continued to improve, with 70 countries recording no attacks in 2021. This is the best result since 2008.
The rise in costs has increased food insecurity and political instability globally, with Africa, South Asia and the Middle East under greatest threat.
The political terror scale, political insecurity, neighbouring country relations, refugees and IDPs reached their worst score since the inception of the GPI.
The global economic impact of violence was $16.5 trillion in 2021, equivalent to 10.9% of global GDP, or $2,117 per person.
Impact of the War in Ukraine on Peacefulness
Two of the five countries with the largest deteriorations in peacefulness were Russia and the Ukraine.  
Social media is changing the way intelligence is gathered – it is now shared instantaneously, raw and with little analysis. 
In contrast to the global trend, positive sentiment in the Ukraine was rising in 2021. Support for the West was strong, with 58% wanting to join a Western economic union, and 54% supporting joining NATO.  
The 16th edition of the annual Global Peace Index (GPI) report, the world's leading measure of peacefulness, reveals that the average level of global peacefulness deteriorated by 0.3% in 2021.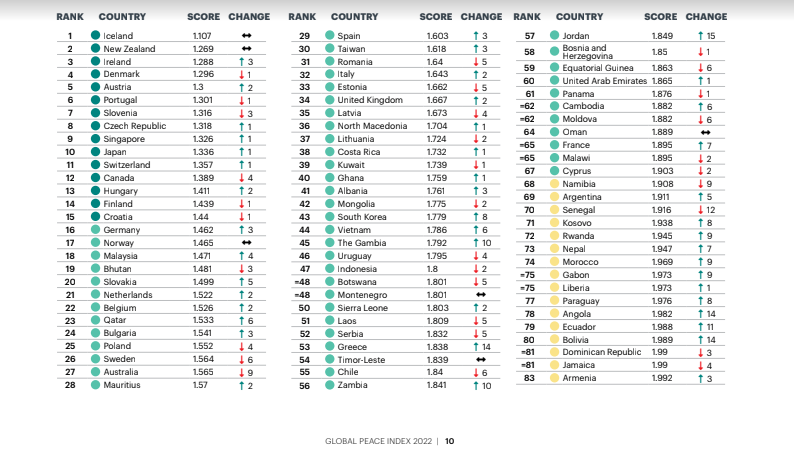 This is the eleventh deterioration in peacefulness in the last fourteen years, with 90 countries improving, and 71 deteriorating, highlighting that countries deteriorate much faster than they improve. 
Iceland remains the most peaceful country, a position it has held since 2008. It is joined at the top of the Index by New Zealand, Ireland, Denmark and Austria. For the fifth consecutive year, Afghanistan is the least peaceful country, followed by Yemen, Syria, Russia and South Sudan. Seven of the ten countries at the top of the GPI are in Europe, and Turkey is the only country in this region to be ranked outside the top half of the Index.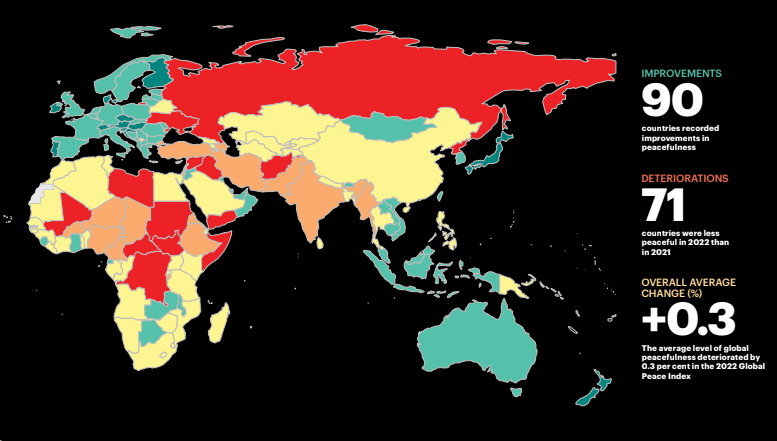 Two of the five countries with the largest deteriorations in peacefulness were Russia and the Ukraine, they were joined by Guinea, Burkina Faso and Haiti. All these deteriorations were due to ongoing conflict.
Of the 23 indicators in the GPI, the largest deteriorations were recorded in neighbouring country relations, intensity of internal conflict, refugees and IDPs, political terror scale and political instability. Twenty-eight countries have high levels of instability, and ten countries recorded the worst possible political terror score.
The global inequality in peacefulness has continued to increase. Since 2008, the 25 least peaceful countries deteriorated on average by 16%, while the 25 most peaceful countries improved by 5.1%. Since 2008, 116 countries reduced their homicide rate.
The cost of violence to the global economy was $16.5 trillion, or 10.9% of global GDP, which is the equivalent to $2,117 per person. For the ten countries most affected by violence, the average economic impact was equivalent to 34% of GDP, compared to 3.6% in the countries least affected.
There were substantial improvements for several indicators, including terrorism impact, nuclear and heavy weapons, deaths from internal conflict, military expenditure, incarceration rates and perceptions of criminality. Terrorism impact is at its lowest level since the inception of the GPI.
Steve Killelea, Founder & Executive Chairman of IEP said: "Last year we warned about the economic fallout from COVID-19. We are now experiencing supply chain shortages, rising inflation, and food insecurity that have been compounded by the tragic events in Ukraine. The political and economic consequences of this will reverberate for years to come.
"When combined with the record poor scores for neighbouring relations, political insecurity and intensity of internal conflict, governments, organisations, and leaders must harness the power of peace.
"The economic value of lost peace reached record levels in 2021. There is a need to reverse this trend, and the GPI has shown that those countries that implement the attitudes, institutions and structures that create and sustain peaceful societies, witness an improved economic outcome."
Militarisation & the Ukraine war
Military spending as a percentage of GDP decreased in 94 countries, while 112 countries have reduced armed service personnel since 2008. However, the Ukraine Russia conflict, and the potential increase in military spending by NATO countries to 2% of GDP, may lead to deteriorations in future years. Independently of this conflict, China plans to increase its spending on military by 7.1% in 2022.
Optimism about the future was on the rise with three times as many people feeling they could have the best possible future than in 2019. Surprisingly, only 20% felt the government could deal with a disaster. In contrast, the proportion of Russians feeling safer than five years' prior fell between 2019 and 2021, while nearly three times as many Russians were worried about the economy*.
Although the full impact of the Ukraine Russia war is still being felt, it has had a significant effect on the Index. Many European nations near Russia have seen scores deteriorate for relations with neighbours, including Finland, Sweden, Romania, Estonia, Latvia, Lithuania, and Moldova.
The war has underlined the importance of technology in shaping conflict; 5G mobile technology, the social media revolution, and the greater affordability of drones have changed warfare. Recent conflicts have highlighted a move away from static, curated intelligence, to real time gathering via social media. Information is fluid, content driven, and shared in a raw, uncensored format.  
Global economy and rise of violent demonstration
The COVID-19 pandemic pushed countries towards economic and political crises. Countries that had become progressively more peaceful experienced outbreaks of protests and violence aimed at governments' handling of the pandemic.
The intensity of violent demonstrations has increased by 49% since 2008, with 126 of the 163 countries in the Index deteriorating. This a global trend, affecting all regions of the world except MENA. Full democracies recorded the sharpest deterioration in violent demonstrations, however, the score for full democracies is still better than any other type of government.
South Asia was the region with the highest frequency and intensity of violent demonstrations where India, Sri Lanka, Bangladesh, and Pakistan recorded their highest levels since the inception of the GPI. In Europe, there were widespread anti-lockdown protests, especially in Belgium, France, the Netherlands, Austria, Croatia and the UK, with similar developments in North America.
Conflict and displacement
Ongoing Conflict had the largest deterioration at 9.3% of all three GPI domains since 2008. The number of countries experiencing violent internal conflict rose from 29 to 38, but the number of people killed in internal conflicts has fallen since 2017. The number of forcibly displaced people around the world increased from 31 million in 2008, to over 88 million in 2022.
There are 17 countries where at least 5% of the population are either refugees or internally displaced. South Sudan has over 35% of its population displaced, while Somalia and the Central African Republic have more than 20%.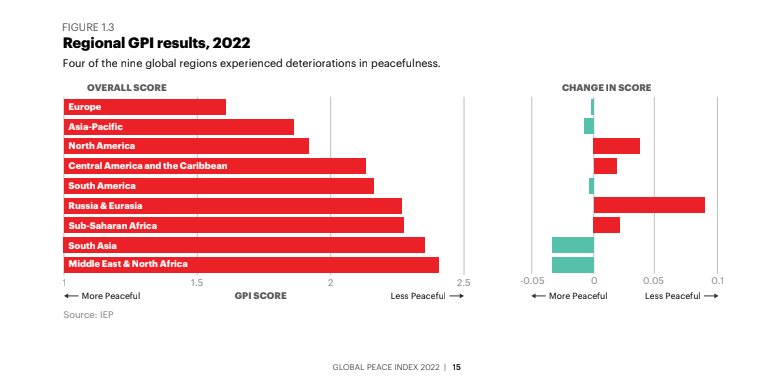 Regional overview:
Russia and Eurasia experienced the largest deterioration in peacefulness, driven by deteriorations in conflict deaths,refugees and IDPs, political instability and political terror.
South Asia remains the second least peaceful region but recorded the largest increase in peacefulness, driven by improvements in ongoing conflict.
Asia-Pacific recorded an increase in peacefulness, driven by improvements in all three GPI domains with the largest occurring in Safety and Security. In North America, The US had the lowest level of peacefulness since 2008, with civil unrest the primary driver.
Violent crime increased in Central America and the Caribbean by 4.4% in 2022 to reach the highest level since 2008. Haiti had the largest deterioration in the region.
MENA recorded the second biggest improvement globally. Yemen is the least peaceful country in the region for the second consecutive year. Libya recorded the largest improvement in peacefulness globally.
Sub-Saharan Africa recorded a 1% deterioration. South Sudan remains the least peaceful country in the region, despite an overall improvement. Although levels of internal conflict in the country remain high, the number of deaths from internal conflict improved by 15%.