You Can't Growth-hack a Product that is Not Solving Problems, says Tobi Adekunle
"Everything is tied back to strategy."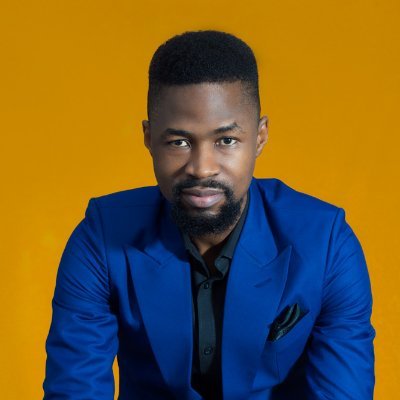 As the digital world evolves, giving rise to the increased demand for growth marketing as a result of the ever changing market and changes in consumer preferences, growth hacking has been continually leveraged as an innovative low-cost strategy to help developers make superior products, keep up with trends, identify potential investors, and understand where their products and services are most valuable.
However, not without challenges as Tobi Adekunle, Marketing Manager, Eskimi, West Africa, points out that growth marketing shouldn't only be about selling products or selling services, but rather about changing behaviour, making an impact, delivering value.
"You can't growth-hack a product that is not solving anything, or a product that is not meeting people's needs, because it is when your solution is hinged on the principle of delivering value that you can growth-hack."
"Growth marketing is about growth. And when I say growth, what I mean is revenue, new customer acquisition, and retention. But it also goes beyond growth, because growth starts from you identifying the problem you want to solve, how you want to solve it, the impact you want it to make, how you intend to make this impact, and the value you want people to get from using your products. If you leave out these key things, you'll not only fail, but you'll also end up creating a product that is not needed in the market," Adekunle shared.
The first step probably is to demystify the myth that growth hacking is only meant for startups. As much as it is an effective strategy for startups, growth hacking also matters to large corporations as it helps companies explore innovative ways to achieve their objectives and expand their customer base.
To achieve these growth-oriented goals, Adekunle advised growth marketers to take into key consideration the challenges at different levels in the growth hacking funnel in order to build a successful growth hacking strategy.
"Everything is tied back to strategy," he explained.
"As a growth marketer, you are faced with the challenges of acquiring customers, retaining customers, and driving revenue for organisations, and this is because some products are serving the same customers; everybody is struggling for the same market. Sometimes it would seem like you don't know what you are doing or you don't have the best of strategy, meanwhile it might probably just be that the market is saturated with enough products and people have options, and they don't find yours valuable. So, you can come up with all the sales promo, and all the growth hacking strategy, but if you are not addressing people's pain points, offering value, or providing solutions to problems, people will still not use you."
KADE KEYO Small Business Innovation Challenge (SBIC) winner Emerges
Five small business owners pitched their business models to the delight of the investors, writes SANDRA ANI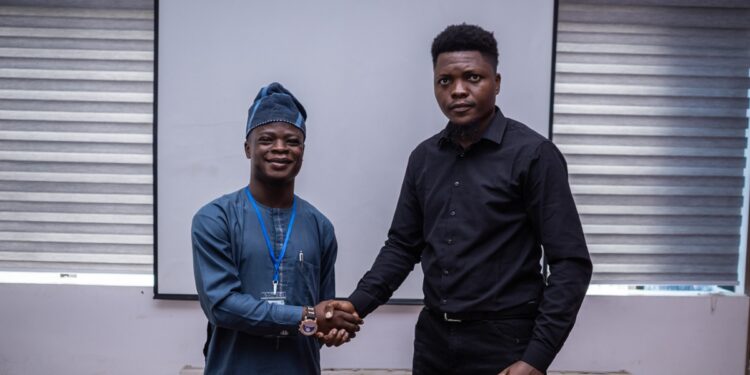 Amidu Mohammed, founder of Plastibuild Creative Solutions, has emerged the winner of the Small Business Innovation Challenge (SBIC) organized by KADE KEYO.
The winner was unveiled on Friday, August 25, 2023, at the EridanSpace events hall, Ikeja Lagos, according to Techeconomy report.
Five small business owners pitched their business models to the delight of the audience and after a thorough scrutiny, Amidu Mohammed emerged winner of the 50,000 naira cash prize.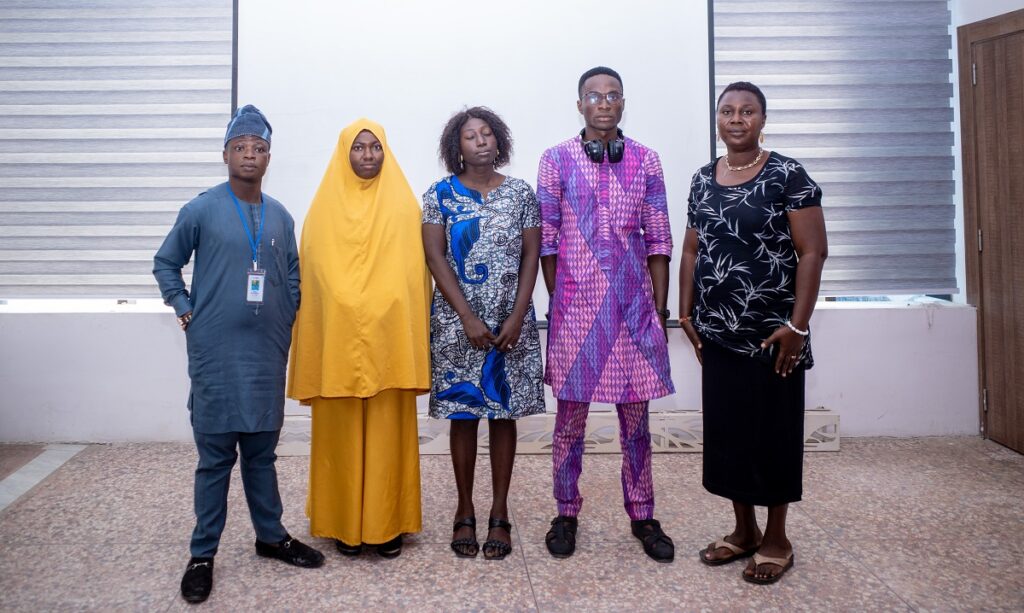 Plastibuild Creative Solutions leverages innovative upcycling processes to bridge the gap in sustainable products by delivering eco-friendly and affordable consumer products that combine quality and performance and durability at its core.
According to Amidu, "We believe that there is no waste, we rather consider every waste as a resource yet to be explored."
During the pitch presentation, he displayed foot wears made from discarded vehicle tires. As explained by him, these foot wears are made for children and market women who go around bare-footed.
Amidu added that these discarded tires are also used in making furniture for household and office use.
The other four small business owners who pitched at the SBIC are:
Ruth Sampson (Queen Gbeja Enterprise) – This enterprise makes healthy natural healthy drinks and snacks
Tola Mobuse (Lushylosh Concepts) – Tola creates customized designs
Chidinma Echenim (KIA KIA) – This web solution converts excess airtime to cash
Khadijah (Olive Field Eduservices – Khadijah helps people speak the English language with good diction and phonics
The SBIC is championed by Kade Keyo, a champion for the growth of society through Business Development at all levels, for two decades.
This is the SBIC inaugural edition of the project created to drive business development within the small and micro small business community by offering cash grants to the winning pitches, business clinics and interactive networking opportunities for business owners to foster collaboration.
Delivering the opening remarks at the pitch event, Tanho Attah, the convener, commented on why he decided to create the SBIC project.
According to him, much of the society focuses its direction on large businesses, and a lot of investment globally goes into funding large corporations.
"This is quite personal to us, so we went into the archive, trying to figure out how we can help small businesses, because in the end all large corporations rely on them for distribution, access to the market and cash flow."
Explaining further,  Tanho  said, "Why I created this was to help members of the small business community with the infrastructure and support they may be lacking, which is why one of the qualities of the SBIC is the business clinic, created to help small businesses in what they could do to improve their processes and practices to make them either be sustainable businesses or large businesses of tomorrow that understands what it means to start small and grow. That's essentially the vision for the project".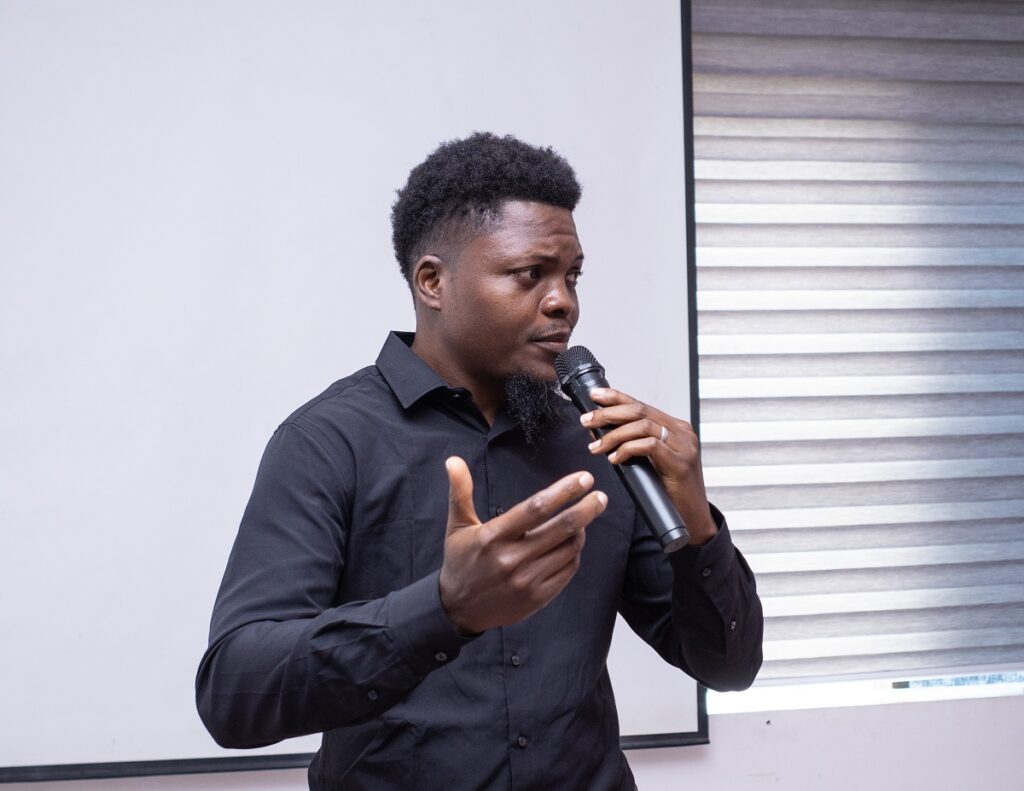 During the course of the event, he also gave a short business session, where he gave a reorientation about why business owners must drop the belief of knowing it all.
According to him, every business owner starts out with the idea of what they want to create and why they want to create it. Then with campaigns, marketing, and all necessary things for the business to survive that you need to survive as a business.
Explaining further, the most important thing a business owner needs is customers. "Your customers are your clients, the people who buy your business are your investors, the people that you said is that are the ones that will give you the credibility, to be a business"
"If you have 10 customers, every week, you have a business. If your customers come to you every week, you have a consistent business. If your customers talk to their friends and community members about your business, you have a sustainable business."
At the close of the pitch, Tanho Attah hinted that Amidu emerged the winner because he communicated his idea seamlessly and demonstrated business profitability.
SBIC 2023 edition also provided opportunity for partnerships and potential deals also discussed as the goal is also to encourage small business owners to support one another.
Speaking on his emergence as the winner of the SBIC inaugural edition, Amidu expressed his gratitude and what lies ahead.
"I am very grateful for this opportunity by SBIC and I promise that this fund will be deployed for the tools I mentioned during the pitch session. As an entrepreneur, the terrain is rough, we are always on the lookout for investment, grants, equity and pitches to help us scale further because this is never going to be enough, we will always need more money to grow our business, reach more people and create more impact", Amidu closed.
eBook: 'Tobi Adekunle Release Growth Marketing Guide for Beginners
By SANDRA ANI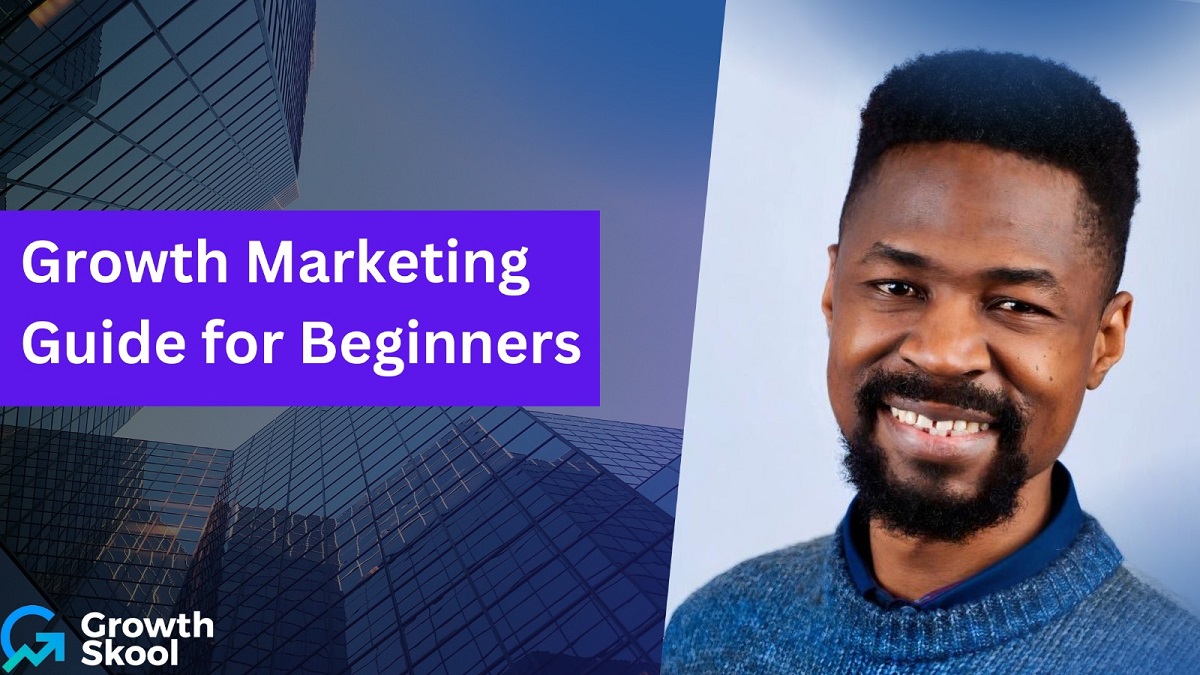 'Tobi Adekunle, who co-founded the Association of Digital Marketing Professionals (ADMARP), the foremost professional body for digital marketing practitioners in Nigeria, has released a new eBook on Growth Marketing for the Growth Skool UK.
The eBook title: Growth Marketing Series: A Comprehensive Guide for Beginners and Professionals,' serves as a beginner's Guide tailored for beginners and professionals, providing readers with a solid foundation in growth marketing principles and strategies.
Whether you're a student, a recent graduate, or a professional transitioning into marketing, this Beginner's Guide will equip you with the essential knowledge you need to kickstart your growth marketing journey.
It also offers Step-by-Step Guidance to Growth Marketing. "We understand that starting in a new field can be overwhelming. That's why our Beginner's Guide Ebook Series offers step-by-step guidance, breaking down complex concepts into easily understandable bite-sized chapters. Follow along as we walk you through the fundamentals of growth marketing", Mr Adekunle said.
According to him, "The Growth Skool UK was also started to bridge the knowledge gap in Growth Marketing especially for younger professionals in Nigeria and Africa who are trying to find their path within the marketing profession and are keen in learning beyond the traditional or 'digital' marketing."
The eBook covers a wide range of essential growth marketing topics, including growth marketing funnel, differences between growth marketing and growth hacking, similarities between growth marketing and performance marketing, and more.
"The eBook focuses on a basic aspect of growth marketing, providing you with a comprehensive understanding of growth marketing as a whole", he explained.
The guide is a valuable resource that you can refer back to whenever you need guidance.
"As you embark on your growth marketing journey, our Beginner's Guide will serve as a trusted companion, helping you navigate the ever-changing landscape of marketing with confidence," the author said.
About the author:
'Tobi Adekunle is a growth and marketing professional with a deep passion for technology.
With an impressive track record spanning over 12 years across diverse industries, including e-Commerce, Information Technology, Energy, Financial Technology, Advertising Technology, and Private Investment Property Management, Tobi has consistently delivered exceptional results.
As the co-founder of Growth Skool UK and also one of Nigeria's largest digital communities, Tobi is highly regarded as a mentor and trainer within the digital and marketing ecosystem.
He actively contributes to the professional development of individuals in the field, serving as a marketing tutor for the Chartered Institute of Marketing UK Professional Certification and Diploma, where he teaches Digital Marketing Techniques and Digital Strategy modules. Additionally, Tobi facilitates various course modules for the Digital Marketing Institute (DMI) Ireland.
His commitment to continuous learning and professional growth is evident through his academic achievements. He holds a Post-Graduate Diploma in Professional Marketing from the esteemed Chartered Institute of Marketing UK and an MBA from the renowned Business School Netherlands, which has equipped him with a comprehensive understanding of strategic business management.
He has further enhanced his expertise in the field through a Certificate in Strategic Marketing from Lagos Business School. Tobi is an active member of the PMAlliance global community and serves as an ambassador for the Association of International Product Marketing and Management (AIPMM) USA.
Motivated by his belief in the power of technology to drive business growth, Tobi is dedicated to pushing boundaries, fostering collaboration, and empowering marketing professionals and entrepreneurs to thrive in today's ever-evolving business landscape.
To access the growth marketing eBook, visit: https://selar.co/5953p6


Over 68% Manufacturing Companies Hit by Ransomware Had Their Data Encrypted, Sophos Survey Finds
Sophos State of Ransomware in Manufacturing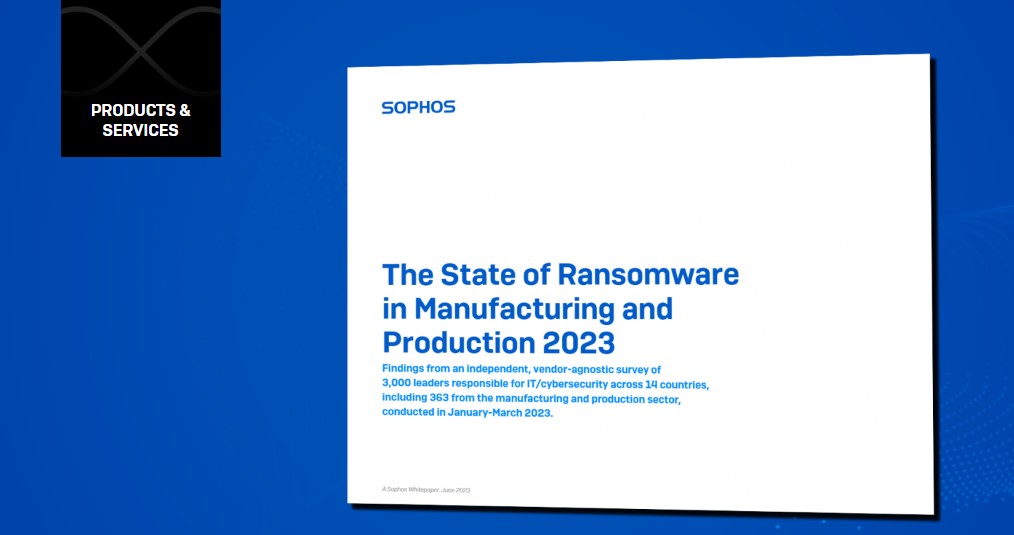 …This Is the Highest Rate of Encryption in Three Years  
Sophos, a global leader in innovating and delivering cybersecurity as a service, has announced a new sectoral survey report, "The State of Ransomware in Manufacturing and Production 2023," which found that in more than two-thirds (68%) of ransomware attacks against this sector, the adversaries successfully encrypted data.
This is the highest reported encryption rate for the sector over the past three years and is in line with a broader cross-sector trend of attackers more frequently succeeding in encrypting data.
However, in contrast to other sectors, the percentage of manufacturing organizations that used backups to recover data has increased, with 73% of the manufacturing organizations surveyed using backups this year versus 58% in the previous year. Despite this increase, the sector still has one of the lowest data recovery rates.
"Using backups as a primary recovery mechanism is encouraging, since the use of backups promotes a faster recovery. While ransom payments cannot always be avoided, we know from our survey response data that paying a ransom doubles the costs of recovery," said John Shier, field CTO, Sophos. "With 77% of manufacturing organizations reporting lost revenue after a ransomware attack, this added cost burden should be avoided, and priority placed on earlier detection and response."
In addition, despite the growing use of backups, manufacturing and production reported longer recovery times this year. In 2022, 67% of manufacturing organizations recovered within a week, while 33% recovered in more than week. This past year, only 55% of manufacturing organizations surveyed recovered within a week.
"Longer recovery times in manufacturing are a concerning development. As we've seen in Sophos' Active Adversary reports, based on incident response cases, the manufacturing sector is consistently at the top of organizations needing assistance recovering from attacks. This extended recovery is negatively impacting IT teams, where 69% report that addressing security incidents is consuming too much time and 66% are unable to work on other projects."
Sophos provides a look at a large-scale ransomware attack against a manufacturing company in its newly released three-part "Think You Know Ransomware?" documentary series. In episode 2, Sophos interviews the chief information security officer of Norsk Hydro, a major aluminum production company, to learn about the aftermath and investigation of the attack against the company.
Sophos experts recommend the following best practices for organizations in manufacturing and across all other sectors:
Strengthen defensive shields with:

Security tools that defend against the most common attack vectors, including endpoint protection with strong anti-exploit capabilities to prevent exploitation of vulnerabilities, and Zero Trust Network Access (ZTNA) to thwart the abuse of compromised credentials

Adaptive technologies that respond automatically to attacks, disrupting adversaries and buying defenders time to respond

Optimize attack preparation, including making regular backups, practicing recovering data from backups and maintaining an up-to-date incident response plan
Maintain good security hygiene, including timely patching and regularly reviewing security tool configurations
To learn more about the State of Ransomware in Manufacturing and Production, download the full report from Sophos.com.
The State of Ransomware 2023 survey polled 3,000 IT/cybersecurity leaders in organizations with between 100 and 5,000 employees, including 363 organizations in manufacturing and production, across 14 countries in the Americas, EMEA and Asia Pacific.