Kelvin Strengthens Executive Leadership Team to Serve Its Customers Better
The expanded executive leadership team will enable Kelvin to better address the needs of its customers, positioning the company for rapid growth in the coming years.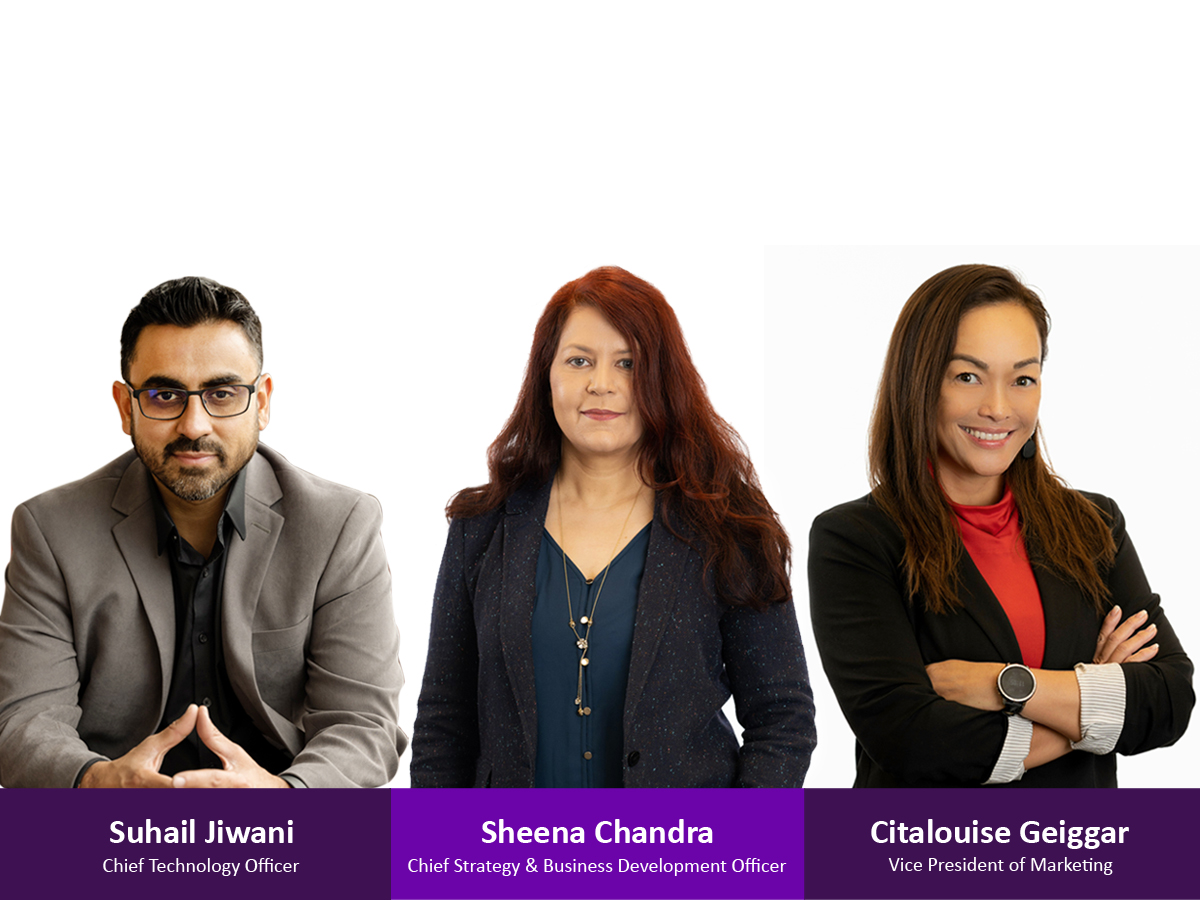 Kelvin, the leading collaborative control software company delivering industrial intelligence, has bolstered its executive leadership team with strategic hires and internal promotion.
The company is delighted to announce that Suhail Jiwani has been promoted to Chief Technology Officer; Sheena Chandra has been appointed Chief Strategy and Business Development Officer; and Citalouise Geiggar has been appointed Vice President of Marketing.
The strategic appointments represent a key element of Kevin's strategy to capitalize on the momentum to serve and broaden its customer base.
The senior appointments aim to advance Kelvin's position in the market and enable it to continue partnering with global enterprises to solve unique industrial customer challenges by allowing companies to connect, create, and scale control applications across their operations, with market-leading solutions including Kelvin Carbon Maps and Kelvin Copilots.
"The right talent is vital to Kelvin's success, so it gives me great pleasure to welcome Suhail, Sheena, and Citalouise to Kelvin's executive leadership team. With their years of extensive experience and vast achievements in prior roles, they are well-proven appointments that give us the ability to build further on the impressive momentum we've built with Kelvin over the last few years. Together, the expansion of our team boasts diverse and strong expertise that will thrust Kelvin into the next phase of its global growth," said Peter Harding, Founder & CEO of Kelvin.
"We look forward to working with global enterprises and delivering industrial intelligence via our market-leading collaborative control solutions. Our solutions have proven themselves across energy and manufacturing sectors, empowering businesses to achieve their net-zero goals, find and fix issues across their entire production process, with automation and closed-loop control."
In his new role, Suhail serves as the executive technology leader for Kelvin's engineering and product division. With deep industry and technology expertise, and over 16 years of experience, Suhail is driving the acceleration of technological innovation in Kelvin's next growth stage to best serve our customers needs. He oversees all product and solutions development requirements phases, including system design, implementation, and continuing engineering. Suhail's vision is to deliver innovative, first-class technology that helps industrial organizations reach their net zero goals. Before joining Kelvin, he was Chief Product Officer at Honeywell, managing their software portfolio for Connected Industrials. With a BTech in Electronics Engineering and specialization in Machine Learning from Stanford University, Suhail is a subject matter expert and a leader in their digital transformation journey.
Sheena joins Kelvin from AWS to take the executive role of Chief Strategy & Business Development Officer. She has over 20 years of experience developing strategic partnerships, business development, and go-to-market motion from her background with Microsoft, AWS, and Databricks. Sheena will be responsible for driving the company's growth globally including leading strategic planning and initiatives, expanding Kelvin's footprint in the market, and building key partnerships. She holds a BS in Microbiology and Chemistry and an MBA.
With over 18 years of experience, Citalouise is the executive marketing leader responsible for overseeing Kelvin's global marketing strategy, which includes strengthening the company's market position, and leading the company's brand and integrated communication functions including internal and external communications. Prior to her role at Kelvin, she was Head of Global Alliances Marketing at AVEVA, leading strategic partners and exponential growth. Citalouise holds an MBA and a B.A. in Business Communications.
"Across all industries, organizations are accelerating their progress on their pathways to achieving sustainability goals. Leaders in the Energy, Manufacturing, and Oil & Gas industries seeking to hit net zero will benefit from solution providers that take the initiative to ensure they meet growing needs to serve new and existing clients effectively while also addressing new challenges. Kelvin is signaling industry growth by expanding its leadership team to enable its organization to optimally serve customers during this period of rapid growth," said Peter Manos, ARC Analyst.
"At Kelvin, we take great pride in our selection process to ensure there's a perfect fit. Our recruitment process is intensive, but we're confident in our choices and look forward to seeing them thrive in their respective roles. I personally look forward to working with each of them as we embark on Kelvin's next phase of global growth," said Miguel Madeira, Global Head of People Operations.
ChatGPT's Impacts will be Social, not Technical
By Chester Wisniewski, field CTO applied research Sophos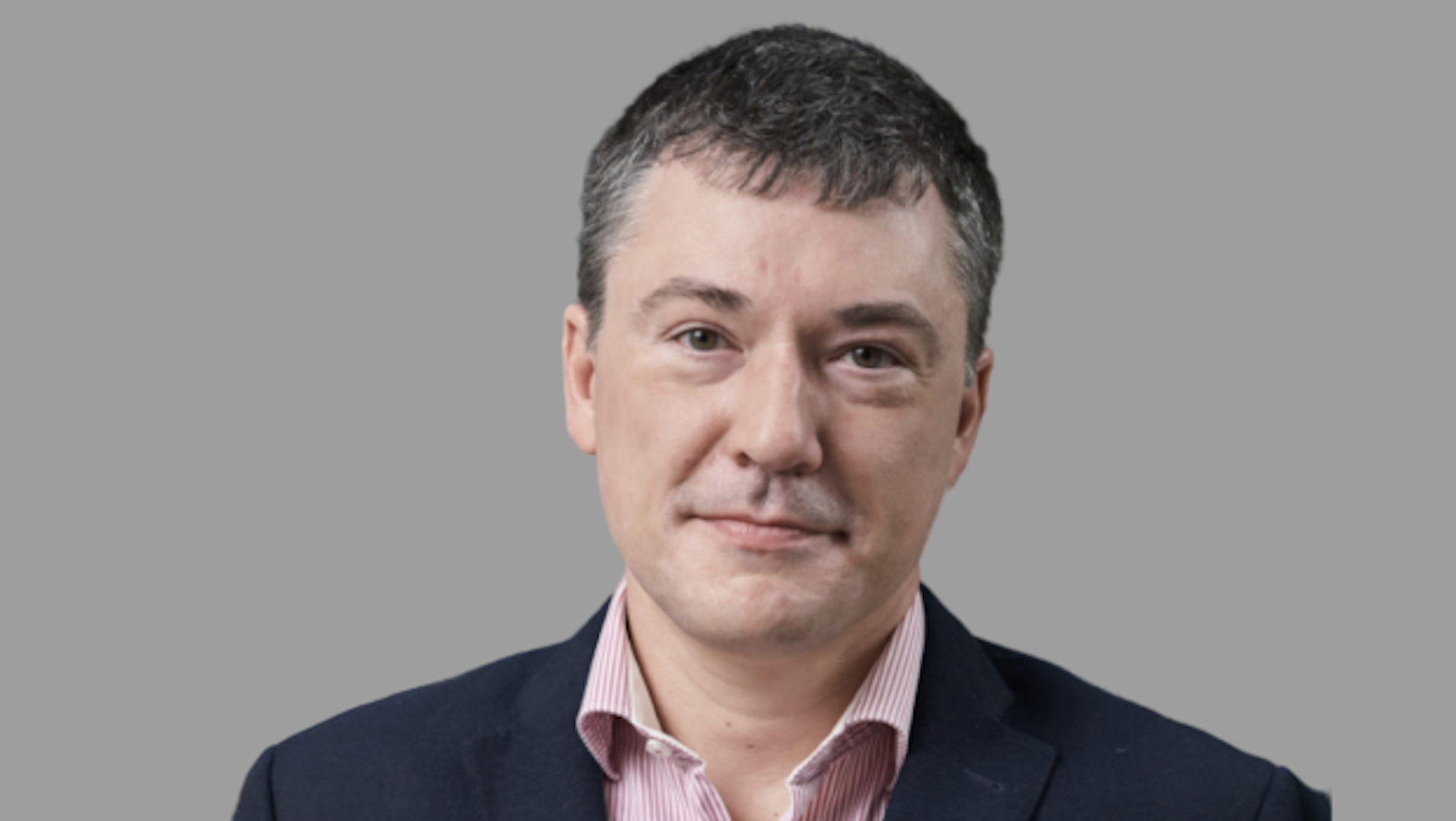 The technology world was on fire about the latest artificial intelligence demonstration by OpenAI in the waning months of 2022, ChatGPT.
It is truly a remarkable achievement, an artificial intelligence (AI) that you can have a conversation with and ask it to do everything from write essays to code computer programs.
As a computer security expert I immediately did what comes natural to people like me, I tried to hack it. Could I get it to do something bad, something malicious? Could this be abused by criminals or spies to enable new types of cybercrime?
The answer of course, like most tools, is yes. Someone with ill intent can abuse these miraculous scientific achievements into doing things that could likely cause harm. The surprising part however is that the danger lies in the social arena, not the technical one.
While ChatGPT can be tricked into writing malicious computer code, that isn't really all that scary. Computer code can be analyzed by computer security products in milliseconds and deemed to be malicious or safe with a high degree of certainty.
Technology can always counteract technology. The problems surface when what we are trying to detect isn't computer code, but rather words and meaning that will be interpreted by humans, not machines.
There are two factors that make this dangerous. The first is that up until now it was not practical to have a computer create tempting lures for victims to be tricked into interacting with. The technology is now not only available, but so easily accessible as to be cheap or even free. The second is that the primary way users keep themselves safe today is by noticing mistakes made by attackers in their grammar and spelling to detect that an email or communication may be from an intruder.
If we take away the last remaining sign that a malicious email or chat message was crafted carelessly by someone without a strong command of the language, how will we defend ourselves?
Here is an example of an existing spam lure. It is relatively unsophisticated and has few words of explanation. I asked ChatGPT to write a more informative letter of the same type and you can see its output in the second example.

Now I didn't format this to add an appropriate mail services logo or make the button as pretty in my example, but it is trivial to add these small improvements compared with mastering the English language. In fact, you could ask ChatGPT to generate the HTML code necessary to do so without any knowledge of email formatting or programming skills whatsoever.
In my eyes, this signals the end of most computer users' ability to discern real mail from fake. Today these tools only work well for English language text, but that is a simple training issue. The ability to write fluently in any language in the world (including computer programming languages) is now here. We must rethink our approaches to user education and implement technical measures to prevent these messages from ever making it into their inboxes.
The good news here is that computers are quite good at detecting and potentially blocking most of this content. Ultimately a spam campaign always has some sort of call to action, they may want you to phone them, reply, click a link or open an attachment. These are impossible to remove and can aid in detection. We can also train AI models to detect when text has been generated by ChatGPT and add a warning banner or perhaps block the message.
The problematic situations are when we fail to block them and they end up in someone's inbox. It's a reasonably small percentage, but it is not zero and therefore we must prepare a defence. Having defensive layers is essential and with humans having reduced ability to spot a scam it is even more important that users are connecting through firewalls and web protection that can detect and block threats.
User training will need to shift away from the "watch for spelling mistakes" type of messaging and more into risk-based approaches to verification of whom you're talking to. Being asked to do something financial, with a password, or with sensitive data? Pick up the phone and confirm before proceeding.
As machine intelligence continues to advance, the work of separating fact from fiction will continue to get more and more difficult. We will need to be sure we build systems that are flexible enough to combat these messages, but also educate our staff on their need to take additional steps when receiving sensitive requests over email.
Lagos Hosts Gathering of Nigeria's Top 50 Digital Economy Enablers 2023
By Sandra Ani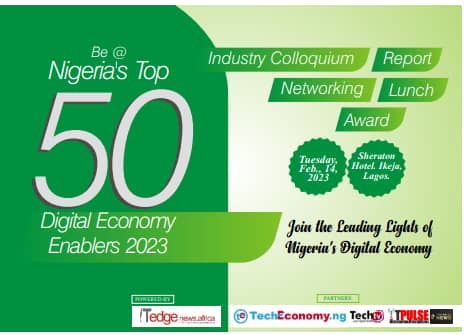 Lagos, Nigeria's commercial capital, is hosting the opening edition of Nigeria's Top 50 Digital Economy Enablers February 14, 2023 at the prestigious Sheraton Hotel & Towers. Nigeria's Digital Economy is evolving positively in spite of a diversity of challenges for organisations in the public and private sectors.
Inspired by the need to express both the challenges and the iconic actors that have emerged to drive Africa's fastest growing digital economy, the continent's major tech-biz publication, published since 2007, IT Edge News.Africa (www.itedgenews.africa) and its Partners will be focusing on Nigeria's Leading Lights referencing Nigeria's Top 50 Digital Economy Enablers at an Industry Colloquium &Award Ceremony this February just before as the country goes to the poll to elect new political leaders. The One Day Industry event is featuring a Nigeria's Top 50 Digital Economy Enablers Recognition Ceremony; an Industry Networking Lunch; Nigeria Digital Economy Special Report; and the forum on 'Nigeria's Digital Economy – Myth or Fact?'
According to the Project Team Lead, Dr. Sola Afolabi, The event is "a platform for industry Recognition, Industry Stock-Taking & Industry Insights with a view to provide a guide as to what direction Nigeria's entire spectrum of ICT ecosystem will take as the transition for a new government begins."
He adds: "This event is driven by collaboration of stakeholders within and outside the media to ensure a wide,and more inclusive selection of the sector's leading lights as well as to offer a broader understanding of the challenges and the inspirations that drive Africa's largest ICT market. Event partners include TechEconomy; ITPulse; TechandBiz.com; and TechTV (NTA).
Also, while the event is focusing on the leading lights within the rank of CEOs/Director Generals across corporate Nigeria, the Nigeria's Top 50 Digital Economy Enablers team recognises the great efforts by certain members of management in helping to drive the agenda of their organisations' at advancing Nigeria's digital economy agenda.
The event, therefore, will be specially recognizing the commitment of certain individuals in being not just their organizations' voices but also articulate purveyors of themes of progress around Nigeria's Digital Economy.
Digital Encode Cofounders Awarded BusinessDay Lifetime Achievement Award
Harvest of awards for Digital Encode at BusinessDay Leadership Award 2022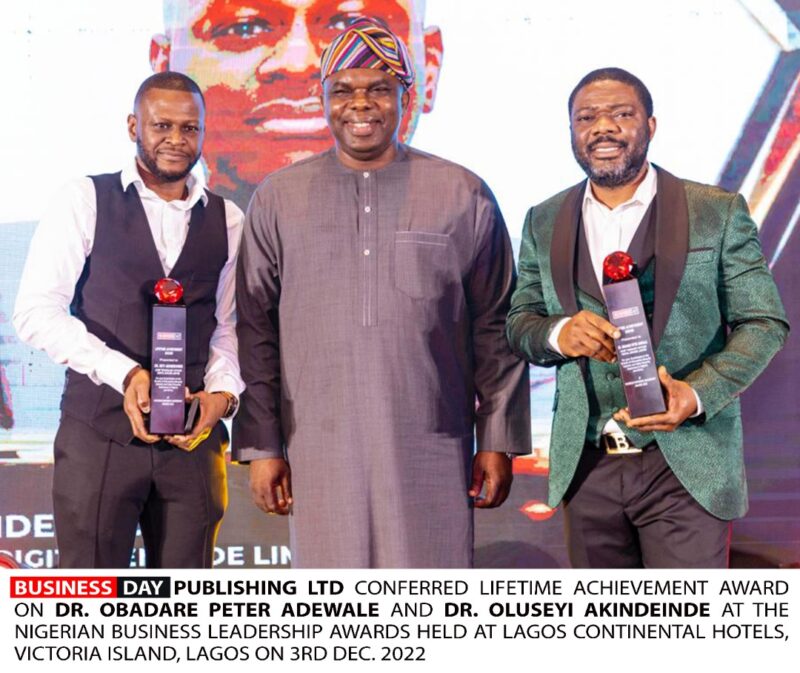 Digital Encode Limited's Co-founders – Dr. Adewale Peter Obadare and Dr. Oluseyi Akindeinde – have been honoured with Lifetime Achievement Award by BusinessDay Newspapers. 
At the Nigerian Business Leadership Awards, organized by BusinessDay Newspaper held in Lagos on December 03, 2022, the co-founders, with many laurels in the bag, received industry-wide accolades for their outstanding contribution to the growth of information security industry and Cybersecurity Awareness in Nigeria and Africa in general.
The company, Digital Encode Limited, was also awarded the Cybersecurity and Compliance Management Company of the Year.
Since its launch over 19 years ago, Digital Encode has been helping companies to save money and solve their technology problems.
To this end, the company has been recognized in the industry for its vendor independent perspective and expertise that lies in solving multifaceted, complex enterprise network security and audit problems.
Today, Digital Encode is notable for its effective and successful methodology for achieving compliance to ISO 27001 (IMS); ISO 20000 (ITIL), ISO 22301 (BCM), ISO 9001 (QMS) and several other international compliance standards such as COBIT and PCI DSS compliance.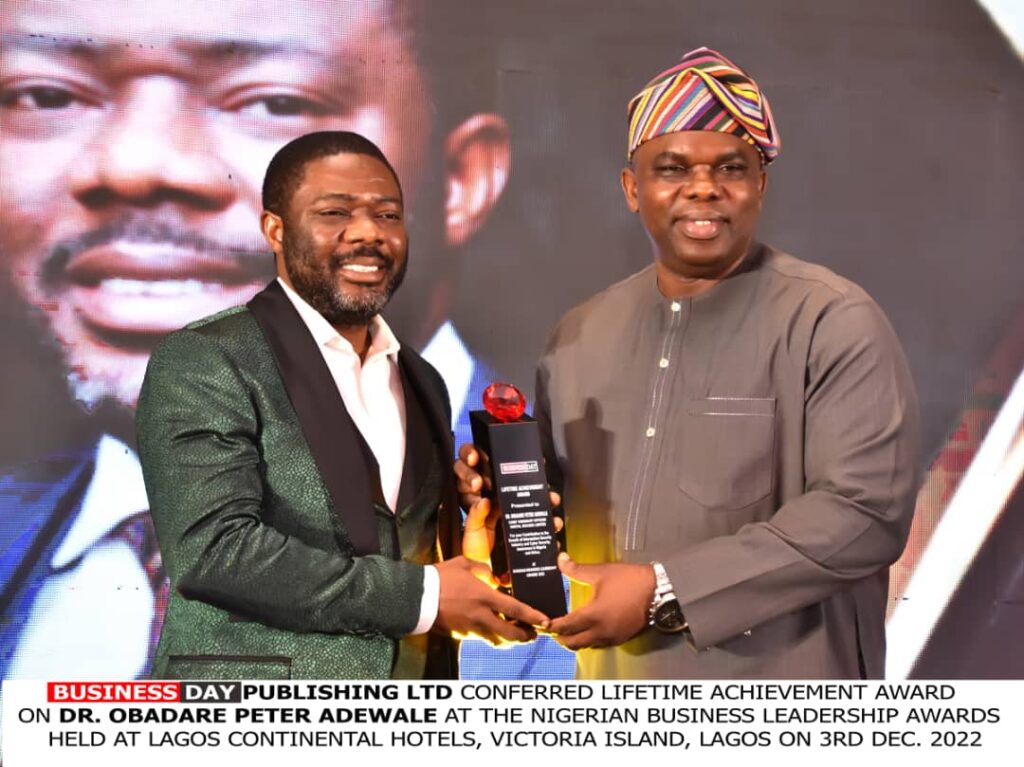 On their joint Lifetime Achievement Award, Dr. Obadare Peter Adewale is arguably the most "Credentialed" and Multi-Award winning Pan- African Cybersecurity & GRC Thought Leader, He is a Fellow British Computer Society (FBCS), Fellow Institute of Management Consultants (FIMC), Fellow Institute of Information Management (FIIM), Fellow Enterprise Security Risk Management (FESRM), Fellow Institute of Brand Management (FIBM), Chartered Information Technology Professional (CITP), The First PECB Certified Data Protection Officer (CDPO) in Nigeria, The First Ec-Council Licensed Penetration Tester (LPT) in Africa, First Ec-Council Certified Blockchain in Africa, and Second COBIT 5 Certified Assessor in Africa Payment Card Industry Data Security Standard Qualified Security Assessor (PCI DSS QSA).
He is a seasoned cybersecurity Expert and GRC Technopreneur with over 50 (Fifty) international professional certifications to his credit and was awarded Honorary Doctorate Degree in Cybersecurity from Trinity International University of Ambassadors Atlanta Georgia, United State of America.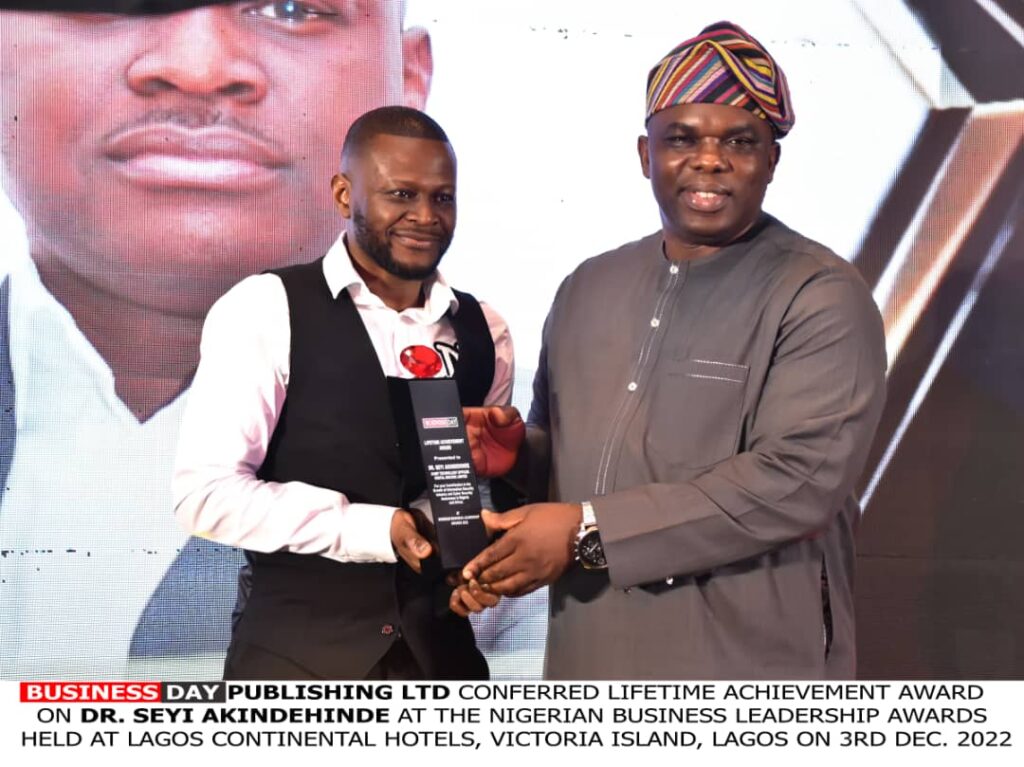 Also, Dr. Oluseyi Akindeinde has 20 years working experience in the IT and Information Security arena, but has spent the better part of the last few years exploring the security issues faced by Electronic Fund Transfer (EFT) and the Financial Transaction Systems (FTS).
He has mostly presented the outcome of his research works at several conferences; including the Information Security Society of Africa Nigeria (ISSAN), the E-Payment Forum, the Electronic Payment Providers Association, the Forum of the Committee of Chief Inspectors of Banks in Nigeria (CCIBN), Chartered Institute of Bankers of Nigeria (CIBN), the apex bank – Central Bank of Nigeria (CBN), as well as the senior management of 17 top financial institutions in Nigeria.
The organisers described Digital Encode as a 'fruitful seed' that has distinguished itself in the African cybersecurity space.
BusinessDay Newspaper management said that the awards are testaments to Dr. Obadare and Dr. Akindeinde's critical role in the Continent's cybersecurity space.
The organisers said that the co-founders are well-recognized subject matter experts with numerous successful engagements to their credit in Africa.