Gerard Allison Joins Sophos as Senior Vice President of Sales for EMEA
Allison joins Sophos from Exclusive Networks. He also previously worked at Gigamon and Juniper Networks.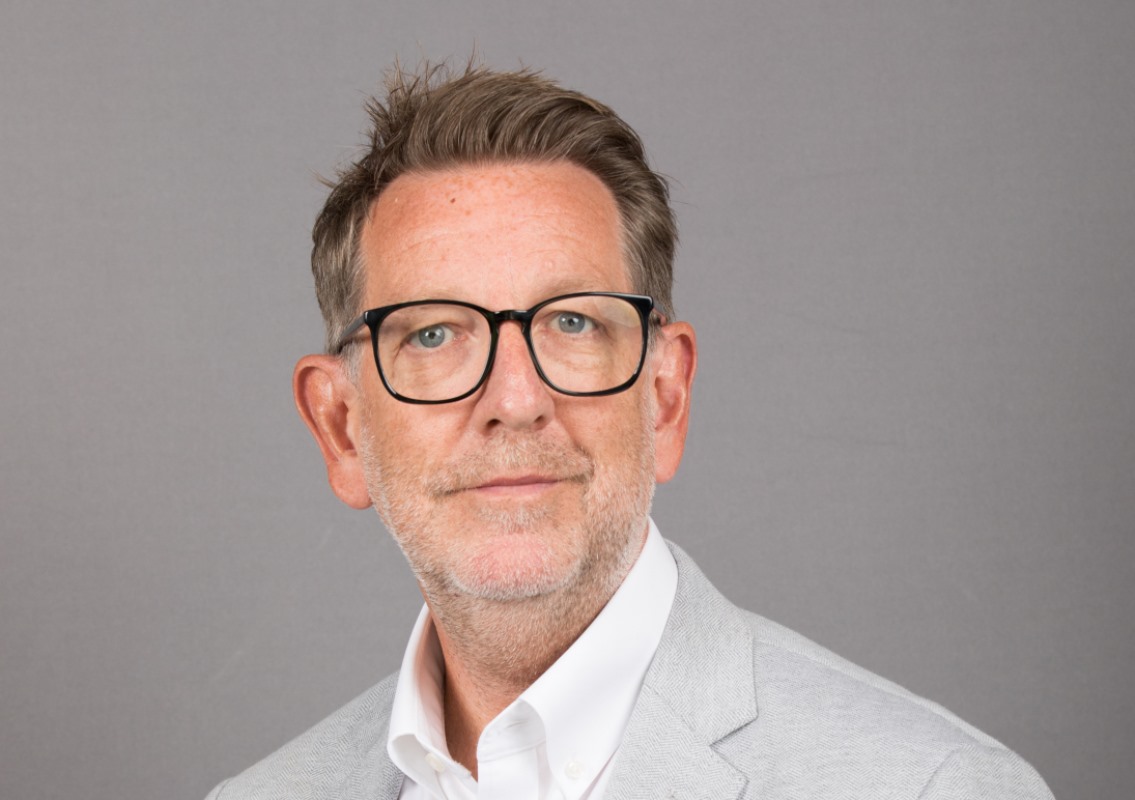 Sophos, a global leader in innovating and delivering cybersecurity as a service, has announced the appointment of Gerard Allison as its Senior Vice President of Sales for Europe, Middle East and Africa (EMEA).
"We are very excited Gerard joined Sophos to lead and help accelerate our growth efforts in EMEA, one of the largest regions for the company. Gerard has a deep understanding of the distribution and reseller channel, as well as extensive knowledge of successfully establishing new routes to market. With this impressive track record, Gerard will be a valuable and important Sophos sales leader overseeing EMEA, particularly as we head into 2023 with our new Sophos Managed Detection and Response service," said Michael Valentine, chief revenue officer at Sophos. "The need for modern cybersecurity solutions, including MDR services from a team of experts trained to spot intrusions 'hiding in plain sight' along the attack chain, has become imperative, as indicated in the Sophos 2023 Threat Report. Sophos' line up of products, services and threat intelligence capabilities, coupled with Gerard's career expertise in cybersecurity and technology, will ensure our EMEA partners provide customers and prospects with the most advanced security solutions available."
"Sophos is an industry leader, pioneering the way with a new type of MDR service that every organization can benefit from, so I am thrilled to be joining Sophos at this time and leading the company's impressive sales team in EMEA," said Allison. "I am also looking forward to working closely with our extensive partner network in the region to develop new revenue streams and ensure customers have the proper security needed to defend against today's persistent attackers."
Allison has more than 30 years of industry experience and is known for his entrepreneurial style and vision, increasing revenue, developing sales programs, training and enablement, building customer and partner engagement, and much more.
Allison joins Sophos from Exclusive Networks. He also previously worked at Gigamon and Juniper Networks.
He is based in Essex, U.K.
Transformation Agenda: Governor Soludo Launches E-ID Card for Civil Servants
SANDRA ANI reporting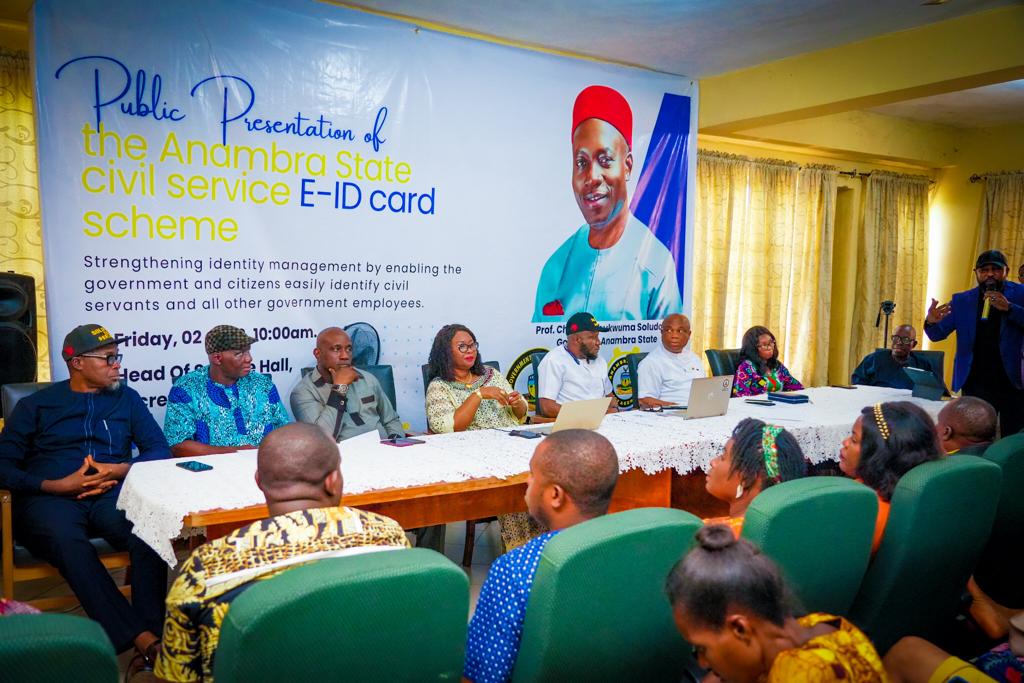 Professor Charles Soludo, the Governor of Anambra State, has launched the 'Solution Electronic Identification Card' for civil servants and other government employees of the state.
The function which took place at the Head of Service (HOS), Conference Hall, Awka featured a demo-presentation of the State E-ID card which is christened, 'Solution E-ID card'.
The HOS, Barr. Theodora Igwegbe, who declared the event open stressed on the reason for the implementation of the initiative saying that it has become necessary for efficient and transparent governance.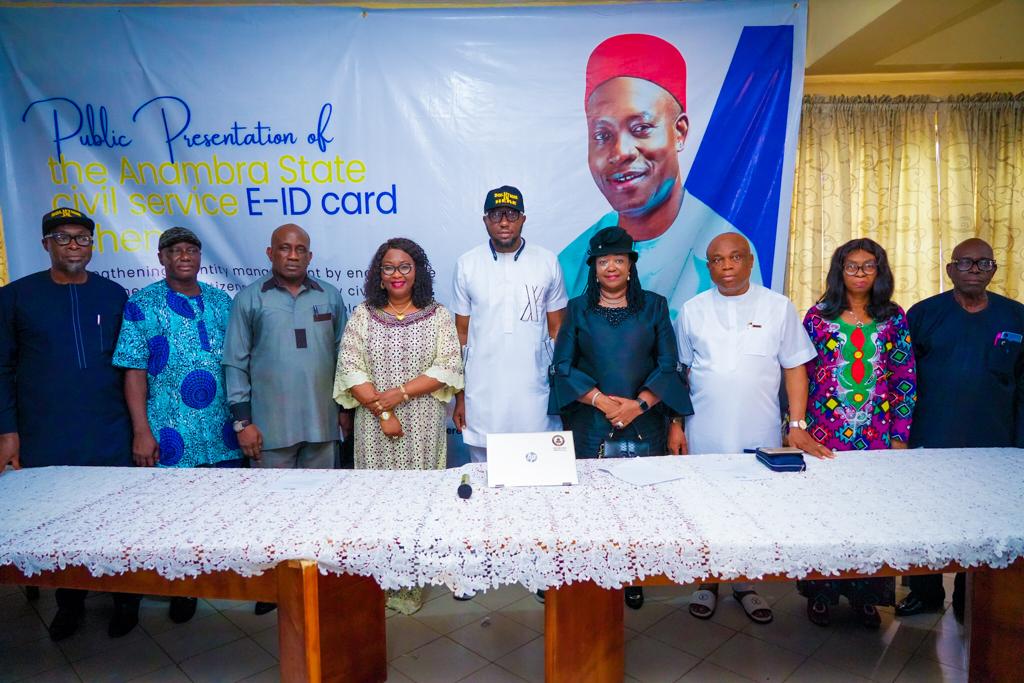 According to her, an essential aspect of the transformation is the adoption of the E-Identification scheme, which provides secure and reliable verification of individuals' identities with improved efficiency devoid of bureaucratic processes.
"Traditional identification methods reliance on physical documents and manual verification are time-consuming and prone to errors.
"By adopting an E-Identification scheme, Anambra State Civil Servants can streamline their interactions with various government agencies, eliminating repetitive paperwork bureaucratic delays".
Civil servants can now focus on their core responsibilities, ultimately enhancing productivity across board; the implementation of an E-Identification scheme significantly strengthens the security measures surrounding civil service operations.
"This will enable the tracking and monitoring of activities performed by civil servants, and it will considerably enhance service delivery for the Civil service.''
She added that challenges with data security, infrastructure readiness, and digital literacy would be adequately addressed in due time as the state is in the process of rolling out programmes on cyber security measures.
"This will also make provision for appropriate infrastructure such as optic fiber internet connectivity, public Wi-Fi beginning with the secretariat complex, and capacity-building programmes to enhance digital literacy among civil servants."
Mr. Chukwuemeka Fred Agbata (CFA), the Managing Director/Chief Executive Officer, MD/CEO, Anambra ICT Agency, in his remarks, described the 'Solution E-ID card' as a robust and limitless system.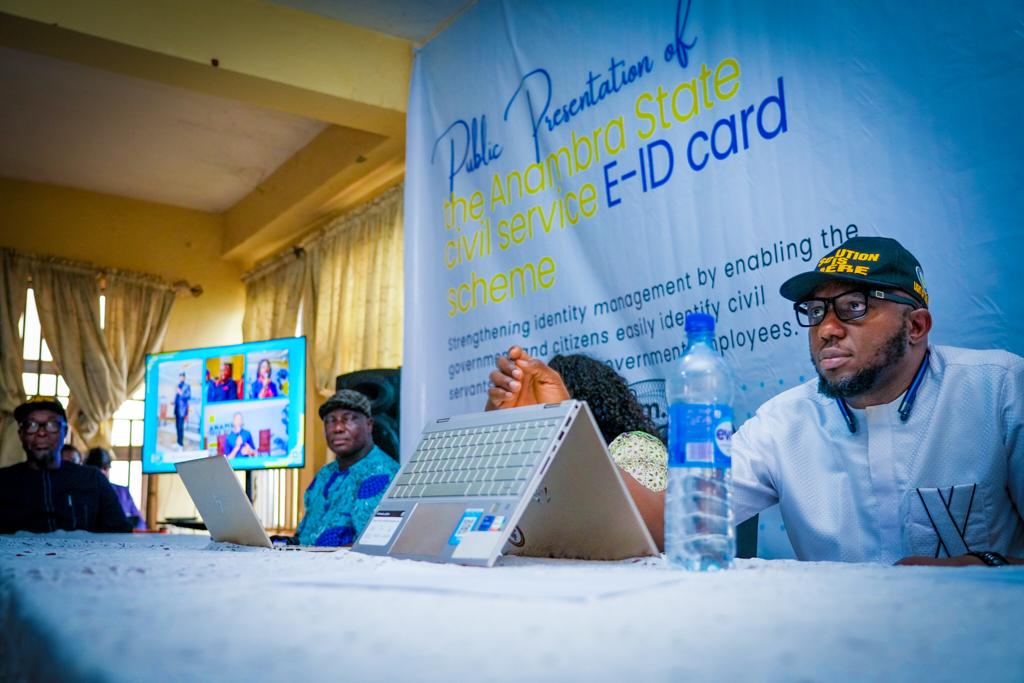 He applauded the ingenuity of some final year students of the Nnamdi Azikiwe University, Awka, who as a result of their internship with the ICT Agency are according to him, integral to the development of the 'Solution E-ID Cards'.
"The entire feat was achieved from the Agency's strong determination to give Mr. Governor 100 percent support in actualizing his vision of 'Everything Technology and Technology Everywhere.''
'CFA' as he is popularly called said, "the 'Solution E-ID card' was made possible through collaboration between the State Government and Academia riding on the Agency's Solution Internship Programme that was launched earlier in the year.
This is a proof of the state government's willingness to work with anyone genuinely interested in contributing to the transformation of Anambra State through technology.
Mr. Agbata appreciated the efforts of Mr. Governor to promote access to technology in all areas of the public sector, adding that the overall positive impact that this initiative will have on Ndi Anambra in general is limitless.
"The era of fake government employees is gone for good; for the
first time in the history of Anambra state, civil servants and all other Government Employees can now easily identify themselves on the go while government and citizens can equally identify them with ease.
"Salient features of the 'Solution E-ID Card' include, but are not limited to QR-Code for verification, Implementation of Access Levels, and query feedback mechanism for data and privacy protection.''
He added that the soon to be established State Public Wi-Fi would enhance access to the internet, "civil servants will no longer have to depend on their personal data to carry out official duties or lose productive work hours seeking internet access in public cyber cafes''.
The Commissioner for Industry, Mr. Christian Udechukwu, described the initiative as cutting edge. "One that will provide lots of possibilities on the go via mobile phones.
"This is a game changer for identity management in the state, one that sets the Anambra workforce ahead of their counterparts in other states in Nigeria while setting them at par with their global counterparts''.
He thanked Gov. Soludo for keeping up with the digital transformation pace and consistently driving positive technological change for Ndi Anambra through the state ICT Agency.
He added that with the 'Solution E-ID card', impersonation would be eliminated and service delivery would become seamless.
The event also played host to the Commissioner for Culture, Entertainment and Tourism, Mr. Don Onyenji, some Permanent Secretaries, and some high-ranking management personnel of Ministries, Departments and Agencies, MDAs, as well as the state Civil Servants.
Gov. Soludo to Launch Anambra ICT Agency's eID Card for Civil Servants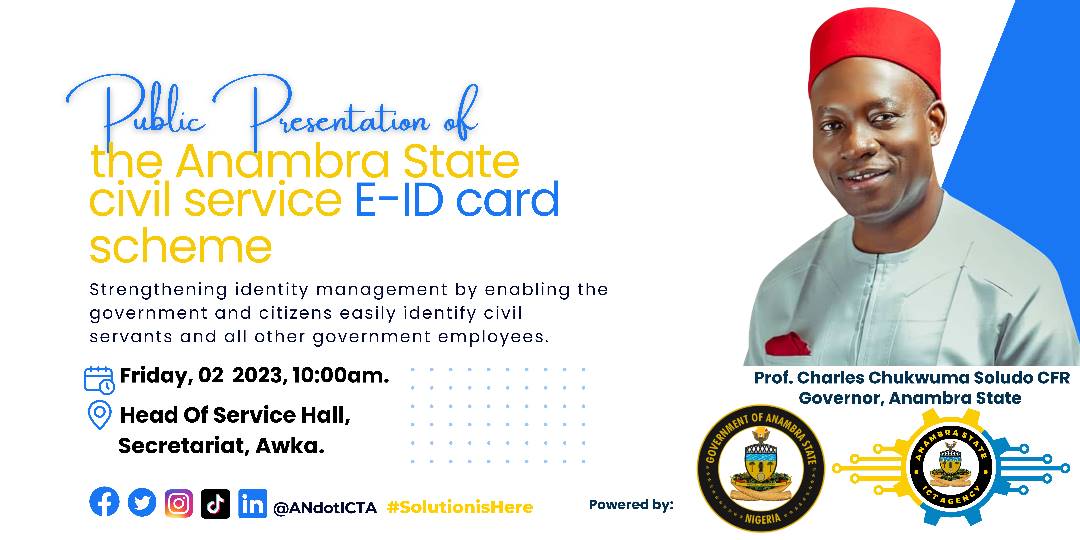 All is now set for the public presentation of electronic identity card for Anambra State Civil Servants and other government employees.
Anambra State Government under the leadership of Professor Charles Soludo through the State's ICT Agency developed the eID Card for civil servants and all other government employees.
In a statement signed by the MD/CEO Anambra State ICT Agency, Mr Chukwuemeka Fred Agbata (CFA), the E-ID card aims to strengthen identity management in the state by enabling government and citizens alike to easily identify government employees.
"This historic event is testament to the visionary leadership of Governor Charles Soludo and his determination to digitize the state and its work force in accordance with his mantra of 'Everything Technology and Technology everywhere', CFA said.
The Anambra State ICT Agency MD/CEO added that the eID card will successfully address the current issue of the state's lack of a standardized and secure method for issuing and confirming ID cards and their holders.
TechEconomy gathered that the event will take place on Friday, 2nd June, 2023 at the Head of Service Conference Hall, Jerome Udorji Secretariat, Awka by 10am.
Highlight of the event will be the Demo and Presentation of the eID and how it works and can be verified.
Fake ChatGPT Apps Scam Users Thousands of Dollars, Sophos Reports
These Apps—Known as Fleeceware—Take Advantage of App Store Policy Loopholes and Coercive Tactics to Overcharge Users for AI Assistants, reports SANDRA ANI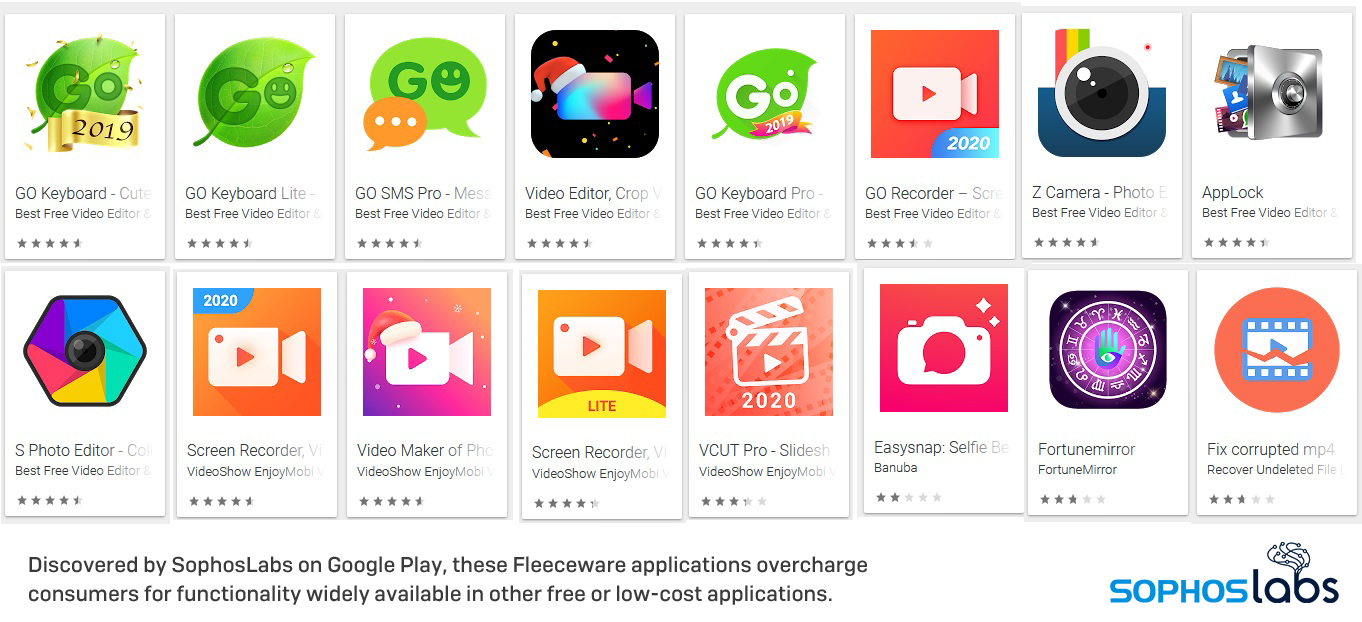 Sophos, a global leader in innovating and delivering cybersecurity as a service, today announced that it had uncovered multiple apps masquerading as legitimate, ChatGPT-based chatbots to overcharge users and bring in thousands of dollars a month.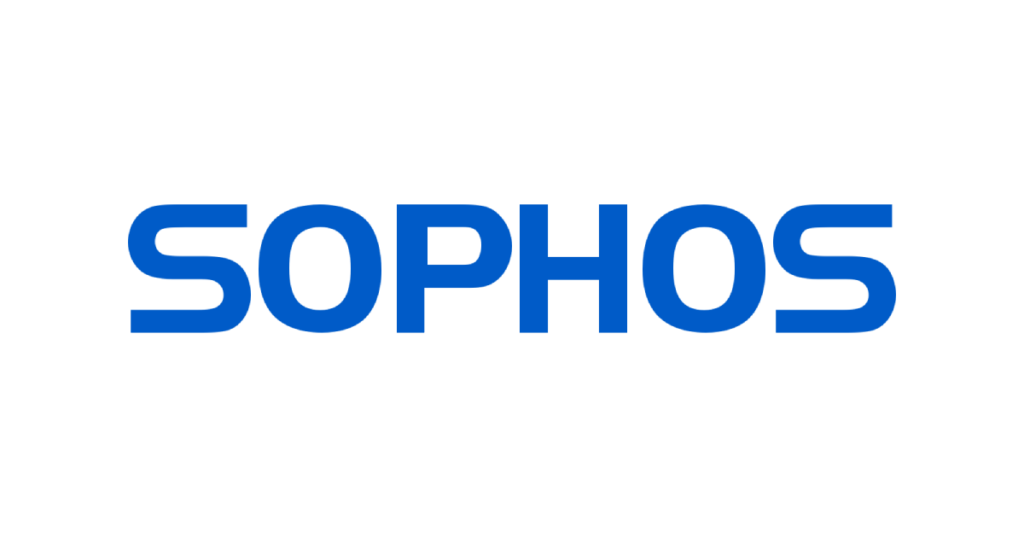 As detailed in Sophos X-Ops' latest report, "'FleeceGPT' Mobile Apps Target AI-Curious to Rake in Cash," these apps have popped up in both the Google Play and Apple App Store, and, because the free versions have near-zero functionality and constant ads, they coerce unsuspecting users into signing up for a subscription that can cost hundreds of dollars a year.
"Scammers have and always will use the latest trends or technology to line their pockets. ChatGPT is no exception. With interest in AI and chatbots arguably at an all-time high, users are turning to the Apple App and Google Play Stores to download anything that resembles ChatGPT. These types of scam apps—what Sophos has dubbed 'fleeceware'—often bombard users with ads until they sign up for a subscription. They're banking on the fact that users won't pay attention to the cost or simply forget that they have this subscription. They're specifically designed so that they may not get much use after the free trial ends, so users delete the app without realizing they're still on the hook for a monthly or weekly payment," said Sean Gallagher, principal threat researcher, Sophos.
In total, Sophos X-Ops investigated five of these ChatGPT fleeceware apps, all of which claimed to be based on ChatGPT's algorithm. In some cases, as with the app "Chat GBT," the developers played off the ChatGPT name to improve their app's ranking in the Google Play or App Store.
While OpenAI offers the basic functionality of ChatGPT to users for free online, these apps were charging anything from $10 a month to $70.00 a year.
The iOS version of "Chat GBT," called Ask AI Assistant, charges $6 a week—or $312 a year—after the three-day free trial; it netted the developers $10,000 in March alone.
Another fleeceware-like app, called Genie, which encourages users to sign up for a $7 weekly or $70 annual subscription, brought in $1 million over the past month.
The key characteristics of so-called fleeceware apps, first discovered by Sophos in 2019, are overcharging users for functionality that is already free elsewhere, as well as using social engineering and coercive tactics to convince users to sign up for a recurring subscription payment. Usually, the apps offer a free trial but with so many ads and restrictions, they're barely useable until a subscription is paid. These apps are often poorly written and implemented, meaning app function is often less than ideal even after users switch to the paid version. They also inflate their ratings in the app stores through fake reviews and persistent requests of users to rate the app before it's even been used or the free trial ends.
"Fleeceware apps are specifically designed to stay on the edge of what's allowed by Google and Apple in terms of service, and they don't flout the security or privacy rules, so they are hardly ever rejected by these stores during review. While Google and Apple have implemented new guidelines to curb fleeceware since we reported on such apps in 2019, developers are finding ways around these policies, such as severely limiting app usage and functionality unless users pay up. While some of the ChatGPT fleeceware apps included in this report have already been taken down, more continue to pop up—and it's likely more will appear. The best protection is education. Users need to be aware that these apps exist and always be sure to read the fine print whenever hitting 'subscribe.' Users can also report apps to Apple and Google if they think the developers are using unethical means to profit," said Gallagher.
All apps included in the report have been reported to Apple and Google. For users who have already downloaded these apps, they should follow the App or Google Play store's guidelines on how to "unsubscribe." Simply deleting the fleeceware app will not void the subscription.