Actress Nancy Isime Builds 6 Bedroom House For her Dad and family in appreciation for letting her chase her dreams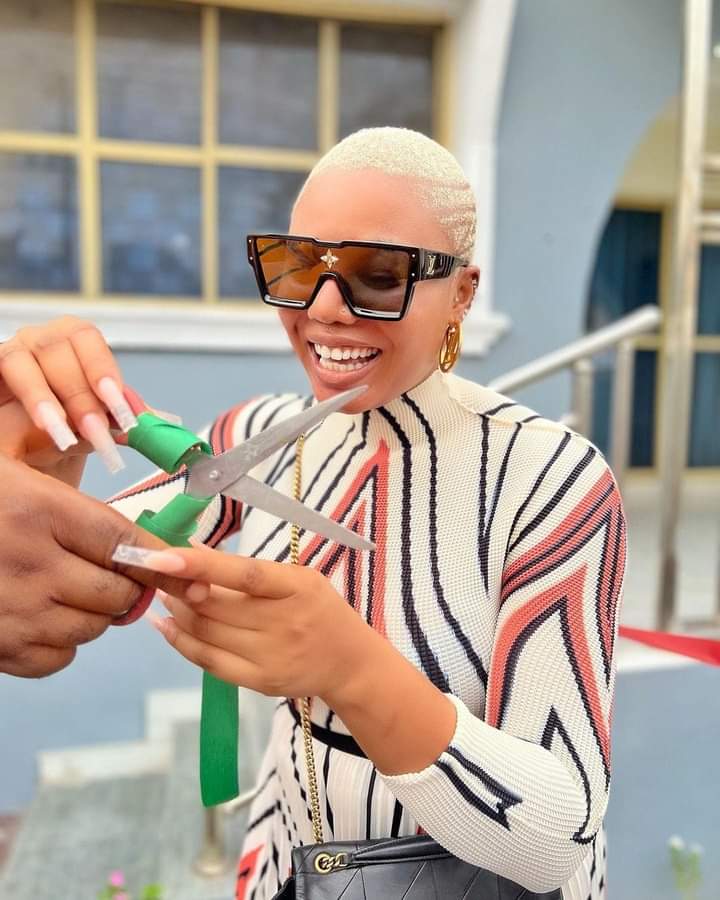 Nollywood actress, Nancy Isime, Just handed the keys to a nicely built and furnished 6 Bedroom home to her dad. The actress who's happiness could not be contained, Mentioned that she's been on this project for years in a bid to show appreciation to her dad for letting her chase her dreams.
On her Instagram page on Monday, she made a post about it with the caption "Yesterday, one of my biggest dreams came to fruition as I ushered my daddy and family into their fully completed, finished, furnished six- bedroom home and it gladdened my heart so much."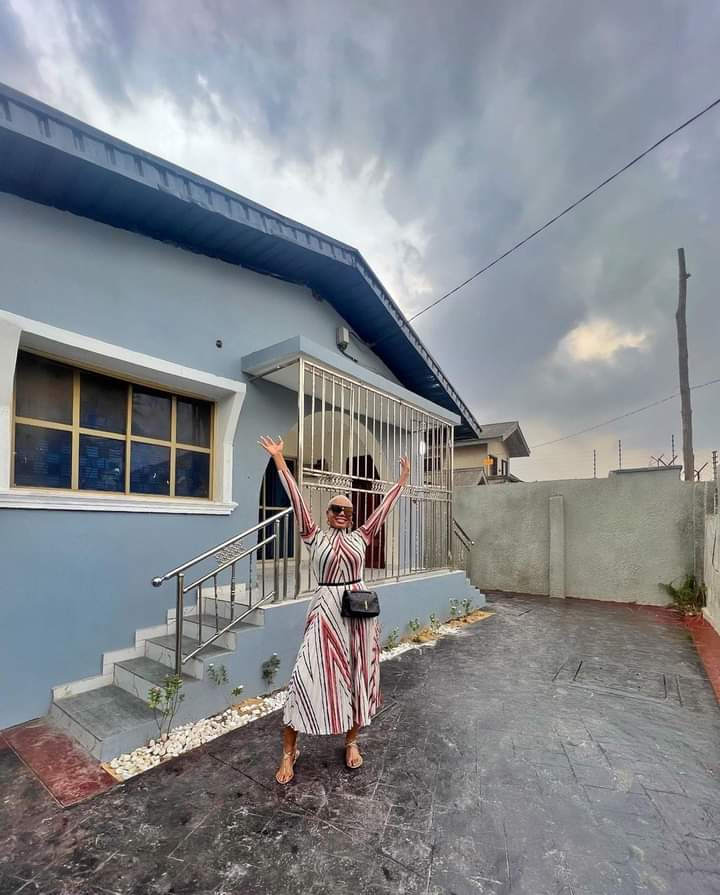 "I've been on this for years and I'm glad I could finally complete and hand the keys over. Watching everyone congratulate my daddy with hugs and cheers made me grin from ear to ear."
"When I asked how he felt, he said 'This has added many more years to my life,' amongst many other heartwarming words."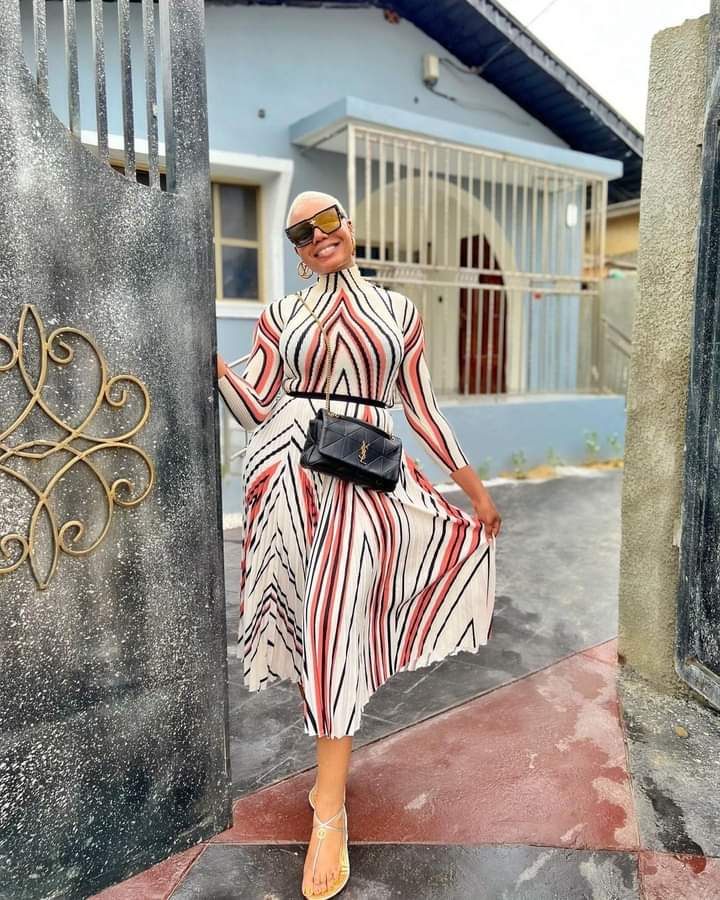 "This is also a way to thank my dad for letting his 17-year-old daughter leave home daily to chase her dreams of becoming a fully independent woman."
Congratulations to her and her family.
READ ALSO: Anita Okoye and Paul Okoye of Psquare are officially Divorced
I'm Sorry I Hurt You – Actress Juliana Olayode Publicly Tenders Apology To Funke Akindele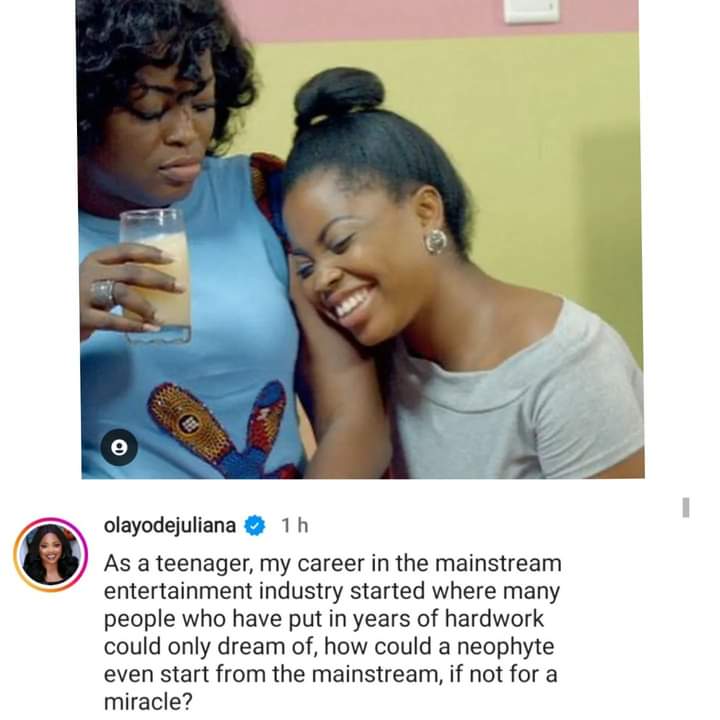 Actress Juliana Olayode on Saturday tendered an open apology to her senior colleague, Funke Akindele.
Olayode, who came into the limelight with her role as Toyosi in Akindele's 'Jenifa Diary', stated that she felt a burden to openly apologise to her senior colleague.
She also addressed the issues that led to her withdrawal from the series, in a lengthy post on Facebook.
Olayode partly wrote, "God used Aunty Funke Akindele #funkejenifaakindele to put me into the limelight. It was a shocker for me, especially at that tender age, when I had barely left secondary school, the kind of fame I earned from playing Toyosi in Jenifa's Diary was too enormous for my understanding.
"However, the lack of industry nitty gritty started manifesting in me, coupled with the fact that I had a guardian (manager) who didn't understand how the entertainment industry works, and I believed anything he feels and says.
"My guardian sent an email to Scene One TV, the producers of the Sitcom, which entire content I wasn't aware of until recently.
"The story of my goofs at the take-off of my career can not be exhausted in a million words, I want to use this opportunity to apologize to Aunty Funke Akindele, ọmọdé ò lè mọ ẹ̀kọ́ jẹ, kó má ra lọ́wọ́, I am incredibly sorry for how I hurt you and how the email that was sent hurt you.
"Please forgive me for my childish mistakes of the past, I am deeply sorry for everything.🙏 I love you eternally Aunty Funke.
❤️❤️
"NB: I just feel the burden to make this official. It's not an attempt for people to help me beg her, I have met Aunty Funke, she has forgiven me, hugged me, prayed for me, cooked for me like she used to in those good old days, Jollof rice elemi meji, fried rice and sweet chicken.(lol)"
I Started Acting When There Was No Social Media – Patience Ozokwo Speaks On AMVCA Appreciation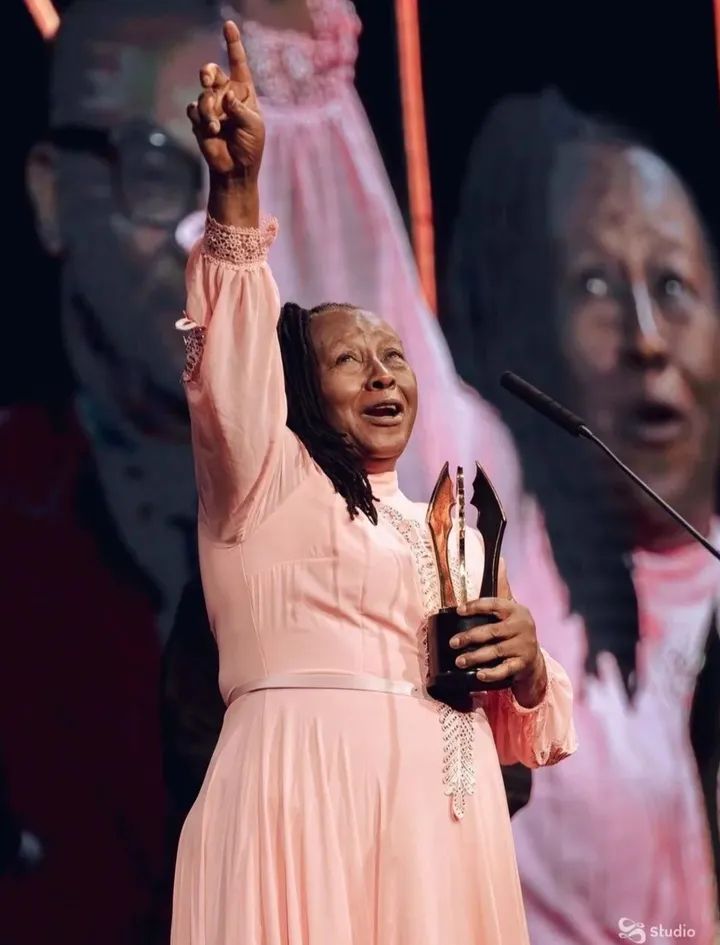 I started acting when there was no social media, progress was based on talent -Patience Ozokwo
The veteran Nollywood actress, Patience Ozokwo, has revealed that she joined the movie industry when there was no social media platforms and progress was totally based on talent and humility.
She made this known while also appreciating her children in celebration of her Industry Merit Award, which she received at the Africa Magic Viewers Choice Award on Saturday evening.
On Monday, the actress via her Instagram post, Shared pictures of herself at the AMVCA event, her children, and grandchildren.
She said her children also made significant sacrifices and went long times without a mother throughout her performing career.
She stated that there was no social media when she began her acting career, and that success entirely relied on talent, humility, word of mouth, and trust.
Here is what she wrote, "LIFETIME ACHIEVEMENT AWARD
"When we started in the industry there was no social media and so many other luxuries we enjoy now. Progress was completely dependent on your talent, humility, word of mouth and trust.
"I appreciate my colleagues who work tirelessly and often times without recognition
"I appreciate my family who have always surrounded me with love and acceptance. My children sacrificed a lot and stayed long periods without a mother. At one point, my daughter became my PA and is still my Associate Manager till date."
A huge congratulations to Mama G!
Men Are Wired To Cheat On Their Partners – 2Baba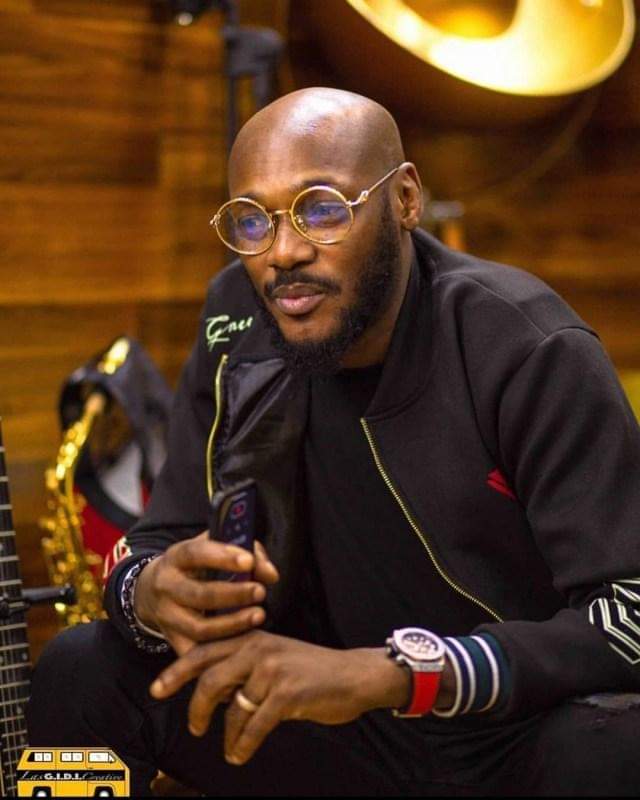 Nigerian Singer, Innocent Idibia, also known as 2Baba, has said that men are genetically programmed to cheat on their partners.
He said this during season 2 of a reality TV show, 'Young, Famous and African', which premiered on Friday.
The singer said, "Men are wired like that. A man will love a woman to hll. Maybe he is somewhere, his d*k would just decide to do something else.
"He will fk, but he won't even give a fk about that person. He just wants to sort out that sh*t."
His wife, Annie, who is also a cast on the show, asked him if what he said was on a general basis or based on what he believed in.
The singer, however, stated that his opinion was based on his beliefs.