I will create Industrial Hub in the Southeast, 2 Sea Ports in Port Harcourt, If you elect me as President – Tinubu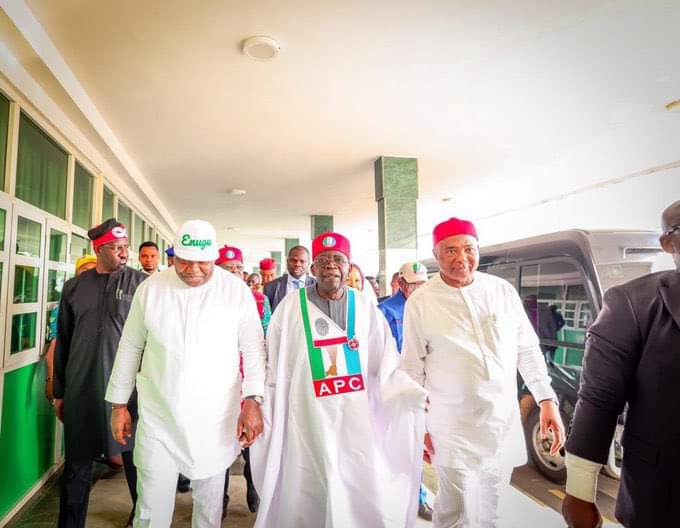 The presidential candidate of the All Progressives Congress (APC) Asiwaju Bola Ahmed Tinubu has promised to create industrial and manufacturing hubs in the Southeast region of elected as President.
Tinubu also said that he would create two seaports in Port Harcourt, Which according to him, would be with the intention of developing the region and creating thousands of jobs for the youths and the entire populace.
Speaking on Wednesday during the APC presidential campaign rally at the Michael Okpara Square, Enugu, Tinubu also promised to develop the incredible mineral resources such as coal in the region to propel the economic recovery of the Southeast. He said,
"If you elect me as your president, we will work together. We will create industrial hub in Enugu, Imo, Ebonyi, Abia and Anambra States. "We will also create two seaports in Port Harcourt and establish fabricating engines, making.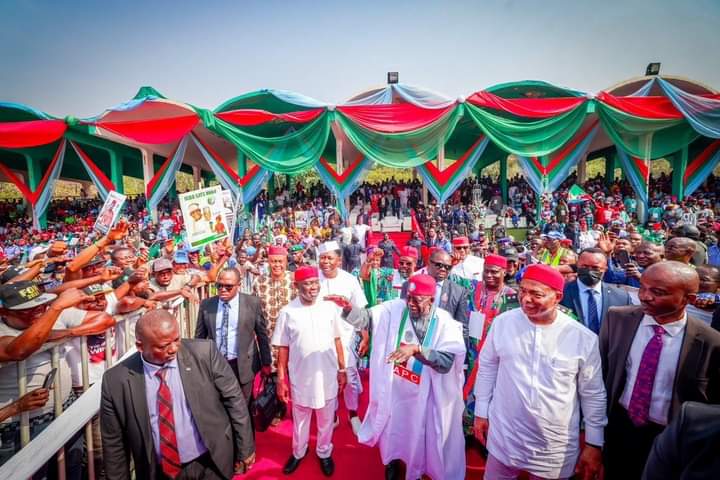 "Enugu will become an industrial hub and greater than before, creating jobs for the youths and all of you. You have incredible mineral resources to propel the economic recovery of the Southeast. You have an agricultural power that can produce many cash crops."Also, assembling plants can be created with flourishing businesses. All you need to do is to partner with the federal government.
"My people of Enugu State, nothing is impossible unless you don't put your mind into it. Together, nothing can stop us if we are determined."We will make Enugu, Imo, Ebonyi, Abia and Anambra States and the entire Southeast a regional business hub, the manufacturing centre of Nigeria.
It is very possible"Don't wait for the white man to do this job for us. We're brilliant enough, we're great thinkers, we can fabricate, we can develop and we can mould; we can build engines and we can turn our coal to industry."In Britain and America, they are still using their coal to fire turbine and generating electricity for their industries. We have the right to do so. "Be bold Nigeria. Wake up Africa. Let's use what we have to develop our country. Let's turn our coal to money. Let's turn our gas to money."Now they say the price of crude oil is falling. Whatever it is. I am a realist, pragmatic, authentic, a blessed and brilliant man, a thinker. So, let's use what we have to develop our country.
"We can have agro processing centres. We have over 200 million people to feed. We are not going to starve to death."I lived abroad for about 17 years. I've managed their businesses. Let us take care of our home. We can do it. Nigeria is highly blessed by God. For us to achieve Nigeria of our dream, you have to be ready to make sacrifices and with strong determination, we can achieve greater things".
Those where his promises during his campaign in Enugu State.
READ ALSO: Obasanjo's Appeal to all Nigerians as he Endorses Peter Obi as the best Presidential candidate for 2023
Wike Proposes 15 Billion Naira For Vice President Residence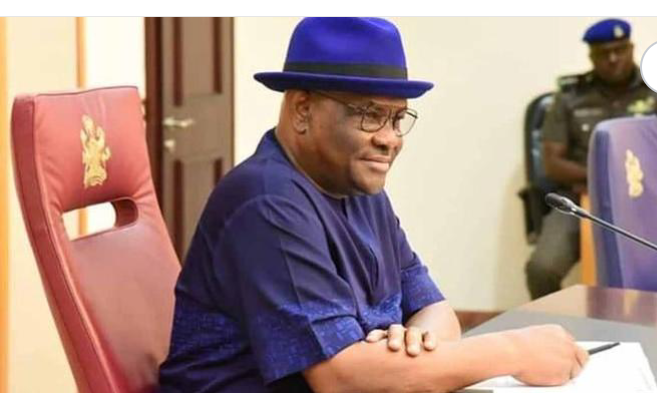 Minister Wike Has Proposes 15 Billion Naira For The Completion Of The Vice President Residence
While bringing it to book, He said;
"The VP residence that was awarded in 2010 at the cost of N7 billion was abandoned.
It is embarrassing that a country of this nature cannot in 13 years, complete the VP's residence. N7 billion, now the contractor is saying well, we cannot continue to do it without review.
Now they are saying N15 billion. We have taken it upon ourselves to say that we will complete it and Mr President will commission it by May 2024," #grassrootsnews
"President Bola Tinubu Inherited An Administration That Was Almost In Comatose" – Osun State Governor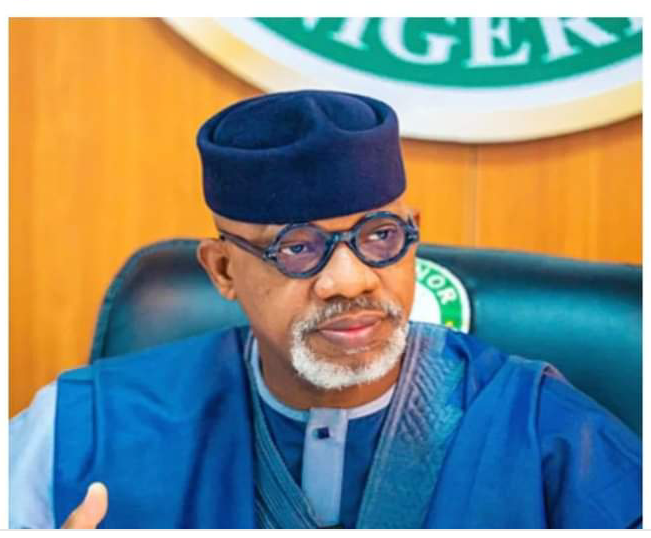 The governor during an interview on Channels Television's Sunday Politics yesterday, Stated this. 
He said;
"The President Tinubu-led administration has been very bold and audacious.
"They've taken the bull by the horns. They've done what no government has done in the history of Nigeria.
"Tinubu inherited an administration that was almost comatose. I believe this government is very bold and taking the bull by the horns. 
"President Tinubu has been able to do what no president has ever been able to do in the history of Nigeria. 
"President Tinubu deregulated the petroleum industry to save Nigerians.
"The governor, however, urged Nigerians to be patient with the President, saying he is confident the Tinubu-led administration will tackle the challenges facing the country.
He added, "You know our President, besides being a former governor and a senator, he is also an accountant.
"So, he is someone who is very spot on and all hands are on deck to turn this economy around. We are very hopeful and we can see the light at the end of the tunnel."
Governor Of Kano State To Approach Supreme Court Over Appeal's Court Judgement Which Sacked Him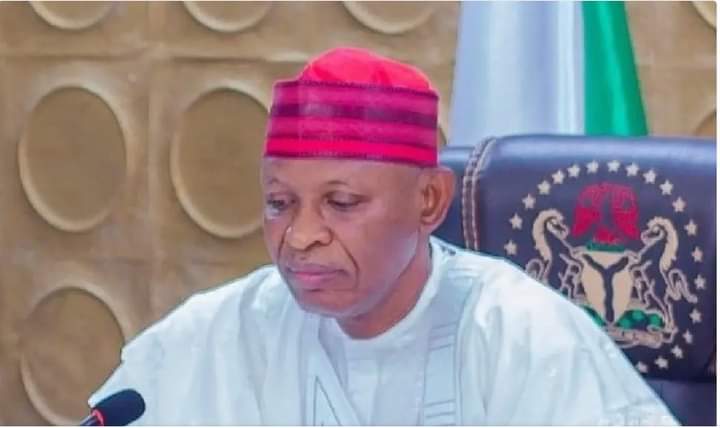 Governor Abba Kabir Yusuf of Kano State said he will approach the Supreme Court to challenge the Appeal Court's judgment delivered on Friday, which sacked him as the Governor of the state
Yusuf stated that the people of Kano were robbed of their mandate with the judgment served by the appellant court but expressed optimism that he would reclaim the 'stolen' mandate at the Apex Court.
According to him, "We have instructed our lawyers to appeal this ruling to the Supreme Court, where we hope it will right the wrong done to Kano people.
"We believe the judgment was unjust to us. We know that the people of Kano came out en masse to vote for us.
"We are optimistic that the Supreme Court would return our stolen mandate and address the unjust melted on us.
"I want to assure the people of Kano that all this that is happening is a temporary matter, and in no time, the Supreme Court will reclaim our mandate.
"We will not be deterred from the good work we have started in the state.
"We call on the people of the state to go about their normal activities as security personnel are on the ground to protect them," Governor Yusuf said.