Buhari has Repaid Tinubu; Stop the Blackmail
By: Hashim Suleiman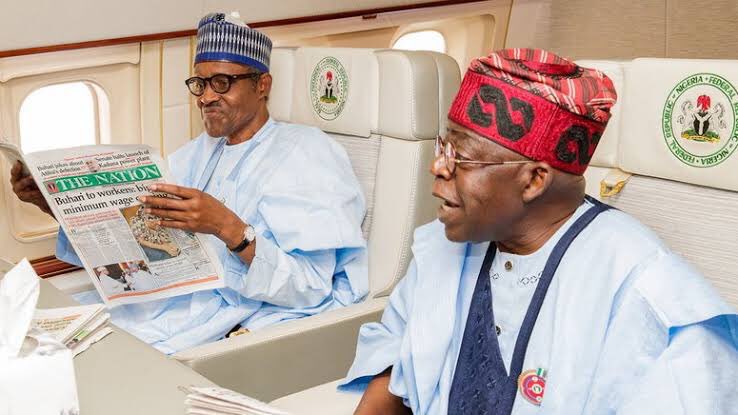 People who read my articles a lot know I've always been a defender of mischief and blackmail which has become a shortcut that Nigerians love to employ owing to their lazy mindsets and crave for cheap gains in order to Pull Down people they assume are their stumbling blocks to those shortcuts they want to take to progress.
Remember when they came for Pantami and his past political opinions just because they didn't like his revolutionary policies in the ICT sector and preferred their shortcuts as usual so they resorted to attempts at cancelling him but I set the records straight that he has a right to his political opinions per time, per available variables, you can read that piece here.
ALSO READ: Kperogi's Veiled Campaign for Tinubu | by Hashim Suleiman
Fast forward to today, these lazy agents are at it again and this time around it's on the President, Muhammadu Buhari, they want to cancel him for committing to conduct a free and fair election and I wonder what that means, I'll summarize it to mean that majority of those that Buhari surrounded himself with took him for a fool all along, they noticed he always reasoned with national noise and did what was necessary to douse tensions and they are employing same tactics now to get him to manipulate the system for their lazy self at the detriment of his legacy, that won't work!
While one will understand Asiwaju to have been a fighter all his life, his current presidential aspiration comes with its own peculiarities, and that was why from before and after the primaries I had warned the APC to take their recruitments of campaigners and promoters very seriously because indeed there was going to be a lot of work to be done to convince Nigerians to vote the party and especially the candidate that emerged and the general public perception on him, that much work has to also be an intellectual one at that, but I guess they didn't hear. The chicken has today come home to roost and they want to tie the consequences of their lazy intellectualism and lack of strategy on Buhari, we will not allow that, everyone should go out and campaign to the people and sought for their votes.
The managers of the APC campaign have succeeded in spreading a narrative that suggests to the society that the only way they can win is for Buhari to manipulate the system forgetting that them and Buhari were beneficiaries of free and fair conduct by Goodluck Jonathan, so many people have argued that the most significant contribution of Tinubu to Buhari in 2015 was at the primary elections in lagos in 2014 but the victory at the main elections was an amalgamation of forces ranging from Tinubu to Amaechi, Saraki, Atiku, Kwankwaso, Nyako and a host of others.
If the above narrative is what it is, then it's very safe to say that Buhari has fully repaid Tinubu by first allowing him to nominate the Vice President and several others in cabinet and other appointments. Furthermore, he ensured the conduct of a free and fair primaries where Tinubu emerged. They are bandying a video of Abeokuta rally in 2014 where Tinubu campaigned for Buhari, but Buhari was also in Jos, Yola, Yobe, Bauchi, Nassarawa, Sokoto and Imo states to campaign for Asiwaju and he made equal or more speeches and the question to ask then is why the blackmail??
There are other contestants in this race, Buhari will not declare a war and throw them under a bus just because he needs to satisfy an imaginary payback that has been orchestrated by lazy campaigners who do not have what it takes to justify the humongous monies they have taken From Tinubu. They should go and sought for goodwill and people buy in just like Buhari is doing to the candidate but assuming that Buhari should jettison his legacy and rig the system on heir behalf as their definition of a payback is a further indication that their love for him was never genuine but for their personal gains and aggrandizement as is with lazy minds.
We support Buhari to finish strong!
May God bless Nigeria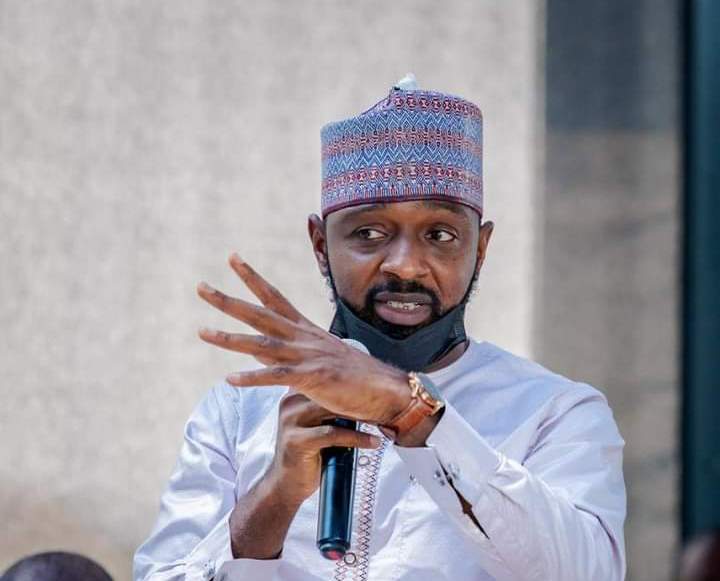 Governor Peter Mbah Appreciates Dave Umahi Over Swift Response To Work On A Recently collapsed Bridge In Enugu State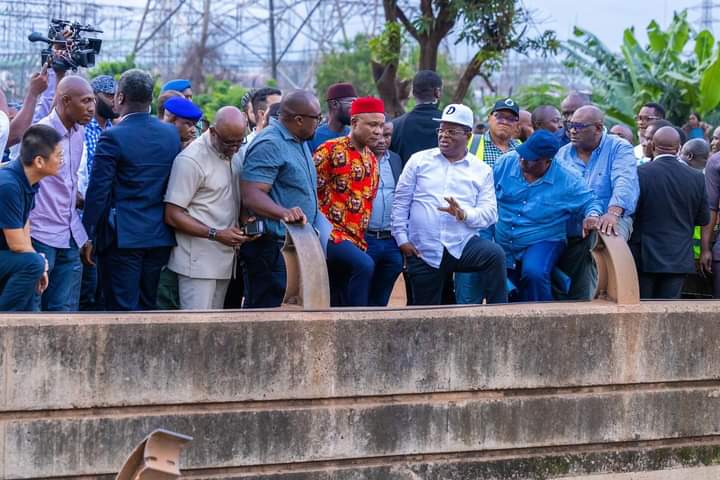 Governor Peter Mbah Appreciates The Minister For Works, Dave Umahi Over Swift Response To Work On A Recently collapsed Bridge In Enugu State
The bridge which is on the federal road, had sunk in on Monday.Thank God no casualties were recorded due to the less movements around the area on the it happened.
Here's what the Governor wrote;
"Yesterday evening, I had the pleasure of welcoming the Minister of Works, Engr. Dave Umahi, to Enugu State. The minister who came to inspect the collapsed bridge between the New Artisan flyover and the Naira Triangle, at the Enugu – Port Harcourt expressway, assured me of its immediate reconstruction.
"He commended me for ameliorating the plights of my people by undertaking to dualise the Enugu State's part of the Enugu-Abakaliki road, and also assured me that the federal government would expedite the necessary approvals.
"I sincerely appreciate the minister for the prompt response, and President Bola Ahmed Tinubu for inclusive leadership. This, for us, underscores the president's commitment to his oath of office."
Here are pictures from the scene visit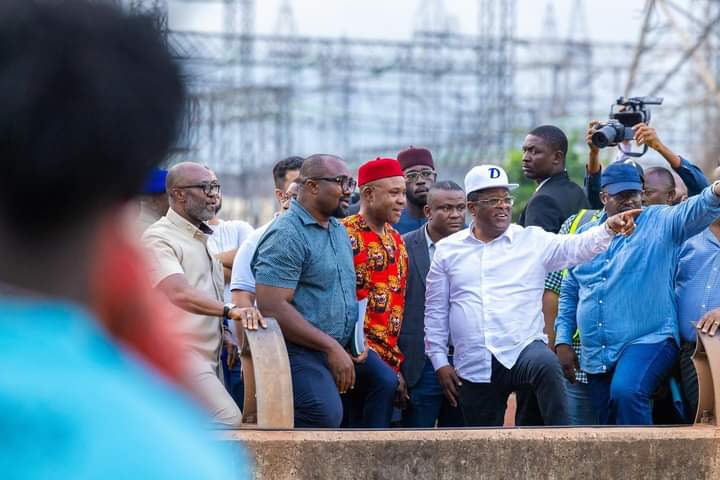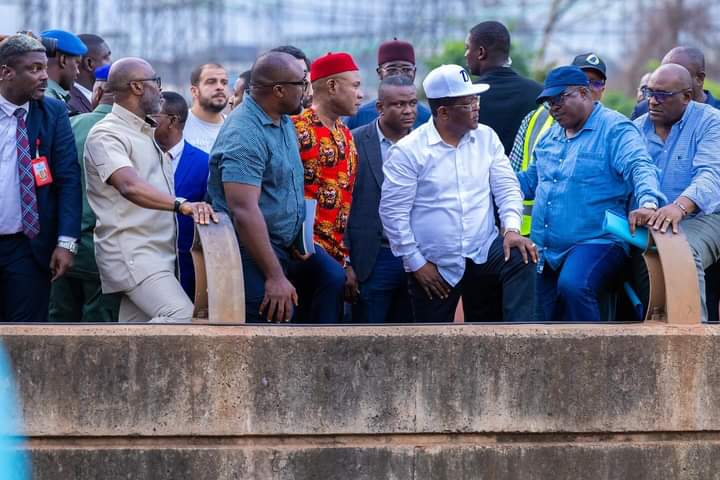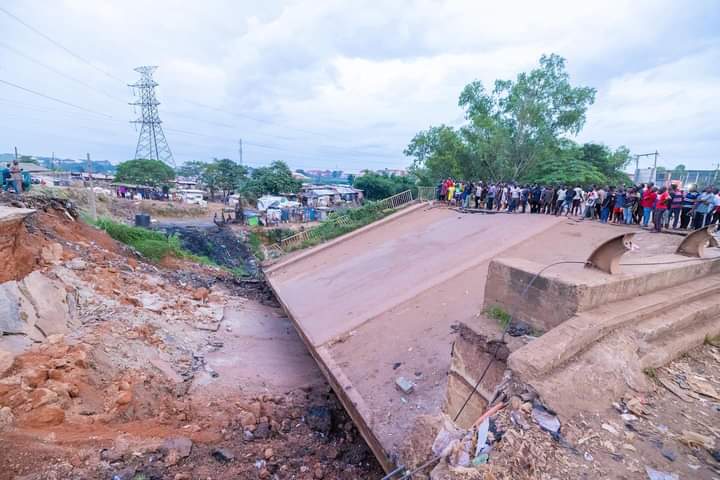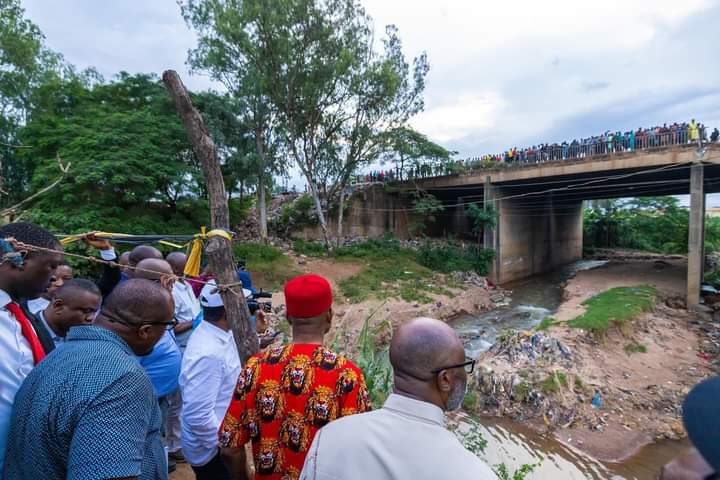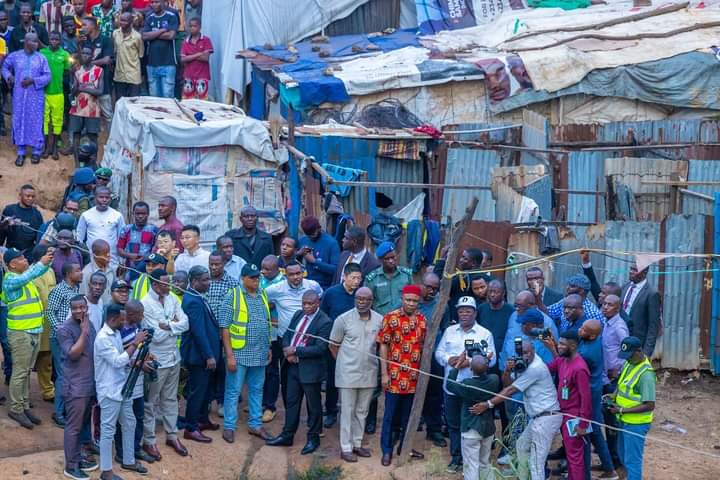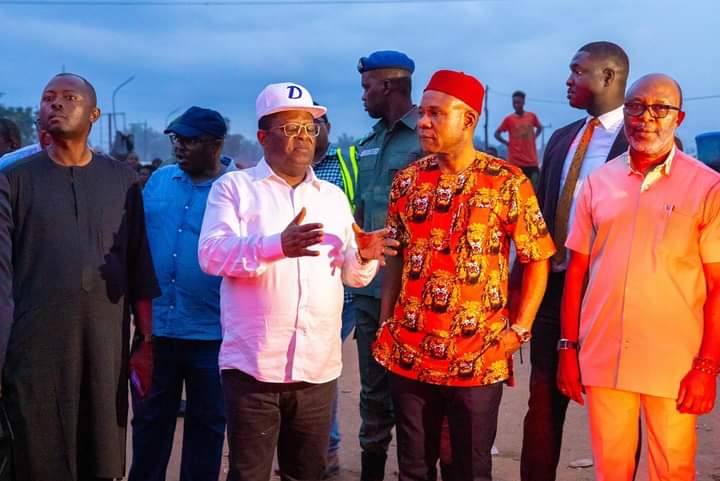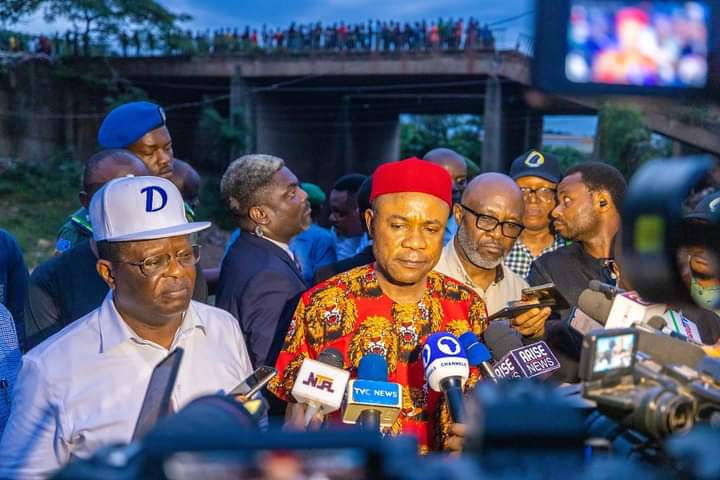 PHOTO: Governor Peter Mbah Speaks At 2023 Lagos Chamber Of Commerce And Industry (LCCI)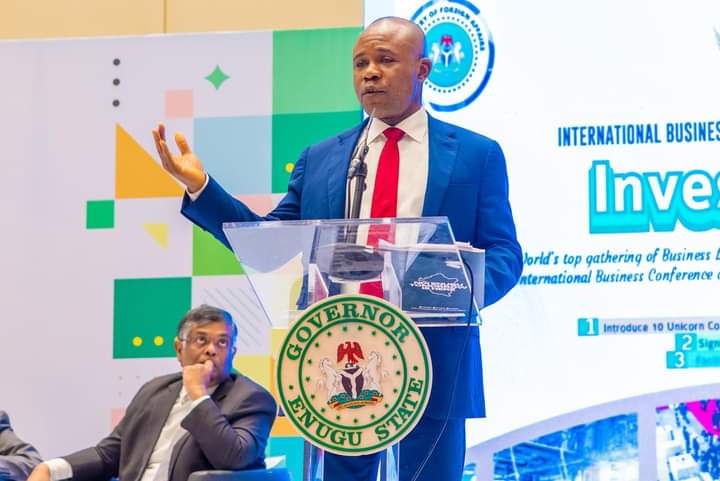 The Governor of Enugu State, Governor Peter Mbah was one of the guest speakers at the 2023 LCCI. While posting pictures from the conference on his social media page, He wrote;
"Today, I was honoured to stand as Guest of Honour and Speaker on the platform of the 2023 Lagos Chamber of Commerce and Industry (LCCI) International Business Conference and Expo.
This event underscores our commitment to global partnerships and trade cooperation. From Enugu, I have proudly joined the dialogue that transcends borders.
As we engage in vital conversations, I extend a hand of partnership, inviting stakeholders to explore our nation's potential. Together, let's unlock avenues for national growth and prosperity.
In Enugu State, we are open for business; building partnership with the private sector to unlock the capital market, attract investments, and retake our place in the local and global economy.
I'm excited to share with you our state's abundant investment opportunities and government inventives in agriculture and agro-industry, logistics and aviation, tourism, real estate, mineral resources, information and communication technology (ICT), among others.
We are also de-risking business investment in key sectors by providing access to land, providing support infrastructure, handling engagement with host communities, and facilitating the approval of building permits.
Amid challenges, our resolve for a robust business environment remains unshaken. We are intentionally revisiting our ease of doing business indicators to ensure the environment is conducive for businesses to thrive.
Join me in embracing this momentous stride as we amplify Enugu State's prominence on the national and world map."
Here are pictures from the conference.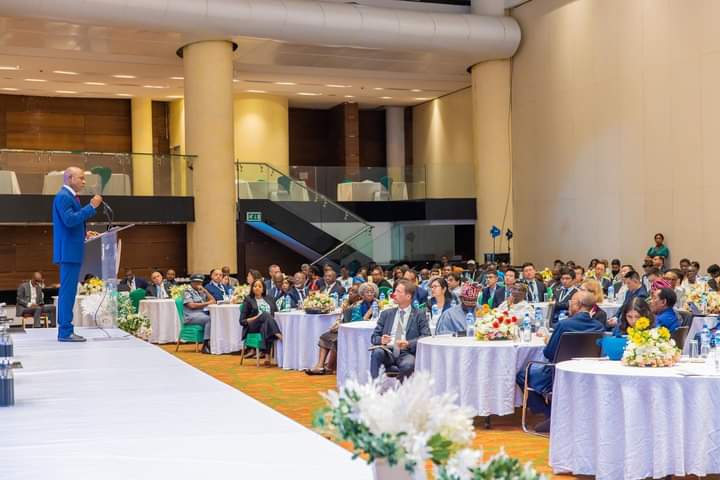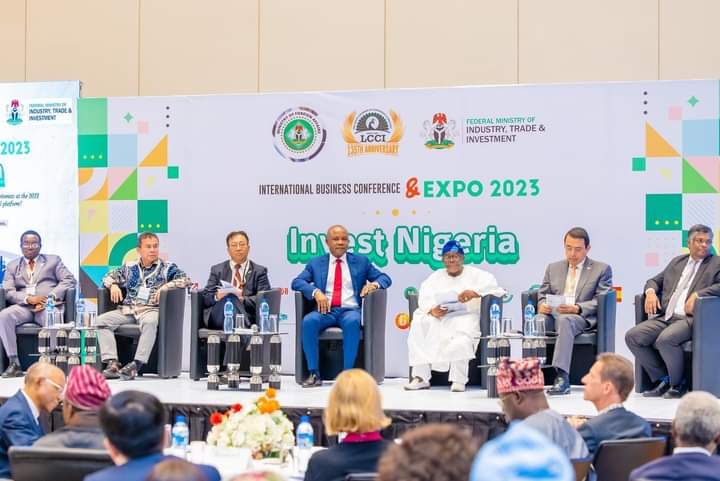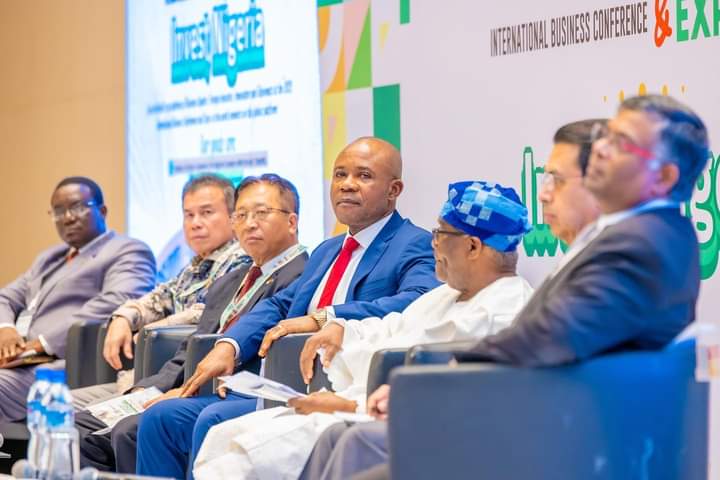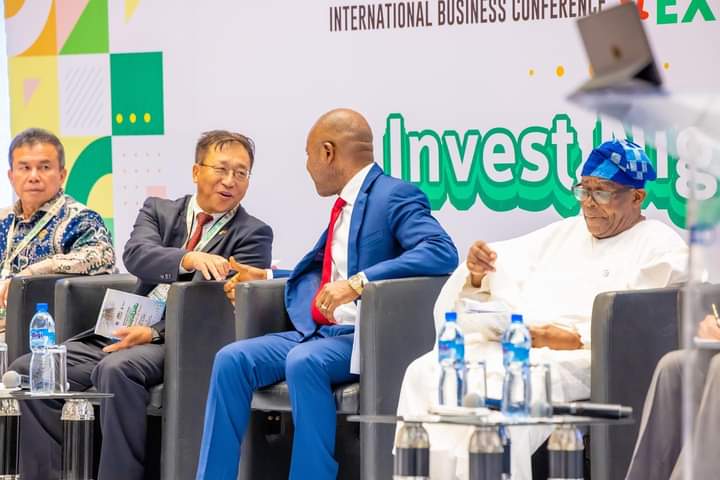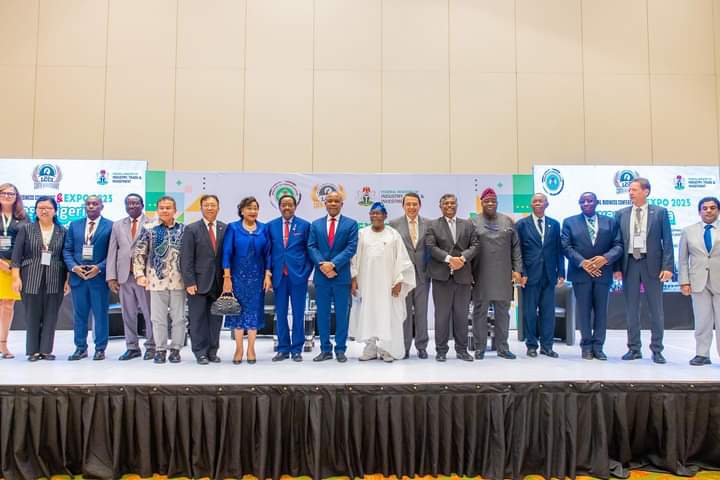 Governor Peter Mbah Graduates From Business School In The University Of Oxford England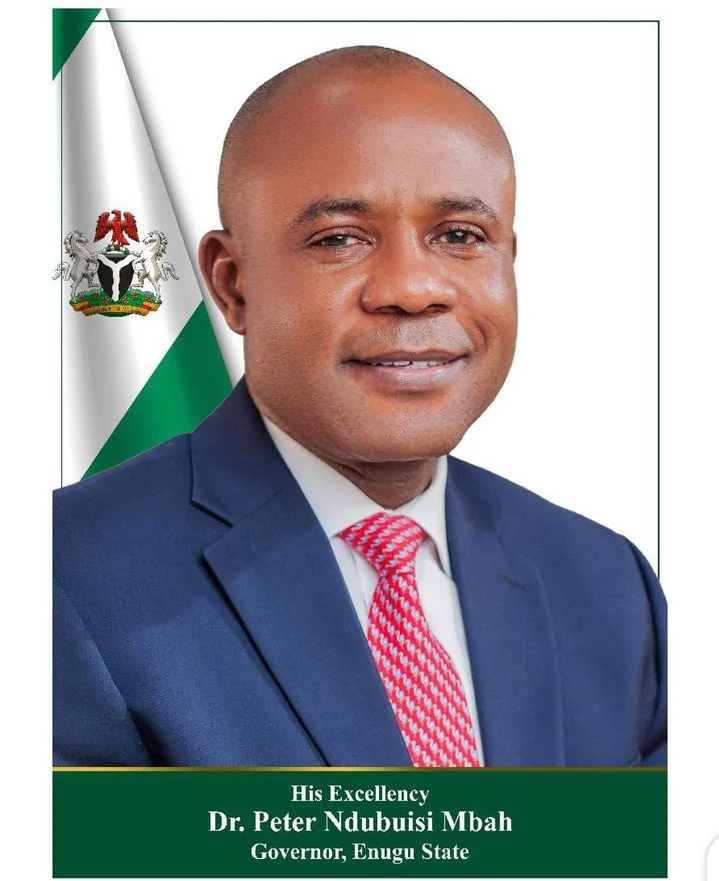 The Governor of Enugu State, Dr Peter Mbah has graduated from Business School In The University Of Oxford in England
In a post on his social media page, He wrote;
"I just bagged a Post Graduate Diploma in Strategy and Innovation at the Saïd Business School of the University of Oxford, Oxford, England"
Congratulations Sir.