Court Remands Seun Kuti For 48 hours In Police Custody Before Bail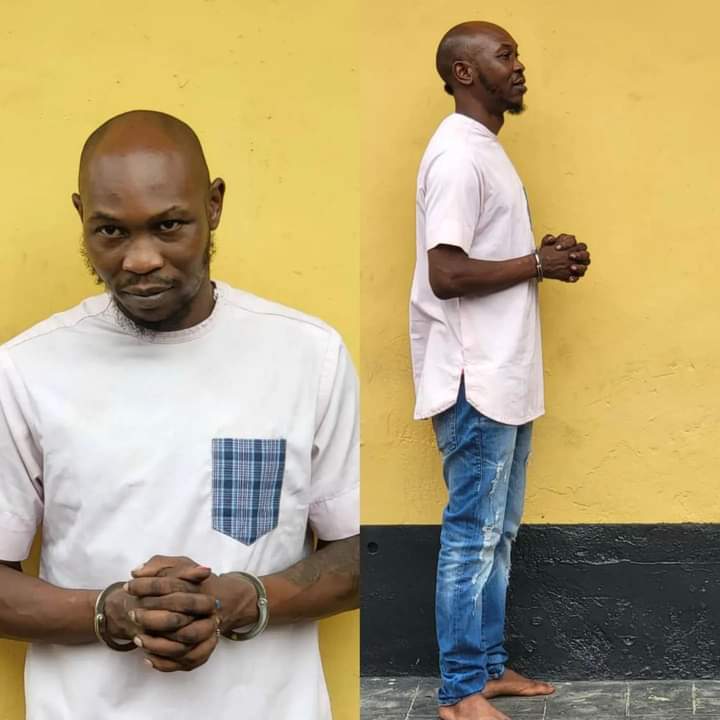 The Magistrate Court sitting in Yaba, Lagos state has remanded Afrobeat musician, Seun Kuti, for 48 hours in police custody for allegedly assaulting a police officer. At his arraignment before Magistrate Adeola Olatunbosun, the prosecution led by S. A Adebese and Morufu Animashaun asked the court to remand the defendant for 21 days pending legal advice from the Directorate of Public Prosecutions. However, Kuti's counsel, led by Femi Falana, SAN, asked the court to not remand his client, stating that they were not aware of the remand application.
The magistrate after listening to both parties requested five minutes of recess stating that she needed to deliberate on her own. Upon her return, the magistrate said she would not rely on police investigation hence she remanded the defendant for 48 hours in police custody.
Delivering her judgment, she ordered that the singer be remanded for 48 hours with the police and then be granted bail in the sum of N1 million.
"Court has decided to override any public opinion and pass the judgment of the court. Following the remand application presented before the court, I am advising that the case file be duplicated and sent to the Directorate of public prosecutions within 72 hours. The defendant is hereby remanded for 48 hours in police custody to allow the police to conclude their investigation. After 48 hours, the defendant will be granted bail in the sum of N1m with two responsible sureties, a three years tax payment receipt that is verifiable; one of the sureties must have a landed property within the court jurisdiction." she ruled
She adjourned the case till May 23, 2023,
"One-Chance" Victim Dies After Abuja Hospital Allegedly Denied Her Treatment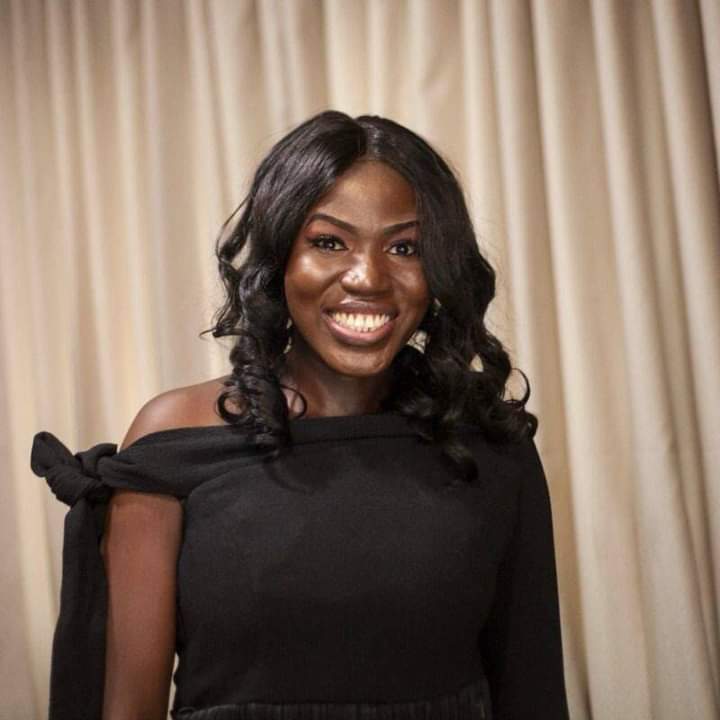 A young lady, Greatness Olorunfemi, a victim of 'one-chance' operators in Abuja, has died after an Abuja hospital allegedly refused to attend to her.
An X user, #Gbemilekhe, who shared the story on Friday, alleged that the hospital in the Maitama area of Abuja asked for a police report before treatment could commence. Olorunfemi sadly passed moments later.
"Greatness was pushed out of a moving vehicle by one-chance criminals in Abuja.
"She was rushed to Maitama General Hospital, and they refused to attend to her, demanding a police report. She died afterwards," the tweet read.
One #Nwaadaz on X, who claimed to be a friend of Olorufemi, shared more details of the sad incident, saying the assailants stabbed Olorunfemi, who bled to death after the hospital rejected her.
"Maitama General Hospital refused to attend to my friend who was stabbed by a one-chance driver in Abuja. They allowed her to bleed to death and locked the emergency ward against her because she didn't have a police report!! Nigeria has failed Greatness!," the user tweeted.
Here's the video report.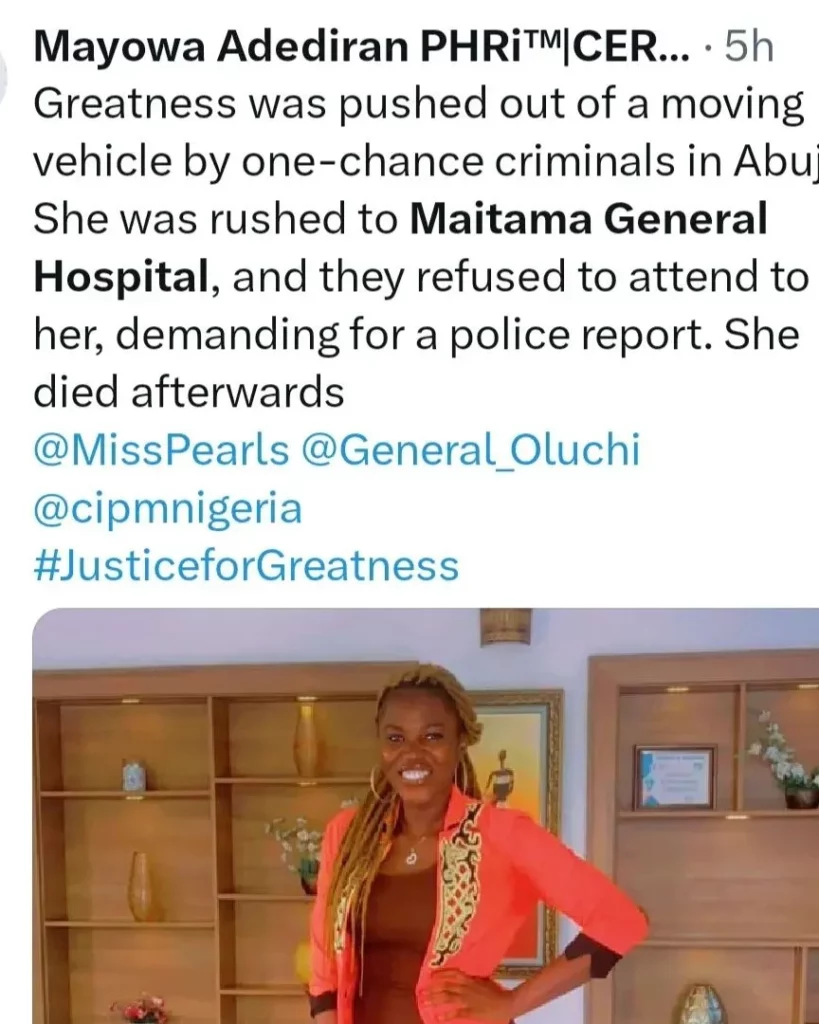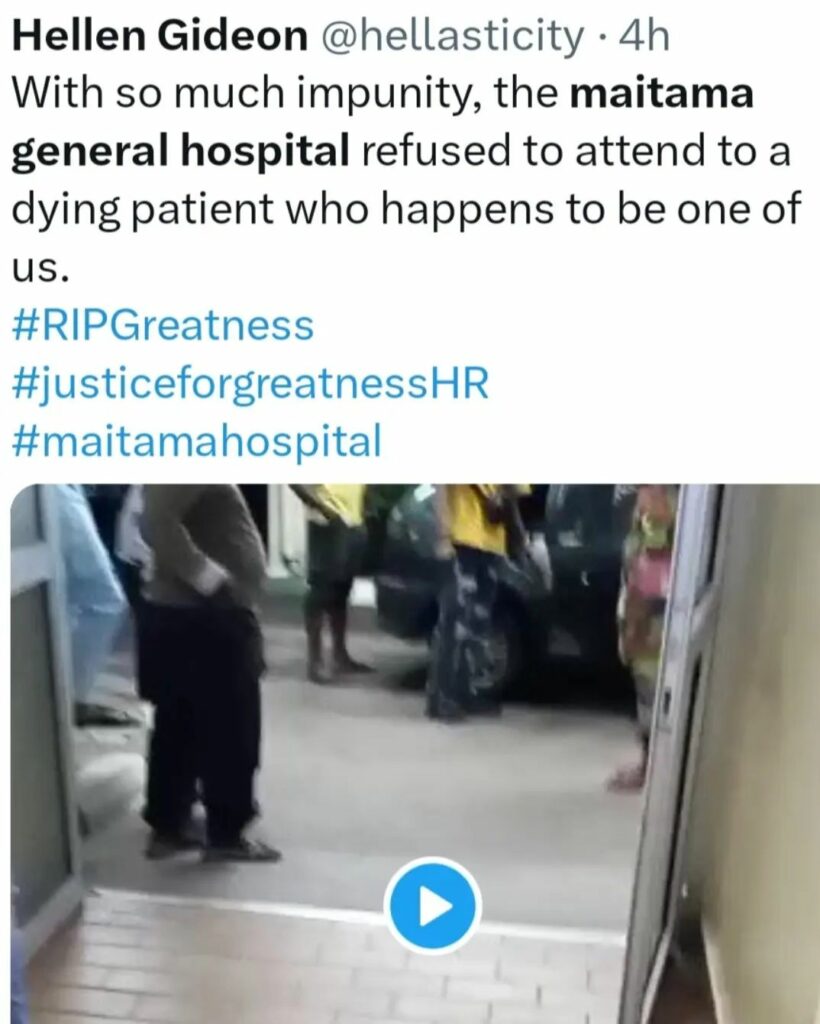 Nelson Mandela's Granddaughter, Zoleka Dead; She Wrote A List Of People Not Allowed At Her Funeral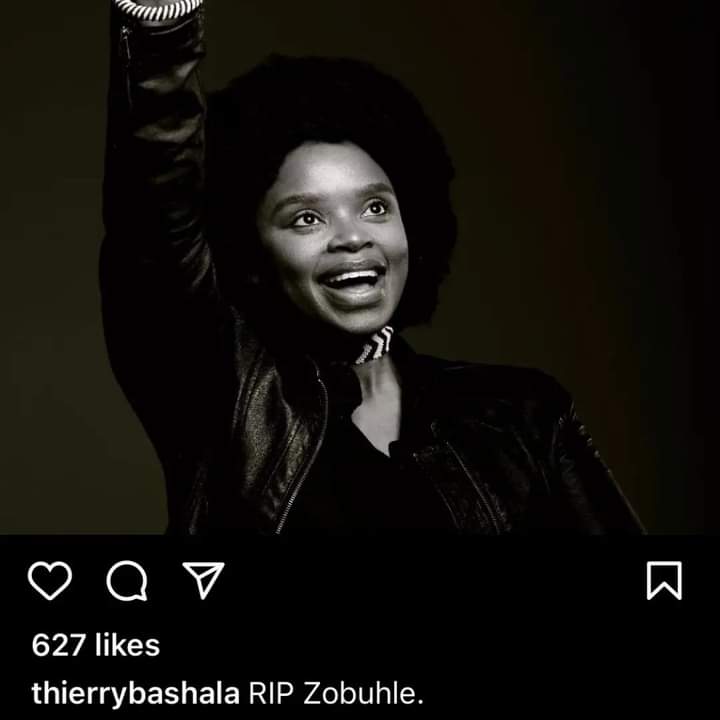 The list revealed includes her ex-husband and father of two of her kids, Thierry Bashala.
Although Bashala had mourned her on Instagram after her death.
Zoleka also listed some relatives who sexually abused her. She said those on the list with a dot (.) against their names abused her sexually and are not allowed near her dead body.
She added on the list that she is close to including her sisters, dad, and step mom to the list.
Zoleka died on Sept. 25, 2023, after a long battle with cancer.
The author had survived cancer twice, before it came back a third time and she passed at the age of 43.
She was treated for breast cancer in 2011. It returned in 2016 and she beat it again. Sadly, she announced in August 2022 that she had been diagnosed with bone metastasis.
Via her instagram account where she documents her journey, she disclosed that the cancer had mestastasized to her bones and liver.
Sadly, she died earlier this week, leaving behind 4 of her 6 children.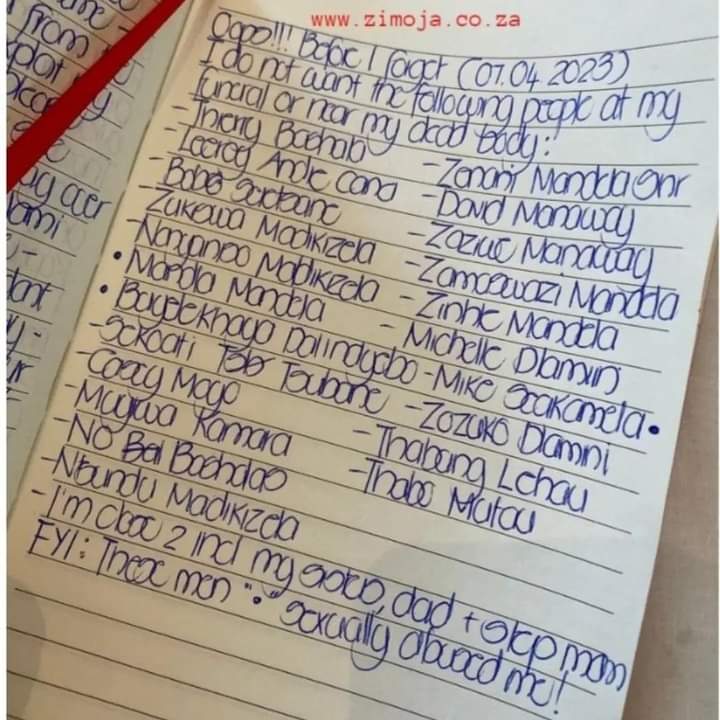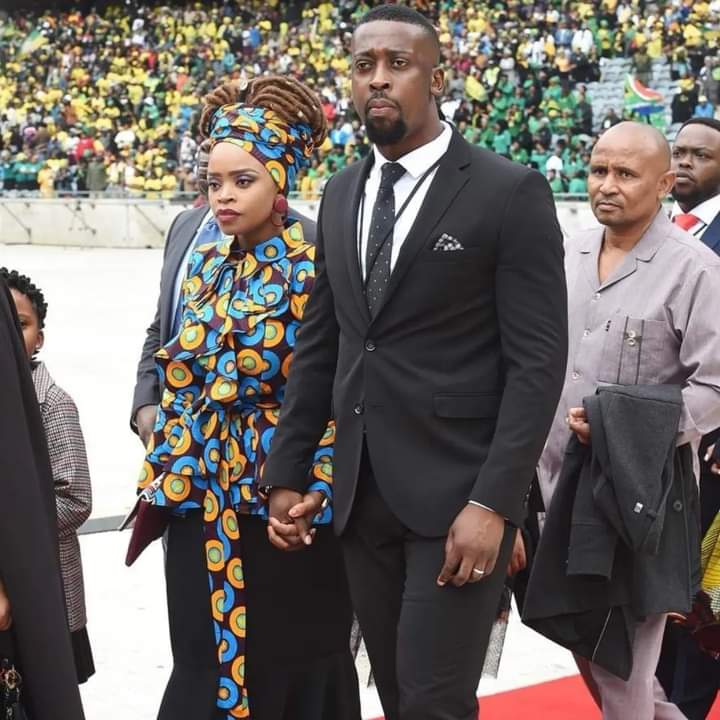 May her soul rest in peace.
Protest As New Minister For Works, Dave Umahi Locks Out Late Comers From Work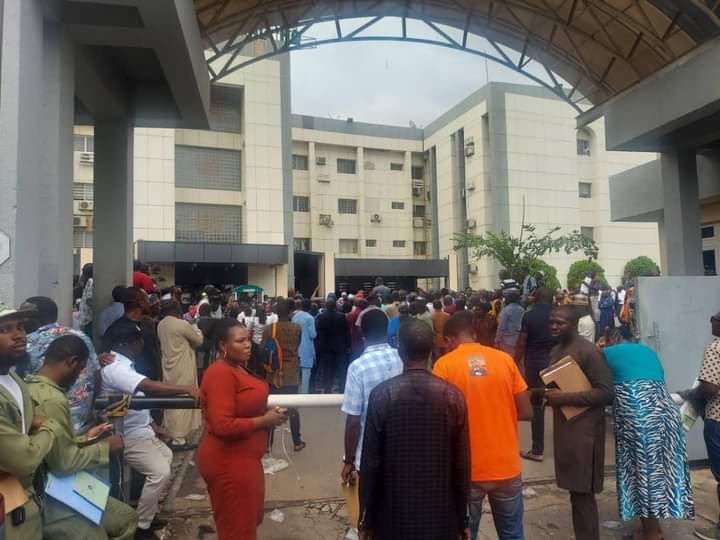 There was apprehension at the Works ministry on Thursday as protesting civil servants asked for the Removal of the new minister, Dave Umahi, After he locked out over 300 staff and directors who resumed work late.
The public servants expressing their displeasure also demanded an apology from the minister.
Earlier, the minister upon resumption at 9.30 am was said to have prevented workers who came to work late from gaining access to the ministry for over four hours.
However, after the gate was opened, the workers, comprising both Housing and Works Ministry, refused to enter the ministry and resorted to an impromptu protest barricaded the entrance gates.