PHOTOS: Governor Sanwo-Olu Congratulates World Record Holder, Jaan Roose For Walking On Rope In Sky In Lagos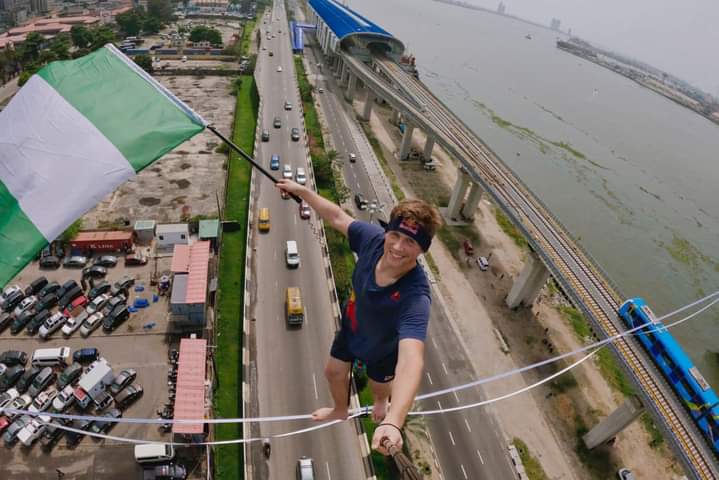 The Governor congratulated the slack-liner's feat on his social media page. He wrote;
"Lagos is the epitome of creativity at its finest and we are saying well done and congratulations to Jaan Roose, the Guinness World Record holder, who has captured the Perfect Lagos Selfie while walking in the sky from Sterling Towers to the Onome Rig.
"His expertise in slack-lining, blending balance training, recreation, and moving meditation is beautifully showcasing our city's vibrant spirit. Capturing the beauty of our skyline against the backdrop of the Blue Line Rail is an admirable feat.
"Partnering with the Lagos Safety Commission, this project highlights the splendour of Lagos State. This is one of many recent successful projects with the Red Bull team which include partnering with the Lagos State Government through LASPARK, renovating Ndubuisi Kanu Park's basketball court and recently creating the Lagos Encourage Park in Ikoyi."
Here are pictures of the Slack-liner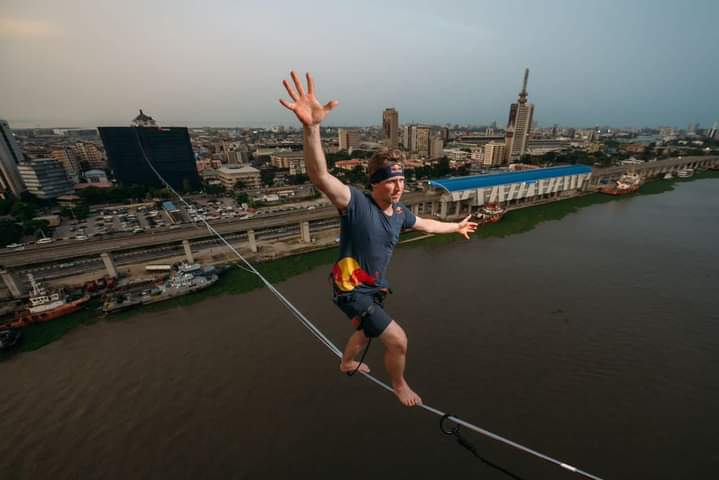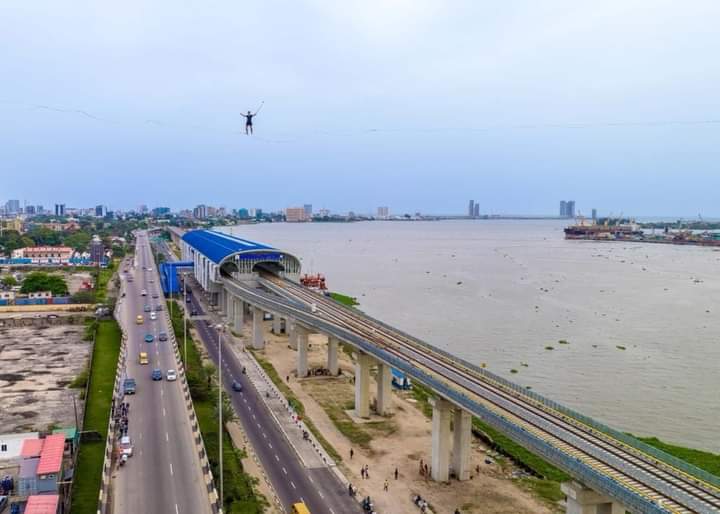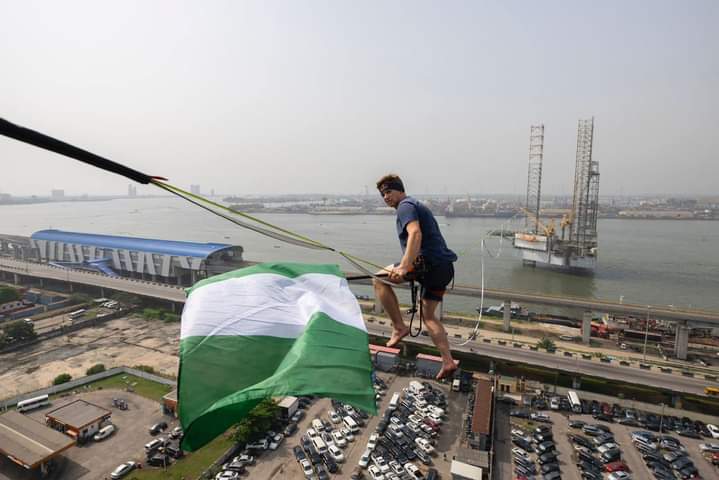 Mbah Breaks 20-Year Old Water Jinx, Inaugurates Landmark Water Project
By: Staff Writer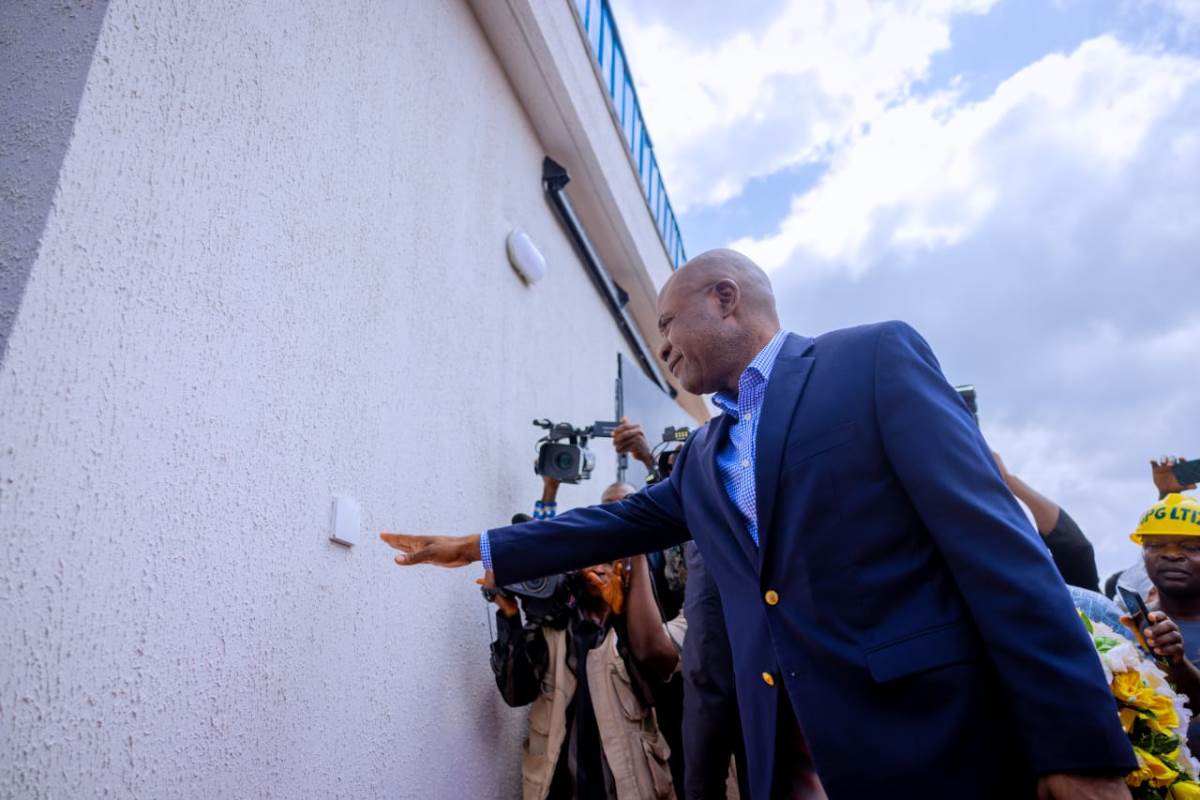 …Builds 4.4MW gas plant to guarantee water supply
Governor of Enugu State, Dr. Peter Mbah, has commissioned a 70 million litre per day water project in Enugu, saying his administration had raised potable water production capacity from the occasional 2 million litres per day to 120 million litres per day.
Commissioning the project known as the 9th Mile 24/7 Water Scheme on Saturday in fulfillment of his campaign promise to restore water to Enugu city in 180 days from the date of his inauguration, Dr. Mbah explained that the 4.4mw gas-powered plant built by his administration to supply power at the scheme would ensure uninterrupted water supply to Enugu residents.
Regretting the dire water challenges faced by Enugu residents before now, he said availability of potable water was consequential to his administration's vision to raise the state's economy from $.4.4 billion to $30 billion GDP in four to eight years.
"It was clear to us, that the status of water supply at the time was deplorable. At that time, there had been no reliable water supply in most parts of Enugu State for almost 20 years.
"One need not be a rocket scientist to discern that few investors will be attracted to the state under such dire circumstances, nor can existing businesses expand to generate additional jobs and economic growth. If anything, these conditions are suffocating businesses and households and leading to unnecessary suffering across the State.
"Faced with this fundamental issue, and considering the suffering of Ndi Enugu, it was only natural that we identified provision of water as one of our first targets in the drive to execute our mandate and social contract with citizens of Enugu.
"We also chose to give ourselves a target of resolving this challenge in 180 days not for the purpose of chest-thumping but rather because first, the issue is urgent. We did not want Ndi Enugu to suffer unduly for even one minute longer than avoidable, and, second, we saw this as an opportunity to galvanize Ndi Enugu for the tough tasks ahead and whip our administration into gear as quickly as possible," he said.
Mbah recalled that the promise to provide potable water within the timeline of 180 days "triggered disbelief in most quarters and that is perhaps understandable, realising the countless successive, but fruitless attempts to address the problem.
"Happily, for us all, here we are, 180 days from that promise, commissioning this new ultra-modern water scheme with a capacity to deliver to businesses and families in Enugu 70 million litres of potable water daily and this is but the first phase. In a few weeks, we will also be commissioning new pumps in Oji water scheme to enable us to deliver another 50 million litres of water every day. This will give us a total daily delivery of 120 million litres in Enugu, about twice the daily demand of Enugu urban.
"We are currently supplying water at appreciable pressures to Enugu municipality and I can state here and now that pipe-borne water is here to stay," Mbah said.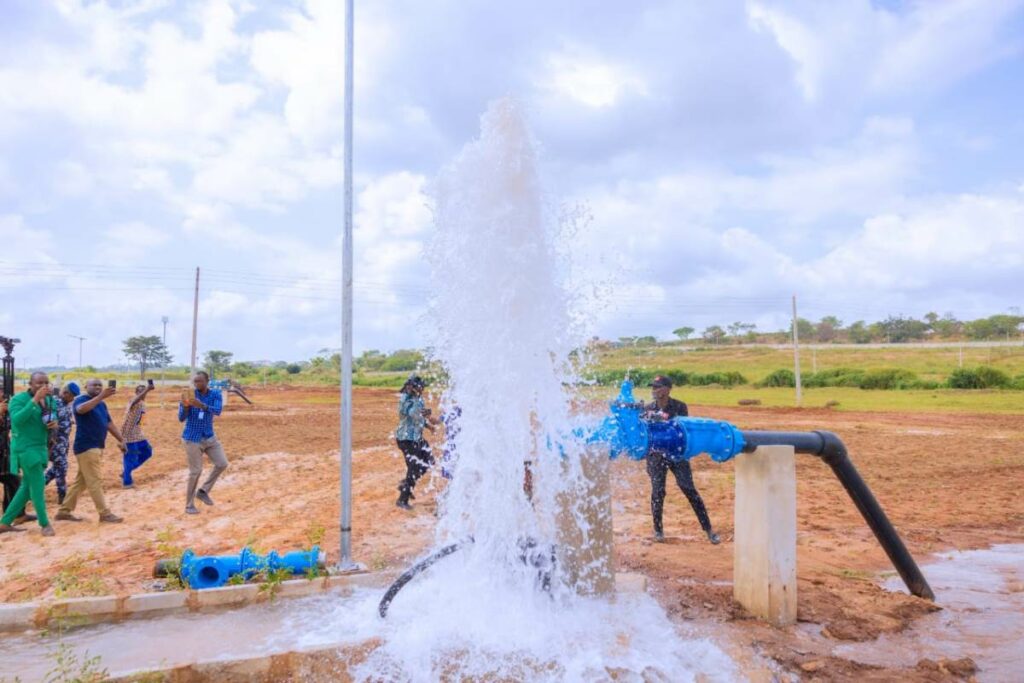 While acknowledging some challenges in the downstream part of the water supply, he stressed: "Of course, there are instances of burst pipes around the metropolis, but this was not unexpected, given the age of a number of our lines. However, these constitute but teething problems which we will surely surmount in a matter of weeks and constant water 365 days of the year will once again be a reality in Enugu."
The governor equally assured that effort would be intensified to extend pipe-borne water to a number of major residential areas, which developed since the last major pipe-laying projects in Enugu.
"In addition, the towns outside Enugu also have varied degrees of water problems. Now that we can see the end of the water issues around Enugu urban, we must now refocus to address towns like Nsukka, Oji, Udi, etc.," he said, urging the cooperation of the residents in the payment for services and protection of the facilities.
"Reliable water supply is not cheap! But I promise that this water will be far less expensive than what you are spending today on water tanker supply. We must be willing to pay for connection to the meters, which will be installed in our homes and businesses, and pay a fair monthly rate for the water we consume.
"Second, the infrastructure that we have put in place, from this scheme here to the pipes going into our various residential areas, belong to Ndi Enugu and must be optimised. We cannot afford for them to be vandalized or stolen! Therefore, we must consider it our duty to look after this infrastructure", he said.
OAU Student Starts 50-Hour Hand Wash-a-thon, Sets To Break Guinness World Record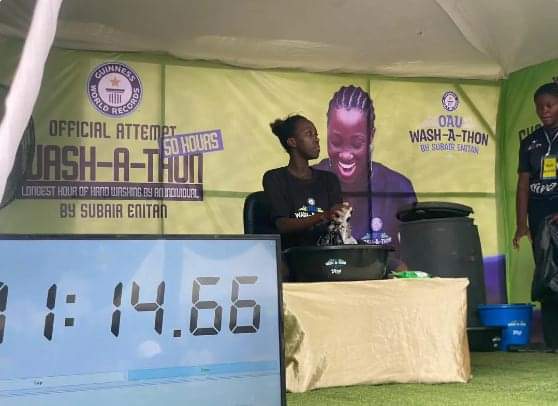 A student of Obafemi Awolowo University, Ile-Ife Osun state, Subair Enitan on Friday commenced 50-hour hand wash-a-thon to set a Guinness World Record.
Enitan, who had notified the Guinness World Record of her intentions in June this year, was given November 24th, 2023 to embark on her attempt.
The 200-level Linguistics and African Languages student has the support of school's Students' Union leadership which set the venue of the longest hand washing exercise at the school campus in Ile-Ife on Friday with students and staff of the institution cheering her on.
Before she officially started washing clothes, she expressed optimism that she will finish strong as title holder of the longest hand-washing hours.
According to her, "My background, the lessons life taught me have been motivating me to embark on this wash-a-thon. My experience is unexplainable but it taught me to be selfless. I am confident that I will reach the set goal of 50 hours of hand wash and by God's grace I will emerge victorious.
"Despite the massive support from my colleagues here, I pray for the grace of God to be able to complete the task. My parents are very supportive and I urge Nigerians to rally round me while I work towards completing the task".
The Student Union President, Abbas Akinremi-Ojo disclosed that needed supports including ambulance, lighting, water among other logistics have been put in place to ensure she win the challenge.
The management of OAU through the Dean, Students Affairs, Professor John Odedire said the school is ready to give all it takes to ensure she clinches the record.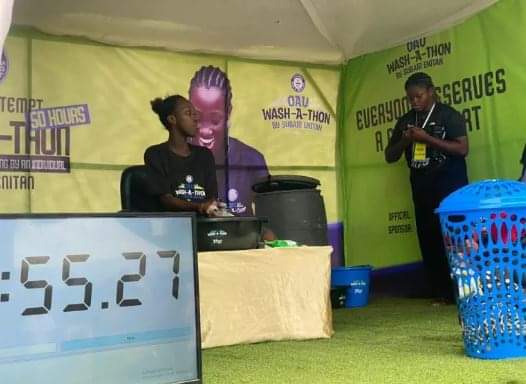 Another Nigerian Chef Takes On A 200-Hour-Cookathon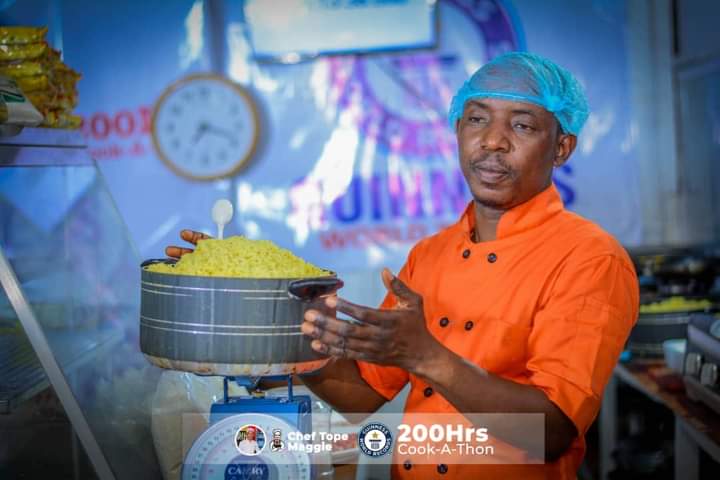 A Nigerian Chef Prince Adebayo Ayodeji Temitope has completed his 200-hour Cookathon.
He started cooking on Thursday, 9 November 2023, at 6:31 p.m. and ended earlier today, Saturday, 18 November 2023, at 2.31 a.m.
Will he be reclaiming the record from the Irish chef who recently dethroned Nigeria's Hilda Baci by cooking for 119 hours and 17 minutes? Hilda cooked for 93 hours, 11 minutes.
We look forward to the final verification and award of the new world record by the Guinness World Record.
Here are some pictures of the chef