Samsung Nigeria Visits Nike Okundaye, Busan Goodwill Ambassador, on the 56th Anniversary of Nike Arts Gallery
…Continues drive towards 2030 BUSAN Expo, writes SANDRA ANI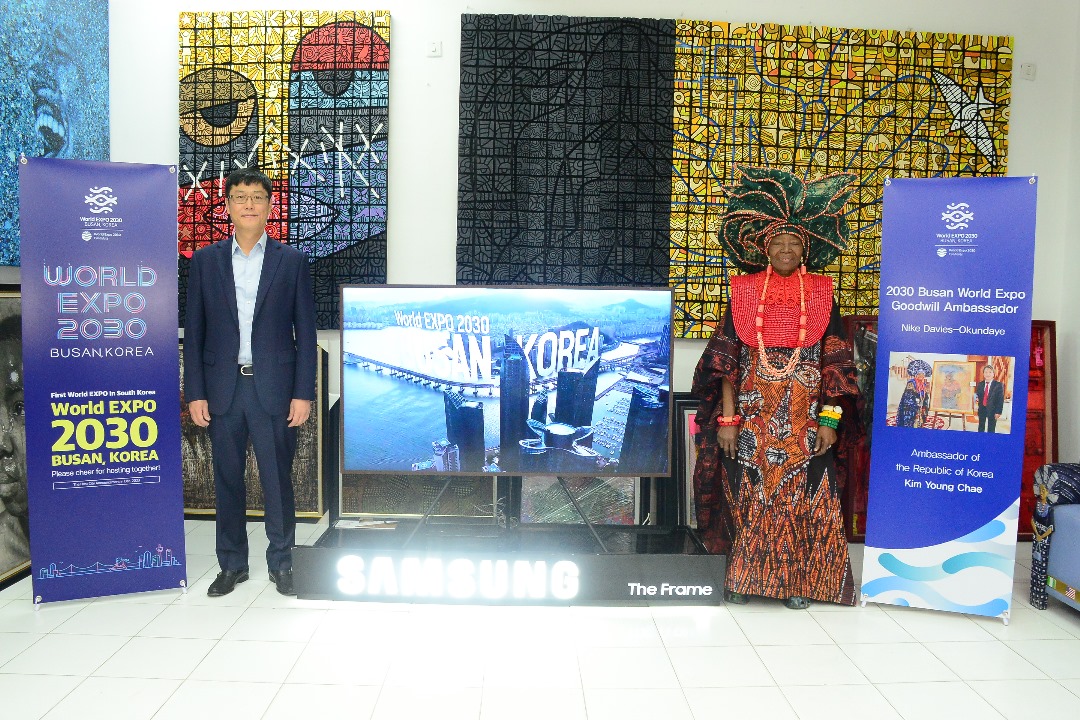 Samsung is promoting the Korean city of Busan as the host for World Expo 2030 with every opportunity it gets, and one such opportunity is the recent courtesy call on the Busan Goodwill Ambassador, Nike Okundaye on the 56th anniversary of the Nike Art Gallery.
As part of the Korea Republic's efforts at securing the hosting right for the 2030 Busan World Expo scheduled for May 1 to October 31, 2030, the country, through its embassy in Nigeria, on Wednesday, August 10, 2022, unveiled the renowned Nigerian artist and curator, Nike Okundaye, as its Goodwill Ambassador.
Samsung's delegation who were at the glamorous Nike Art Gallery, Lekki, Lagos, further promoted South Korea's candidacy bid with a view to making Busan World Expo 2023, a dream come true for the country.
World Expo is a fair that takes place only every five years, with its location changing every time. The next Expo is set to take place in 2025 in Japan, but the location for Expo 2030 has yet to be decided, which is why Samsung is doing its best to vote in the Korean city of Busan.
The Republic of Korea, in 2021, submitted a letter of candidature to the Bureau International des Expositions (BIE) to organize World Expo 2030 in the city of Busan with the theme: "Transforming our World, Navigating Toward a Better Future". The voting for the 2030 World Expo site selection is scheduled for this November 2023.
Busan, a prominent port city, has an enviable history of holding mega global events such as the Asian Games and APEC Summit, which it hosted in 2002 and 2005 respectively.
Busan also serves as a notable transportation and logistics hub and a connecting passageway from the Eurasian continent to the Asia-Pacific via its airports, high-speed railways, top edged ports and other infrastructure. As the cultural nexus of the region, Busan is reputed to be a popular city of cultural festivals, arts and film.
It has successfully hosted many events such as the Busan International Film Festival (BIFF), Busan Fireworks Festival, One Asia Festival and a global K-Culture Pop Music Festival.
The municipality has also played host to memorable conferences like the 2011 Busan World Development Institute General Assembly, 2014 ITU Plenipotentiary Conference, 2014 &2019 ASEAN-ROK Commemorative Summit, 2015 IDB Annual Meeting and the 2022 International Forwarders Associations (FIATA) World Congress.
Besides epitomising the proposed theme, the candidate city, with a population of about 3.5 million and average of 40 million tourists visiting annually, is strategically located on the southeastern tip of the Korean peninsula and boasts of well-equipped infrastructure.
Charlie Lee, Managing Director, Samsung Nigeria, who led the delegation thanked Nike Okundaye who is rallying the support of Nigeria in promoting the Republic of Korea and the candidacy of Busan in Nigeria and the entire West Africa.
Responding, Nike thanked the Samsung team for the visit. She applauded Samsung for the confidence the business has in Nigeria. She prayed that Busan would win the hosting rights.
[Source]
The Ma'nene culture of Indonesia where they dig up the dead from their grave to celebrate them yearly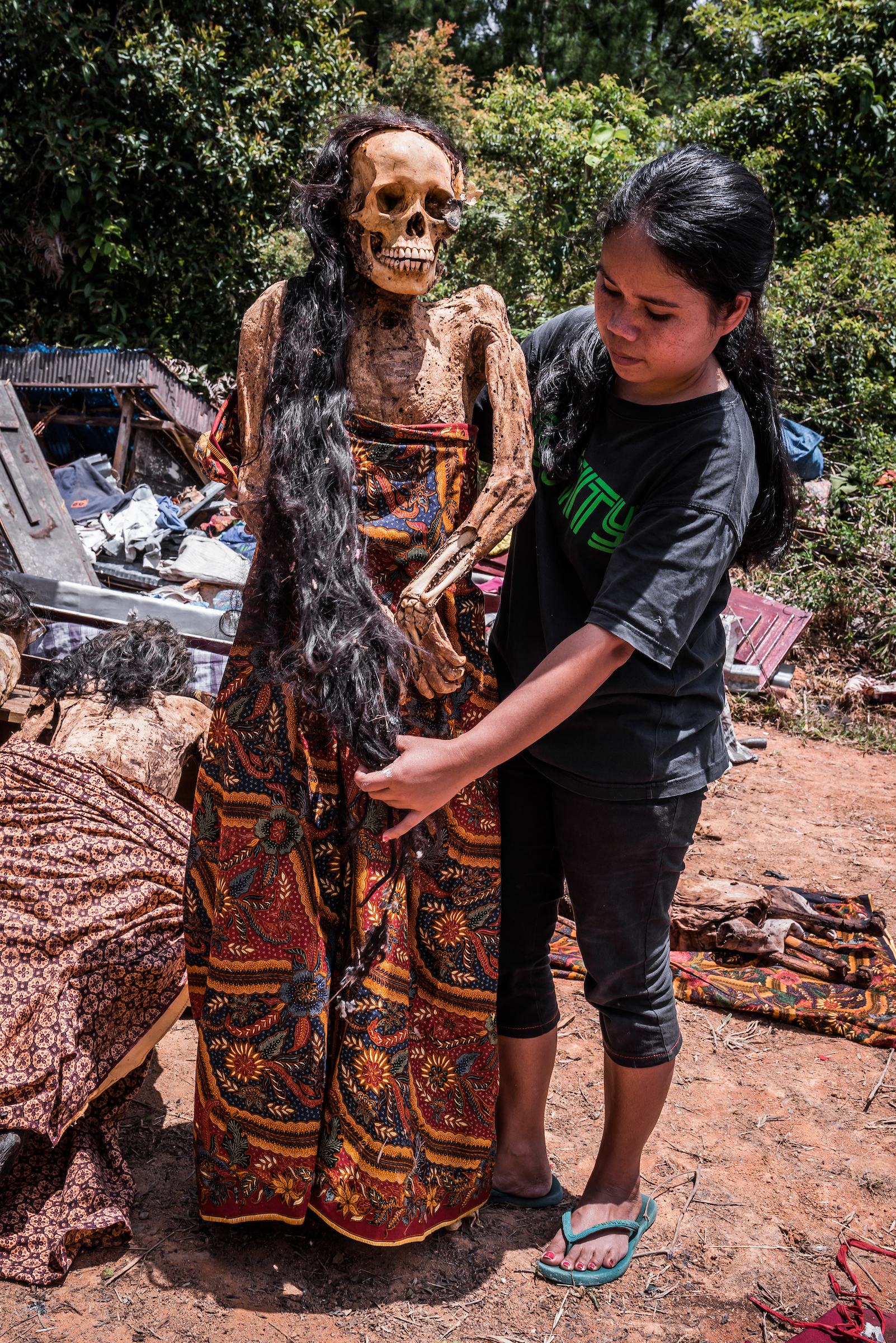 Ok, It is true that letting go of a loved ones can be truly almost impossible especially when death takes them away physically. But what can you do when Death is a natural phenomenon?
However, this does not really apply to the small island of the Toraja people of indonesia who practice the ma'nene ritual, which is the digging up of their dead ones from their graves and celebrating them once in a year. There are fascinating photos of families and their dead one which shows the depth at which they keep their cultural practices.
Before their dead ones are buried at first, most times their bodies are kept for weeks, months, or even years depending on how rich the families are. So the richest of families keep the bodies of their dead ones for years, which they clean, feed and clothe them continually until they are buried, but only to be dug out again once in every year. Sounds weird right? So they are dug out to be cleaned, redressed, fed, and new coffins are made for them. They are actually kept at a place called the house of death, but that is during their death before the first burial which takes weeks, months, or years.
Although Indonesia is known to be a Muslim country, but the Toraja people are mostly Christians. Which does not stop them from practicing the ma'nene culture, even though the church has tried to stop them from engaging in such rituals.
Here are some pictures from the Ma'nene rituals of digging up the dead.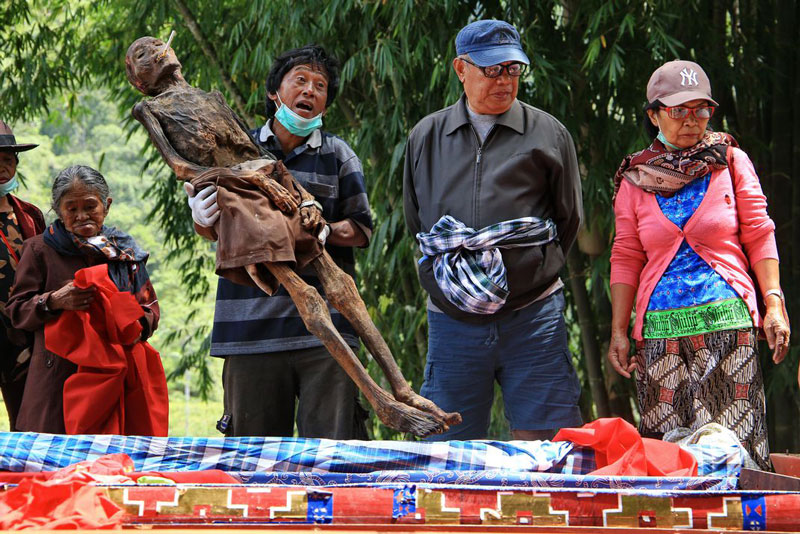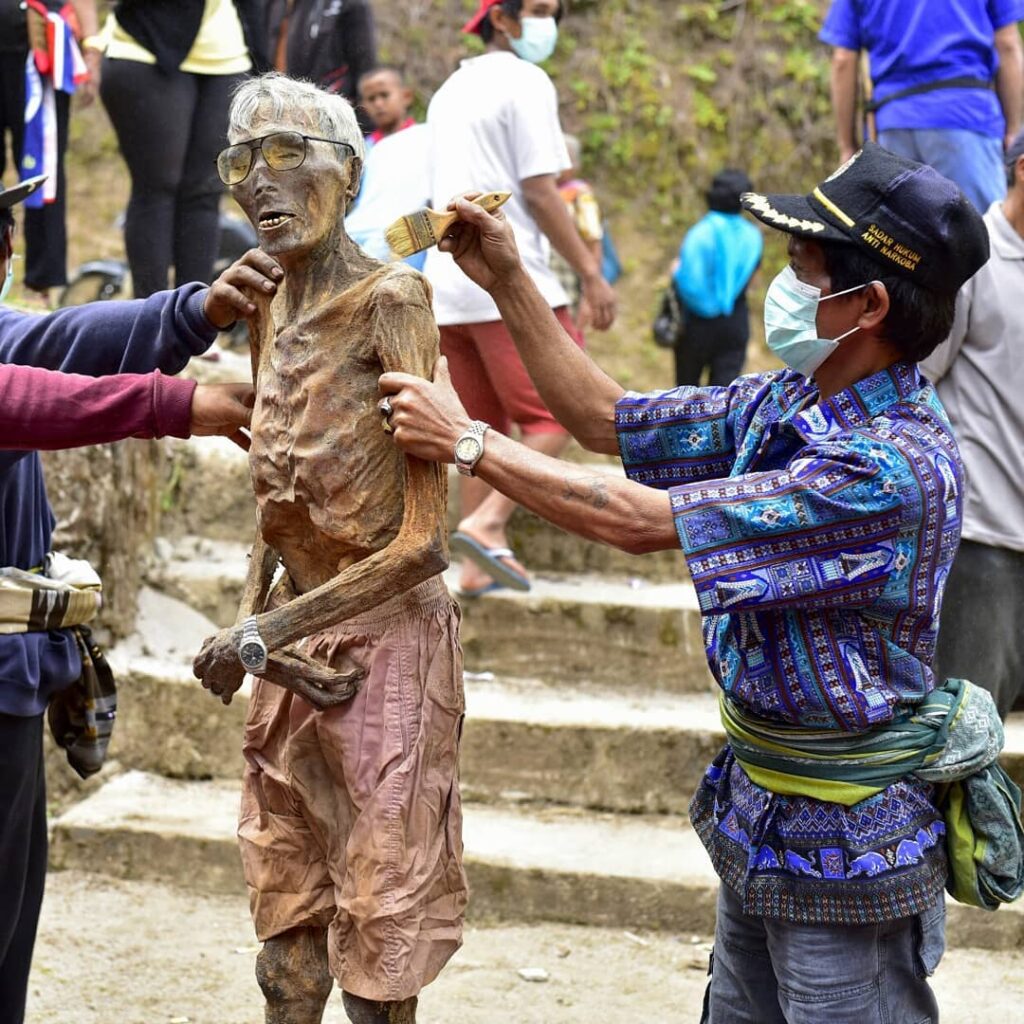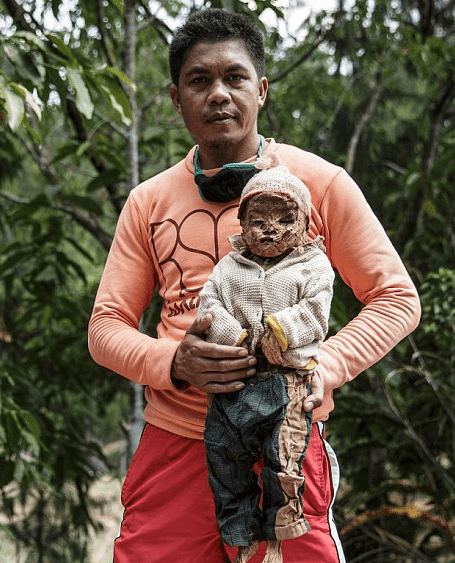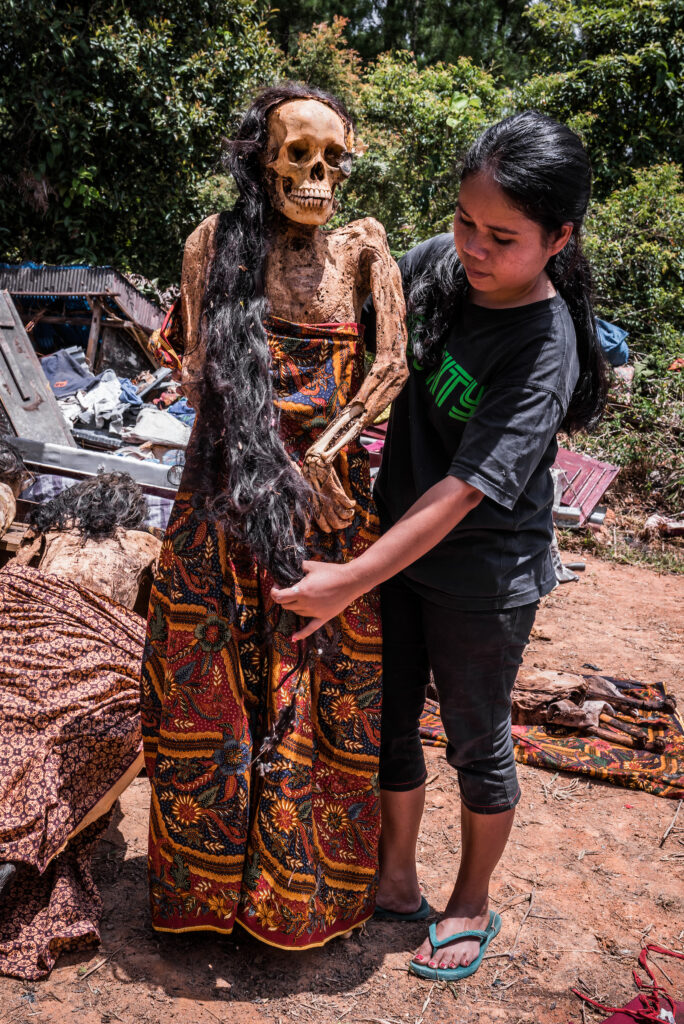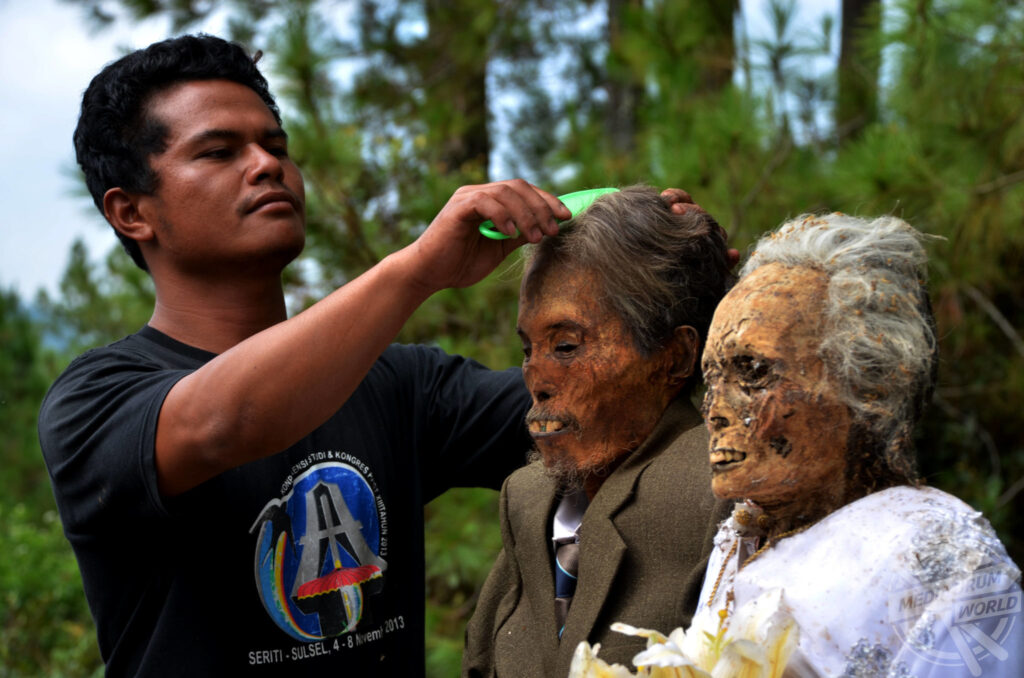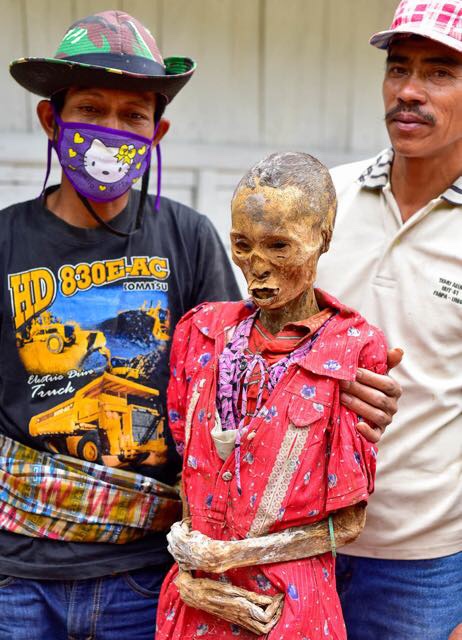 So what do you think about this culture?
READ ALSO: I Won't Allow Tribe, Reigion Ruin Our Beautiful Relationship – Woman
18 Wives Of Alaafin Of Oyo Are Now Available For Suitors – Oyo Chief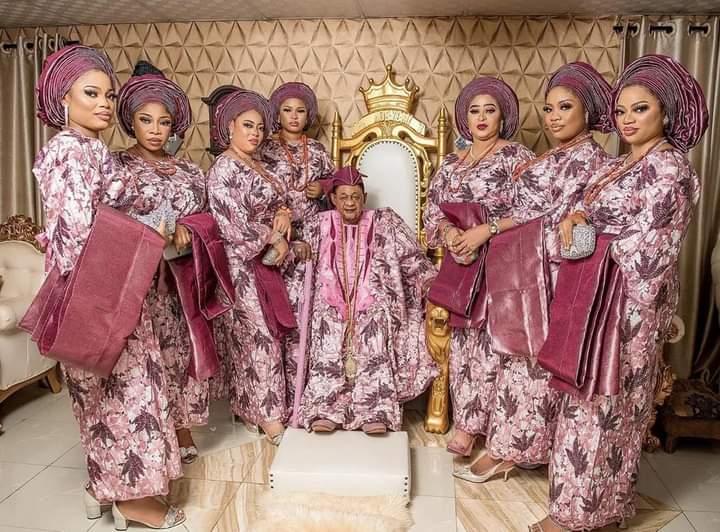 Following the death of the renowned monarch, the 18 wives of Oba Lamidi Adeyemi III, the 45th Alaafin of Oyo, may now be available to suitors without undergoing cleansing rituals.
Oba Adeyemi, 83, died late last Friday after receiving treatment at Afe Babalola University in Ado-Ekiti. And has been buried according to Islamic rites.
Abibat (first wife), Rahmat Adedayo, Mujidat, Rukayat, Folashade, Badirat Ajoke, Memunat Omowunmi, Omobolanle, Moji, Anuoluwapo, Damilola, Chioma, and other Oba Adeyemi's queens are now available for suitors.
"They are not cleansing; they are free to go about their lives," he explained.
Regardless, he stated. "The wives are not allowed to marry an Oyo indigene."
"Now that Alaafin is dead, they will all be asked to leave the palace with their belongings," he added. Despite the fact that they would share the late monarch's properties."
Man Who Accused Diety Of Causing Poverty Gets Arrested By Enugu Police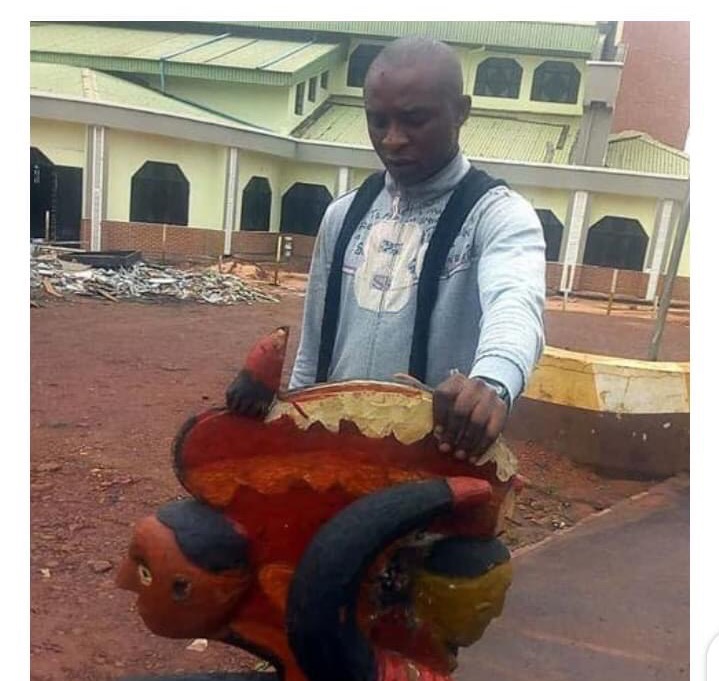 Enugu State Police Command have apprehended a man who took hold of a communal deity arguing that the deity has been tormenting his community with poverty, failure of businesses, and lack of marriage for eligible bachelors, has been arrested by the
Nnajiofor Donatus explained that the deity is responsible for the level of poverty in Ibeku Opi, after crashing out of his thriving honey business job in Anambra State, returning home with nothing to show for his efforts.
Onlookers who were frightened at the sight of the man and the deity, observed that he showed strange behaviour and barked whenever anyone gets close to him, Vanguard reported.
He was said to have acted violently to anyone who tried to stop him from gaining entrance to Okunere adoration museum at St. Theresa's Catholic Church, to liberate Ibeku Opi community out of the fetish powers of the deity.