The Ma'nene culture of Indonesia where they dig up the dead from their grave to celebrate them yearly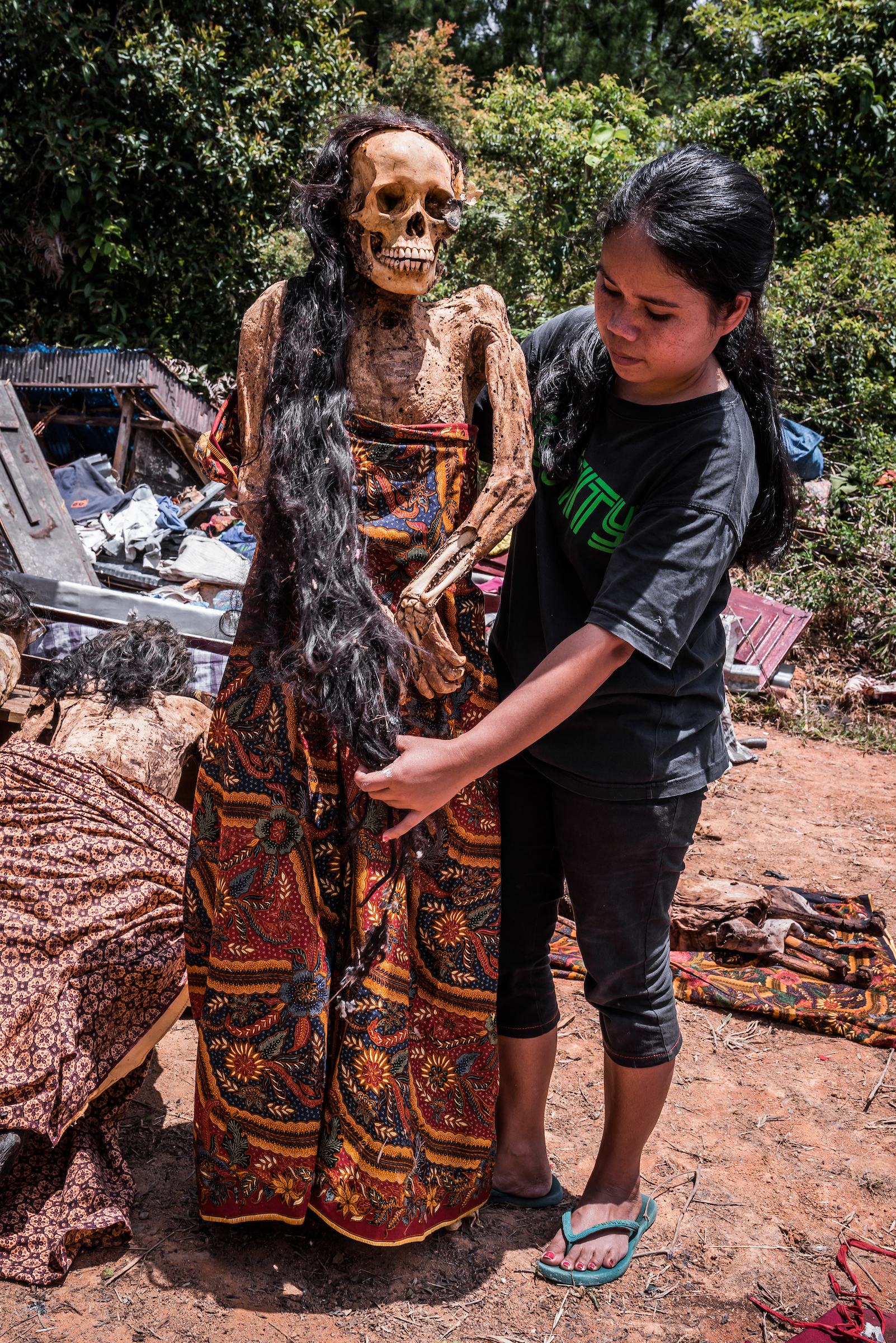 Ok, It is true that letting go of a loved ones can be truly almost impossible especially when death takes them away physically. But what can you do when Death is a natural phenomenon?
However, this does not really apply to the small island of the Toraja people of indonesia who practice the ma'nene ritual, which is the digging up of their dead ones from their graves and celebrating them once in a year. There are fascinating photos of families and their dead one which shows the depth at which they keep their cultural practices.
Before their dead ones are buried at first, most times their bodies are kept for weeks, months, or even years depending on how rich the families are. So the richest of families keep the bodies of their dead ones for years, which they clean, feed and clothe them continually until they are buried, but only to be dug out again once in every year. Sounds weird right? So they are dug out to be cleaned, redressed, fed, and new coffins are made for them. They are actually kept at a place called the house of death, but that is during their death before the first burial which takes weeks, months, or years.
Although Indonesia is known to be a Muslim country, but the Toraja people are mostly Christians. Which does not stop them from practicing the ma'nene culture, even though the church has tried to stop them from engaging in such rituals.
Here are some pictures from the Ma'nene rituals of digging up the dead.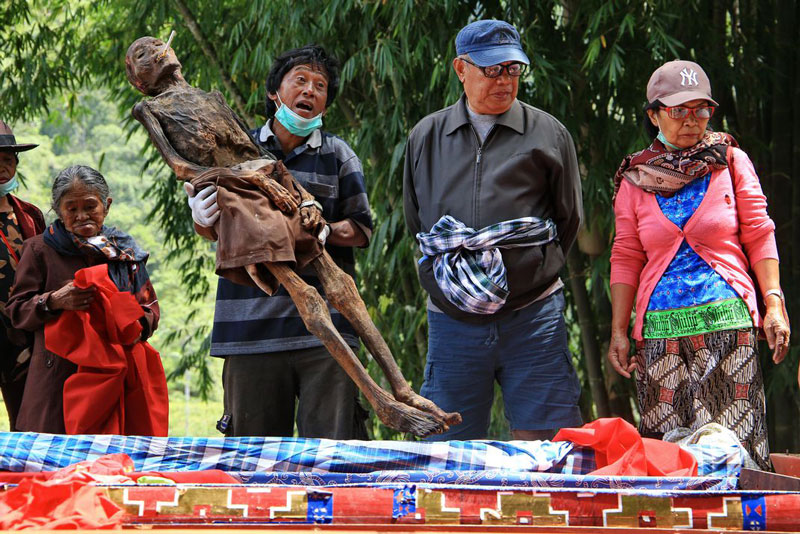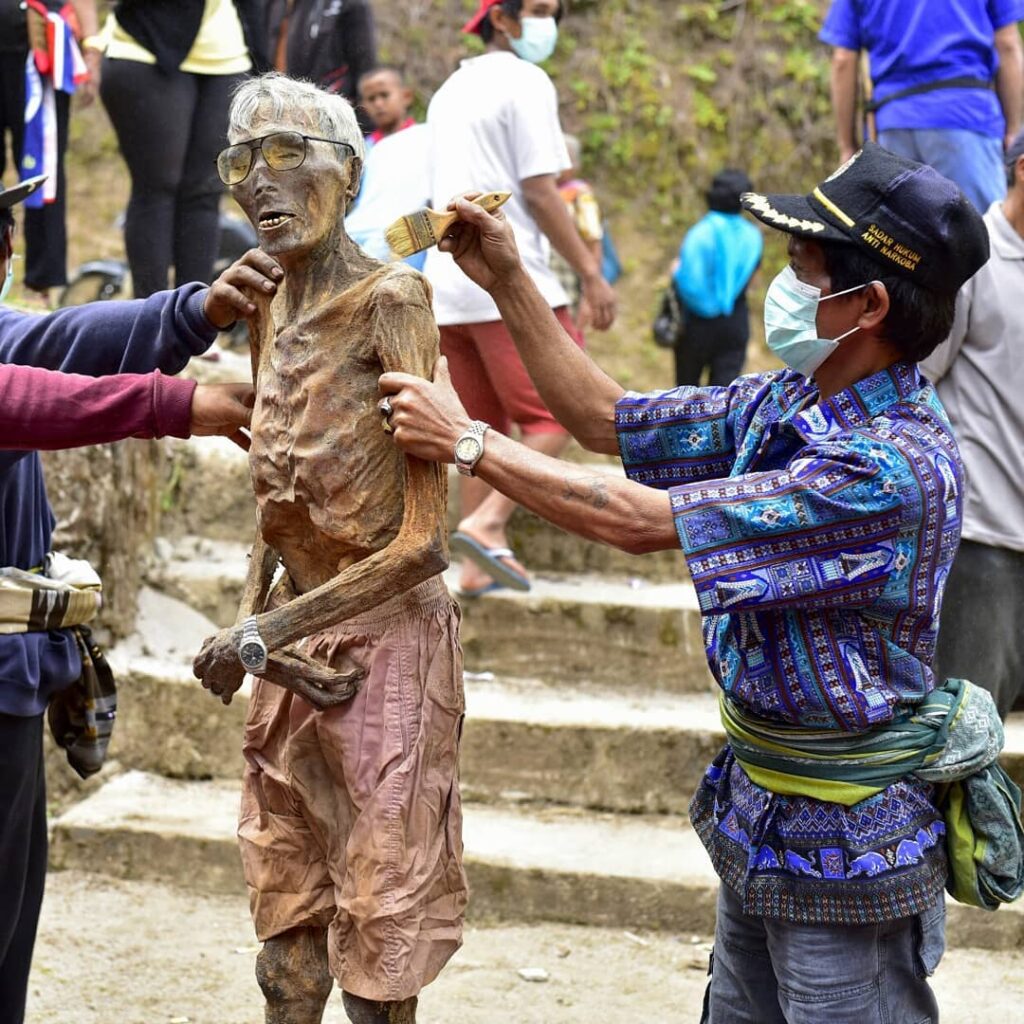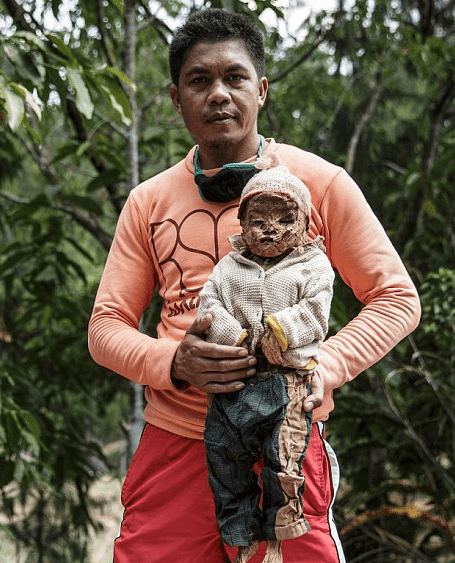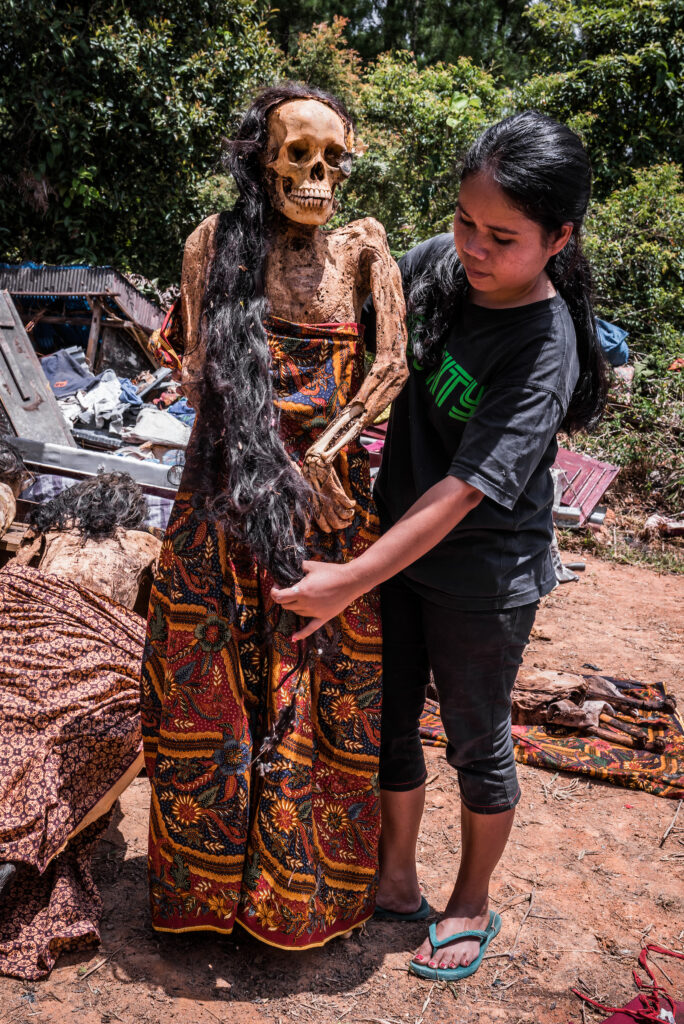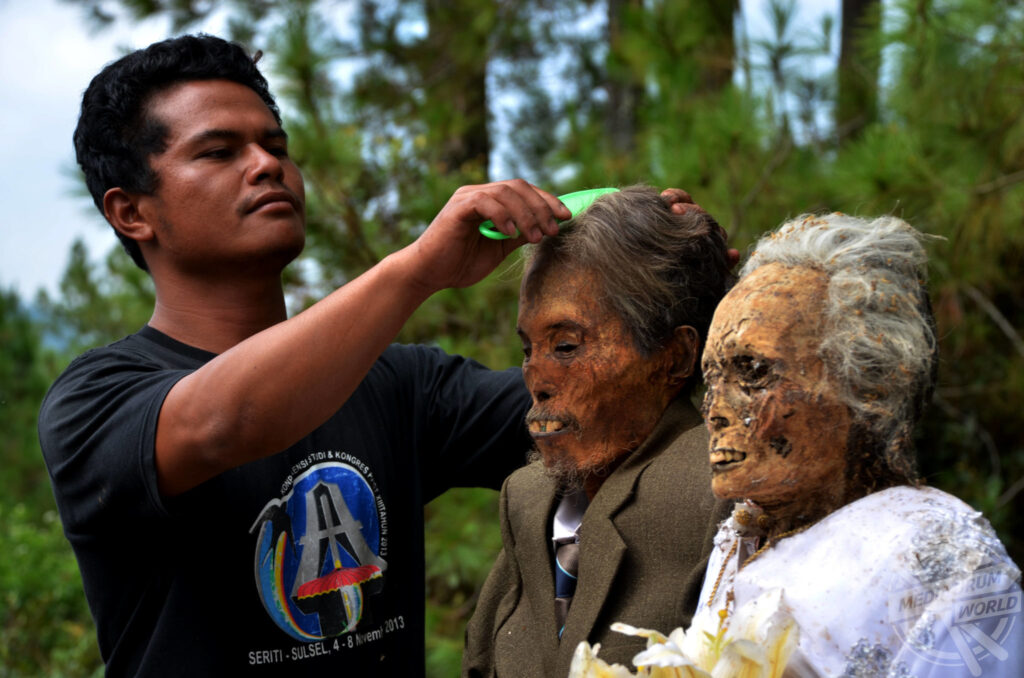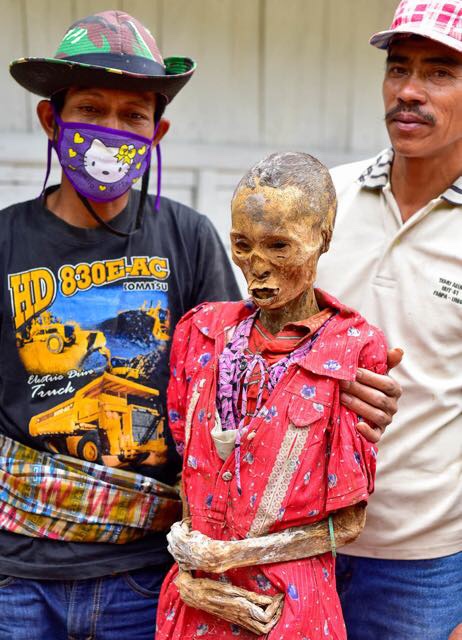 So what do you think about this culture?
READ ALSO: I Won't Allow Tribe, Reigion Ruin Our Beautiful Relationship – Woman
18 Wives Of Alaafin Of Oyo Are Now Available For Suitors – Oyo Chief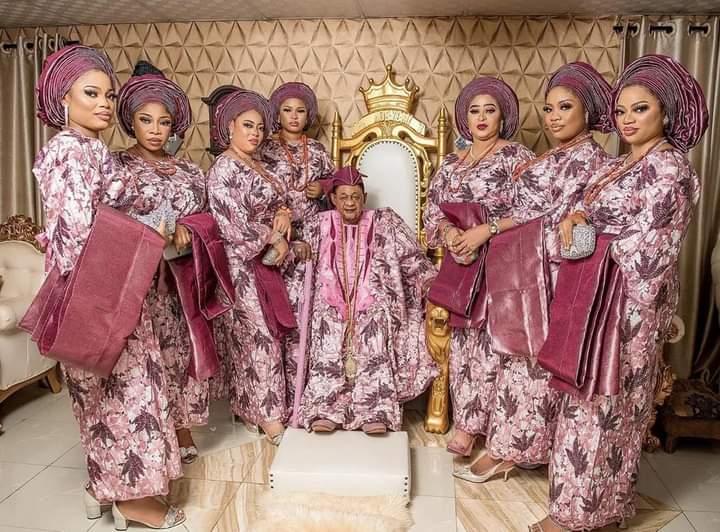 Following the death of the renowned monarch, the 18 wives of Oba Lamidi Adeyemi III, the 45th Alaafin of Oyo, may now be available to suitors without undergoing cleansing rituals.
Oba Adeyemi, 83, died late last Friday after receiving treatment at Afe Babalola University in Ado-Ekiti. And has been buried according to Islamic rites.
Abibat (first wife), Rahmat Adedayo, Mujidat, Rukayat, Folashade, Badirat Ajoke, Memunat Omowunmi, Omobolanle, Moji, Anuoluwapo, Damilola, Chioma, and other Oba Adeyemi's queens are now available for suitors.
"They are not cleansing; they are free to go about their lives," he explained.
Regardless, he stated. "The wives are not allowed to marry an Oyo indigene."
"Now that Alaafin is dead, they will all be asked to leave the palace with their belongings," he added. Despite the fact that they would share the late monarch's properties."
Man Who Accused Diety Of Causing Poverty Gets Arrested By Enugu Police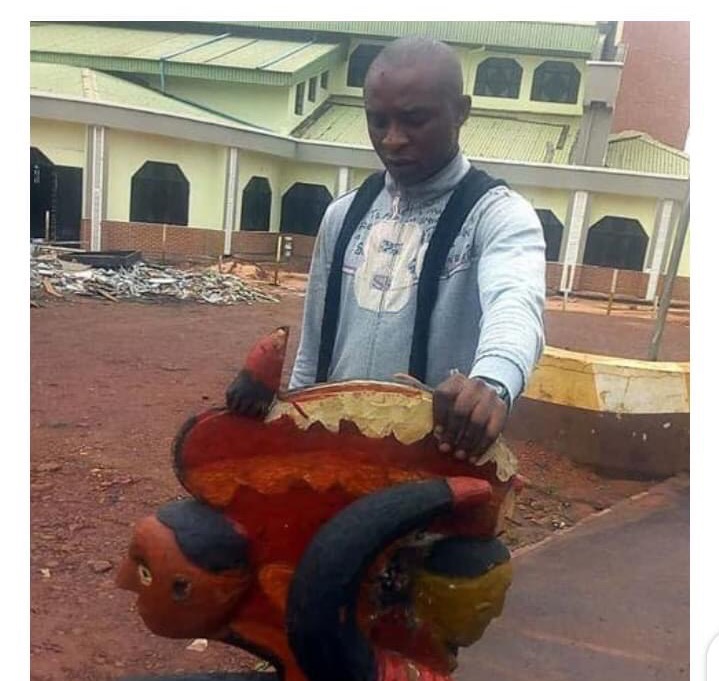 Enugu State Police Command have apprehended a man who took hold of a communal deity arguing that the deity has been tormenting his community with poverty, failure of businesses, and lack of marriage for eligible bachelors, has been arrested by the
Nnajiofor Donatus explained that the deity is responsible for the level of poverty in Ibeku Opi, after crashing out of his thriving honey business job in Anambra State, returning home with nothing to show for his efforts.
Onlookers who were frightened at the sight of the man and the deity, observed that he showed strange behaviour and barked whenever anyone gets close to him, Vanguard reported.
He was said to have acted violently to anyone who tried to stop him from gaining entrance to Okunere adoration museum at St. Theresa's Catholic Church, to liberate Ibeku Opi community out of the fetish powers of the deity.
Governor Ugwuanyi's Maradona move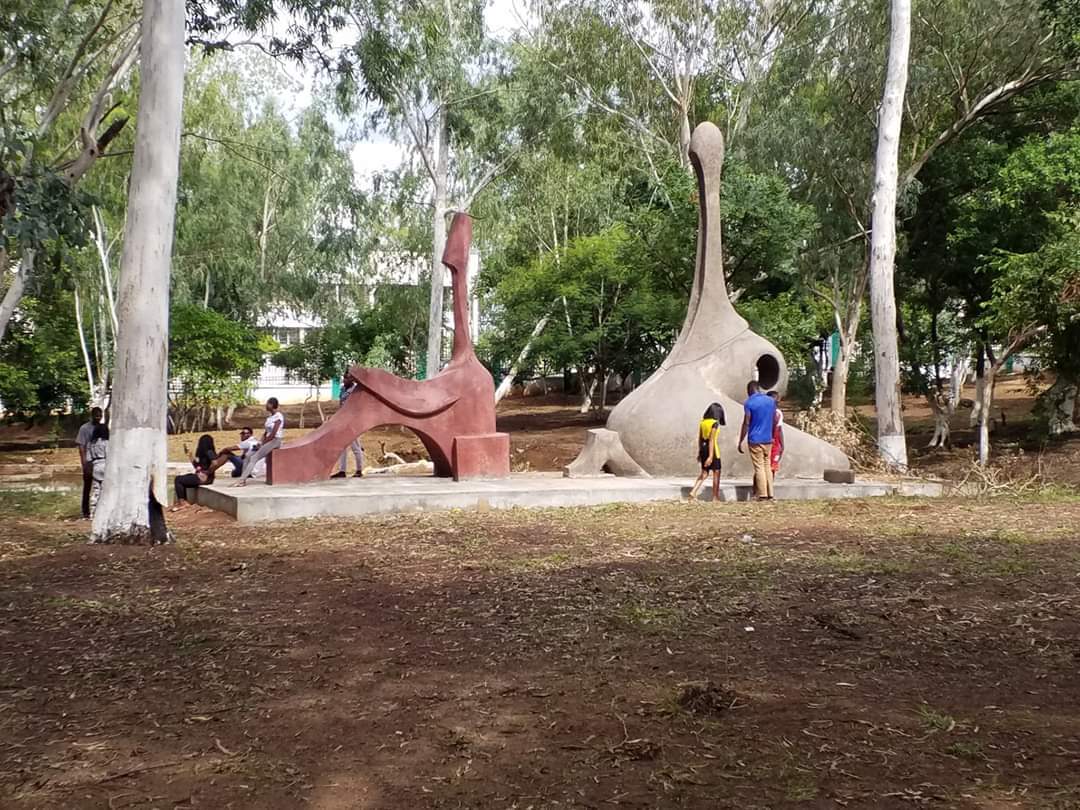 BY: Bianca Odumegwu Ojukwu
This used to be a favorite haunt…The Forest Reserve adjacent to Michael Okpara Square, Enugu.
My early morni​​ng jogging sessions took place in its environs. Sometime last year, whilst aboard an airline flight from Abuja to Enugu, I sat next to one of our wealthy businessmen who excitedly informed me that he had embarked on a grand project to convert this Forest Reserve beautifully lined with gamelan and eucalyptus trees into the site of a big Luxury hotel.
He said he had been working on this project for the past couple of years. The problem was getting the State Government to grant him the allocation…' This Governor is proving too tough', he indicated; 'But once he leaves office, this project will go through. I'm working on it'.
I was not elated at this prospect. This Reserve is one of the very few remaining 'Green' areas within the Enugu Metropolis. It would be a pity to convert this scenic place into yet another hotel project. I raised this point.
'This is prime land that is just wasting away', he responded. 'We'll cut down all those trees for this magnificent hotel…ka Nwoke a pugodi (let this man leave office)'
It is also possible that there were many others who had a similar 'bright idea'.
Fast forward to a week ago when a friend sent me these pictures of the same Forest Reserve. It has now been converted to a beautiful recreation centre with an artificial water pond, park relaxation seats, artworks and a monumental roaring lion of about 30ft high and 60 ft wide under construction.
I forwarded the pictures to the hotel mogul and his only response was 'ike gwuru' (meaning: I'm tired).
Enugu now has a new and picturesque tourist attraction. I can't wait to visit!
Kudos to the visionary Governor of Enugu State, Dr Ifeanyi Ugwuanyi for saving this Landmark stretch, in pursuance of his urban renewal drive, especially in view of the fact that Forest Reserves in the state have become endangered due to scarcity of land, high population and economic growth. With this dexterous move, the Forest Reserve is secure and preserved for the people, and Enugu Metropolis is better for it.
All hail the new UNITY PARK!
Ndi 042 and coal city lovers, udo dir !
Bianca Odumegwu Ojukwu is the former Nigeria Ambassador to the Kingdom of Spain and Nigeria's Permanent Representative, United Nations World Tourism Organisation (UNWTO).