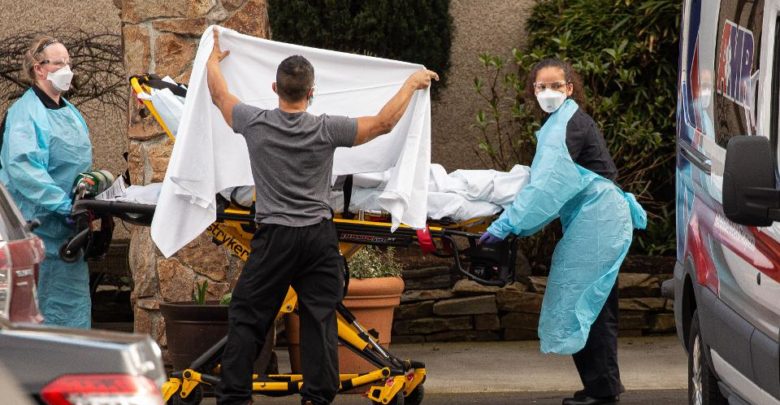 BY: Osy Agbo
'We are all in this crisis together but we are not all experiencing this crisis in the same way,'
That was how Chicago Mayor, Lori Lightfoot described the jarring data from Chicago's public health​​ agency that showed Black residents accounted for 72 per cent of COVID-19 deaths in a city whose black population make up only 30 per cent. From Chicago to New Orleans, Detroit to Milwaukee, cities with large African-American population are fast becoming hotspots for coronavirus. All across America, people of color are more likely to become infected and die from COVID-19.
Early data seem to suggest that longstanding disparities in health and inequalities in access to medical care is the cause rather than genetic factors. Blacks are more likely to have higher percentage of individuals with pre-existing conditions who are uninsured or underinsured. "A pandemic just magnifies the disparities in healthcare that many communities of color face,' say Dr Summer Johnson McGee, dean of the School of Health Sciences at the University of New Haven.
In September 2019, Hanheman University hospital, a 496-bed facility that served Philadelphia's inner city poor blacks and just about 2 years after being purchased by American Academic Health Systems closed shop . In the months preceding the closure, the hospital was loosing about $3-5M in monthly revenue and the California investment banker overseeing the business side of things had to stop it from hemorrhaging.
On February 1,2019 Mercy hospital,a 47-bed acute care facility located in the Southeast Kansas City of Fort Scott closed her door for good. This was after 130 years of serving not just this rural community of ranchers and farmers but also the local population that made up the surrounding Bourbon County. In the good old days, the hospital was also the area's biggest employer of labour, contributing significantly to the local health as well as economic well being.
If those surprised you, then you must be totally oblivious of the emerging trend especially in rural America. The UNC Cecil G.Sheps Center for Health services research reported that 163 hospitals in rural America have shut their doors from 2005 till date. My home state of Texas is leading the pack with 17 hospitals closed since 2010. In fact more than 700 amounting to about one-third of such hospitals in the US are in life support according to national rural health association. Contributing factors included: small patient populations, high rates of uninsured and underinsured, physician shortages and low cash flow .
The big issues in all these is that those most affected by hospital closings tend to be the poor, minorities and elderly patients. Added to this mix are the unemployed and those suffering from mobility limitations due to chronic conditions like obesity, diabetes and chronic kidney disease. In other words ,the more vulnerable population bears the full brunt and this no doubt helps to exacerbate an already existing health disparities in America.
There is nothing glamorous about being poor and it doesn't even matter if the poverty is denominated in dollars or pesos. You will always get the short end of the stick and make do with a generous dose of stigma that goes with it. But truth is that before now, the American poor unlike his counterparts in Southeast Asia and Sub-Saharan Africa had a lot to be thankful for. Thanks to the social safety net with programs that made life much better even to the envy of the rich in emerging economies. Every passing year, however, the rising healthcare cost in the world's richest economy is forcing the gap to close pretty fast.
In fact, In rural Coffeyville, Kansas, where the poverty rate is reported to be twice the national average, CBS News reported that people are now going to jail over unpaid medical debt. With the Trump White House launching an all out offensive against social programs in favor of increased defence spending,the stage is now set for a full blown disaster.
According to a gallop poll reported in April 1,2019, 55% of Americans worry a great deal about healthcare, topping a list of 15 issues.
With the election year coming, we need to pay closer attention and ask tougher questions. Americans need to know where each candidate stands on this existential issues facing our nation.
As a physician one is deeply worried about what is coming. The future, our future. We should all be very concerned about what all these portends to the future of healthcare in America.
In the past, heavy policing and draconian laws had helped protect the society against violent crimes and social misfits. They saved us from those perversions that are so commonplace when we ignore the poor and the vulnerable. In terms of fighting diseases, the case is totally different. Whereas we can successfully quarantine the sick off the public domain, no one can guarantee that the risk of transmission to others is zero. This one area proves beyond any iota of doubt that taking care of the poor among us is not just a charitable endeavor, it is in fact good business. If in doubt, maybe you should ask those that lived through the Spanish flu pandemic of 1918.
Osmund Agbo MD,FCCP writes from Houston