Innoson seals deal with Nigerian Army on manufacturing military vehicles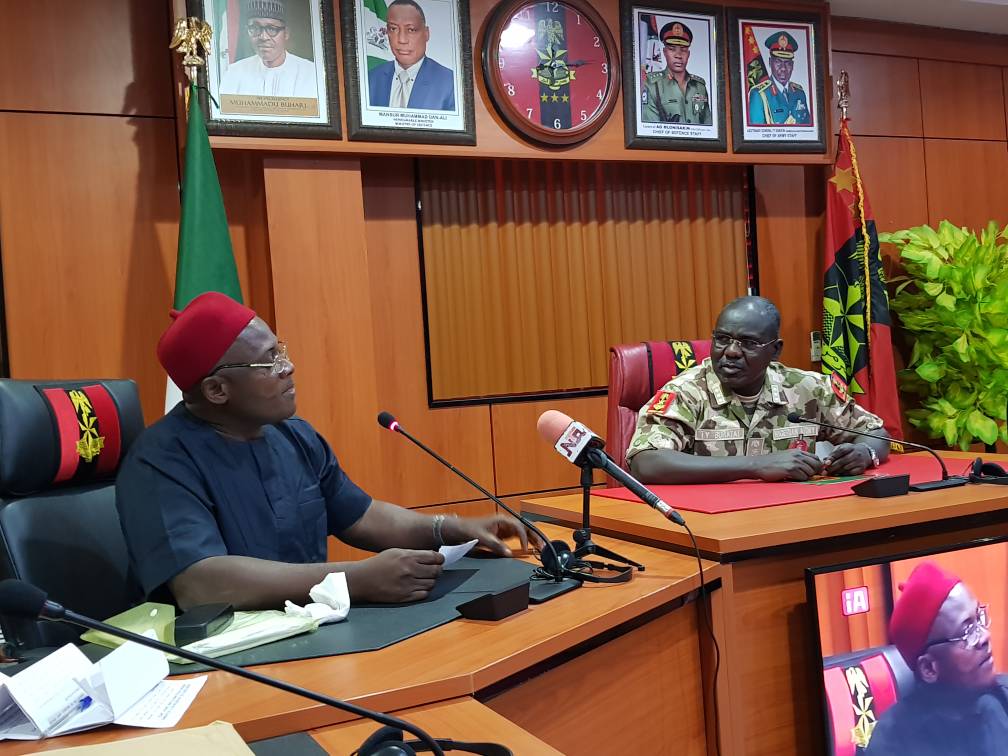 The Nigerian Army has formally entered into partnership with Innoson Motors Manufacturing Company, Nigerian indigenous motor manufacturing company, for modification of some of its equipment, local production of armoured fighting vehicles and other military hardware.
This was made manifest during a meeting between the management of the company let by the Chairman, Dr. Innocent Chukwuma and the leadership of the Nigerian Army led by the Chief of Army Staff, Lt. General Tukur Buratai at the Army Headquarters, Abuja.
In his remarks, the Chief of Army Staff, congratulated the company for giant strides it has recorded in the production of various brands of vehicles lately.
He said that the essence of the meeting was to further formalize the business relationship between the Nigerian Army and Innoson Vehicle Manufacturing Company.
The Chief of Army Staff recalled with delight that the Nigerian Army being patriotic and in a bid to encourage local entrepreneurs asked Innoson Motors to supply 3 vehicles early last year which were found to be durable and performing very well as they were employed in combat and proved to be useful, comfortable and convenient in military operations.
The Army Chief said that based on that, the Nigerian Army acquired over 70 more variants of the Innoson vehicles which were deployed in the North East for Operation Lafiya Dole.
He further stated that the Nigerian Army desires to deepen its cooperation by partnering with Innoson Vehicle Manufacturing Company Limited to conceptualize, design, modify and produce military hardware.
The specific areas of partnership between the Nigerian Army and the company include immediate supply 100 vehicles, supply of appropriate gears, engines and chassis required for immediate modifications and repairs of armoured fighting vehicles in the North East Theatre of Operations.
Buratai identified requirements for production of armoured fighting vehicle in Nigerian Army Central Workshop in Kaduna and enhancing capacity of Nigerian Army personnel as part of the gains of active participation of the successful implementation of these joint ventures.
Responding, Dr. Innocent Chukwuma expressed happiness that the Nigerian Army has found his vehicles working perfectly and commended the Chief of Army Staff for his great sense of patriotism.
He promised to assist the Nigerian Army in its quest for better vehicles for its troops and resuscitation of its Special Vehicle Plant and Workshops.
Dr. Innocent Chukwuma further thanked the Chief of Army Staff for the commendation, maintaining that his company would continue to improve and expand its capacity in vehicle manufacturing.
He further appreciated the Nigerian Army for the patronage, describing the critical role the Nigerian Army is playing in national development through the fight against insurgency in the North East and Nigeria in general.  Highlight of the occasion was inspection and handing over of 3 of the newly manufactured vehicles by the company for trial by the Nigerian Army.
A statement by Brig-General Sani Usman, Director, Army Public Relations listed the newly manufactured vehicles as IVM G80 Bigger Jeep, IVM G40 Smaller Jeep and IVM Granite Pickup.

FG Reconstitutes Governing Boards Of Parastatals Under Federal Ministry of Transportation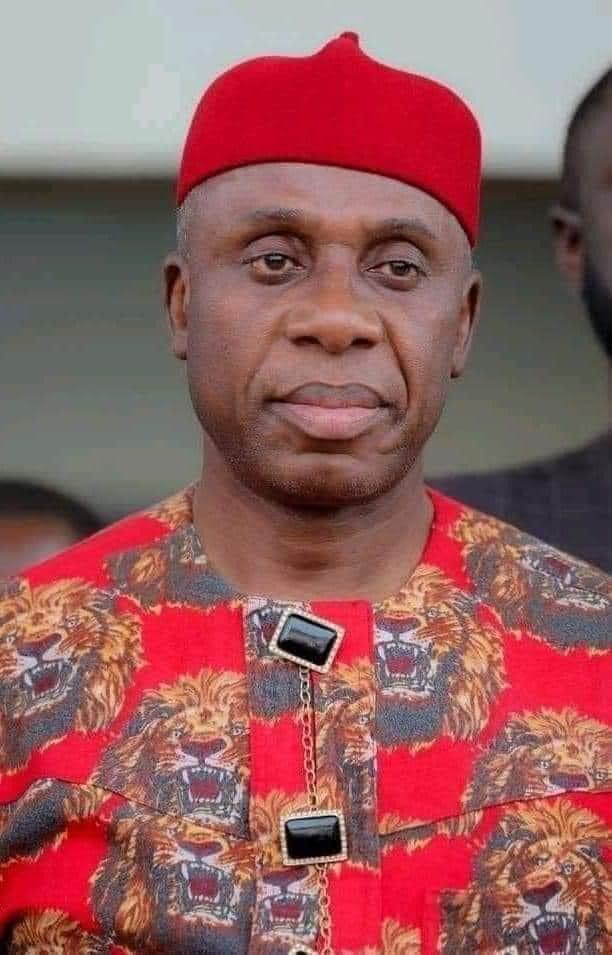 President Muhammadu Buhari has approved the re-constitution of members of the Governing Boards of Parastatals within the purview of the Ministry Transportation.
In a press release today April 6, 2022 signed by Director of Press and Public Relations, Federal Ministry of Transport, Eric Ojiekwe, the following Parastatals Boards have been approved for reconstitution:
i. Nigerian Shippers' Council (NSC)
ii. Nigerian Institute of Transport Technology (NITT)
iii. Maritime Academy of Nigeria, Oron (MAN, ORON)
iv. National Inland Waterways Authority (NIWA)
v. Nigerian Ports Authority (NPA)
The Board members are as follows:
i. Nigerian Shippers' Council (NSC)
a. Lawal Sama'ila Abdullahi – Chairman
b. Rufai Ahmed Akambi – Member
c. Usen Ekong Udoh – Member
d. Otunba Oluseyi Oduntan – Member
e. Violet Oliatan Williams – Member
f. Mohammed Allamin Kam-Salem – Member
g. Hon. Emmanuel Lyambee Jime – Executive Secretary/CEO
ii. Nigerian Institute of Transport Technology (NITT)
a. Hon Ejike Njeze – Chairman
b. Alh. Amuda Seriki – Member
c. Mr. Muhiydeen Sani Awwal – Member
d. Mr. Paul Eluhaiwe – Member
e. Hon. Gbenga Elegbele – Member
f. Sen. Tutare Abubakar – Member
g. Dr. Bayaro S. Farah – Director-General/CEO
iii. Maritime Academy of Nigeria, (MAN, ORON)
a. Rear Adm. Jacob Adekunle Ajani – Chairman
b. Alh. Abdullah Nurudeen – Member
c. Larry Odeh – Member
d. Commodore D. E. Effedua – Rector/CEO
iv. National Inland Waterways Authority (NIWA)
a. Hon. Binta Masi Garba – Chairman
b. Chibuike Ikenga – Member
c. Chief (Dr) George N. Moghalu – Managing Director/CEO
v. Nigerian Ports Authority (NPA)
a. Chief Akinwunmi Ricketts – Chairman
b. Sen. Ayogu Eze – Member
c. Ghazali Moh'd – Member
d. Abdullazeez Nyako – Member
e. Abdulwahab Adeshina – Member
f. Mustapha Aminu Dutse – Member
g. Ms. Adenrele Susana Adeshina – Executive Director, Finance
h. Mohammed Bello Koko – Managing Director/CE
The inauguration of the Boards by the Minister of Transportation will be conveyed in due course.
Rail Incidence: FG Asks Nigerians To Contribute Money For Patients' Treatment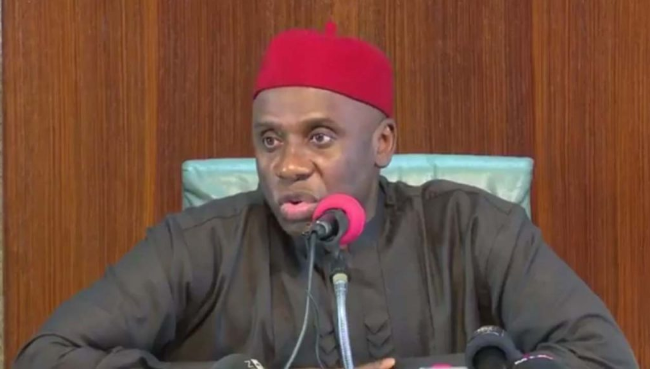 The Federal Government has asked Nigerians to raise funds for the treatment of those who sustained injuries when bandits attacked a train heading to Kaduna State from the FCT.
Grassroots.ng reported earlier how bandits gunned down at least nine persons, while many others sustained different degrees of injuries during the attack on the Abuja-Kaduna train.
The incident has triggered reactions since Monday, as Nigerians lament the level of insecurity ravaging the nation at the moment.
The Minister of Transportation, Mr Rotimi Amaechi, who spoke when he visited the victims who are being treated at the 44 Nigerian Army Reference Hospital in Kaduna on Wednesday, revealed that the army had not charged the patients a dime.
Amaechi asked Nigerians to liaise with the hospital to contribute money as some of the patients who have bullets in their body may need surgery.
He said, "They said they have only seven (patients) left and the rest have been discharged. The ministry, and I think the federal government, are grateful to the Nigerian Army for providing such services.
"But one thing I have said to the Nigerian people is to liaise with the hospital management and see how much money they can contribute for the treatment of the patients".
Nigeria Will Spend At Least N3bn To Replace What Was Lost During Abuja-Kaduna Train Attack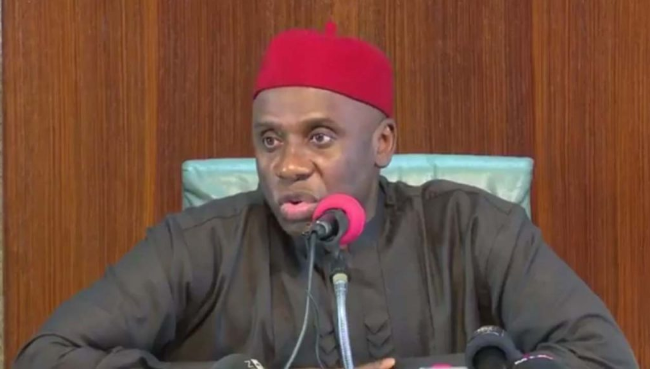 It will take more than N3 billion to replace what had been lost to the attack on the Abuja-Kaduna rail route, the Minister of Transportation Rotimi Amaechi said on Tuesday.
Terrorists had attacked a train on the route on Monday, killing at least eight persons.
Many are also believed to have been abducted.
Amaechi, speaking to reporters after visiting the scene of the attack, said the unfortunate event could have been avoided if a N3 billion digital security equipment had been acquired.
"We knew what the problem would be. We knew we needed to have digital security equipment. We applied for it.
"Because if we had those equipment, you will see nobody on that track. And I warned that lives will be lost. Now, lives are lost. Eight persons dead, 25 persons in the hospital.
We don't know how many persons have been kidnapped. And the cost of that equipment is just N3 billion. The cost of what we've lost is more than N3 billion. We've lost tracks, we've lost locomotives and coaches. We've lost human beings. And the equipment is just N3 billion.
"To fix all the things on that track now, will cost us more than N3 billion. And now even the things we said give us approval to buy – at the time we asked for it, dollar was N400, now it is N500. When you come with sincerity to government and your colleagues and people are stopping you, it is annoying."