1,000 shuttle buses to replace Okada in Awka, Onitsha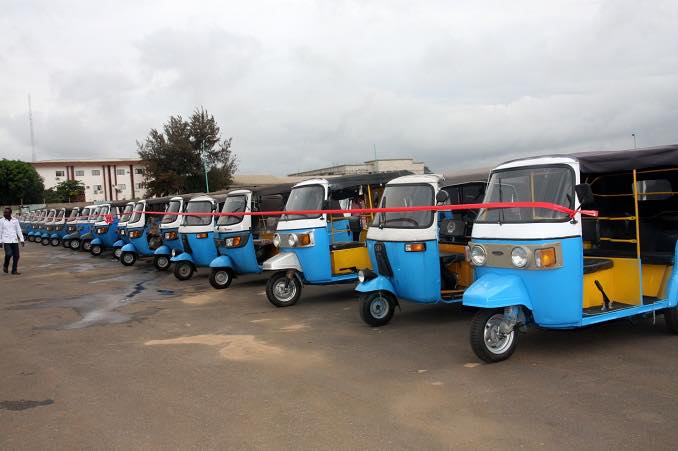 No fewer than 1,000 shuttle buses have been ordered by the Anambra State government to serve as an alternative for commercial motorcycle operators who have been banned from operating in Awka and Onitsha with effect from July 1, 2018
The Japan made shuttle buses which would be disbursed by the Anambra Small Business Agency, ASBA is expected to go for N700,000 each, because there were no local manufacturers of such buses.
Speaking on the ban, the commissioner of Information and Public Enlightenment, Mr. C. Don Adinuba said that many Okada operators have been visiting the ABSA office to find out procedures for obtaining the shuttle bus.
Adinubah explained that the loan that would be given to the Okada operators would be devoid of any interest, adding that all that is needed is proof that the person is an Okada operator and a guarantor.
While assuring that the process would be devoid of discrimination, he reeled out areas to be affected by the ban to include, Onitsha and its environs, including Nkpor and Okpoko, while areas in the state capital include Awka, Amawbia, Nibo, Nise and Okpuno.
He said that there would be no exemption as to those who can use Okada except for branded security branded motorcycles.
FG Reconstitutes Governing Boards Of Parastatals Under Federal Ministry of Transportation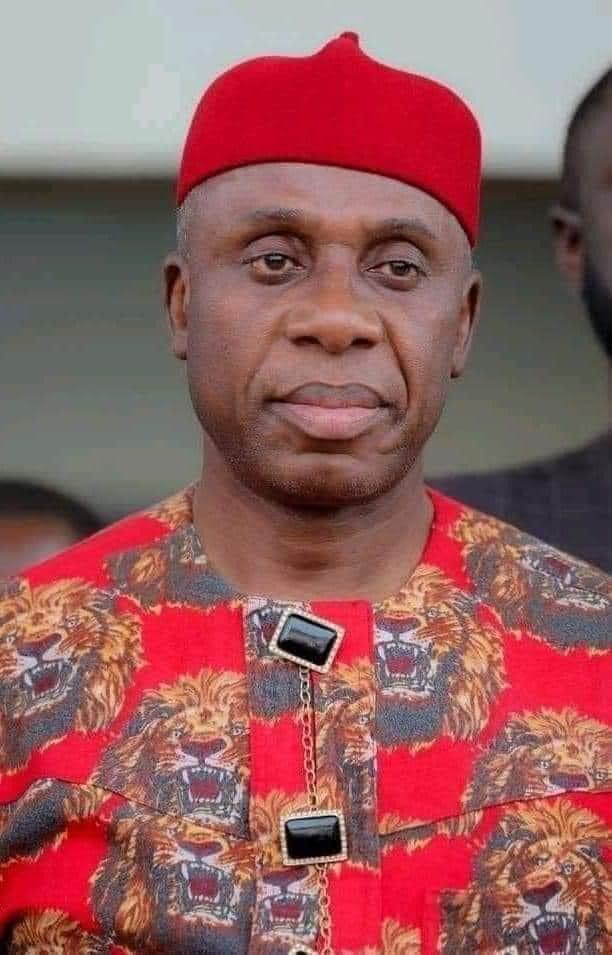 President Muhammadu Buhari has approved the re-constitution of members of the Governing Boards of Parastatals within the purview of the Ministry Transportation.
In a press release today April 6, 2022 signed by Director of Press and Public Relations, Federal Ministry of Transport, Eric Ojiekwe, the following Parastatals Boards have been approved for reconstitution:
i. Nigerian Shippers' Council (NSC)
ii. Nigerian Institute of Transport Technology (NITT)
iii. Maritime Academy of Nigeria, Oron (MAN, ORON)
iv. National Inland Waterways Authority (NIWA)
v. Nigerian Ports Authority (NPA)
The Board members are as follows:
i. Nigerian Shippers' Council (NSC)
a. Lawal Sama'ila Abdullahi – Chairman
b. Rufai Ahmed Akambi – Member
c. Usen Ekong Udoh – Member
d. Otunba Oluseyi Oduntan – Member
e. Violet Oliatan Williams – Member
f. Mohammed Allamin Kam-Salem – Member
g. Hon. Emmanuel Lyambee Jime – Executive Secretary/CEO
ii. Nigerian Institute of Transport Technology (NITT)
a. Hon Ejike Njeze – Chairman
b. Alh. Amuda Seriki – Member
c. Mr. Muhiydeen Sani Awwal – Member
d. Mr. Paul Eluhaiwe – Member
e. Hon. Gbenga Elegbele – Member
f. Sen. Tutare Abubakar – Member
g. Dr. Bayaro S. Farah – Director-General/CEO
iii. Maritime Academy of Nigeria, (MAN, ORON)
a. Rear Adm. Jacob Adekunle Ajani – Chairman
b. Alh. Abdullah Nurudeen – Member
c. Larry Odeh – Member
d. Commodore D. E. Effedua – Rector/CEO
iv. National Inland Waterways Authority (NIWA)
a. Hon. Binta Masi Garba – Chairman
b. Chibuike Ikenga – Member
c. Chief (Dr) George N. Moghalu – Managing Director/CEO
v. Nigerian Ports Authority (NPA)
a. Chief Akinwunmi Ricketts – Chairman
b. Sen. Ayogu Eze – Member
c. Ghazali Moh'd – Member
d. Abdullazeez Nyako – Member
e. Abdulwahab Adeshina – Member
f. Mustapha Aminu Dutse – Member
g. Ms. Adenrele Susana Adeshina – Executive Director, Finance
h. Mohammed Bello Koko – Managing Director/CE
The inauguration of the Boards by the Minister of Transportation will be conveyed in due course.
Rail Incidence: FG Asks Nigerians To Contribute Money For Patients' Treatment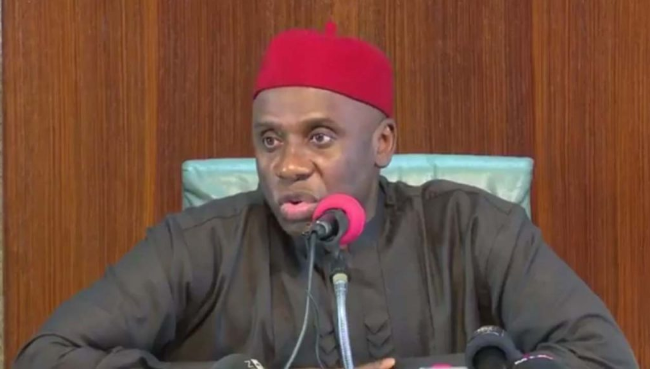 The Federal Government has asked Nigerians to raise funds for the treatment of those who sustained injuries when bandits attacked a train heading to Kaduna State from the FCT.
Grassroots.ng reported earlier how bandits gunned down at least nine persons, while many others sustained different degrees of injuries during the attack on the Abuja-Kaduna train.
The incident has triggered reactions since Monday, as Nigerians lament the level of insecurity ravaging the nation at the moment.
The Minister of Transportation, Mr Rotimi Amaechi, who spoke when he visited the victims who are being treated at the 44 Nigerian Army Reference Hospital in Kaduna on Wednesday, revealed that the army had not charged the patients a dime.
Amaechi asked Nigerians to liaise with the hospital to contribute money as some of the patients who have bullets in their body may need surgery.
He said, "They said they have only seven (patients) left and the rest have been discharged. The ministry, and I think the federal government, are grateful to the Nigerian Army for providing such services.
"But one thing I have said to the Nigerian people is to liaise with the hospital management and see how much money they can contribute for the treatment of the patients".
Nigeria Will Spend At Least N3bn To Replace What Was Lost During Abuja-Kaduna Train Attack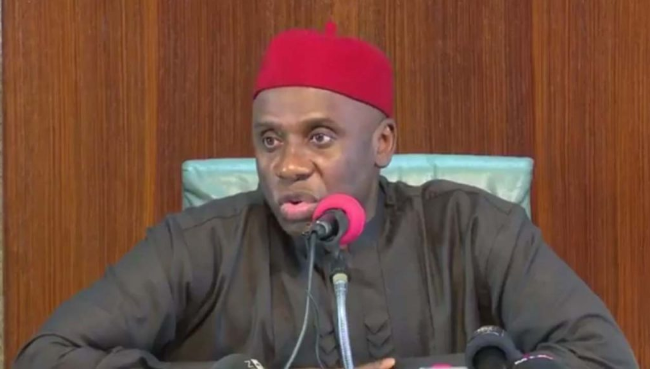 It will take more than N3 billion to replace what had been lost to the attack on the Abuja-Kaduna rail route, the Minister of Transportation Rotimi Amaechi said on Tuesday.
Terrorists had attacked a train on the route on Monday, killing at least eight persons.
Many are also believed to have been abducted.
Amaechi, speaking to reporters after visiting the scene of the attack, said the unfortunate event could have been avoided if a N3 billion digital security equipment had been acquired.
"We knew what the problem would be. We knew we needed to have digital security equipment. We applied for it.
"Because if we had those equipment, you will see nobody on that track. And I warned that lives will be lost. Now, lives are lost. Eight persons dead, 25 persons in the hospital.
We don't know how many persons have been kidnapped. And the cost of that equipment is just N3 billion. The cost of what we've lost is more than N3 billion. We've lost tracks, we've lost locomotives and coaches. We've lost human beings. And the equipment is just N3 billion.
"To fix all the things on that track now, will cost us more than N3 billion. And now even the things we said give us approval to buy – at the time we asked for it, dollar was N400, now it is N500. When you come with sincerity to government and your colleagues and people are stopping you, it is annoying."