Delta State LGA Elections: Traffic Shut Down Causes Panic Among Commuters In Onitsha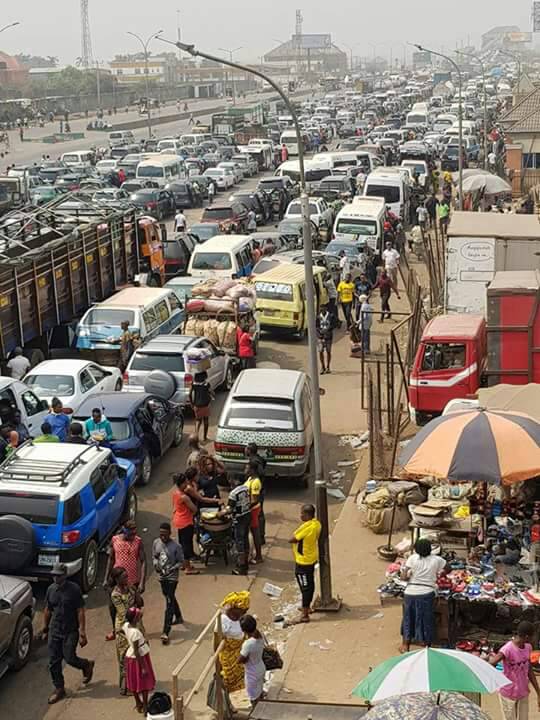 Commuters and passengers alike, mostly those traveling back to their bases after the Christmas and New Year celebration, suffered total traffic lockdown at Onitsha Anambra State, today.
Hundreds of thousands of people travelling from eastern Nigeria are locked down at Onitsha as the Benin-Onitsha is cordoned off; no vehicular passage, due to local government elections in Delta State.
Eye Witnesses at the Onitsha head bridge wondered why Delta State Government decided to barricade the major Federal road connecting East and other Western parts of country at the time most people are traveling.
"This is barbaric; we want to count ours as a civilised country? I have never seen this kind of heartless and careless power drunk government. Everything in this country, the masses bear the brunt. Just because of local government elections, we are subject to untold hardship, it's unbearable," a traveler who identified himself as Mr. Anayo Eze told GrassRoots.ng
He went further to advice that the Federal Government should find ways to ameliorate sufferings of the masses in this period.
"Look, we are complaining of hike in transportation fares due to petrol shortage, now this! After managing to get T-fare only to get stranded here. It's uncalled for!", Mr. Eze lamented.
Another traveler, Ms. Victoria Amadi, regretted that traffice was man made and could have been avoided if the right decision was made by the Government.
"Our bus got here (Onitsha), all the way from Owerri by 8am. Since then, we have been stranded. Does it mean that those in Government don't have conscience.
"This could have been averted had it been the Government made the right decision knowing the importance of the this road even at this point in time. They could have allowed security agencies to monitor vehicles passing so there won't be diversions to any of the cities in Delta State; others who are traveling will have their way to move".
Irked by the development, a nursing mother, Mrs. Angela Olekanma, said she is confused over the situation.
"We left our home very early this morning; unfortunately we didn't hear of any Government announcent that the road will be blocked. I wanted to get my family to arrive at our destination on time, but I don't know when we shall reach Lagos today. My new born baby and others are suffocating due to heat. Government should help us in this country. It is so annoying", she said.
According to sources, close to the Governmen, Delta State Government led by Dr Ifeanyi Okowa, Governor ordered temporary blockade of the Federal Road to avoid external interferences during the LG elections in the oil rich State.
But some of the commuters argued that it wasn't enough reason to stop travellers who have nothing whatsoever to do with Delta state, other than just drive through the federal road that leads from Onitsha Bridge to Benin, Abuja, Lagos etc.,
Over 1000 candidates are contesting for available seats at the Delta State LGAs.
Picture credit: Ikechukwu Amechi
Girlfriend burns boyfriend alive at a Fuelling station in Texas.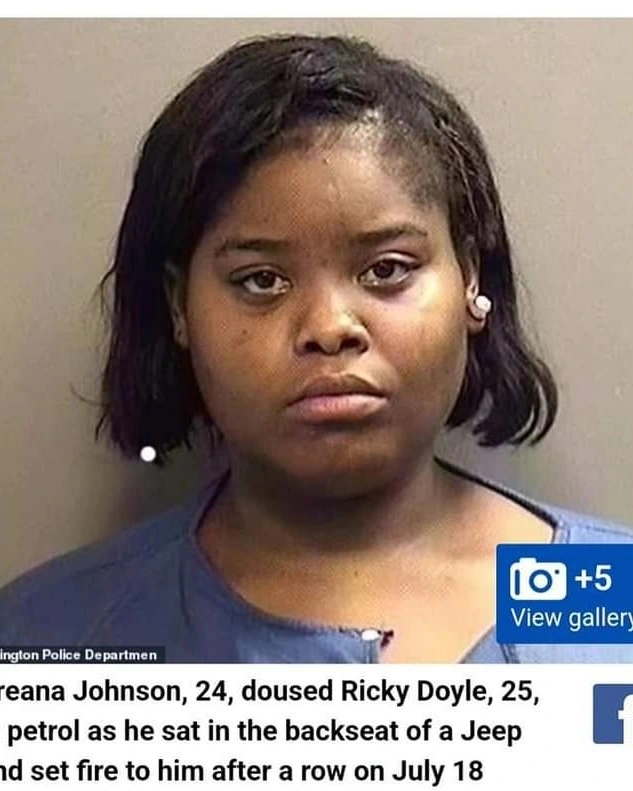 Boyfriend, 25, dies after his skin 'melted off' when his 'girlfriend, 24, sprayed him with 50 cents worth of gasoline and turned him into a human fireball' during row at Texas gas station
A woman has been charged with murder after 'melting the skin off' her boyfriend at a Texas gas station and driving away 'smiling'.Breana Johnson, 24, doused Ricky Doyle, 25, in petrol as he sat in the backseat of a Jeep and set fire to him after a row on July 18, according to the Arlington Police Department.
Doyle died on Tuesday in a Dallas-area hospital after a two weeks struggle for survival following the horrifying attack, prompting the Johnson's aggravated assault charge to be upgraded to murder.
Doyle's mother Lisa told NBCDFW how doctors said his foot 'was the only part of his body I could touch. That's all that was left.'
Johnson was heard to tell Doyle 'I'm going to kill you' at a Shell gas station during the argument, and went inside and paid for $0.50 worth of gas.
Witnesses saw her return and pour the gasoline over Doyle and walk around to the driver's seat and set it on fire in what had seemed like a premeditated and thought-through attack.Doyle escaped from the car engulfed in flames and was seen screaming through the parking lot unable to stop his body from burning.
A customer rushed to his aide with a fire extinguisher and put the flames out. A witness said Doyle was 'bleeding and had skin that appeared to have melted off his body,' said the police charging document.
Johnson told witnesses that she was smoking while pumping gas which was the accidental cause of the fire.
However, witnesses who had seen Johnson allegedly deliberately set Doyle on fire confronted her, with one trying to detain her until the police arrived.But Johnson pushed the person to the ground and drove away while smiling, the police report said.Doyle's family said he was first taken to Medical City Arlington before being transferred to a hospital in Plano, where he was being treated for burns covering more than 90% of his body.
They said the top of his head, groin and buttocks areas, along with the bottoms of his feet were spared.
Doyle's little sister, Mikayla, said the argument between Johnson and Doyle initially started outside the family home in Arlington.
'She [Johnson] just started beating on his chest. She took his phone. She threw his phone.
Then she came back and she picked his phone up, threw it at him, and then started beating his chest,' Mikayla recalled. We knew she was abusive to him, but we didn't know it would come to this.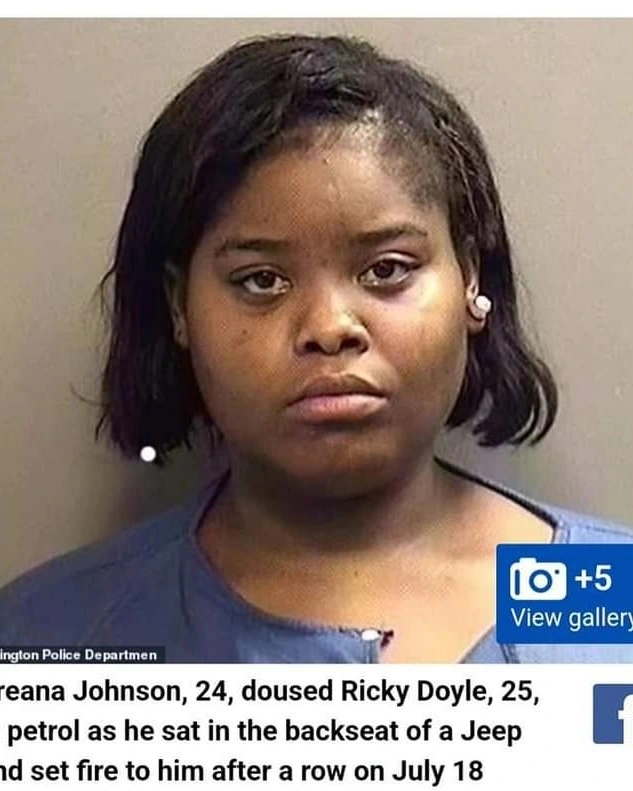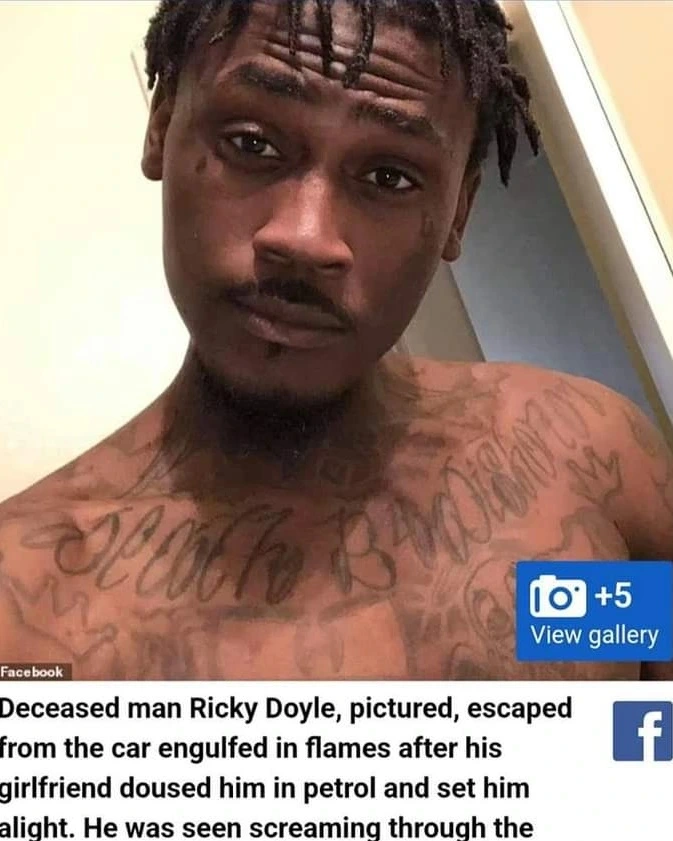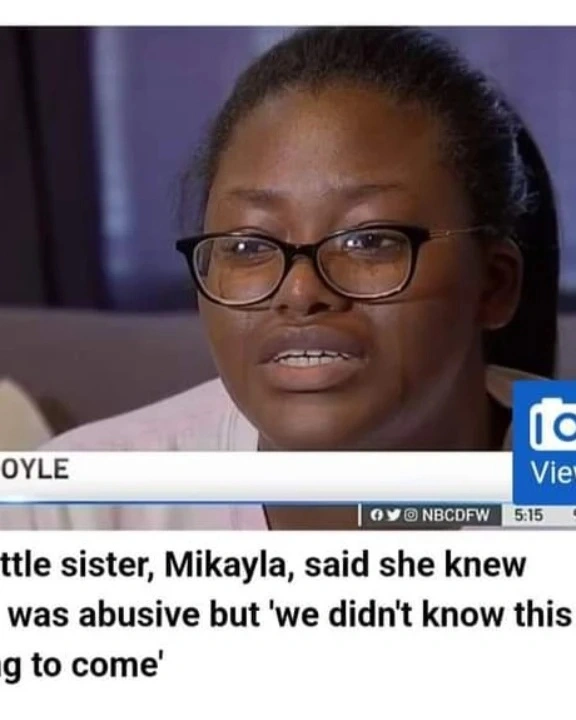 This is really a traumatic experience for the deceased family. We live in a crazy world, so be careful who you date.
Elon Musk builds Hotel in Mars, Sets to launch soon at $5million per night – Photos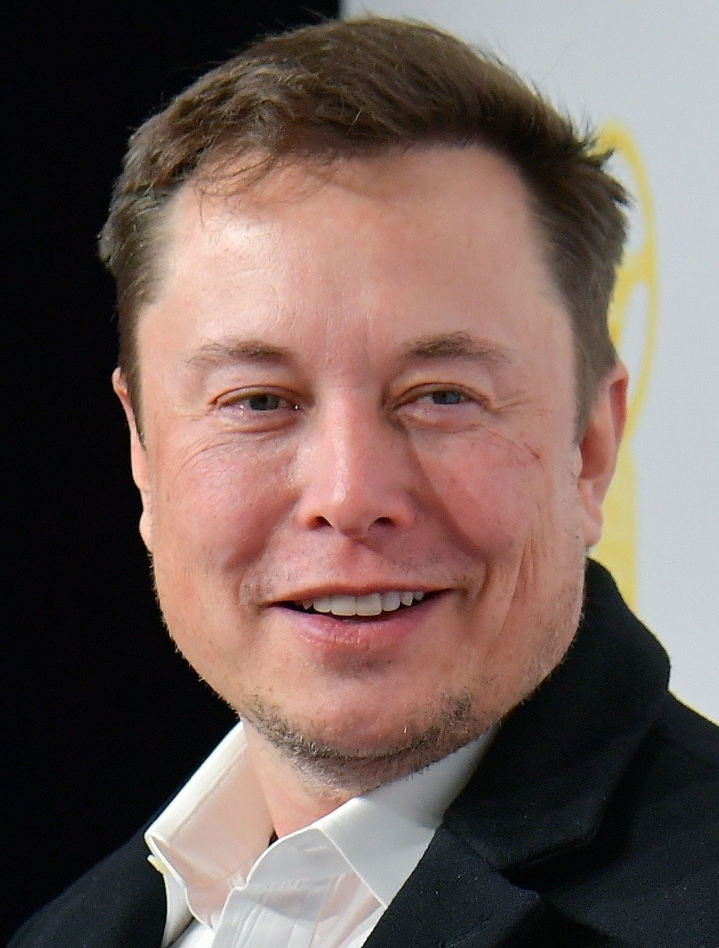 The richest men on Earth, Elon Musk is actually working towards making mars a planet to live in.
He already built a hotel in the Planet Mars!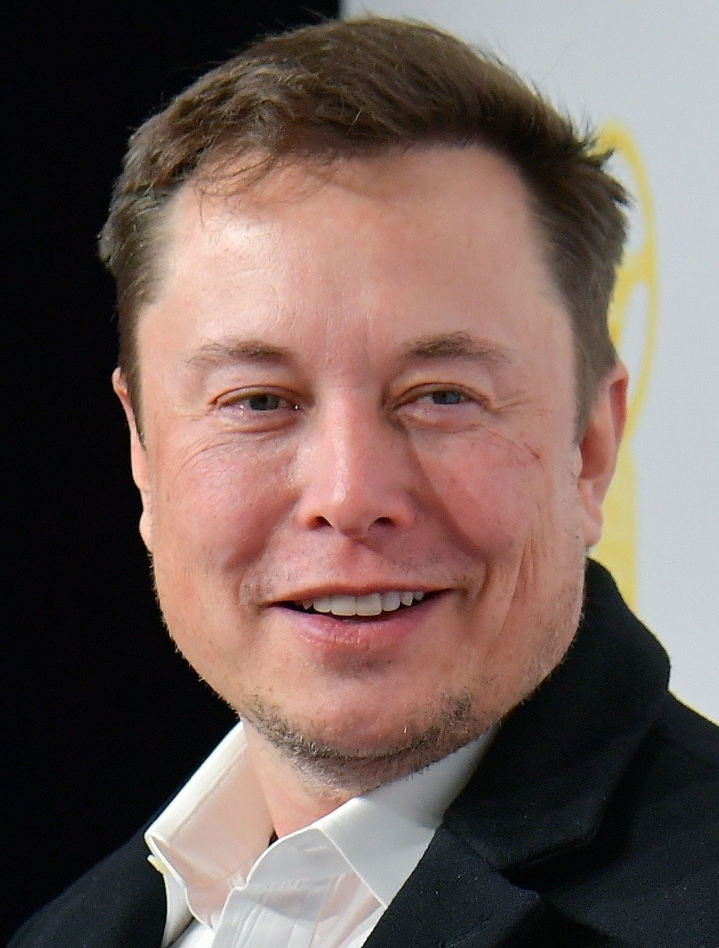 First Hotel in Mars by Elon Musk is set to open soon at $5 Million per night.
Just wow. This shows how far he's willing to go in making Mars another planet to live in.
Elon Musk who is a co-founder and leads Tesla, SpaceX, Neuralink and The Boring Company, is a very wealthy man.
And as the co-founder and CEO of Tesla, Elon leads all product design, engineering and global manufacturing of the company's electric vehicles, battery products and solar energy products Which is no surprise as to what he intends creating in Mars.
A little biography of him shows that he was born to a South African father and a Canadian mother. He displayed an early talent for computers and entrepreneurship. At age 12 he created a video game and sold it to a computer magazine. In 1988, after obtaining a Canadian passport, Musk left South Africa because he was unwilling to support apartheid through compulsory military service and because he sought the greater economic opportunities available in the United States. And over the years, his achievements have been quite mind blowing which has made him the most wealthiest and richest man in planet earth at the moment.
Here are the pictures of his hotel in Mars.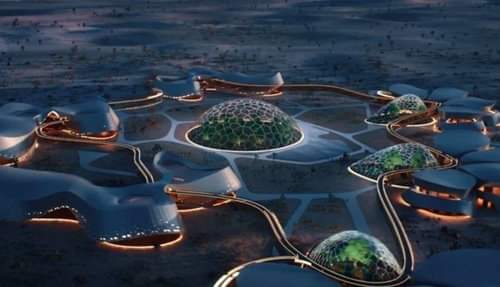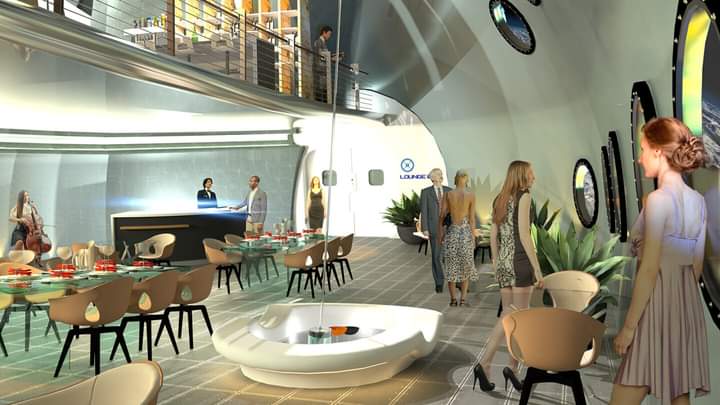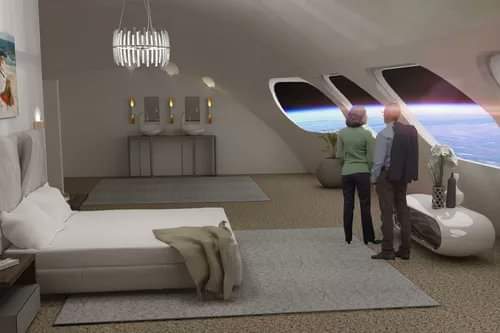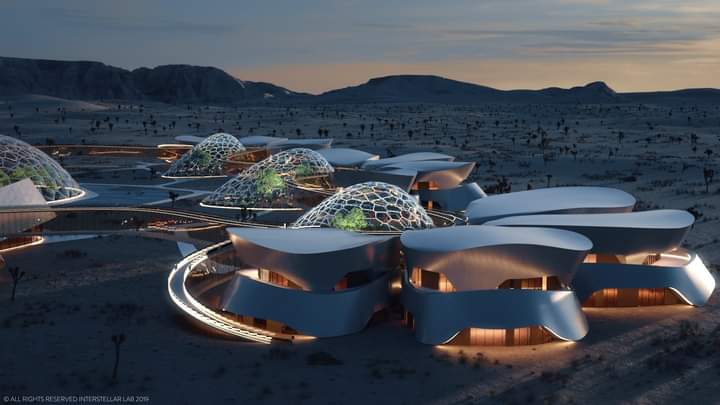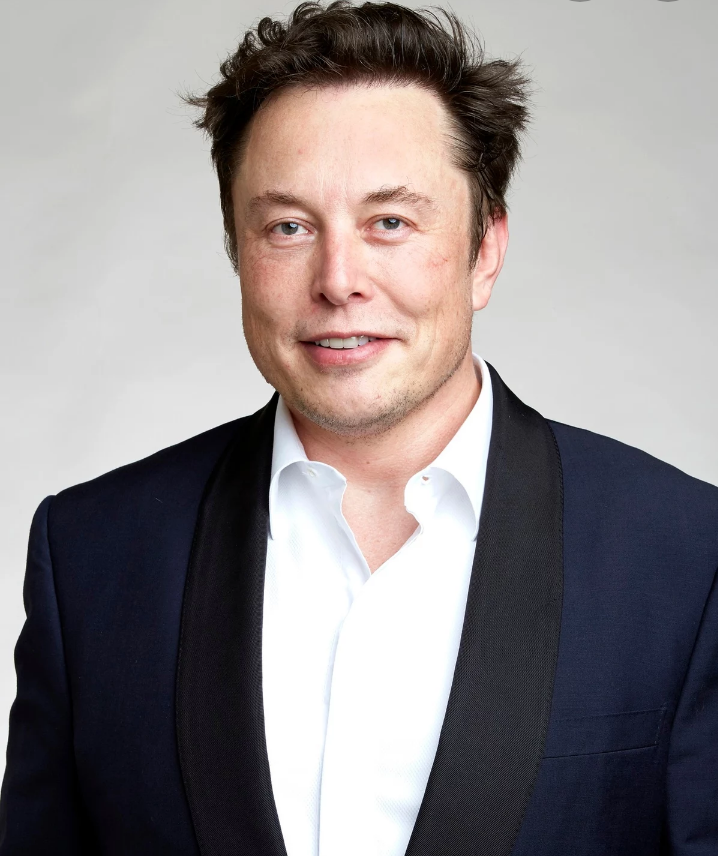 But how very convinced is the world about the success of Mr. Elon's project? Because this is quite a mind blowing achievement.
Apostle Johnson Suleman accused of rituals and sexual affairs with over 10 Nollywood actresses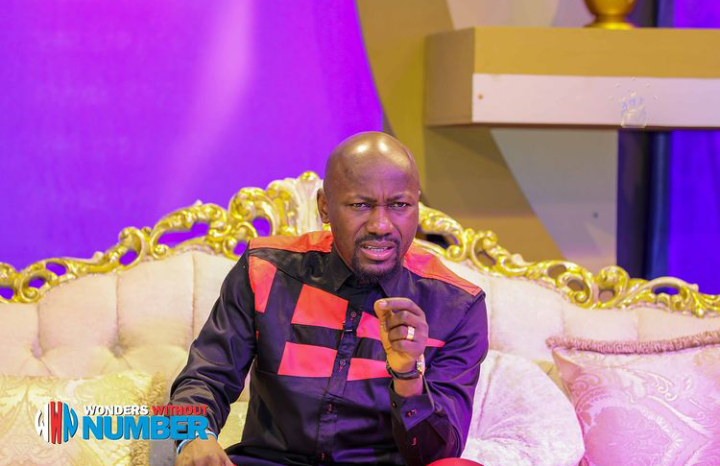 The pastor of Omega fire ministry, Apostle Johnson Suleiman has again been dragged by the popular blogger known as gistlover.
Over the years, rumors about him sleeping around with women and paying them big has been coming to and fro. It got to a point that a lady name Stephanie came out to disclose her alledged affairs with him which was denied.
But just some days ago, a Nollywood actress named Halima Abubakar came out to also to disclose her affair and ordeals with the man of God. She also stated through gist lover whom she conversed with, that she also got severely sick during her time with him.
Gistlover named a lot of other actresses in Nollywood who have been involved with him. Some were said to have fallen terribly ill whilst with him, and some had jujus strong enough to make them not get sick.
Some of the actresses name mentioned came as a huge shock to their fans. Actresses like Mercy Johnson, Ruth Kadiri, Ebube Nwagbo, Ngozi Ezeonu and even Omotola.
This seems like some kind of set up, but Gistlover has insisted that it is true as there are evidences to back this narrative. Well, we will be waiting to see the evidences but here are some photos showing the Actress Halima's claims and conversations with gistlover. And also photos of the names of the actresses released.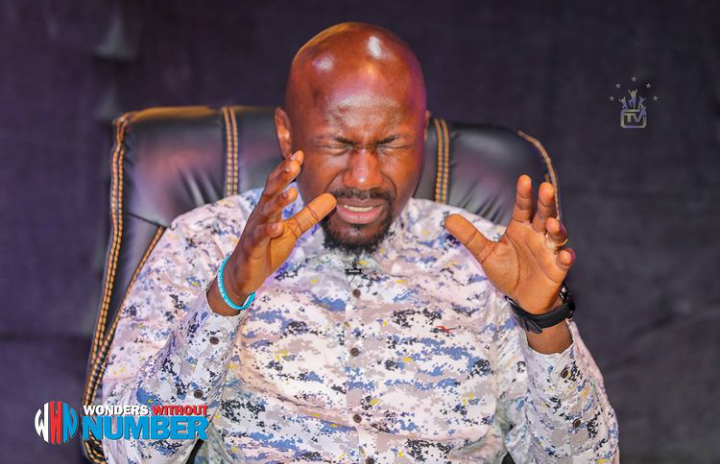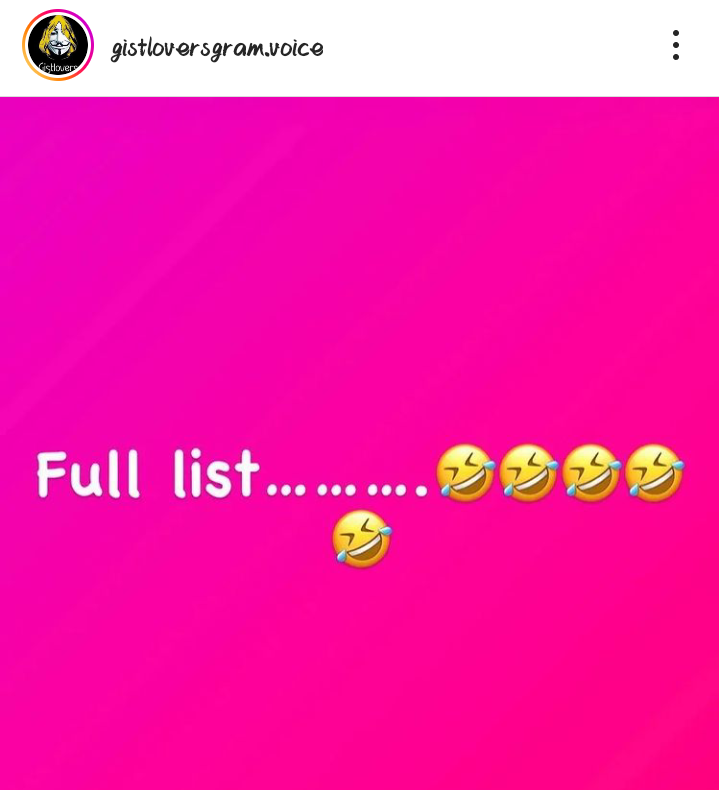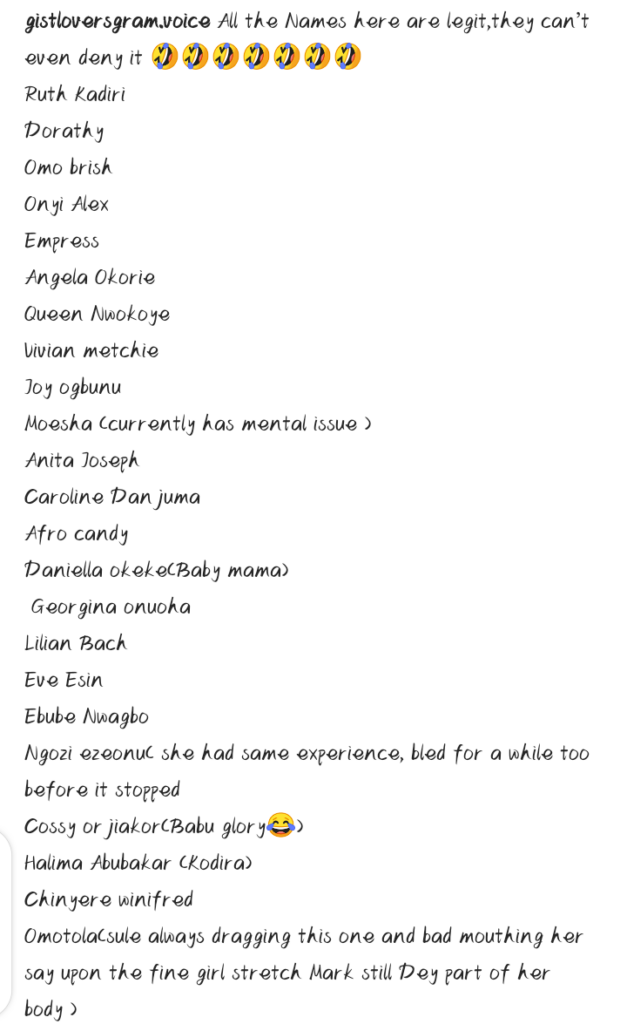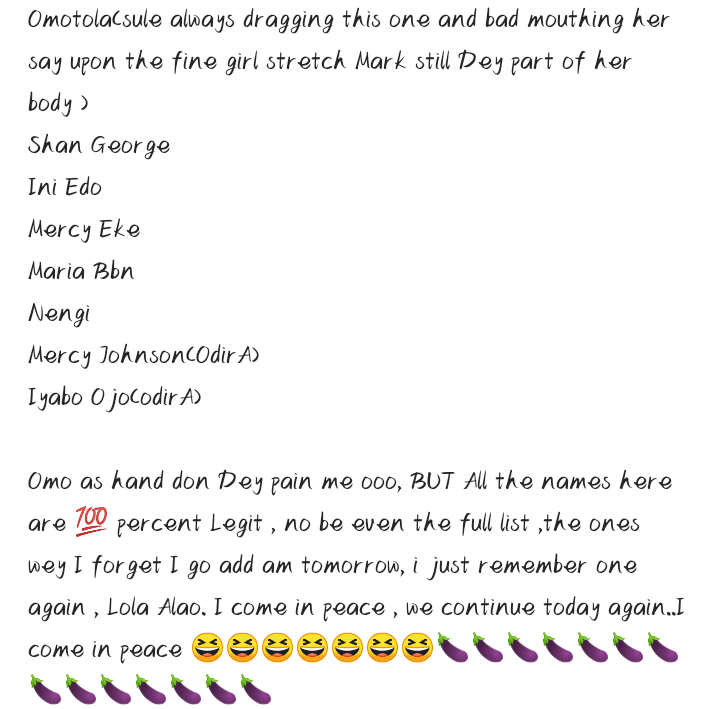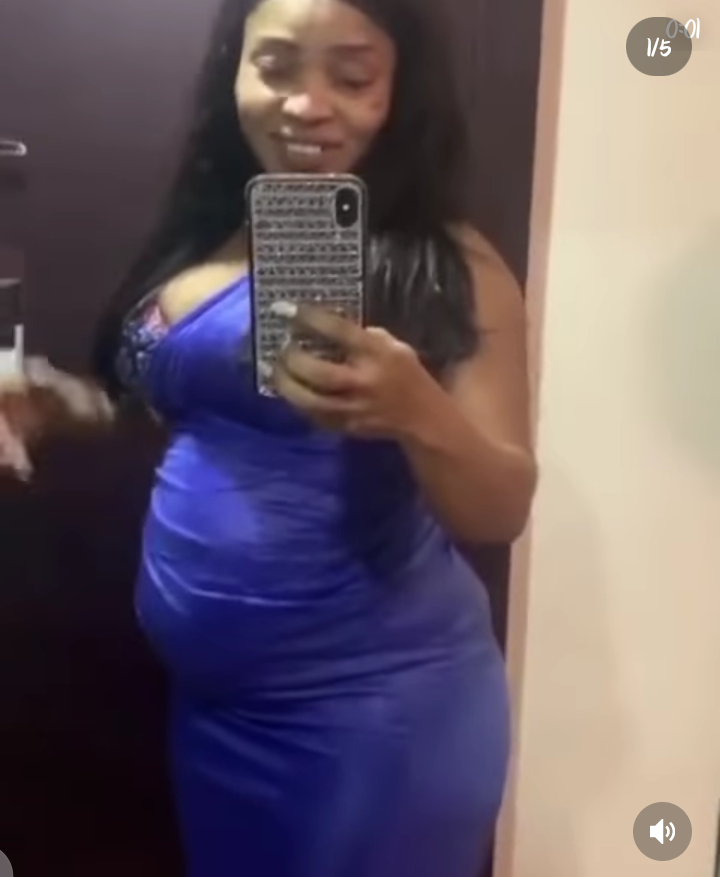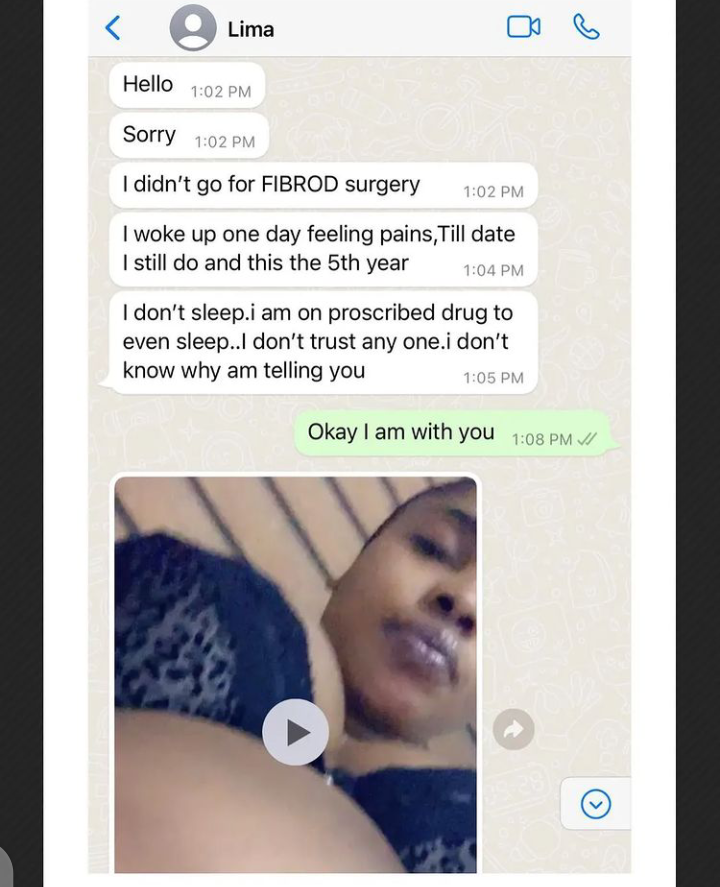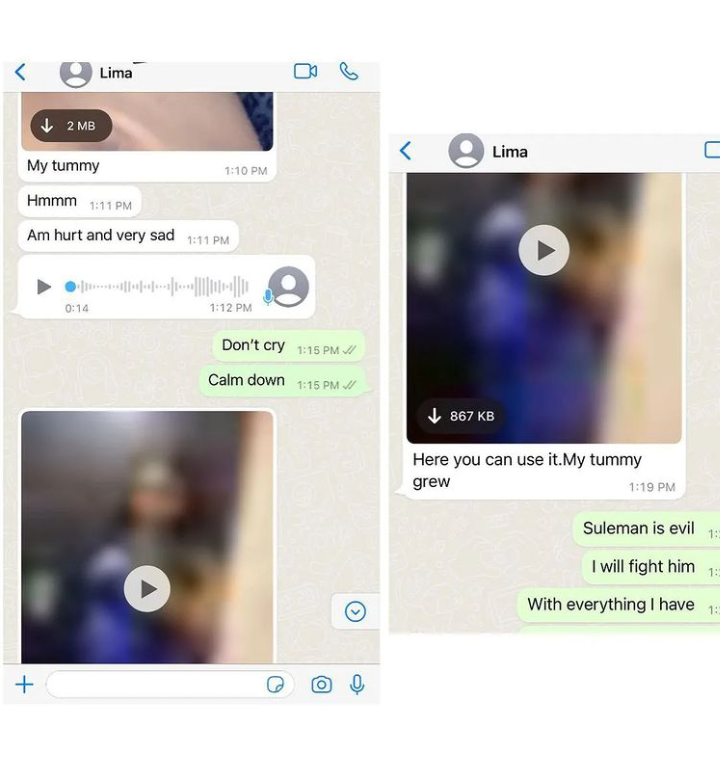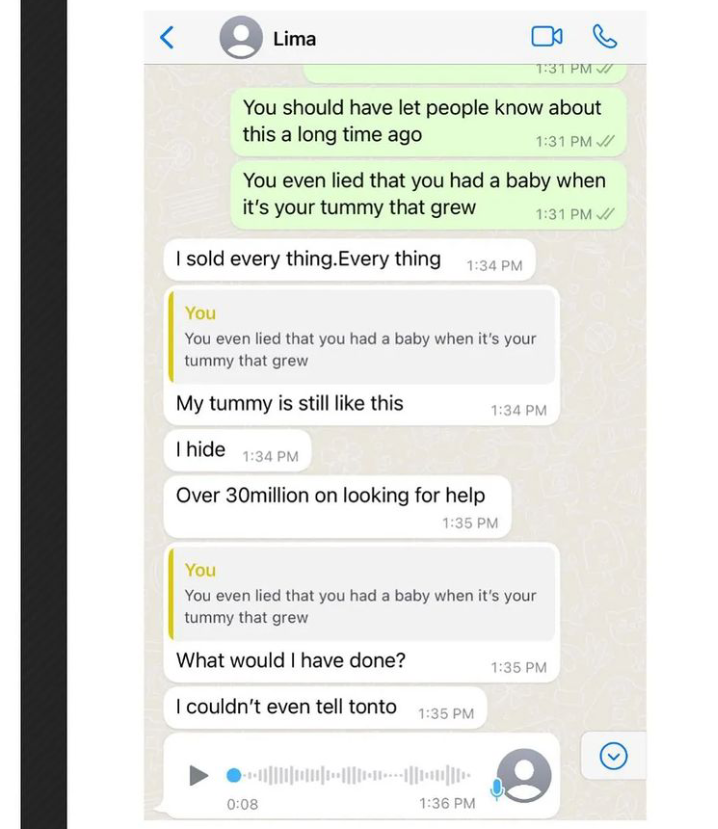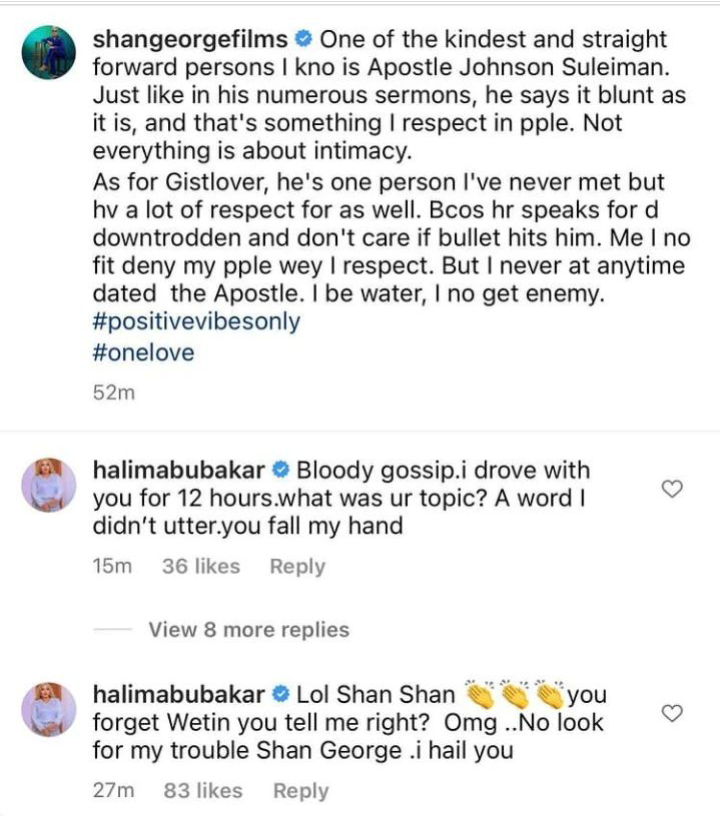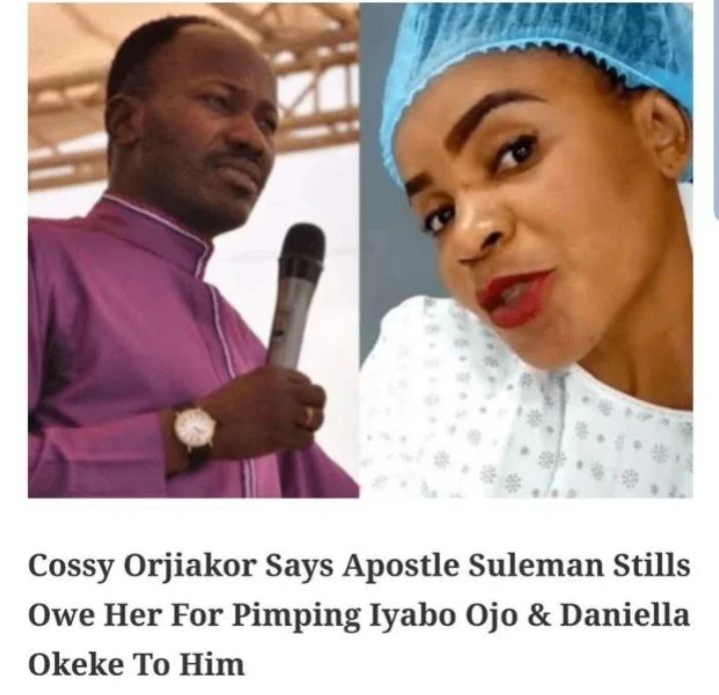 With all these allegations leveled on the man of God, he is yet to say anything about it. And we are sincerely hoping it's not true owing to the numerous evidences being showed and to be shown by gistlover.