Delta State LGA Elections: Traffic Shut Down Causes Panic Among Commuters In Onitsha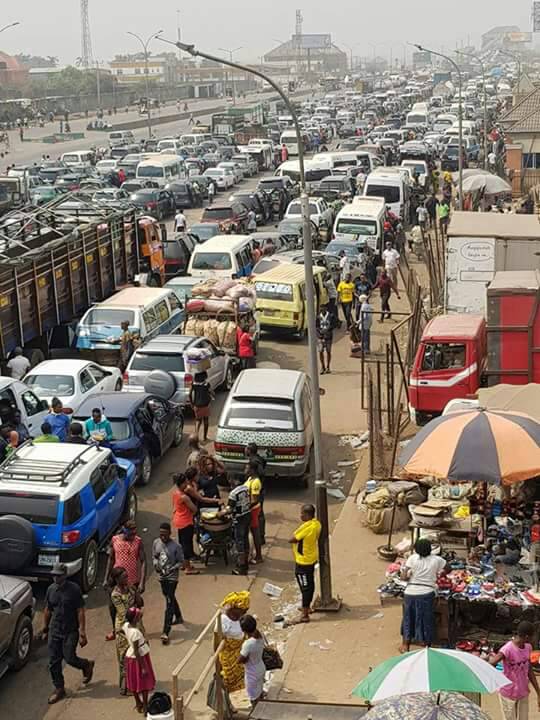 Commuters and passengers alike, mostly those traveling back to their bases after the Christmas and New Year celebration, suffered total traffic lockdown at Onitsha Anambra State, today.
Hundreds of thousands of people travelling from eastern Nigeria are locked down at Onitsha as the Benin-Onitsha is cordoned off; no vehicular passage, due to local government elections in Delta State.
Eye Witnesses at the Onitsha head bridge wondered why Delta State Government decided to barricade the major Federal road connecting East and other Western parts of country at the time most people are traveling.
"This is barbaric; we want to count ours as a civilised country? I have never seen this kind of heartless and careless power drunk government. Everything in this country, the masses bear the brunt. Just because of local government elections, we are subject to untold hardship, it's unbearable," a traveler who identified himself as Mr. Anayo Eze told GrassRoots.ng
He went further to advice that the Federal Government should find ways to ameliorate sufferings of the masses in this period.
"Look, we are complaining of hike in transportation fares due to petrol shortage, now this! After managing to get T-fare only to get stranded here. It's uncalled for!", Mr. Eze lamented.
Another traveler, Ms. Victoria Amadi, regretted that traffice was man made and could have been avoided if the right decision was made by the Government.
"Our bus got here (Onitsha), all the way from Owerri by 8am. Since then, we have been stranded. Does it mean that those in Government don't have conscience.
"This could have been averted had it been the Government made the right decision knowing the importance of the this road even at this point in time. They could have allowed security agencies to monitor vehicles passing so there won't be diversions to any of the cities in Delta State; others who are traveling will have their way to move".
Irked by the development, a nursing mother, Mrs. Angela Olekanma, said she is confused over the situation.
"We left our home very early this morning; unfortunately we didn't hear of any Government announcent that the road will be blocked. I wanted to get my family to arrive at our destination on time, but I don't know when we shall reach Lagos today. My new born baby and others are suffocating due to heat. Government should help us in this country. It is so annoying", she said.
According to sources, close to the Governmen, Delta State Government led by Dr Ifeanyi Okowa, Governor ordered temporary blockade of the Federal Road to avoid external interferences during the LG elections in the oil rich State.
But some of the commuters argued that it wasn't enough reason to stop travellers who have nothing whatsoever to do with Delta state, other than just drive through the federal road that leads from Onitsha Bridge to Benin, Abuja, Lagos etc.,
Over 1000 candidates are contesting for available seats at the Delta State LGAs.
Picture credit: Ikechukwu Amechi
Pastor Bakare In Financial Trouble Because He Tore Bishop Oyedepo's Book On TV – Biodun Fatoyinbo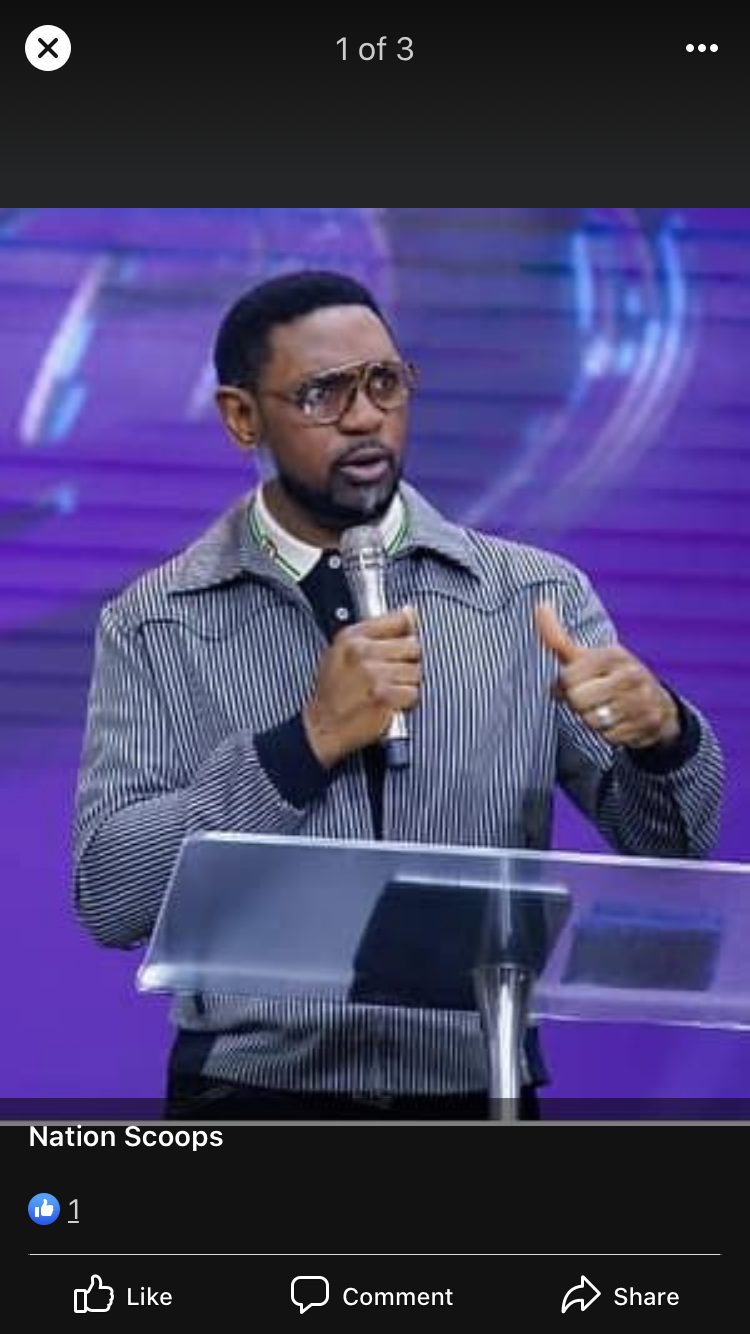 The senior pastor of the Commonwealth of Zion Assembly (COZA), Pastor Biodun Fatoyinbo, has urged his church members to always put God first.
Fatoyinbo, during a recent sermon, said that honouring God and putting him first is the surest way to exponential wealth. He urged his listeners to always pay their tithes and "first fruits".
The preacher also had words for the Citadel Global Community Church (CGCC) general overseer, Pastor Tunde Bakare, over the bank loans he took to build his Lagos megachurch.
Fatoyinbo said that Bakare's act of tearing Bishop David Oyedepo's book could be the reason the CGCC pastor is in financial trouble over his megachurch project.
Bakare, many years ago, tore the book after, according to him, he read a portion in which Oyedepo called anointing oil "God's life in a bottle". Bakare was of the opinion that the claim was heretic and occultic.
But Fatoyinbo suggested that because the book was dealing with the topic of prosperity, tearing it may have taken Bakare far from financial stability.
"Someone tore Bishop Oyedepo's books on prosperity and others on live TV. According to the news, he is now having issues because of N10 billion," Fatoyinbo said without mentioning Bakare's name.
I heard somebody is in trouble for N10 billion.
"Don't let anybody deceive you. The church that they (Oyedepo's church) are building, they already paid N100 billion cash for their building.
"They didn't raise a dime. N100 Billion cash! And that's not completion of the building. By the time they are finished with it, it has not been done on earth. Everybody is struggling to work there because it will be on their CV. It has not been done on earth. Anywhere. America. Anywhere. It has not been done on earth.
"Guys, I'm telling you there is a dimension we need to plunge into and I'm trusting God for sons to believe it.
"We are not teaching you what we are not doing, we are not following cunningly devised fables. It's possible some people have taken advantage of Christians, but this is the truth,"
he said.
Buhari's Daughter, Zahra Slams Culture Of Men Not Crying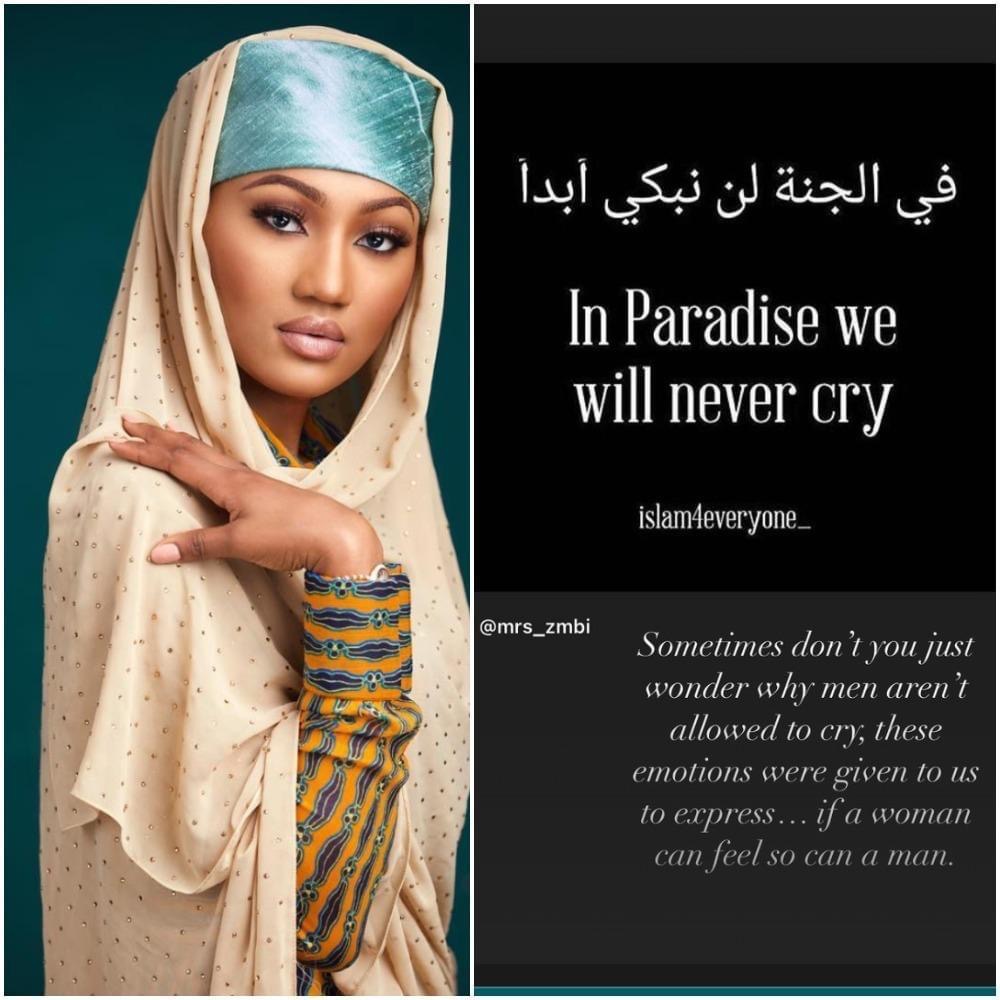 Zahra, the daughter of the President, Muhammadu Buhari has said that as long as men have feelings, they should be able to express them, including crying.
Sharing an Islamic quote, which said, 'In paradise, we will never cry', she added her thoughts, saying, "Sometimes, don't you just wonder why men aren't allowed to cry? These emotions were given to us to express…if a woman can feel, so can a man."
President Buhari Arrives Lagos, Visits Shonekan's Family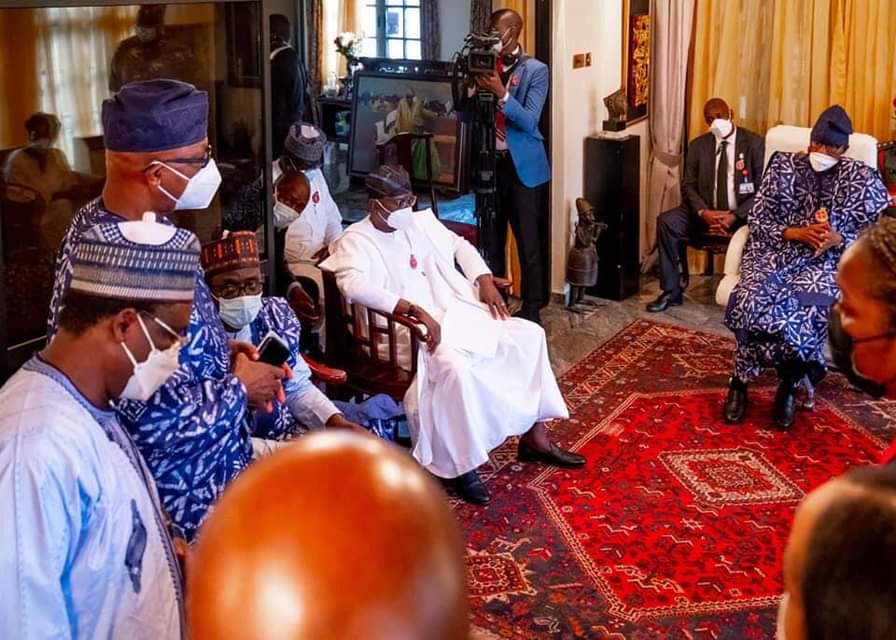 President Muhammadu Buhari, mourned the death of the former head of the Interim National Government, Chief Ernest Shonekan.
President Buhari was accompanied to the Lugard Avenue, Ikoyi's residence of the late Shonekan by Lagos State Governor, Mr. Babajide Sanwo-Olu, his Ogun and Yobe State counterparts, Prince Dapo Abiodun and Mai Mala Buni.
Buhari, who was on a one-day presidential visit to Ogun State to commission some projects by Governor Dapo Abiodun administration, stopped in Lagos on his way to Abuja and spent some time to commiserate with the late Shonekan's family.
He sympathised with the family over the demise of the former Head of the Interim National Government, who died in Lagos on Tuesday at the age of 85.
Shonekan was at the helm of affairs in Nigeria between August 26 and November 17, 1993 after General Babangida stepped aside as military president.
Governor Sanwo-Olu, in a condolence message issued on Wednesday by his Chief Press Secretary, Mr. Gboyega Akosile, described the late Shonekan, as a renowned technocrat, seasoned administrator and passionate leader who served his country meritoriously as a public servant during his short tenure as Number One Citizen in Nigeria.
He said the late elder statesman did his best for the country in contributing to the growth and development of Nigeria.
The Governor also praised Shonekan's contribution to the economy of Nigeria as boardroom guru and employer of labour, especially during his tenure as the Chairman and Managing Director of the United Africa Company.