GBfoods Completes N20 Billion Tomato Processing Factory In Kebbi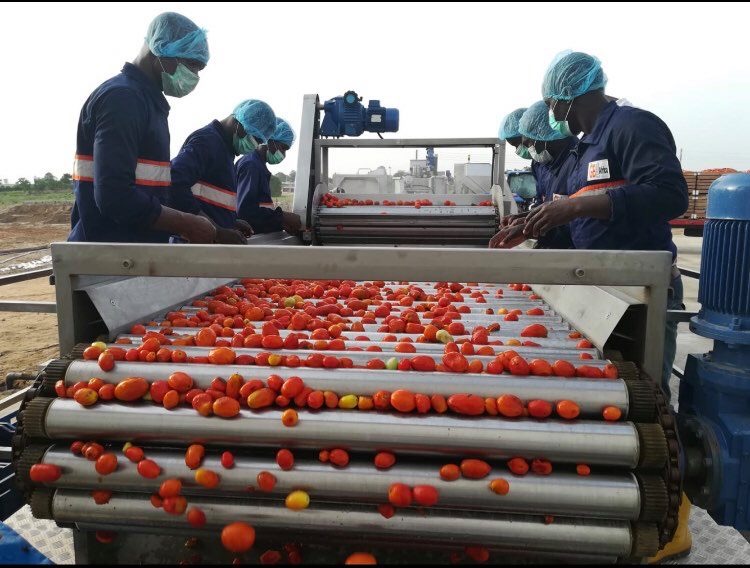 GBfoods, a global leader in culinary product manufacturing, in partnership with the Central Bank of Nigeria (CBN), Kebbi State Government and the Emirate of Yauri recently built a N20 billion Tomato processing factory, in Kebbi State. The factory is the second largest in Nigeria and the only fully backward integrated plant in ECOWAS – and has the largest single tomatoes farm in Nigeria. When all phases of the project are finished, the factory will be the largest fresh tomatoes processing factory in Sub-Saharan Africa.
The investment, in the world-class factory and adjoining farm, includes a drip irrigation and fertigation infrastructure, greenhouses, seed planting robots, an incubation chambers and a plethora of agricultural machinery.
The farm will serve a dual purpose, it will produce industrial tomatoes in the dry season and soya beans in the raining season. The tomato factory will convert fresh tomatoes into tomato concentrate used for producing Gino Tomatoes Paste and Gino Tomato Pepper Onion Paste while the soya bean will be used to process soya-bean oil which is a critical ingredient for GBfoods' Bama and Jago Mayonnaise.
The project created over a 1,000 jobs including: 500 farming jobs, 150 factory jobs and 150 construction jobs. GBfoods also engaged many small holder farmers as out-growers.
Apart from training the out-growers on good agricultural practices, GBfoods provided them with tomatoes seedlings, agrochemicals and various equipment such as water pumps and hose pipes, enabling the farmers access to water in the dry season. GBfoods also supported the host communities by providing and maintaining 16 boreholes of drinking water, a first for some of the surrounding villages.
The factory is fully backwardly integrated to the company's farm and dedicated out-growers. In the coming tomatoes season, the plant will also source most of its raw material from out-growers who will grow the tomatoes on their own farms and from GBfoods' owned and operated farm.
The factory is engaging over 5,000 small holder farmers as out-growers, in the coming tomatoes season, to grow fresh tomatoes.
The CEO of GBfoods Africa, Mr. Vicenç Bosch, commended the Federal Government for encouraging and supporting GBfoods to engage with CBN, Ministries, Departments and Agencies to ensure the successful completion of the factory.
He also expressed his gratitude to the Federal Ministry of Industry Trade and Investments, Federal Ministry of Agriculture & Rural Development, Kebbi State Government and the Ngaski Local Government Authorities for their tremendous support towards the actualization of the project.
Mr. Bosch added our team of extension workers, consultants and agronomists are ensuring that the Nigerian farmers benefit from the technology transfer of our best practices and know-how built through over 40 years of successful tomato operations in Italy and Spain.
Speaking during opening of the factory, Mr Vincent Egbe, the Country Manager, GBfoods Nigeria said,
"The opening of this processing factory is a great milestone for us. It further demonstrates the company's commitment towards helping Nigeria achieve its food security ambitions, in this case, of self-sufficiency in tomato concentrate production.
We will continue to work with the Federal Government towards food security and local production and processing of fresh tomatoes. The company is dedicated to reducing pre and post-harvest losses, and also developing the value chain so as to improve revenue streams for tomato farmers.
Over the past three years, in the three states of Kaduna, Katsina and Kebbi, GBfoods has worked with smallholder out-growers to boost their incomes by providing seedlings, fertilizers, training, and irrigation pumps, further to reduce post-harvest losses GBfoods also provided free plastic crates to farmers."
"GBfoods is working with the Federal Government of Nigeria and the CBN to make Nigeria not only a shining example in food security, but also to become the food basket of Africa.
He especially thanked the Buhari administration, the Kebbi Governor, His Excellency Governor Atiku Abubakar Bagudu, the CBN Governor, Mr Godwin Emefiele; and the Emir of Yauri, Dr Muhammad Zayyanu Abdullahi for working tirelessly to create an enabling investment environment for GBfoods backwards integration
project in tomatoes," comments Mr Vincent Egbe, the Country Manager, GBfoods Nigeria.
Additional land is expected in September 2020 to be cleared and prepared for the farming season of October 2021. This expansion will be similarly accompanied by an upgrade in the factory's capacity. With the expansion, new jobs will also be created.
GBfoods has a wide range of quality well-established brands in Nigeria such as Gino, Bama and Jago, under which they manufacture a wide range of quality products that make the daily lives of many African families easier.
Products under their brands include Gino Tomatoes Mix; Gino Pepper Onion, Gino Thyme; Gino Curry; Gino Chicken and Beef Cubes; Bama Mayonnaise as well as Jago Mayonnaise. GBfoods investments aim to satisfy local culinary habits and preferences whilst offering the healthiest and best ingredients for the Nigerian cuisine.
CBN To Release 300,000 Metric Tonnes Of Maize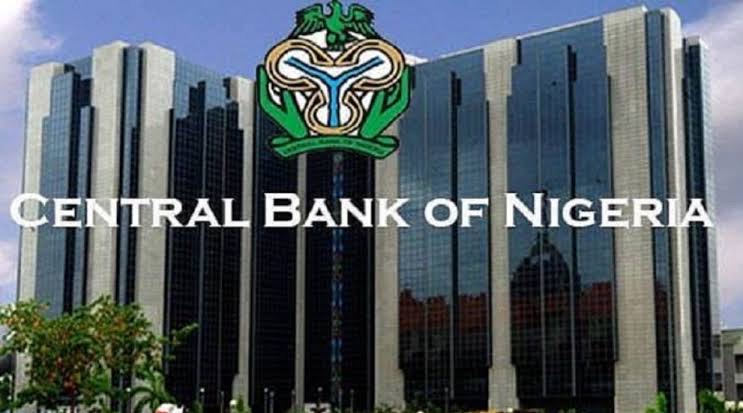 The Central Bank of Nigeria on Monday said it is ready to release about 300,000 metric tonnes of maize into the country's market in February.
In a statement seen by Grassroots.ng, the CBN said the move is being carried out through its Anchor Borrowers' programme and is expected to help reduce the price of the commodity, raise demand, and improve farmers' profits.
The planned release by the CBN follows efforts by critical stakeholders working with relevant government and security agencies, to end the challenges caused by middlemen and bandits in accessing the product.
Maize currently sells at N155,000 per metric tonne.
USAID partners WACOT Rice on N5b deal to boost Rice production in Kebbi State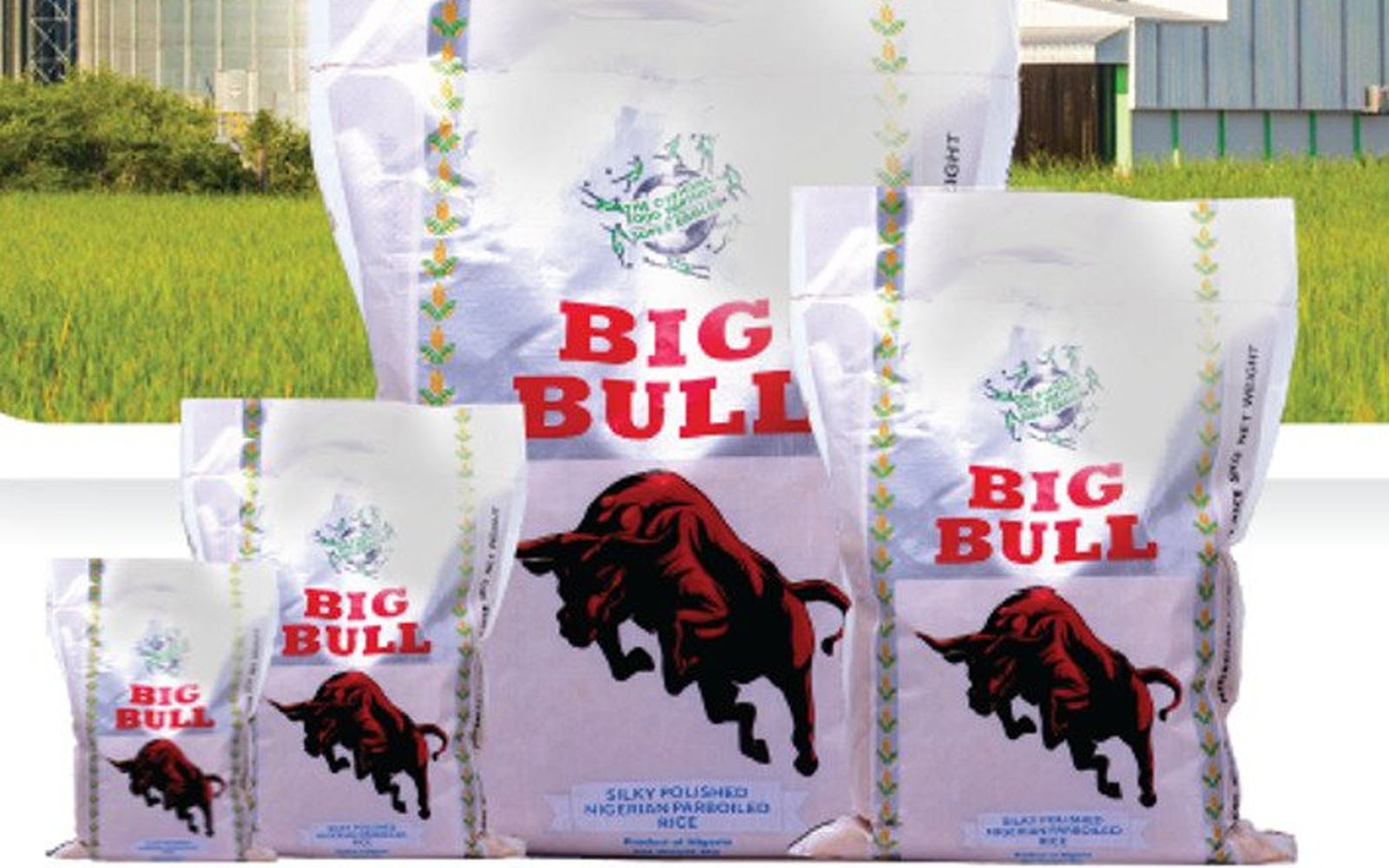 WACOT Rice Limited's (WRL) strategy to become West Africa's leading rice producer got a massive boost from the USAID-funded West Africa Trade and Investment Hub (WATIH).
The Nigerian based subsidiary of TGI Group recently signed a co-investment partnership with WATIH to the tune of $10.5 million (about N4.99 billion) to support the company's Argungu Rice Outgrower Expansion Project based in Kebbi State.
In this partnership, WRL will register an additional 5,143 farmers to complement its already existing outgrower network in the state.
These new farmers are expected to cultivate over 5,000 additional hectares of land thereby producing over 20,000 tons of paddy which will be utilised at WRL's 120,000-ton rice mill in Kebbi.
While receiving the good news, Executive Governor of Kebbi State, Senator Abubakar Atiku Bagudu said that the state government was pleased that the efforts of the Federal Government in agricultural revolution was being recognised by international bodies like USAID and WATIH.
He further said: "WACOT Rice Limited is the first major rice mill commissioned under the President Muhammadu Buhari administration and the support by both globally reputable organisations is a big boost for private sector investment in the Nigerian agriculture sector".
Governor Bagudu, who is the Vice Chairman of the National Food Security Council and also National Champion on Nigeria Rice Revolution, commended WRL for boasting the drive towards food security in Nigeria.
It is expected that this project will improve the lives and livelihoods of smallholder farmers in the region while addressing Nigeria's food security concerns.
The average smallholder farmer in Argungu, Kebbi State cultivates about half a hectare of land and earns less than $200 (N95,000) net income annually, barely sufficient to cover the needs of a household.
Although the Central Bank of Nigeria's Anchor Borrower Program has provided significant funding to rural farmers thereby increasing yields, many other farmers still struggle to get access to any form of finance.
This has hindered their ability to scale up their activities by increase the size of land they cultivate as well as yield and productivity.
Commenting on the development, Emir of Argungu, Alhaji Samaila Muhammad Mera described the partnership and the investment by WRL as a welcome development. "It is a win-win situation for our farmers, the state government and the people of the state generally", the traditional ruler further said.
He described the WRL project as timely coming shortly after the farmers experienced devastating flooding that wiped out their farmlands.
The partnership between WRL and WATIH will complement and enhance the on-going Central Bank of Nigeria and Federal Government programmes by helping farmers access finance, high quality inputs and technical extension services leading to higher yields and quality.
The guaranteed paddy off-take agreement between WRL and the farmers, which is a key pillar of this partnership, will provide a sustainable market going forward.
On the partnership with USAID and its benefits, Strategy and Business Development Manager of TGI Group, parent company of WRL, Habiba Suleiman, says: "The overall impact is to enhance yield per hectare and help farmers better their livelihoods. In terms of their earnings, this project will help them to be able to send their kids to school, access better livelihoods, access better healthcare and to have better nutrition, and quality of life".
Anne E. Patterson, USAID Mission Director, said of the partnership: "The US government is pleased to partner with the private sector in Nigeria to develop market-driven solutions and sustainably improve food security by supporting local rice production".
She added that, "with this new co-investment partnership, smallholder farmers in Kebbi State can increase yields and improve the livelihoods of their families".
Working in partnership with USAID its Feed the Future strategy, the Federal Government has prioritised local production of rice, a major staple in the country.  By supporting smallholder rice farmers to increase their yields by 50 to 100 per cent, the co-investment will help farmers earn more and lift themselves out of poverty, create thousands of jobs, and attract further private investments in the agriculture sector.
WACOT Rice disclosed that it would be placing a strong emphasis on women and youth, with at least 50 per cent of the new farmers trained to be women and 70 per cent of all the farmers under 30 years old.
Commending the team for the laudable feat, Group Managing Director of TGI Group, Rahul Savara laid emphasis on the Group's mission to always add value to its communities. "No doubt, this project not only supports our drive to support the government in achieving food security in Nigeria, it also allows us to support our community, Kebbi, which was ravaged by flood just a few months ago. For us, sustainability is a way of life. Therefore, we will continue to explore avenues to grow sustainably, while supporting others".
WACOT Rice Limited operates a state-of-the-art rice mill in Argungu where it produces Big Bull Rice. It is one of the largest rice mills in Africa and sources paddy from various paddy producing states across Nigeria.
WACOT Rice also engages in out-grower farming programmes with paddy farmers to boost their yields and guarantees off-take of paddy from farmers through buyback arrangements. WACOT Rice is a subsidiary of TGI Group.
Tropical General Investments (TGI) Group is a global conglomerate with a majority of its investments based in emerging markets. TGI's investments focus on driving inclusivity and value addition using locally sourced raw materials, state-of-the-art manufacturing facilities and a highly skilled workforce to produce world class products that are consumed both locally and exported to global markets.
43 Farmers Who Were Killed Didn't Have Clearance To Farm- Presidency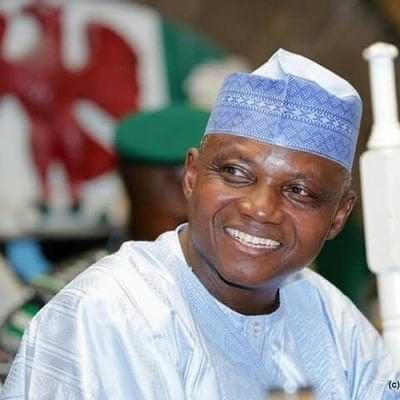 The Presidency has finally reacted to the trendy reports of how 43 farmers were killed by Boko Haram on Saturday in Borno State.
In a monitored interview by Grassroots.ng on BBC, the Senior Special Assistant to the President on Media and Publicity, Garba Shehu, said the farmers did not have military clearance to be on the rice farms when the attack happened.
He said while not blaming the victims for the incident, the truth must be said.
Shehu said, "The government is sad that this tragic incident has happened. 43 or thereabout of innocent farm workers, most of them had their throats slit by a heartless band of terrorists. People need to know what it is like in the Lake Chad Basin area.
"Much of those areas have been liberated from Boko Haram terrorists but there are a number of spaces that have not been cleared for the return of villagers who have been displaced. So, ideally, all of these places ought to pass the test of military clearances before farmers or settlers resume activities on those fields."
When asked if he was not blaming the farmers for going to the area, Shehu responded, "Not exactly but the truth has to be said. Was there any clearance by the military which is in total control of those areas? Did anybody ask to resume activity? I have been told by the military leaders that they had not been so advised and certainly, therefore, it was a window that the terrorists exploited."
43 farmers killed by Boko Haram didn't have clearance to farm —Buhari's aide
.
The President's spokesman said terrorists had planted land mines in several places in Borno State and nobody ought to go to these places until the military has cleared such places.
He added, "The military is not present in every inch of space in that area. Even if the people are willing to go back, a lot of those areas have been mined and mine clearance needs to be carried out and those areas must be cast as being ok for human habitation or agricultural activity."