GAIN Eyes Curbing Youth Unemployment Crisis In Africa, Sets To Host Virtual Summit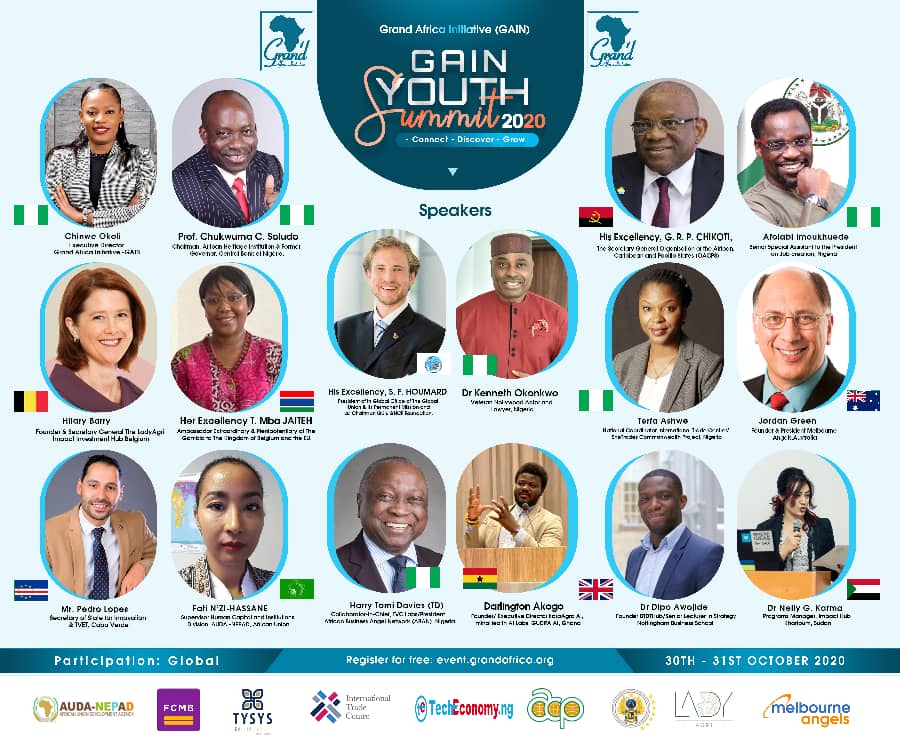 As part of its developmental goals for the African continent, Grand Africa Initiative (GAIN) is set to host a Youth Summit slated to hold online, 30th and 31st October, 2020.
The 2020 GAIN Youth Summit will present a unique platform that primarily present an opportunity to build alliances, networks and promote multi-level collaboration for maximum impact.
With the theme "Curbing Youth Unemployment Crises in Africa: The Real Issues; speakers will focus on channeling the energy and enthusiasm of the youth to positive ends by empowering them and building their capacities to drive positive personal, community, national and continental level developmental goals.

The GAIN Youth Summit 2020 is a platform that would empower the youth and other key stakeholders with information, channels and tools to promote collaborative action for youth employment, development, education and entrepreneurship.
"GAIN 2020 Youth Summit is free and will not only explore the real issues with unemployment in Africa but most importantly would expose the youth to opportunities that abound in various sectors and how they can tap into those opportunities," organizers said in a statement.
"Rising unemployment rate is ravaging the economies of the continent and has a huge negative impact on the the youth and general standard of living in Africa. At Grand Africa Initiative (GAIN), we are focused on helping the youth to succeed in education, employment, innovation and entrepreneurship.
Chinwe Okoli, the Executive Director, Grand Africa Initiative -GAIN said experts and leaders from the private sector, government, academia, development institutions, global organisations, financial institutions and entrepreneurship ecosystem from 22 different countries will help the youth explore opportunities.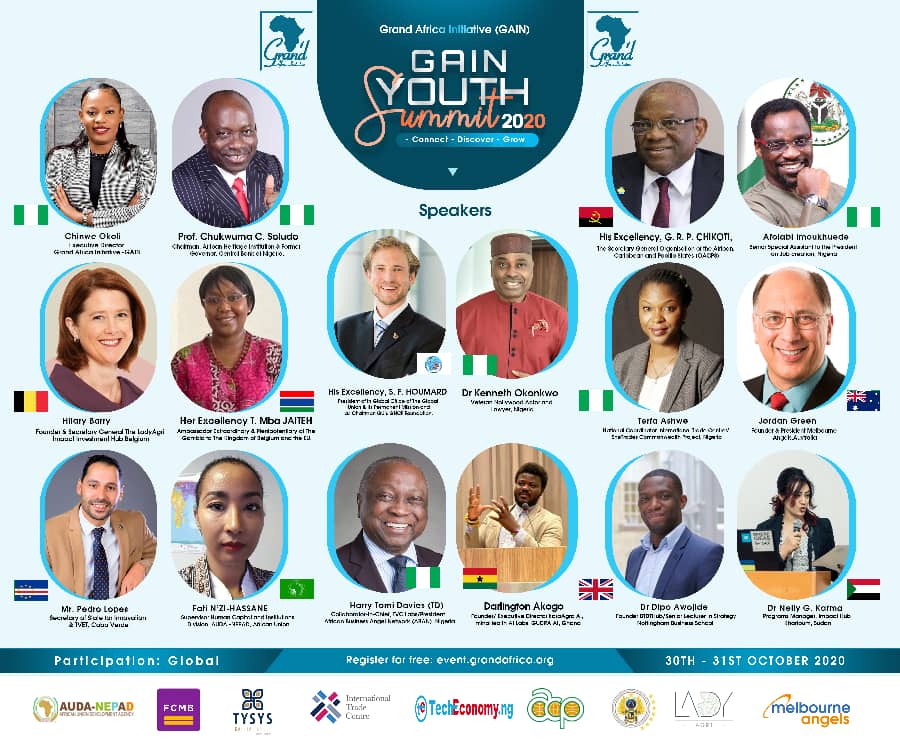 She said the summit will provide answers to questions on how to succeed in education; career professionals to excel in their professions; job seekers to position better and know how to secure new jobs and entrepreneurs to better understand the business environment, how to foster partnerships, expand their businesses and raise funds. 
"This is expected to help in curbing youth unemployment crises in Africa," she said.
The summit sessions are categorised into Employment Stage, Education/Student Stage, Entrepreneurship/Innovation Stage, Action stage.
The Keynote Speaker for the GAIN Youth Summit is Professor Chukwuma Charles Soludo, Member, Presidential Economic Advisory Council, Federal Republic of Nigeria and the former Governor of Central Bank of Nigeria.The Lead Speakers include : Her Excellency, Mrs Teneng Mba Jaiteh, The Ambassador Plenipotentiary of The Gambia to Kingdom of Belgium and the European Union; His Excellency S. F Houmard, The President of in Global Office of the Global Union and Its Permanent Mission and a.i Chairman GU's GHCF Foundation. HQ Switzerland; His Excellency, Mr Georges R. P. Chikoti, The Secretary General of the Organisation of African, Caribbean and Pacific States (OACPS); Mr Tomi Davies 'TD', Collaborator-in-Chief, TVC Labs/President, African Business Angel Network (ABAN), Nigeria; Mr Afolabi Imoukhuede, Senior Special Assistant to the President on Job Creation, Federal Republic of Nigeria; Mr Modise J.Motloba, The Group CEO, TysysCapital Group, South Africa; Mrs Fati N'zi-Hassane, Supervisor, Human Capital Division AUDA-NEPAD, African Union and over 30 more speakers from 22 countries are set to speak at the summit.
"In Africa, a social structure characterised by massive young population, it is important to find ways of gathering, mentoring and empowering them to take advantage of emerging opportunities. Our GAIN Youth Summit 2020 is a platform that has lineup speakers from around the word to engage to our youth and help us shape the future" Cynthia Asha Amani, GAIN Regional Coordinator, East Africa.
Some of the Partners for The GAIN Youth Summit 2020 are AUDA-NEPAD agency of the African Union; The Organisation of African, Caribbean and Pacific States (OACPS) and  Global Union and its Permanent Mission to the global Safety of Nations and their People; FCMB, Nigeria; Tysys Capital group, South Africa among others.
Grand Africa Initiative (GAIN) is a Pan-African Non-governmental organization on a mission to help African youth, develop and harness their potentials, unique ideas, talents and abilities to succeed in education, employment, entrepreneurship, and innovation. GAIN is on a mission to Gather, Empower, Mentor and Monitor (GEMM) African youth to succeed in education, employment, innovation and entrepreneurship in order to reduce poverty, inequality, illegal migration crises and insecurity; to achieve a safer, more economically empowered and developed Africa through youth development. GAIN programs include training, advocacy, education, mentorship, empowerment, opportunities dissemination and partnership seeking to achieve sustainable development by igniting the positive energy of the greater segment of Africa's population – the youth.
Register here.
Lagos Government, FG To Construct Marina – Mile 2 Rail In 2022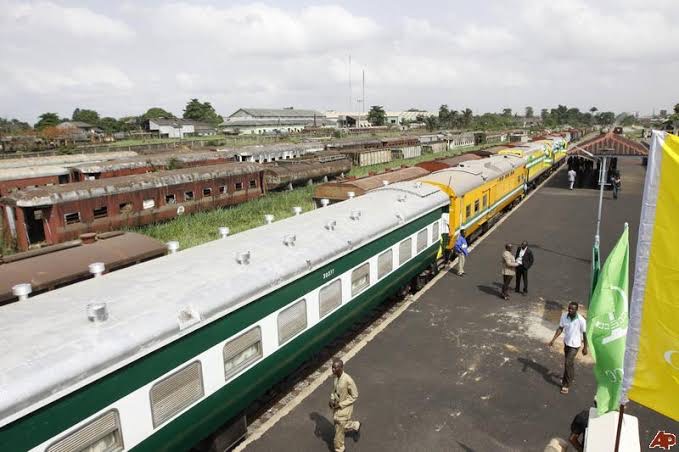 As part of the efforts to diversify the mode of transportation in Lagos, the State Government will collaborate with the Federal Government on rail construction from Marina to Mile 2.
According to Frederic Oladeinde, the Commissioner for Transport, the first 12km of the Blue Line rail project -which stretches from Marina to Mile 2- will become operational in 2022.
"From Mile 2 to Marina takes about two hours right now, by the time we implement that it will take 30 minutes," Oladeinde said.
"The Red Line is also a very important project which this government has embarked on. It's very important because that corridor caters for about a million trips and with the fact that the federal government is building that corridor to actually develop the Lagos-Ibadan rail line, the Lagos state government saw the advantage in collaborating with the federal government in sharing that corridor.
"And so we have signed the sharing agreement, all negotiations have been done, the Lagos state government will be adding some more stations. The federal government are developing three stations, that's Ebute Metta, Iju, and Agbado.
"Lagos state will be incorporating Oyingbo, Ikeja, Yaba, and some other stations just to be sure we are able to move people from Agbado to Oyingbo in 30-35 minutes rather than the 2-4 hours that people are experiencing right now.
"And once that Red Line is completed, it will be able to cater for 450,000 passengers per day. That line will eventually end up in Marina, but the first stage is to develop Agbado-Oyingbo section."
The commissioner said the state government is open to private sector investment to develop the Green Line (Marina to Lekki Free Trade Zone), Orange Line (Ikeja to Agbowa), Yellow Line (Ota to National Theatre) and Purple Line (Redeemed to LASU) while a monorail would be constructed for Ikoyi and Victoria Island.
Oladeinde also explained that the state government will demolish more roundabouts and junctions to reduce traffic time and solve the problem of traffic congestion.
"You will discover that most of our roundabouts are now bottlenecks, rather than solving problems they are now creating problems," he said.
"What the current administration has done is to locate all the 60 gridlock points, that is the roundabouts and junctions that are causing problems and what we are doing is to reconfigure most of them."
27 Year Old Man Stabbed To Death After Winning N15M Bet
A 27-year-old man identified as Prince Mieyebi has been reportedly stabbed to death by three armed men in Warri, Delta State after winning N15 million in a betting game.
Grassroots.ng gathered that the young man was killed while closing a shop belonging to his Aunt at the popular Ogbe-Ijoh market in Warri South Local Government Area of the State on November 27.
According to reports, the assailants fled with the deceased's mobile phone after stabbing him on various parts of his body. He died before he was rushed to a near-by hospital.
An uncle to the deceased, Mr. Thomas Ogisi, who confirmed the murder on Saturday, claimed that the deceased had played the betting game a week before his death with all his predictions going through to the sum of N15 million.
It was not clear if the murder is connected to the reported N15 million win as his account could not be accessed since the assailants made away with his phone.
"The boy stays with my elder sister. On that fateful day, they were in Ogbe-Ijoh market and were preparing to close when suddenly three boys blocked him in the shop and they stabbed him. The incident happened around 6pm on Friday. After stabbing him, they collected only his phone and left. Before he was rushed to the hospital, he was already dead," Mr Ogisi told Daily Independent.
The information we are hearing from his friends indicate that he was killed because he won N15 million from a betting game. He was expecting the money to be paid to him on Wednesday before he was stabbed to death on Monday. Some of his friends were aware of the money,"
"We are demanding for justice for the gruesome killing of our son. We want thorough investigation by the police. We are not also happy with the level of security at the market." he added.
Rivers Executive Council Approves Budgetary Proposal Of Over N448 Billion For 2021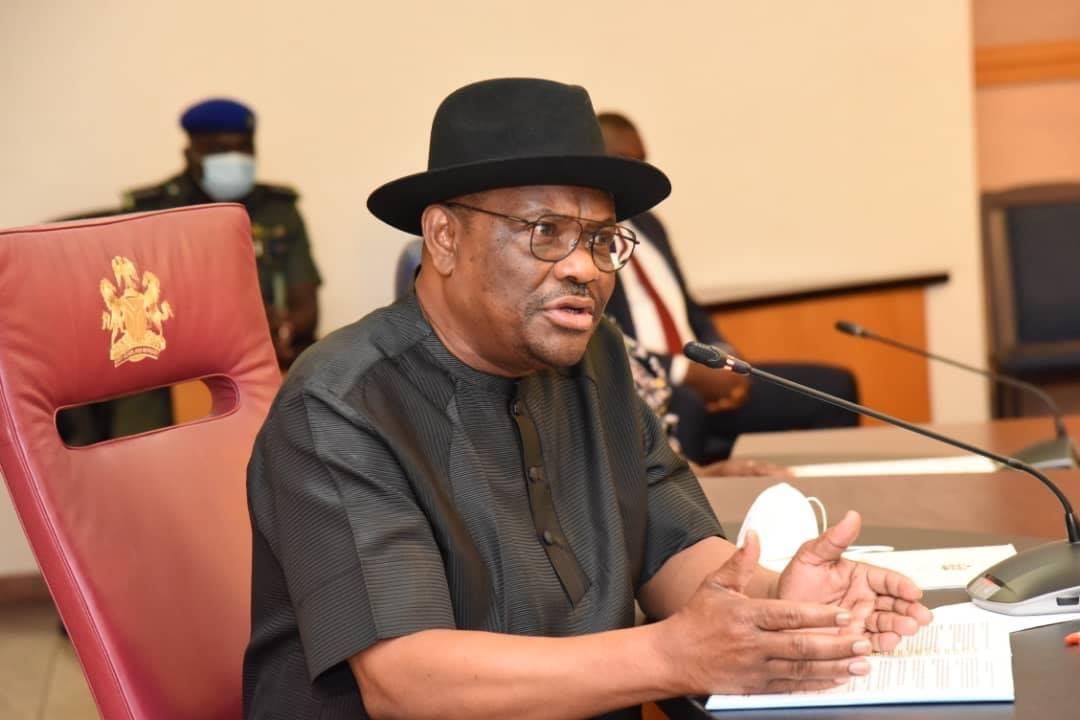 Rivers State Executive Council has approved a budget proposal of Four Hundred and Forty Eight Billion, Six hundred and Sixty million, Seven Hundred and Seventy Three Thousand, Four Hundred Seventy Six Naira (N448,660,773.000) for 2021 fiscal year.
The approval was given during the council meeting on Monday, 30th November 2020, which was presided over by the State Governor, Nyesom Ezenwo Wike at the Banquet Hall of Government House, Port Harcourt.
Commissioner for Finance, Mr. Isaac Kamalu who briefed journalists after the meeting said the proposed budgetary estimate will help government to accomplish all ongoing projects in the state and also enable the government to make life better for the people.
Mr Kamalu, who is also supervising the affairs of the State Ministry of Budget and Economic Planning, said the council also approved the Medium Term Expenditure Framework for the State for 2021-2023.
Also addressing the journalists, Commissioner for Information and Communications, Paulinus Nsirim said the council further approved a budget for use by the Rivers State Independent Electoral Commission (RSIEC). The budget will enable the State electoral umpire to conduct the 2021 Local Government election in the State.
According to him, a total sum of Two Billion, Seven Hundred and Forty Seven Million, Three Hundred and Fifty One Thousand, Four and Five Naira, Thirteen Kobo (N2,747,351,405.13) was approved for RSIEC, which is expected to conduct the local government election in line with 1999 constitution.
The Information Commissioner, further said that the council also approved the construction of a new motor park within the precinct of the newly commissioned Rebisi Flyover, which is intended to curb activities of illegal park operators in that axis.
"This is in line with the urban renewal vision of His Excellency. Recall that the new Rebisi Flyover Bridge that was commissioned a few weeks ago has changed the landscape and skyline in that vicinity.
"And to ensure that the illegal motor park around the flyover does not deface the aesthetics that have been achieved, government is acquiring land near the flyover bridge to build a befitting motor park for them."