GAIN Eyes Curbing Youth Unemployment Crisis In Africa, Sets To Host Virtual Summit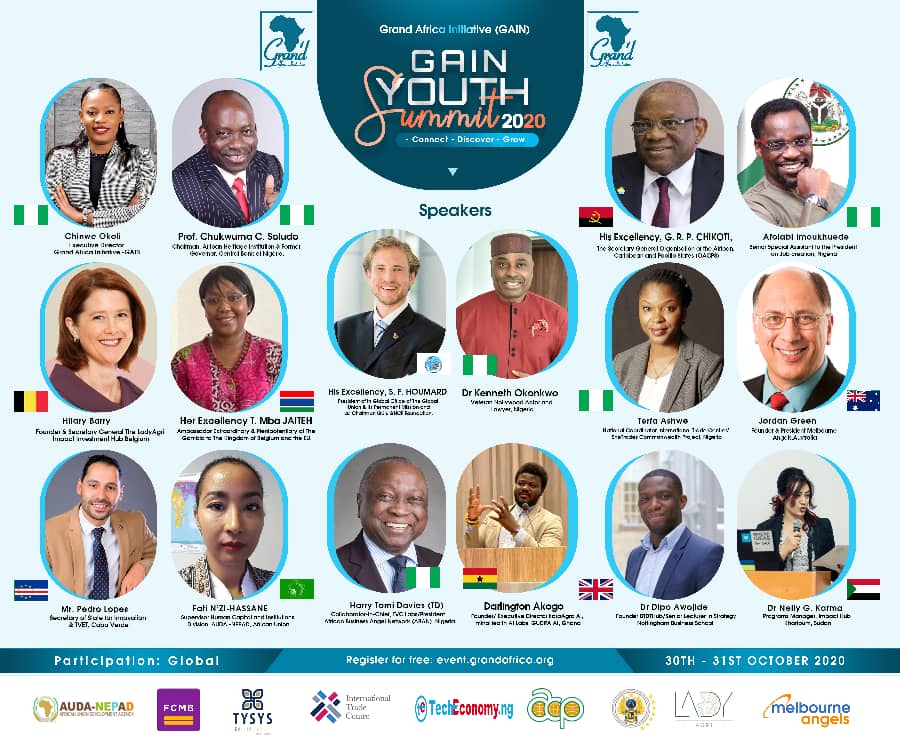 As part of its developmental goals for the African continent, Grand Africa Initiative (GAIN) is set to host a Youth Summit slated to hold online, 30th and 31st October, 2020.
The 2020 GAIN Youth Summit will present a unique platform that primarily present an opportunity to build alliances, networks and promote multi-level collaboration for maximum impact.
With the theme "Curbing Youth Unemployment Crises in Africa: The Real Issues; speakers will focus on channeling the energy and enthusiasm of the youth to positive ends by empowering them and building their capacities to drive positive personal, community, national and continental level developmental goals.

The GAIN Youth Summit 2020 is a platform that would empower the youth and other key stakeholders with information, channels and tools to promote collaborative action for youth employment, development, education and entrepreneurship.
"GAIN 2020 Youth Summit is free and will not only explore the real issues with unemployment in Africa but most importantly would expose the youth to opportunities that abound in various sectors and how they can tap into those opportunities," organizers said in a statement.
"Rising unemployment rate is ravaging the economies of the continent and has a huge negative impact on the the youth and general standard of living in Africa. At Grand Africa Initiative (GAIN), we are focused on helping the youth to succeed in education, employment, innovation and entrepreneurship.
Chinwe Okoli, the Executive Director, Grand Africa Initiative -GAIN said experts and leaders from the private sector, government, academia, development institutions, global organisations, financial institutions and entrepreneurship ecosystem from 22 different countries will help the youth explore opportunities.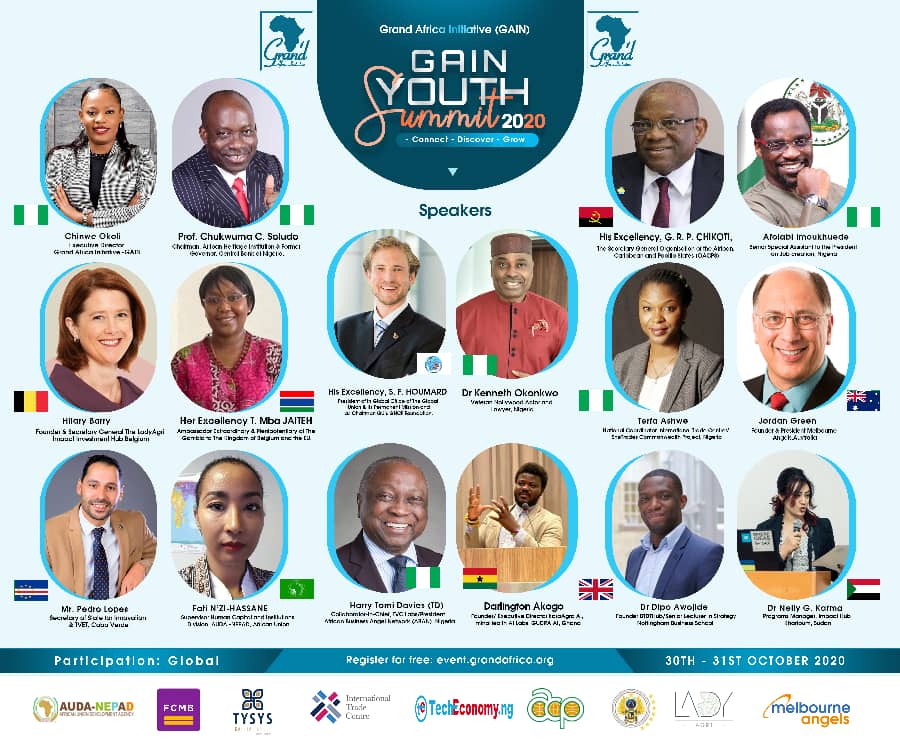 She said the summit will provide answers to questions on how to succeed in education; career professionals to excel in their professions; job seekers to position better and know how to secure new jobs and entrepreneurs to better understand the business environment, how to foster partnerships, expand their businesses and raise funds. 
"This is expected to help in curbing youth unemployment crises in Africa," she said.
The summit sessions are categorised into Employment Stage, Education/Student Stage, Entrepreneurship/Innovation Stage, Action stage.
The Keynote Speaker for the GAIN Youth Summit is Professor Chukwuma Charles Soludo, Member, Presidential Economic Advisory Council, Federal Republic of Nigeria and the former Governor of Central Bank of Nigeria.The Lead Speakers include : Her Excellency, Mrs Teneng Mba Jaiteh, The Ambassador Plenipotentiary of The Gambia to Kingdom of Belgium and the European Union; His Excellency S. F Houmard, The President of in Global Office of the Global Union and Its Permanent Mission and a.i Chairman GU's GHCF Foundation. HQ Switzerland; His Excellency, Mr Georges R. P. Chikoti, The Secretary General of the Organisation of African, Caribbean and Pacific States (OACPS); Mr Tomi Davies 'TD', Collaborator-in-Chief, TVC Labs/President, African Business Angel Network (ABAN), Nigeria; Mr Afolabi Imoukhuede, Senior Special Assistant to the President on Job Creation, Federal Republic of Nigeria; Mr Modise J.Motloba, The Group CEO, TysysCapital Group, South Africa; Mrs Fati N'zi-Hassane, Supervisor, Human Capital Division AUDA-NEPAD, African Union and over 30 more speakers from 22 countries are set to speak at the summit.
"In Africa, a social structure characterised by massive young population, it is important to find ways of gathering, mentoring and empowering them to take advantage of emerging opportunities. Our GAIN Youth Summit 2020 is a platform that has lineup speakers from around the word to engage to our youth and help us shape the future" Cynthia Asha Amani, GAIN Regional Coordinator, East Africa.
Some of the Partners for The GAIN Youth Summit 2020 are AUDA-NEPAD agency of the African Union; The Organisation of African, Caribbean and Pacific States (OACPS) and  Global Union and its Permanent Mission to the global Safety of Nations and their People; FCMB, Nigeria; Tysys Capital group, South Africa among others.
Grand Africa Initiative (GAIN) is a Pan-African Non-governmental organization on a mission to help African youth, develop and harness their potentials, unique ideas, talents and abilities to succeed in education, employment, entrepreneurship, and innovation. GAIN is on a mission to Gather, Empower, Mentor and Monitor (GEMM) African youth to succeed in education, employment, innovation and entrepreneurship in order to reduce poverty, inequality, illegal migration crises and insecurity; to achieve a safer, more economically empowered and developed Africa through youth development. GAIN programs include training, advocacy, education, mentorship, empowerment, opportunities dissemination and partnership seeking to achieve sustainable development by igniting the positive energy of the greater segment of Africa's population – the youth.
Register here.
Finance Minister Wants Nigeria To Sell Of Assets, Says It Will Benefit Nigerians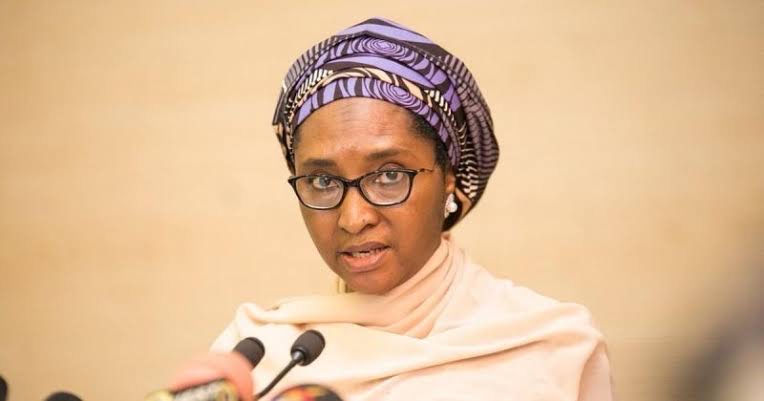 The Minister of Finance, Zainab Ahmed, on Friday, said the Federal Government's planned sale of public assets will benefit Nigerians and help to boost the economy.
In an appearance on Channels Television's Sunrise Daily, Mrs Ahmed, who is also the Minister of Budget and National Planning, said some government assets are currently moribund and provide little or no value to Nigerians in their current state.
"There are some government assets that are dead that can be sold to the private sector to be reactivated and put to use for the benefit of Nigerians," the Minister said.
"So we are looking at different – and I am a member of the National Council on Privatisation – we are looking at different categories of government assets that government has not been able to manage, that are lying down and in some cases even completely rundown, to cede them off to the private sector.
On January 12, Mrs Ahmed had revealed the government's plan to sell public assets to partly finance the N13.58 trillion 2021 budget.
On Friday, Ms Ahmed stressed that the "intention is not just funding the budget, it is to reactivate these assets and hand it over and have them bring contributions to the growth in the economy."
She added that the Bureau of Public Enterprises will begin to coordinate with other arms of government on the asset sales in the first quarter of the year.
" . . . in the last week of December, we had a meeting of the National Council on Privatisation where we approved the annual work plan, the 2021 work plan, for that Bureau of Public Enterprises," she said.
"And I guess it is in this first quarter that the BPE will now be engaging the Senate committee and other committees they work with to say this is our work plan for the year."
Wike Pledges N500m To Rebuild Sokoto Central Market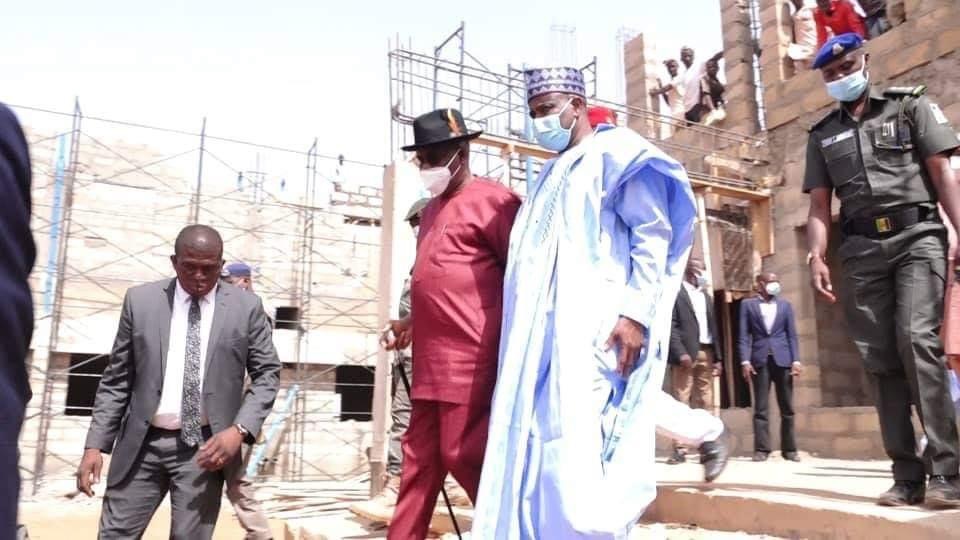 Rivers State government has pledged Five Hundred Million Naira (N500m) to support the Sokoto State government rebuild the Sokoto Central market that was gutted by fire on Tuesday.
Part of the money will also be used to support victims of the devastating fire that destroyed goods worth billions of Naira.
Rivers State governor, Nyesom Ezenwo Wike, made the pledge during when he visited Governor of Sokoto State, Aminu Waziri Tambuwal on Wednesday.
Governor Wike who was conducted round the destroyed market by Governor Tambuwal, said he was saddened by the devastating fire that razed over 60 percent of the 16000 shops there.
"We have come here to commiserate and sympathise with our brother, our friend and the good people of Sokoto State on what had happened to one of the biggest market in this country, the Sokoto central market.
"When I got the information last night, I was touched and I said as brothers, what affects you affects us. What affects Sokoto State affects Rivers State."
Governor Wike expressed his appreciation to the various security and paramilitary agencies that prevented the fire from destroying the entire market.
He pledged that the government of Rivers State will support Sokoto State to rebuild the market and ameliorate the plight of the traders with N500 million.
Governor Tambuwal thanked Governor Wike and the people of Rivers State for the kind gesture.
Governor Wike also paid a courtesy visit to the Sultan of Sokoto, Muhammad Sa'ad Abubakar in his palace to commiserate with him over the demise of junior brother , Hon. Abdulkadir Jeli Abubakar, who was Sokoto State Commissioner for Home Affairs.
In his response, Sultan Abubakar, acknowledged the age-long relationship between Sokoto and Rivers State and lauded to Governor Wike for sustaining it.
Amaechi On Crutches: His Associate, Eze Clarifies Air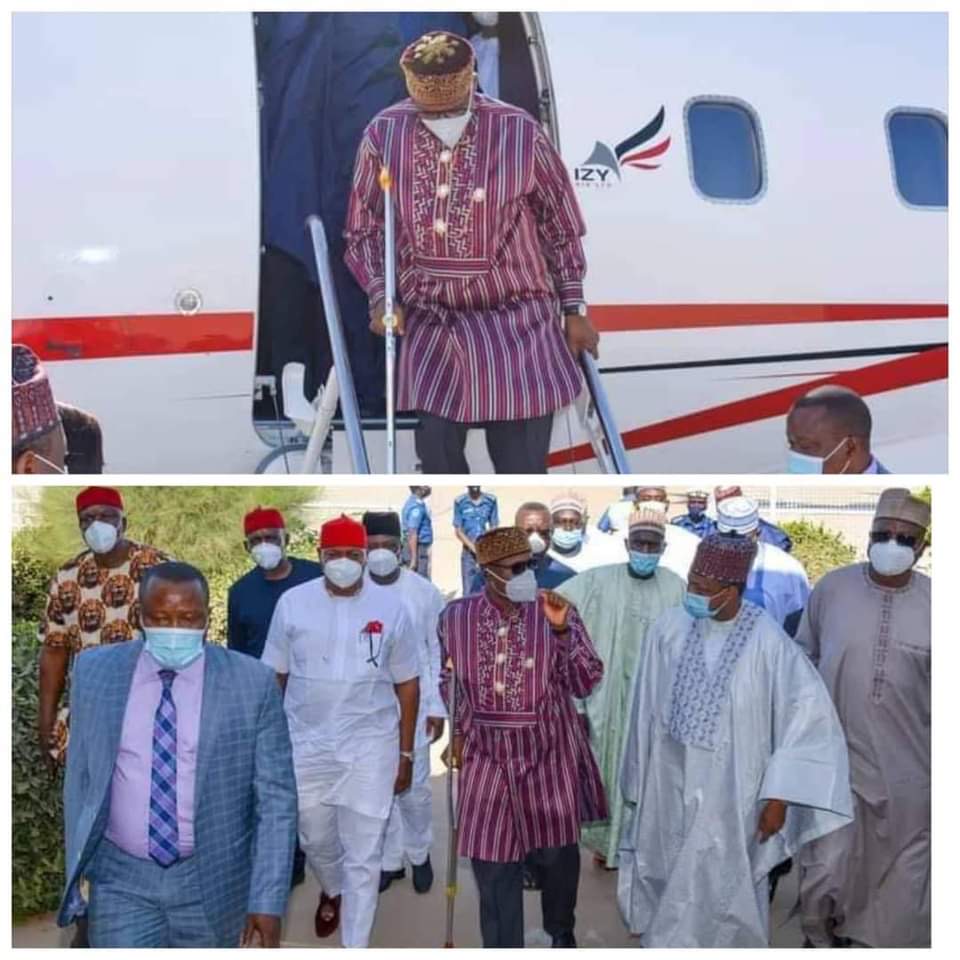 Comments have continued to trail trending photos which captured the Hon. Minister of Transportation, Rt. Hon. Chibuike Amaechi, walking with the aid of crutches during the commissioning of an orphanage home and Arabic School in Kaita Local Government Area of Katsina State on Friday.
While details of the circumstances surrounding the Ministers sudden reliance on a walking aid seem sketchy, some Nigerians who gloated over the photos said the Minister may be suffering from an ankle sprain while others concluded that he may be having either plantar fascitis, hemiplegia scissors gait or motor neuron lesion and prayed for his speedy recuperation.
Reacting to the development, chieftain of the All Progressives Congress, erstwhile National Publicity Secretary of the defunct New Peoples Democratic Party (nPDP) and a close associate of Amaechi, Chief Eze Chukwuemeka Eze commended Nigerians for their deep concern but however dismissed comments linking the Minister's use of crutches to either hemiplegia scissors gait or planter fascitis adding that Amaechi is neither suffering from knee arthritis, nor lower motor neuron lesion, describing such assertions as unfathomable.
In a statement made available to media houses, Chief Eze said many Nigerians and people of goodwill have expressed very dreadful concerns seeing Minister Amaechi walk with crutches while on official duties and as a result, have flooded his cell phone lines trying to enquire the state of health of Nigeria's decade best Minister and why he is relying on a walking aid.
The party chief said he was however prompted by public concern to engage the Minister, who confirmed the verisimilitude of the trending photos, Sunday morning and said he had a hairline fracture but assured he is getting pretty better.
In a conversation with Eze, Amaechi was quoted as saying thus: "…I had a hairline fracture on 31st December, 2020 but I have been working with it all these weeks before the public pictures showing me with crutches. Nobody should express any fear as my Doctors are on top of it".
Eze noted that walking and working in pains and crutches simply demonstrates the patriotic zeal and commitment of the Minister in contributing towards rebuilding Nigeria to suit the fancy of the founding fathers of our nation.
Notwithstanding, the party Chief appealed to President Muhammadu Buhari to direct Amaechi to rest a little while and allow for a quick recovery from the painful fracture because according to him, Amaechi with his level of patriotism, is ready to risk his life in the service of the Nigerian nation.
While calling on Nigerians to continue to remember the Minister in their prayers especially, for his total recovery, Eze condemned those celebrating the temporary inconvenience involving the Minister describing them as satanic.