APC Never Won 2018 In Osun in 2018 – Ex- Dep. Speaker Lasun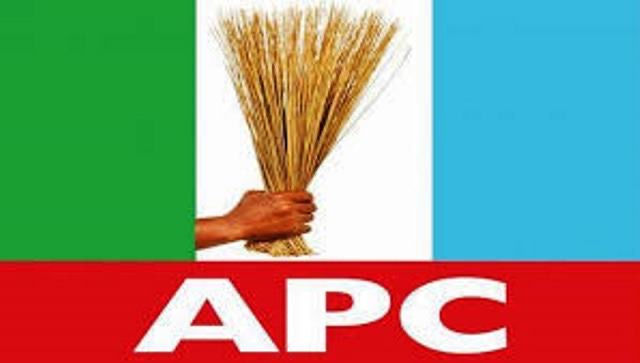 Former Deputy Speaker of House of Representatives, Hon. Lasun Yussuff said the All Progressives Congress (APC) rigged 2018 gubernatorial election that brought Adegboyega Oyetola into office.
He said the party lost the election.
Lasun also revealed that the current Deputy Senate President Ovie Omo-Agege, was compensated for his current office because of the role he (Omo-Agege) played in 2018 in Osun state.
Speaking with newsmen at the APC national secretariat Thursday in Abuja, after he picked his nomination forms to contest the party's governorship ticket, Lasun said, "And let me tell you this, the former governor of Zamfara State (Abdulaziz Yari) was the chairman of that Committee. On the day of primary, Senator Yari did not go to Osun, that is left for you journalists to go and find out, why he did not go.
"But let me give you a glimpse of what actually happened. The man knew I was popular. The man was instructed to go and do a particular thing, but he told them, I have run an investigation and I have discovered that the Deputy Speaker is popular, if you want us to come and achieve this, it might be difficult. That was one of the reasons that the man didn't come.
"The job was undertaken by the current distinguished Senator, Deputy Senate President (Ovie Omo-Agege). He became the Chairman overnight.
"And I want to say, if he likes, he can controvert this, one of the reasons why he is Deputy Senate President today was that he was compensated for that job.
"Omo-Agege was in my home town for four hours on the day of that primary and he actually conducted three Wards primary out of six Wards of my home town and he signed three results. So, if I had wanted to go to court, what happened in Zamfara would have happened in Osun state. But I never went to school because I wanted to start writing petitions.
"But on Thursday when they met at the party secretariat, I warned them, I said if you rig me out of this election, I can assure you that you are not going to win the governorship. They thought I was a small boy and they thought I was just blabbing or just a mere threat.
"But my friends, you are a witness to what happened when the election eventually held. Did they win? They didn't because there is no way they can rig."
Lasun also said he does not believe that the party will conduct a free and fair primaries ahead of the 2022 governorship election, but he warned that "Nobody born of a woman can repeat what they did to me in 2018 because I was rigged out.
"I'm not talking about violence, don't misunderstand me. People know me, I don't use thugs in politics, I don't do violence in Osun, but whoever tries it will have his generation to blame for it.
"There is still a gang up against me. You want to tell me party members have a say in the party? They don't have to say.
"In 2018, when the opportunity came to run for the governorship election presented itself, I came into the race. Though at that time there was a serious gang up against me at the party level within the state. A serious gang up, well orchestrated, well coordinated. Because of the person I am, I don't believe in jumping ship.I have had the opportunity to move from APC to another party, but that is not me. I knew the whole thing was tilted against me, but I never bothered.
"If not for my campaign, because I came out very early for my campaign in 2017, APC was dead in Osun. Dead to the extent that it was not possible for APC to win that governorship election unless it was given to someone like me.
"Let me remind Nigerians today that whether it is a direct or indirect primary, the confusion started in Osun state in 2018, with the sole aim of rigging Lasun Yusuff out of the governorship election. I'm that important in APC."
PHOTOS: Ex-convict Returns To Nigeria With 4.56kg Of Cocaine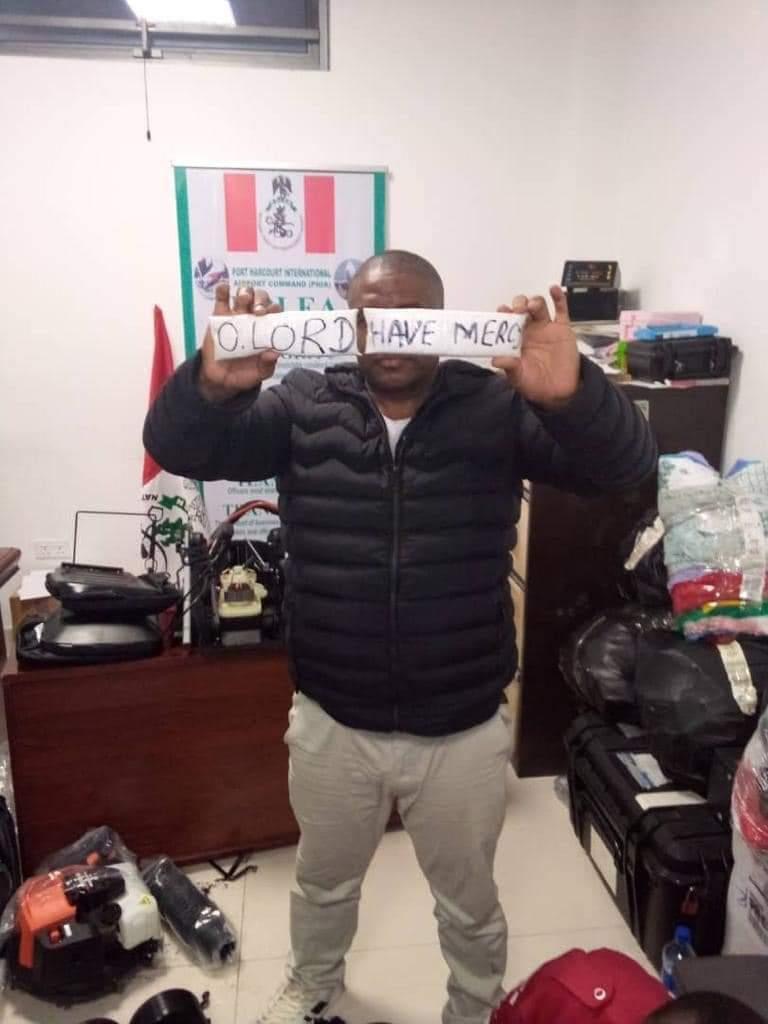 An ex-convict, Okechukwu Francis Amaechi, has been arrested by the National Drug Law Enforcement Agency at the Port Harcourt International Airport for importing cocaine.
The agency in a statement issued on Sunday said Okechukwu finished serving a drug trafficking prison sentence in Brazil in March 2022.
Okechukwu was caught with 4.56kg crack concealed in lawnmower tyres.
UK Government Denies Declaring IPOB Terrorist Organisation
By Sandra Ani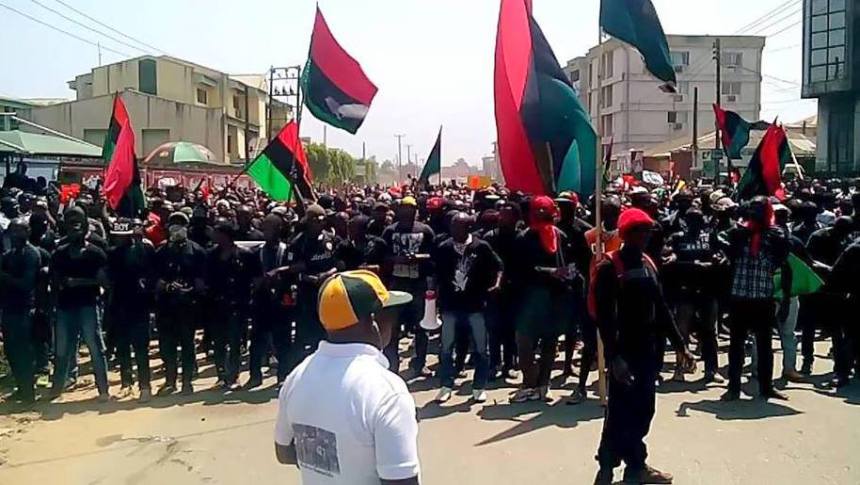 The British High Commission Abuja has described as inaccurate the reports making rounds that United Kingdom (UK) has added the Indigenous People of Biafra (IPOB) to the UK's list of terrorist groups or organisations banned under UK law.
In a statement made available to GrassRoots.ng, titled: "British High Commission Abuja on the UK Government Publications of the 13 April Country Policy and Information Note: 'Nigeria: Separatist groups in the South East'", the Commission said, "These reports are untrue. The 'Indigenous People of Biafra" (IPOB) is not a proscribed organisation in the UK".
"The inaccurate reporting relates to the 13 April 2022 publication by the UK Government of a revised Country Policy and Information note (CPIN) on separatist groups in SE Nigeria, including the Indigenous People of Biafra (IPOB). CPINs provide country of origin information (COI) and analysis of COI for use by UK Government decision-makers handling particular types of protection and human rights claims.
"All asylum and human rights claims made in the UK are considered on their individual facts in accordance with our obligations under the UN Refugee Convention and European Convention on Human Rights, taking into account relevant background country information and case law.
"The CPIN on separatist groups in the South East, including the Indigenous People of Biafra (IPOB), provides a general assessment of risks faced by individuals belonging to those groups. These assessments are based on an analysis of publicly available country information obtained from a wide range of reliable sources including media outlets; UK and other governments; local, national and international organisations; and non-government organisations.
"This CPIN also acknowledges that the Nigerian government has proscribed IPOB as a terrorist organisation, some members of IPOB have reportedly used violence against the state and members of the public, and advises that persons who have committed human rights abuses must not be granted protection".
The document is publicly available on our UK Government website, Gov.UK here.
Lawyer Gives EFCC Seven Days To Summon Nwajiuba, Ngige, Amaechi, Threatens Lawsuit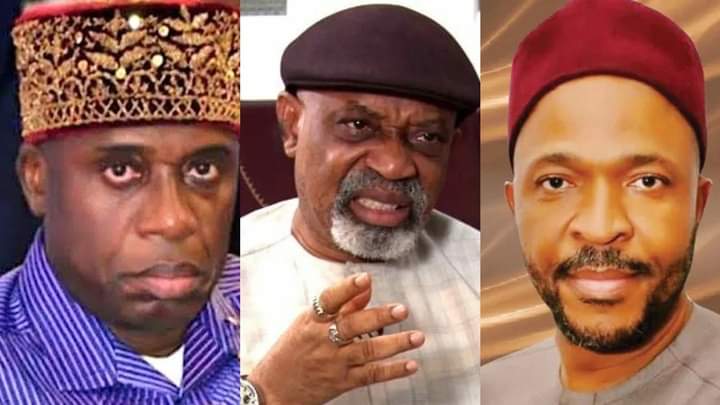 An Abuja-based human rights lawyer, Pelumi Olajengbesi, has given the Economic and Financial Crimes Commission and the Independent Corrupt Practices and Other Related Offences Commission a seven days' notice to summon serving ministers and All Progressives Congress presidential aspirants.
The lawyer said the anti-graft agencies must summon the ministers and other government officials who have picked up bogus APC 2023 nomination forms to explain the source of funding, as their salaries for four years combined can't afford such exorbitant fees charged by the ruling party.
Olajengbesi, who is the Principal Partner at Abuja-based law firm, Law Corridor, warned the EFCC and the ICPC that failure to summon the APC aspirants and serving government officials after seven days would attract a lawsuit.
He said the lawsuit would be instituted at the Federal High Court in Abuja and would be followed up to a logical conclusion to rid the political system of corruption.
Olajengbesi, in a statement on Friday, alleged that "The APC is promoting the same corruption that it claims to fight with the outrageous cost of nomination and expression of interest forms. One is not even surprised, after all, President Muhammadu Buhari has found nothing wrong in the pardon of two former governors convicted of stealing billions of naira. APC reeks of corruption.
"By this statement, I put the EFCC and the ICPC on notice to summon and probe all APC aspirants who double as government officials who have purchased the outrageous nomination forms. Be it, governors, ministers and every one of them must explain the source of their funding and must be duly vetted by the anti-graft agencies.
"Taxpayers' monies must not be siphoned into the pursuit of selfish ambitions by individuals who do not have the interest of common Nigerians at heart.
"I will be instituting legal action against the EFCC and the ICPC at the expiration of seven days beginning from today, April 30, 2022, upon the failure of the two anti-graft agencies to live up to its responsibilities and probe all these government officials."
APC had days ago pegged the cost of its nomination and expression of interest forms for the presidential election at N100 million, N50 million for governorship, N20m for Senatorial and N10m for federal house of representatives.
Already, Minister of State for Education, Emeka Nwajiuba; Kogi State Governor, Yahaya Bello; amongst others have picked up the forms while others are expected to follow suit in the coming days. They include Vice-President Yemi Osinbajo; former Lagos State governor, Bola Tinubu; Minister of Transportation, Rotimi Amaechi; Minister of Labour and Employment, Chris Ngige; Ebonyi State Governor, Dave Umahi; former Imo State Governor, Rochas Okorocha; former Abia State Governor, Orji Kalu; amongst others jostling to be the flagbearer at the end of the APC presidential primary scheduled to hold at the end of May 2022.