The Healing Prospects of Asiwaju and Atiku Tickets
However, it was important to point out the huge potentials of both tickets of Asiwaju and Atiku because if they were to sail through and managed well, either of them stands to  bring Nigeria together like never before writes Hashim Suleiman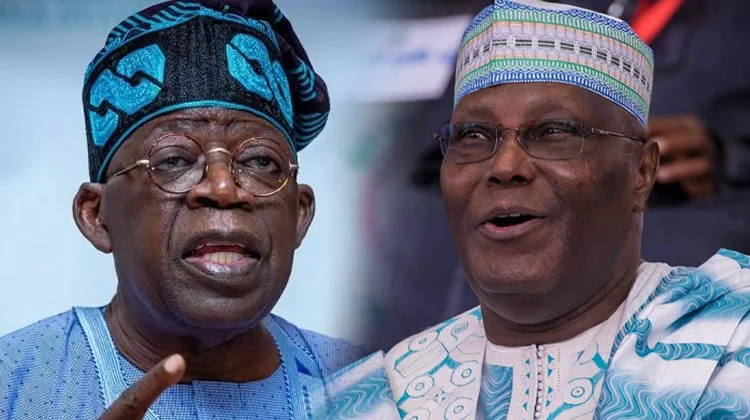 Jimi Agbaje, the PDP gubernatorial candidate in lagos state for the 2019 elections had been rumored to want to join the APC in the past weeks and a television station had to invite him to speak on that which he categorically denied and insisted he remained a member of the PDP.
In the midst of the interview, the anchor had sought to know his opinion about the Muslim/Muslim ticket of Asiwaju Tinubu and he perfectly described the fact that the APC had murdered religion while the PDP had murdered ethnicity considering that an Atiku had emerged against the agitation of power return to the south after Buhari. Indeed his opinion was classy and it got me thinking a lot, follow me on my thoughts please.
Apparently, both tickets as described by Jimi above appear like firsts even though they are not necessarily happening for the first time albeit the others failed because they were not properly managed by all stakeholders.
The same religion ticket had first happened with Abiola in 1993 but could not see the light of the day apparently due to some elite disagreement and who knows maybe religious disharmony was part of their consideration at that time? It appears so though.
And as for the jettisoning of zoning, GEJ was the first in the democracy when he completed Yar'Adua's tenure and insisted on running again against the zoning agreement of his party, I feel that was the beginning of the end of GEJ seeking second tenure in 2015 and the rest is history today.
However, it was important to point out the huge potentials of both tickets of Asiwaju and Atiku because if they were to sail through and managed well, either of them stands to bring Nigeria together like never before.
I insist that anyone that comes by has to be managed very well from day one of it was to sail through. For example, for Atiku, there has to be zero possibility for nepotism, there has to be inclusion from inception, the president would have to been seen to involve much of Ifeanyi Okowa in decision making in order that his creed will see reason to renew their faith in Nigeria and cease the hostilities, including so many more that could lead to development under peace and harmony.
As for the Asiwaju ticket, it is going to be more difficult to manage because there has to be avoidance of events that could create negative perceptions as regards faith, for example, you would have to avoid too much visits to the president or the Vice by Islamic clerics because I know they like that, appointments must be balanced with a view to probably having more Christians than Muslims, if possible the advertisement of prayer at mosques by both leaders could be left private, the ticket stands to attract more sycophants and managing them could be most difficult thing ever.
These and more too numerous to mention are tips on how these likely occurrences could be managed for the benefit of the nation. Both tickets have tendency to heal the many fault lines that had hitherto stood on the way for peaceful living so much that our diversity could be tapped for progressive tendencies.
While the Atiku ticket would have less to do considering that both the north and the south have been represented on it but for the switch of it considering the completion of a northern Buhari eight year tenure, they'll have less work to do to consolidate.
The Asiwaju ticket would have more work to do considering the sensitivity of religion, it is as sensitive as just ready to catch fire on a spark of matches, so the meticulousness required to manage it is something you would not want to ignore for a minute.
Like I had posited in my earlier article titled; Atiku and Asiwaju's economic managements as the only good still left of Nigeria's economy' and which can be read here I highlighted that whichever way it went, Nigeria stood to be better off for it atleast as regards unity but with a caveat like I have tried to explain in today's article.
May the best man win for the benefit of our dear country, Nigeria.
Hashim Suleiman
Governor Peter Mbah Appreciates Dave Umahi Over Swift Response To Work On A Recently collapsed Bridge In Enugu State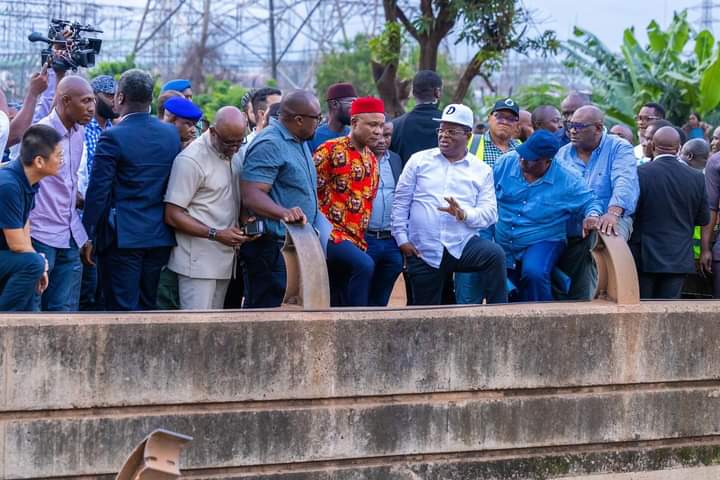 Governor Peter Mbah Appreciates The Minister For Works, Dave Umahi Over Swift Response To Work On A Recently collapsed Bridge In Enugu State
The bridge which is on the federal road, had sunk in on Monday.Thank God no casualties were recorded due to the less movements around the area on the it happened.
Here's what the Governor wrote;
"Yesterday evening, I had the pleasure of welcoming the Minister of Works, Engr. Dave Umahi, to Enugu State. The minister who came to inspect the collapsed bridge between the New Artisan flyover and the Naira Triangle, at the Enugu – Port Harcourt expressway, assured me of its immediate reconstruction.
"He commended me for ameliorating the plights of my people by undertaking to dualise the Enugu State's part of the Enugu-Abakaliki road, and also assured me that the federal government would expedite the necessary approvals.
"I sincerely appreciate the minister for the prompt response, and President Bola Ahmed Tinubu for inclusive leadership. This, for us, underscores the president's commitment to his oath of office."
Here are pictures from the scene visit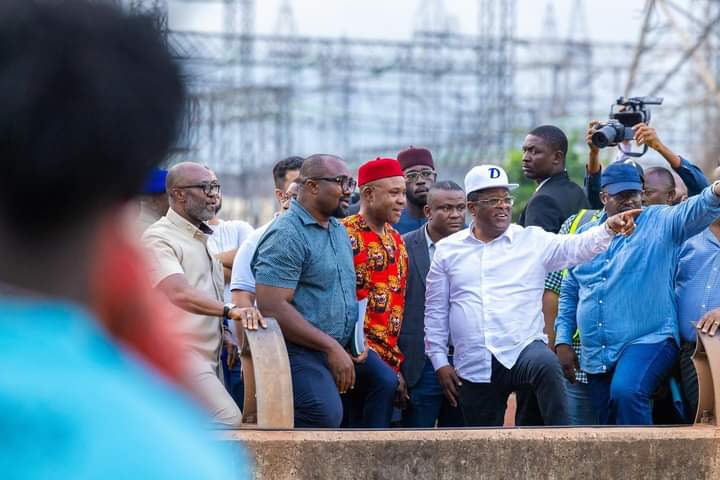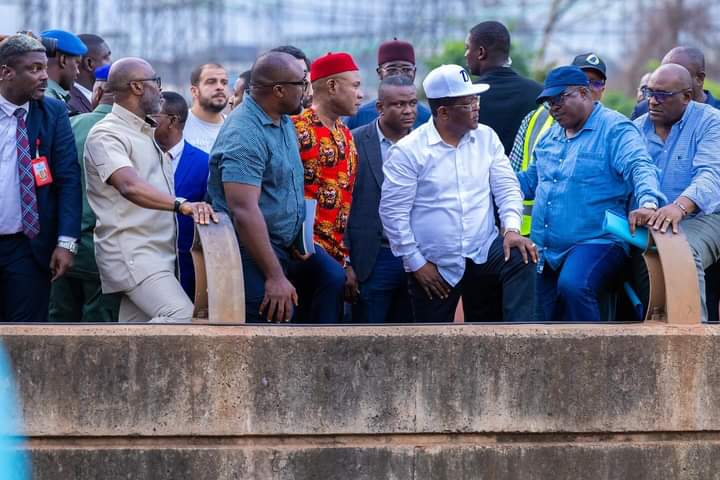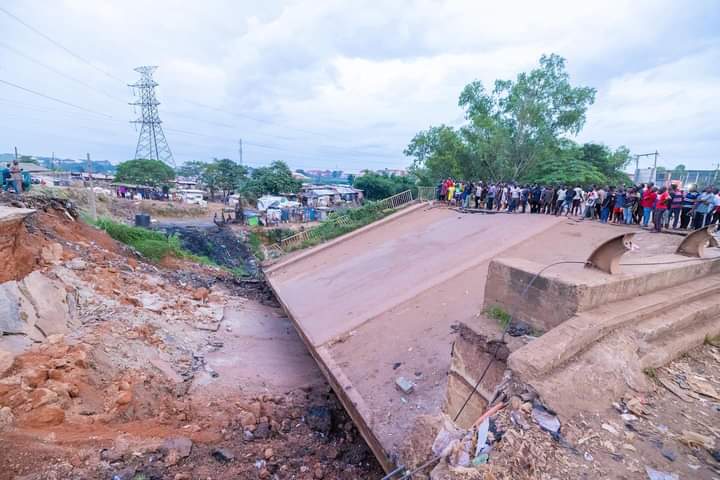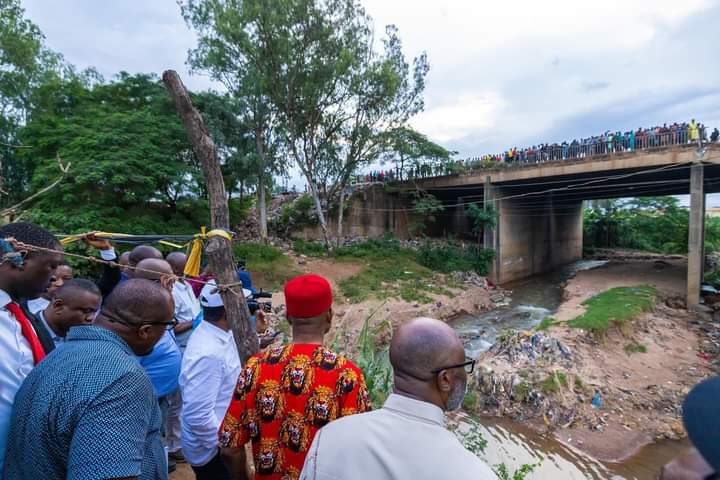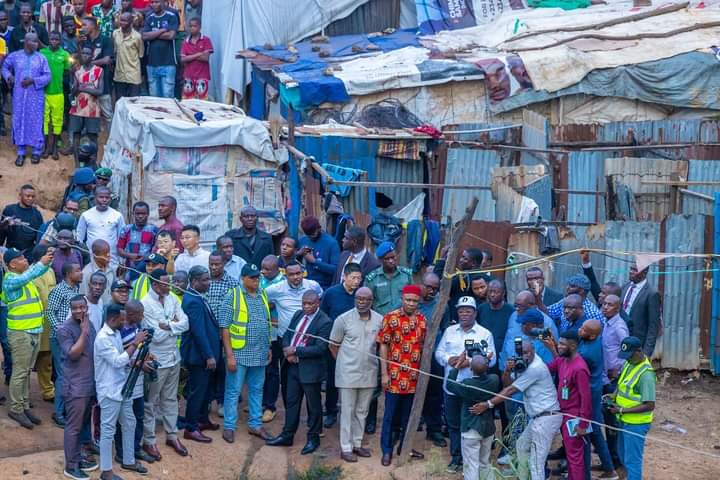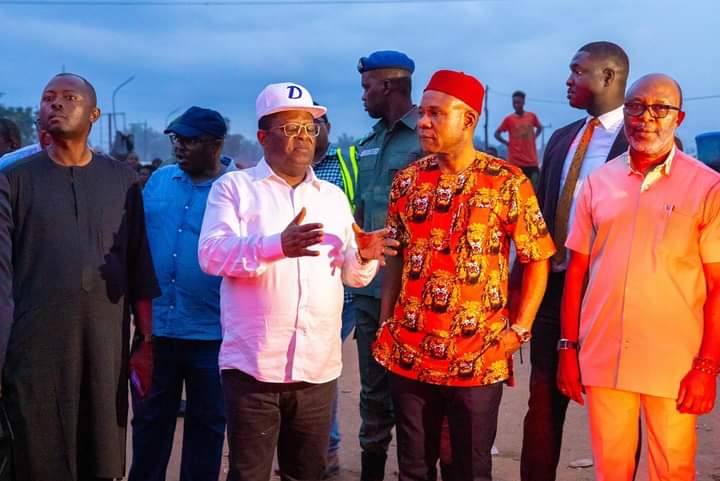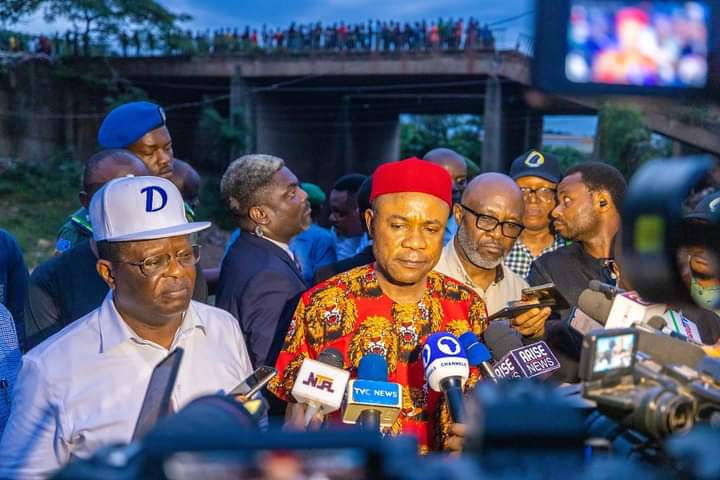 PHOTO: Governor Peter Mbah Speaks At 2023 Lagos Chamber Of Commerce And Industry (LCCI)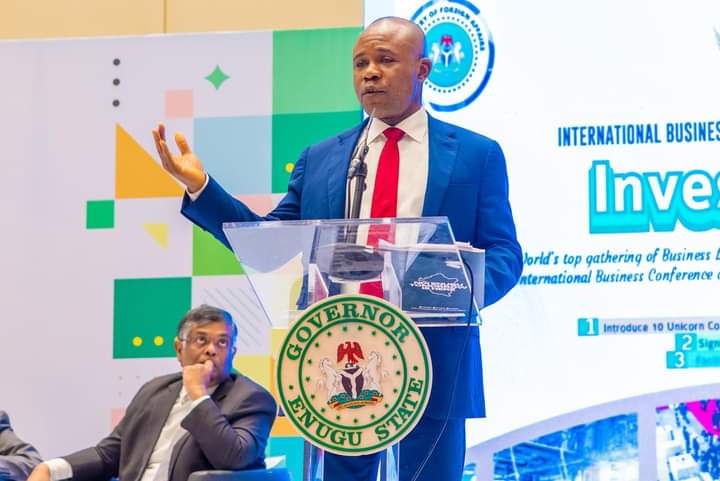 The Governor of Enugu State, Governor Peter Mbah was one of the guest speakers at the 2023 LCCI. While posting pictures from the conference on his social media page, He wrote;
"Today, I was honoured to stand as Guest of Honour and Speaker on the platform of the 2023 Lagos Chamber of Commerce and Industry (LCCI) International Business Conference and Expo.
This event underscores our commitment to global partnerships and trade cooperation. From Enugu, I have proudly joined the dialogue that transcends borders.
As we engage in vital conversations, I extend a hand of partnership, inviting stakeholders to explore our nation's potential. Together, let's unlock avenues for national growth and prosperity.
In Enugu State, we are open for business; building partnership with the private sector to unlock the capital market, attract investments, and retake our place in the local and global economy.
I'm excited to share with you our state's abundant investment opportunities and government inventives in agriculture and agro-industry, logistics and aviation, tourism, real estate, mineral resources, information and communication technology (ICT), among others.
We are also de-risking business investment in key sectors by providing access to land, providing support infrastructure, handling engagement with host communities, and facilitating the approval of building permits.
Amid challenges, our resolve for a robust business environment remains unshaken. We are intentionally revisiting our ease of doing business indicators to ensure the environment is conducive for businesses to thrive.
Join me in embracing this momentous stride as we amplify Enugu State's prominence on the national and world map."
Here are pictures from the conference.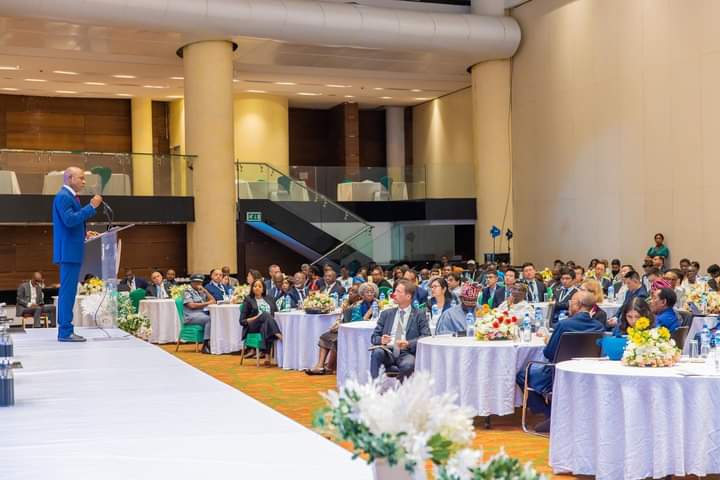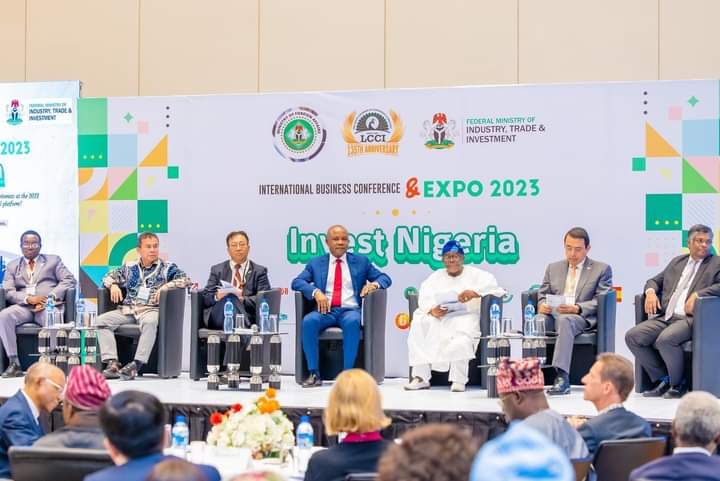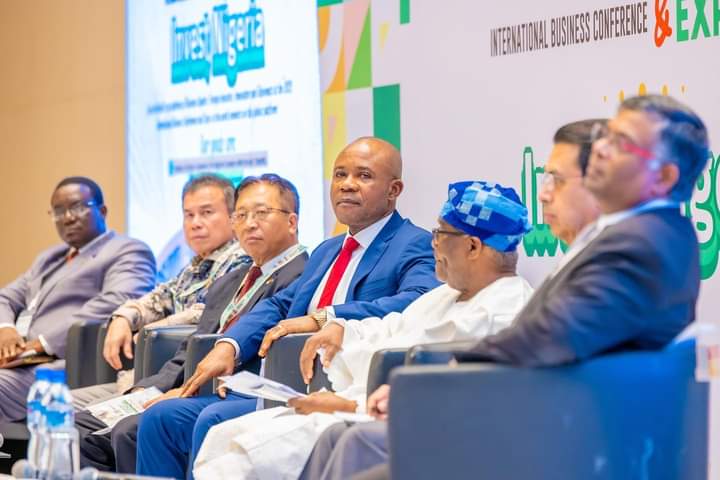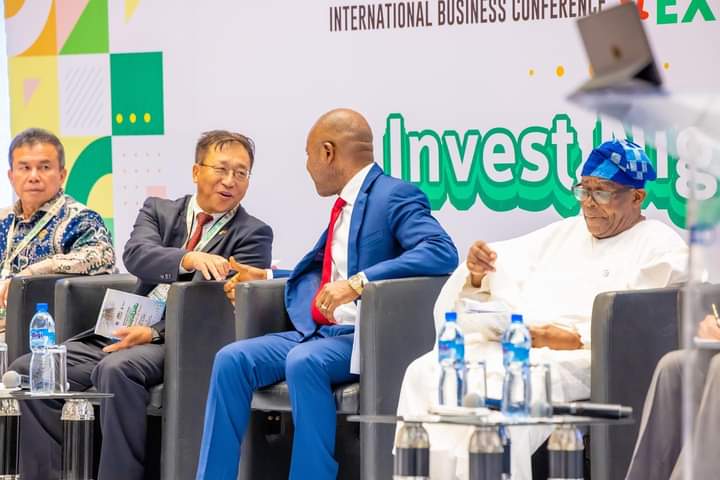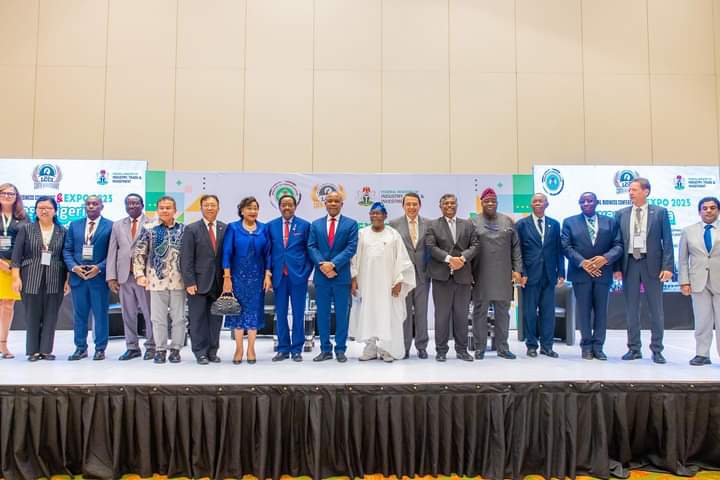 Governor Peter Mbah Graduates From Business School In The University Of Oxford England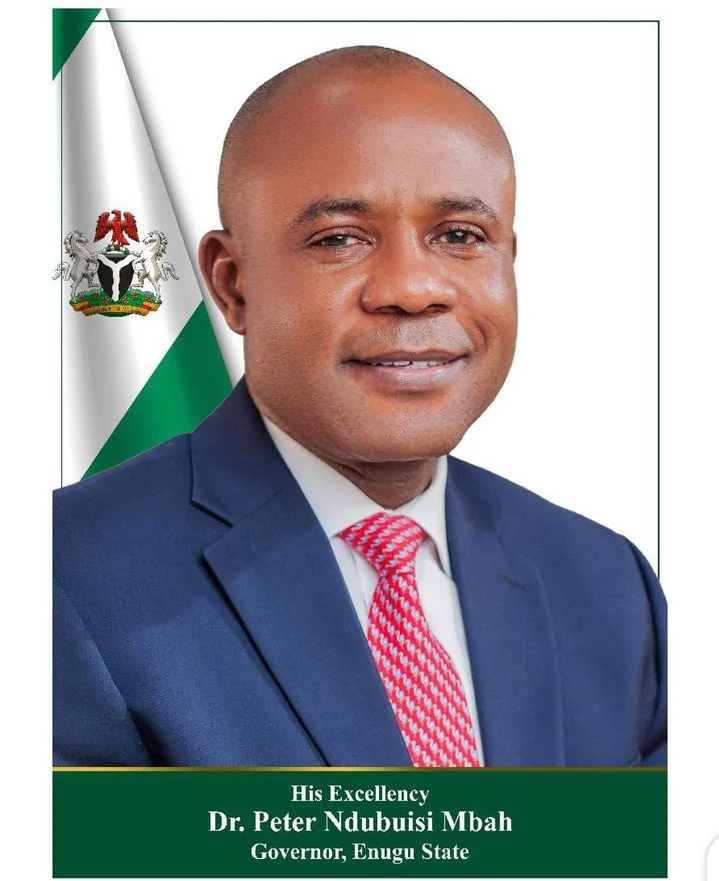 The Governor of Enugu State, Dr Peter Mbah has graduated from Business School In The University Of Oxford in England
In a post on his social media page, He wrote;
"I just bagged a Post Graduate Diploma in Strategy and Innovation at the Saïd Business School of the University of Oxford, Oxford, England"
Congratulations Sir.